Our shoe closet is probably the most functional thing I dreamed up for our new home and I get a ton of questions about it every time I share it on my stories, so I decided to put this blog post together!
In our last home, we had a small "coat closet" at the bottom of the stairs that led to our garage, but for the first few years of living there, we stored lesser worn shoes in our master bedroom closet (there was a built-in shoe shelf) and our most-worn shoes on the steps (not ideal). Eventually, I purchased a shelving system on amazon but it was a deeper closet and difficult to access (it was a very tight space), so, our shoes ended up on the steps anyway most of the time. It was kind of a disaster, to be honest.
We don't wear shoes in our home for health and hygiene reasons (like the ones listed in this article). I can't fathom the amount of dirt/germs/bacteria that are tracked into a home, rugs and upholstered furniture if shoes are worn inside – so it's just a big no for us. Since we're a no shoes inside home, we needed a shoe storage system in our entryway.
When I toured a finished version of our home prior to purchasing ours (which was in the framing stage), I noticed a coat closet in the entryway and immediately knew I wanted to transform the closet into a shoe closet and add paneling and hooks to the wall directly across from it to give it a "mud room" feel.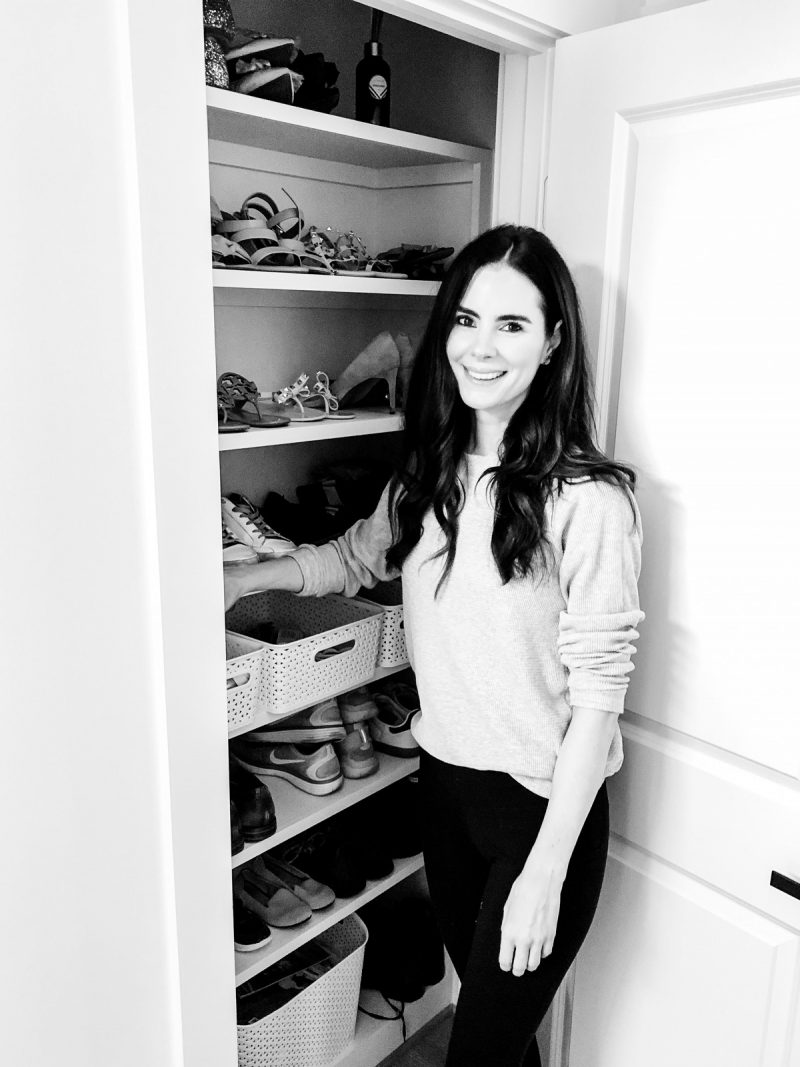 Our entry is very small – definitely nothing even close to a foyer or mudroom. However, I used the space we did have to make the area as functional as possible. I had the trim carpenter add shelving to the entire coat closet so that we could have floor-to-ceiling shoe storage and it has truly been the most incredible addition to the functionality of our home.
We keep all of the shoes we wear in this closet and move the out of season shoes to the very top shelf. The kid's shoes are on the lower shelves, so they're easy to reach. We also keep some baskets on the shelves that hold hats, sunglasses, sunscreen, bug spray, etc. It's like a teeny-tiny mudroom, haha!
But where are your coats? Ahh yes the million dollar question! My builder asked me the same thing when I told him my vision for the shoe closet. We keep our most-worn seasonal coats on the hooks on the opposite wall of the shoe closet and our out-of-season coats stowed away in our bedroom closets. It has worked beautifully!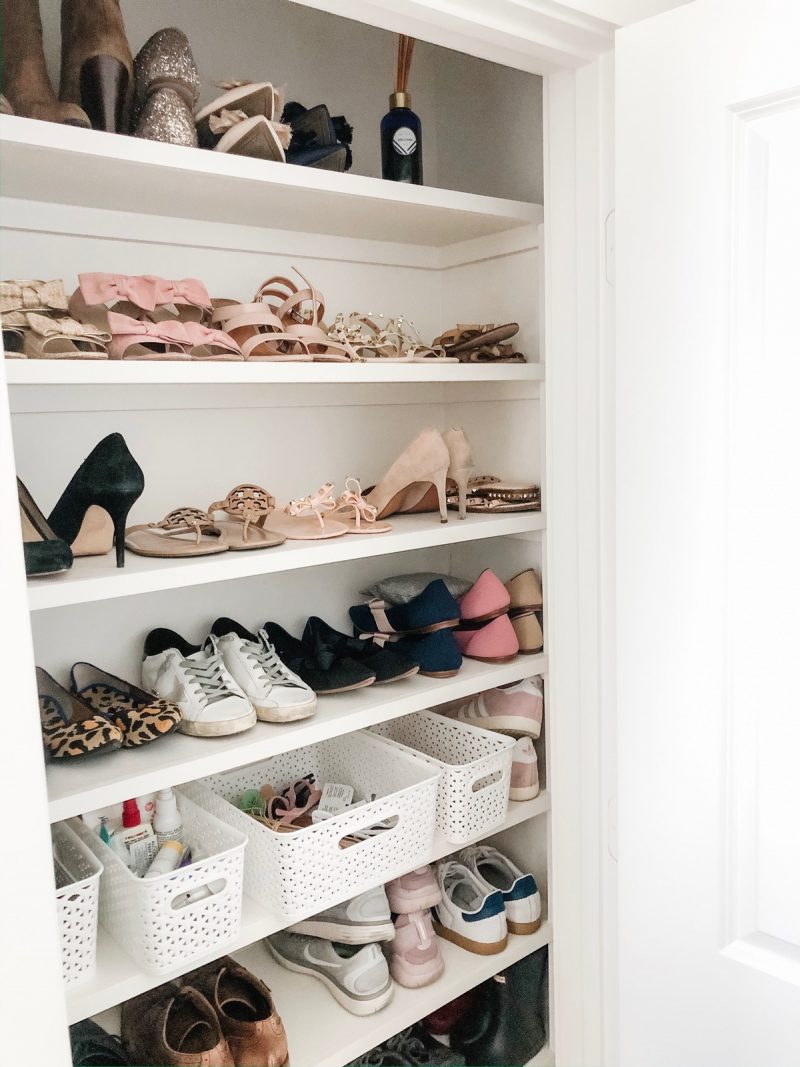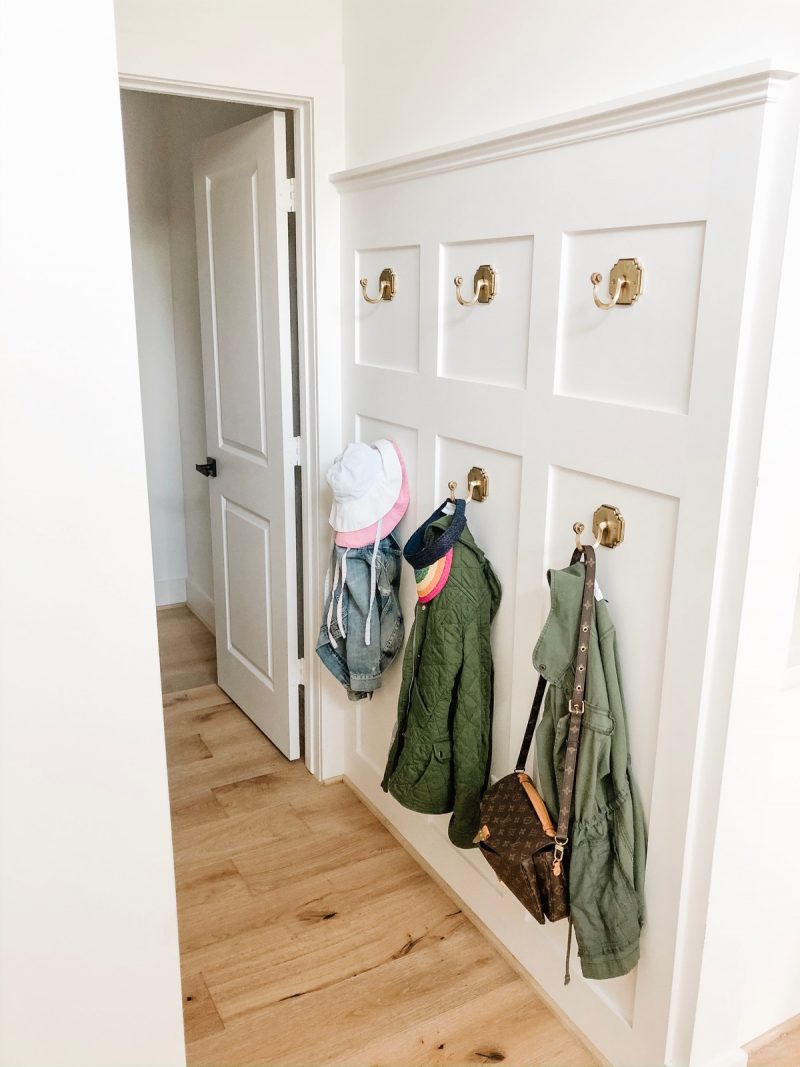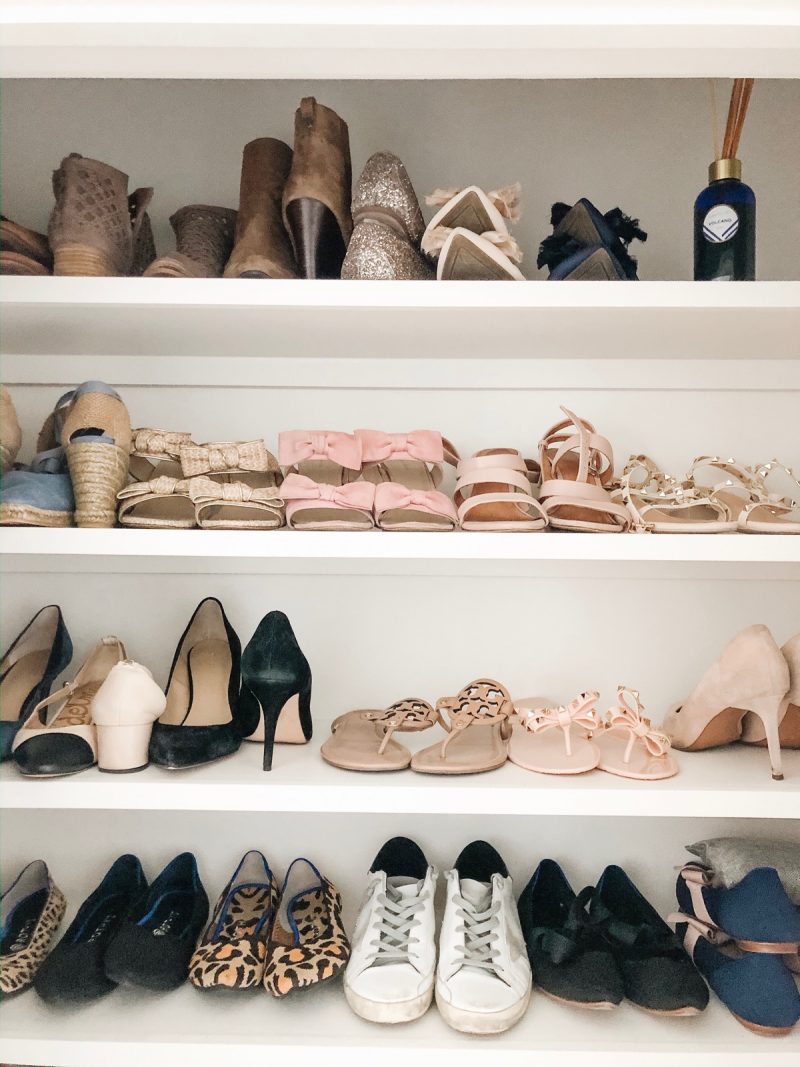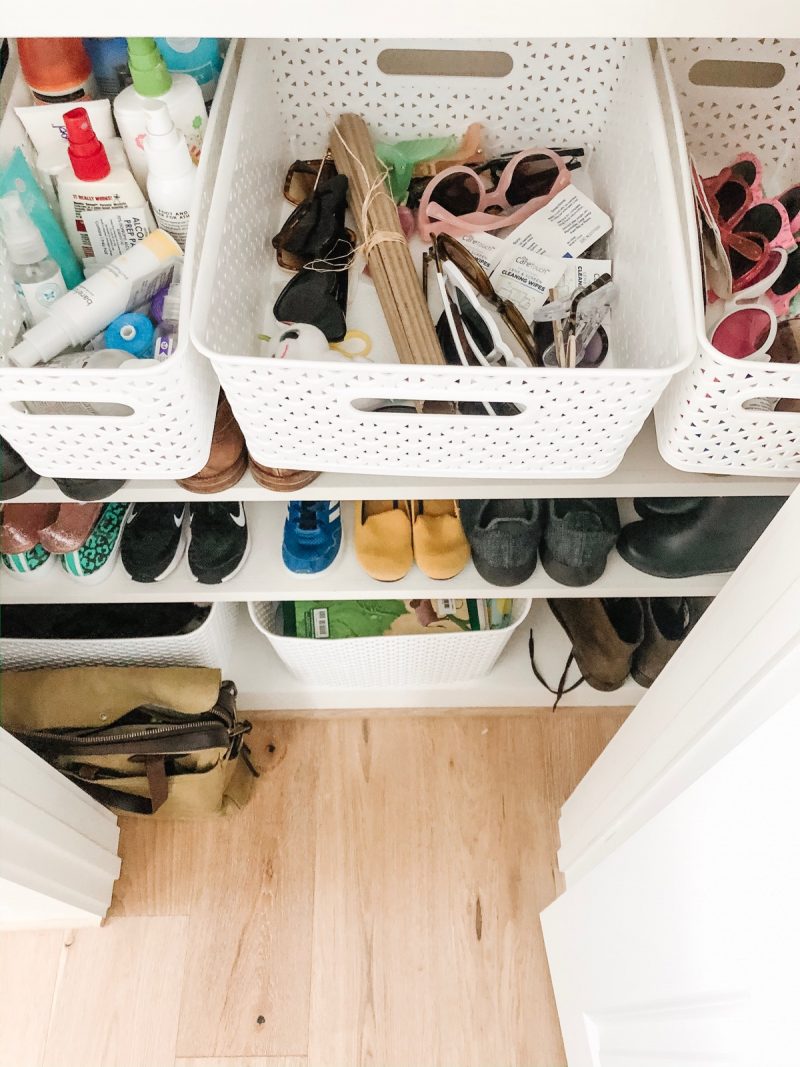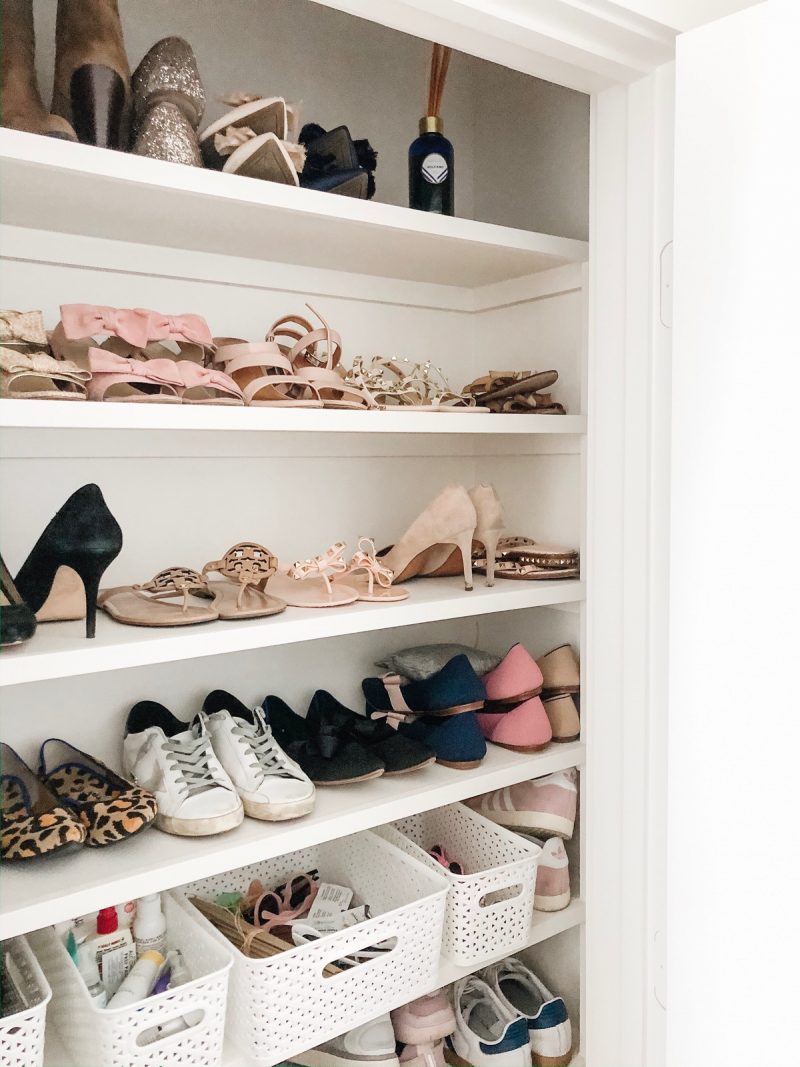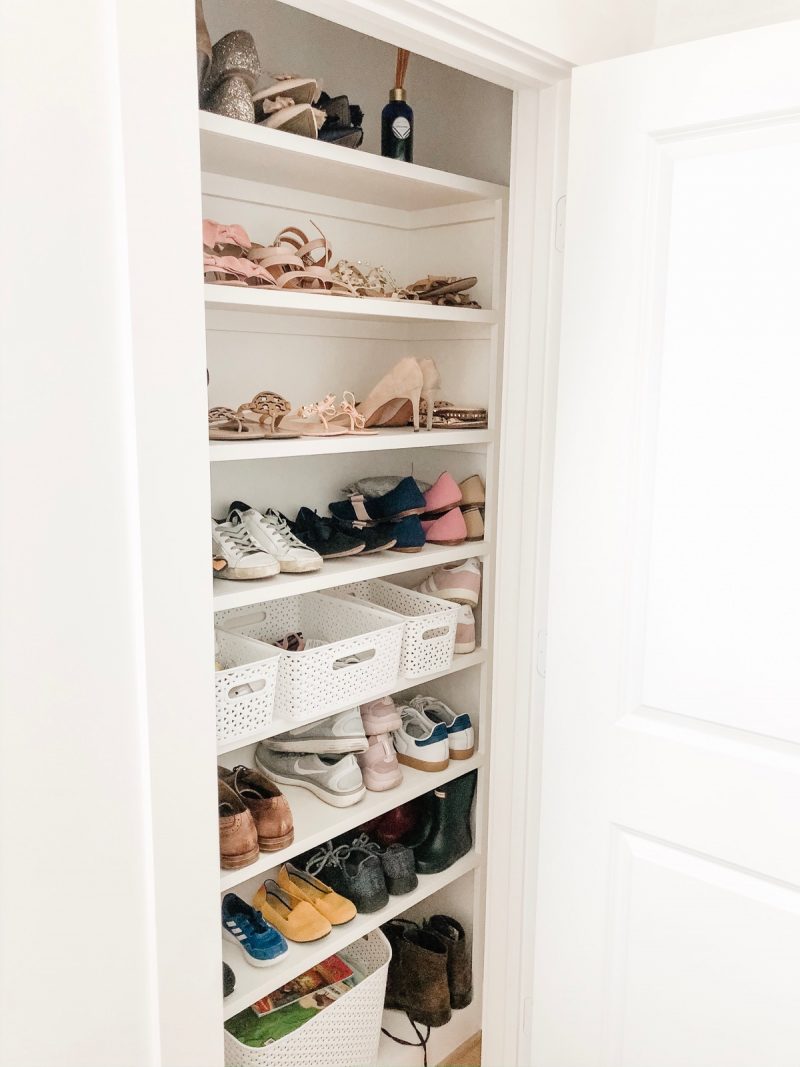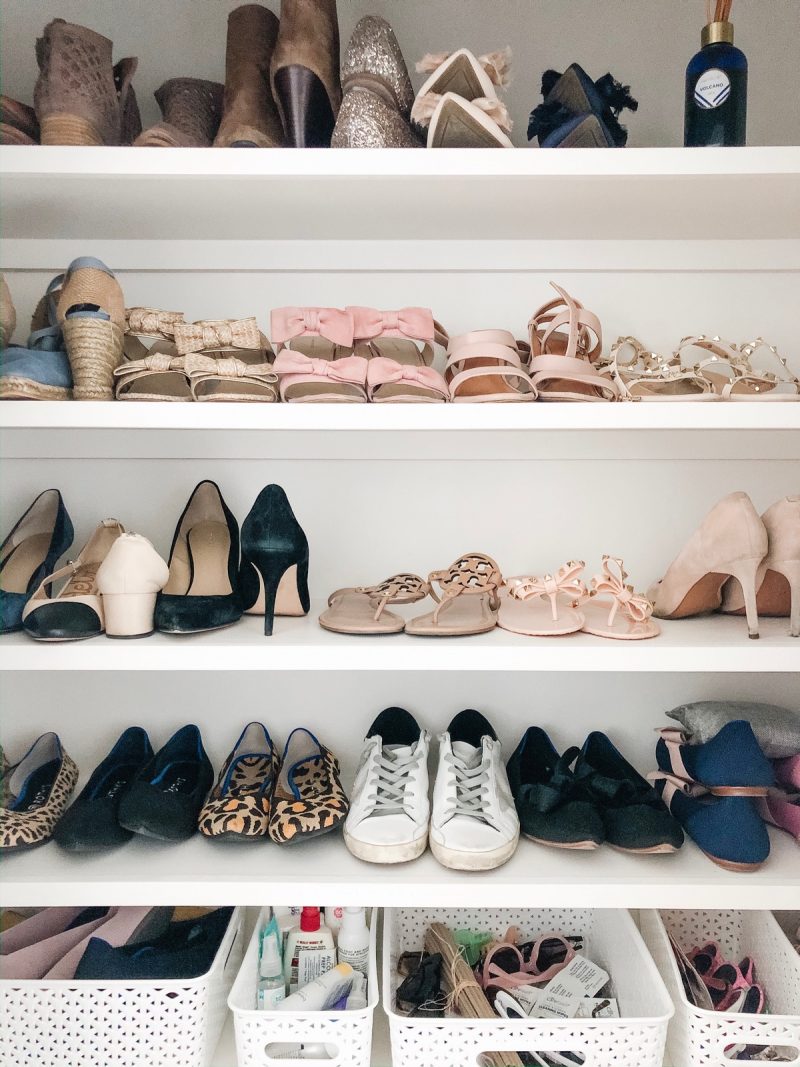 I ADORE the brass hooks I selected for our wall paneling the trim carpenter created based on inspiration images I sent to our builder via Pinterest. Yes, they were a splurge, but they make a statement and we see and use them every single day! They were well worth it (they also come in silver and black). I love the continuity they create with the unlacquered brass hardware I selected for our kitchen. This entryway will be wallpapered this summer, which will make it even more of a standout space!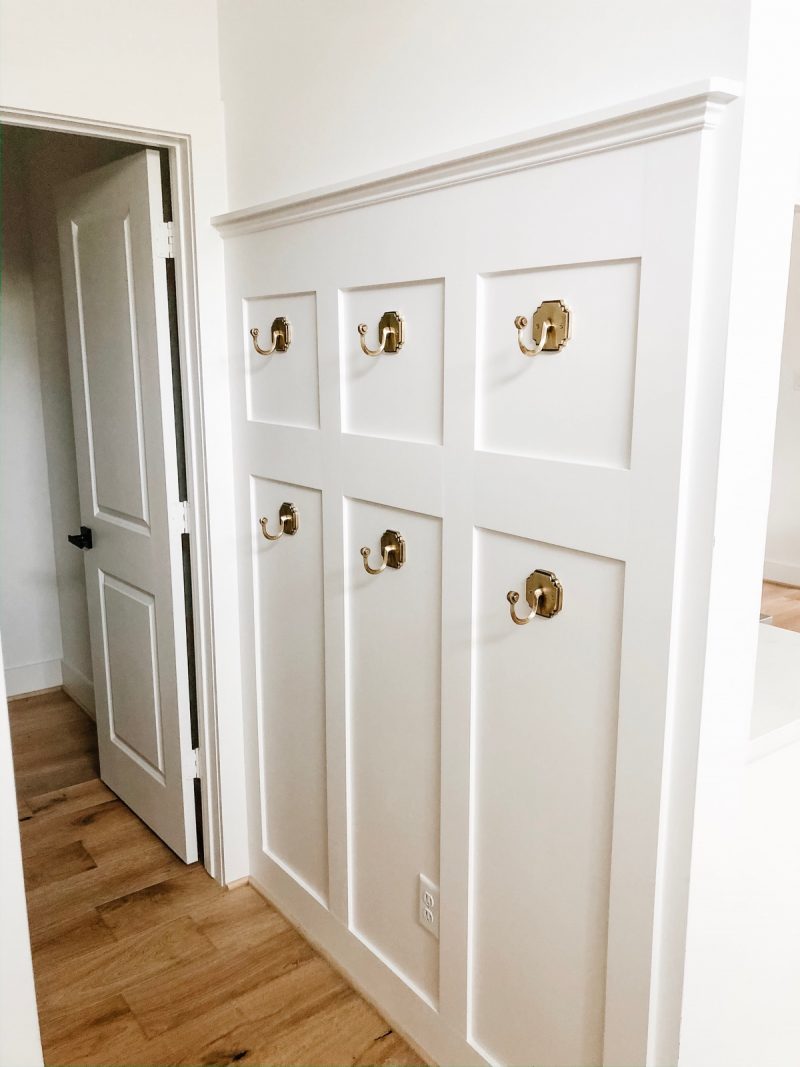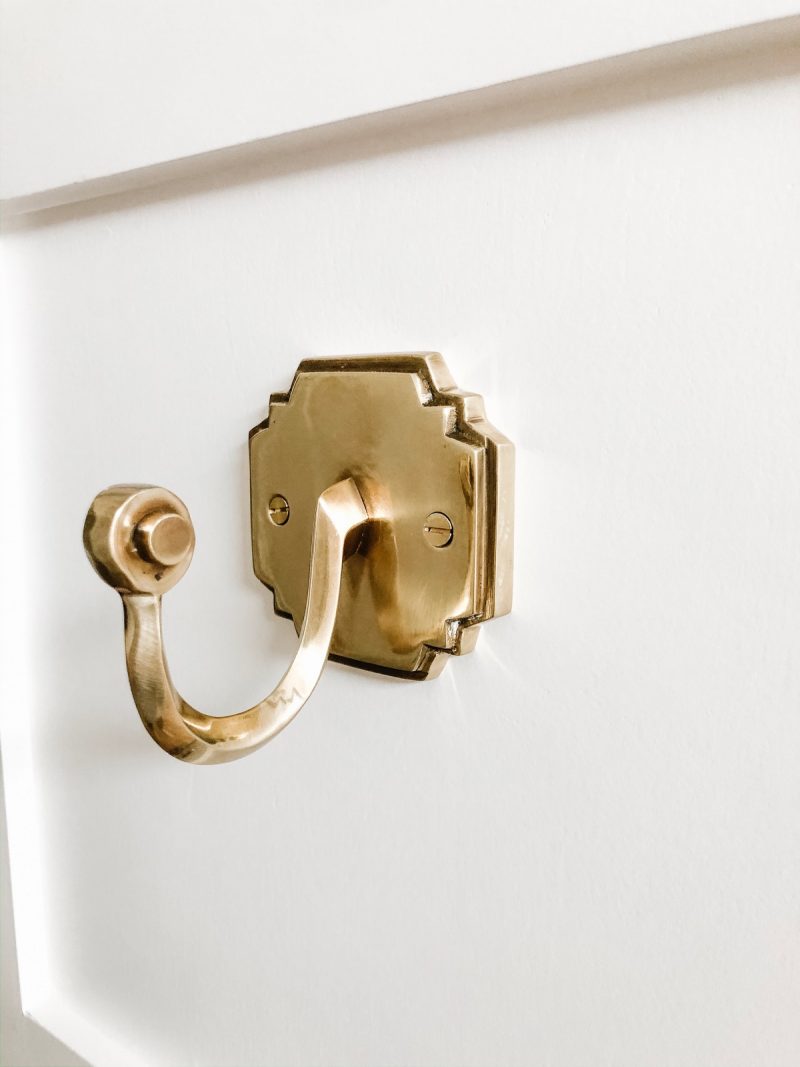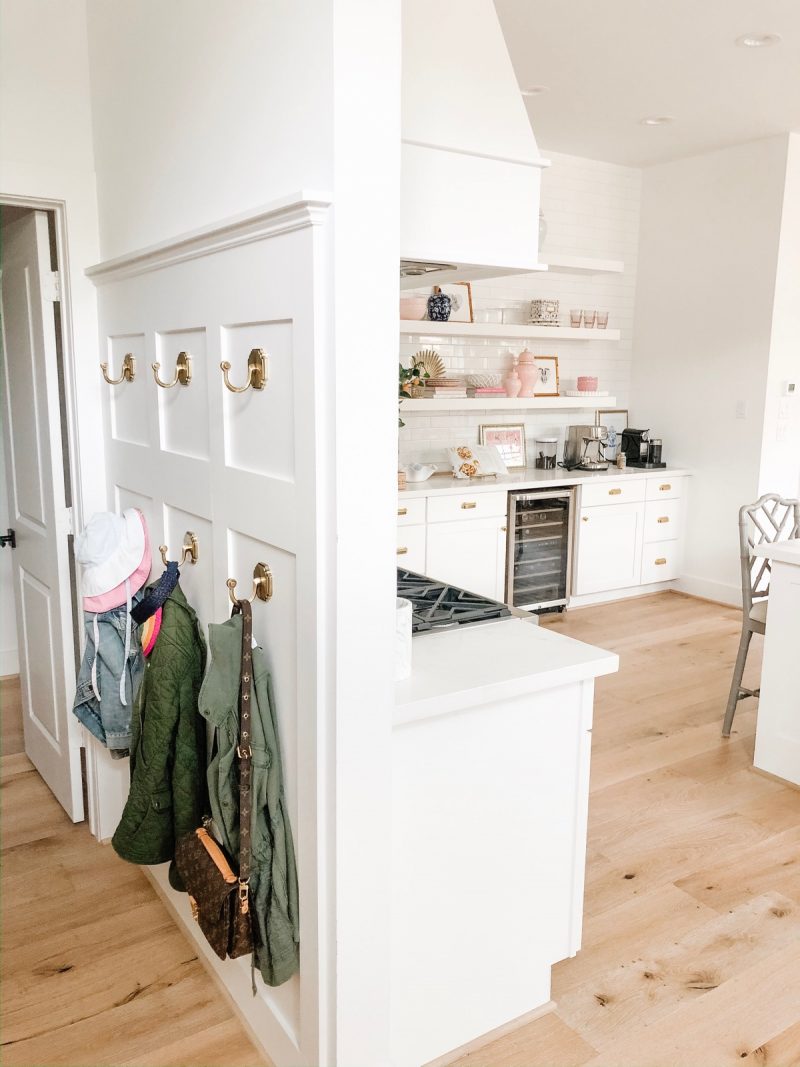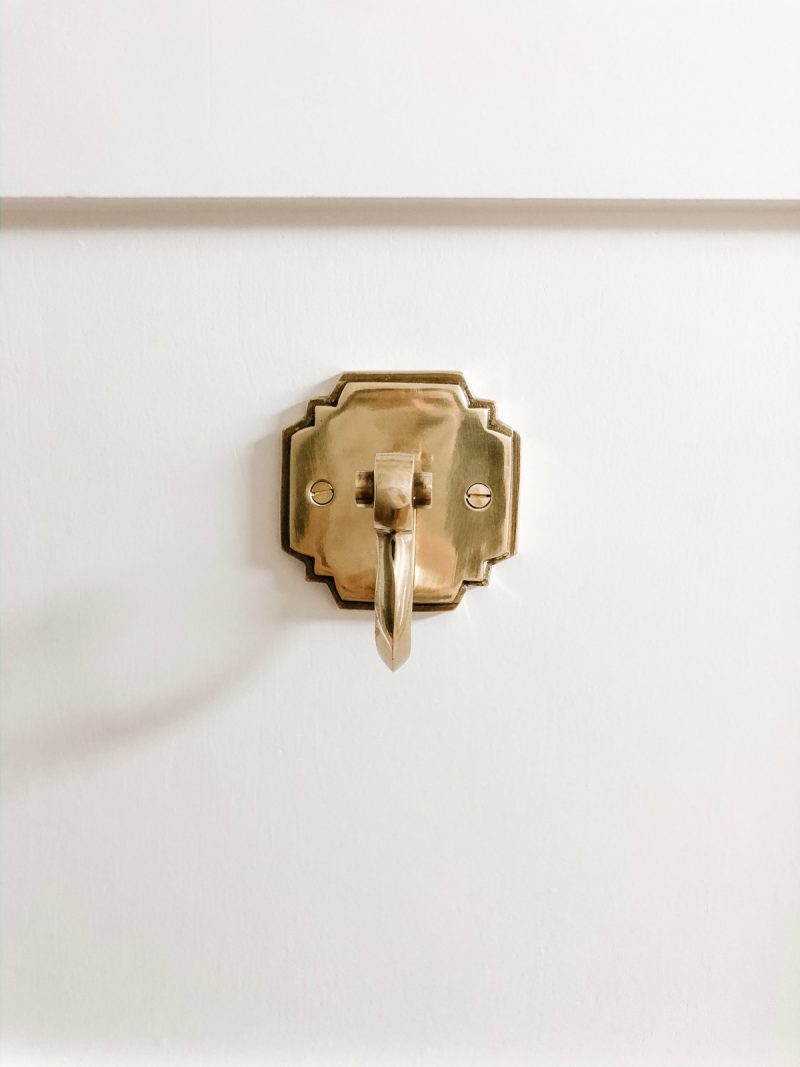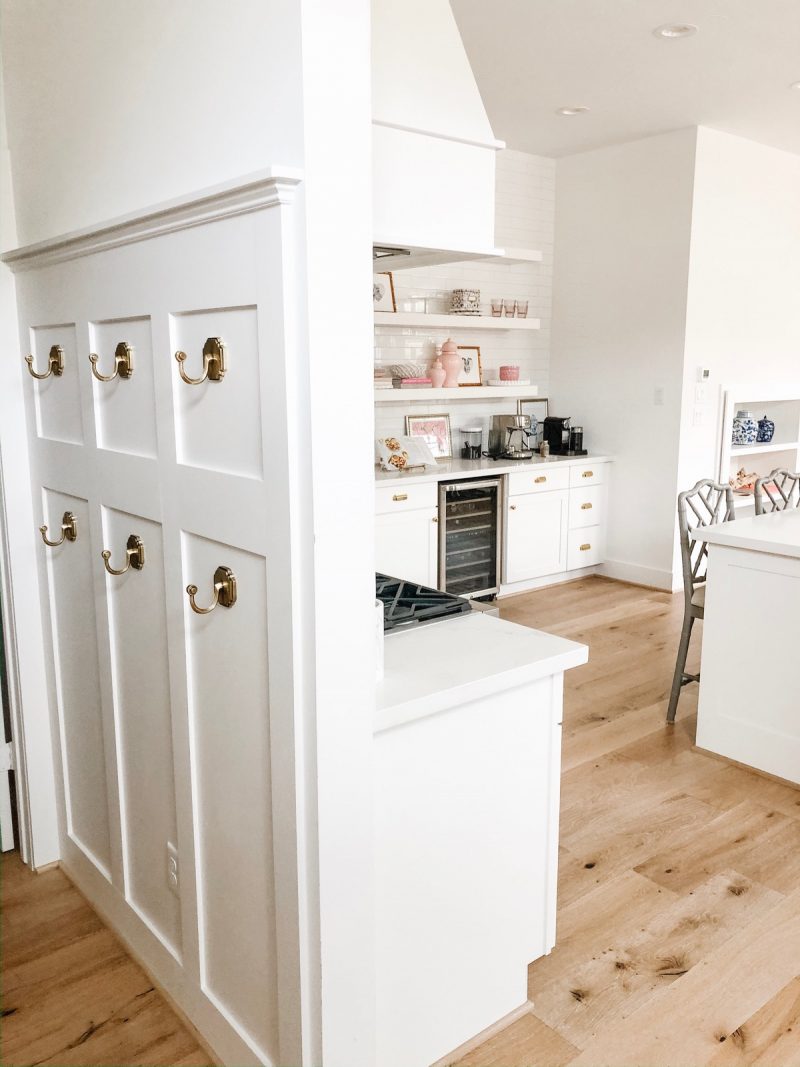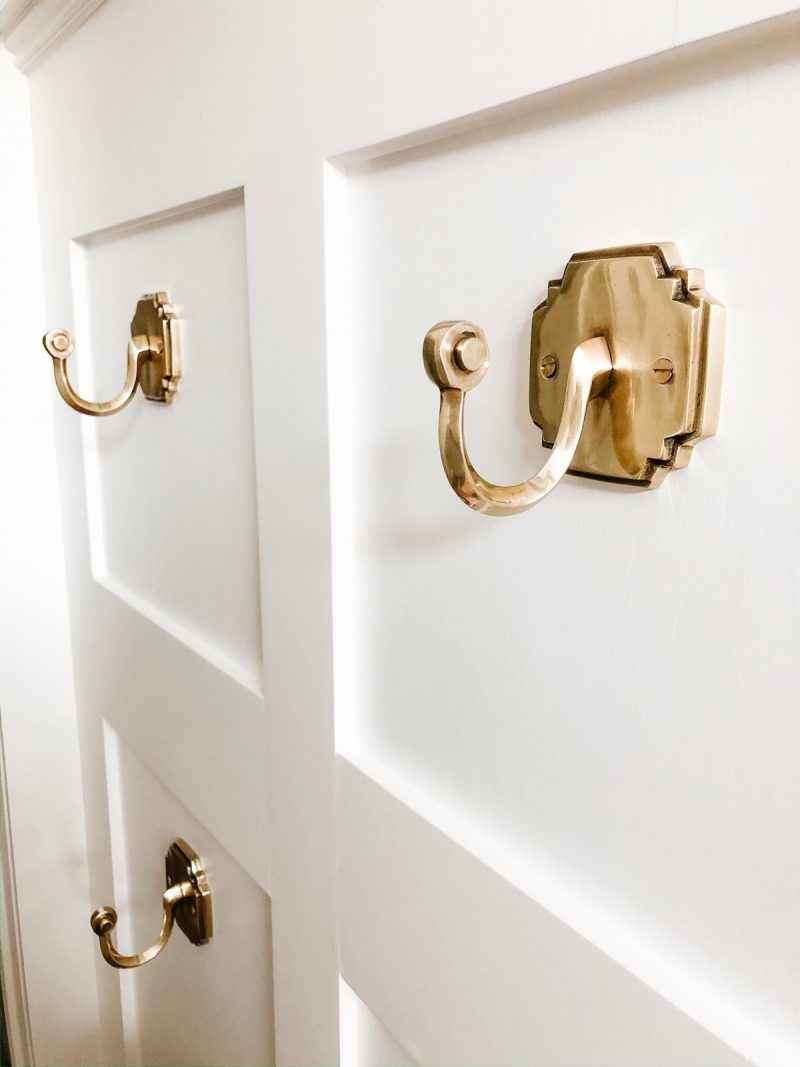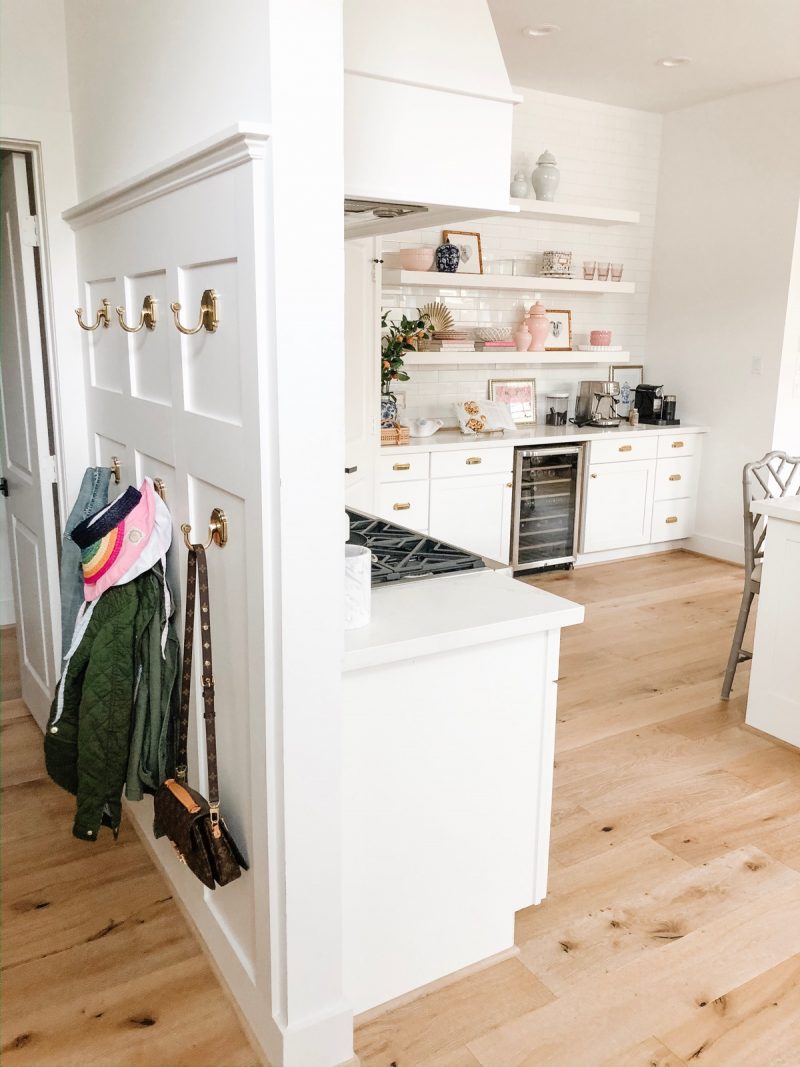 Where do you store your shoes in your home? I'd love to know what systems you have in place!
If you have a coat closet you feel could be more functional, it's worth getting a quote from a carpenter (or DIY!) to add shelving – it makes such a difference. It keeps our entryway clear and organized, which is especially important in smaller spaces.
One last tip – we keep a Capri Blue Volcano reed diffuser in our shoe closet and it helps keep it smelling fresh – I love this scent and have one in our powder room as well!
Shop the Post