With redheads in our family and my own general propensity to burn in the sun, we take sun protection pretty seriously. You'll always see us covered up at the beach and pool – we wear hats and rash guards (I even borrowed Kevin's one day!) and are lathered in SPF.
Even with meticulous application, I got a little burn on my left arm during our latest Seaside, FL trip – it serves as a reminder to reapply frequently and make sure you don't miss spots.
In this post, I'll break down all of the formulas we used on our recent beach vacation, by category. I'm by no means a sunscreen expert, these are just the ones we had a good experience with (and we've tried many, including some I won't even mention here because they're not good).
BUT FIRST, USE A MAKEUP BRUSH: TRUST ME.
I know it seems kind of odd, but it makes applying sunscreen, especially on kids so much of a more enjoyable experience. It's easier to blend into the skin with the makeup brush and doesn't get all over your hands. You can use any makeup brush, but we've been using this inexpensive one from amazon and it's been great! A flat top kabuki brush is also a great pick for SPF application/blending. If you don't want to use a makeup brush, you can always try a product called Solar Buddies – it allows you to add sunscreen and "roll" it onto your skin.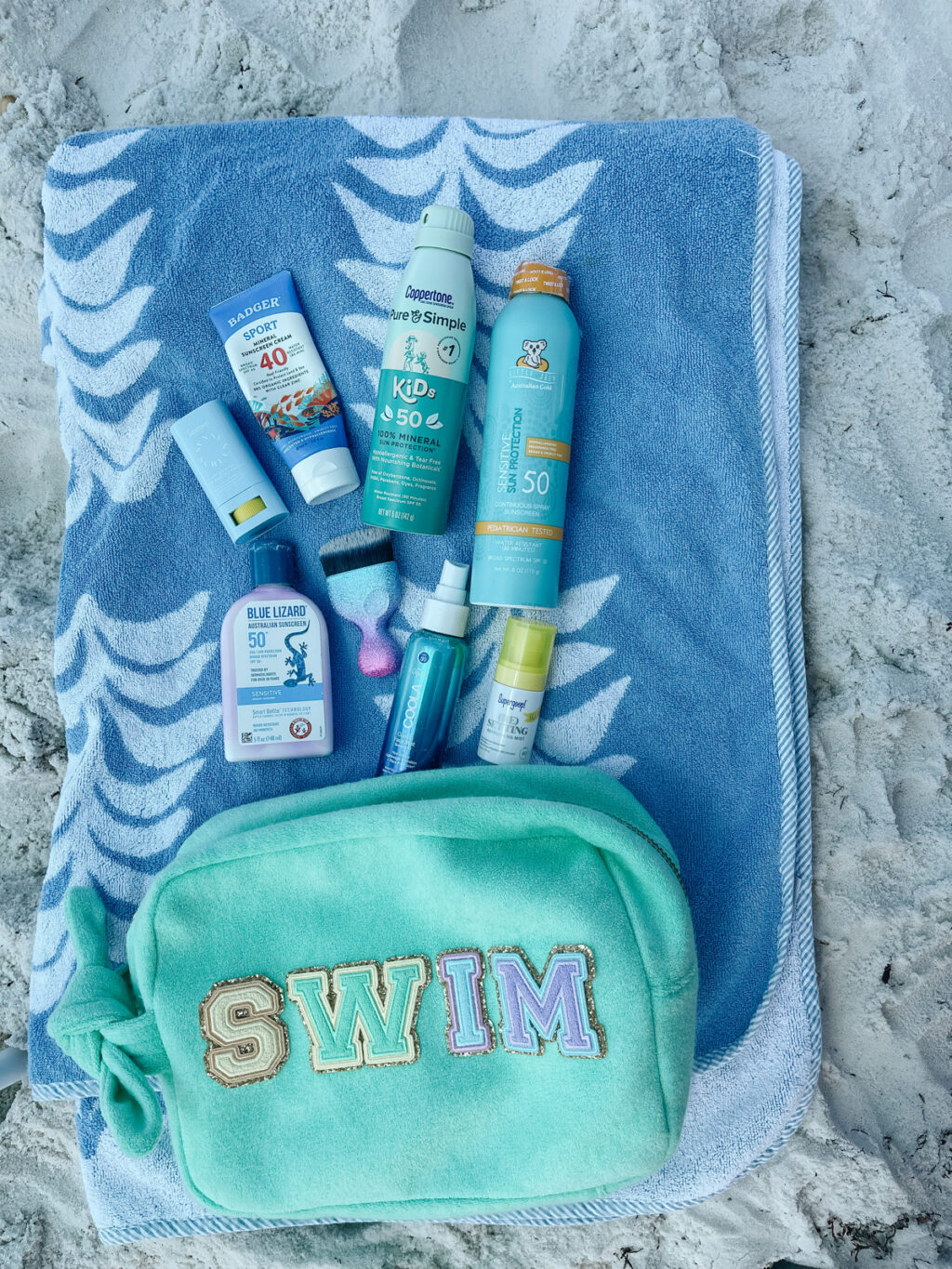 BEST SUNSCREENS FOR KIDS

Badger Sport SPF 40
I liked using this sunscreen on the kid's faces. It was easy to blend and provides 80 mins of water resistant protection. It's also hypoallergenic – great for sensitive skin. It's also 98% organic ingredients, reef safe and made with clear zinc.

Blue Lizard SPF 50
This is the sunscreen I use on the kid's bodies. I LOVE a spray (so easy!) but I find a heavier application of mineral SPF is needed for that first coat to ensure they have enough on their skin. This formula is also water resistant and great for kids with sensitive skin. While H has skin more prone to burning, L sometimes has eczema and we can't use chemical sunscreens on his face (he's has rashes from them before).
SuperGoop Sunny Screen Mineral SPF stick
I wanted a stick for quick and easy sunscreen reapplication for the kid's faces. The kids can even use this one on their own. I like that it's a fully mineral SPF specifically made for kids. Great to carry around in your purse as a backup/reapplication SPF when you're out and about or at the beach.
Coppertone Pure & Simple Kids SPF 50
This mineral spray sunscreen for kids is great – we use this for reapplication of SPF when the kids are at the pool or beach.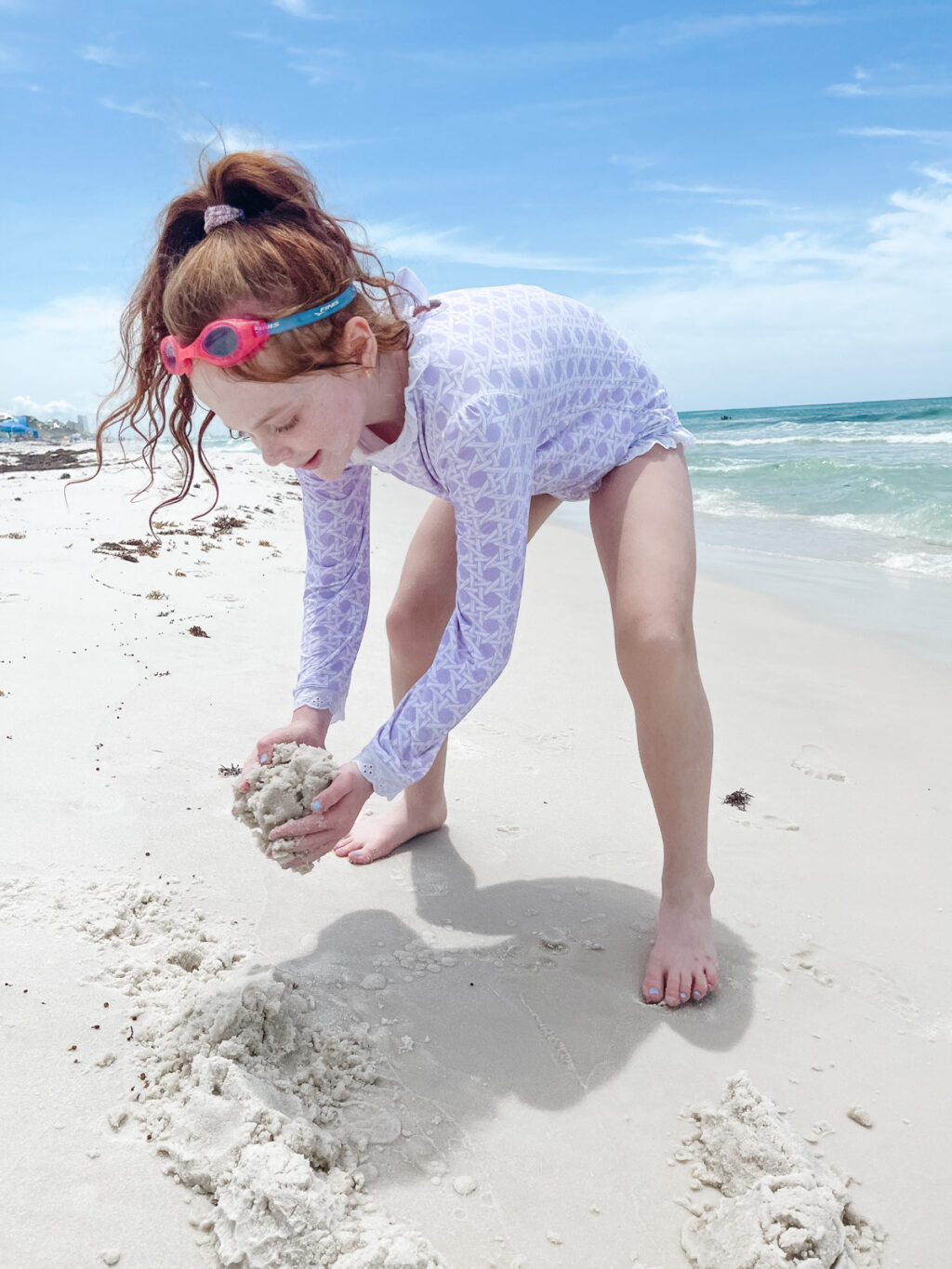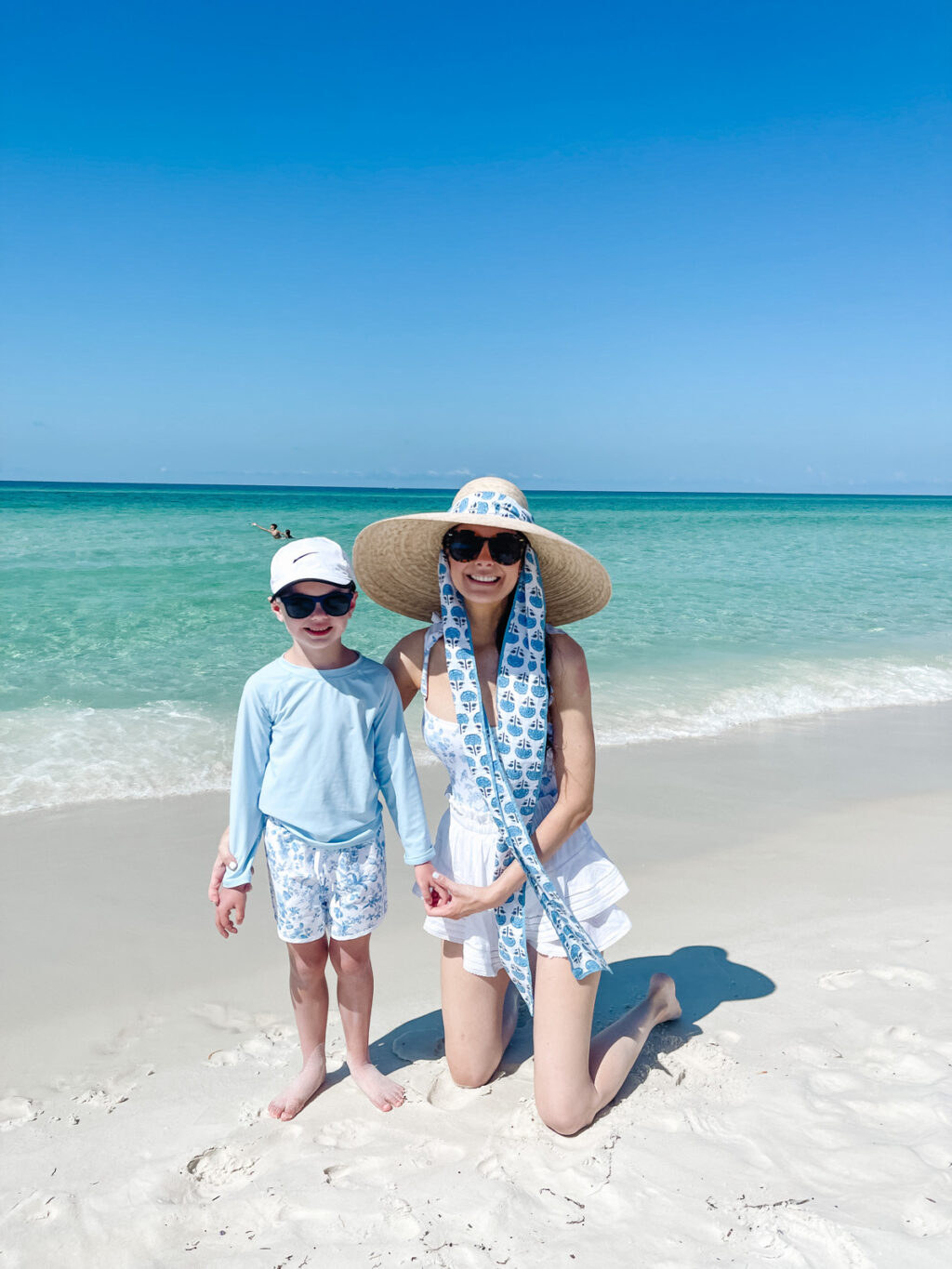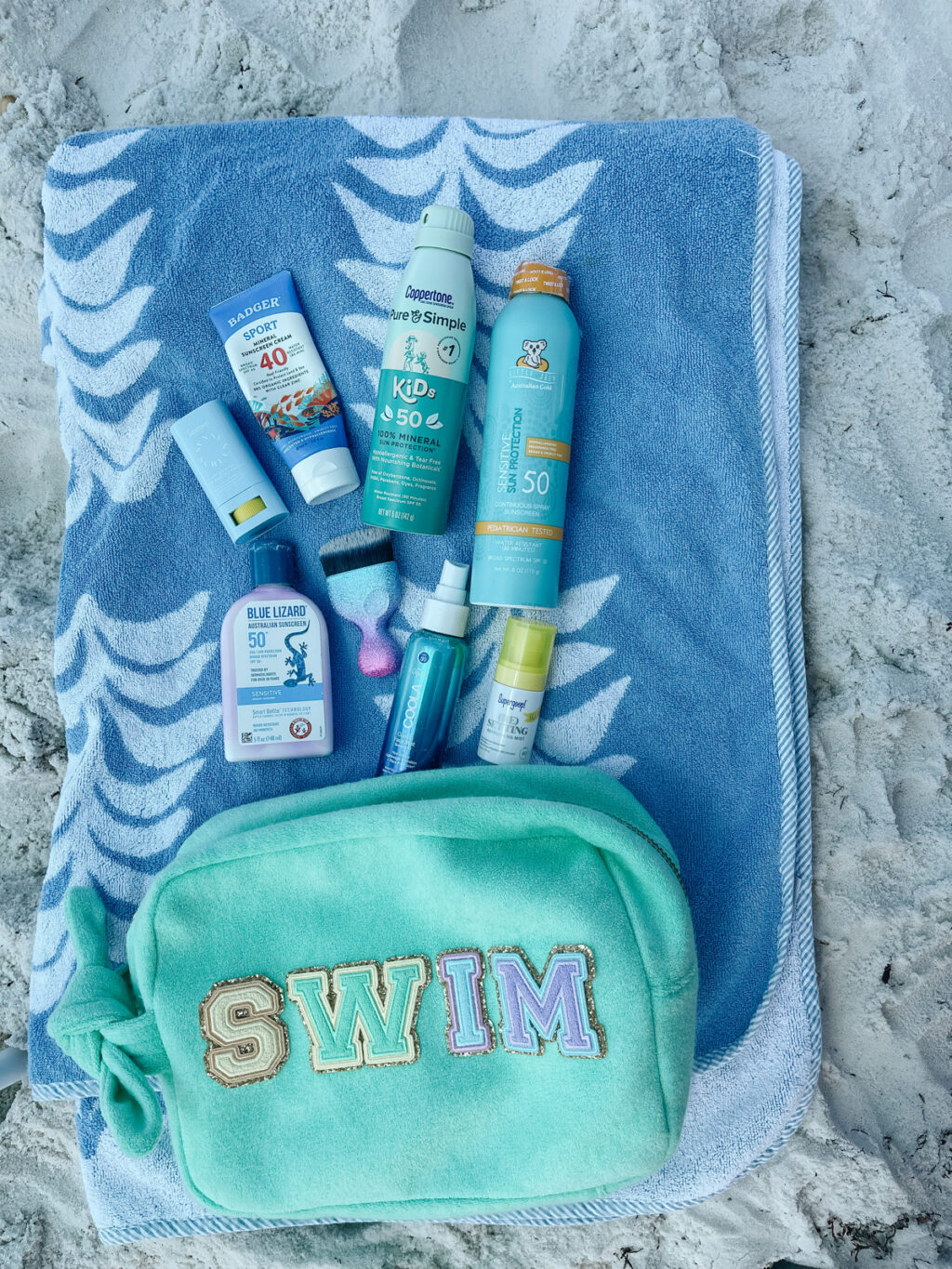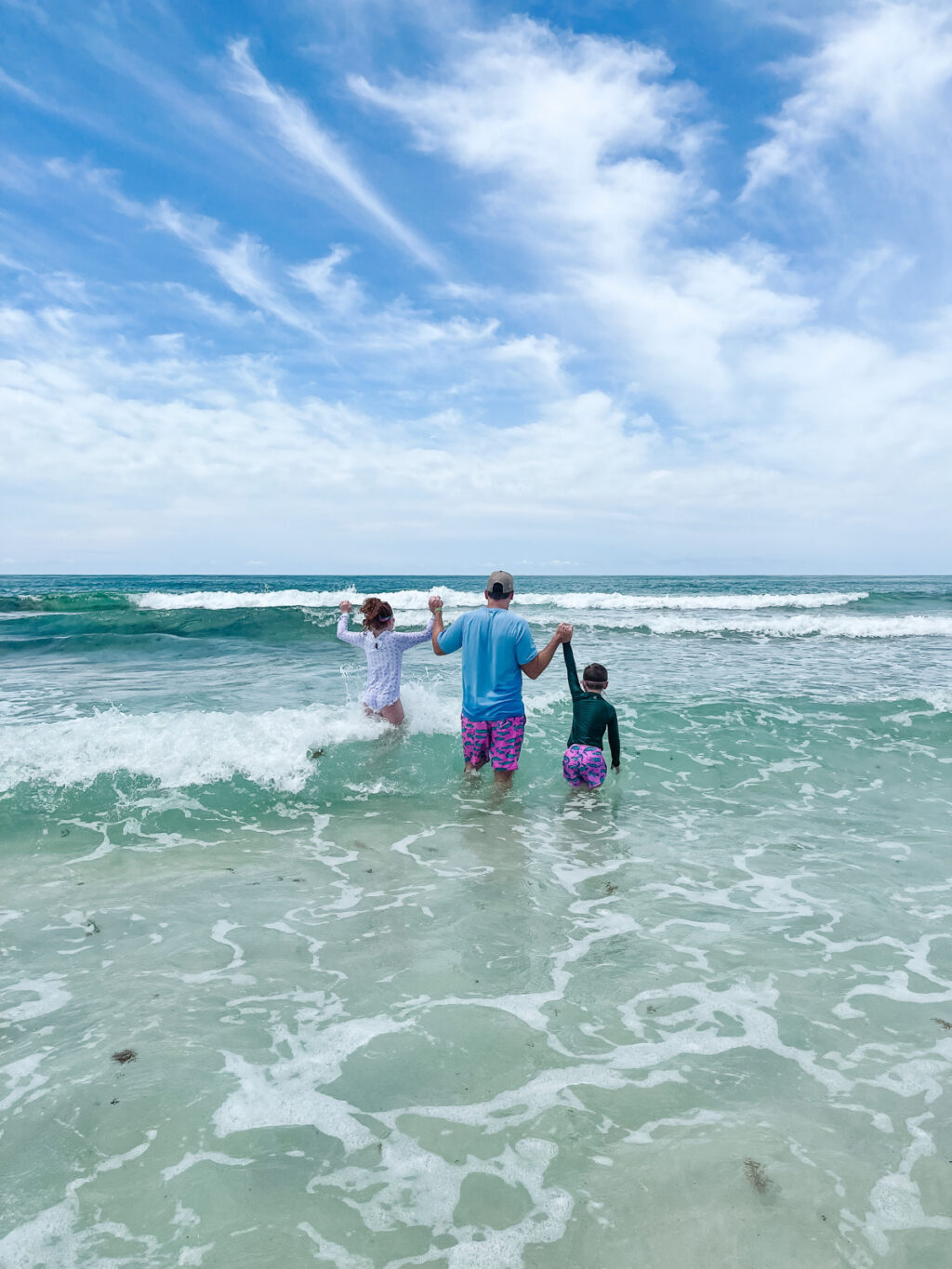 BEST SUNSCREENS FOR ADULTS
To be honest, we used the kid's mineral sunscreens as well, but we had a few clear/chemical SPF formulas for ourselves, too.
Australian Gold Little Joey Sensitive Sun Protection SPF 50
So this is technically a children's formula, but it's what was available at a shop in Seaside so we got it for ourselves and it was great! It's clear and feels good on the skin/is non irritating. We used it on the kids for a quick pre-dinner SPF application when we knew we'd be walking around town while it was still hot & sunny. I usually used this as my first SPF application for beach days as well (I'd often layer one of the mineral SPFs over spots where I tend to be more susceptible to burning).
Sun BUM SPF 50 spray
This is a sunscreen we've been purchasing for years now – Kevin & I both use it and we've used it on the kids too. It applies clear and works well.
La Roche Posay Anthelios Light SPF 60 for the Face
I've used this LRP formula on and off for years – it melts into the skin and doesn't leave a white cast, but is water resistant. This is critical because my usual daily facial SPF aren't – and on vacation, I'm more likely to go underwater/sweat, so I need a formula that's water resistant.
BEST FOR SUNSCREEN REAPPLICATION/OVER MAKEUP
Coola Organic SPF 50 Facial Mist
I got this in a PR package and it's lovely. It's a facial kit with SPF 50, so it's perfect for sunscreen touchups over makeup.
SuperGoop RE Setting Spray SPF 40
Similarly, SuperGoop has a formula to refresh your SPF coverage without messing up your makeup. I like that the formula was specifically created to spray over makeup.
Elizavecca Milky Piggy SUN Great Block Stick Spf 50+ PA
This is a Korean skincare brand I got on amazon – it's essentially a clear SPF stick that glides on super smooth – I even used it on the kids. The best part? It won't mess up your makeup. Great for quick reapplications and kids.