Yesterday afternoon I headed to the Galleria mall with high hopes of finding Chanel's "Jade" nail polish. After seeing beauty guru Tiffany D rave about it on YouTube and her blog, I knew I had to have it.
I went to Neiman's, Nordstrom's and Saks…and the actual Chanel boutique, where it was sold out. Apparently, the color is a boutique exclusive. The search continues. My only hope is if they get more stock on the Chanel.com website. It is just such a unique color. Sigh.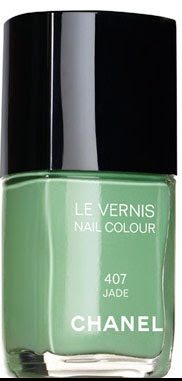 I paid a visit to Trade Secrets and picked up some Paul Mitchell Super Skinny Serum, which was recommended to me by fellow beauty blogger Saltwater Dreams. I plan to use it for my Monday morning blowout, so I will post a review at that time. It is supposed to smooth hair and cut blow-drying time in half. Now if only they could make a super skinny serum for the body!

During my hunt for the Chanel nail polish, I got a blush from Bobbi Brown called "peony." I had been eyeing it the last few times I hit the BB counter. It is shockingly pink in the container, but gives cheeks a perfect pink wash of color when applied. I am a blush fanatic, and I always believe pink cheeks freshen up the face and make it look youthful and rested. Plus, the name of the blush totally got me, since my wedding bouquet was pink peonies galore!
Bobbi Brown blush in "peony":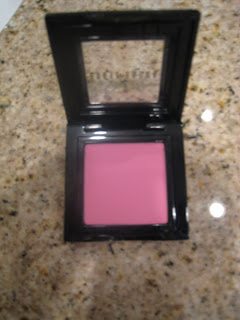 My wedding bouquet: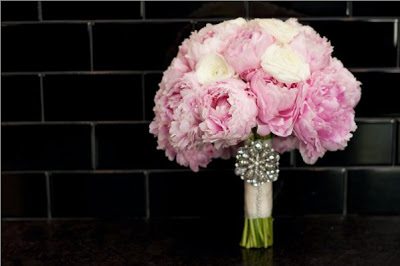 I also picked up a free lipgloss from MAC through their "Back to MAC" program where you can return six M·A·C primary packaging containers to a M·A·C counter and recieve a free lipstick (which they have expanded to include lipgloss and eyeshadows…yay!).
I ended up picking up a Dazzleglass (I just can't get enough of em') in "Rags to Riches" which is a pink-y gloss with blue and pink and purple reflects. I wore it out yesterday night layered over NARS' "Roman Holiday" lipsick. Here is the result: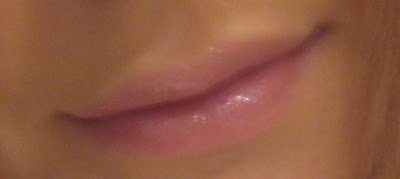 Not great quality, but you get the idea. I wanted to get another tube of "Baby Sparks" Dazzleglass, but I took a chance and ended up loving "Rags to Riches," pictured below: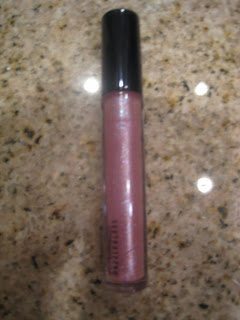 Ok, so let's get to the haircut, as promised, I would post a pic. As many of you know, I have been growing out my hair for 3 years. After a few years of being a blonde, my hair was in a deplorable state, so I went back to brunette 3 years ago and haven't looked back since. My hair grows very slowly, so I am very concious of how much I get trimmed off of it.
Another issue- I side part my hair (I just like the look better) and my hair on the side I part it gets so heavy that I have to use a bobby pin to keep that side of hair out of my face. I talked to my hairdresser about it, and he agreed that it was really heavy and so after trimming my hair dry, he blew it out, and then cut into the front parts more, to get some of the weight out. I believe this term is referred to as "texturizing." I am really happy with the results. Keep in mind, these photos were taken after having slept on it, and touching it up a bit. (Click to enlarge)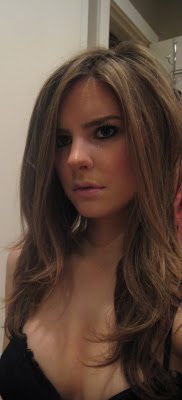 It is still long, which is exactly what I wanted. He really takes very little off of the length and just works on re-shaping the layers and taking some of the heaviness out. Not many stylists are open to not cutting off a lot of length, but I always make it clear with a new stylist from the start that cutting inches off of my hair is NOT going to fly.
I am coming to the realization that my digital camera needs a new battery. I was warned when we bought it that the battery lasts for about 2 years…and it has been longer than that. Even when charged, the battery doesn't provide my camera with the power it needs to create crisp, bright images. I am having to Photoshop a lot for brightness and contrast just to get acceptable images. Anyways, below is my eye makeup from going out yesterday evening.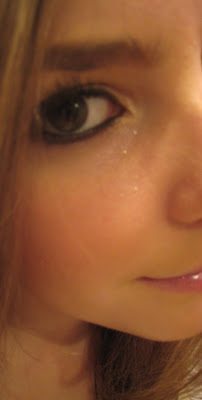 Eyes:
Coastal Scents 88 warm palette (I used one of the very lightest matte shawdows as a base and highlight)
MAC "Satin Taupe" e/s in the crease
Urban Decay "Midnight Cowboy Rides Again" e/s in the inner corner (layered over Anastasia highlighting pencil)
MAC "Retrospeck" e/s on lid
MAC Fluidline Gel liner in "Blacktrack" on top lid and in "Dipdown" on bottom. I used Bonne Bell eyeliner in "Black Ink" on my waterline.
DiorShow Waterproof Mascara w/ CoverGirl Lash Blash Waterproof layered over it

You can see in the pic that I had a bit of fallout from the Urban Decay shadow. Oh well! You can also see the "peony" blush in that photo. Love love love.
What did you buy this weekend? Let me know in the comments below!
xoxo,
Veronika.
ps- here is another shot of the hair. I realized the first one was kind of dark so I adjusted the contrast more. Hope this gives a more clear idea of the cut! You can also see the "peony" blush a bit better in this photo.