Typically, I am able to dress down on Fridays for work, but I had an early AM meeting and also a filming to attend in the afternoon, so I was in full on Monday to Thursday mode.
Here's what I wore: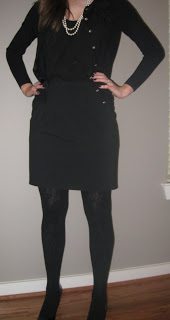 The skirt is the same as the one I wore in my last Outfit of the Day post (from Express). The top is from Costa Blanca (a Canadian store) and the cardigan is from New York & Co. I've actually never purchased anything from that store prior to this sweater, but I couldn't resist the sweater's floral applique and the vintage-inspired buttons: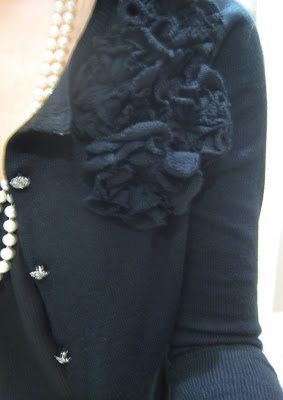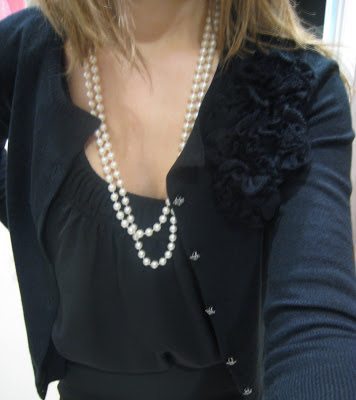 Here's another look at the buttons. They are metal buttons with tiny vintage-esque crystals. (click to enlarge)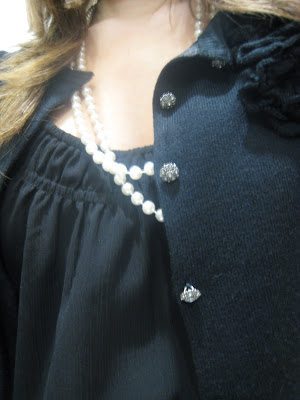 The top has some detailing at the neck and on the straps. It is kind of like a folded/pleated texture. (Did I mention I LOVE to mix textures!?)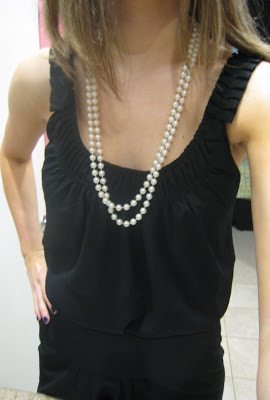 But the most fun part of this top, has to be the back of it!

Isn't is wonderful? The back has a criss-cross design, so it makes for a good "going out" top as well (though, I almost never wear tops w/pants for going out, I almost always go with a dress). Excuse my frazzled hair- I had a super long day!
My love for texture was evident in my tights of choice: lace tights from Target (I think I paid $9). Now, before you get too excited- I did have to change their look. You see, when I wear them over bare legs, I look like I have a skin disease. I just can't pull it off.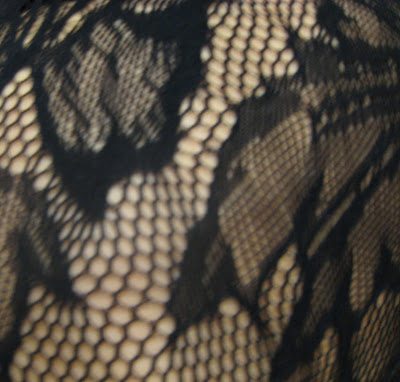 So I layered them over regular black tights, and I loved the subtle texture it gave. It toned them down and made them more wearable.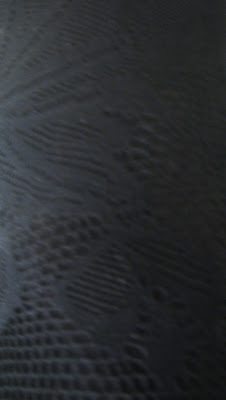 It is difficult to tell in photos, but in person, the texture is very obvious and striking. It just adds a little something to the outfit without being too crazy to wear in a more corporate setting.
and…just for fun, here is me failing at taking a photo of the back of my shirt!

What do you wear to work on Fridays? Can you wear jeans or do you dress up throughout the week?
I'll try to post several updates this weekend, so please look out for those. I am delighted to have 99 followers- which means that I am going to go do a tiny bit of shopping tomorrow where I'll pick out a little prize for my 100th subscriber contest. I appreciate every person who takes the time to read this blog, and I want to give (a little) something back 🙂
xoxo,
Veronika.