Some of my lovely readers requested this and I thought it would be fun, so here goes my first "outfit of the day" or "look of the day" post.
I had an after-work function to go to, so I chose all black- a simple black tulip skirt, silk top with flutter sleeves with black tights and pumps.
I work for a PR firm, and my look changes based on what my day looks like. If I have meetings and/or an event that day, I will usually dress up more (I typically wear skirts or dresses, very rarely pants) and on days where I know I'll just be in the office all day, I'll wear something more casual, but still nice.
I love dresses and skirts because they make me feel really feminine. Dresses in particular are super easy too- just slip it on and go! I am currently looking for knee-length 3/4 sleeve dresses to add to my winter collection. I just add tights and a cardigan in the winter, and rock dresses through all seasons (though, to be fair, we really only have two seasons in Houston…summer and fall).
Ok so here goes: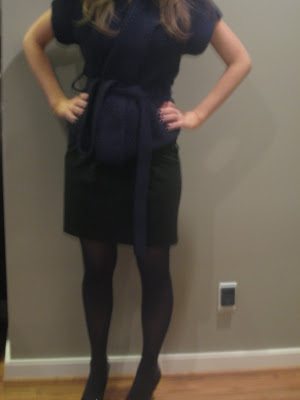 I swear that sweater coat is black. It photographed navy for some reason. I got this sweater wrap at Zara for about $39.50. I wear it to the office over my tops when it is a bit cooler outside. It actually looks much cuter in person, but you get the idea. I use this sweater as a jacket, and it also looks great on casual days over skinny jeans or even with yoga pants! It is very versatile.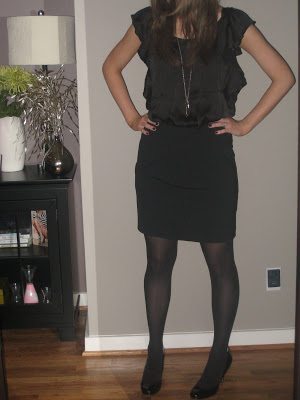 The rest of the outfit consists of a black tulip skirt from Express ($59.50) and a black ruffle/flutter-sleeve silk blouse from Forever 21 (about $22). My shoes are patent leather black pumps by Jessica Simpson.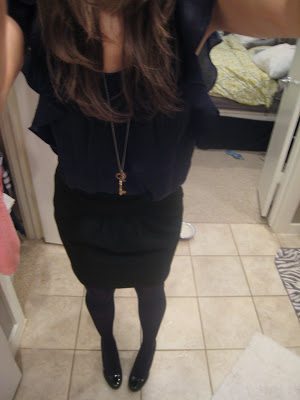 Here is another shot of the ensemble. Please ignore my unmade bed and messy bathroom (hey, I said I organized my makeup collection, not the entire bathroom!)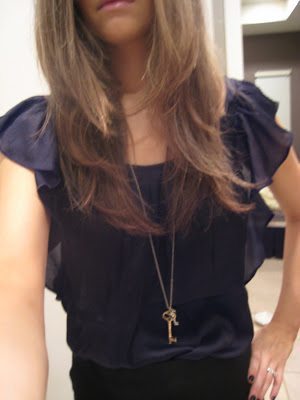 The key necklace was about $4.50 at Forever 21. I love it! I wear it almost daily, it just seems to go with everything!
I hope you all enjoyed this post, and I will definitely do more in the future! I think it is so fun to see what other people wear on the daily. Feel free to let me know what YOU wore today, and even post a pic if you have one!
xoxo,
Veronika.