Hello lovelies!
I'm going to sort of do this post in reverse and first discuss some recent (as recent as today) purchases.
I've been looking for a casual zip-up to wear to pilates, the gym etc. I have a really nice Lulu Lemon zip-up that's made of their special fabric, but I wanted something soft and comfy.
I went to the Banana Republic at Highland Village during my lunch hour today (massive mistake-not only did I have to park far away and hike to the stores, it was pouring and windy too.)
I originally went there to try and find some gifts for my husband, and, as usual, I failed and bought something for myself (don't worry ladies, I shopped for him elsewhere!) This zip-up jacket/sweater was on sale for $43.99 plus an extra 30% off. Is is really soft and I like the way it looks on. It's a more cropped style, which can be difficult to pull off with my long torso, but I like it. (By the way, I just wore this sweater to my 6 p.m. power pilates class and already got a compliment!) Take a look: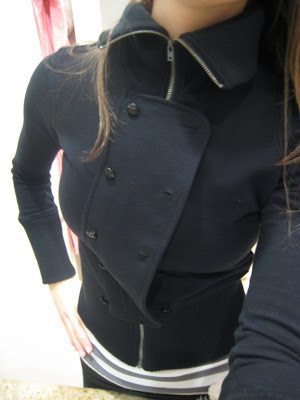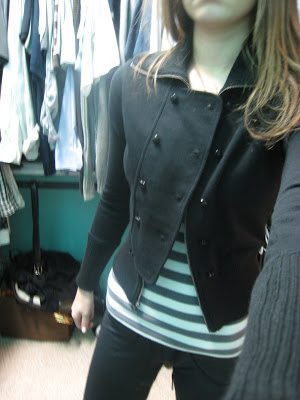 Then, there's one of my favorite Dallas purchases: This lovely rosette-sleeve tee from Forever 21, for $17.80. Did I mention I'm obsessed with rosettes? Throw a rosette on something and it will likely end up in my closet. It's the ultimate feminine detail…so so pretty.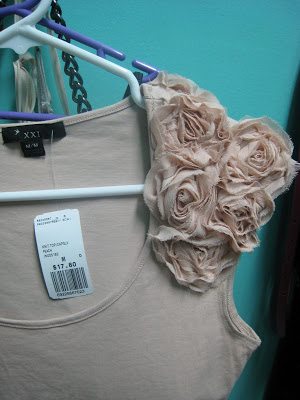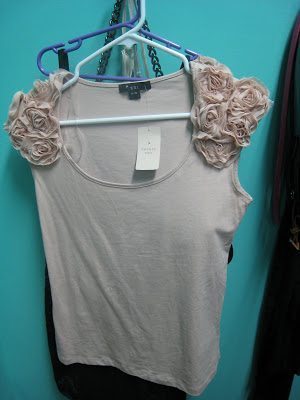 My husband ordered this dress from Vix Swimwear for me for our vacation. Please do check out the link, because it looks much more gorgeous on the model than it does hanging lifelessly in my closet. Did I mention it originally cost $284.00 and I got it for $99.00? I tried it on when I got home, and it's gorgeous. I got a size small, for reference. I struggled with sizing on this, but I am glad I got the small because it fits perfect. The long ruffle train on the back is stunning and the subtle leaf pattern really adds a great dimension to the dress: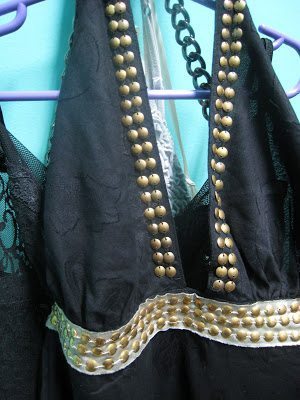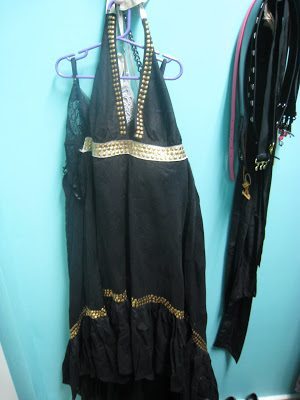 Now, for the Rodarte part of the post. I'm going to be 100% honest here. I didn't know who Rodarte was before the Target line (gasp!) but I must say, I've grown quite fond of the designs- more particularly I feel in love with the girly, ruffly bathing suits.
The first suit I fell in love with was this black and cream floral patterned one. The top has lace, which makes it look a little bit lingere-esque. Kind of like Beach Bunny Swimwear– which has been featured in Sports Illustrated Magazine and on The Real Housewives of Orange County (I believe both Alexis and Gretchen wore suits from the line.)
I assure you, it still looks like a bikini when you're wearing it. I also got the same top in black, to mix and match with different bottoms I already own. After all, you can never go wrong with black.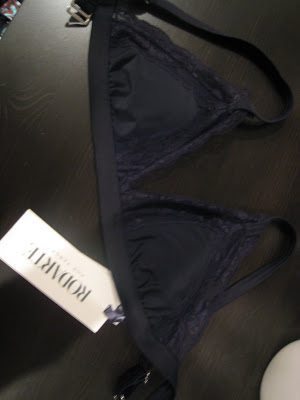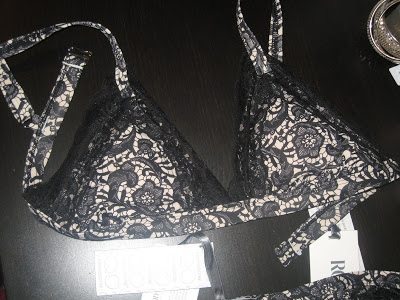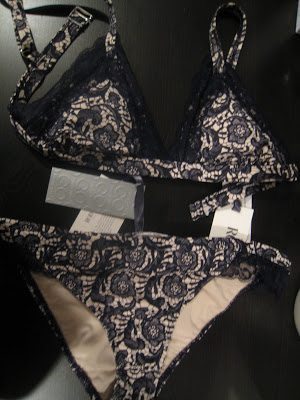 Then, there's this beauty. I cannot even begin to describe it's greatness. It is just the cutest darn bathing suit I may have ever seen. Ever. Click to enlarge for more detail. Ruffles, flowers and prettiness galore!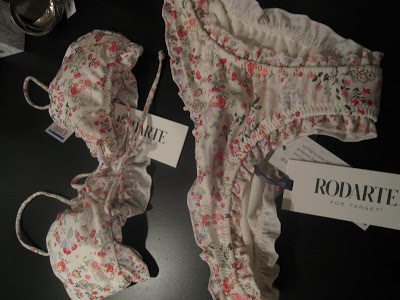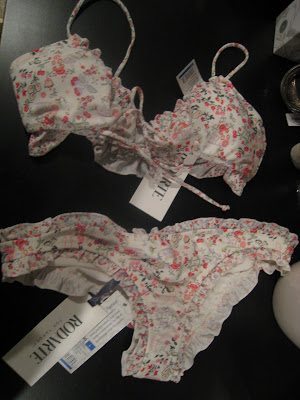 Sigh. So stunning. It actually looks better on than it does on the pic on Target's website. I think if you have a smaller cup size, the top might look more like it does on the model on the website, but if you've got a c-cup or more, it will lay differently (which I like better). Here's the pic from the website:
On the model, the top lays kind of flat and you can really see the ruffle at the bottom, whereas on me, it is a little curvier and the bottom ruffle doesnt look quite so obvious on the suit.
And, for good measure, here is the pic of the other Rodarte suit I bought:
I should probably mention that the suits were $16.99 a piece, which is incredible considering some of the suits I've bought lately are more in the $100 per-piece range. They seem well-made. I will post pics and more details once I wear them on vacation.
Have you bought anything from the Rodarte for Target collection? I know that gorgeous blogger Saltwater Dreams bought a cute striped top from the collection. I checked out the rest of the collection, and although some of the items were cute, I didn't know if I could pull them off. Some of the looks were pretty bold. I do like the sheer blouses though.
xoxo,
Veronika.
I wish all of my beautiful readers a very Merry Christmas (or whatever you celebrate) and a joyous new year!