Getting window coverings and a new dining table have been a long time coming. We've lived in our new house for nearly a year and have done quite a bit already—but we're still rocking Ready Blinds (which are awesome, BTW) on our windows and never use our super uncomfortable IKEA dining table (not much of a dining table if you never use it!)
After eating at one of our (now) favorite restaurants for the first time (Liberty Kitchen in the Heights, for the locals), I was inspired by the farmhouse style table they had with a massive crystal chandelier haning over it. I had never, ever considered a sort of rustic looking wooden dining table…but when I saw it at that restaurant, it gave me a moment of pause.
Fast forward a couple of months later, we were at Restoration Hardware last weekend ordering our drapery hardware, and we see this gorgeous desk that has a wooden rustic top, just like the farmhouse table at the restaurant. "Does this come in a dining table?" I ask. Of course it did.
Our sales rep showed us a dining table from the Flatiron collection. We loved how the top had that rustic wooden door look and that the frame was a black metal. We also loved how it criss-crossed underneath.
Our house has more of a crisp and modern look—and we love the juxtaposition of a more rustic style table in the midst of more contemporary pieces.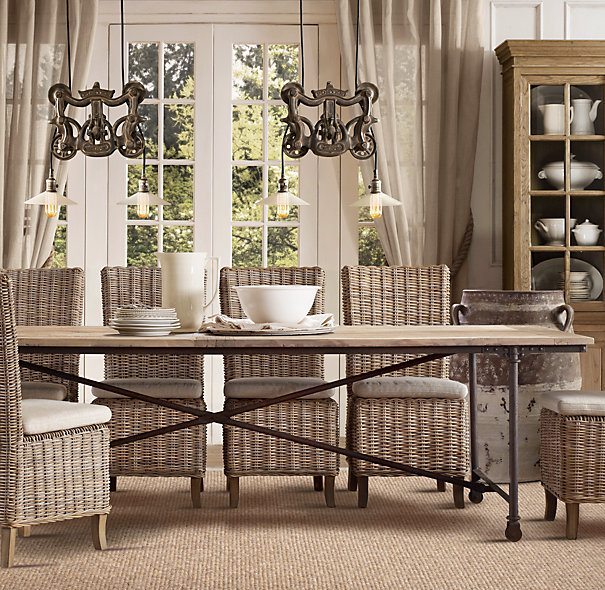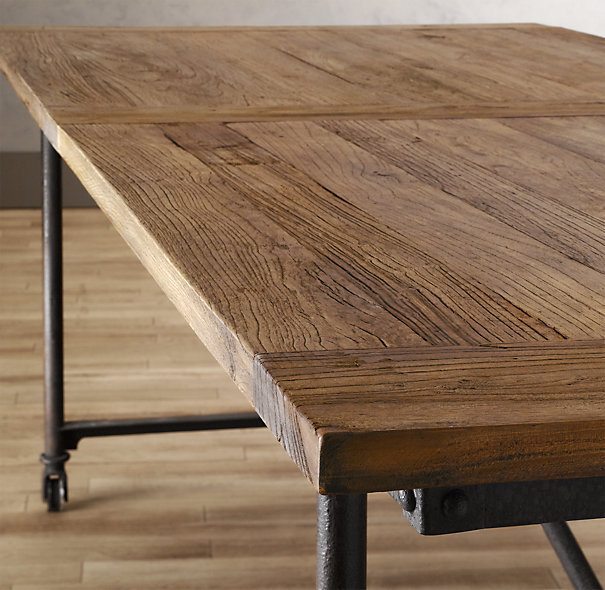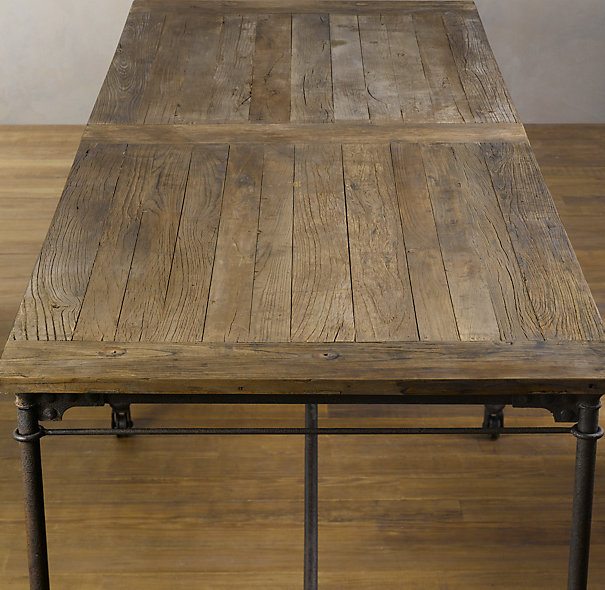 We are going to order it this weekend because Restoration Hardware is having their friends and family sale, which means the entire store is 20% off until July 4th.
Onto our drapery hardware. We chose pieces from the Estate collection in silver and crystal. Simple, but the crystal adds a nice touch.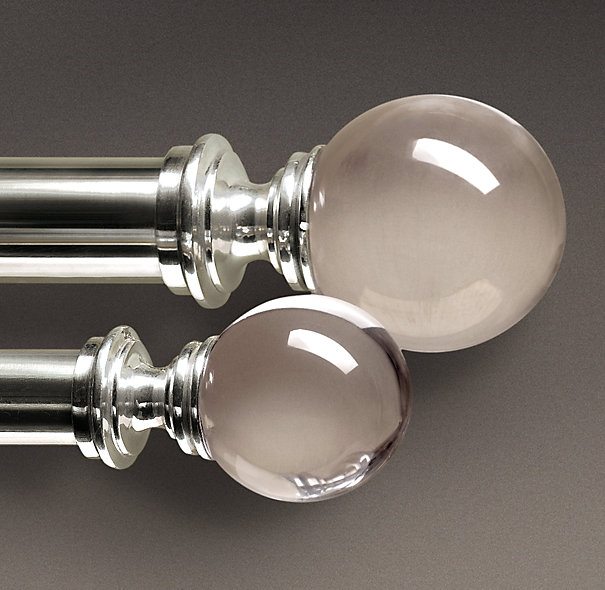 We have really complicated windows…so we shall see how this all turns out. I am crossing my fingers and hoping for the best.

As far as drapery, I was totally set on doing linen. Like dead set, nothing will change my mind ever. Then, in the store, I saw the Thai Silk drapery and it had me at hello. In my excitement, I even started delusionaly making comments of what a great fabric it would be for a wedding gown (seriously, what's wrong with me that I'm so captivated by drapes!?)

We will likely go with the white (which looks more ivory in person). The optic white may be a little to white…the plain white is a little softer.
Here is a photo of the drapes in a darker shade from the website. They actually look much more beautiful in person: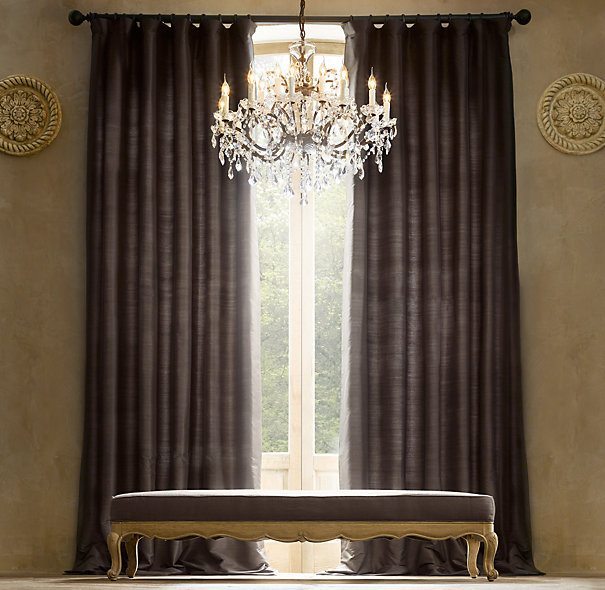 So now, the real conundrum. Chairs. I thought I knew for sure what I wanted…and then I found some other chairs I loved too. I was, once, again, dead set on linen, tufted dining chairs. Like these, from overstock.com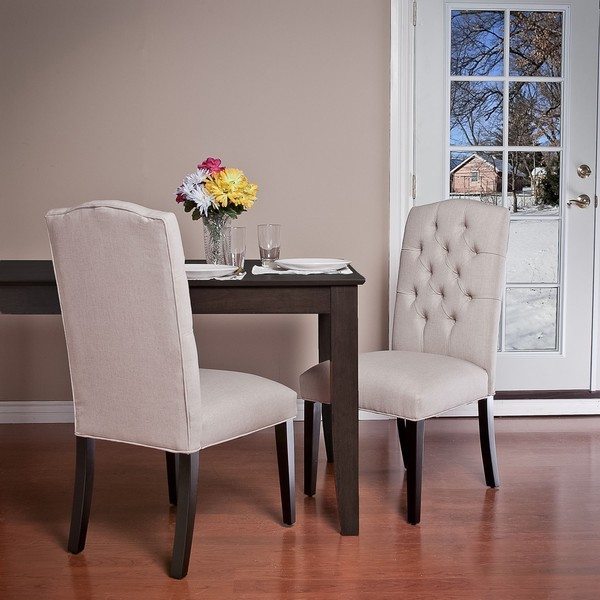 But then I saw these and liked them a lot too: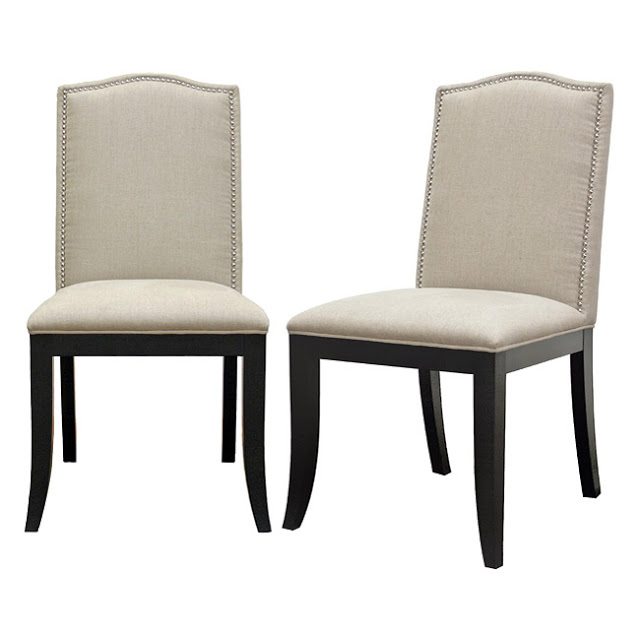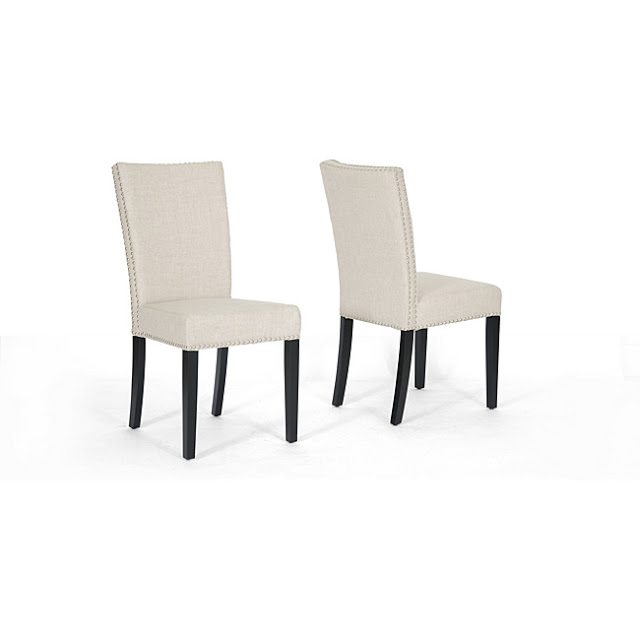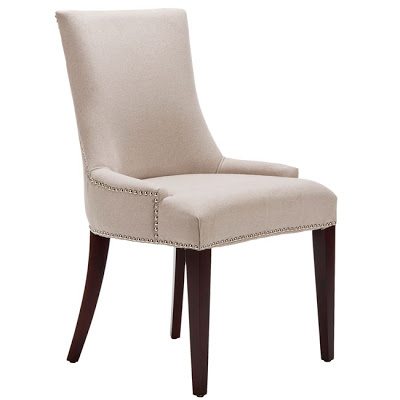 Thoughts? What do you ladies think would look best with the dining table? I think they would all look good (the last chair pictured would be an end chair only, keep in mind). I like all of them, they're very similar but also different.
I think the linen chairs will be a nice contrast to the rustic table…I just need to pick some! If you have links to any others you think would work, please let me know. Thanks for all of your comments!