When I first saw a magazine ad for Living Proof's "Prime Style Extender" I totally thought it was a gimmick. In the past couple of years, makeup primers have become a "must-have" item for every girl's makeup routine, but I personally never cared for them.


I had always been pleased with Living Proof's products and have used many of them including their full shampoo, straight spray and thickening cream. But for some reason, the style extender just sounded gimmicky.


However, I kept seeing it promoted in the Sephora catalog and when I was making my Sephora friends and family sale wish list, I decided to check out the reviews for the product and was stunned to find an abundance of rave reviews.


At just $20 for a 5 oz tube, I thought it wouldn't hurt to test it out. One of the issues I have with my hair is that I do have to re-style in in the morning after sleeping on it. It kind of gets kinks in it and if it's straight (blown-out) it just doesn't hold the same shape once I sleep on it.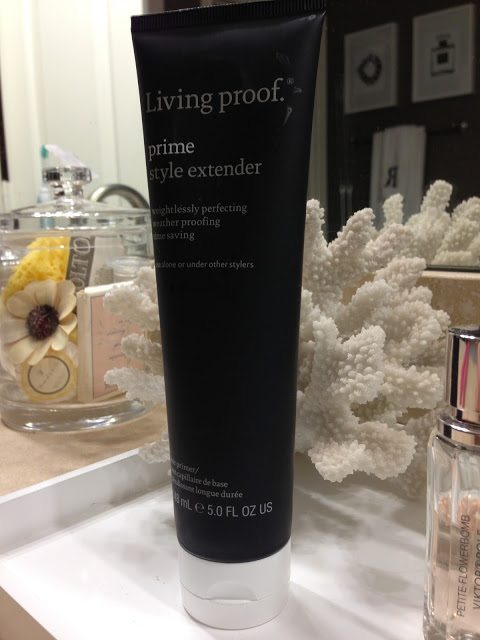 When I use the Prime Style Extender, I apply it from the nape of my neck down to the ends of my hair only. Personally, I do not apply any kind of smoothing products to my roots, only volumizing ones. You can also add any other product on top of the primer, so I add some Kerastase serum or another smoothing product.


I blow out my hair as usual with a round brush and set it in Velcro rollers like I do every time I have first day (just-washed) hair. The ONLY difference was that I used the Prime Style Extender.


Typically, I curl my hair with a curling iron the day after I do my blowout (so, on second day hair). I then touch up my curls on my third day hair before washing it again that 4th morning. However, after using the Prime Style Extender, I literally brushed my hair after waking up and it looked good enough that I did not have to curl it or apply heat. It just somehow retained its shape from the day before better than I ever remember.


I have no idea how or why it works, but it just does (the description on Sephora.com says Prime Style Extender is powered by Living Proof's "miracle molecule," OFPMA, which protects and extends the life of your style twice as long, saving you time, day after day. It weightlessly perfects strands while smoothing and correcting hair texture).


Science. Always winning. Thank goodness for miracle molecules. You can purchase Prime Style Extender here.


Have you tried this product? Do you love it as much as I do?




FTC: I purchased this product with my own money and these are my honest thoughts.