Happy Monday!
I haven't shared a toddler product review in quite some time so I thought it would be fun to break down the products we use during Harper's bath time/bed time routine. We've been using all of these products for a long time so I feel really confident we've found the ones that work best for Harper's skin and hair.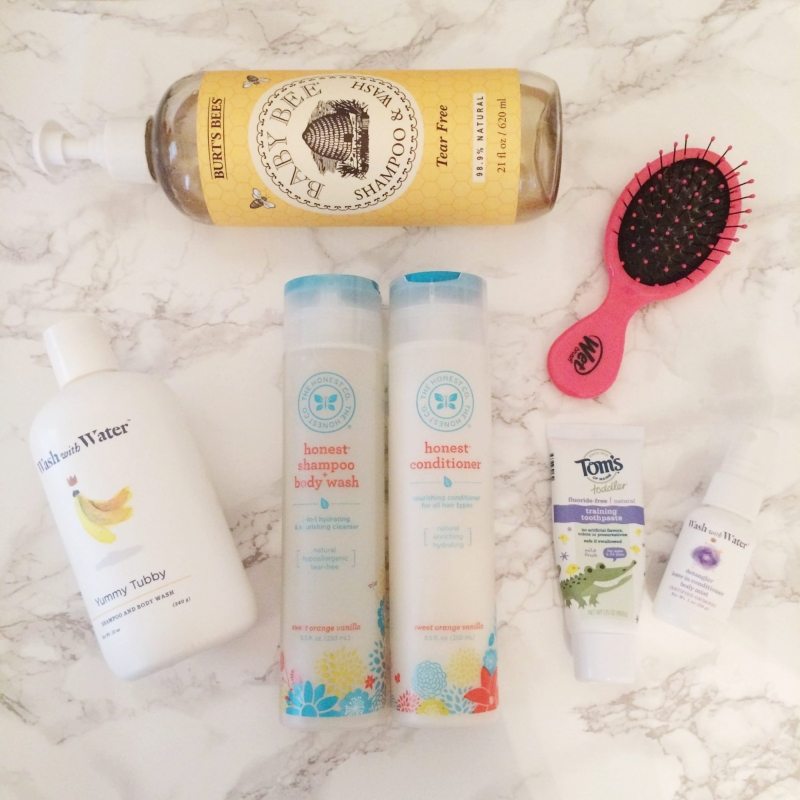 Burt's Bees Baby Bee Tear-Free Shampoo & Wash
We've been using this since Harper was tiny and I love it so much I've actually purchased it to use for myself before! It smells like sweet honey and it's so gentle. They also have a lavender version we really like. It's tear-free and can be used as both a shampoo and body wash, but we primarily use it as a body wash.
Wash With Water "Yummy Tubby" Shampoo & Body Wash
I love this product line because it's free of so many ingredients commonly found in bath products including petrochemicals, phthalates, sulfates, parabens, synthetic colors, TEA, DEA, silicons, PEGS, dairy, egg, oat, lactoperoxidase, citrus seed extract, GMOs, triclosan and synthetic dyes. This body wash lathers so nicely and smells good too. We used it as both a body wash and shampoo (alternating with our other most-loved products) and it's wonderful. I've also used their body bar soap for travel (for myself too!) and love it.
Honest Shampoo & Conditioner in Sweet Orange Vanilla
This shampoo and conditioner combo is a must-have for bath time. In the summer, we pretty much have to wash Harper's hair daily, which I hate to do, but with the temperatures so high combined with outdoor play (and hair matted to her head from sweating) plus sunscreen that gets in her hair, we really have to. The Honest shampoo is fantastic and rinses really clean. I didn't used to use conditioner in her hair, but it gets pretty wild from washing it so often and sleeping on it, so it has helped tame it a little.
TOM'S Training Toothpaste
Not a bath product, but worth a mention. We use a variety of training toothpastes and TOM'S is a favorite. We also like BabyGanics brand. I used to have such a rough time trying to brush Harper's teeth at bed time. It would just end in tears and screaming (which actually worked to my advantage since her mouth was wide open). I started to try some new methods and now I make up different songs using the melodies from some of her favorite songs and we sing about "getting rid of the sugar bugs" on her teeth. So basically I sound like an absolute maniac, but her teeth get clean and sometimes she even laughs at my lyrics. We also count how many sugar bugs we "got" and talk about how they're gone bye-bye now. So if you're having a hard time, make up a strange song about sugar bugs dancing on your kid's teeth and see if it works for ya!
Wash With Water Triple Crown Spray
As I mentioned earlier, Harper's hair is quite wild. We do bath time right before bed, so her hair will dry naturally as she sleeps. Combine that with her rolling around in her crib all night and her hair looks like a wild animal most mornings. We started to use this detangling and conditioning spray on her hair after we wash it. It's organic and lavender-scented and helps keep her hair a little more under control than when we don't use it. It can also be used as a body spray, but we stick to using it on her hair.
Mini (Squirt) Wet Brush (& Full-Sized Version)
Oh the Wet Brush. I can't profess my love for it enough. My friend Leslie introduced me to the Wet Brush months ago and I'm absolutely obsessed. It has totally changed my hair washing routine. I have the full-sized one for myself and I've never used a brush like it. It literally perfectly detangles your hair right out of the shower- no snags or pulls. I even use it to blow dry my hair now (before I do it in sections with a round brush). So when I saw they had a mini version, I knew I had to get one for Harper.
ulta  |  amazon  |  target
One product we've never used is body lotion. I see all of these baby commercials where moms are slathering their babies in lotion and I questioned if I needed to be doing that, but Harper's skin has never needed it. She doesn't have dry skin at all and I didn't want to add anything that could potentially cause any irritation with how fair and sensitive her skin can be. So we've just never used it, save a handful of times when she was younger. I suppose I could try something unscented or made for sensitive skin, but I think unless she starts to have dry or irritated skin in some way, we'll skip it.
I would love to hear from you toddler mamas if you have any recommendations for other bath products to try! We love the ones we use so far but I'm always open to trying new ones.
FTC disclaimer: This is not a sponsored post. All products featured were purchased with my own money other than the Wash With Water products which were sent to me for review. These are my honest opinions and I was not compensated to write this post.