When I was pregnant with Harper, I had the nursery decorated, clothes washed and everything perfectly organized awhile before she was born.
This time around, things have been quite different since we moved in my third trimester and we've been so focused on getting the house together (don't even ask about the nursery— thank goodness he will be sleeping in our room long enough for me to finish it!) The good news is that we kept all of the major essentials from when Harper was a baby like activity mats, our swing, bouncer, stroller, pack-n-play, bottles, etc.
I still had a list of newborn essentials to pick-up before sweet baby boy joins our family in a few weeks, so I wanted to share with you all what I purchased for baby #2, should you be in the same boat! I'm also eager to hear from y'all if there's anything I forgot to pick up, because Lord knows pregnancy brain is a real thing (#thestruggleisreal).
buybuy BABY was kind enough to host me in their Tomball store to pick-out our baby #2 essentials just weeks before my due date and we couldn't be more thankful for such a wonderful experience!
A couple of weeks before our visit, I created an online registry to keep track of the items we still needed. We started off with a tour of the super bright, clean and organized store with the manager who helped us review our list and find some items we needed. What I love most is that buybuy BABY  carries such a wide variety of brands from the most basic and affordable to some of the higher-end brands like 4moms, UPPABaby, Bugaboo, etc. The selection is really awesome— we only had to order two items online that weren't in the store and they were shipped to our home free of charge just a couple of days later, which was really convenient.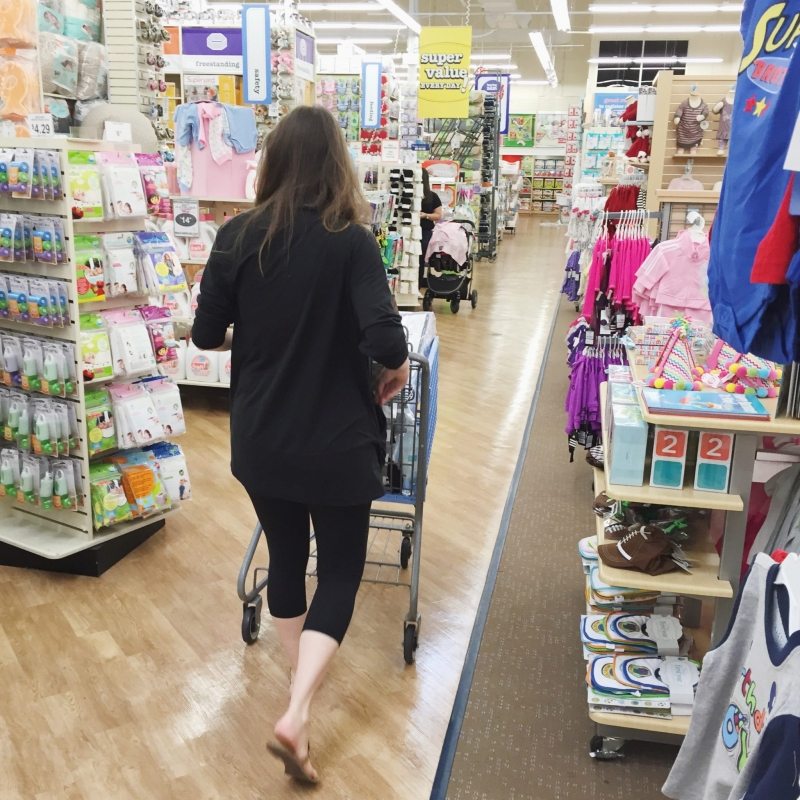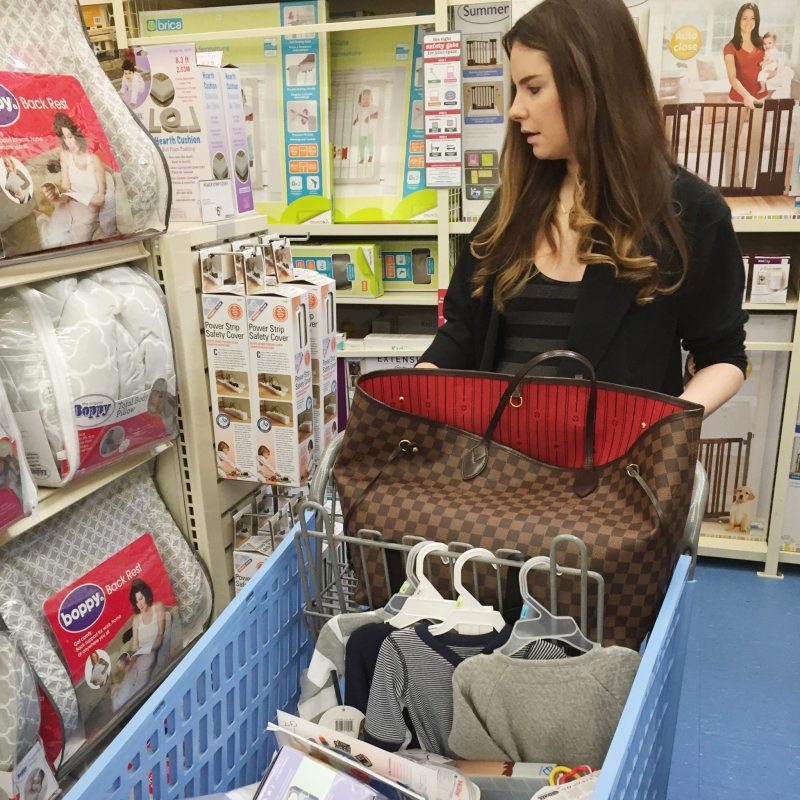 The first few items I picked out were some 0-3 and 3 month sized clothes for baby boy. I absolutely LOVE the Burt's Bees organic clothing line carried at buybuy BABY  (I had never seen it anywhere in person before) and I selected two adorable sleepers from the line.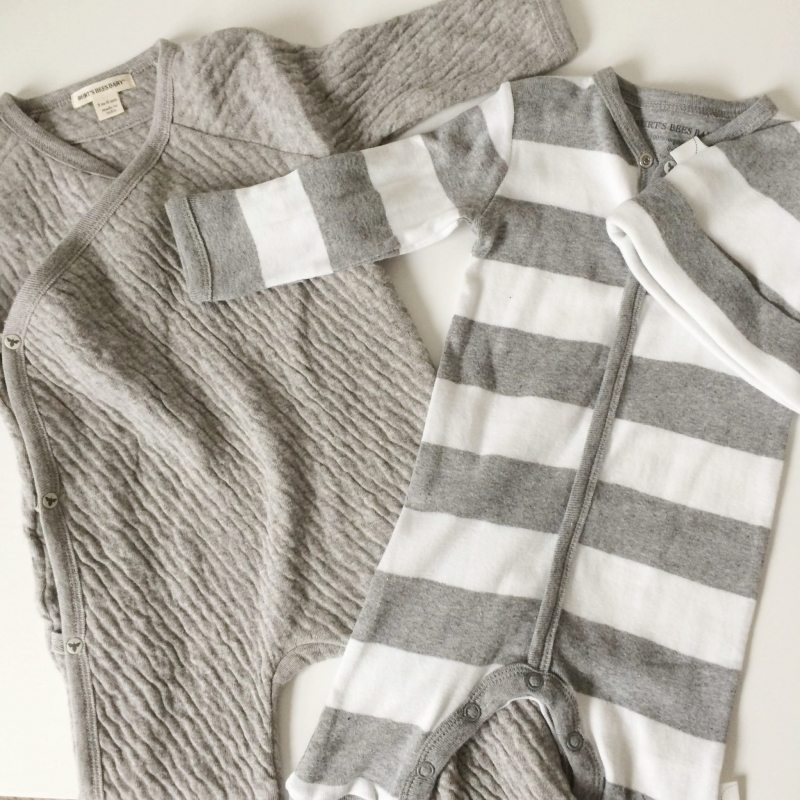 Burts Bees quilted kimono sleeper  |  Burts Bees organic cotton striped sleeper
I also picked up two Carter's brand sleepers and one Planet Cotton brand one with a waffle texture. Harper was a summer baby and she lived in onesies, so for the cooler October temperatures (crossing my fingers it actually WILL be cooler, ha), I opted for a lot of long-sleeved sleepers for baby boy to lounge in while I binge-watch HGTV.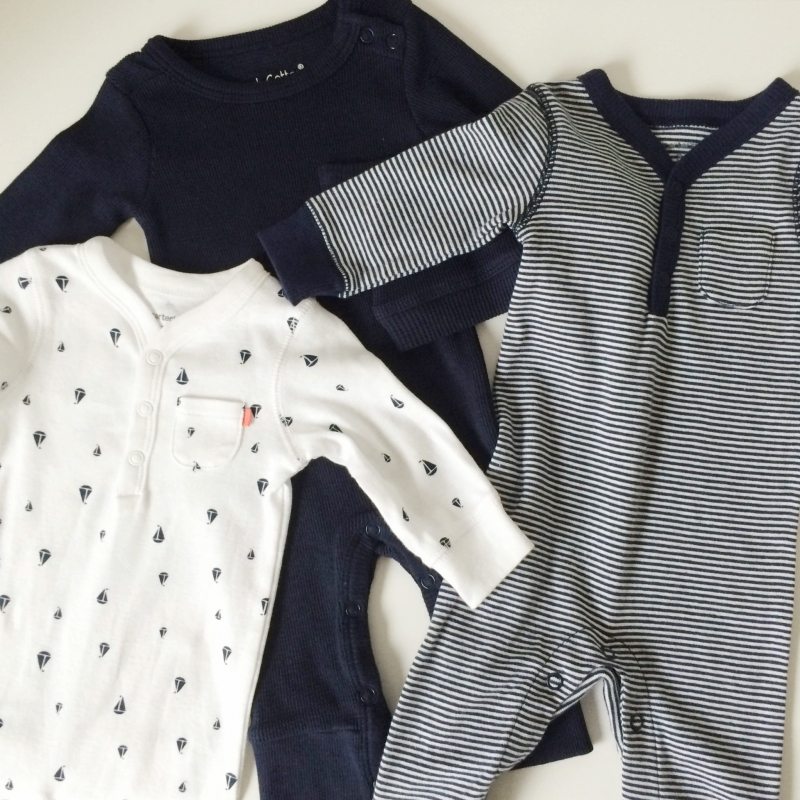 Planet Cotton sleeper  |  Carter's sleepers

These were a total no-brainer, but I also picked-up some plain white long-sleeved onesies.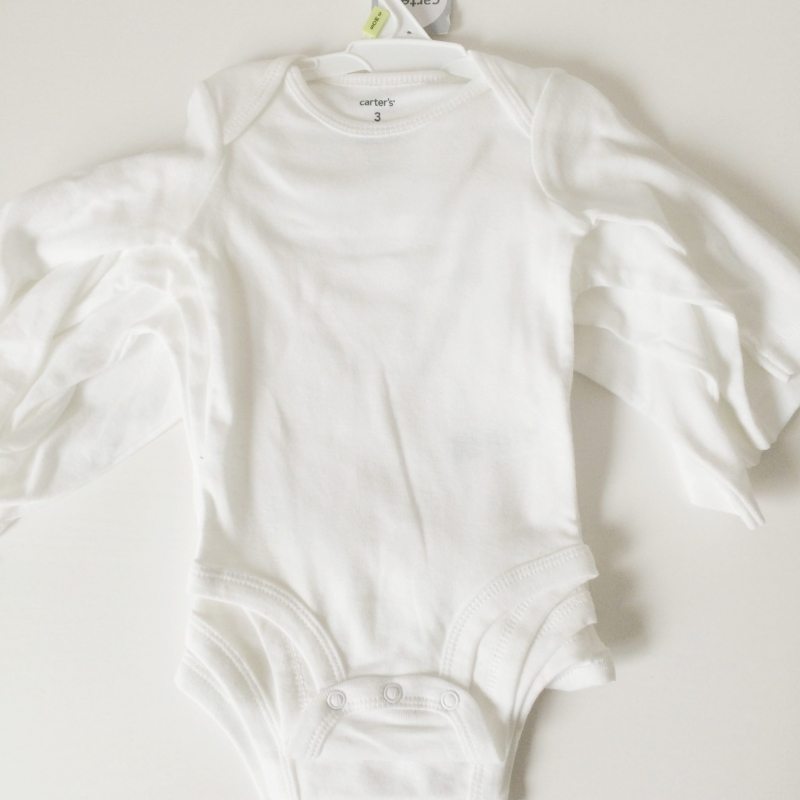 Carter's white long-sleeved onesies
I already own the Ergo carrier, but I realized that I didn't have the infant insert for it. I had borrowed one from a co-worker and she is also expecting right now so I knew I had to get one of my own. I think now more than ever, it's going to be essential to be able to able to use the carrier when he's still small since it's so much easier to be hands-free when you're also caring for/going places with a toddler.
I have a weakness for baby blankets, so I picked up a new Aiden and Anais swaddle blanket in a sweet blue star print. I loved these blankets for Harper and wanted baby boy to have a few of his own in non-girly/pink prints (though I do love men and boys in pink).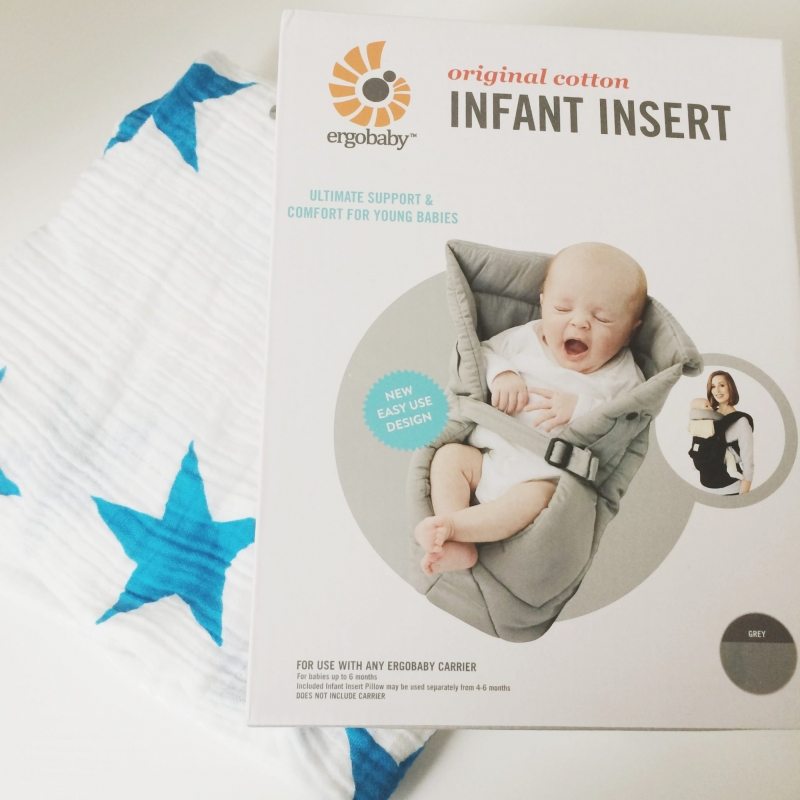 Ergo infant insert  |  Aiden & Anais stars swaddle blanket
Next up, I picked up some feeding essentials. New bottle cleaning brushes, breast milk storage bags (the Lansinoh ones are the best— they do not leak and they hold a large volume). I also got some new Medela membranes for my pump and a joovy "boob" bottle. We have a ton of bottles already, but I read about this one and every baby has different preferences so I figured I would pick one up in case the other brands we own are rejected. I'm hoping to exclusively nurse for the first couple of months but eventually he will have to take pumped milk since I will be going back to work.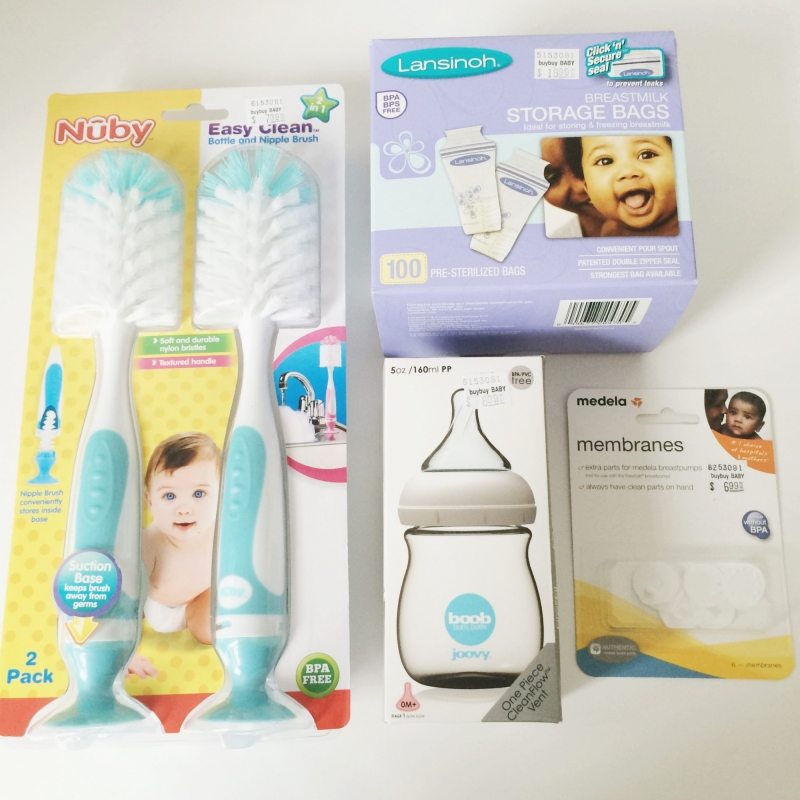 Nuby bottle brushes  |  breast milk storage bags  |  joovy boob bottle  |  Medela membranes
Harper was a paci-loving baby from the very start and so I picked out some MAM pacifiers for baby boy too. I'm not sure if I will offer them right away or wait, it depends on his temperament and desire to suck, but if he's anything like Harper was, I wanted to be prepared with a capital "P" because that girl and her paci were besties. I also picked up a new set of Dr. Brown's pacifier wipes for our diaper bag and a teething toy by Nuby.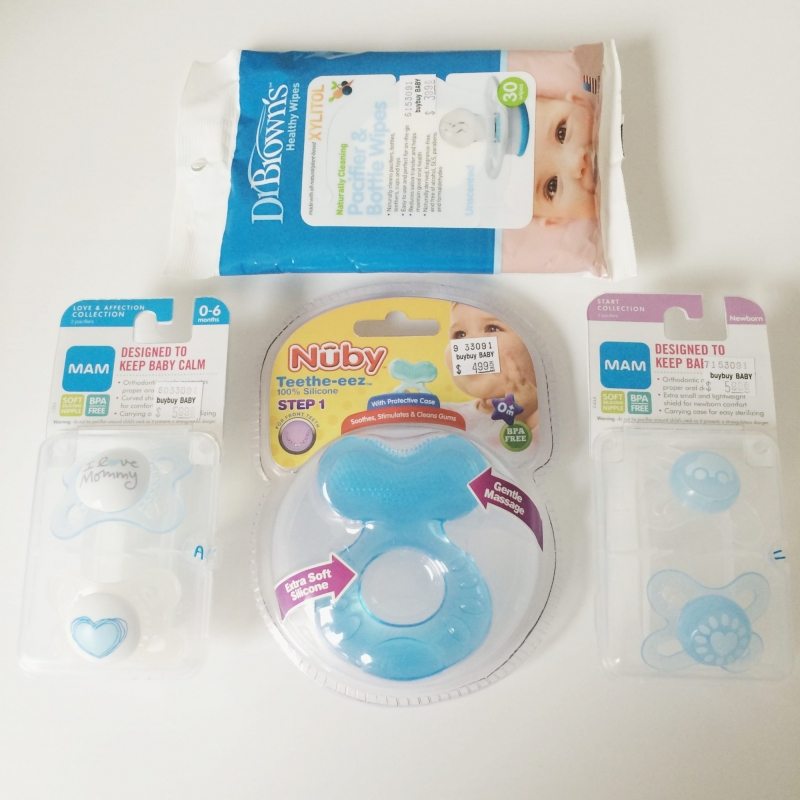 MAM pacifiers  |  Dr. Brown's paci and bottle wipes

Since baby boy will be born during cold and flu season, I got a new Nose Freida with extra filters. While I hope he doesn't get sick, I'm being realistic and I want to be prepared in case he comes down with a stuffy nose. The Nose Freida was something we used a lot with Harper but I have no idea where that one is and so a new one was in order!
Our favorite diaper rash cream, Triple Paste, was also on my list of essentials.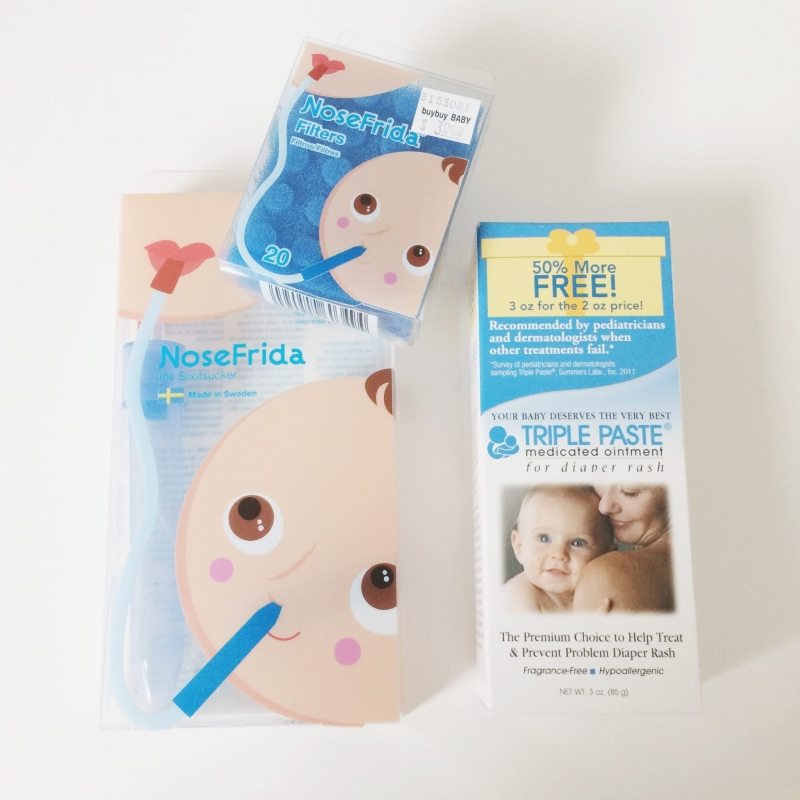 Nose Freida  + filters  |  triple paste

I sang the praises of these Boppy waterproof changing pad liners when I used them with Harper, but these should be on every parent's list. They protect your changing pad cover so you're not having to wash it every single time there's a blowout situation. I purchased two packs just so I could have them in both the nursery and our bedroom.
I also picked up a Woombie swaddle because they're the only ones that worked with Harper. They're breathable and made with a stretchy fabric— they keep baby cozy and contained and they cannot escape. Harper was a master escape artist with other swaddles and I swear this one helped her sleep better and longer.
We have a ton of toys, but I couldn't resist picking up this clickity twist toy for baby boy. It's made by the same creators of the o-ball, a toy we already own and love.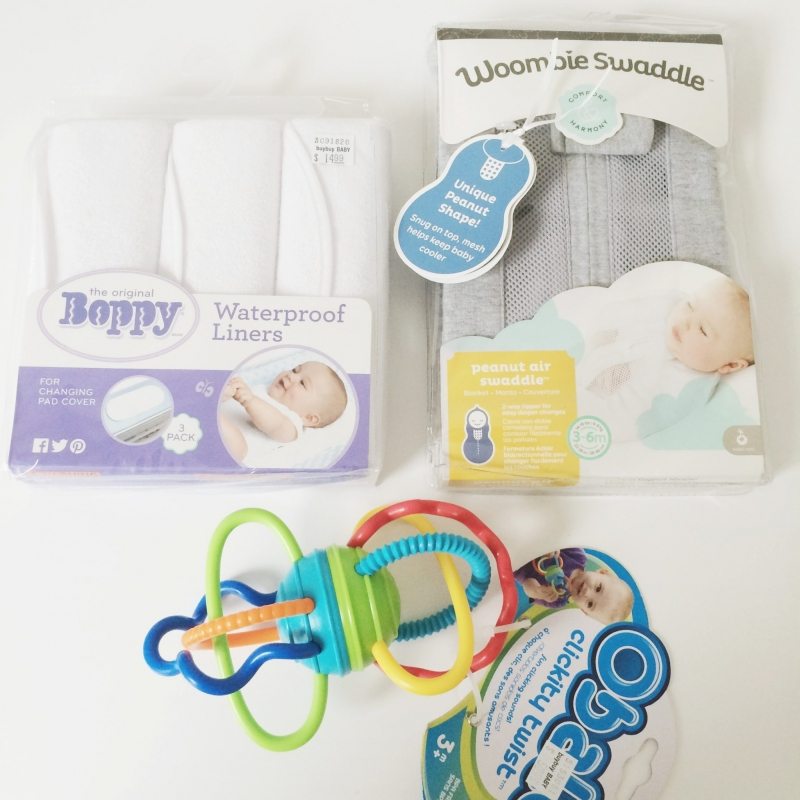 Boppy waterproof changing pad liners  |  Woombie swaddle  |  o-ball clickity twist
We also ended up picking up a changing pad, an extra diaper pail (we have one on each floor) and a new Summer Infant Baby monitor for his room. We love Harper's monitor so we decided to go with the same brand.
Lastly, I love that buybuy BABY sells Honest brand and Babyganics products because we ended up picking up some cleaning product essentials for our new home. I like that the products are more natural and don't have those strong chemical smells to them and have been using them since we had Harper. On this trips, I picked up Honest's glass cleaner and Babyganic's all-purpose fragrance-free wipes.
The moment we walked out of the doors with all of the baby essentials we'll need, I felt an immediate sense of relief. I'm sure there are little things we will need here and there (like diapers, and lots of em'!) but for now, we feel pretty set for our little one's arrival.
FTC disclaimer: I was provided with a gift card to purchase some items from buybuy BABY. All opinions are my own and I am not being compensated otherwise for this post.