If I'm being honest, my favorite thing about Halloween is candy. Everywhere. In massive bulk packages and in bowls on people's desks for the entire month of October. And don't even get me started on Pumpkin Spice Lattes. Yes. Yes to all of that goodness.
Since I don't want my toddler as hopped up on sugar as I am the entire month, I try to celebrate the holiday in other fun ways too. I love coming up with easy DIYs for every little holiday and this year I thought I would create some simple Halloween toddler activities. You know, so I can keep my toddler distracted while I hide in my laundry room eating peanut butter cups and skittles…
The first project I worked on is a memory game that is literally the easiest thing to make ever. Harper is obsessed with her Frozen memory game cards so I purchased some Halloween themed foam pieces for 40 percent off at Michael's Arts & Crafts and some poster board and created cards for a matching game. We always play a few rounds with the cards turned up so she can get used tothe concept of the game before we try themturned around.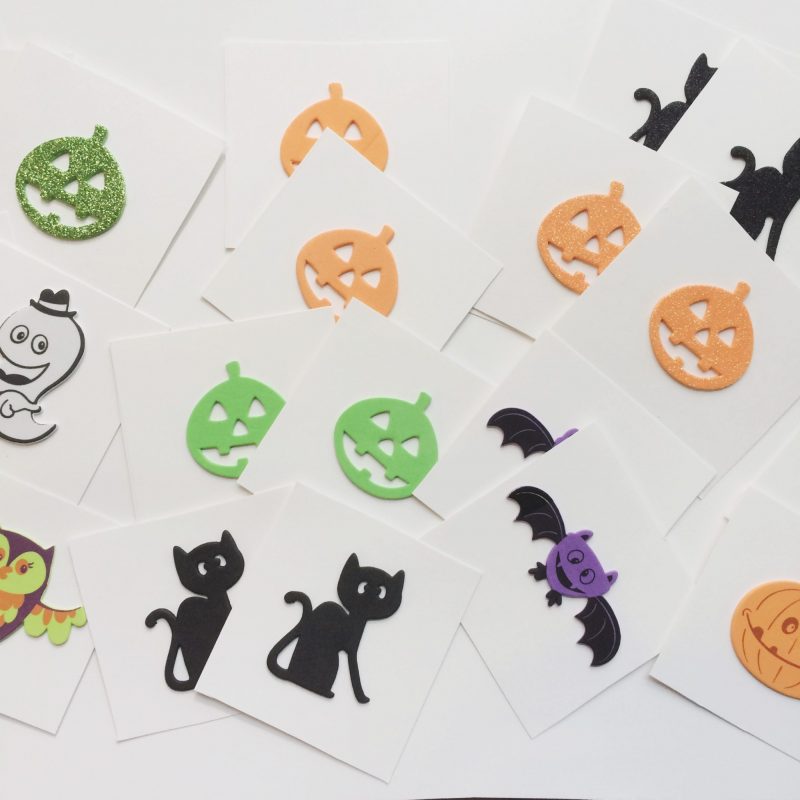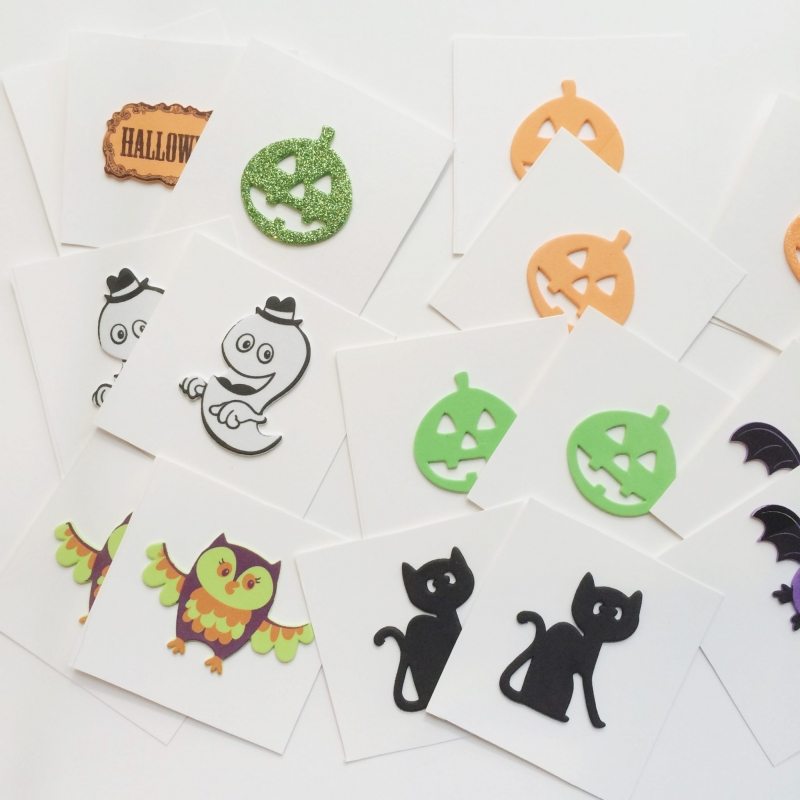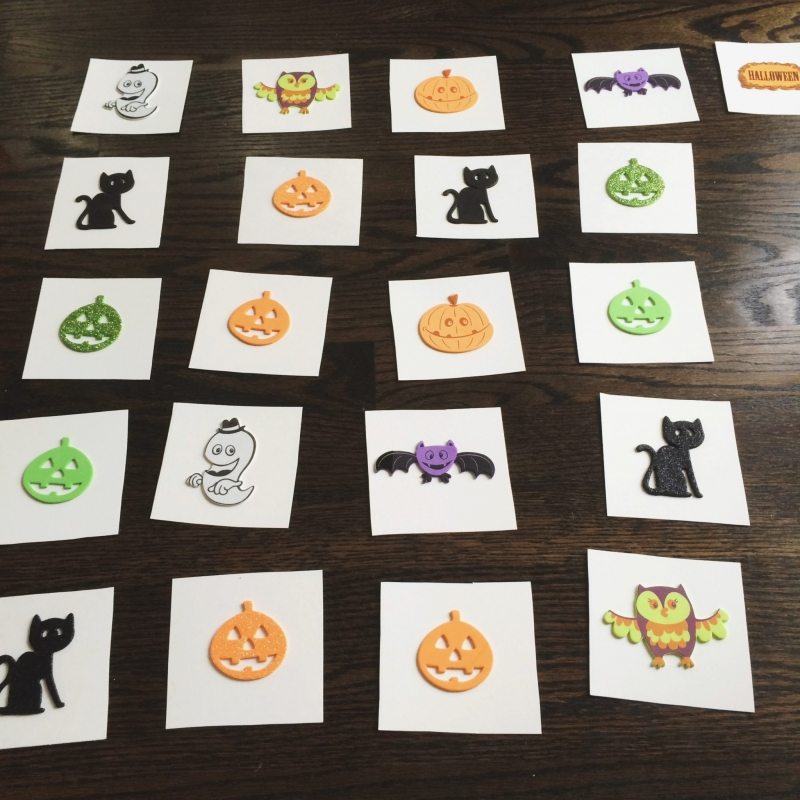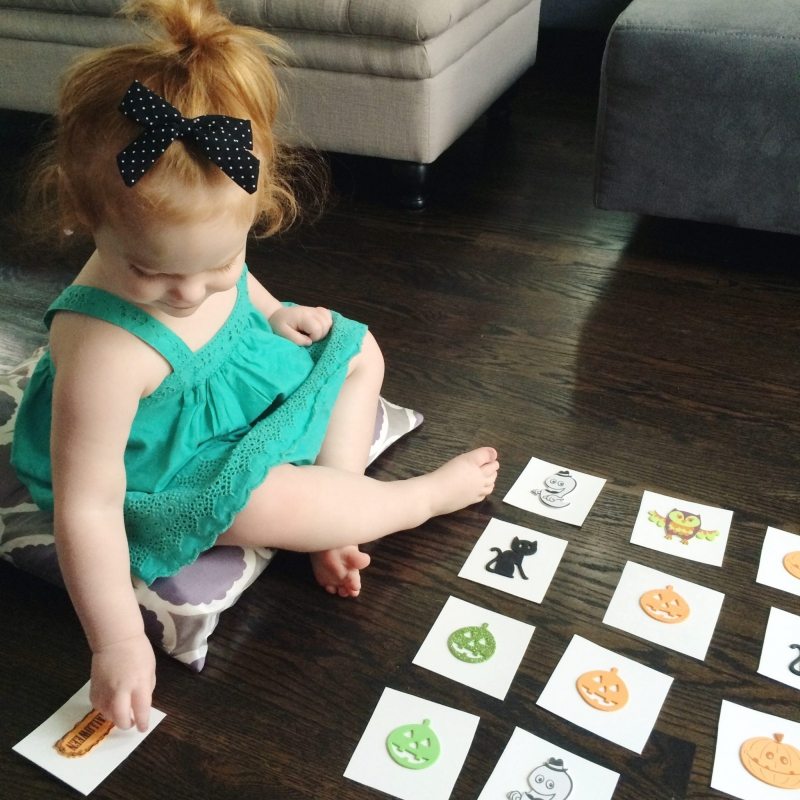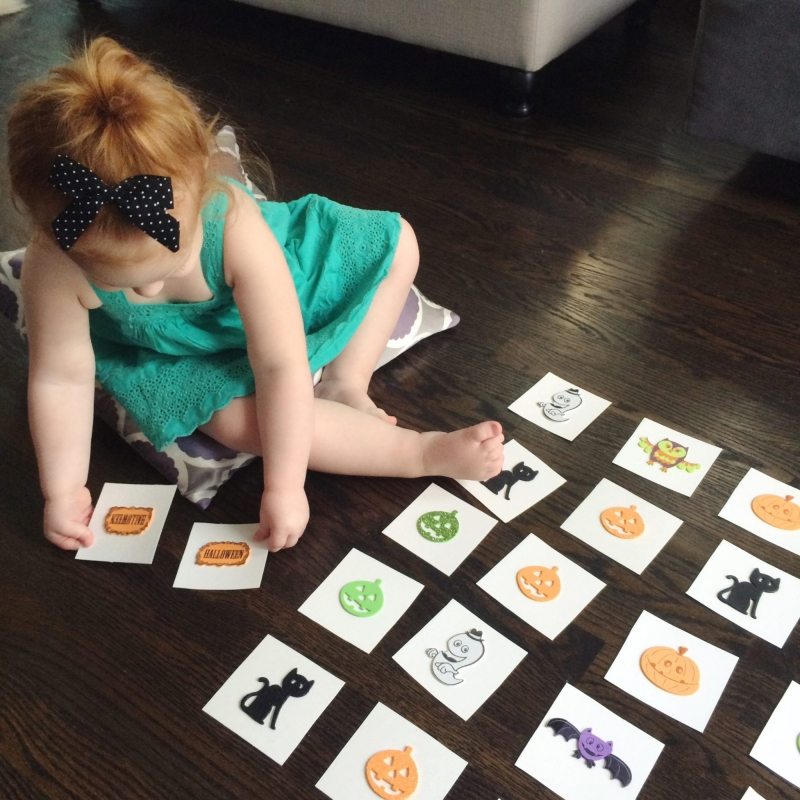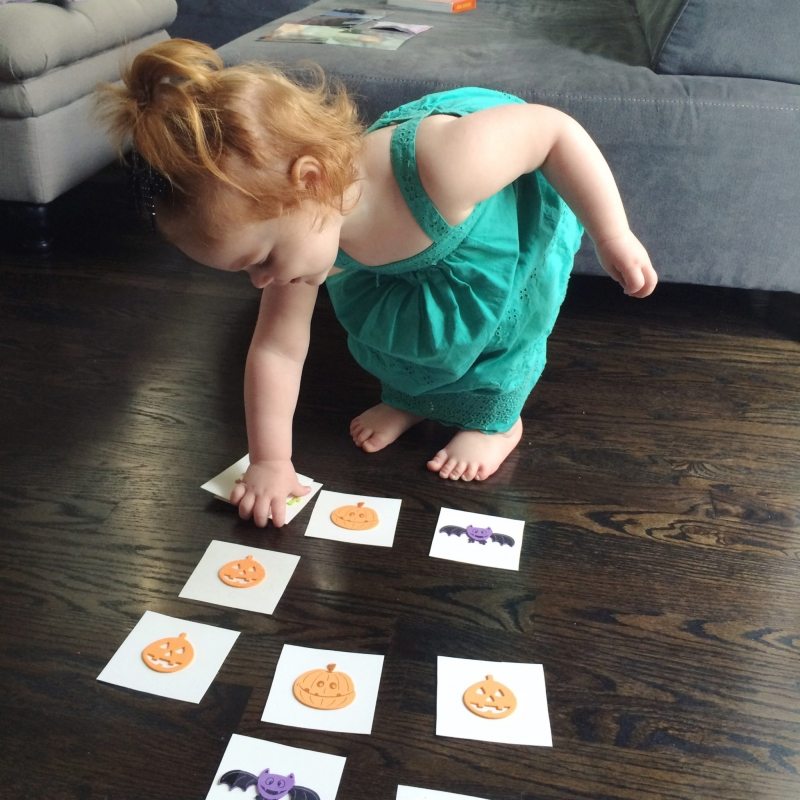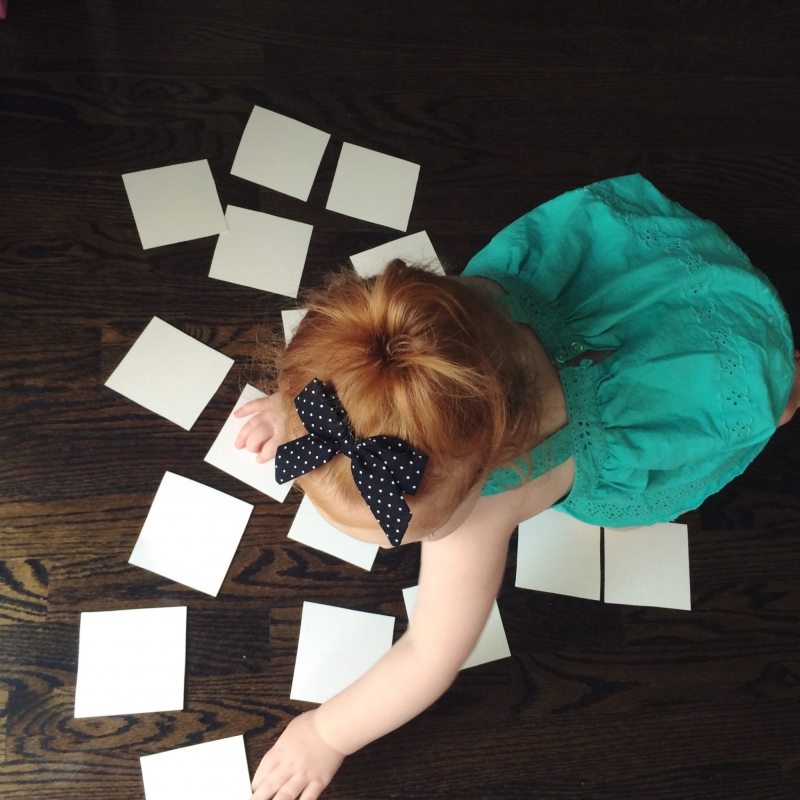 The second game I created was one inspired by a Christmas tree craft I saw on Pinterest last year.
Basically you make a big felt tree and oranments for your child to stick on, also made with felt. I decided to make pumpkins and ghosts with different expressions so Harper could play with them, kind of like Mr. Potato head.
I simply drew the pumpkin and ghost shapes onto some felt with a pencil and then free-handed all of the other shapes for eyes, noses and mouths. Eventually, Harper just piled all of the facial onto one pumpkin.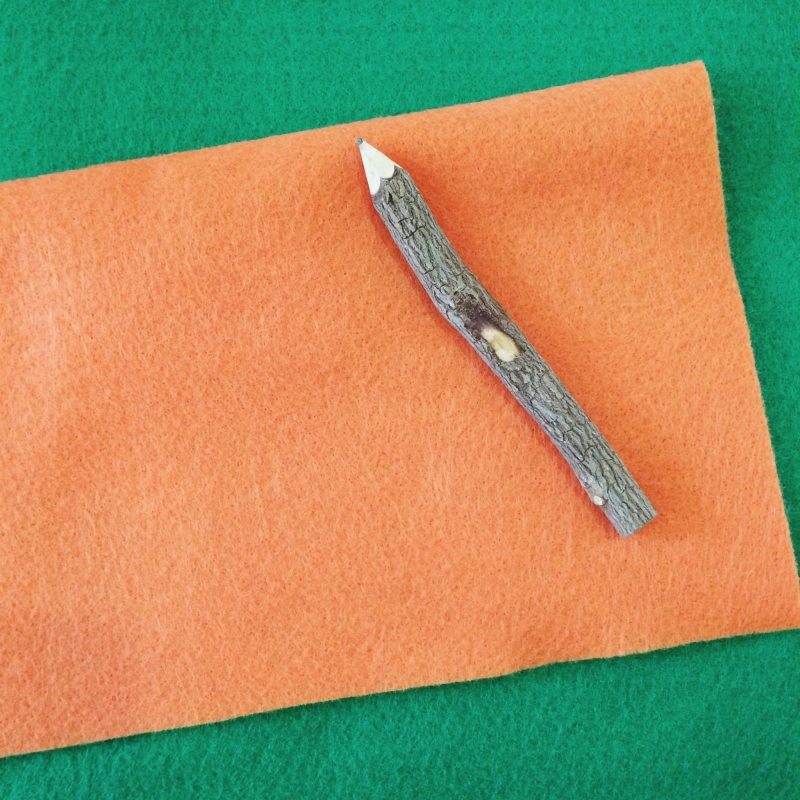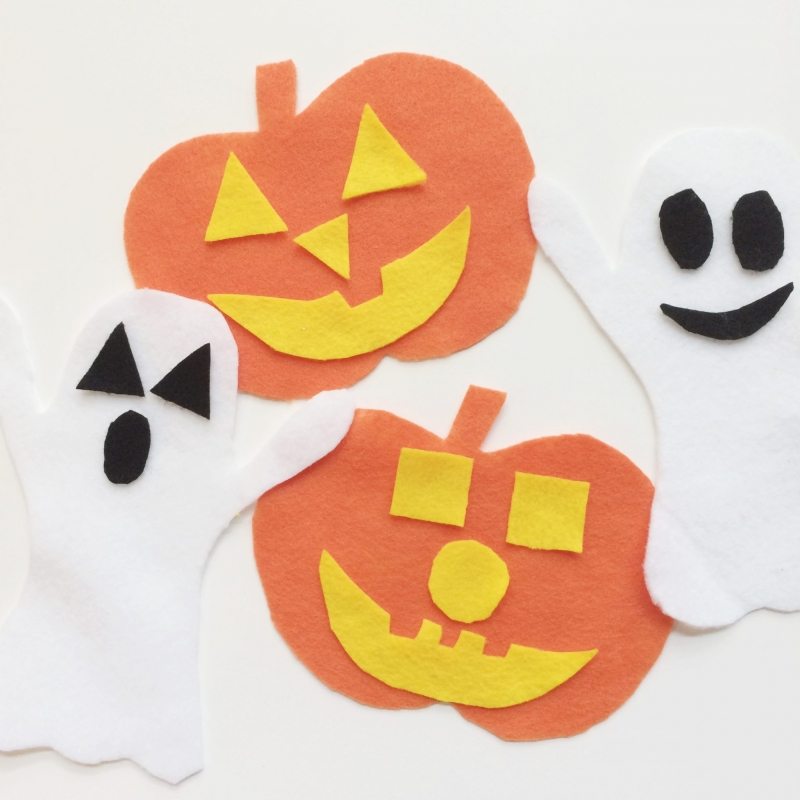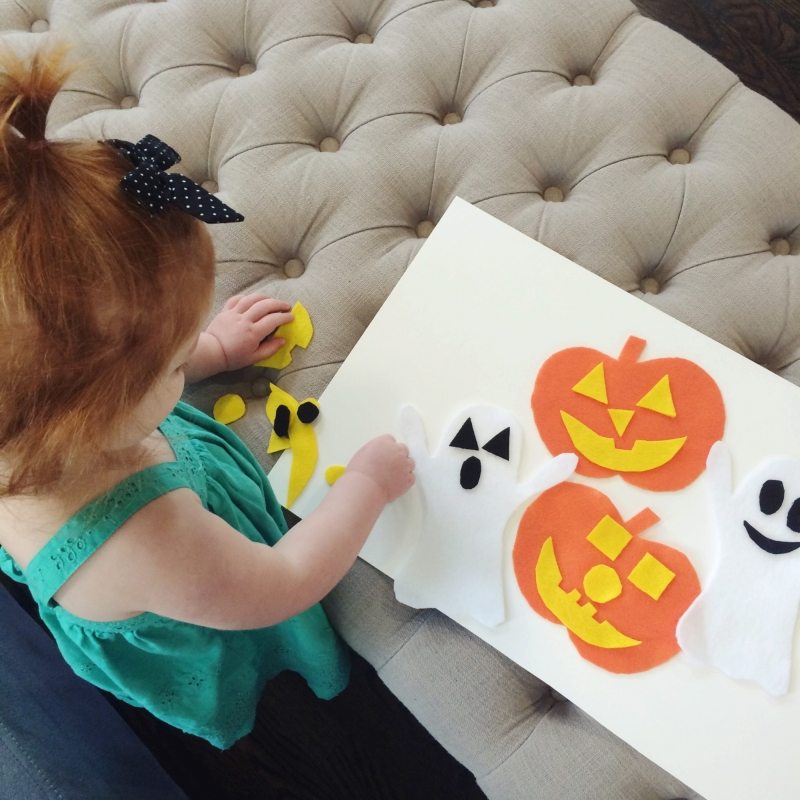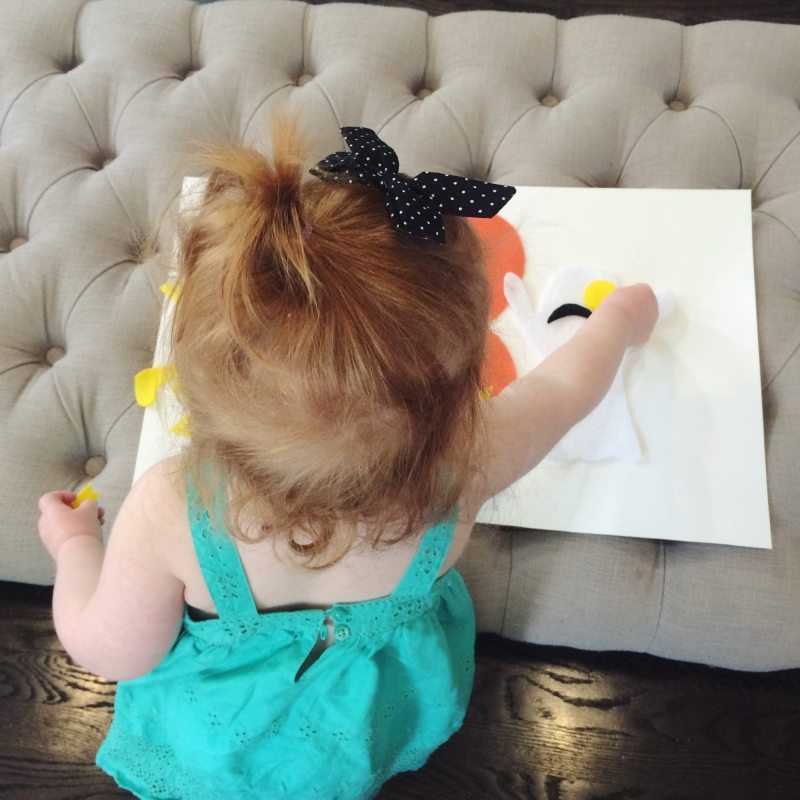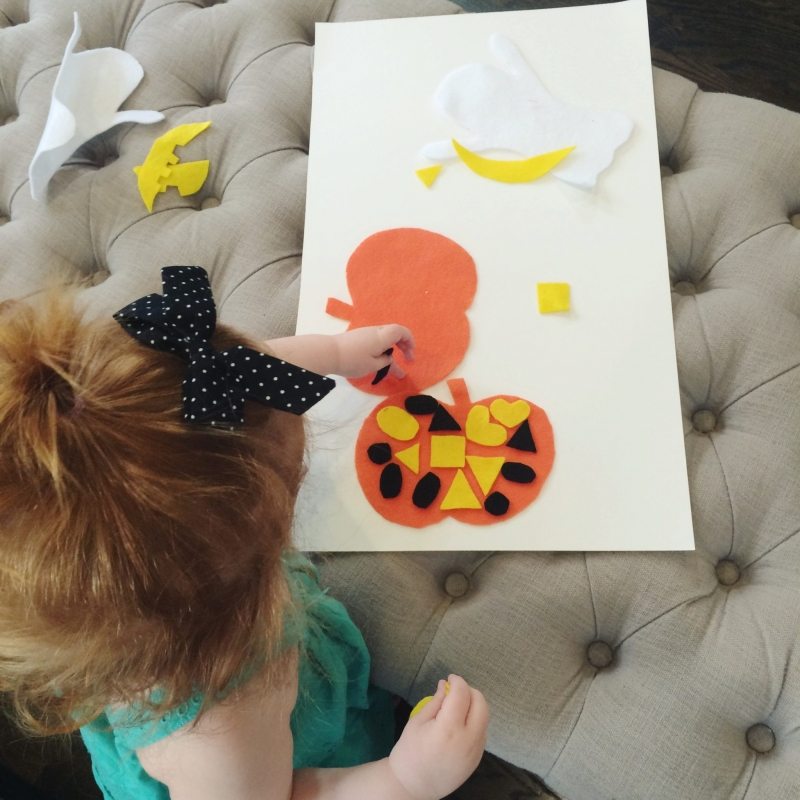 If you have a toddler, you know keeping them entertained can be a challenge and these games are definitely fun to break out when you need an activity to occupy your busy child. Both of these activities can also be tailored for any holiday.
Speaking of Halloween candy, I recently shared how we brush the "sugar bugs" off of Harper's teeth before bedtime every night. Believe me when I tell you that during the month of October,  there's a whole lot of flossing and brushing happening with all of those extra sugar acids on my teeth (or "sugar bugs" as we now call them). Harper sometimes asks if they'll bite her…and I tell her yes, they will, if we don't brush them off. Terrible? Maybe…but it works and we sing songs about how the sugar bugs are being brushed away and it makes her laugh. Parenting win?  Taking my own advice since I've already had a couple of cavities filled in my life,Aquafresh® toothpaste helps me keep my teeth clean and protects them from cavities. I prefer the whitening version myself.
Don't feel guilty about the copious amounts of candy and chocolate you'll undoubtedly consume this Halloween month…just make sure you take care of your teeth so you don't get a talking to from your dentist 😉
You can also visit Aquafresh on Facebook and Twitter using their handle @AquafreshUS.  Now tell me, what's your favorite way to take care of your teeth this Halloween? Please leave your comments below for a chance to win a $100 Visa gift card.

Entry Instructions:

No duplicate comments.
You may receive (2) total entries by selecting from the following entry methods:

1. Leave a comment in response to the sweepstakes prompt on this post2. Tweet (public message) about this promotion; including exactly the following unique term in your tweet message: "#SweepstakesEntry"; and leave the URL to that tweet in a comment on this post3. Blog about this promotion, including a disclosure that you are receiving a sweepstakes entry in exchange for writing the blog post, and leave the URL to that post in a comment on this post4. For those with no Twitter or blog, read the official rules to learn about an alternate form of entry.This giveaway is open to US Residents age 18 or older (or nineteen (19) years of age or older in Alabama and Nebraska). Winners will be selected via random draw, and will be notified by e-mail. The notification email will come directly from BlogHer via the sweeps@blogher email address. You will have 2 business days to respond; otherwise a new winner will be selected.
The Official Rules are available here. This sweepstakes runs from 10/1/2015 – 10/31/2015.
Be sure to visit Aquafresh® toothpaste's brand page on BlogHer.com where you can read other bloggers' posts!