I was about 38 weeks pregnant when Amy Vance of Eco Modern Concierge contacted me asking if I would be interested in having her help organize a space in our new home.
My first thought was "can you just move in with us for two weeks and help me organize my life?" But then I snapped out of it and thought about a space in our home that I found challenging to keep in check, and that's our pantry.
It's one of those spaces that just accumulates so much food and it gets so messy we end up not even knowing what we have (which makes grocery shopping extra fun as we text back and forth about what we need or don't need to make chilli).
The pantry in our new home is larger than our last one, but it was just as disorganized (it feels nice to say that in the past-tense).
Amy agreed to help organize our pantry and recommended some storage containers to purchase to help get the pantry into tip-top shape. I ordered several containers including this one, this one and this spice shelf, so that's what you'll see in these photos. I later added some white bins, which are from the dollar section at Target.
Are you ready for the before shot? Brace yourselves (#holdme…this is embarrassing):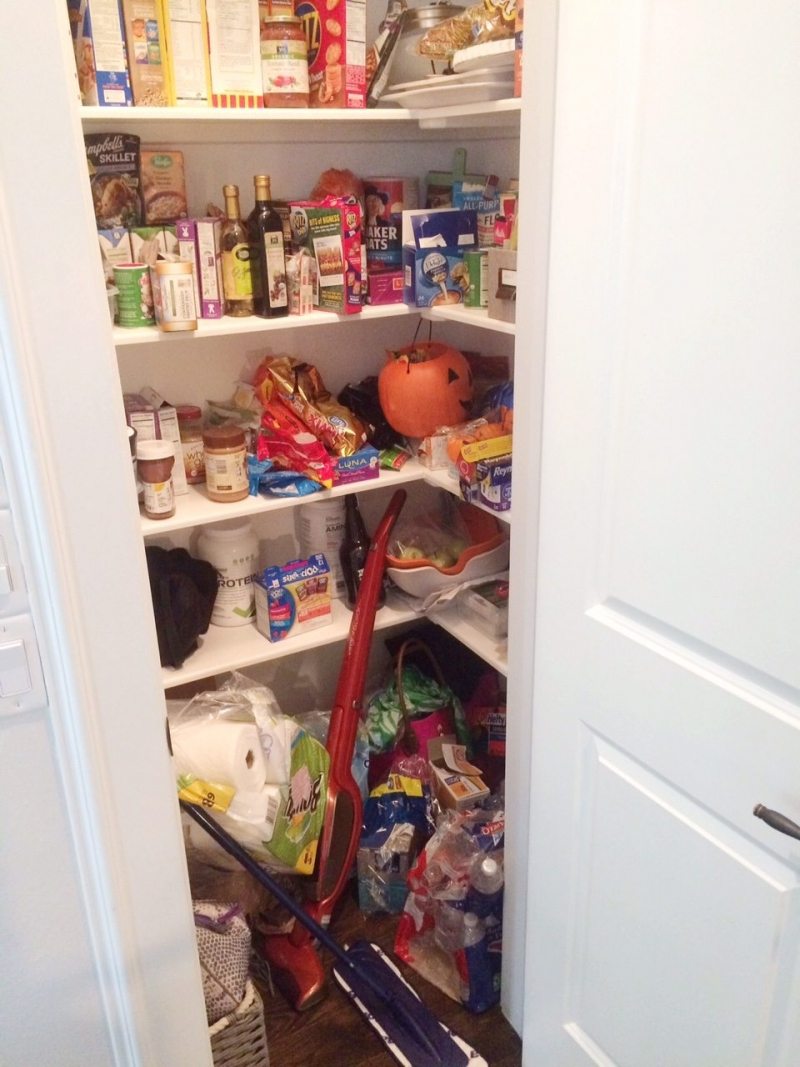 Deep breaths.
First, she took everything out of our pantry. Then, Amy used the storage containers to organize everything into categories and created labels for each container. The labels are key— they keep us accountable when we put away our groceries and allow us to maintain the organization. In fact, we've done a couple of grocery trips since Amy came and we're being a lot more thoughtful about how we put things away now that there are more set parameters of what goes where.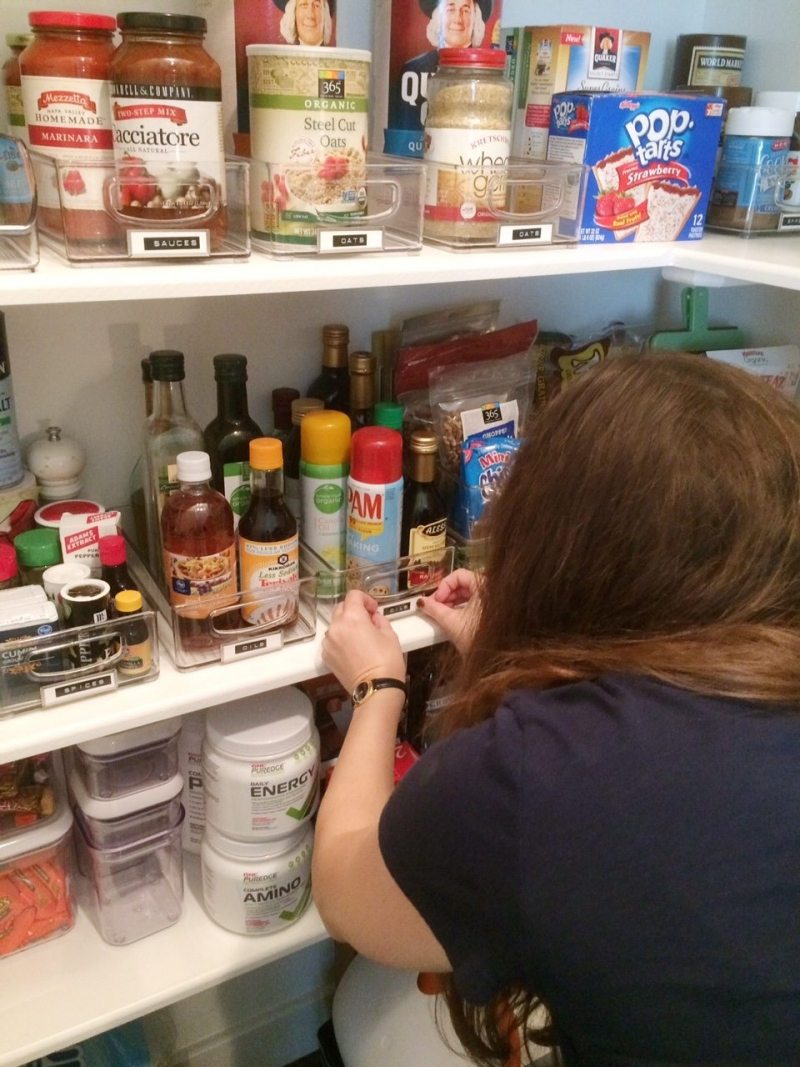 (Amy in action)
…And here is the after— organized, categorized and no more chaos. Everything is easy to see and find.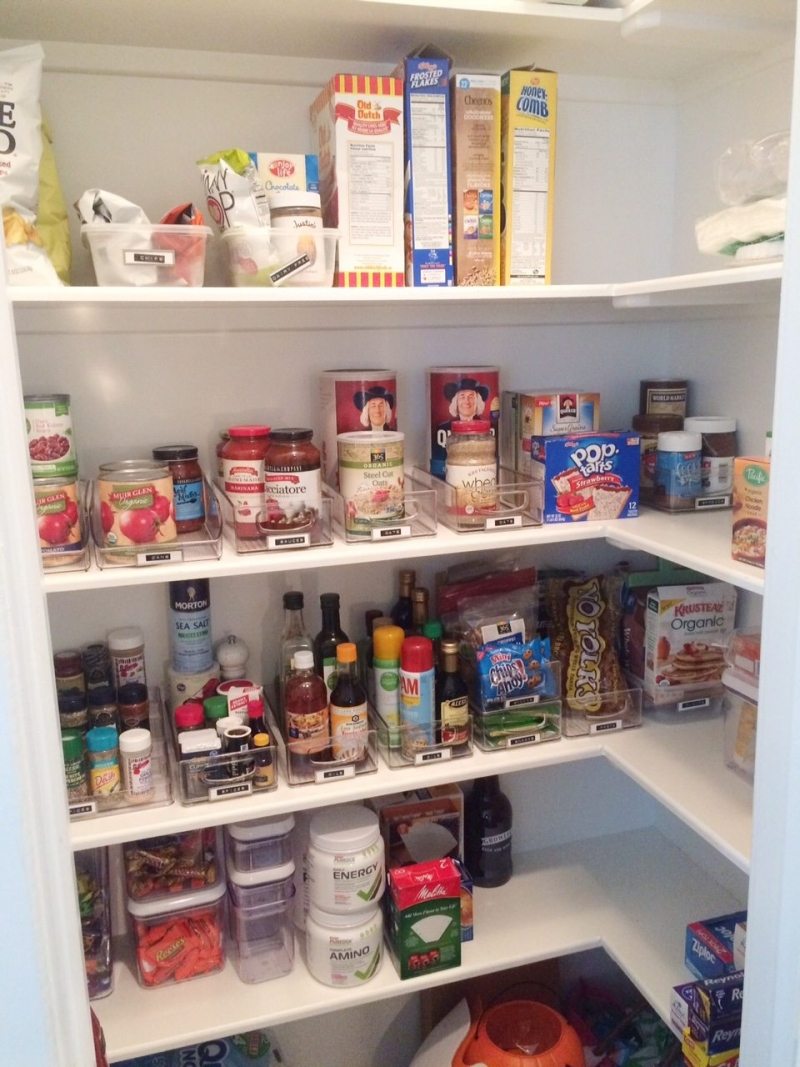 and here is our pantry since we've added some new groceries to it: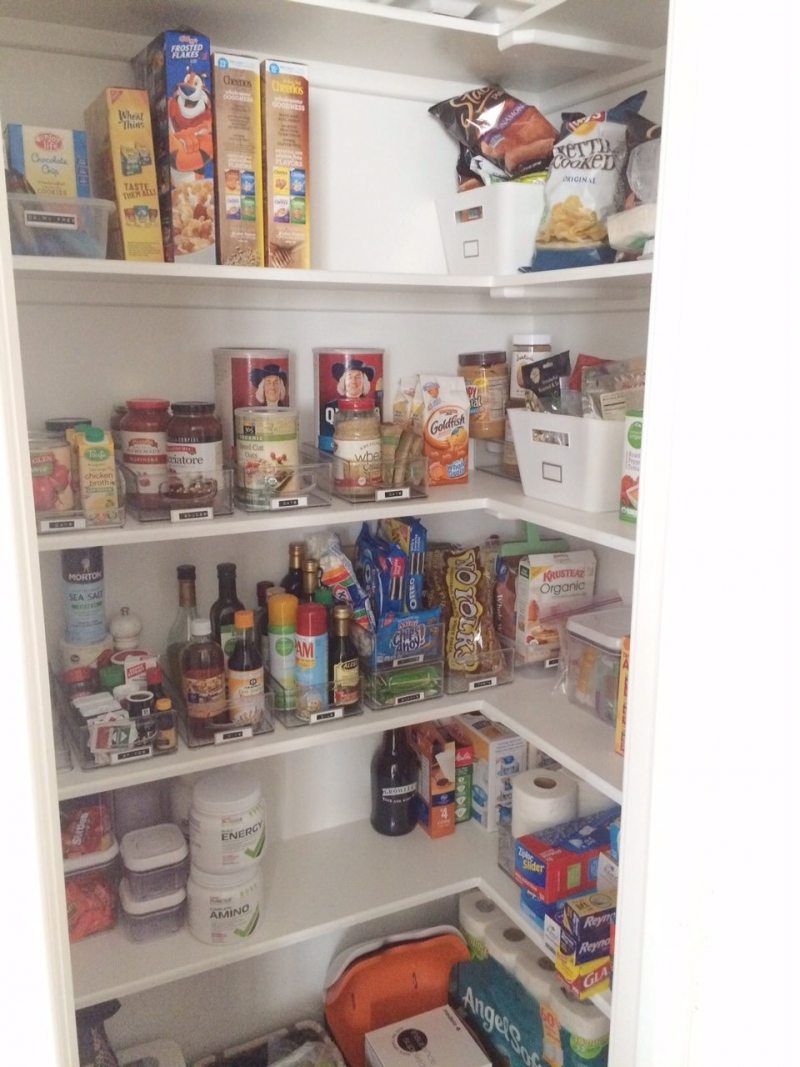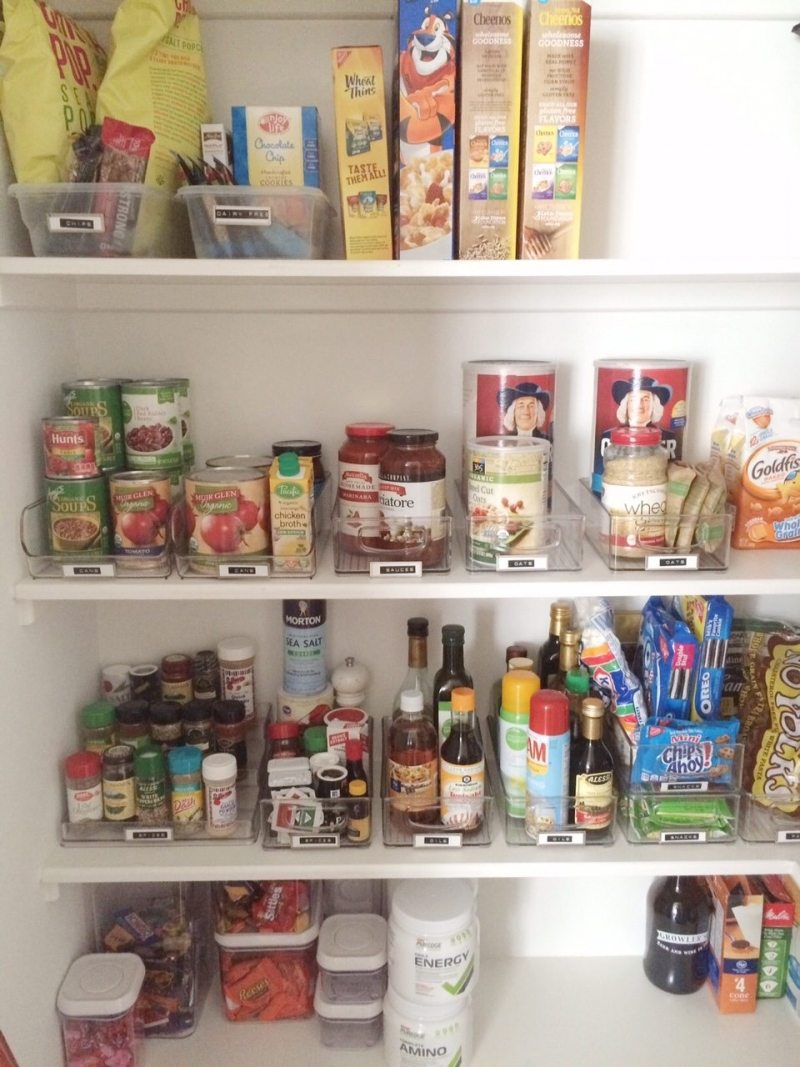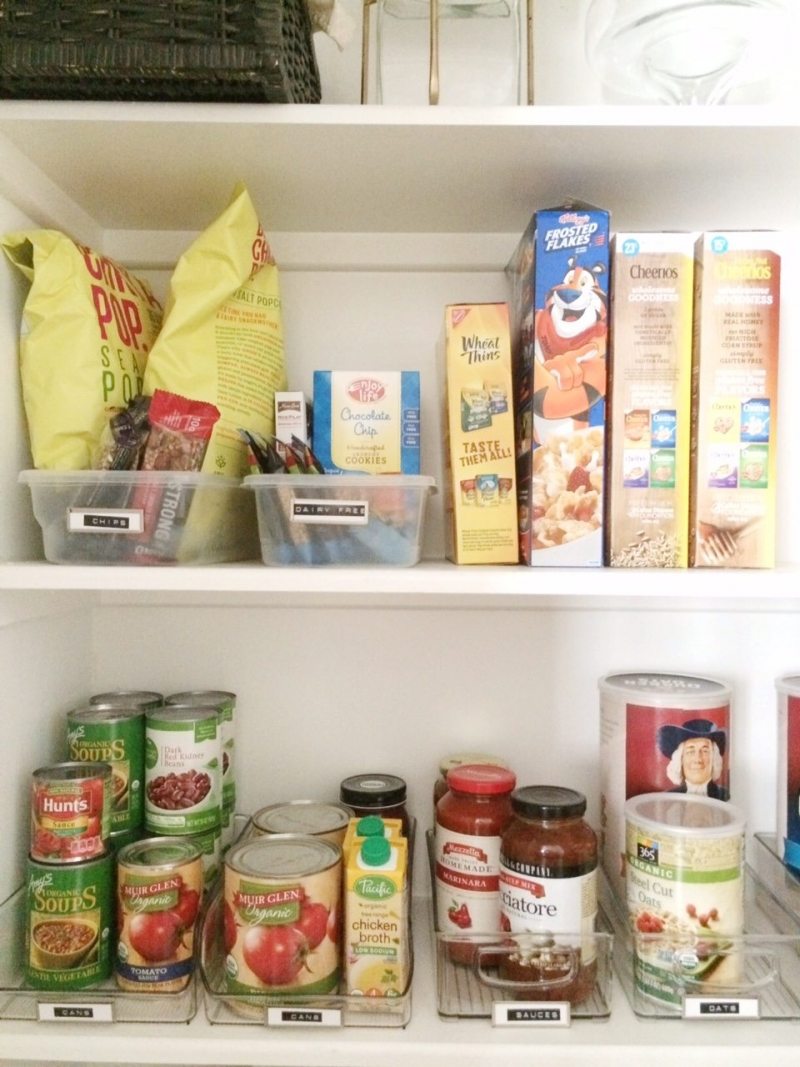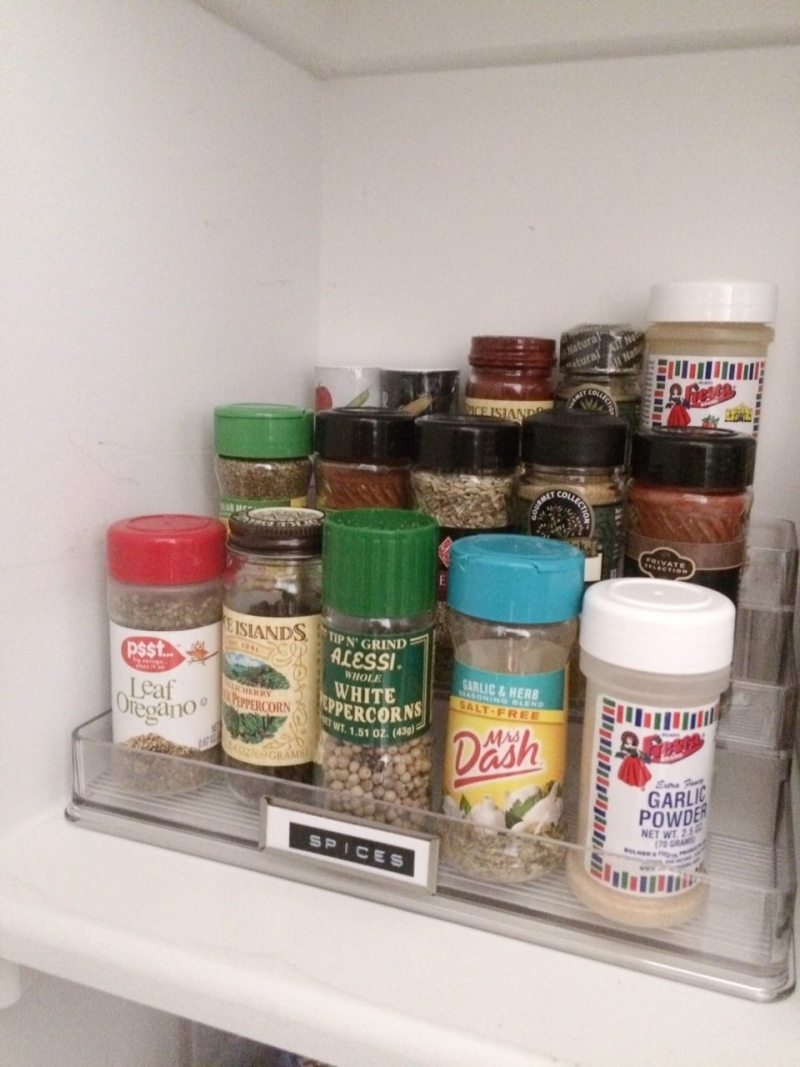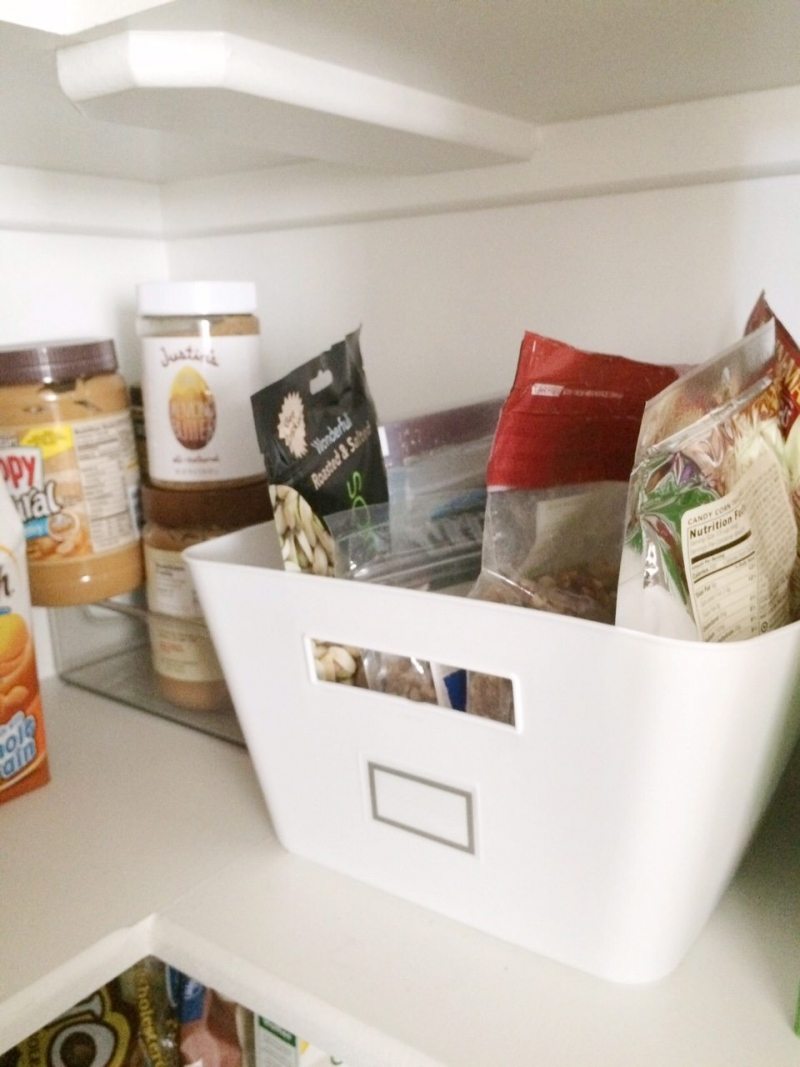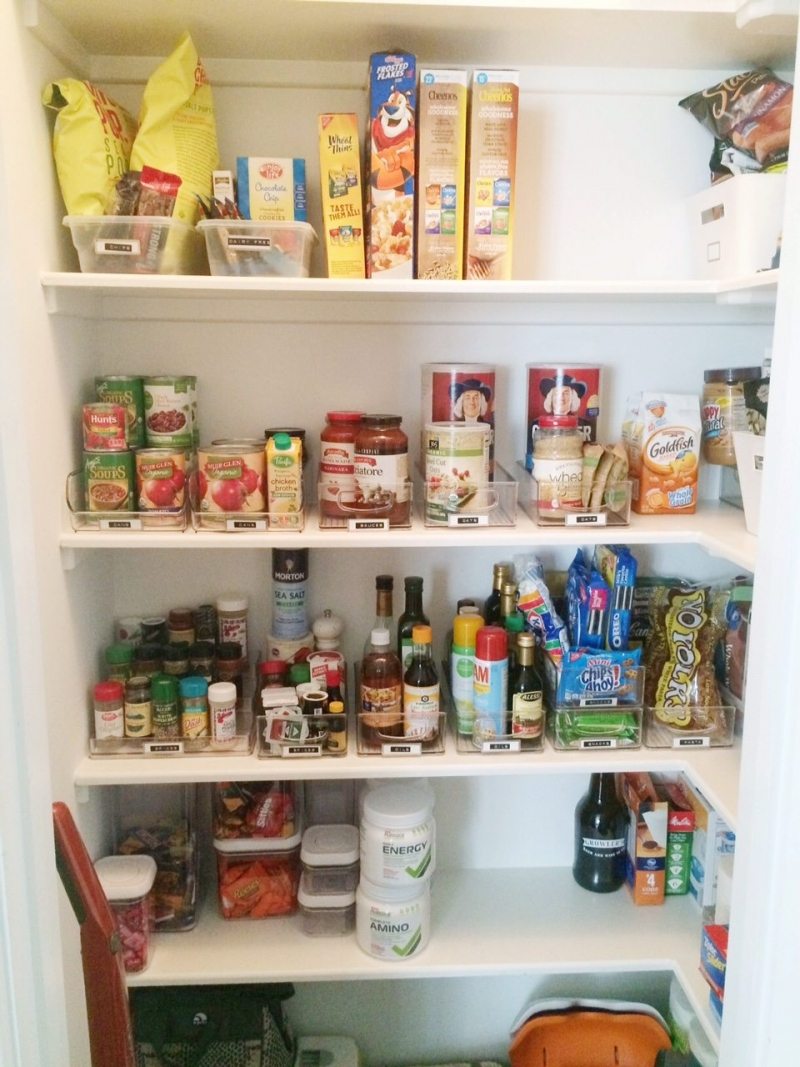 It feels so good to open our pantry every day and not feel it's going to explode. Better yet, having it organized has made our grocery shopping trips easier and more efficient because we can see what we have at all times.
Amy was so wonderful—she's a longtime reader and it was so great getting to know her and getting tons of great organizing tips while we chatted (and yay for adult interaction!) Major thanks to Amy for making this new mama's life a little bit easier.
Because she's the pro- I asked Amy to provide her best advice if your pantry is in need of a makeover. Amy does all kinds of organizing— from closets to businesses and doctors offices, she has so many great tips that I've asked her to become a regular contributor on my blog. The next post will be all about organizing your closet—and if you'd like some tips on organizing a certain space in your home, leave me a comment on this post and it may just be Amy's next topic to address!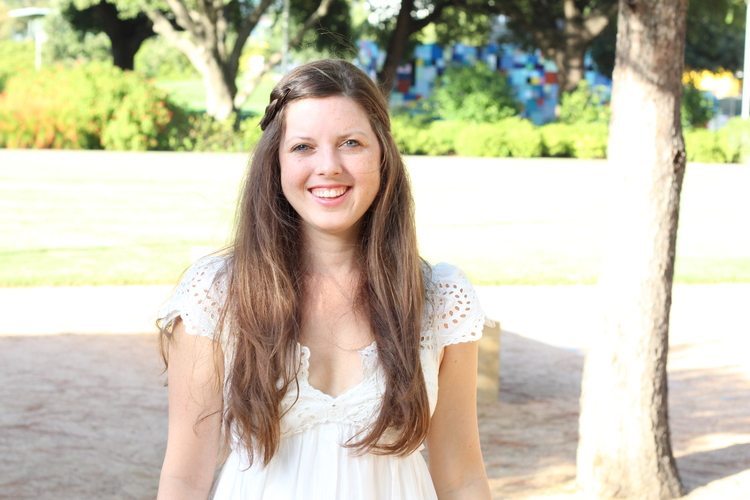 (this is Amy!)
Going into your pantry day in and day out can be frustrating when you can't find something you are looking for and then end up buying it again to realize you had it all along or go to use something and it ends up being expired. By having an organized pantry you will be less stressed, enjoy preparing meals  and save money.
Tips for de-cluttering & organizing your pantry:
Purge

: Purge expired, unwanted items or items that do not belong in the pantry. If there is food that you no longer want and that is still good consider donating to a local food bank or ministry.

Take Everything Out of the Pantry

: In order to really assess what you have in your pantry remove everything. It seems chaotic at first, but this will really help you to organize your items once you begin to put items back into your pantry.

Use What You Have

: This has several meanings when it comes to your pantry. Corral food and pantry items buy using items you already have in your home like shoeboxes, bins, baskets, etc. If you want a cohesive look consider purchasing bins, which can be found at all kinds of stores Amazon, Target, TJ Maxx, etc. Veronika purchased clear pantry bins that many of my clients have and love. By having an organized pantry, you will be able to use food items you already have more frequently and efficiently without having to let items expire or buying too much of something.

Label

: Labeling in the pantry really helps to keep the pantry organized because you are more likely to put things back where they belong if a bin, container or shelf is labeled. In Veronika's pantry we used Bigso label plates that can be found at The Container Store.

Take Items Out of Boxes

: If you have items like candy, snacks, etc. take them out of their boxes and put into a separate container or bin. This will help you access the items easier and save space.
Put the Least Used Items at the Top: Large items or items that do not get used often like platters, bowls, drink dispensers, etc put at the top of the pantry. By doing this you will save space and minimize your frustration.
Optimize Pantry Space: Optimize your pantry space by using pantry door storage or risers on the shelfs. This a great way to save space in your pantry and utilize every inch. In Veronika's pantry we used a riser for the spices.
Only Buy Items You Have Room For: Once your pantry is organized you will be able to assess your pantry and know whether you NEED something or have room for something in the pantry. If you don't have room for it, don't buy it.I hope this was helpful and that you're motivated for a post-Thanksgiving pantry clean up! Thank you so much Amy for providing these expert tips!
If you're local and interested in Amy's organizing services, please visit her website at https://ecomodernconcierge.com. Amy is also offering a special for the holidays: book between now & December 11th and for every 3 hours of service purchased you get 1 free hour.  She's also offering 10% off a one hour Skype/phone consultation for those who are out of town. Just mention Veronika's Blushing when booking. Both offers can be used from now until January 31, 2016, based upon availability.
Happy organizing!