Have you noticed I haven't been blogging much? That's because I can't. I'm so exhausted most nights that it's a struggle to even stay awake.
The past month shall forever be remembered as the month of little sleep. Our poor little guy has been inconsistently napping and sleeping both day and night. We will get one good night and think we're at the end of the four month sleep regression only to have a terrible night the next day. Most nights he wakes up screaming/crying multiple times and will even wake up 10 minutes after being completely asleep when I set him down in his crib (and this will repeat several times). He's still having a lot of issues with gas which I'll get into more below.
Jesus take the wheel.
It has been a rough month but I keep reminding myself it's temporary and having a second cup of coffee at 2 p.m. to make it through the day.
BTW, worst month ever for daylight savings.
As fussy as he can be, Lincoln is also the most sweet and smiley baby. Just one glance at him and he's smiling at me from ear to ear. It's absolutely precious. I can't get enough of his sweet chubby cheeks! He has a round face just like me and people say he's my twin and I totally see it. He's also very curious— always looking around at the world around him and exploring things with his hands (and mouth!) He drools like crazy (I'm talking multiple bib changes per day) and he loves to smile at himself in the mirror. He also recently decided that he likes the carrier (we have this one) and praise the Lord for that because he is heavy to carry around (being held is like a top priority for him…it's like he's always finding new ways to loudly tell us he wants to be held).
Here are Lincoln's five month stats:
Weight/Height:
Lincoln weighs 17 lbs and is in the 75th percentile for weight and 81 for height. He's in 28 percent for head size.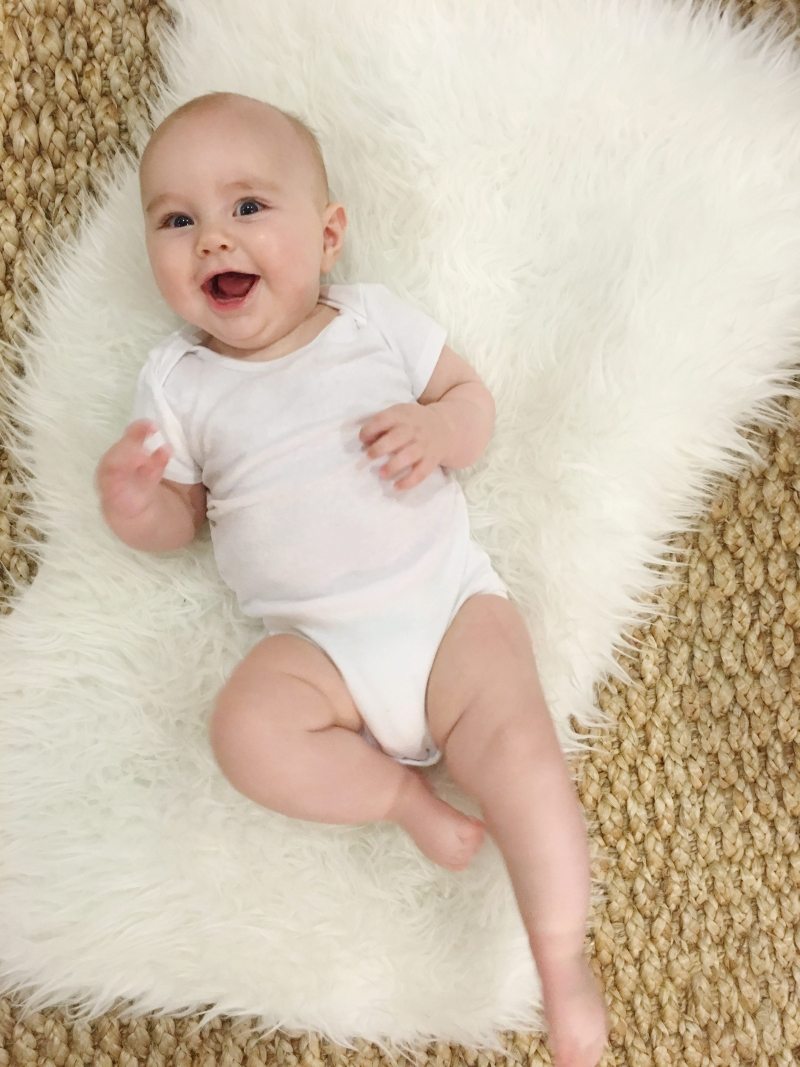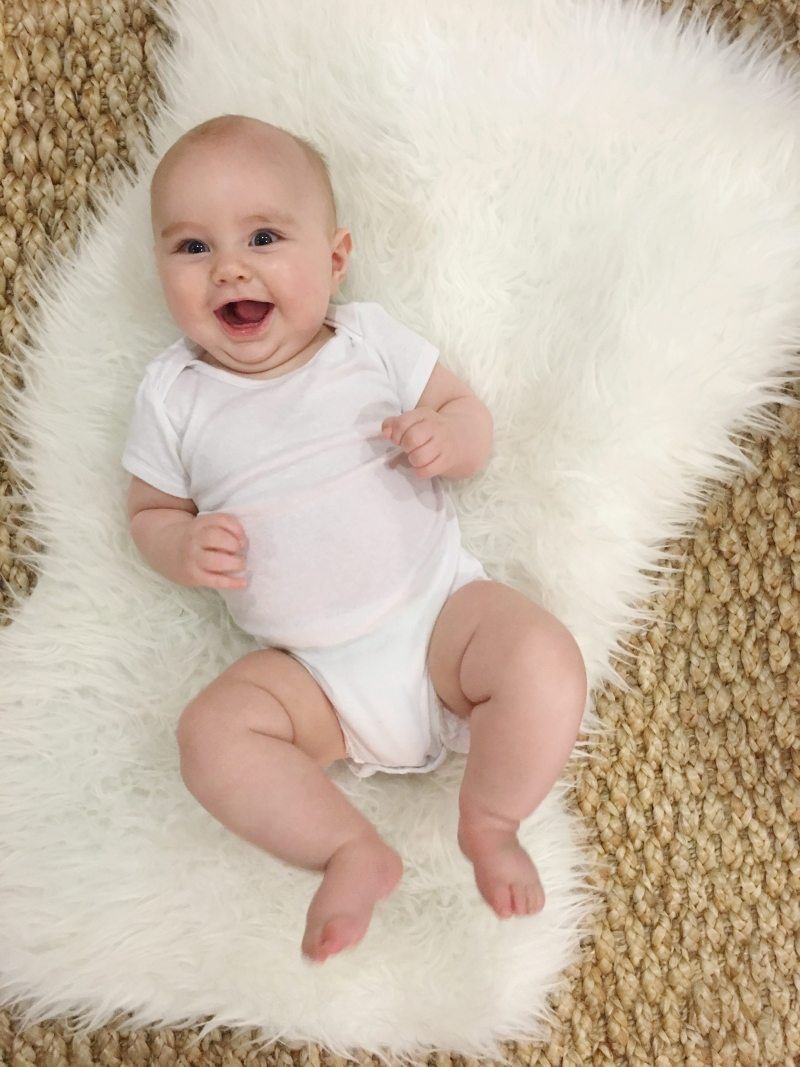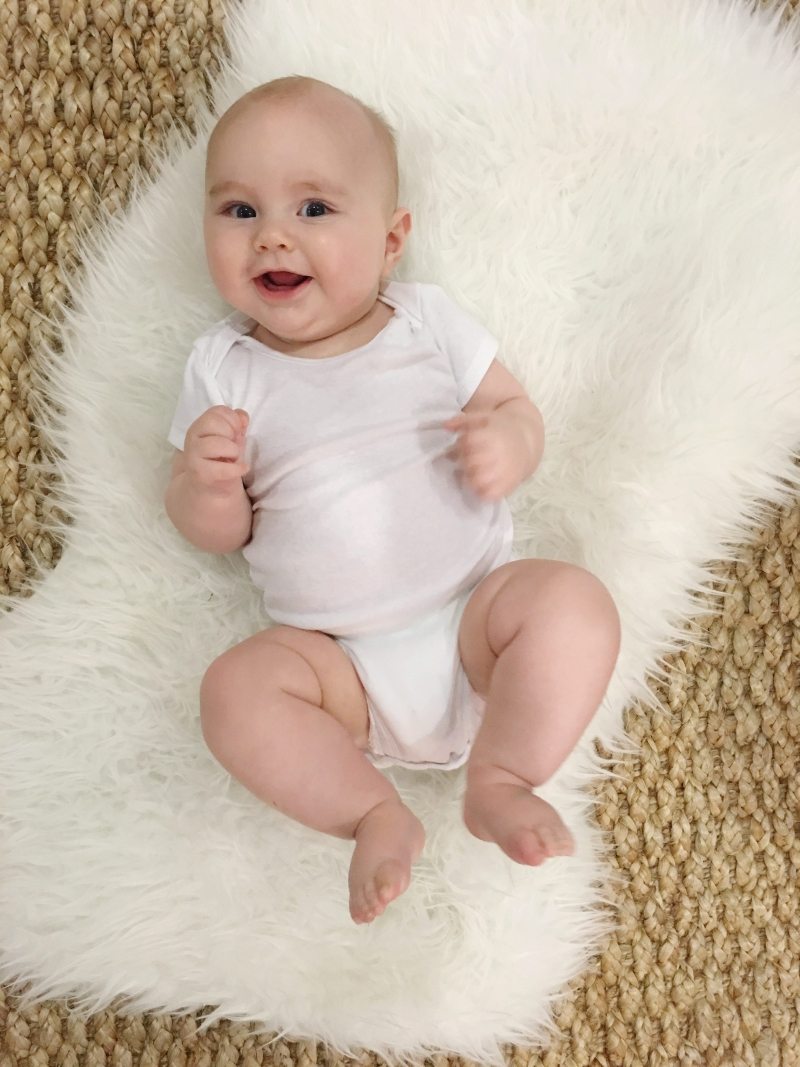 Health:
Last month I mentioned that Lincoln was being treated for a yeast infection on his underarm area but it turns out that it was misdiagnosed. I took him back to the pediatrician she prescribed a steroid cream because she felt it might be eczema related since the yeast meds didn't work. His red rash was gone within 24 hours of using the cream. I felt really bad that we had been doing the wrong treatment but it's all resolved now and his underarm looks perfect.
Lincoln (miraculously) hasn't been sick yet (knock on wood, again). I'm pleasantly shocked by it. I spend some time in his daycare class on the floor at drop off so I'm hoping all of the germs I'm exposed to are forcing my body to make antibodies that benefit him. The most he's had thus far is some sneezing and a little congestion in the morning.
We are very much struggling this month with his stomach issues. His gas pain is so intense some days that he wakes from his sleep screaming in pain. We give gas drops and colic drops…and we recently started a new probiotic. I'm so frustrated and feel so defeated some days, especially when his gas is waking him from sleep at night. We're all exhausted and I feel so bad about his stomach issues. I constantly question if it's something I ate. It's a new level of guilt and I feel like a failure all the time because I wonder if cutting dairy isn't enough for him. I wonder if he would sleep better and be happier overall if I was "strong enough" to eliminate even more from my diet like some moms do.
Nursing:
Get ready, it's a long ramble this month.

Lincoln is still exclusively on breast milk and is mostly bottle fed. I continue to nurse at night and sometimes on weekends. I decided that if he wants to nurse past 12 months in the morning and at night, I would be open to that (but I would not continue pumping five times a day like I do now). I really like the bonding aspect of it which I didn't expect because I didn't feel that I lacked that when I fed Harper pumped milk. I guess there's something incredibly sweet about the look on his face after he has nursed. Just so calm and happy.
Since Lincoln is still having some issues, I'm trying to have him seen by a pediatric allergist or GI doctor to determine if I need to cut more from my diet. Soy may be next but I want to know that it will actually help him. I know moms on total elimination diets and while it sounds awful, I would try it if I knew it would make him feel better.
I'm also not afraid to say that part of it is also selfishly wanting so badly to nurse and provide breastmilk. As a mom, I feel there are so many benefits to me as well and I think that has value. I tend to feel good when I'm nursing (hormones ftw!) and that makes some of the tougher postpartum days, weeks and months easier to deal with. It also helped me recovery from pregnancy/delivery more quickly.
I get asked a lot why I don't just give him formula (believe me, I've considered it on the worst days). Most formulas are dairy or soy based and the ones that are amino-acid based and hypoallergenic can cost like $600 a month. I would not be opposed to paying that if that's was what's best for him, but every expert I've talked to has said that breast milk is still the best option for him right now since he's growing and developing well. Maybe he's just a more gassy baby….but because of his allergy I'm always over-analyzing even though I'm so careful.
The good news is that we've seen tremendous improvement in his diapers most of the time so that in and of itself is a good sign. I just pray things continue to improve.
This month I felt like I closed one chapter with the whole dairy-free thing when I donated about a month's worth of breast milk to a local mom for her six month old baby girl who has been on donor milk since she was born. I have an oversupply, so most of it was milk that still had traces of dairy in it that I pumped in addition to the milk Lincoln ate (our pediatrician told me to continue to feed him breast milk even while the dairy was clearing out of my system). It was bittersweet to "let go" of that milk. In one sense I was so happy another baby could be nourished by it and in another I felt resentment that that milk represented something that caused so much pain and struggle for my sweet Lincoln. I still feel somewhat sad that the milk I make is "not right" for my baby. There is something that feels very unnatural about that even though logically I know his allergy is out of my control and it's something he was born with. Lots of feelings this month…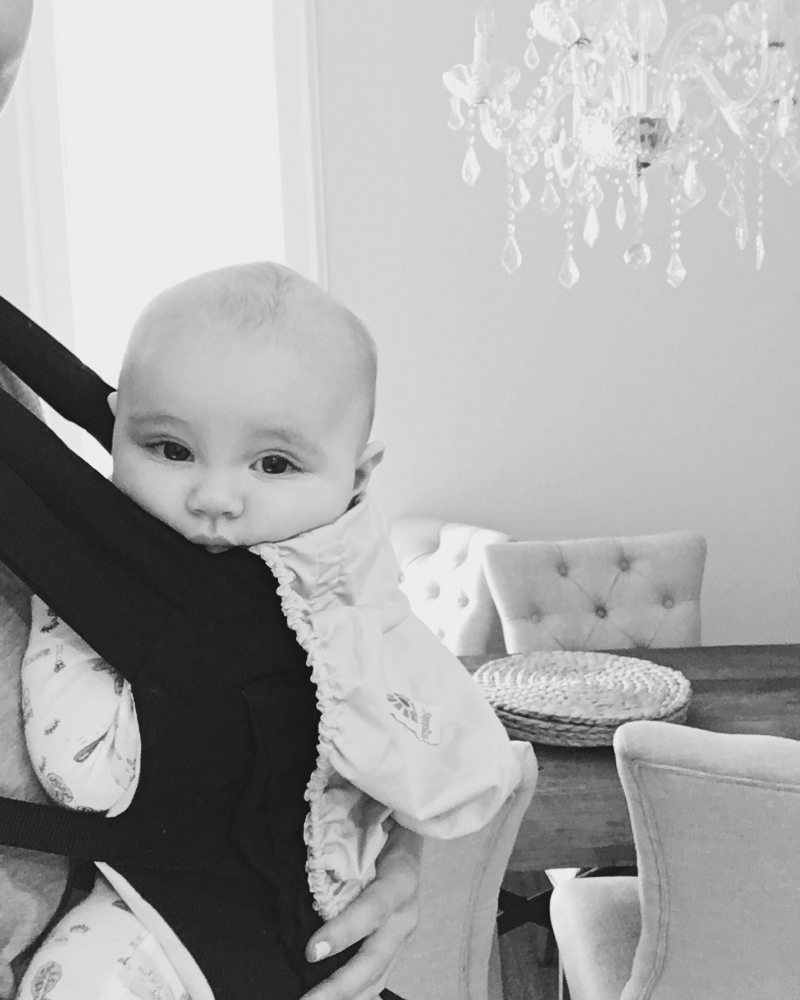 Sleep:
Sleep is no beuno, friends. He still wakes up several times a night. Sometimes from gas, sometimes to be comforted, sometimes to nurse. It's been rough not getting as much sleep as we wish we could, but it's just the season we're in right now.
I have a feeling we just won't get as lucky this time with a baby who sleeps through the night like Harper did. Reading this recent NYT article made me feel a bit better.
We are still using the Love to Dream Swaddle Up and we really like it!
Likes:
Being held, being rocked, being held while walking around, looking at himself in the mirror, anytime his sister pays attention to him, his play mat, his activity center, baths, toys, looking at pictures. He also loves to smile!
Dislikes:
Gas, being startled.
Clothes:
He's in size 3 diapers and 6 month, 9 month and 6-12 month clothing.
Crying:
When he's over-tired, hungry, needs a change of scenery, has gas, etc.
Milestones:
He found his feet and tries to eat them! He's more vocal now and is interacting a lot more with his sister and with us. He's getting stronger and can push up on his elbows during tummy time. He can also sit up with a little help in a tripod position.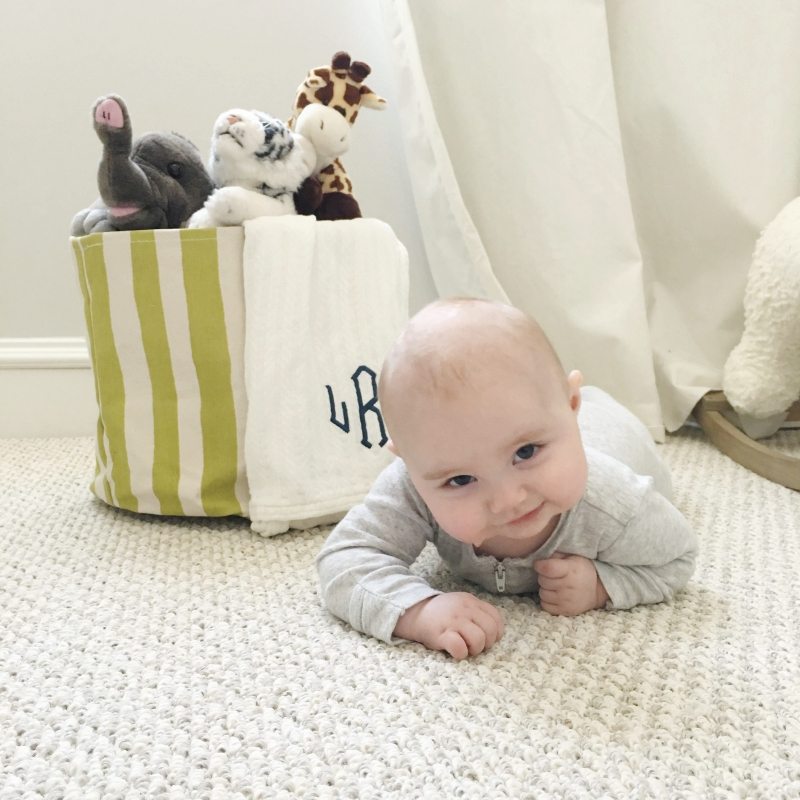 Nicknames:
Linc, Lincy, "baby Lincoln"
Postpartum:
This month I got back down to my pre-pregnancy weight which was nice. Last time around I really started to notice a little more loss at 6 months PP and beyond, so I'm really trying to focus on eating a lot to keep up my milk supply.
My stomach looks a little better this month. The one difference I noticed from my first pregnancy to this one is that the first time around my stomach went down really quickly. This time around, it took longer to go back to normal (maybe the C-section?) and if I eat a big meal or am bloated I look like I'm in early first tri when you have all of that horrible bloat.
I'm one of those people who tends to lose from nursing alone but I have a long way to go to get my strength back. For now, I'll just "show off" my right arm which has a little muscle from always carrying the baby on that side. LOL.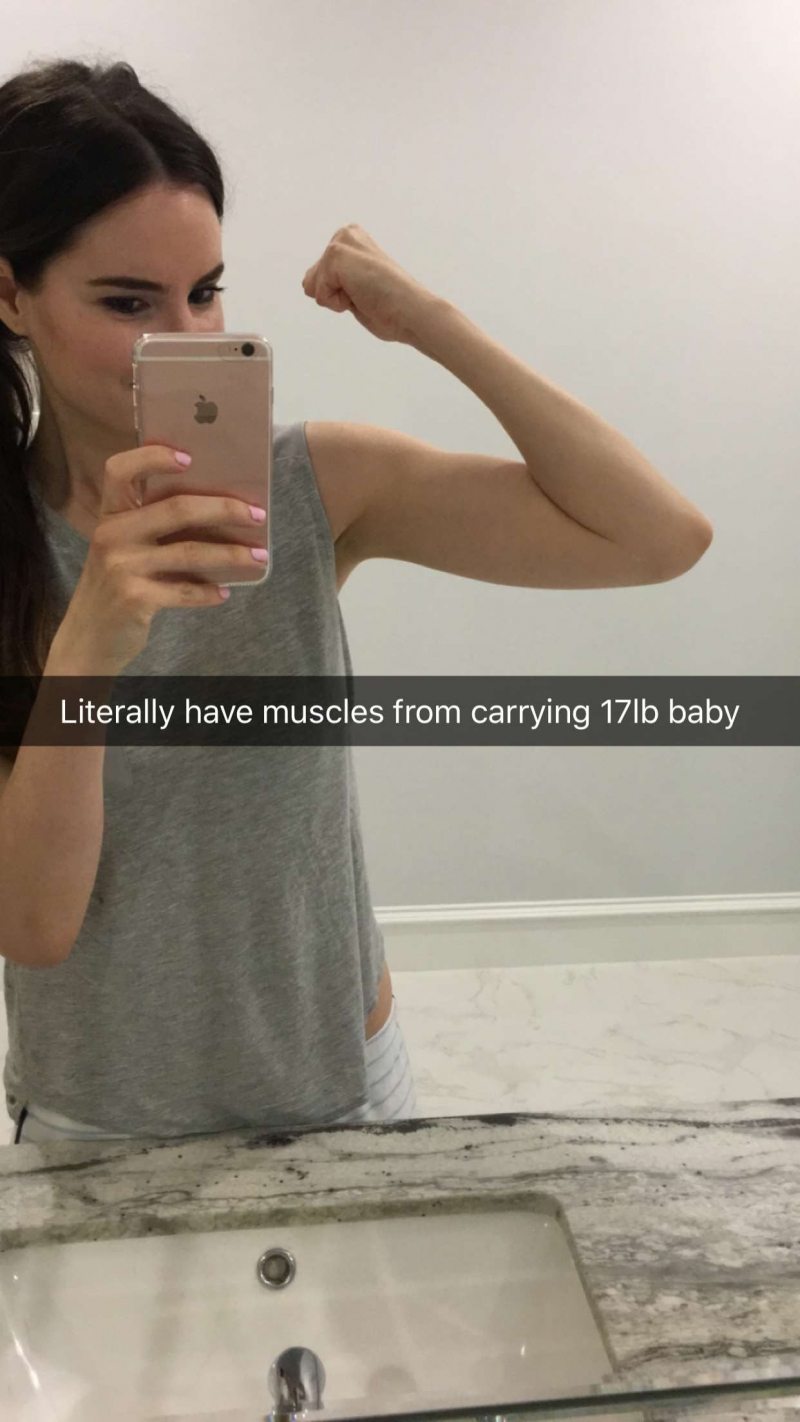 Thanks for reading— as soon as the baby sleeps more, things should pick up around here again! Thanks for your support— and in the meantime, head on over to IG for my frequent posts!