Thank you to Amy Vance of Eco Modern Concierge for contributing this post!
When it comes to organizing your closet, it can often be daunting and stressful. Many times people don't know where to begin. The common thing that happens with my clients is that they're in a hurry take things out of drawers and off of hangers and then don't want to put them back up. This leads to piles forming and it becomes overwhelming. Oftentimes people have way more in their closet than they actually wear or need.  Some people think, "why should I organize your closet?"
Well, here are some reasons why: 
You can easily find the clothes you are looking for
Saves time when you are getting dressed
Helps you wear more of your clothes once you can see what you actually have
Prevents clothes from becoming as wrinkled
Overall feeling of less stress
Every person and every area of the house takes a different amount of time to organize, I suggest organizing in 3-4 hour increments so you don't get too overwhelmed.  For my clients, this is often their breaking point of where they can't think clearly and it becomes tiring. If you do want to keeping going after 3-4 hours, take small incremental breaks and just walk away for a moment and come back, this way you don't get burned out.
Questions to ask before organizing:
Do I have something else that fulfills the same / similar purpose?
Do I already have this item?
Does it need to be fixed / altered / repaired?
Do I need it?
Have I worn it in the past year?
Does it fit? Comfortable? Too big or too small?
Do I like it?
Did I wear this in a past career?
Now it's time to begin your closet organizing.  First, take everything out. Yes, TAKE EVERYTHING OUT. As overwhelming as this may seem in the beginning, it really helps you see exactly what you have and it forces you to deal with it.
Here are some recent baby and toddler closets I organized:
(before)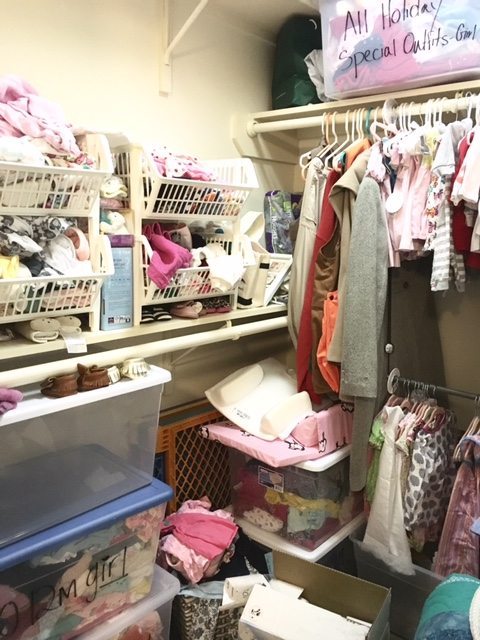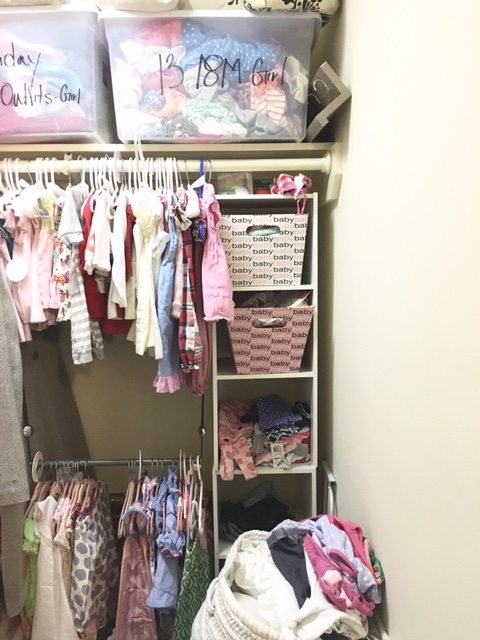 (after)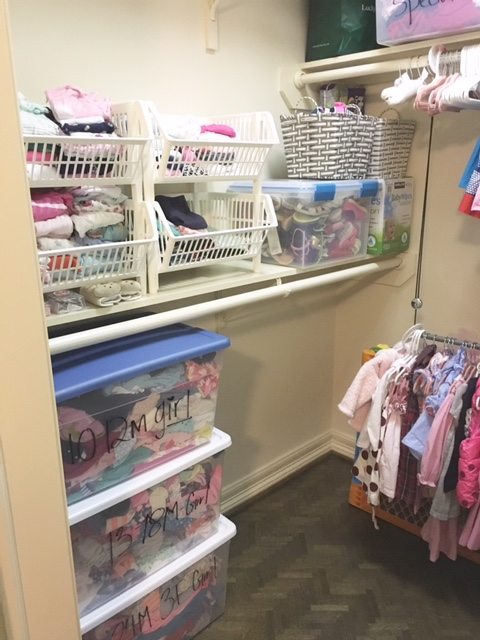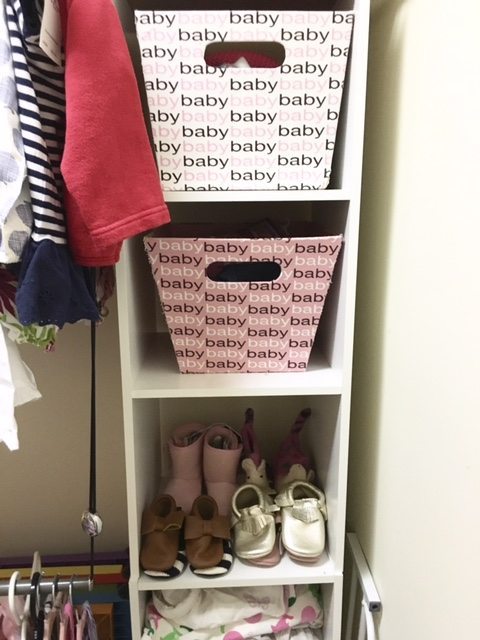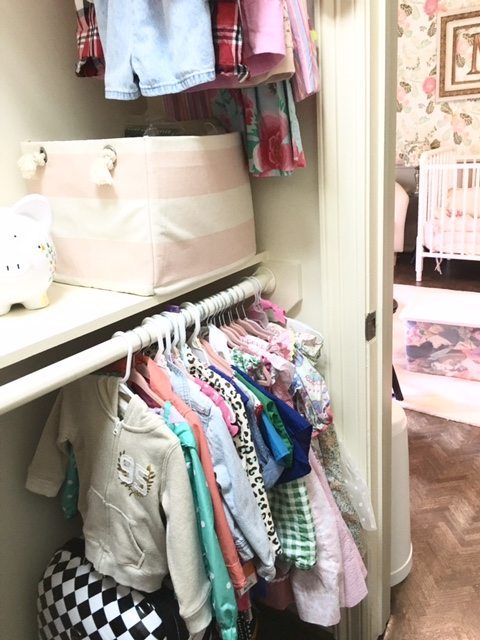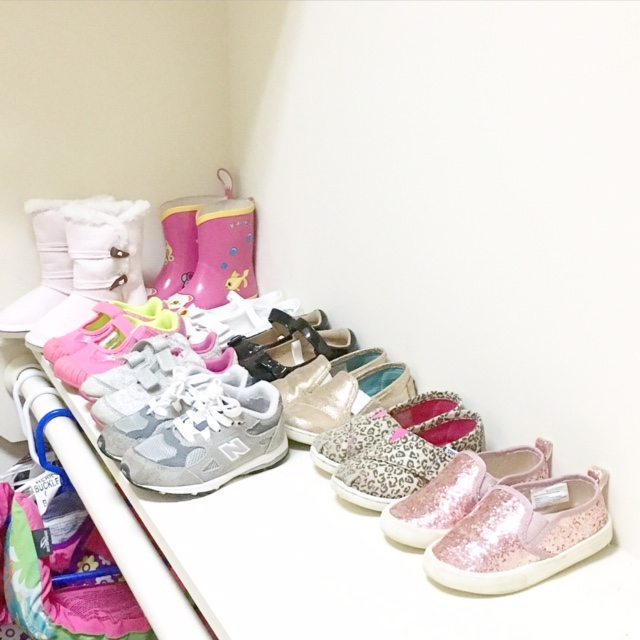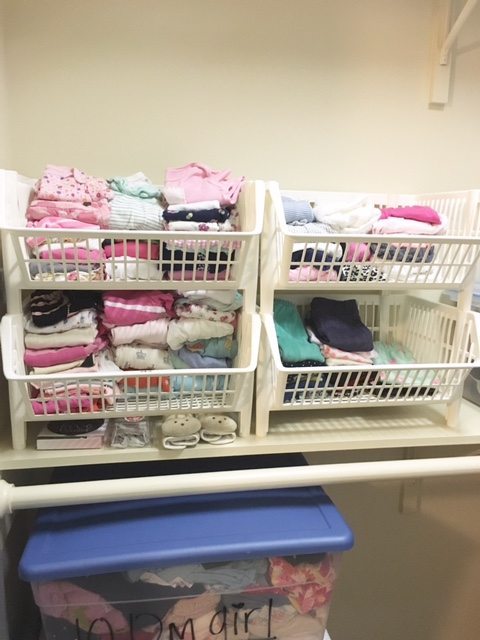 Sort clothing and put them into one of these piles:
Keep
Donate / Consign
Toss
Alter / Repair / Dry Clean
Purge and start getting rid of things you have. Go through each item one by one— this will let you see what exactly you have been holding on to. Get rid of anything that doesn't fit or that you haven't worn in the past year. Keep several bags or baskets handy to put clothes in that need to be altered, repaired or dry-cleaned.
Sorting: There are different ways people sort their closets and everyone has a preference of what works for them and their space.
Hang like clothes together
Pants (shorts, capri, full length)
Shirts (sleeveless, short sleeve, long sleeve)
Dresses (short, long)
Skirts (short, long)
Sort by color (think the color of the rainbow)
Season
Work clothes section
"Play" clothes / casual clothes
By outfits
Decide what you want to hang and what you want to fold. Hanging can reduce wrinkles and folding can save space. Here are my suggestions:
To Hang:
Suits, Silks, Blouses, Jackets, Dress Pants, Dresses
To Fold:
T-shirts, Knits, Cotton Shirts, Shorts, Jeans, Corduroy , Khakis, PJs, Active wear
Deciding what clothing items go on which rods depends on length. If your closet is small or the space isn't utilized properly you can always add shelves.
Here is a little guide to follow:
35 – 42": pants, shirts
45 – 54": suits, jackets/blazers, blouses
68 – 70": dresses, evening wear, robes
Shoes
If you're anything like me you're a shoe lover. There are many different ways to store shoes and how to properly take care of them.
Purge what you don't wear or need.
Use boot formers, pool noodles, or rolled up magazines to help boots keep their shape.
Use behind the door racks or cubbies.
Short wood cubbies that go into your closet.
Make your own shoe racks in closets by using tension rods.
If you have the room and extra expense you can store shoes in plastic bins (keeps them clean and dust free). Or just simply and line shoes up on closet shelves or bottom of closet floor.
If shoes need to be repaired take them to the cobbler or just get rid of them.
Keep them in a climate-controlled area to reduce them from molding.
Organizing Tips
Use rod dividers to distinguish the different types of clothes like pants, blouses, etc. These are also popular to use when organizing baby, toddler and kids clothes.
Hang clothes where they are facing towards you. This makes clothes easy to identify when they are all facing the same direction.
Hang clothes pointing to the back of the closet whatever is still facing towards the back at the end of the season, reevaluate and possibly purge items.
Keep empty hangers together.
Hang your dry cleaning bag on the back of a closet or bathroom door knob / hook and put clothes in there that need to be cleaned when you undress at night.
The Container Store offers free closet design. Elfa sale happens every January.
Keep a lint roller in your closet, bathroom, entry way and car.
Steam clothes to help them keep their shape.
Only buy pieces you need and will wear.
Mix and match pieces.
Once you bring one clothing item in, take one clothing item out.
If you want to be super organized, take inventory of your items.
I hope this post was helpful to you! Thanks again to Amy for contributing this piece! If you're in Houston and looking to hire someone to help organize any space in your home, I highly recommend Amy's services!