Being a mom to two children has been both the most incredible blessing and a big challenge. It has been beautiful watching our family (and our hearts) grow while at the same time it has been a juggling act balancing everyone's needs.
If you've been a reader for awhile, you've probably noticed that we make an effort to spend special time with Harper every weekend. This is important to us since Lincoln sometimes needs so much from us whether it's the frequent feedings, needing to be held to nap sometimes, needing to be carried, to be soothed, and the list goes on. I think planning special things just for her allows us to reconnect after a long work week. We will do the same for Lincoln too. Of course we love spending time together just the four of us, but a new baby is a big adjustment and I know how much value Harper places on having some quality time with one or both of us.
One of our recent weekend outings with Harper was a trip out to La Grange. We had a busy morning and before we left, we took some time to take some photos together in a field of blue bonnets and though we were both tired, I cherish those photos so much. I also cherish the memory of her walking through the field, touching the flowers and how her sweet little curls blew in the soft breeze.
These are the moments I realize that though life is busy, overwhelming at times and I feel like I never get anything done, that none of that matters. It doesn't matter that I still have a few loads of laundry to do or that I'm still using our office as a storage room when we moved last August. What matters is that I'm making memories with my family.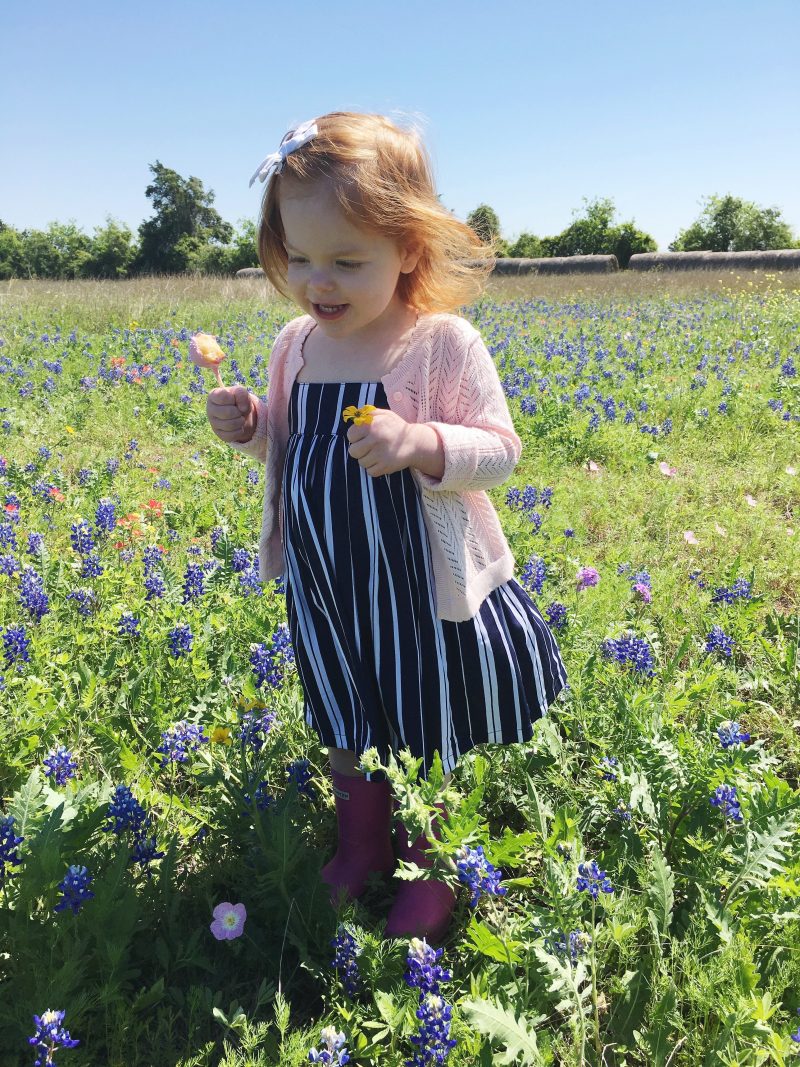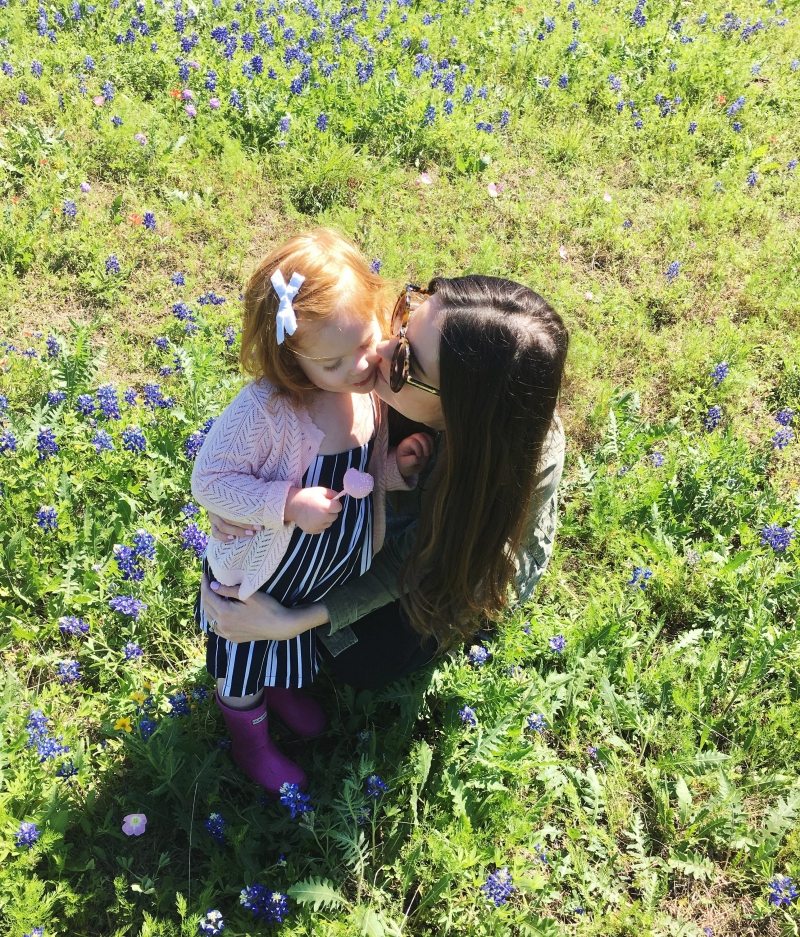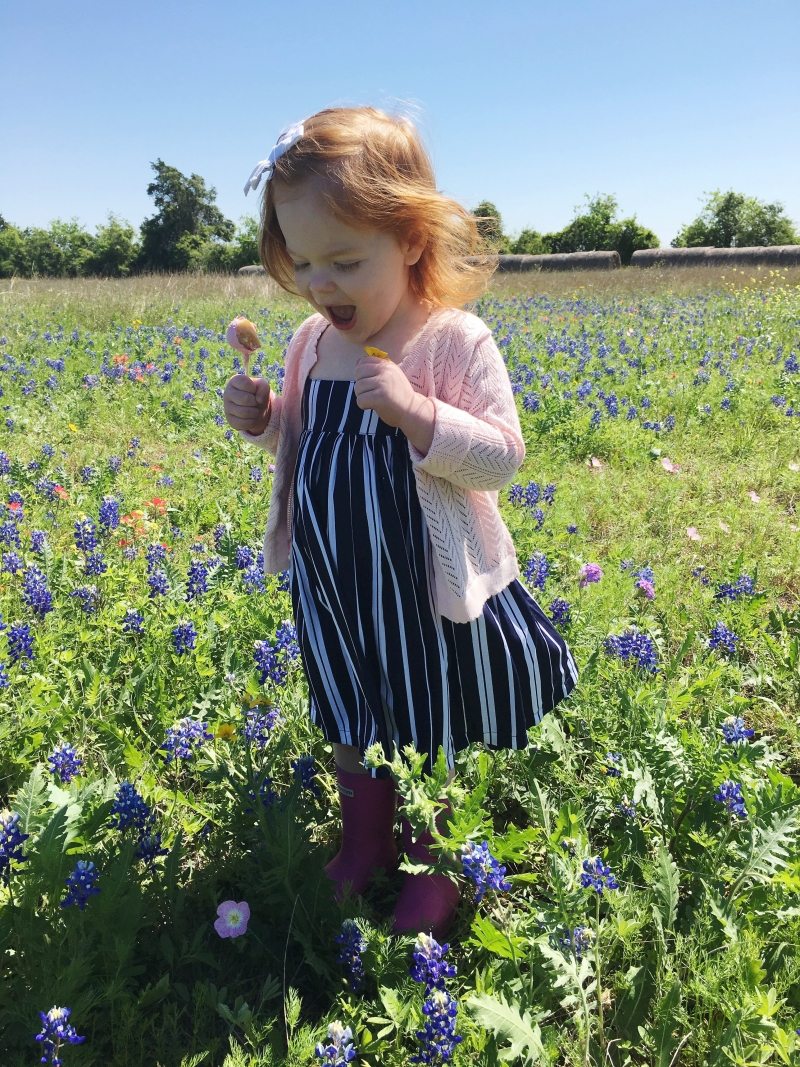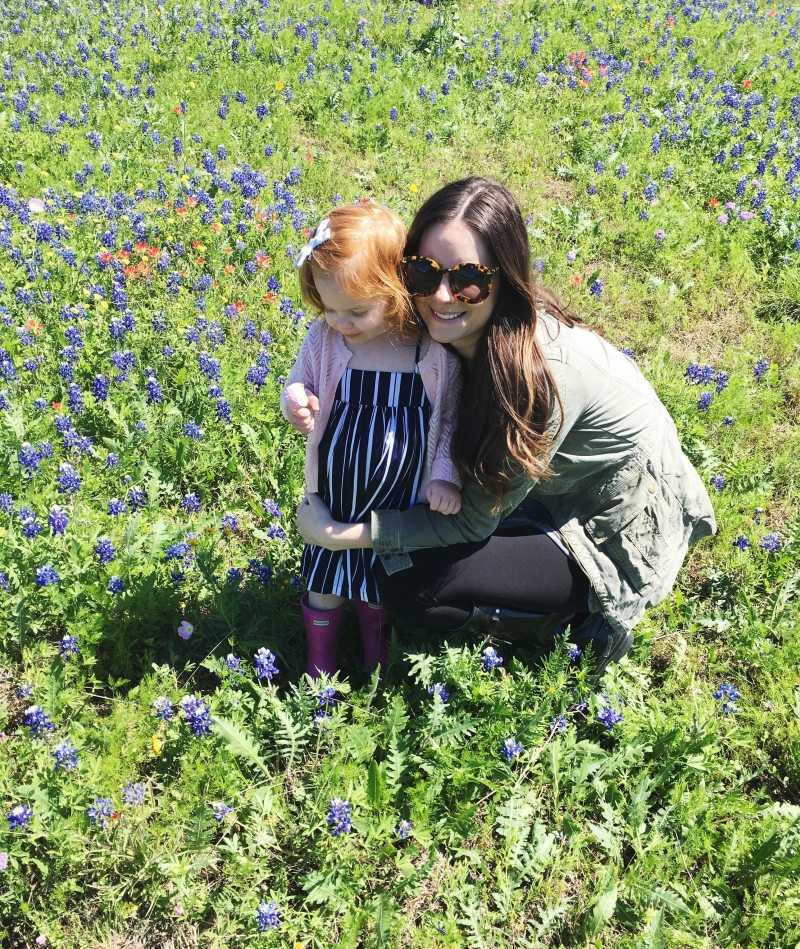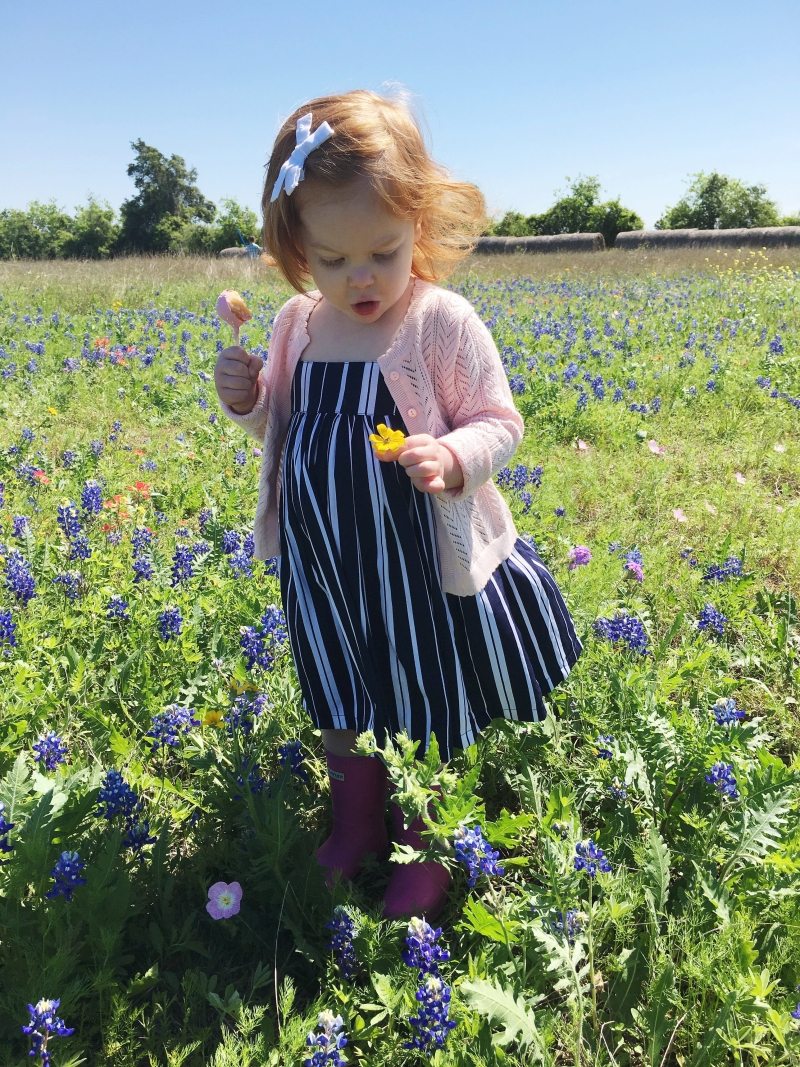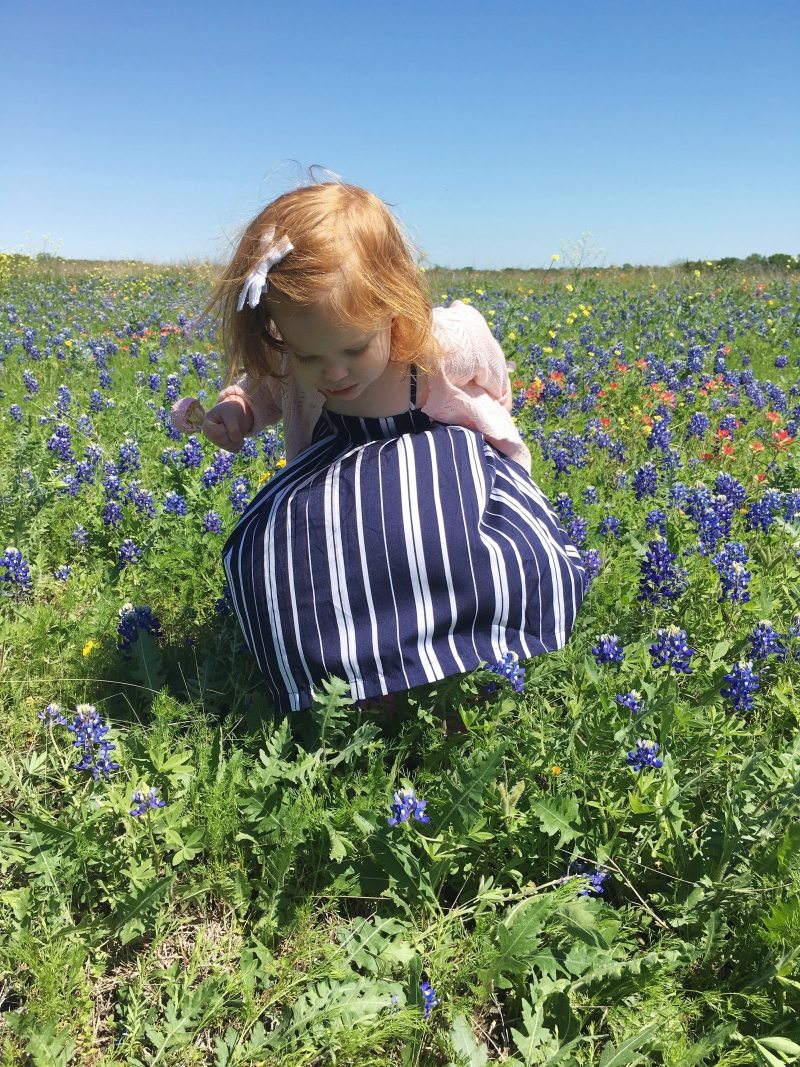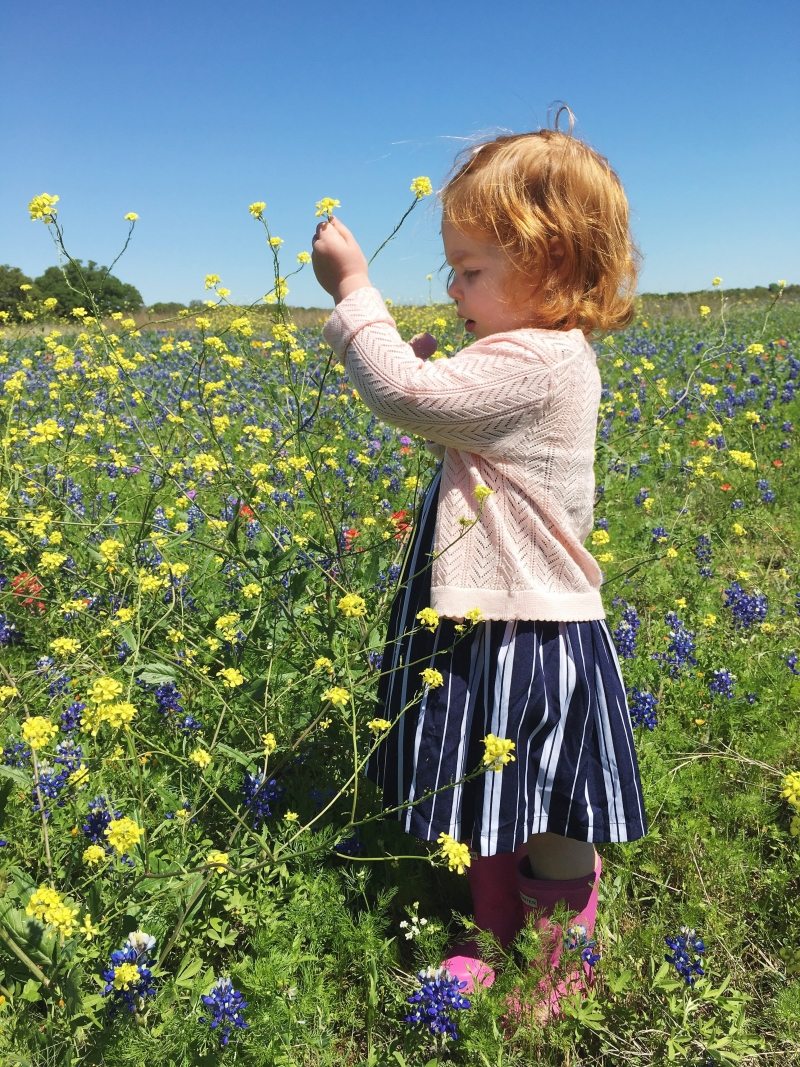 Do you ever feel like you get caught up with everything you have to do as a mom, wife, employee, etc. that you forget to enjoy the moment? That has been such a challenge for me, especially as we've grown our family. I often feel like I'm all over the place making "to do" lists for everything in my life and I'm not checking off as many of the "complete" boxes as I'd like to. It's so easy to get overwhelmed. But it's the little moments I share each and every day with my family— even the simple ones where we spend one Sunday at home all day, playing, laughing, living and loving (okay, and maybe a little crying), that reminds me to treasure what I have and forget about all of the other stuff that can wait.
I'll be honest and admit that I have very little time for myself these days. I had to change my entire evening and morning routines to make them quicker and more efficient so I can get into bed at night and out the door in the morning. One thing I will not give up though is taking care of myself. I know that to be a good mom, wife and everything else, I need to put in a little bit of time to make myself feel like "me" and for me, that's styling my hair and putting some makeup on (that shouldn't come as a surprise!) I recently went back to a hair color that's a little darker (see below) and I've been doing a new hair routine for styling which I'll do a full post about soon.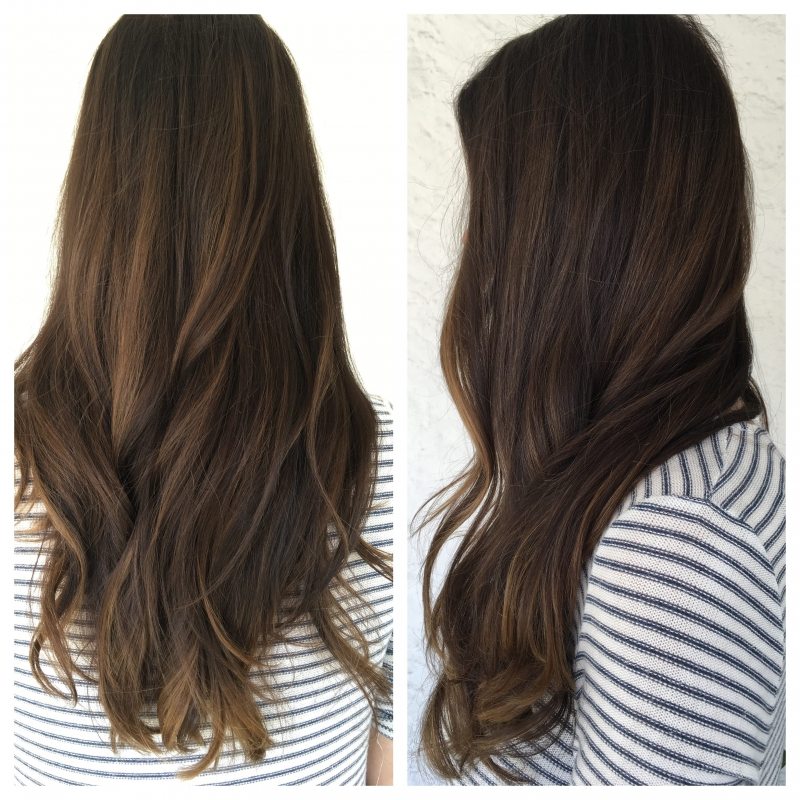 Since we're talking hair, I had the chance to try the Garnier® new line called Whole Blends™ including their shampoo, conditioner and treatment.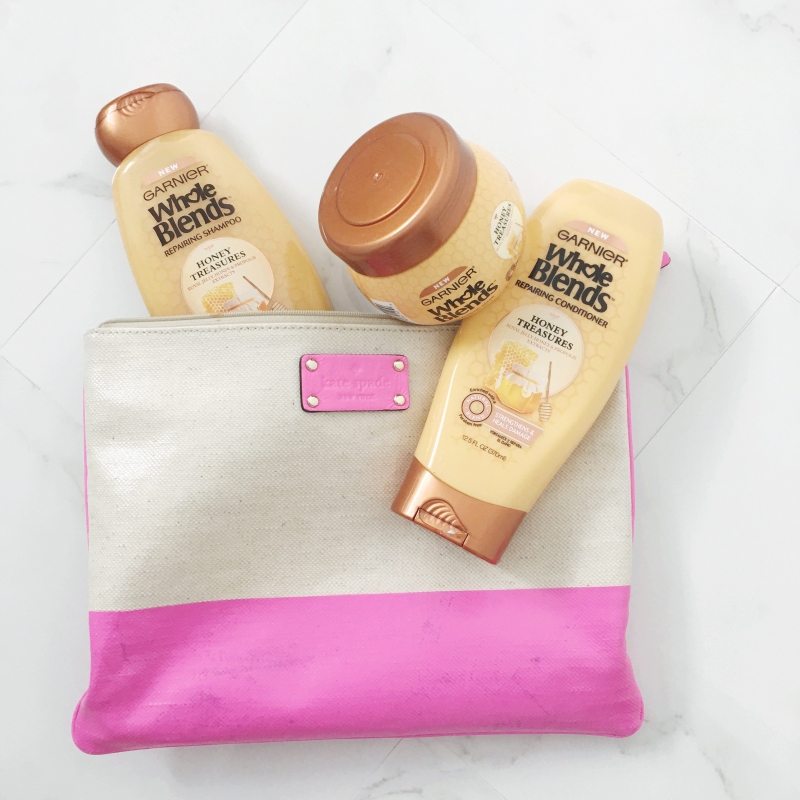 I selected the repairing line called "Honey Treasures" because my postpartum hair is a combination of rough, falling out, breaking and weak (don't let the picture fool you!) My favorite product in the line is the repairing mask. It's very rich and thick and makes your hair feel super soft once it's dry. I love the smell of this line— I'm a sucker for honey-scented products. This one actually contains royal jelly, honey and propolis extracts and promises to strengthen damaged hair, which, hello, is basically my situation. They're also paraben-free and I was pleasantly surprised to learn their oil and cocoa butter ingredients are purchased fairly and sustainably to support local farmers & communities.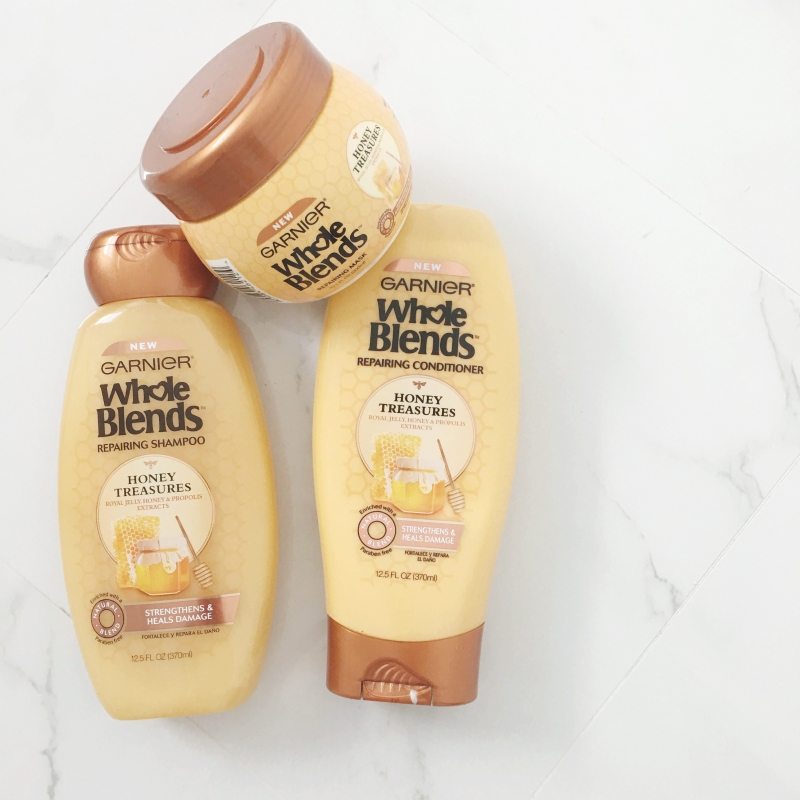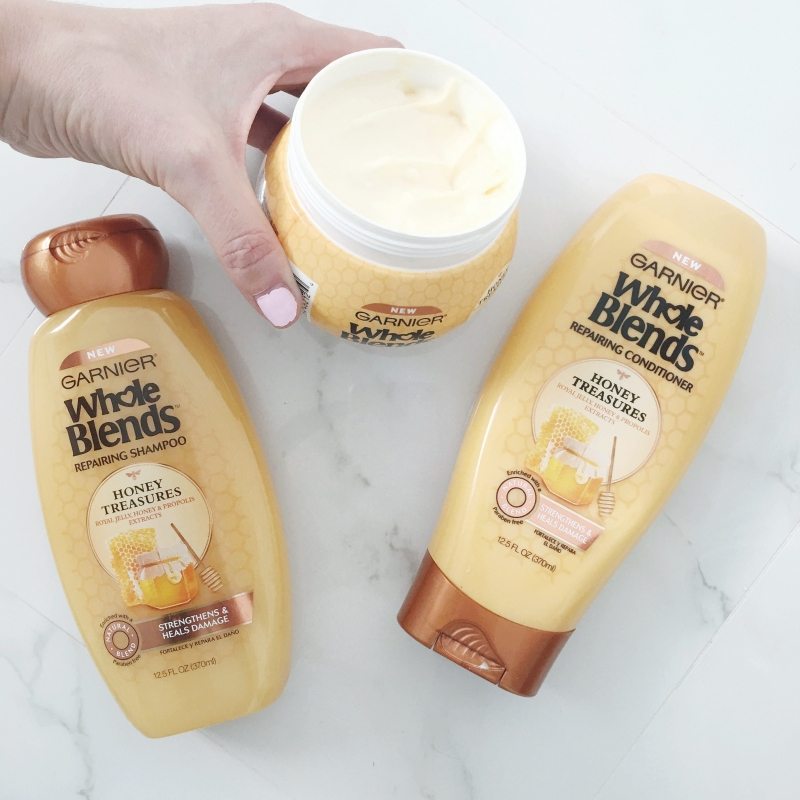 How do you make sure you're focusing on creating special moments with your family? And with all you do, how do you make time for yourself—even if it's something as simple as washing your hair or putting some makeup on? Please your comment below for a chance to win a $100 Visa gift card.
Entry Instructions:
No duplicate comments.
You may receive (2) total entries by selecting from the following entry methods:
1. Leave a comment in response to the sweepstakes prompt on this post
2. Tweet (public message) about this promotion; including exactly the following unique term in your tweet message: "#SweepstakesEntry"; and leave the URL to that tweet in a comment on this post
3. Blog about this promotion, including a disclosure that you are receiving a sweepstakes entry in exchange for writing the blog post, and leave the URL to that post in a comment on this post
4. For those with no Twitter or blog, read the official rules to learn about an alternate form of entry.
This giveaway is open to US Residents age 18 or older (or nineteen (19) years of age or older in Alabama and Nebraska). Winners will be selected via random draw, and will be notified by e-mail. The notification email will come directly from BlogHer via the sweeps@blogher email address. You will have 2 business days to respond; otherwise a new winner will be selected.
The Official Rules are available here.
This sweepstakes runs from 5/4/2016 – 5/31/2016
Be sure to visit the Garnier® brand page on BlogHer.com where you can read other bloggers' posts!