Hey y'all!
It's a "products I'm loving "post!  It often takes me a long time to put these together because a) I usually start to fall asleep on the couch by 9 p.m. and b) I actually like to use each product for several weeks to a month or longer before reviewing so that I've had the opportunity to really experience the product and decide if it's worthy of a mention in one of these posts.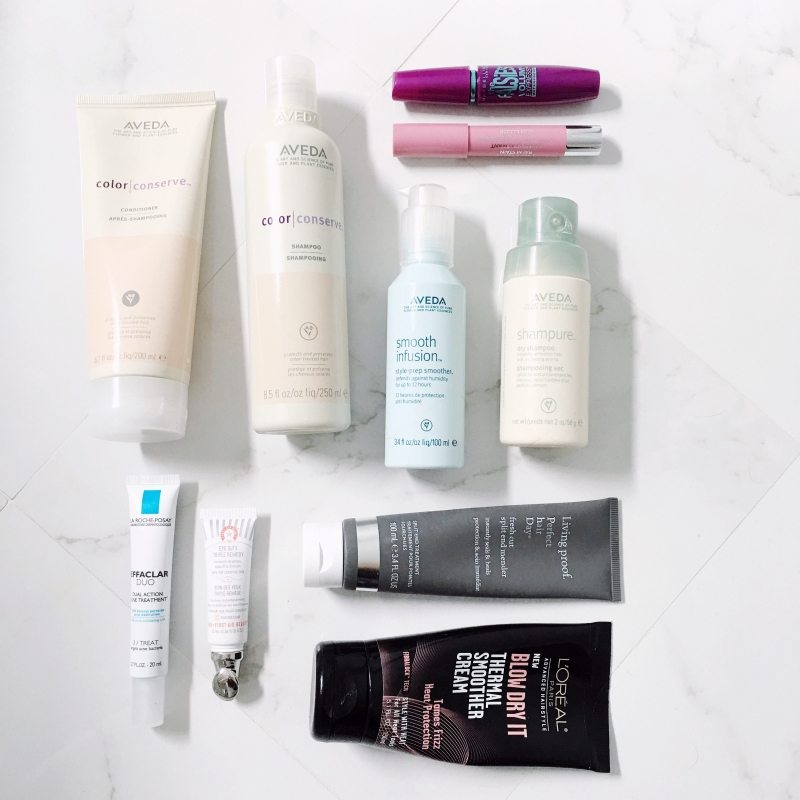 So, let's get started, first with the HAIR products.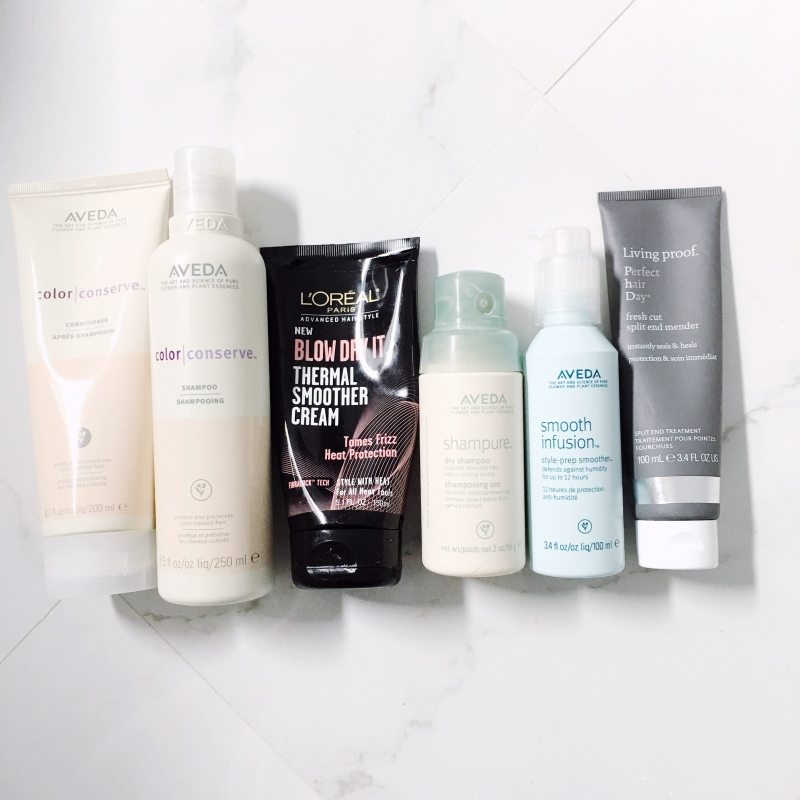 Aveda Color Conserve shampoo + conditioner
This shampoo was a blast from the past because when I lived in Canada, I used to go to an Aveda salon for a few years and I remember using this shampoo. It has a nice eucalyptus type scent and makes a really nice lather and feels refreshing. The conditioner has a very nice texture as well— kind of a mix between a lotiony conditioner and a mask. Overall this formula smells great, leaves hair feeling clean and moisturized and I'm glad it's in my rotation. I like to keep a few shampoos in my rotation because although it's probably a myth, I don't want my hair to get too used to any one formula. I feel silly even saying that.
L'Oreal blow dry it thermal smoother cream
I'll admit that I was skeptical about this product because I tend to favor hair products by salon brands. But this thermal protector has been wonderful since I've started air-drying my hair overnight and blowdrying whatever moisture is left over in the morning to save time (updated hair routine post coming soon!) It helps smooth out your hair without being oily, greasy or weighing it down. I apply it from the nape of my neck down to my ends. It delivers the exact results it says it will and I love that in a product.
Aveda Shampure dry shampoo
Could this dry shampoo smell any better? It is somewhat addictive, I just love the scent (and I'm very sensitive to smells so that's saying a lot!) When I first got this I assumed it was a spray but it's actually a very finely milled powder formula. I apply it to my hands or shake it directly onto my roots and massage it in— instant lift and volume! I also like to alternate— one day I'll use a spray dry shampoo and the next I'll use this powder. Gotta keep those roots in line!
Aveda Smooth Infusion
I apply this cream from the nape of my neck down to the ends of my hair after washing and let it air dry overnight. I alternate this cream with the L'Oreal thermal smoother. I really feel this makes a difference in how my hair dries— it's softer and smoother and this product helps seal the cuticle, especially after blow drying the rest of the wetness out of my hair in the AM. It has lasted me a long time, too, which is always nice for a product that's a little pricier than one you can find in a drugstore.
Living Proof perfect hair day fresh cut split end mender
So, this is the product you need to buy like, yesterday. Seriously, if you buy one product in this post, this one should be your top purchasing priority. I LOVE Living Proof products. I have purchased them over and over (and over) throughout the years and it's because they work exactly as described. I'm skeptical about split end products, but ladies, I truly feel I have less split ends since using this (I estimate I've been using it for 4 months or longer now). I really struggled with split ends but I have noticed a huge difference in how many I have and I have not been cutting my hair more often either. This is the real deal. I have no idea how it works, but I just apply it to the ends of my hair before applying any other products. I could be noticing a difference in my hair since I'm letting it air dry overnight thus using less heat on it— but I still curl it with a super hot curling iron multiple days a week, and I have still seen an improvement in my hair. I used this every single time I wash my hair, so twice per week. Buy it here with free shipping and let me know how you like it! (and don't be afraid to use a generous amout either!)
Now, onto MAKEUP & SKINCARE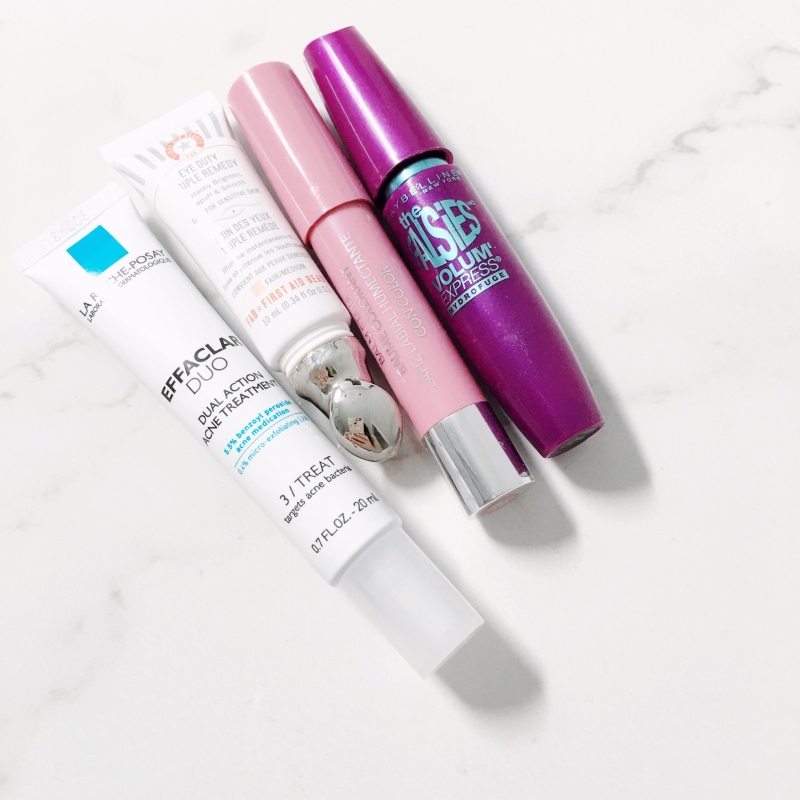 La Roche Posay effaclar duo
I sometimes get breakouts and when I do, a tiny (and I mean tiny, because this stuff is potent) dab of this on the affected spot really helps it go away more quickly. I would not recommend this as a treatment to use all over your face and I always use it on top of moisturizer. I have been using the effaclar cleanser for years and it's my holy grail skin cleanser. Basically, everything from this line is awesome.
First Aid Beauty eye duty triple remedy
Megan got me into this and on mornings where my eyes are really tired or puffy, I layer this under my brightening concealer. The best part is that the cream is peach-tinted so even on its own, it helps to combat darkness under the eyes. I would recommend this for women who don't like to wear a lot of makeup but still want to brighten up their under eye area.
Revlon balm stain in "honey"
This is my go-to lip color. I love that it's a chubby pencil that delivers buildable but never to heavy color and also a beam effect but without the sticky-ness of lip gloss. The color honey in particular is a beautiful pink that would suit many skin tones and isn't too bright or dark. Most days, I apply this color first. It works well as a base to layer under glosses  and lipsticks as well. LOVE.
Maybelline Falsies Volume express Mascara- waterproof
When Ailee came over to shoot Lincoln's newborn photos, her lashes looked so amazing, I asked her which mascara she uses. Friends, it's this one. It's SO good. I only use waterproof formulas so I can't speak to the regular one, but oh my goodness— this mascara adds beautiful thickness and volume to the lashes, doesn't clump and holds your curl in place. It's truly one of my favorites ever. For $6.99 the results are better or as good as some higher end mascaras I've used. You need to try it! I can especially appreciate it now that I'm dealing with lash loss due to my lash extensions.
I hope you love some of these products as much as I do if you decide try any of them out!
FTC Disclaimer: All products mentioned in this post, with the exception of the three Aveda products were purchased with my own money. I was sent the Aveda products to try out but was not obligated in any way to review or share them with you all and am not being compensated to mention them.