Lately, I've been feeling stressed out about our home. Nothing is wrong— but I just feel like we need to (majorly) purge. We got rid of a ton (and I mean a ton) of stuff before we moved, but we've lived here almost a year now and I still feel the need to refine our spaces and belongings even more.
I went down the Amazon rabbit hole and found myself reading reviews of  The Life-Changing Magic of Tidying Up: The Japanese Art of Decluttering and Organizing by Marie Kondo late into the night.
I was going to buy the book or the audio book, but at that point I had read so many reviews that I got the gist of it and decided I was going to KonMari my whole damn house. I'm seriously breaking into a sweat just thinking about it.
Basically the book challenges you to ask yourself what items really bring you joy— and then only keeping those things. Obviously you can't throw away useful everyday items like pots and pans just because they don't bring you joy— you need them to cook so you can eat. But old books you'll never read, clothes you'll never wear and random knick knacks and boxes full of you're not quite sure what— those are the things you need to donate or throw away. I've never had a problem purging, but I feel overwhelmed by finding the time to do it.
The best part of the book is the idea of giving yourself permission to release your guilt about getting rid of things- even if you have something you once loved, if it no longer brings you joy, then it's okay to give it away or throw it away, as it has served its purpose for you.
The author also says you should go by category and not by room. So first do all clothes, all books, all random papers, etc. Have any of you done this? It motivated me to really start thinking about the things in our home and now I'm trying to put together an action plan to get moving on some of my home goals.
I started with our playroom this weekend. I made a pile of items to donate as well as to throw away and then I re-organized the room by category. My work there certainly isn't done, but it's a start and it's looking much more organized.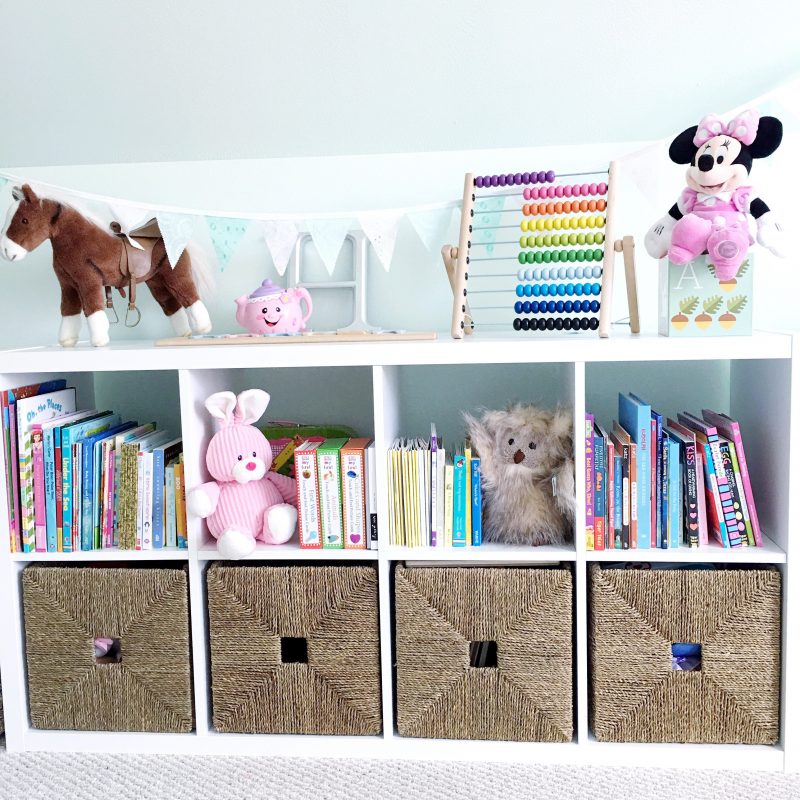 Also, we finally got a couch. Like actually a real couch that exists and is in our home. Once again, the experience was a 13-week long cluster, but hey, it's here. The customer service was awful (unlike Pottery Barn, which actually had amazing customer service when it came to returning our last couch) but we are happy with the design of it overall. It is slipcovered which is a huge bonus as it can be cleaned. Obviously our living room is still coming together. I have a coffee table picked out and am still on the hunt for the right upholstered chairs.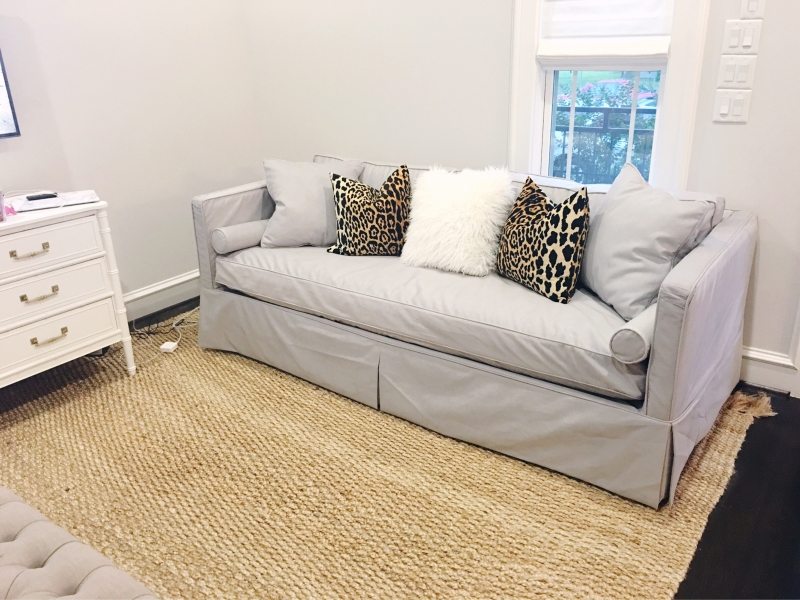 How cute is this doll from cuddle + kind? They sent us Isla the Mermaid and Harper just loves her (and calls her Ariel, naturally). These hand-knit dolls are adorable, but even more important is the mission behind them. For every doll sold, cuddle + kind provides 10 meals to children in need.  You can learn more, here.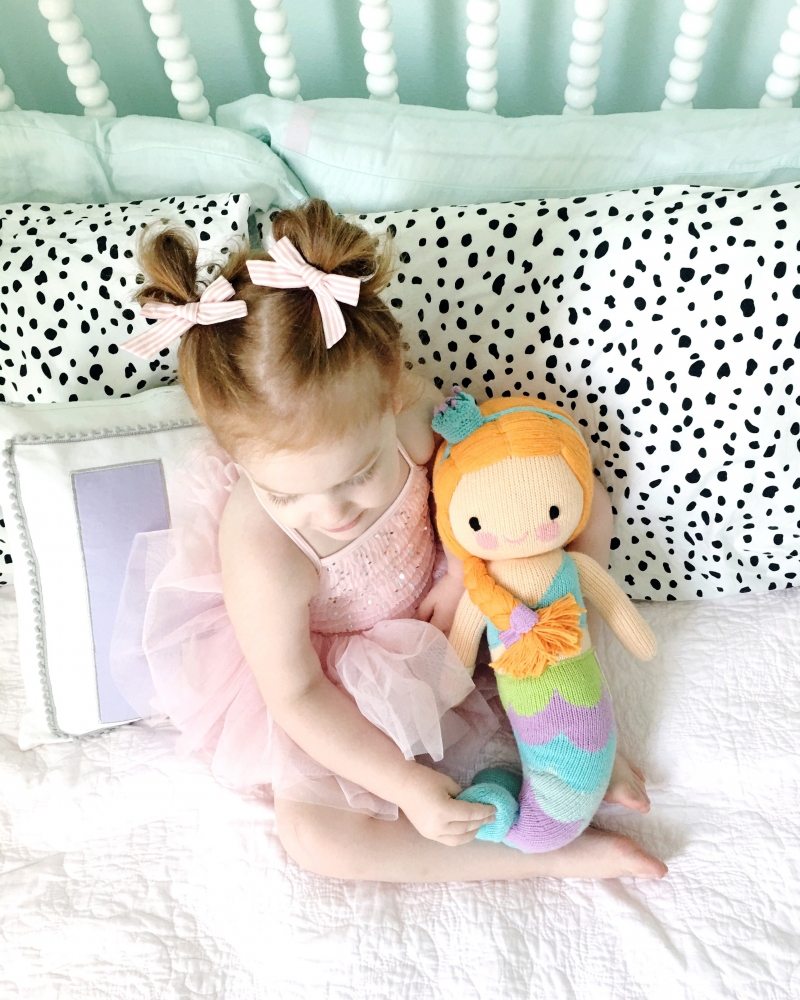 I already mentioned this on IG, but I finally got my hands on this dress for Harper. Target was out of stock for a couple of months in her size and it magically showed up there on Saturday. Target's website says there are only 11 left, so buy before they're gone! Her sunglasses are here ($5) and her bows are c/o Dear Freya.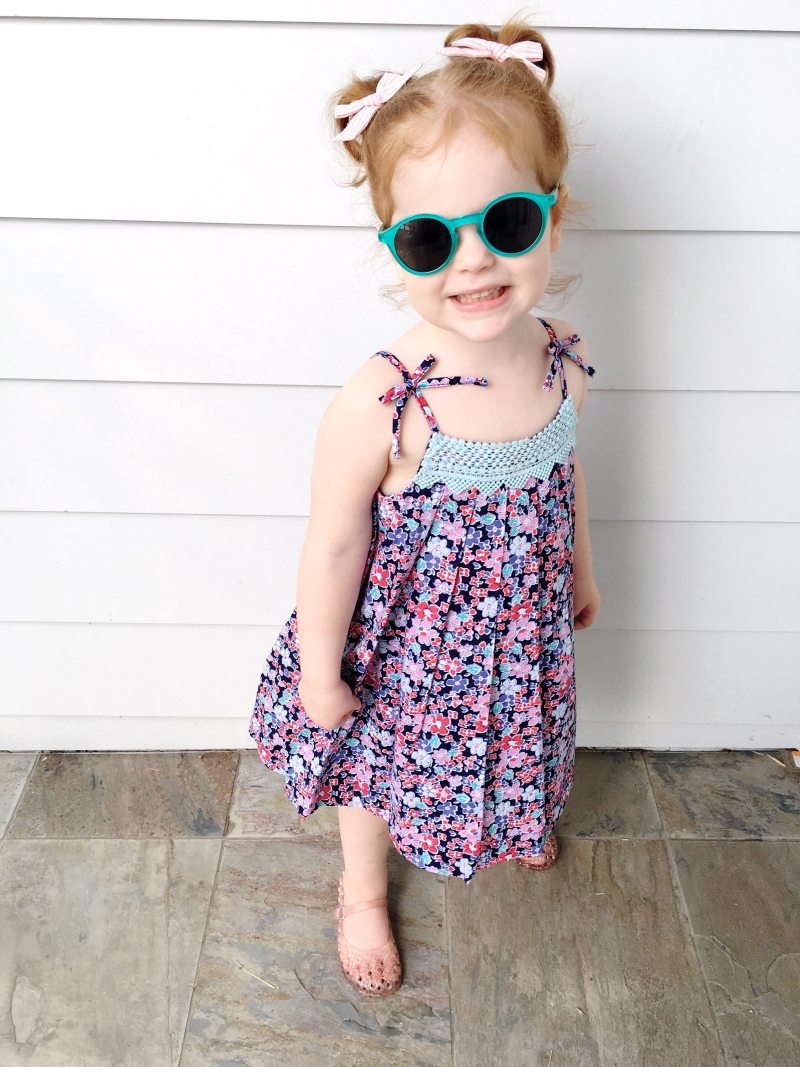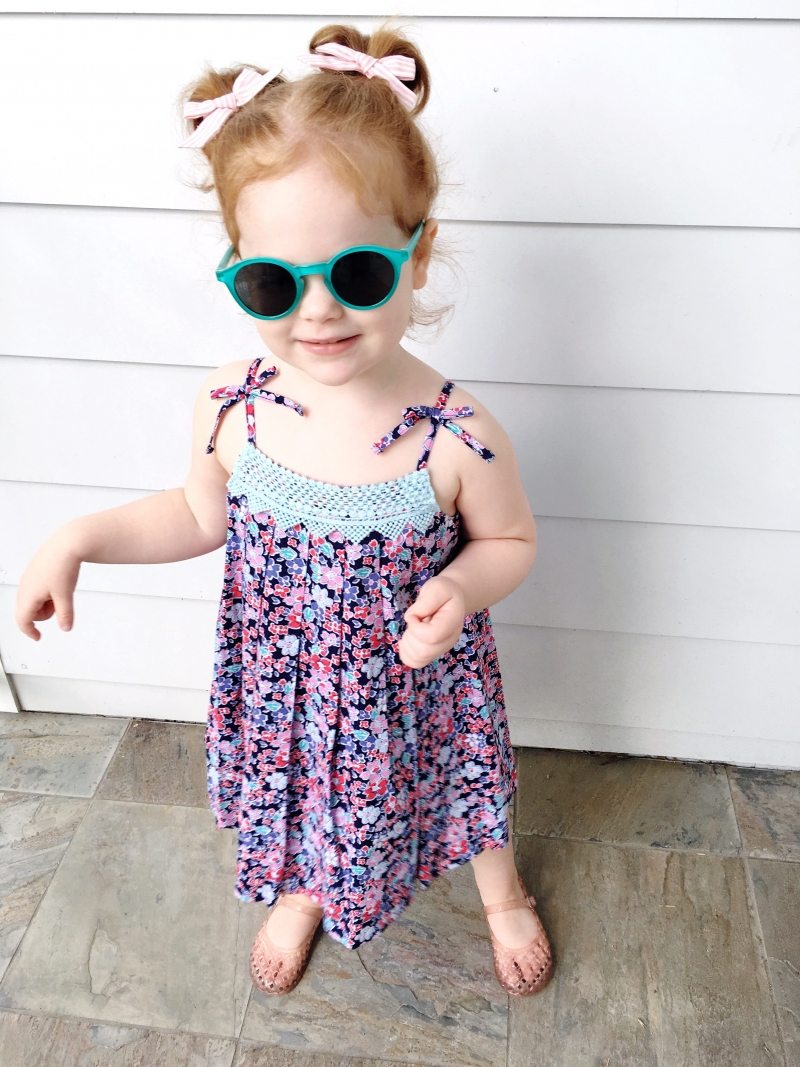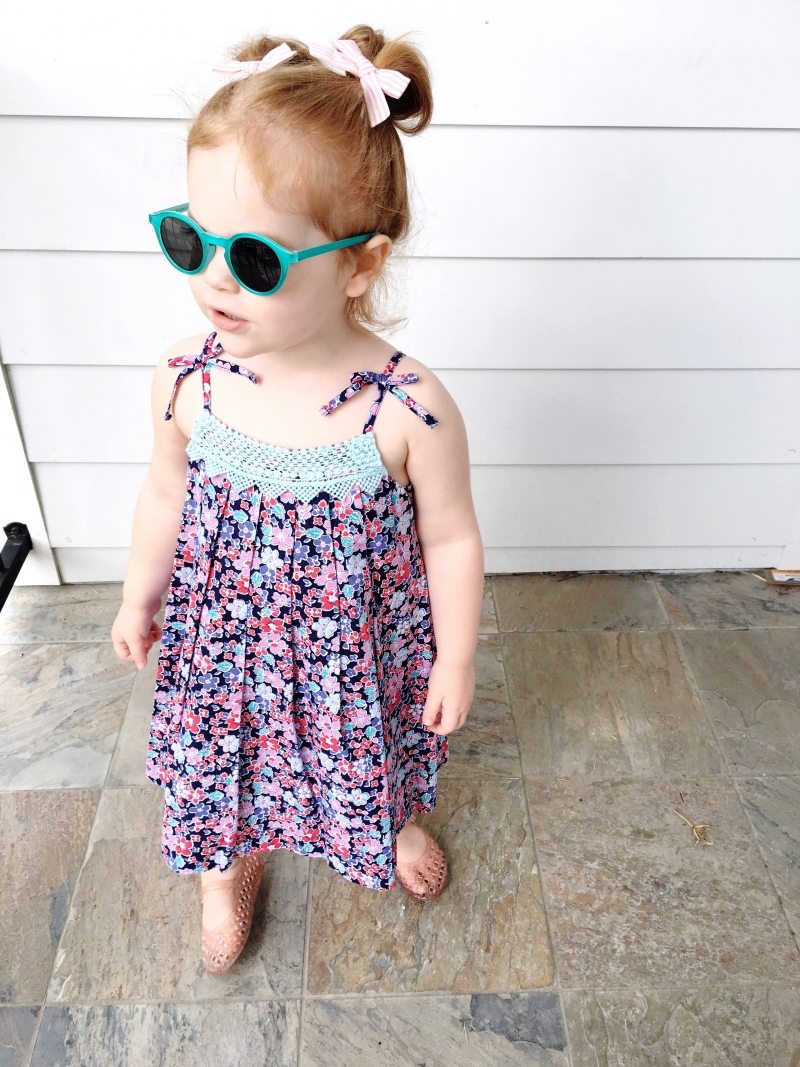 After a trip to IKEA Saturday (worst time ever to go, BTW), we were sweating with the AC cranked at the highest level it would go and I remembered a new popsicle shop just opened. Steel City Pops was beyond amazing. Not only are their popsicles incredibly tasty (Harper had strawberry lemonade and I blueberry basil), their fruit pops are dairy, soy and gluten free, which means my ice-cream deprived self could actually enjoy them! And enjoy them we did. They're $3 a pop and worth every penny. The place was packed, as expected on a 100 degree day—it was hard to find a parking spot! There's a main area where you order and pay and then right next door, there's a large room with concrete floors, benches and floor to ceiling windows where families hang out and eat their treats. There were littles everywhere, it was fun!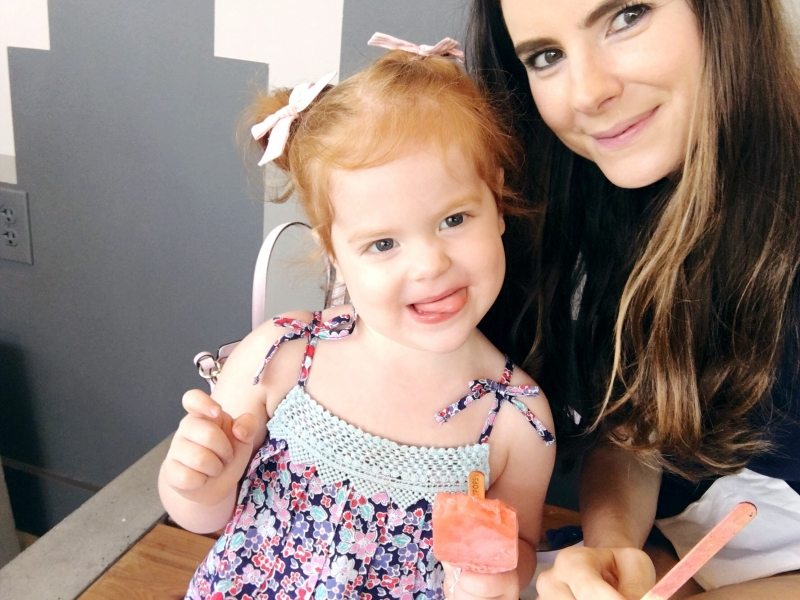 Oh Lincoln. As you may have seen on snapchat, this little one is on the move. He isn't crawling, but he gets around by scooting all over. He also started sitting up in his crib last week so we dropped that mattress all the way down. It's so amazing to see so much improvement in him lately! Hopefully he will continue to progress and get crawling down in no time.
I have been a terrible second-time mom and haven't shared his monthly updates in forever. If you listened to my snapchat Q&A from a couple of weeks ago you know we had a stressful couple of months so I just wasn't up for it. I do plan to eventually do a big update but I'm trying to muster up the energy for it.
Lincoln is sleeping better now which is amazing. He doesn't consistently STTN, but we can usually pop his paci back in and he's good to go and no more night time feedings.
Speaking of feedings, how cute is this milk bib from Ooby Dooby Baby? You can get the set of four, here. The swaddle blanket he's laying on is also on sale for $12.50! This would be a great gift for a mom-to-be!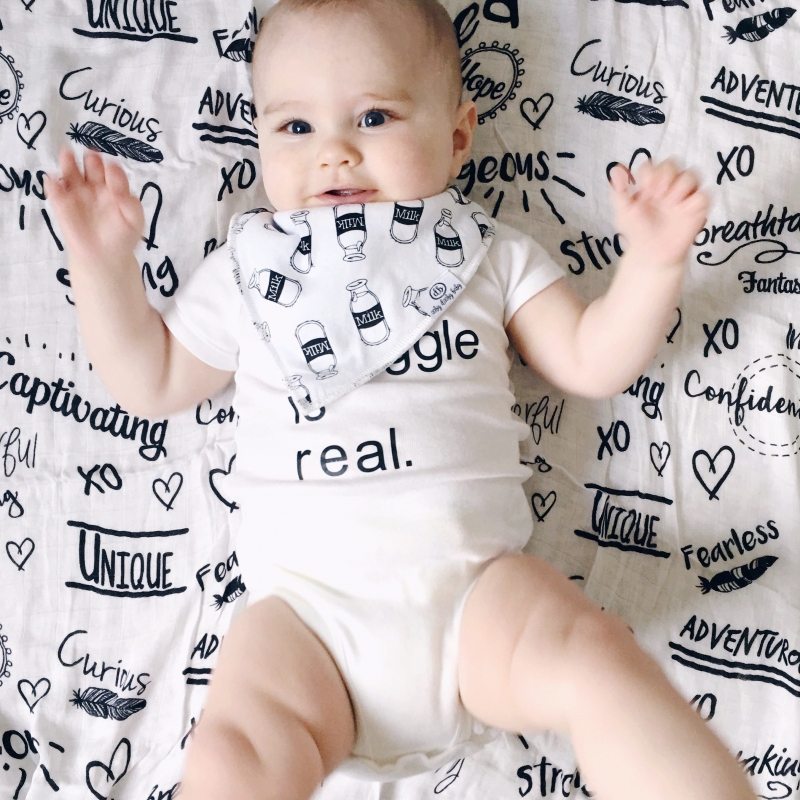 Tomorrow on the blog, I will have a full review of my latest trunk from Trunk Club! You won't want to miss it.
I hope your weekend was great!