My Nordstrom Anniversary Sale items came in on Thursday night and I was so excited to try everything on. I even placed a second order Friday morning and holy heck I'm glad I did because a ton of items are sold out since the sale became open to the public. I've never seen anything like it. I have heard there are re-stocks over time, so lets just cross our fingers because some of this stuff is too good not to own.
Let's start with these faux diamond earrings. They're about 3.4 carats, so on the larger side and they are absolutely stunning. In fact, I ordered them in a smaller size as well (in rose gold this time) because the quality was so great. I took a chance since my ears are so sensitive, but they're plated and I have been wearing them all day for two days and no irritation whatsoever.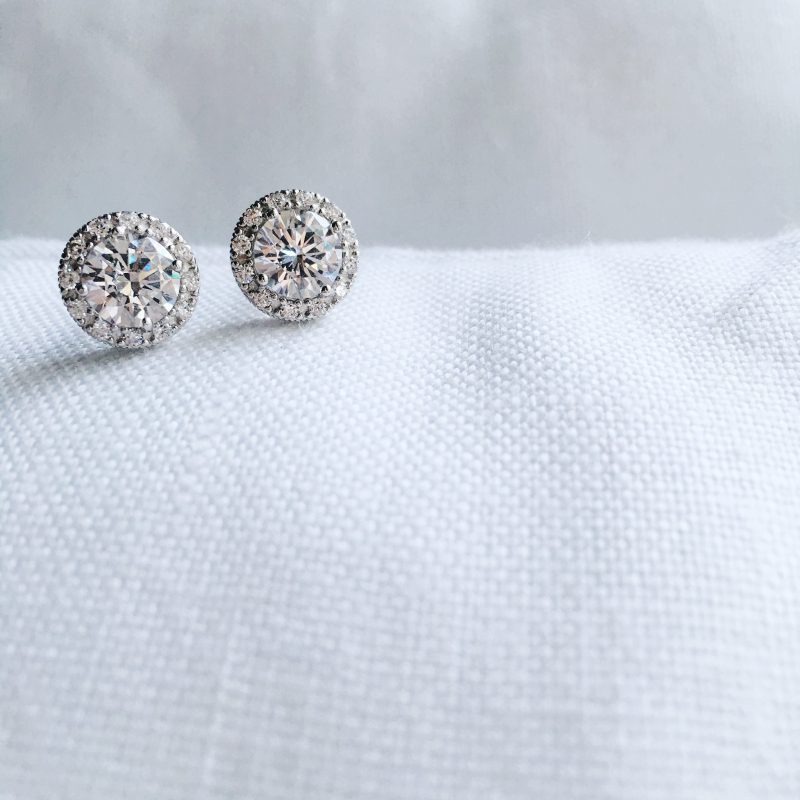 faux diamond earrings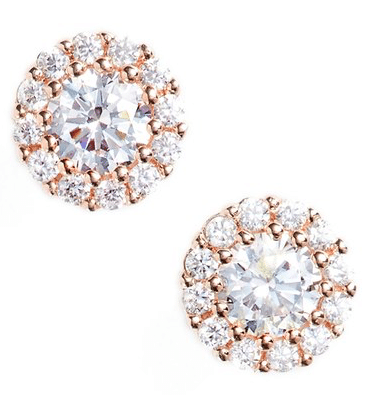 small faux diamond earrings
I purchased this halogen tee w/ side slits in a size small in both white and navy. It's so comfy and long and the slits are a fun detail. They're super inexpensive and they're soft as butter.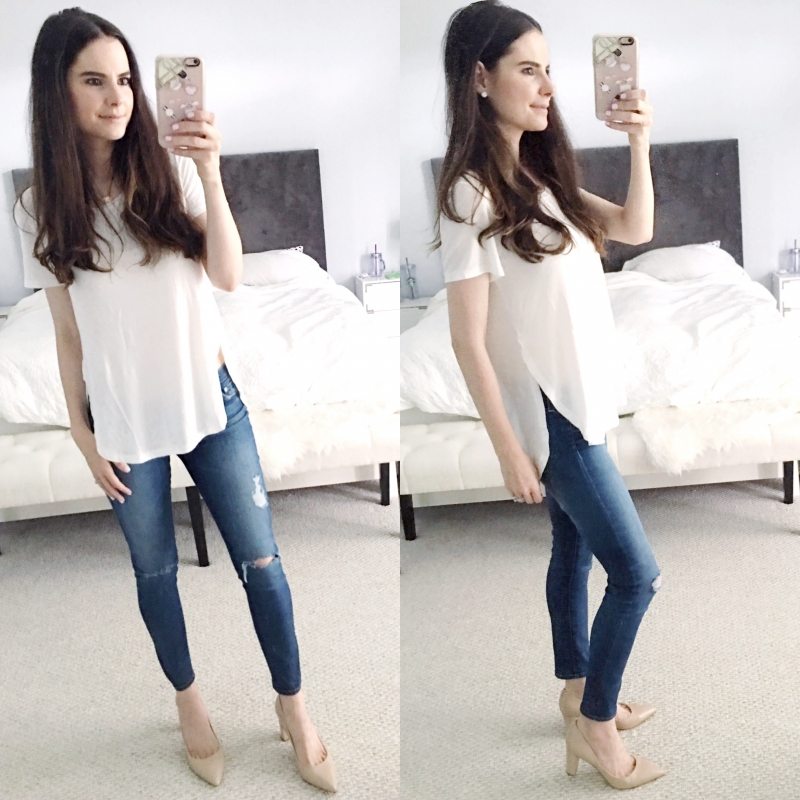 halogen tee w/ side slits  |   nude half- moon heels  |  AG ankle legging jeans
This open front cardigan w/ front pockets is available in only limited colors and sizes. I pray they restock it because it is gorgeous. I snagged one in the olive color on Friday morning because I loved this one so much and knew I would regret not getting a second color. This is an XS.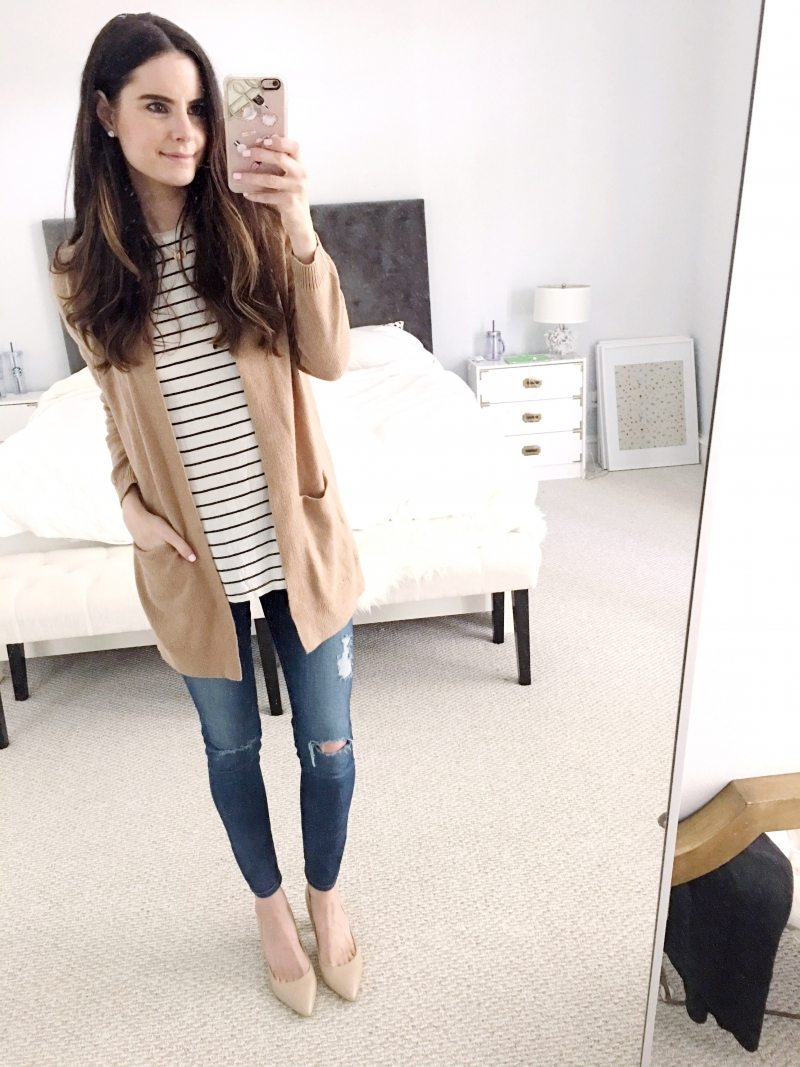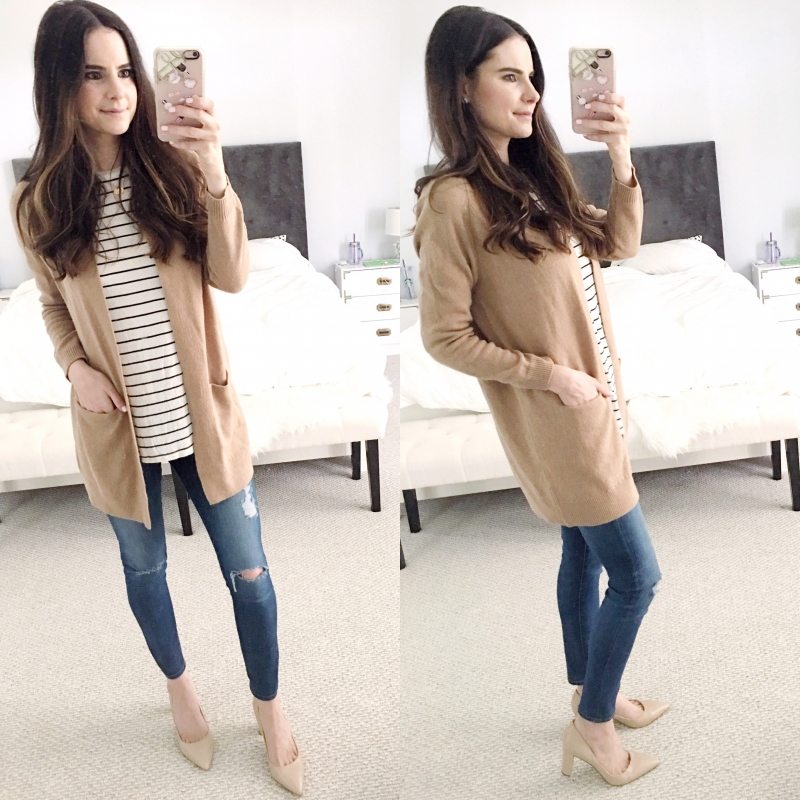 open front cardigan w/ front pockets  |  stripe tee w/slits  |  nude half- moon heels  |  AG ankle legging jeans

This cocoon cardigan  is sadly sold out, but it's so soft and gorgeous. Try to find it in store because it's such a great price for the quality. This is an XS.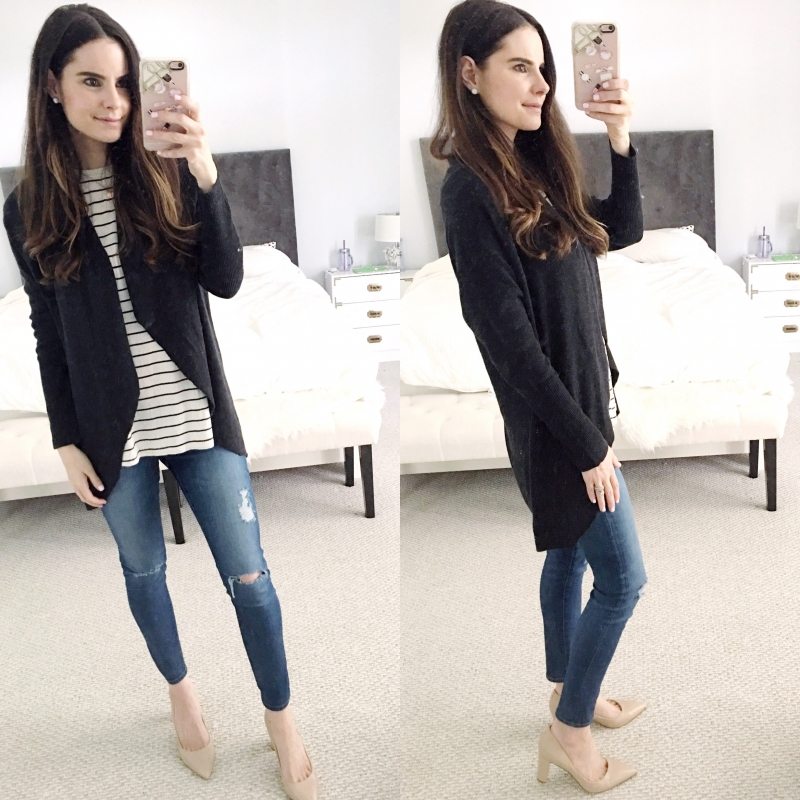 cocoon cardigan |  stripe tee w/slits  |  nude half- moon heels  |  AG ankle legging jeans
This stripe tee with slits , one of my favorites from the sale is still available in an XS white/black and XXS and XS in olive/white. Mine is a size small for reference. This top is long, soft and a classic you'll wear for years to come. I also got an XS and am debating keeping it for a more fitted version…I may try to find the olive one in store instead.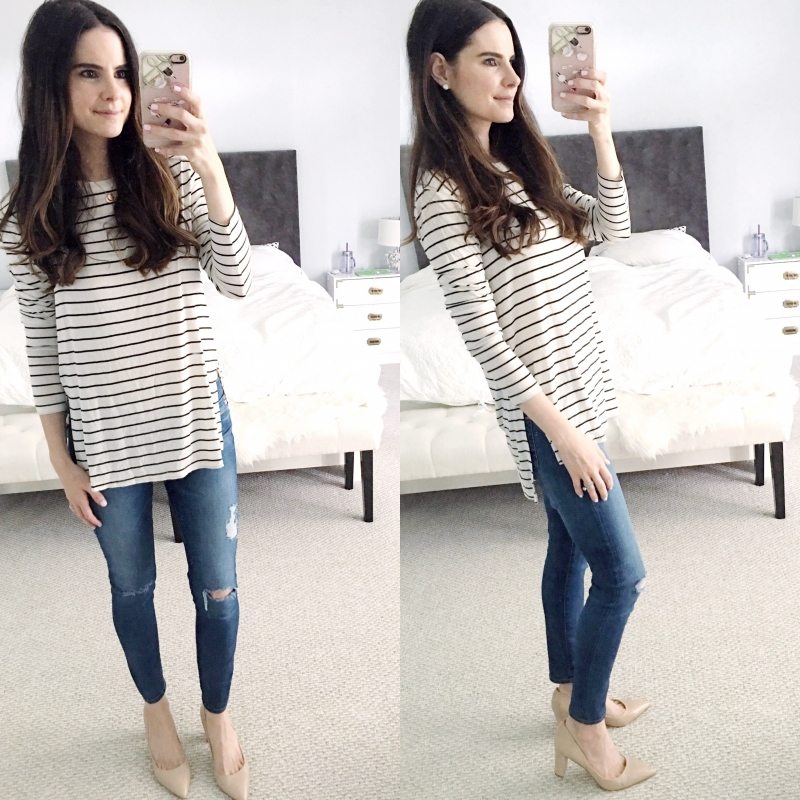 stripe tee w/slits |  nude half- moon heels  |  AG ankle legging jeans
These illesteva sunnies  were the item I was most excited to get. Sadly, I don't have the right face shape for them to be flattering. They're very round (and so is my face) and the moment I put them on, I didn't feel great in them. I texted my friend Kristen just to be sure, and she agreed they were no beuno. I will be returning them, but they are beautiful and I highly recommend them if they're the right shape for you!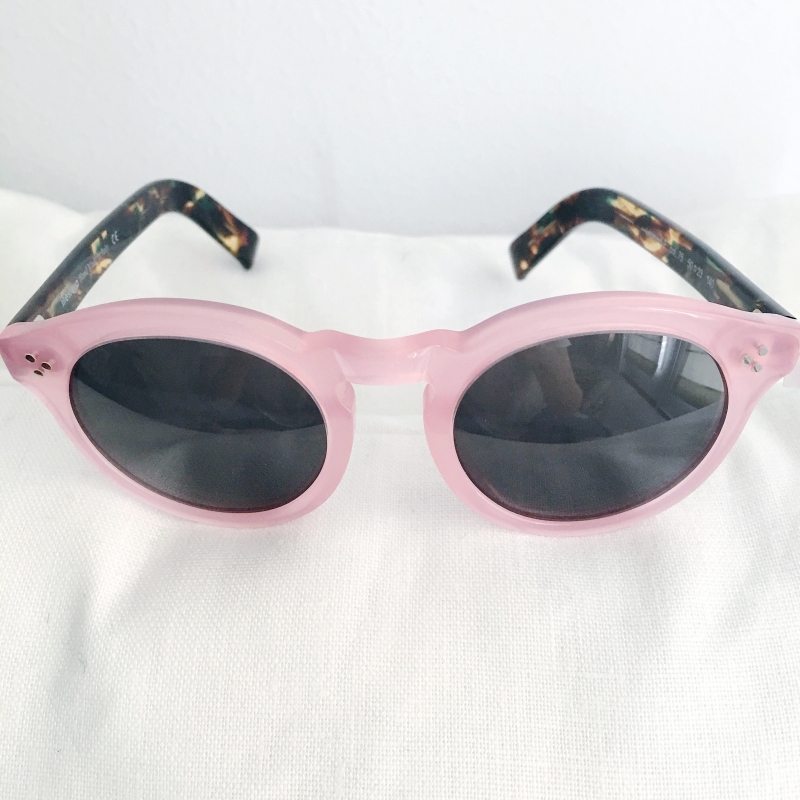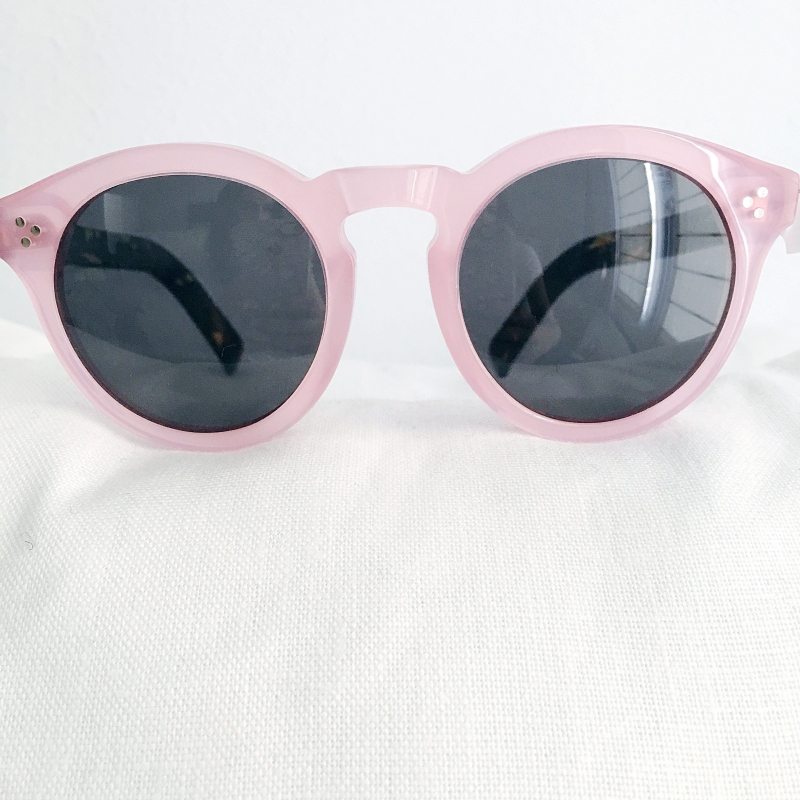 I ended up ordering these non-sale (but under $25) sunnies in a baby blue color to see if those will work for me!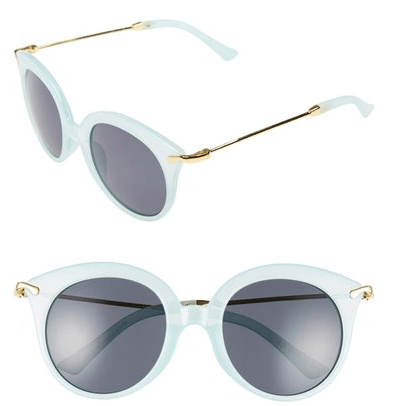 Below is a recap of my #Nsale beauty and home decor recommendations!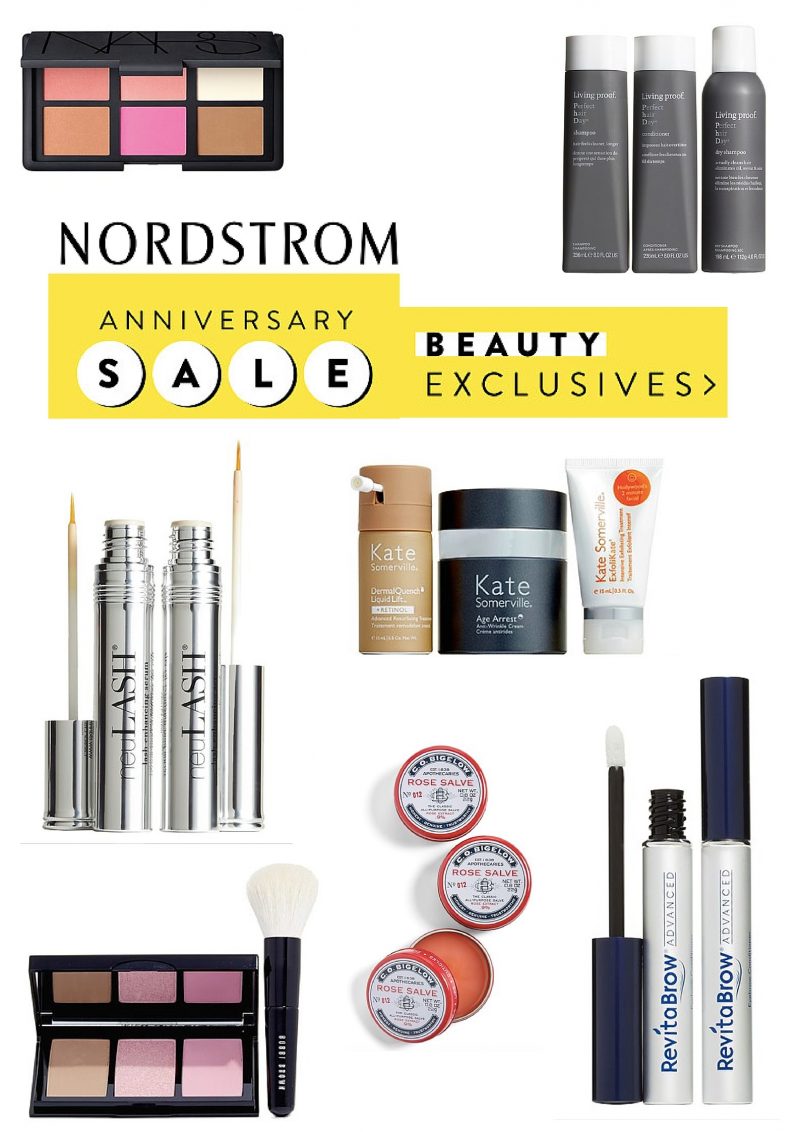 NARS cheek set  |  bobbi brown cheek set  |  living proof perfect hair day set  |  neulash lash enhancing serum  |  rose salve  |  kate sommervile glow set  |  revitabrow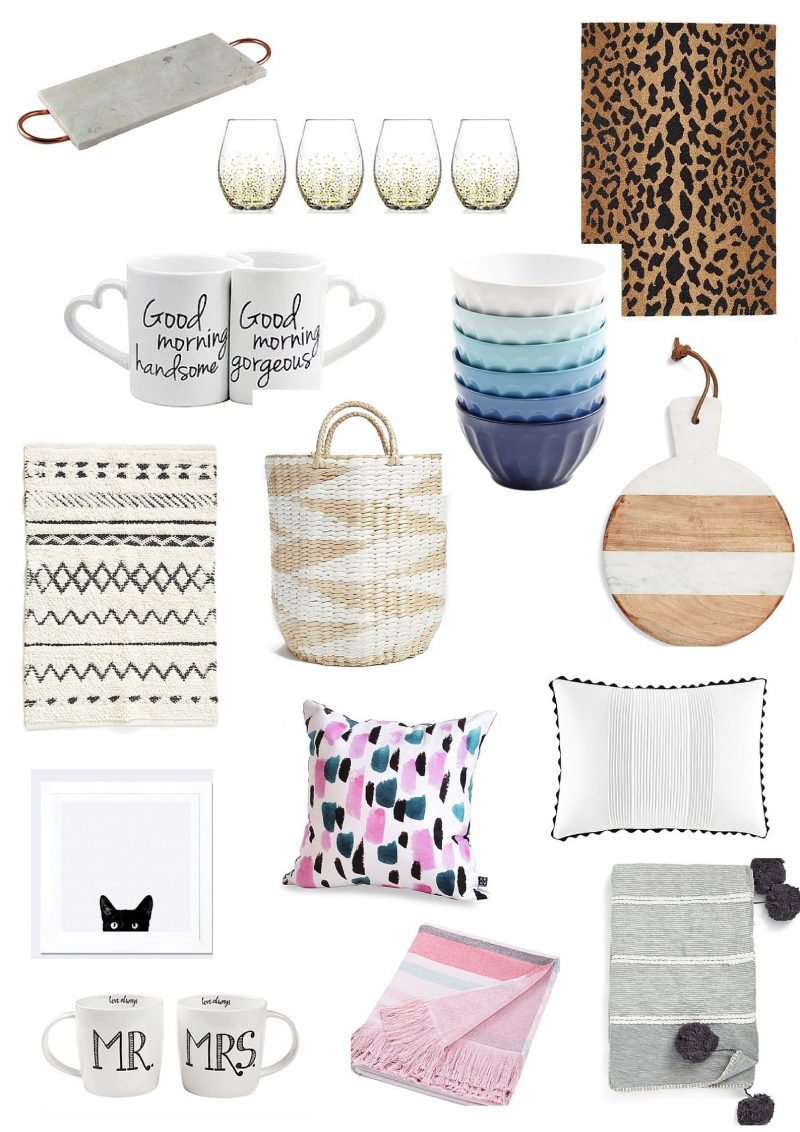 marble tray  |  stemless wine glasses w/gold detail  |  leopard rug  |  set of 6 latte bowls (killer deal- these are $6 a piece at anthro!)  |  good morning mugs  |  black and white rug  |  basket  |  marble and wood serving board  |  cat print  |  colorful pillow  | scallop trim pillow  |  mr. and mrs. mugs  |  turkish towel  |  pom pom blanket
Happy shopping! Crossing my fingers for some restocks here!