This is a post I have wanted to write for a while but I stalled because I was looking for another option for slim-fitting dress pants at a different price point that I felt were similar enough to my beloved Banana Republic Sloan pants that have been my go-to office pants for years.
Now, a note on the Sloan pants. Incomprehensibly, Banana Republic changed the fit of them. It's their best-selling pant, so it's surprising they would change the fit, and if you read the reviews online, many women are not happy. I only have the older style ones, so I can't compare myself, but I heard the new ones are cut a little slimmer. I do plan to order a pair the next time there's a big sale so I can compare.
Old Navy's Pixie pants have been around forever but I never tried them on since I loved my Sloans so much. I noticed one of my co-workers always had the cutest slim pants on at work and one day I asked where she got them— and they were Old Navy's Pixie pants! Of course I decided right then that I had to order some.
The first time I placed an order, I ordered three pairs in 6 tall because I was told to size up as they're a slim fit. They were really large on me and were also way too long. So I ordered a 4 regular and they fit perfect (full disclosure, I do weigh a little less now from nursing than before so perhaps that's why sizing up didn't work for me). I was surprised at how generous the regular length was, as I usually need a tall in everything at ON (I'm 5'10). If you're petite, they have that option in these as well. *Updated to add: please note that this review is about the regular length pants called "long" and not the ankle length pixie pants.
The Pixie pants aren't as thick as the Sloan, but they're an incredible price point and the stretch makes them so comfy! They retail for $34.95 but I always try to buy them for 40% off during promos (which they're often excluded from, so watch carefully for "no exclusion" sales).
Maybe it's a generational thing, but I notice that my co-workers and people in our age group tend to favor a slimmer fitting pant for the workplace. Every single member of our team owns either the Pixie, Sloan, or both! We are work twins quite frequently, ha. I also love how smart these pants look paired with a tucked-in dress shirt and blazer. These pants pair well with both heels and flats, but I do wear heels about 90% of the time at work since my days can be a little bit unpredictable (and I'll admit I feel a little more polished in heels).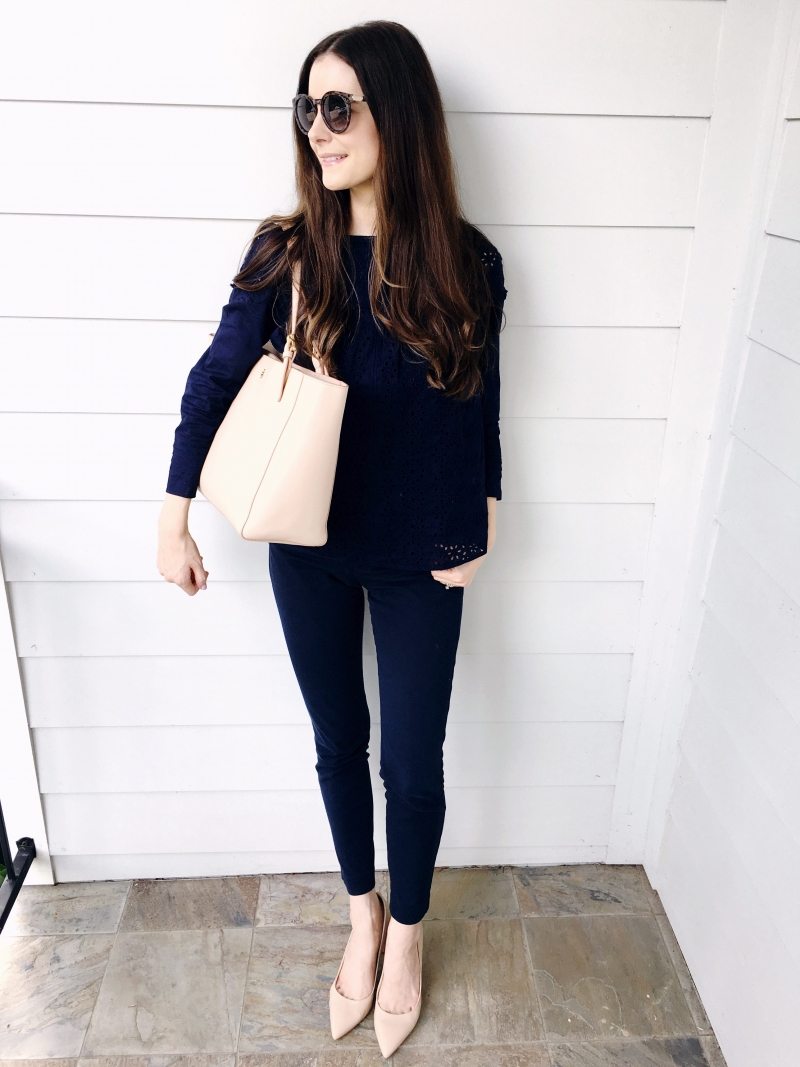 Pixie pants  (use code ENJOY for 30% off of your purchase) |  navy eyelet top  |  pants  |  sunnies (just $12!)  |  bag  | earrings  |  shoes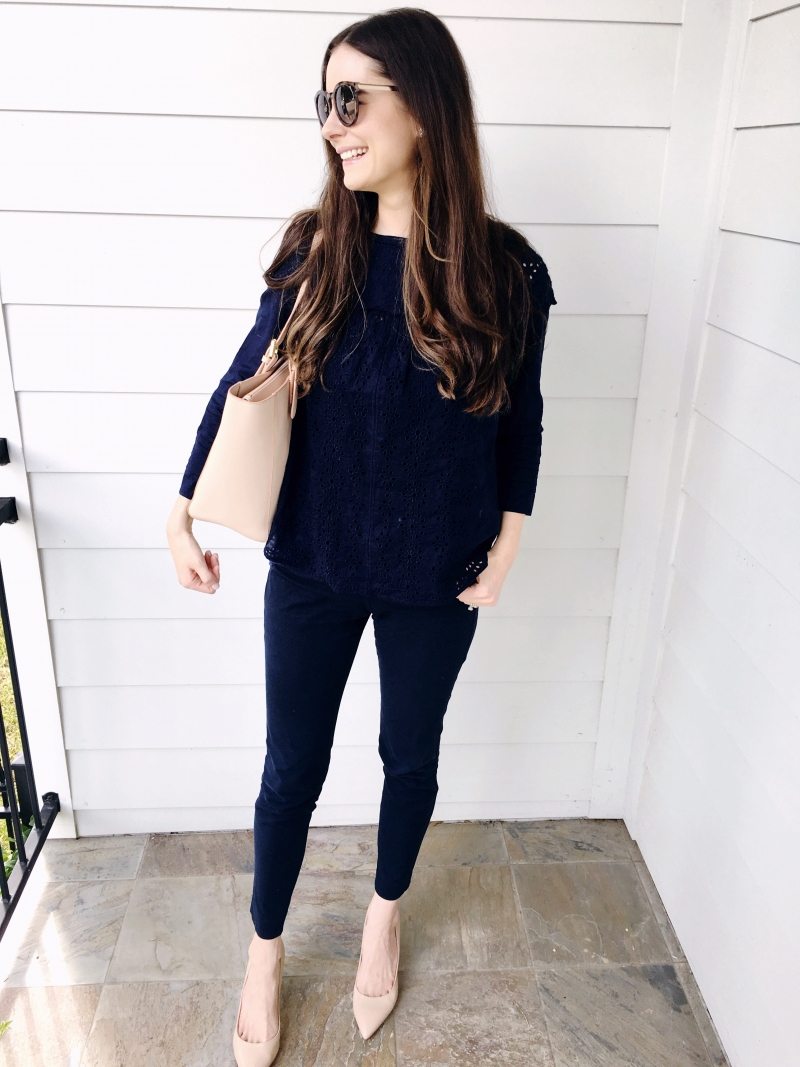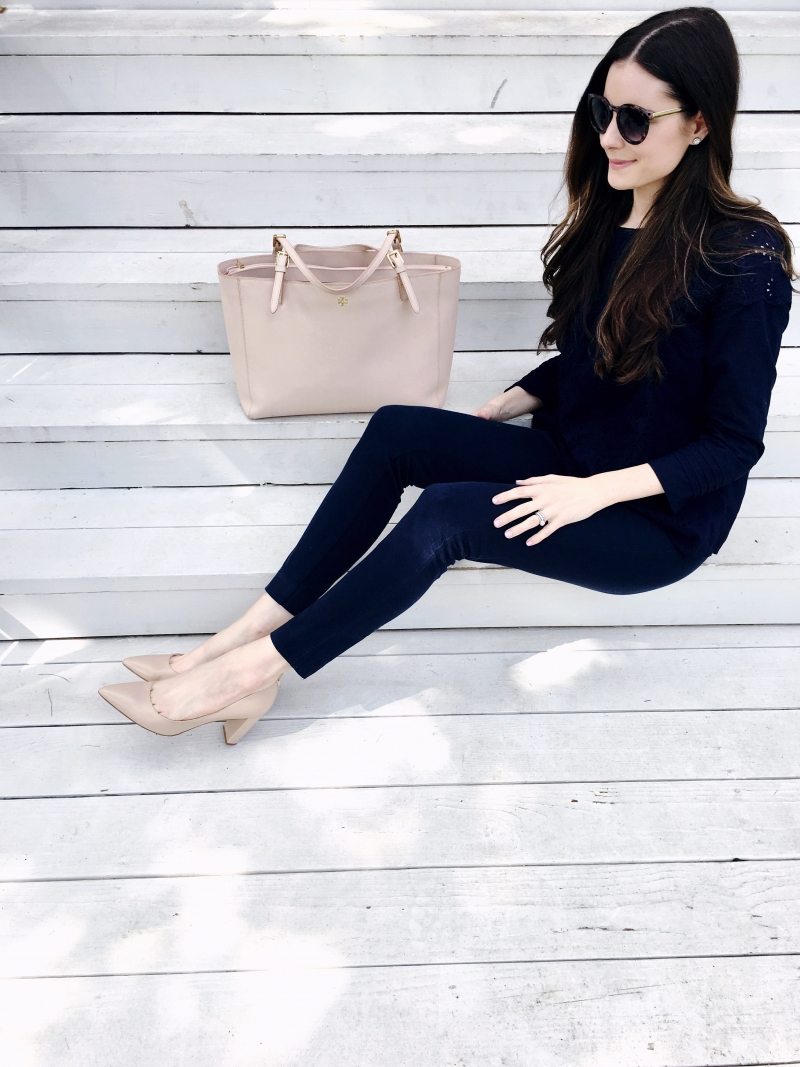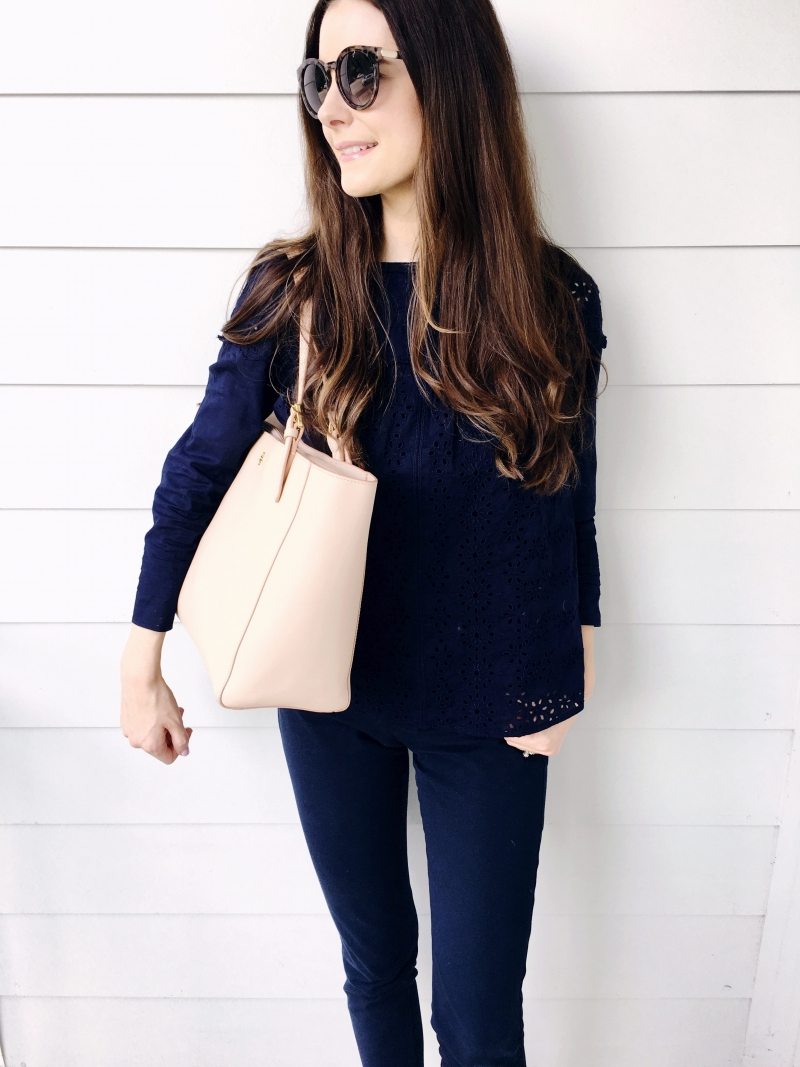 And now for the Banana Republic Sloan pants. As I mentioned previously, they're a thicker fabric, which is nice. I've been dry-cleaning them for years and one day I accidentally washed them but I caught it before throwing them in the dryer (which had ruined a previous pair of Sloan pants for me) and I hung them to dry with excellent results. I'm not advocating washing them, but for me, it has been working well. To be honest, I hate dry cleaning because of the chemicals, so I try to avoid it as much as possible but of course there are garments you can't risk it with. I usually wash these on the gentle/hand wash cycle and then hang them to dry. For sizing reference, my Sloans are a 4 Tall. The tall length gives that ankle-skimming look I love since they're a cropped style.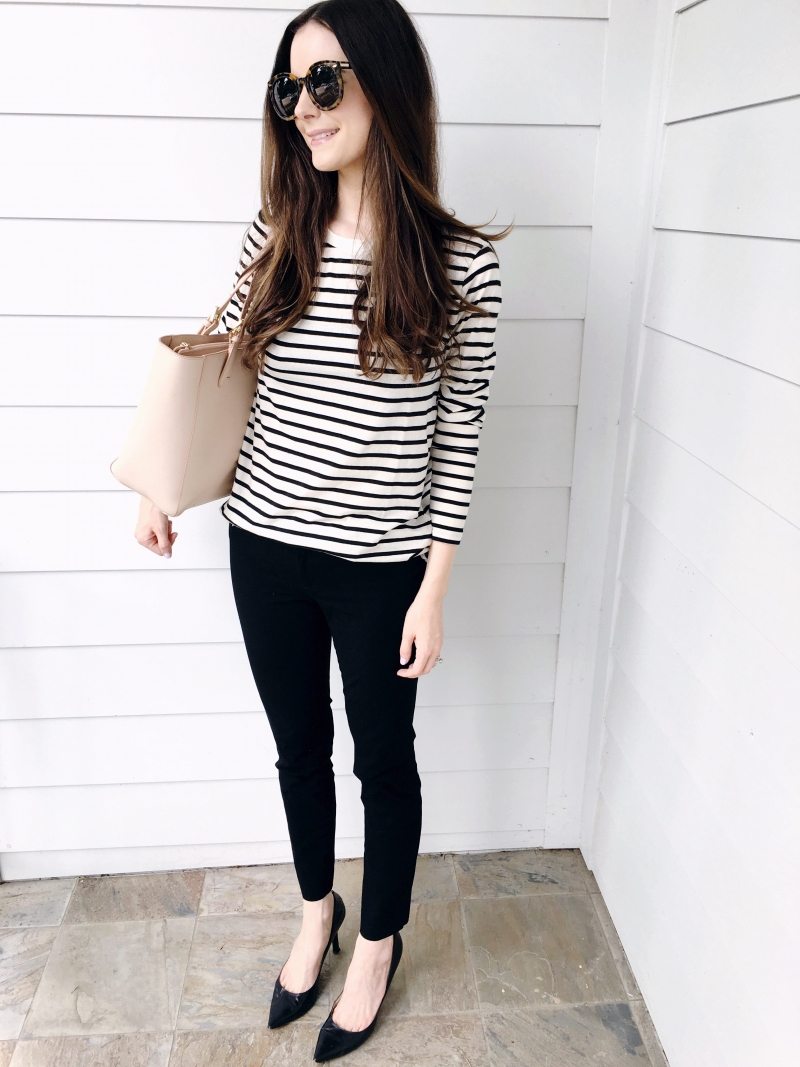 Sloan pants (use code FALL40 for 40% off for card members) |   sunglasses   | bag |  heels (on sale for less than $70— an incredible price for a closet staple!) |  top —sold out, but this one from the Nsale is super similar and back in stock! (more similar styles here, here and here) |  earrings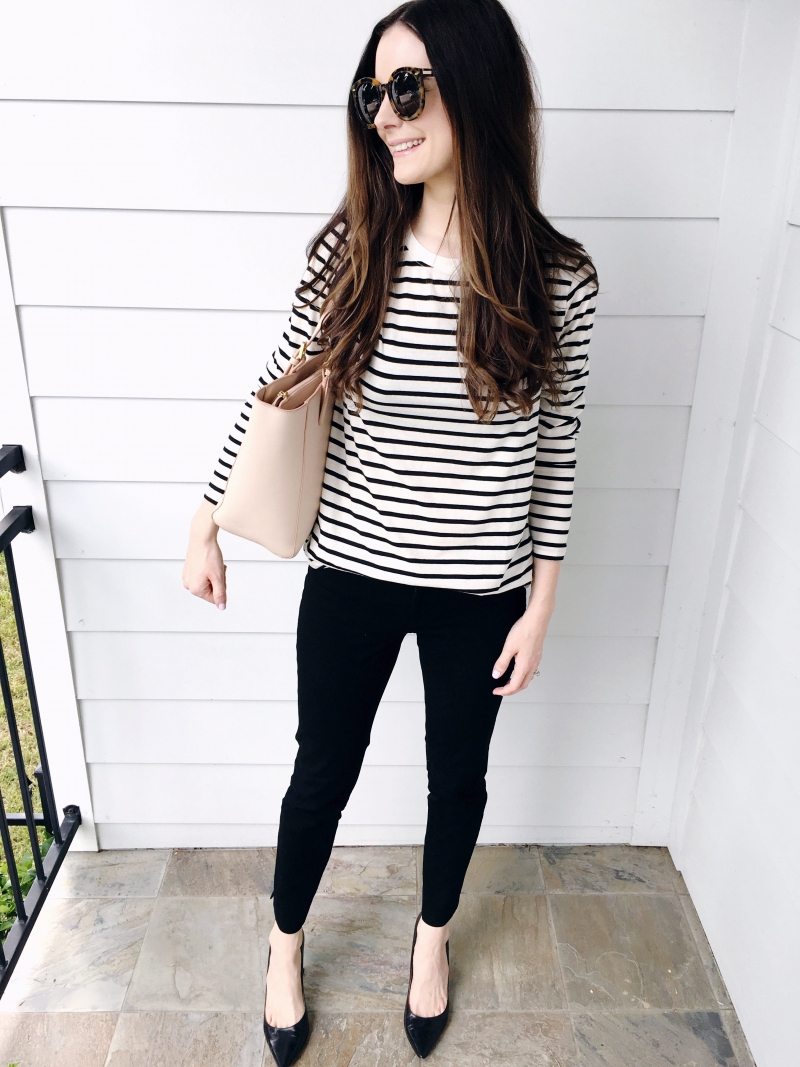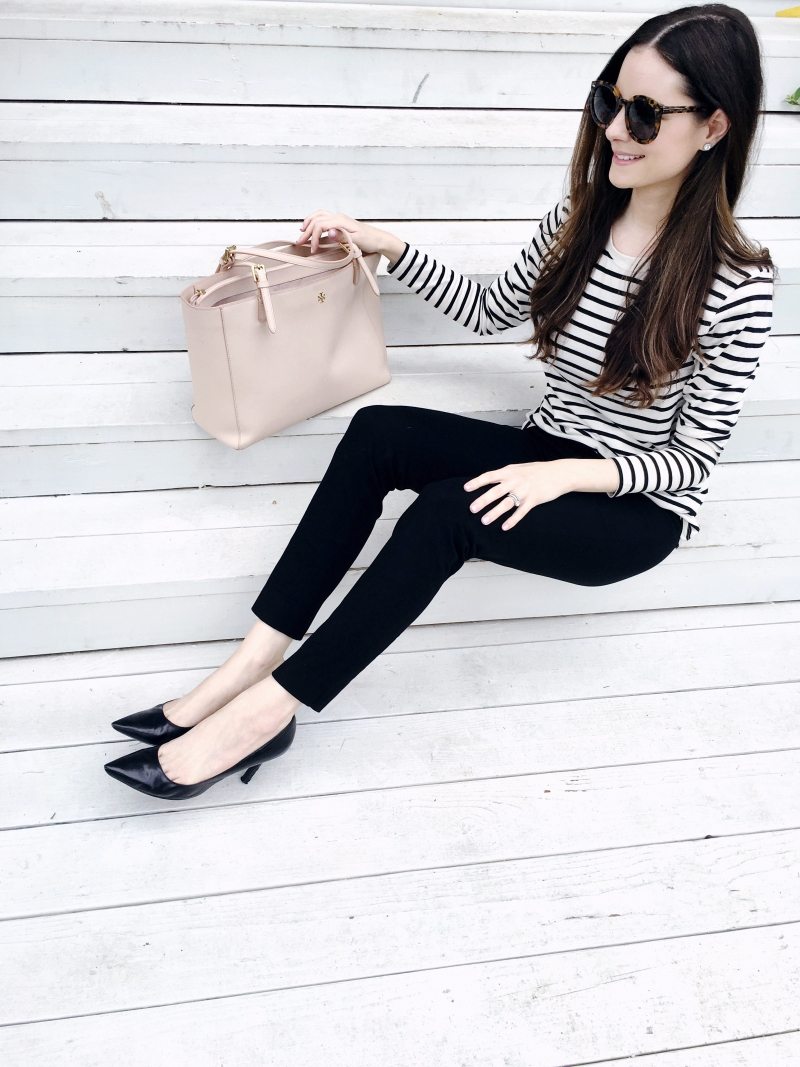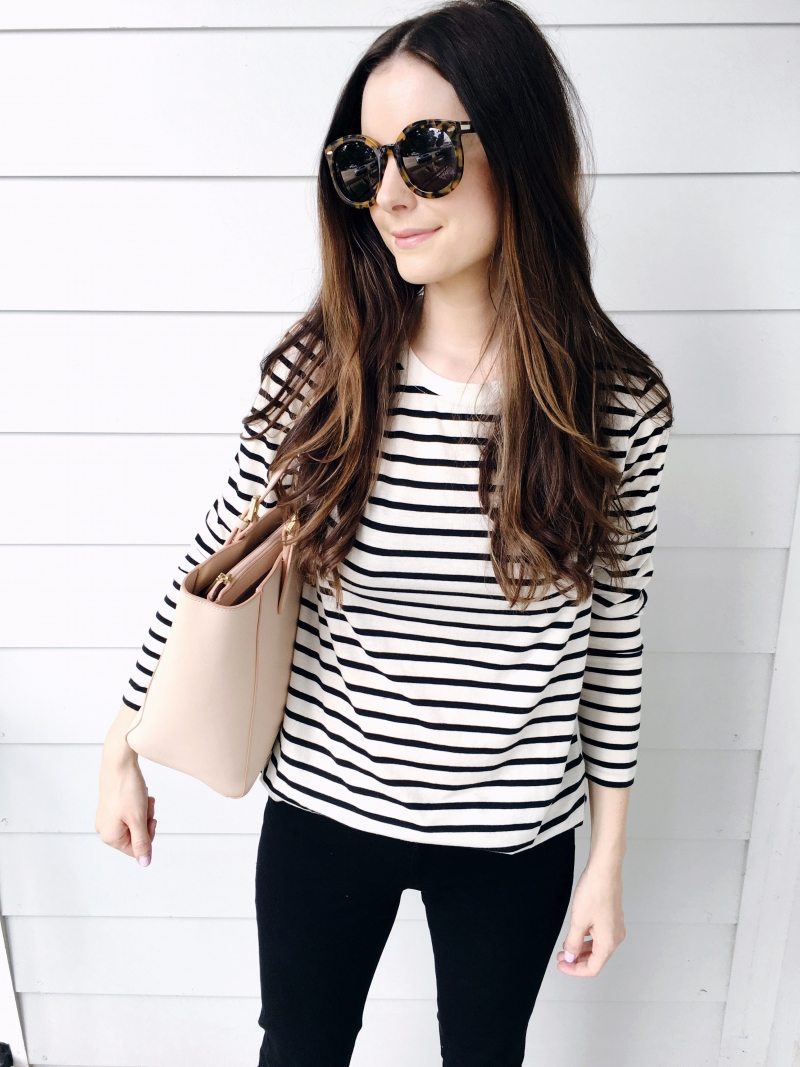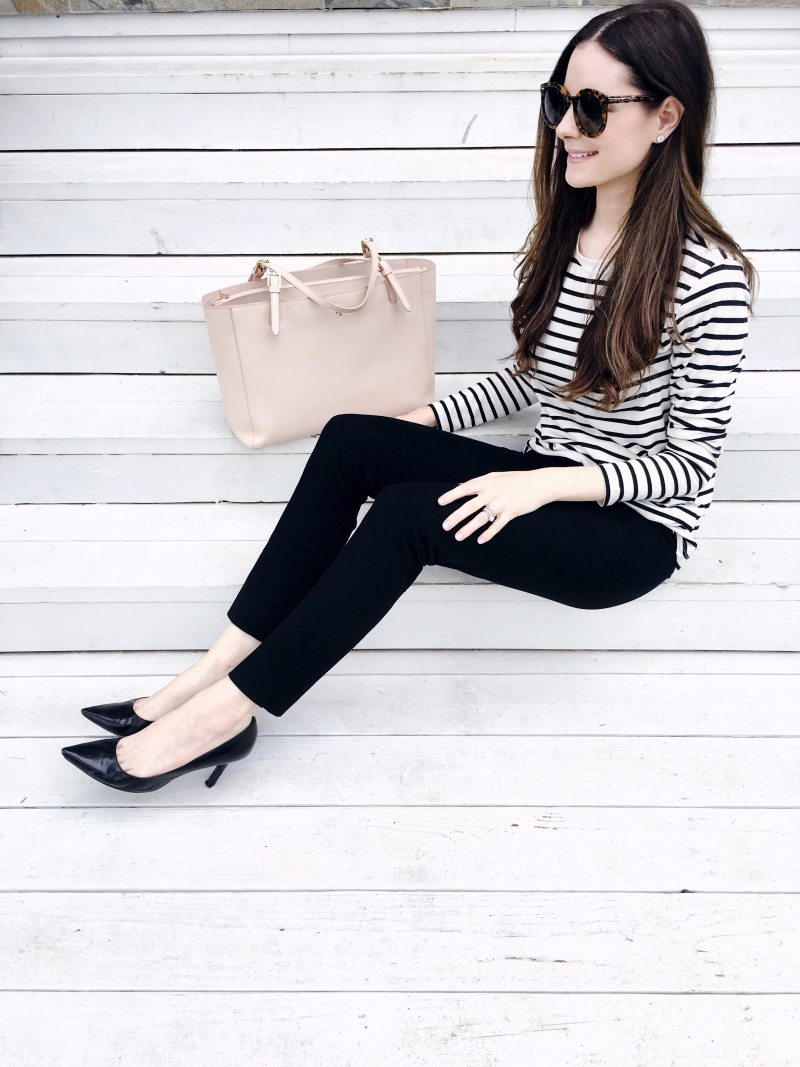 Do you wear slim-fitting pants to the office? I have several friends in Canada whose office environments allow them to wear Lululemon leggings! (I wish!) But these are really comfortable so I have no complaints.