One of my biggest regrets when we were choosing finishes for our new home is our hardwood floors. We had dark (albeit not quite this dark) hardwoods in our last home and so my default was to get them again because we liked the way they looked.
And, to be clear, I do like the way they look. But they are horrible to maintain. They show, as you might imagine, every.speck.of.anything.ever. There is literally a visible speck of dust in this photo and this is after they've been cleaned.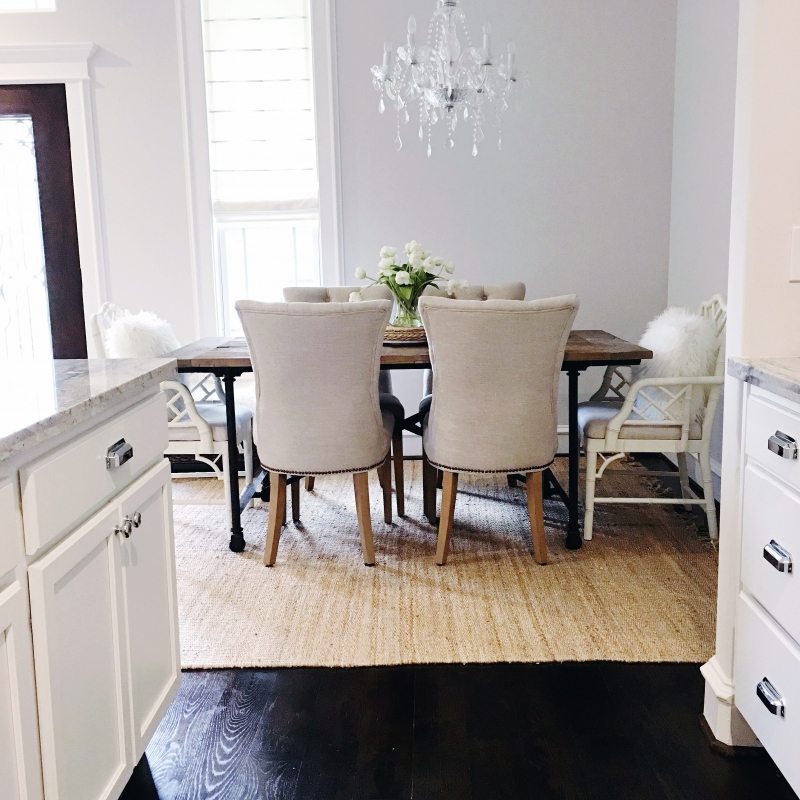 Pretty. And pretty hard to keep clean.

I mean, just look at our floors during our house construction. A. Freaking. Disaster: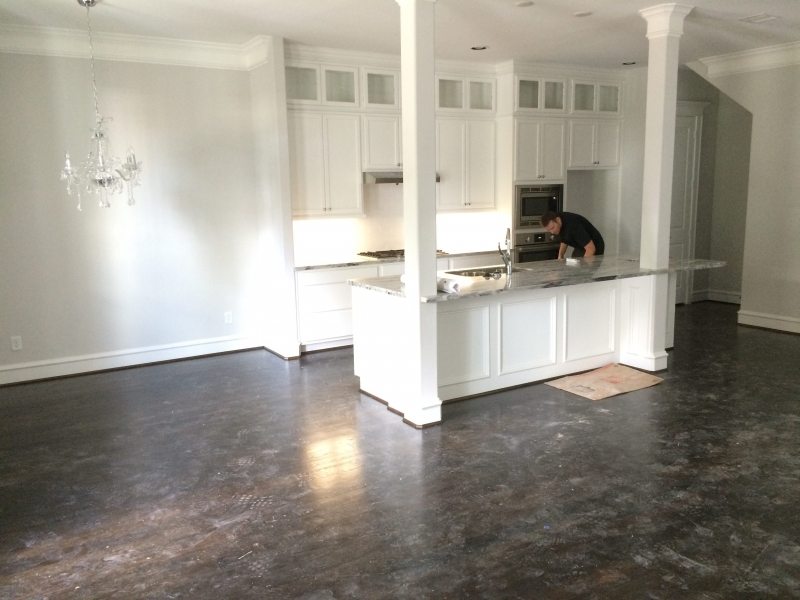 After we moved in, we added some natural jute area rugs in our dining and living room areas, but those shed and contribute to the problem, as essential as they are.
So, what's a family to do? You want clean floors but you have kids, work full time and the last thing you want to do every couple of days is clean your floors.
Well, you get a robot. Remember when you were a kid and you imagined life in the 2000's as robots doing all of our tasks for us? And flying cars and stuff? It's kind of like that.
So last Christmas, we got a Roomba. To be honest, for the first couple of months we had it, we didn't use it. I don't know why, it just kind of sat there on the dock and we kept saying, "we should use it" but no one ever pushed the "clean" button.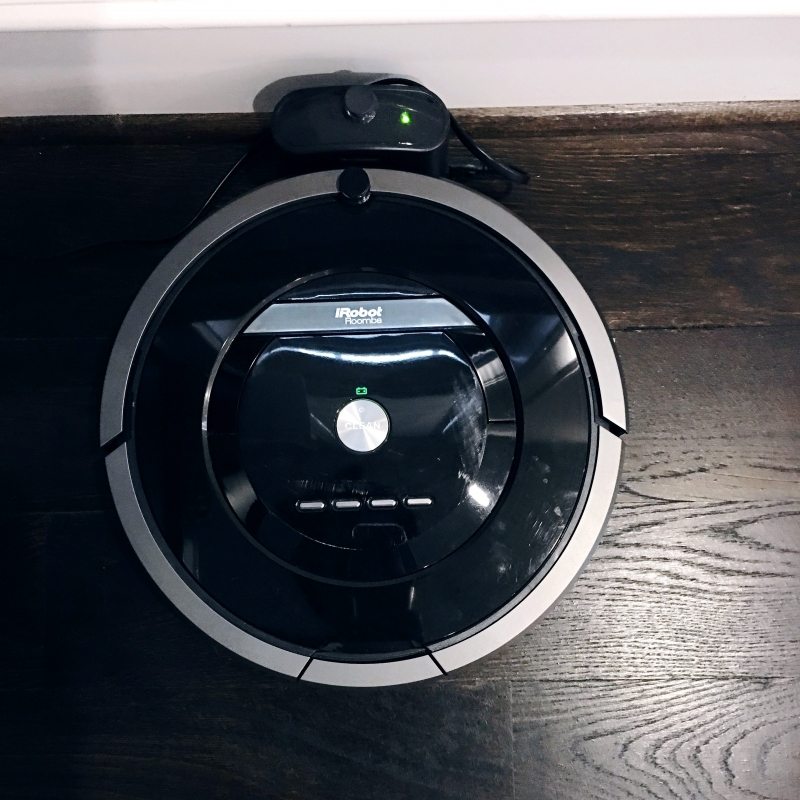 Then one Saturday, we decided to finally push that button and we watched as it made its way around our floors and sucked up all of those teeny tiny bits and pieces that made our dark floors look unkempt all the time.
When it was done, it just went back to its little home to charge and our floors were clean (so fresh and so clean clean).
We have a cleaning lady that deep cleans our home every two to three weeks, and she does an amazing job with our floors, but they only look marvelous for about 24 hours before they're a total disaster again. There's also a certain time every afternoon where the sun shines through our windows and I swear to you it makes even micro particles visible on our floors. We only witness this on weekends, thankfully. Serenity now.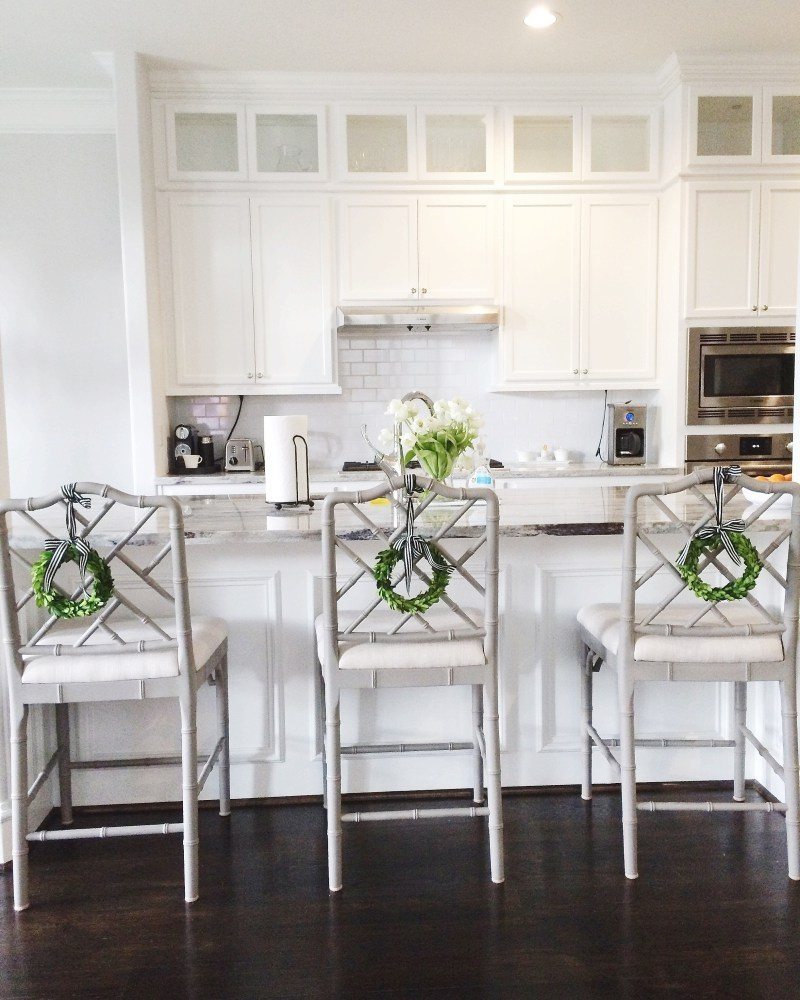 What am I getting at? Now, we use our little robot friend all the time (2-3 times a week, at least). We kind of love watching it navigate our home as it makes our floors look acceptable enough for company (but please, don't come over, because there's still s**t strewn everywhere).
So yay, our floors are happier and so are we. But you know what? Our little robot friend costs over $500 (we have the iRobot Roomba 880 Vacuum Cleaning Robot). I mean, don't get me wrong, we love it and it makes our lives easier, but that's not really a price tag many people can get on board with. And if you want to get really wild, the newer model, the iRobot Roomba 980 Vacuum Cleaning Robot costs $900.
So, when I had the chance to review the bObi Pet Robotic Vacuum Cleaner priced at $329, I said yes. And just so it's clear- this is not a paid review or sponsored post. The robot was gifted to me, but I am not being paid to post about it. I just thought it would be helpful to compare two similar products at different price points.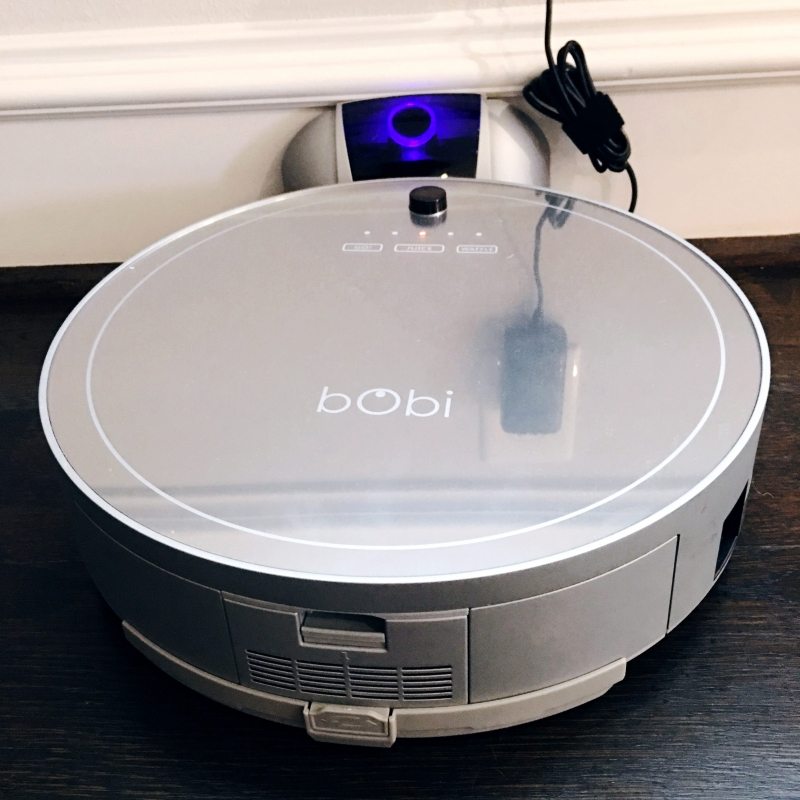 A differentiator between the Roomba and the bObi Pet is that the bObi Pet simultaneously sweeps, vacuums, mops, UV sterilizes, and HEPA filtrates. It also includes a remote control (we haven't used this feature yet).
The mopping option is what most made me want to try it because yes, vacuuming is awesome and essential, but mopping is that finishing touch and with a lot of hardwood and tile in our home, a robot that also mops was something I was pretty excited about.
So, before I delve into the bObi Pet , let's go back to the Roomba. The Roomba is undoubtedly a more intelligent robot than the bObi Pet and I think that's where you'll see the price difference most. One thing I love about the Roomba is that it detects cords, fringe on rugs, etc, and it gets around them and does not become entrapped by them. It's really quite remarkable to watch the Roomba navigate in an area where cords are present and it somehow doesn't tangle them or mess with them, it's just programmed to go right over them. The Roomba learns your home over time and follows a similar pattern when it cleans. Overall, it does a great job picking up the stuff on your floors and navigating around different surfaces. In particular, we have a thick natural jute rug in our living room with fringed ends, and it goes over them with ease and doesn't tangle. The Roomba is easy to clean and relatively quiet, though the bObi Pet is quieter. I do see it as a worthwhile investment for our home, especially given our dark floor situation. We've only used or Roomba downstairs, but I'm confident it would perform well on any other surface as well.
Now, let's talk about the  bObi Pet. As I mentioned, I was surprised to hear it was quieter than the Roomba, which is nice because though the Roomba isn't unbearably loud, it's loud enough that it never goes unnoticed . The bObi Pet does a great job of picking up dust and debris on your floors. The mopping feature is a huge advantage, though I will admit you have to stop the robot and re-wet the mop part if you want continuous mopping. Otherwise, it dries out after doing a section of your floor. That's not a problem for us, as we're the type of family that enjoys using our robotic vacuums while we're home (especially since they sometimes get "stuck") and because the kids love watching them. Lincoln crawls around and "chases" them, so it's kind of like a form of entertainment for us (that's kind of sad to actually type out, but hey, when you've got young kids and it's unbearably hot or raining out...)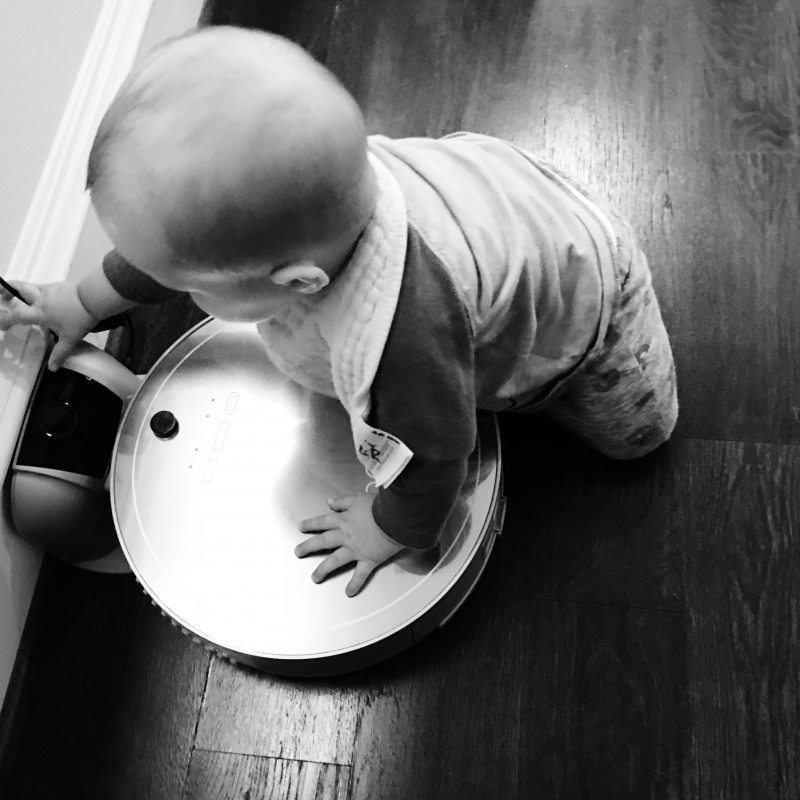 The one downfall of the bObi Pet  is that it doesn't navigate quite as smoothly as the Roomba. However, given its price point, this is expected. So that means in our home, we can't just leave it while we're out of the house to clean our floors since we have to untangle it from our rug. It's perfect on hard floors and carpet, but once it hits our admittedly thick and bulky jute rug, it immediately tangles in its fringe (which is understandable as the fringe is quite long and thick). It also tangles when it encounters any loose cords, so be sure to remove as many obstacles as you can while using it to avoid interruptions.
I also noticed that the bObi Pet pushes lighter furniture around a little more than our Roomba (like say, a bar stool). Both robots are pretty good at navigating around furniture and re-routing when they encounter obstacles, however, I would say the bObi Pet  is a little less smooth in these transitions. Again, I don't really view that as problematic because it's getting the job done. Clean floors = happy floors.
One feature the bObi Pet has that the Roomba doesn't is UV light to sanitize floors. Now, I'm not sure how effective it is because it's not something I can test, but I know some sonicare toothbrushes come with a UV light for sanitizing and I imagine they operate on the same principles and it's a nice extra feature, especially when you have young children who are all over the floor constantly.
In summary, both robot vacuums are great and worth owning. I've decided that we will keep our Roomba downstairs where we have our "complicated" rugs and we will use our bObi Pet primarily upstairs where we have a mix of hardwood, carpet and tile. That way, the bObi Pet can clean all of those floors without tangling in our jute rugs and cords and the Roomba can continue to do a great job cleaning our downstairs. And just to be clear- the Roomba sometimes gets stuck or tangles too. No robotic vacuum is perfect. It just seems to have a computer that more intelligently recognizes obstacles and avoids them or is able to get out of them unscathed. Is that worth hundreds of dollars more? Well, that's for you to decide.
Overall, I highly recommend owning a robotic vacuum. It honestly never even crossed my mind to purchase one until we were visiting our friends and they raved about theirs. Once we had lived in our new home a couple of months, we realized the floor situation was dire and yet neither of us had the time or energy to vacuum every other day. So for us, these robots are wonderful tools to keep our home looking its best and the kids are obsessed with them too!
If you're thinking of purchasing a robotic vacuum, examine your needs and your budget and go from there. If you have any specific questions that weren't addressed in this post, please leave me a comment! We do own a tradition vacuum as well as a mini vacuum, but since getting these robots, the tradition vacuum is only used by our cleaning lady and the mini vacuum for small messes that need to be addressed immediately. We use the robots for all of our weekly floor maintenance.
Now, if only they made a robot that cleaned up your kid's toys…

FTC Disclosure: I purchased the Roomba with my own money. The bObi Pet was sent to me for review and consideration. This is not a sponsored post and I am not being compensated. All thoughts/opinions are my own.