Since starting my blog seven years ago (whoa!), I have always loved working with small shops and helping them grow. I have experienced so much support and growth with my blog that I feel a strong desire to give back and share businesses I love with my readers!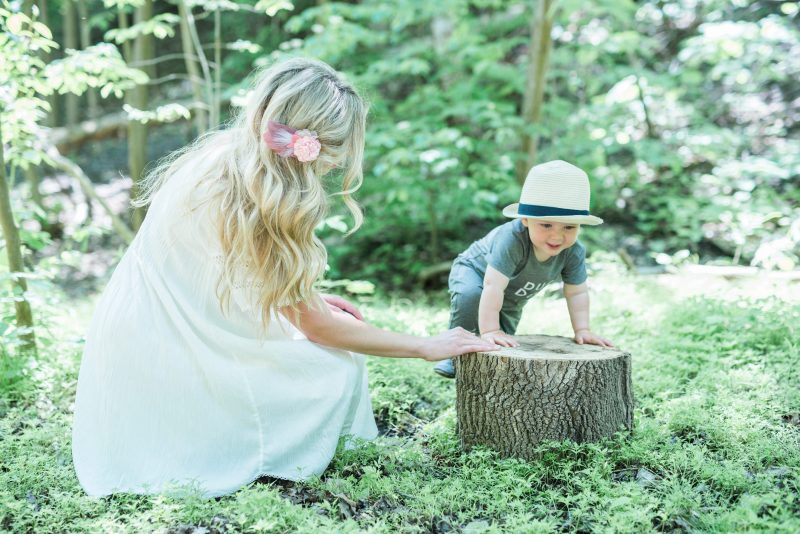 So I'm starting a series on my blog featuring Q&As with women and mothers that run small shops and businesses. I feel like I have my dream job working at a children's hospital and blogging part-time and there's nothing I love more than supporting and uplifting women that have created their dream jobs. Plus, I think it's inspiring to learn from other women— whether it's celebrating successes or learning from failures.
I know a lot of the women that read this blog are working mothers and I think there's value in sharing all of our experiences to show how diverse life as a working mom can be.
It's an honor for me to launch this series by featuring one of my best friends in the whole world, Heather. Heather is as smart as she is beautiful and she's one of the hardest working people I know. She is kind, generous, incredibly positive and has such a wonderful heart. I'm so lucky to have her as a friend!
Previously, Heather was a marketing manager at a large company in Toronto. During her maternity leave, she found a different passion, all inspired by her adorable son Hudson. On June 16th, she launched The Whimsical FoxMake sure to visit my IG for a $50 giveaway!Make sure to visit my IG for a $50 giveaway!, selling adorable, modern baby rompers that she designs.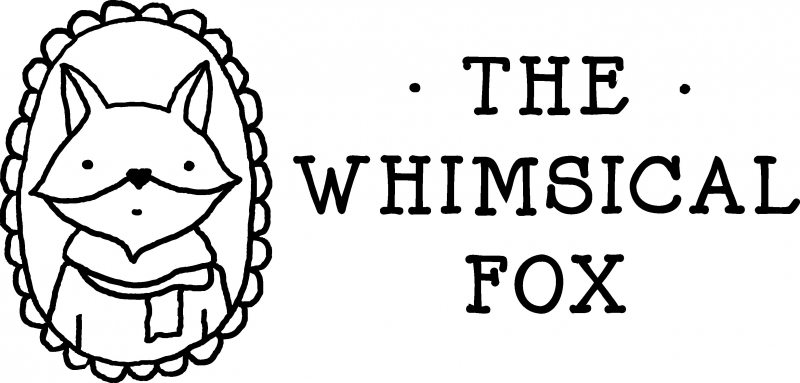 Read on for more of Heather's story and make sure to visit my IG for a $50 giveaway!
What made you decide to start your own business?
I always knew that I wanted to have my own…..something, but it wasn't really clear what that was until we had our son Hudson. I would sit through those late night nursing sessions in a sleep deprived, zombieesque state (you all know the one Mamas), just letting my mind wander.  When the idea for The Whimsical Fox came, it just felt right.
Also, growing up I watched my mom run her own business (she was a carpenter) and raise three little girls. The work ethic and passion that she had was incredible and it proved to be the best example for me.  I knew how much work starting my own business would be, I remember sneaking out of bed and seeing my mom working on her books late at night and weekends. I'm still in awe of how she balanced her time with us and her business. She sold her business a few years ago, but it still operates under its original name, she really build a strong brand.
Having my son was a life-changing experience (obviously, that sounds so cliche right?) but it truly was. He slows me down and makes me look at things differently, except when he's dropping random shrill shrieks at inappropriate times…(side note, what's with 1.5 year olds and that high pitched shriek they randomly do, the one that makes everyone look over like "what is the mom doing to that poor child." And I'm looking back like, nope it's all good, he's just "toddler crazy" right now).
How did you decide what kinds of products your shop will offer? Are you looking to expand into other products in the future?
I love rompers, the ease of them, no matching required and they work so well with accessories. I designed our rompers with snaps for easy diaper access (thank goodness for snaps) and our signature closed leg cuff makes it easier to do up the leg snaps if your babe in on the squirmy side.
Right now I'm focused on rompers, and trying to do them well.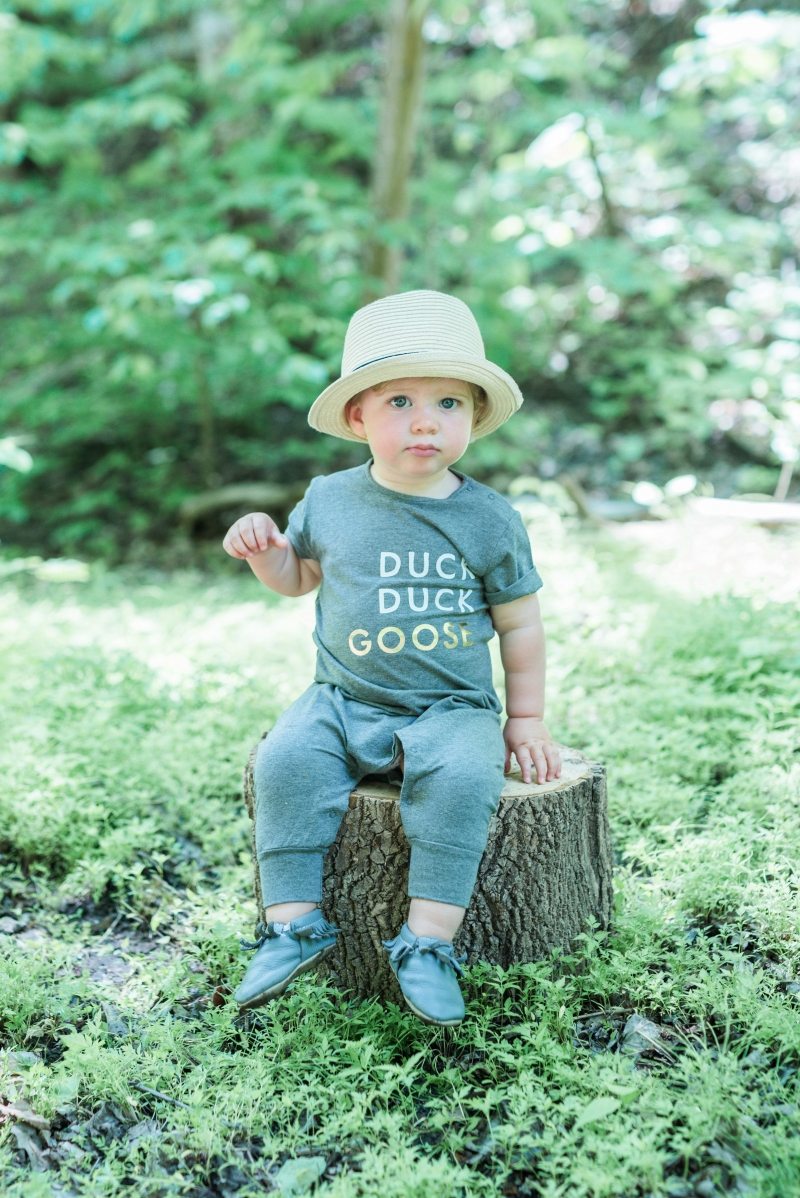 Where do you get your inspiration for the designs you offer?
I design what I like, what I would wear and what I want to see my Little in, I just let it flow. I remember this one amazing night where I came up with four of the designs for my Summer line. It was so late, but my mind couldn't settle, I got out of bed three different times to get my book and sketch the designs. I woke up the next morning so excited, it was the best. I try to put positivity out there and believe good things will happen, and they always seem to.
Where do you hope to see your business in the next 2-3 years?
Success for me would be people loving the designs, the operations side of things running smoothly and striking a nice balance with my family life. Having the ability to take my Little to music class and then get some work done, well that's a perfect day for me folks.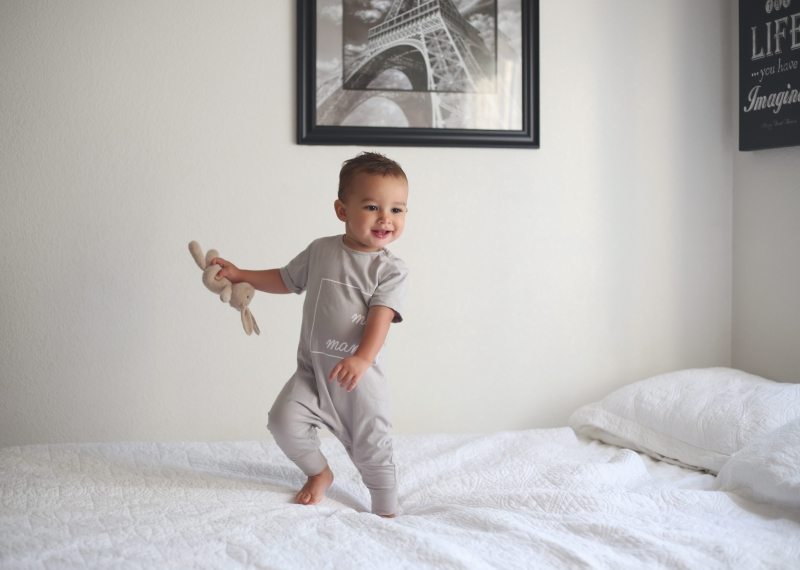 How do you balance work and motherhood?
Wait that's a thing? People actually know how to do that?
I don't think I do it well, I mean something has got to give and for me that is sleep (spoken like a true mom). I'm still learning how to balance work, the babe, husband and friends, I'm hoping I'll have that nailed sometime around June 2020. At which point can I report back!
What is your best advice to other women who are thinking of starting a business?
Surround yourself with a strong community.
I have had the pleasure of meeting so many strong, talented and beautiful woman on IG that own their own shops. When I first launched I was blown away by the support these shops had for each other. We chat everyday and I think of them as my co-workers, we help each other out with questions and encourage each other, it's actually amazing.
At home my son is my source of creativity, my mom my inspiration, my sisters and best friends are my cheerleaders and my husband is my rock and sounding board. I need all these people to be able to work towards my goals and I feel thankful for them everyday. I literally owe a million favours, it really does take a village.
Do it now, do it now, do it now. I think I actually got this quote from the side of a LuLuLemon bag, it's simple and it's true. Life is way too short.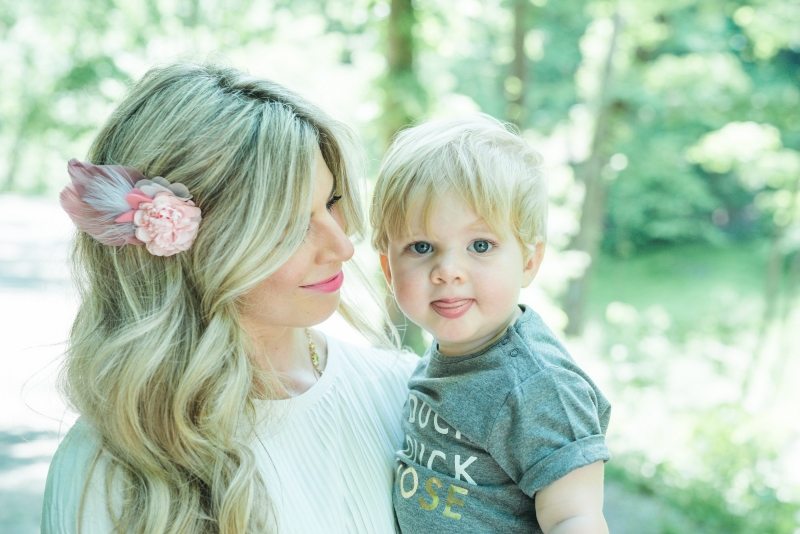 What has been your biggest challenge?
Balancing everything. There have been so many moments when I need to work through something urgent for the business and my toddler decides to have a meltdown. I was once doing a Google Hangout with someone for The Whimsical Fox and Hudson woke up from his nap, I had to pause the meeting, go get my babe and sit him on my lap with a cracker while I finished up…I'm super professional guys.
What are you most proud of when it comes to your business?
The most amazing thing (that always gives me goosebumps) is when someone comments on IG or I get an email from someone telling me they love my designs, or they just ordered and they are so excited. Guess what? I'm excited too and I'm so thankful for the love.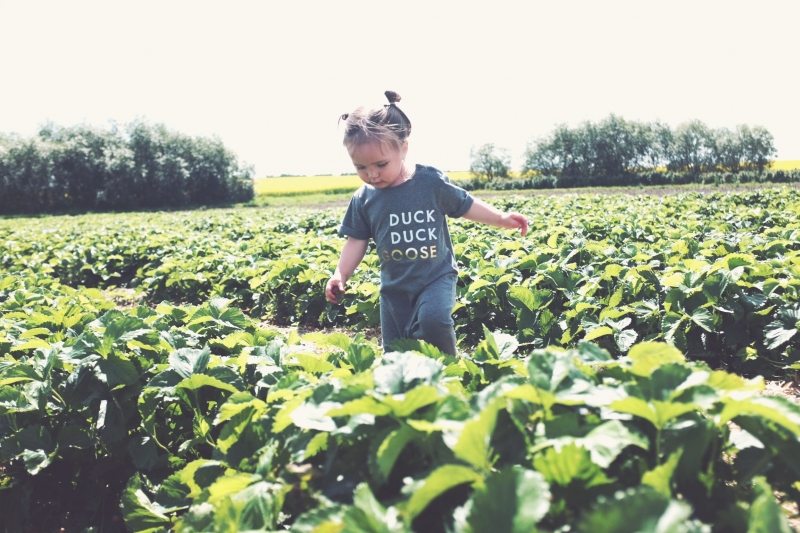 Thank you so much to Heather for sharing a little more about her business! Heather and I have been friends since 12th grade and I'm always amazed by her positive outlook on life and how supportive she is as a friend. She has visited me here in Houston numerous times and even flew in for my baby shower when I was pregnant with Harper!
We LOVE Heather's rompers so much. They're soft, have the cutest designs/sayings and they wash and dry great! Now that Lincoln is on his knees a lot I like to dress him in rompers because it protects them as he's scooting around. Here is L in The Whimsical Fox's "moi + mama" romper in light gray.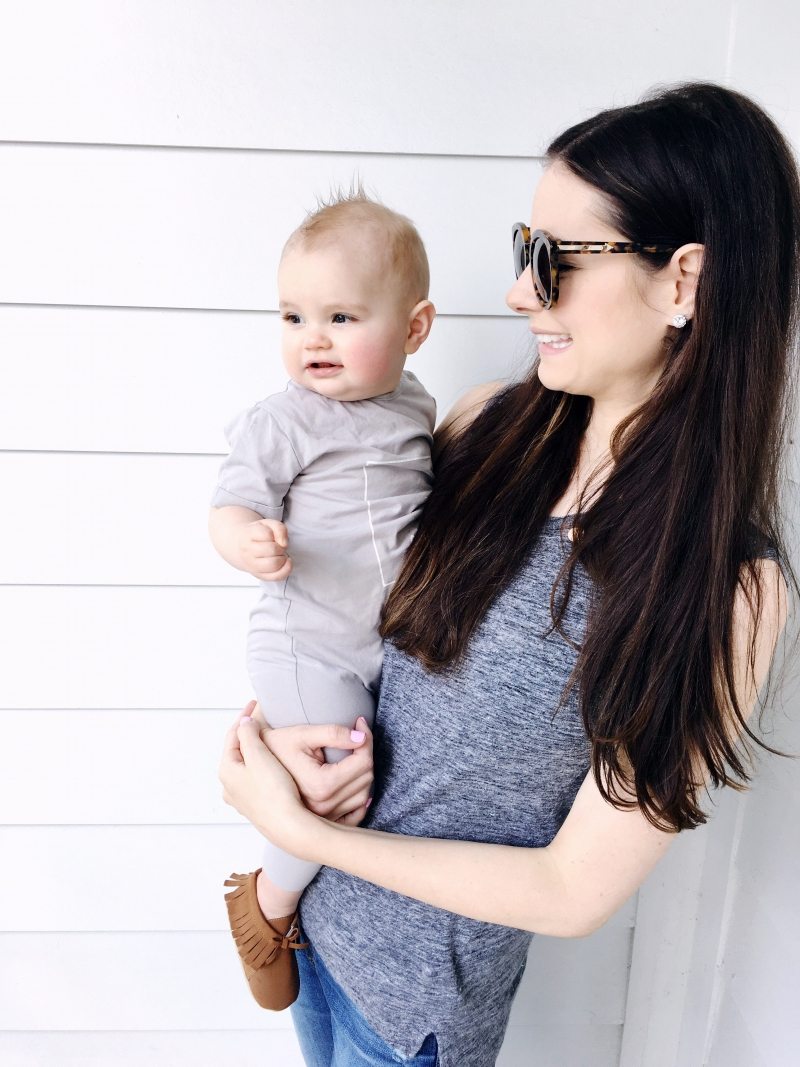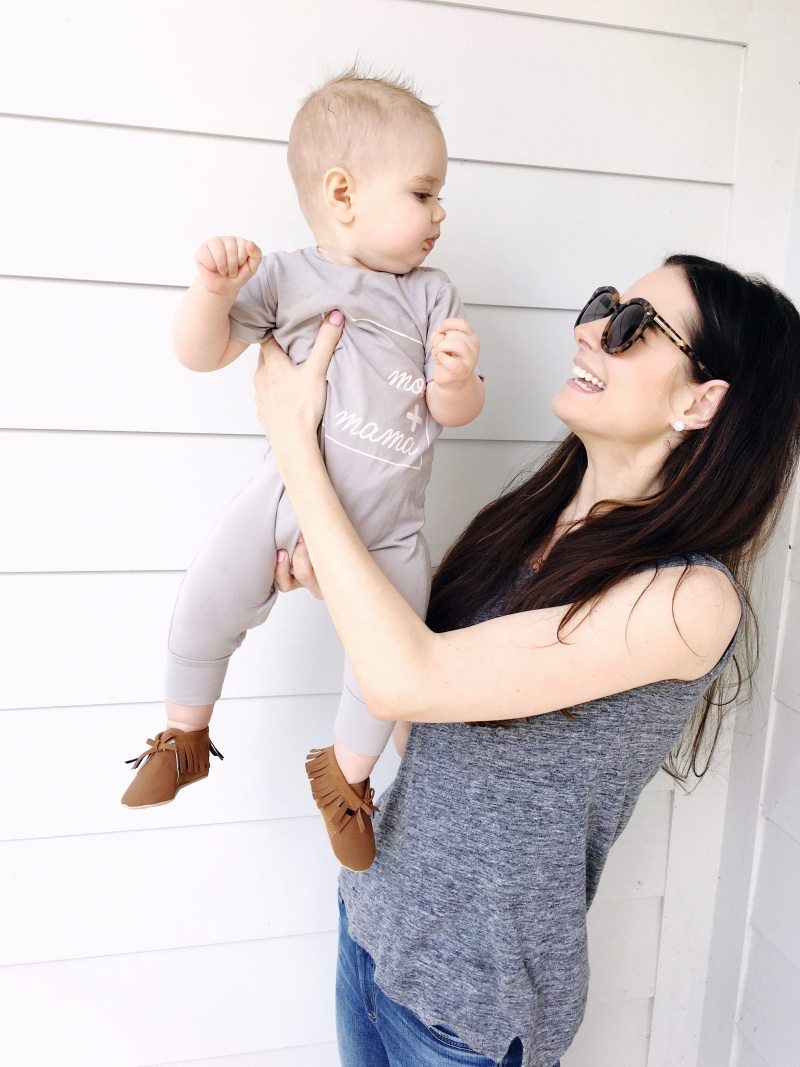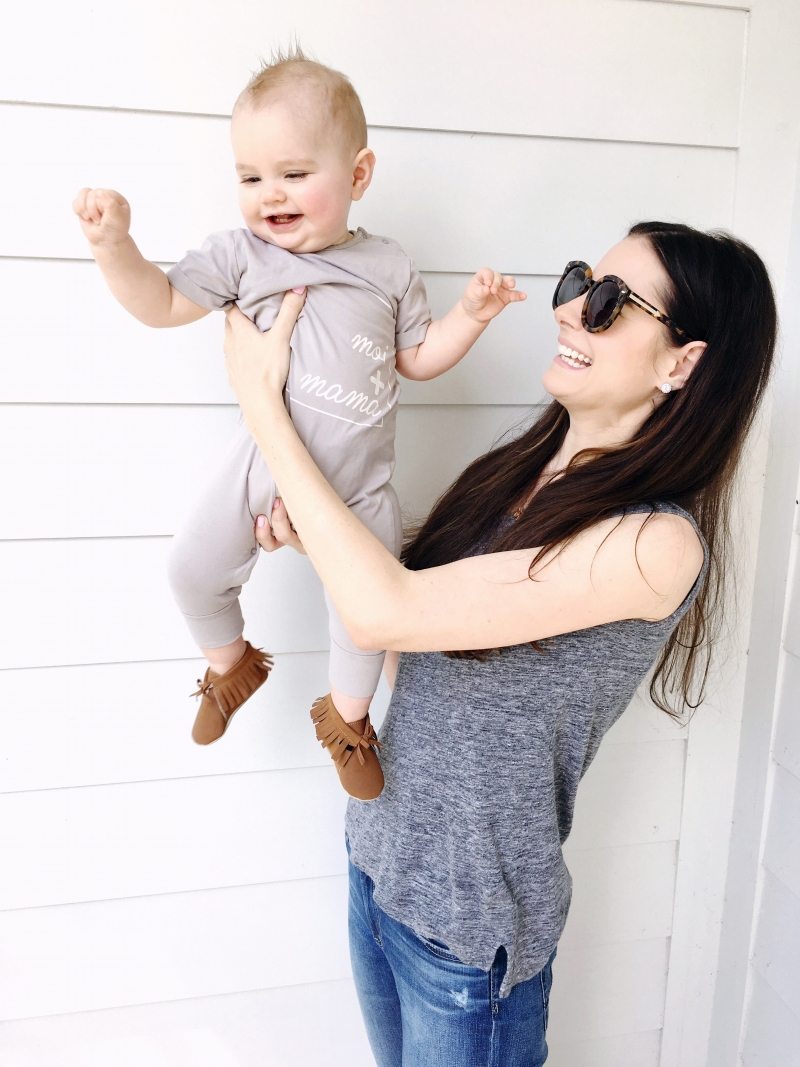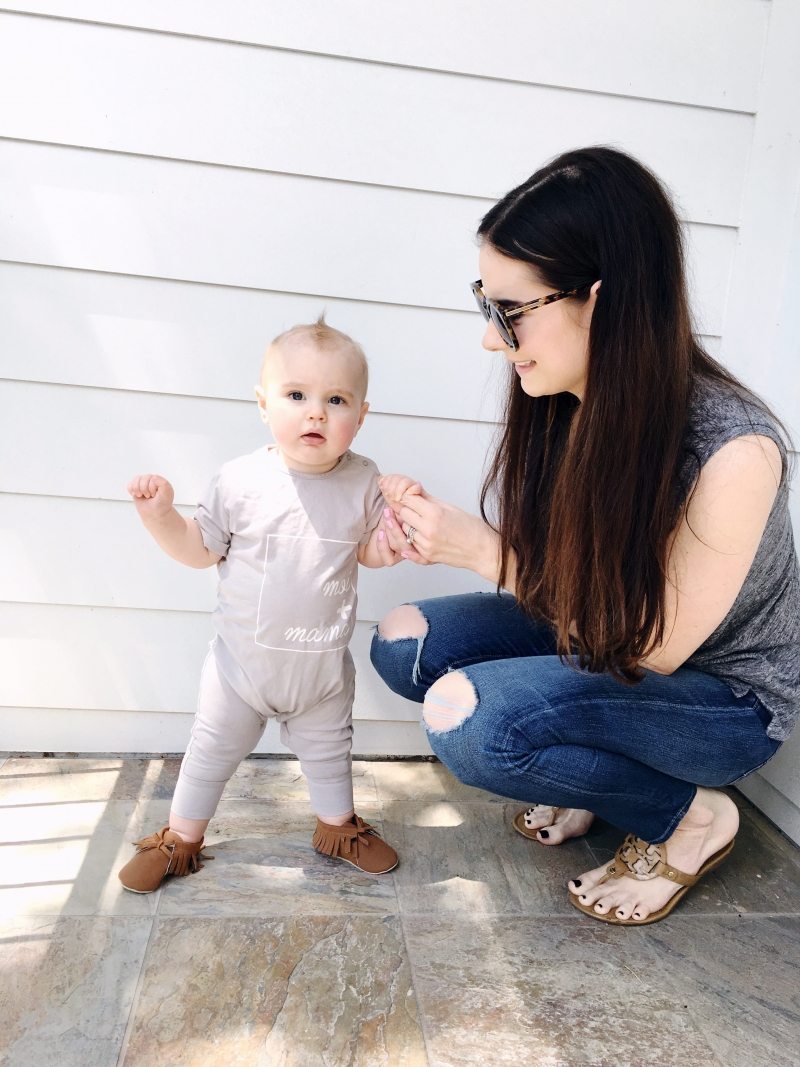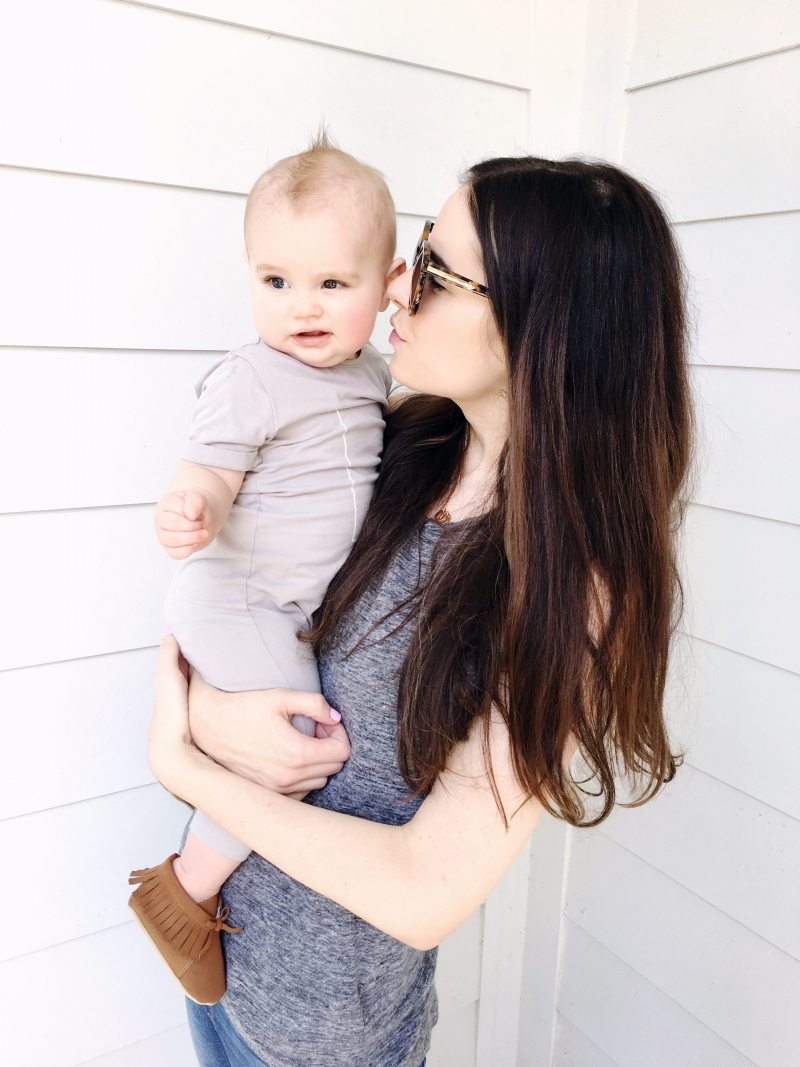 Check out all of Heather's romper designs here! Head on over to my Instagram to enter to win a $50 gift card to The Whimsical Fox!