Hi! I hope y'all had a great weekend! We had a busy week with my mom in town for Lincoln's birthday party and christening (posts on that to come soon!)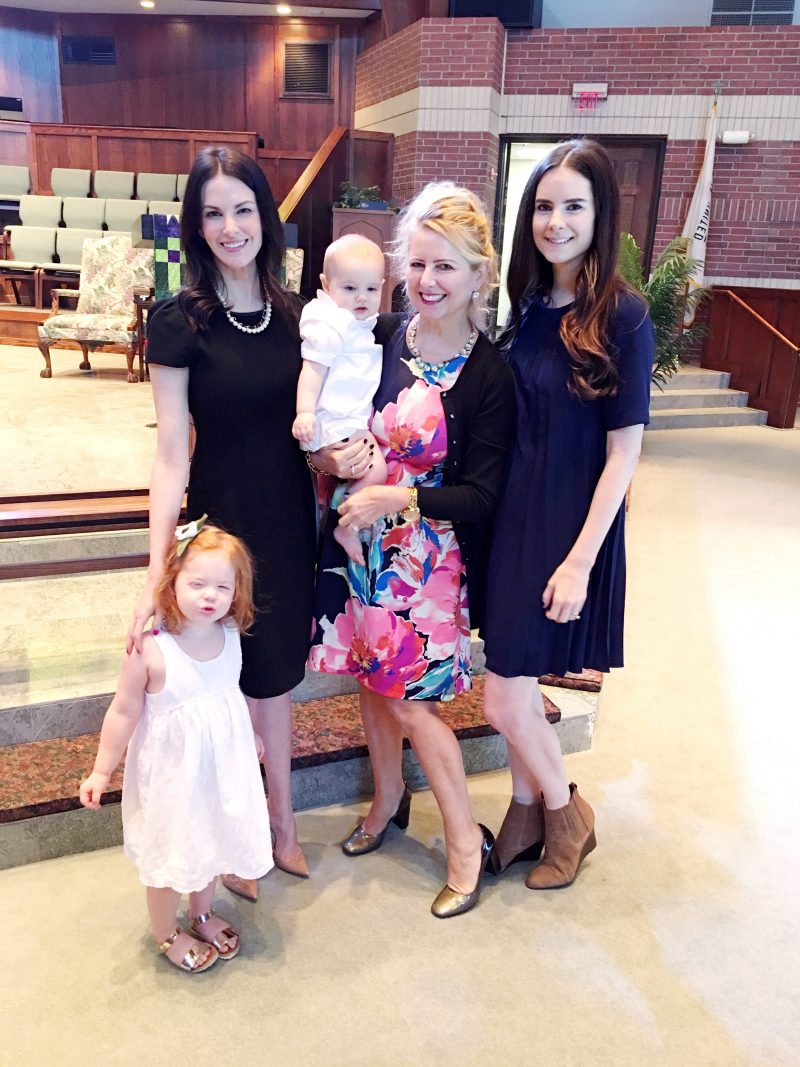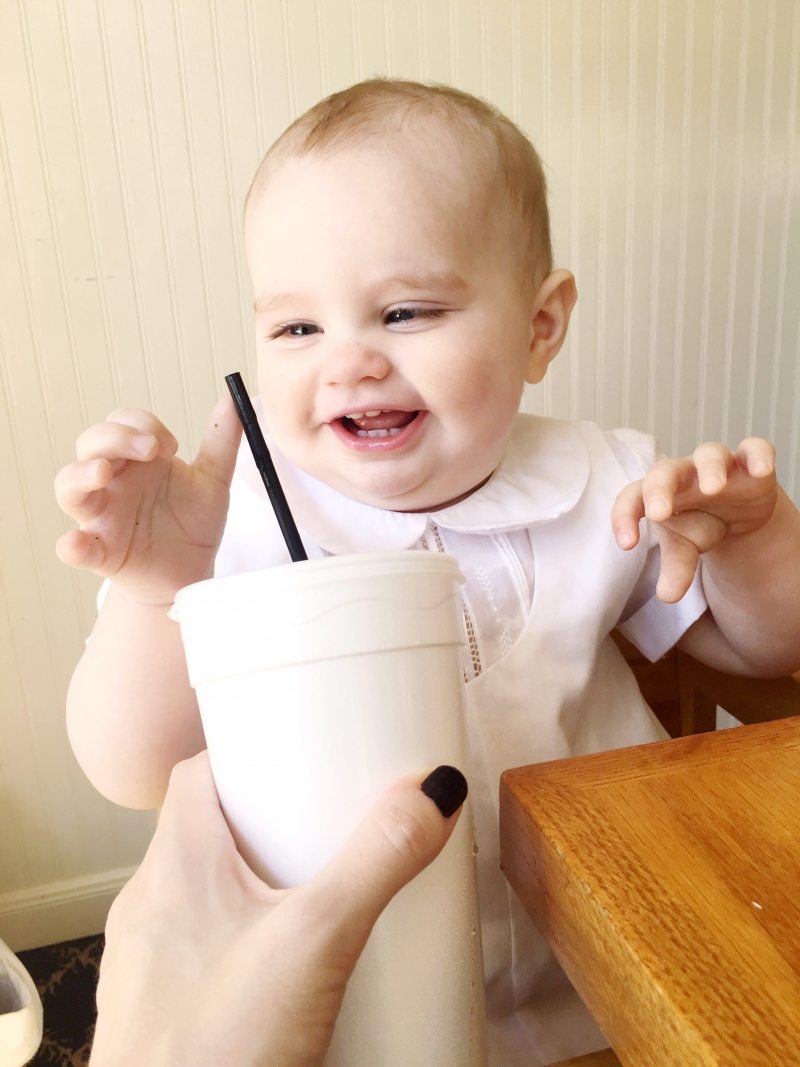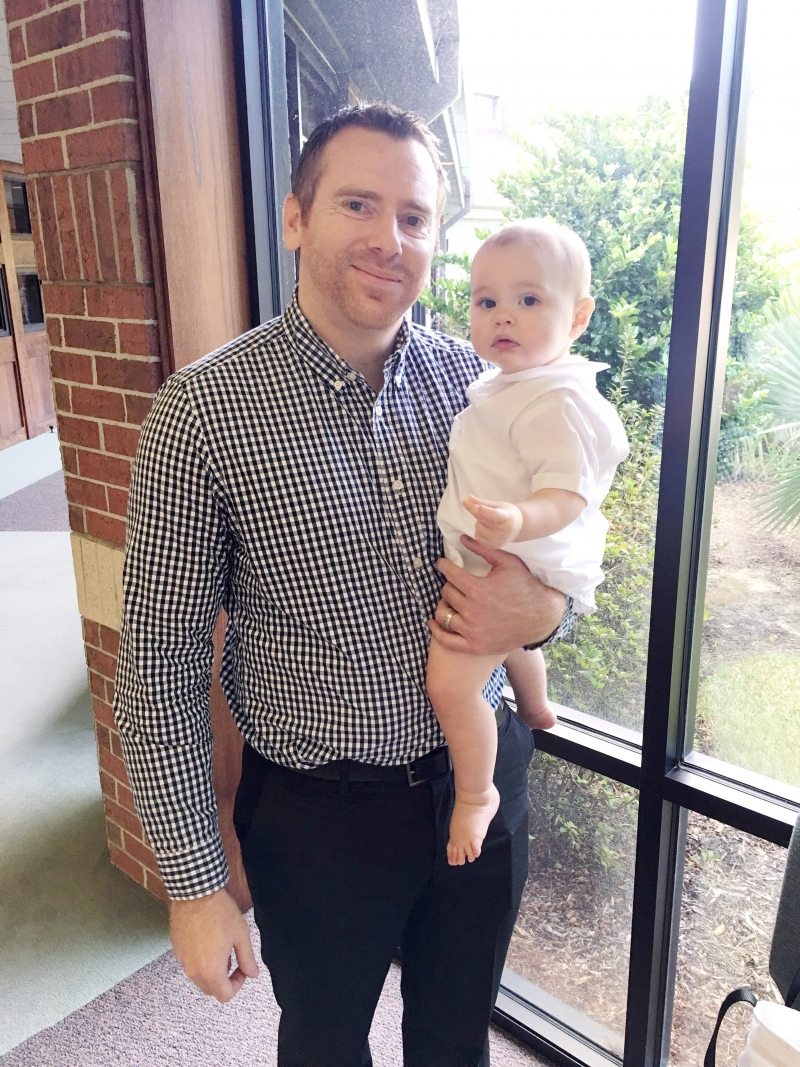 The last week was full of changes— Lincoln turned one, I incorporated dairy and soy back into my diet and I'm working on weaning from pumping (down to two sessions a day now). I have a lot of frozen milk left so we are going to try 50/50 mixes with cow's milk and see what happens. Hallelujah! Some days, I never thought I would see this day some to fruition.
I'm not going to lie, being able to eat cheese and food with milk in it is the best.thing.ever. A lot of people told me I probably wouldn't want to eat those things anymore after a year being dairy and soy free, but hello, have they ever had queso? You only live once, and I want to live my life with chips and queso, pumpkin spice lattes, donuts and shrimp tacos with cheese.
Also, crepes. I hadn't been to Sweet Paris in a year and I missed them SO much. I took the day off of work Thursday to spend time with my mom and after we took Lincoln to the pediatrician for his one year appointment, we headed to Sweet Paris during his nap and indulged. I had two massive crepes to myself (nutella w/strawberries and a bonne mama with no cream) and a latte. To be honest, I didn't love the latte (it was cow's milk and I'm so used to almond and coconut milk now that I've come to prefer it) but the crepes were amazing, just like I remembered them.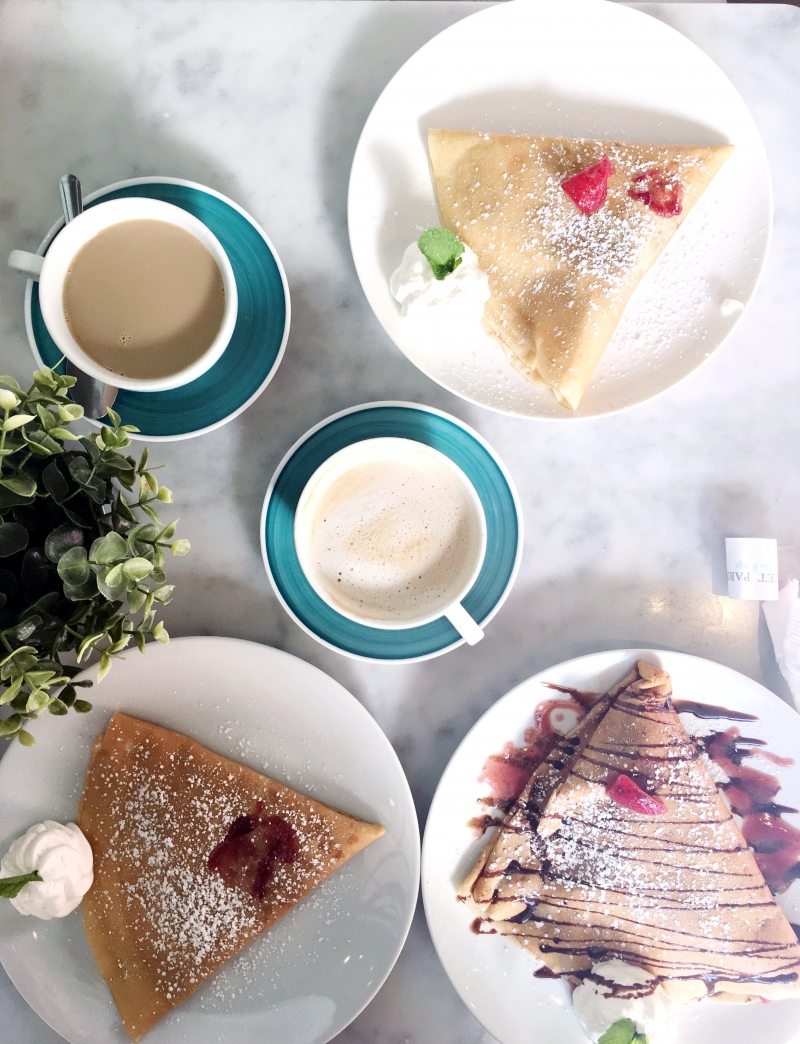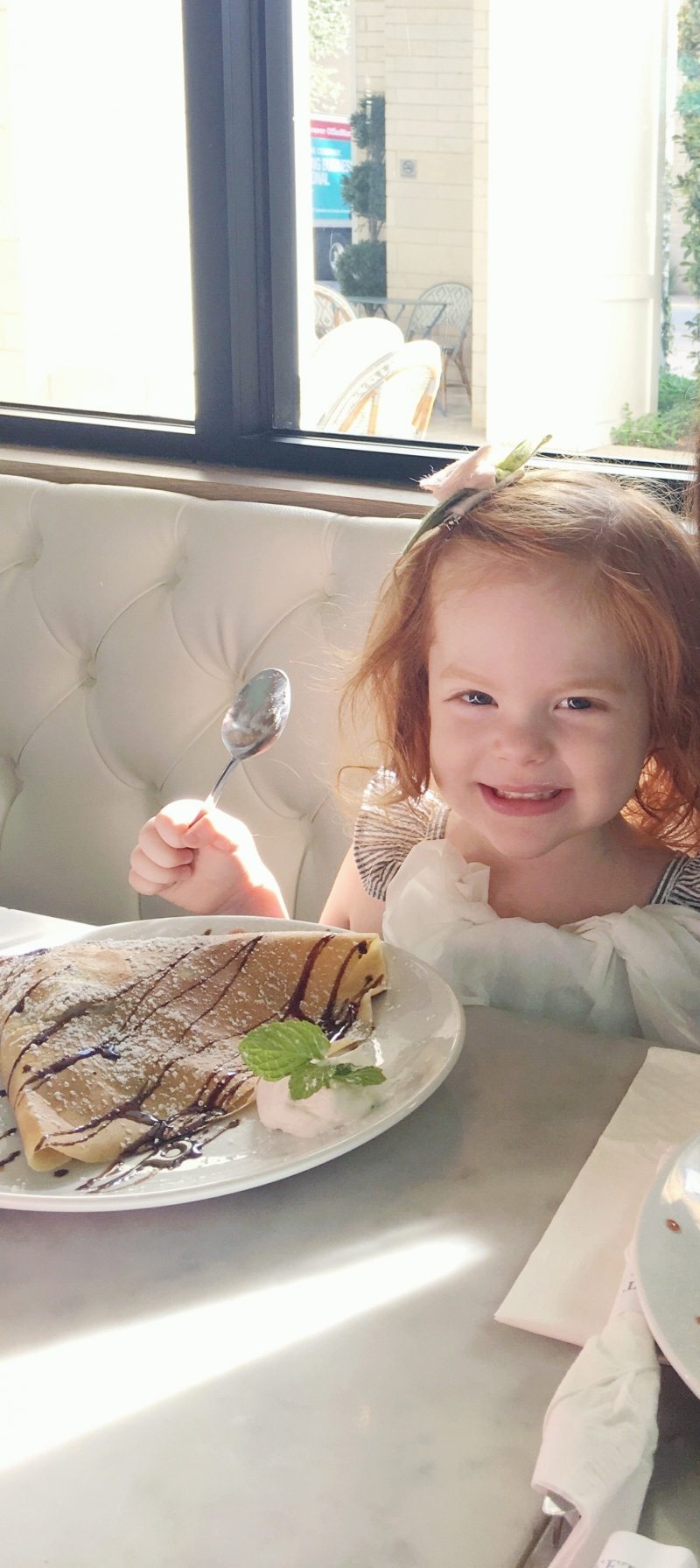 Harper couldn't finish her crepe (I mean, it's basically the size of her head) and I almost went to finish it but I somehow restrained myself.
Afterwards we took Harper to the "baby store" (ie: American Girl Doll), the carousel and Lolli and Pop.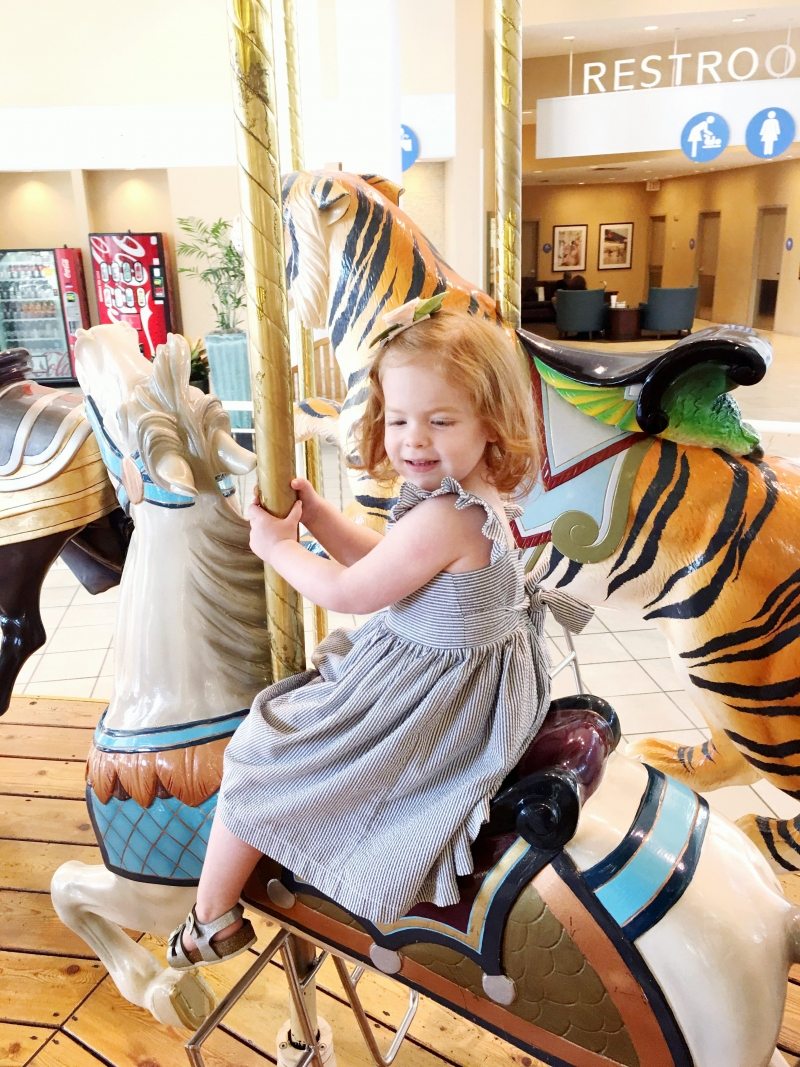 (Harper's dress is by cuteheads and her hair flower is by Fancy Free Finery)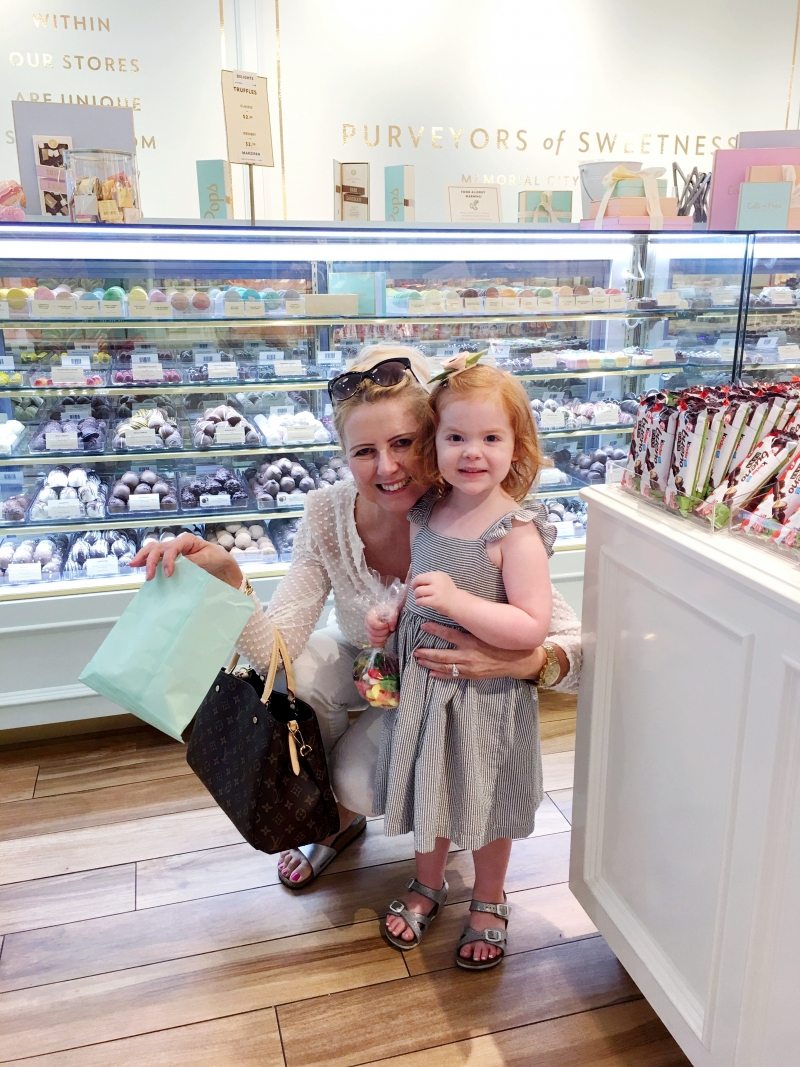 I posted these shots on Instagram but thought I would share here too! I had so many "grand plans" to have our house totally decorated by our first year here and—spoiler alert— it's not even close.
I've been putting off having these (super heavy)  mirrors hung because I wanted to get a new bed first, but it will be a king anyway, so I guess the new headboard wouldn't really change much. I tested them out this weekend to see how they'd look next to the bed and I just love them! We have the same  mirror in the kid's bathroom.
I complained recently that our duvet was way too heavy. It's an oversized king duvet which can be hard to find (bonus: mine is under $100). If you have a king bed and a regular king duvet, it's oftentimes not wide or long enough and has very little hang on each side and barely covers the sides of your mattress, which I hate. I finally found an oversized king duvet but I made the mistake of buying a super thick and textured duvet cover and it made our duvet so heavy that I started to hate it.
I decided to purchase a new duvet cover when I discovered this bright white scalloped duvet cover (it comes with two king pillows). It was a great price and I crossed my fingers it would work. Well, it turns out we didn't need a new duvet at all— we just needed to change the cover and that has made all the difference. It's light and airy now, just like we like it! See the links below for the room sources.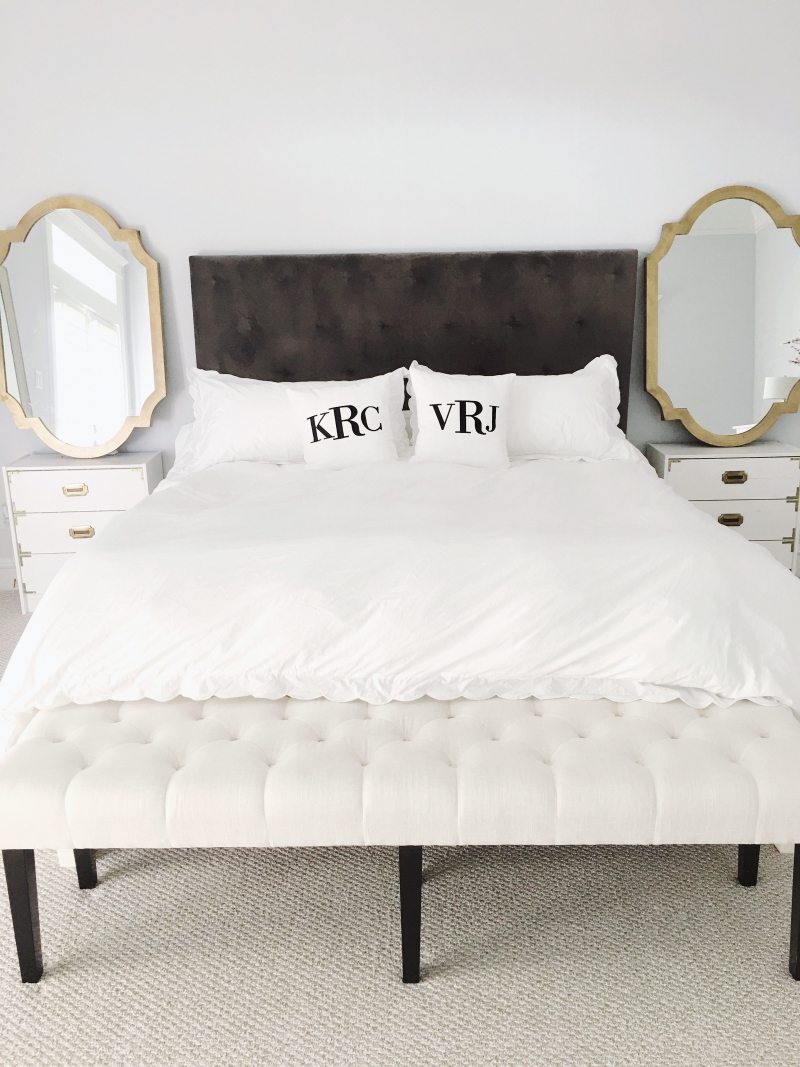 oversized king duvet  |  mirror (also here)  |  scalloped duvet cover |  bench (similar, love this too)  |  monogrammed pillows  |  headboard  |  nightstands- DIY IKEA hack   |  wall color- "marilyn's dress" by benjamin moore
 We also hung these IKEA book ledges in Harper's room today. It's worth noting that we had the longer version in Harper's old nursery (a good close-up pic here) but they've since changed the design of them. However, they still come in both the short and long sizes. I like the new design a lot! We hung them 16 inches apart and topped it off with this adorable flamingo head from Heartfelt Creations!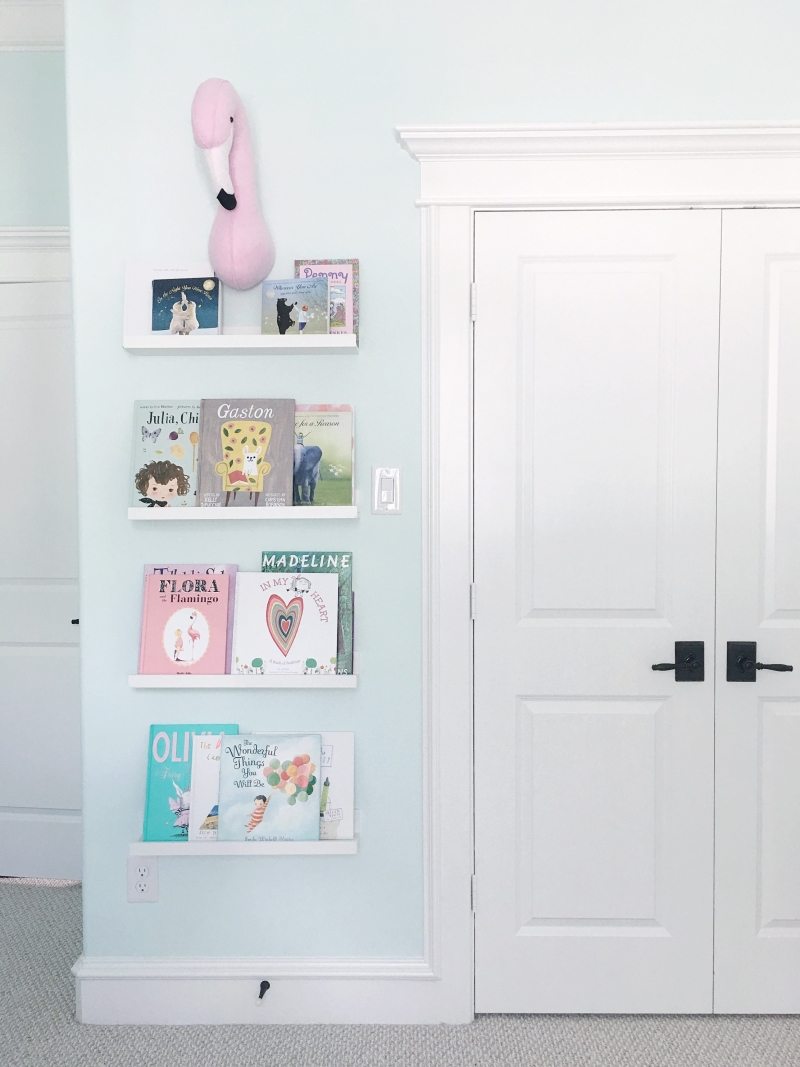 I just love the final look! These book ledges really look great in any nursery or child's room and they're inexpensive and easy to install. I love how you can add a pop of color to a room by adding your child's favorite books to the walls. It's a nice way to display them and allow children to reach the ones on the lower shelves.
Here are some of the books we have displayed right now:
Olivia and the Fairy Princesses 
In My Heart: A Book of Feelings (Growing Hearts)
The Wonderful Things You Will Be 
Wherever You Are: My Love Will Find You 
Wishing you all a wonderful week!