Each holiday season, I love to share gift guides for Harper and Lincoln. Some of these are toys we love and own that I'm recommending as a great gift and others are ones we purchased for the kids this Christmas, or plan to purchase.
It should be noted that in addition to the lovely gifts below, Kevin got Harper a light saber and Star Wars socks because for the last few weeks, all Harper has asked for are a guitar, microphone and star wars socks. My in-laws called dibbs on the guitar and microphone and I know she'll love them! I don't know where her sudden love and knowledge of Star Wars came, but the socks have been ordered!
It's also worth noting that my favorite gifts for kids are "experience" gifts— seasons passes to the zoo, Little Gym classes, passes to the museum, tickets to Disney on Ice, etc. I love gifts that offer the kids a chance to participate in a special and fun experience or activity. We are signing up Lincoln for Little Gym next month!
Lincoln is a little tougher to shop for because he inherited all of Harper's toys and LOVES everything in our playroom. We did get some trucks and a little construction kit from PlanToys a couple of months ago but most of his toys and books are inherited from big sis. I'm most excited about the elmo ride- on plane because Lincoln LOVES wagon rides in our Radio Flyer wagon and he points and squeals when Harper rides her bike. He definitely needs something of his own to get around on!
We've had tegu blocks for awhile now and love them— they're high quality, magnetic and the colors are pretty to boot! Highly recommend these as a creative toy and they're great for both younger and older toddlers.
We've long loved this  Wooden Alphabet Puzzle and I'm als going to order a  wooden name puzzle for Lincoln.
I also included some kids wall art in these gift guides because I'm working on adding art to our playroom and the kids rooms and love these picks!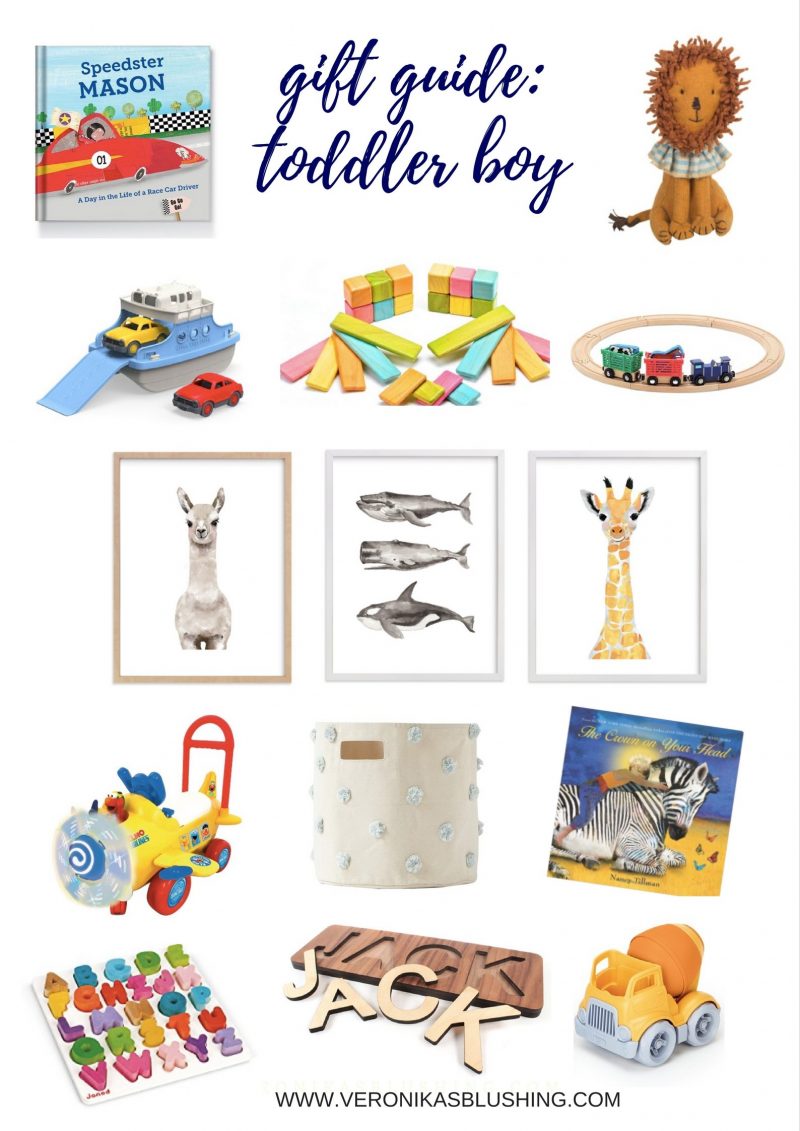 tegu blocks (also here)  |  Wooden Alphabet Puzzle   |  lion plush  |  crown on your head book   |  boat bath toy   |  baby llama art  |  whale art  |  wooden name puzzle  |  elmo ride on plane  |  pom pom bin  |  'Speedster' Personalized Book  |  'Mixer' Toy Construction Truck   |  Recycling Truck   |  Farm Animal Train Set 
Harper's gift list is full of cute, girly gifts I know she will love. I already purchased the Cinderella's Magical Transforming Carriage, puppy surprise and fur real friend for her. I'm still contemplating a  dollhouse for her (this one is 30% off!) Truth be told, I wanted to wait until she was older because I want to get her a dollhouse kit like I had and build it for her, but some of our friends have a dollhouse and she loves it, so I may get her something smaller and do the "big dollhouse" when she's older. I used to make my own furniture for my dollhouse and LOVED it so I can't wait to customize one for her one of these days.
I also love this Personalized Book and this wooden tic tac toe game. Harper and her grammy play tic tac toe on her magna doodle so I thought this would be fun!
How cute is this swan plush? Harper has an ostrich and flamingo plush already so I think this swan will fit right in!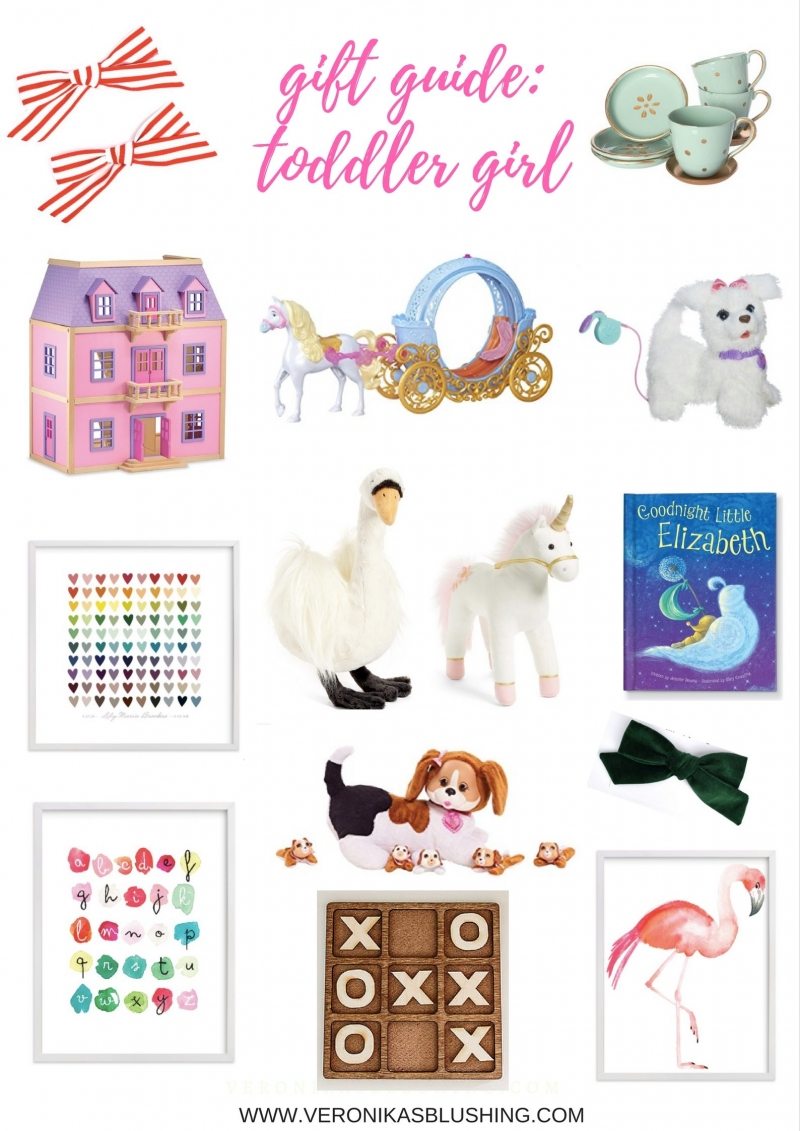 tea set (and here)   |  ukelele   |  alpha dots art |  paper hearts art  |  flamingo art  |  candy cane bows   |  fur real friend  |  tic tac toe  |  'Goodnight Little Me' Personalized Book  |  swan plush  |  unicorn plush   |  dollhouse   |  Disney Princess Cinderella's Magical Transforming Carriage   |  puppy surprise
I hope you all like these picks! I would love to know what kinds of things are on your kid's wish lists.