Today I'm thrilled to bring you a guest post from organizer-extraordinaire Amy Vance of Eco Modern Concierge! If there's anyone who knows how to get your home in tip-top shape, it's Amy. She helped me organize our pantry when I was on maternity leave and we are still using her system!
Amy's guide is all about great gifts for those who want to get organized in the New Year–yourself included. I already have several of these items in my online cart.
G I F T   G U I D E  B Y  E C O  M O D E R N  C O N C I E R G E
For many, many years I have wanted to do gift guides. I look forward to them in magazines and on blogs every year. As soon as I go to write them I go blank. So I put together this gift guide on organizing items and will roll some others out. As a professional organizer in Houston I have many products that I love, but these are just a few of my favorites.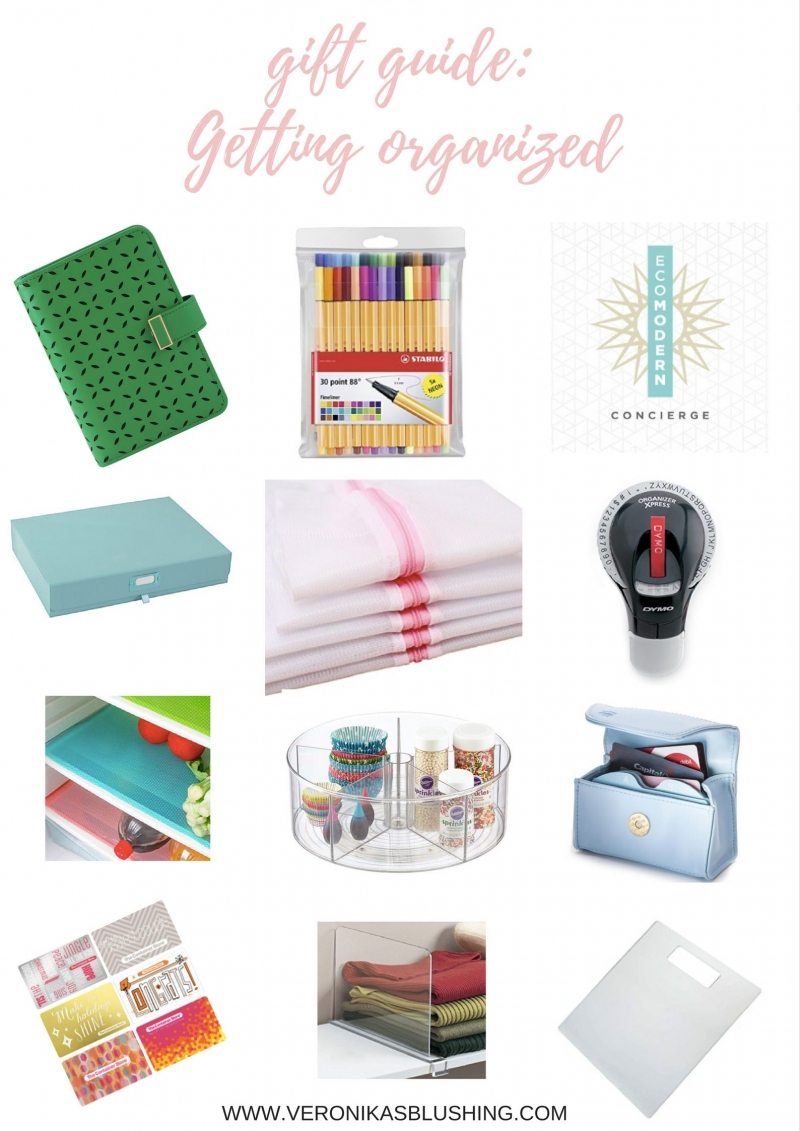 Divided Turntable: I have talked about this turntable in past posts and on Instagram, but I just really like it and use it often on many organizing projects with clients and for myself. You can do so many different things with it from party supplies to medicine supplies.
Refrigerator Pads: These are great because they can help you keep your frig clean and make cleaning inside the frig much easier.
Shelf Divider: I love these acrylic shelf dividers. They are modern and get used on a lot of professional organizing projects that I do.
Mesh Laundry Bags: These mesh bags have so many different uses. Besides using them in the laundry room, I like to store my clothing in them when traveling.
Embossing Label Maker: The coveted label maker for professional organizers. I have been doing a lot of organizing projects lately with the embossing label makers.
Folding Board: This doesn't always get used as often as it should, but man does it make those folded t-shirts look perfect.
The Container Store Gift Card: A container store gift card is always a good idea because you can spend hours in that store. Plus, if you are an organizing fanatic you will love it.
Card Case: Several people I know have these and they are perfect to store all those gift cards you will be getting. It is perfect to carry in your car or purse, so you never forget gift cards at home.
Planner: After years of using a Franklin Covey, I switched to various different planners and now I'm switching back. I love this planner binder. I am going to keep using my brown leather one I have had for years, but love this green one.  A planner is a must in book if you want to stay super organized and on top of things.
Stabilo Pens: These are some of my favorite pens. I have been using them for years and they help me stay organized while color coding tasks and to-dos.
Professional Organizer Gift Certificate: Well you can always hire Eco Modern Concierge if you are in the Houston area and went to get organized with a professional organizer. EMC also offers virtual services too for those who live in areas other than Houston. Yes, shameless plug ;).
Document Box: I love these See Jane Work boxes. I have several and have recommended them for clients as well. They are functional, contain clutter and I love the color.
This post was contributed by: ecomodernconcierge.com