I'm still blown away by how many of you participated in my 2017 reader survey! Thank you for taking the time and for your feedback both positive and where I can improve.
First off, I want to thank you for all of the kind comments. It means a lot to me that you relate to me, enjoy my content and trust me, so I was thrilled to get that feedback.
I also enjoyed reading the comments about how I can improve so that I can be thoughtful about my content.
I did see a few questions and comments repeated, mostly related to sponsored posts and affiliate links, so I'm going to answer some of them in this post and hope that will clarify some things.
But first, I'll summarize the survey results based on the last 500 participants.
The most liked post categories were outfits/OOTD at 63 percent, beauty and hair at 54% and family and kids at 53.5 percent. Closely following those were weekend wrap-ups, motherhood, home decor and recent purchases posts— all at about 50 percent. This was a "check all that apply" question, but it helps me to understand what kind of focus I should have in the coming year. Also notable was that 41 percent of you really enjoy posts about being a working mom and I love sharing that aspect of my life, so expect more in the coming year! (right now I'm working on a post about the "top things that make being a working mom easier").
For post frequency, 59 percent of you said I post enough and 39 percent wish I posted more often. I do too! But with all of my responsibilities I'm not sure I could ever manage to post more than 3-4 times a week, though I'll say that outfit posts are much easier/quicker for me to do— and that's a great thing because they're my most popular/desired posts. My hope is that I can have more balance in my content this year.
I got a lot of fantastic positive feedback — that I'm authentic/keeping it real (many of you love the messy playroom photos, haha), have great style, am relatable, make great product recommendations and the list goes on! I'm once again humbled by your kind words and comments. Especially to those of you who took the time to leave an in-depth comment— thank you— reading them made my day!
Onto the what can I improve upon section— this feedback was also incredibly helpful and most of it was voiced in a constructive manner, which I so appreciate, especially when the opportunity to remain anonymous often means that comments are more harsh.
Many of you commented that you'd like to see more outfits I wear to work so I plan to share items styled for the office more often — and I do wear 99% of the clothes I share in my recent posts to work. I also received comments wishing I would return to my "old style." Of course my style has changed over time— but I do still love my pencil skirts and other classic items that I wear all the time. One of the reasons I don't share most of my older clothing is because a lot of it is 3-5 years old and I don't want to re-post exact outfits you've already seen and I also don't want to share items you can't buy because I have gotten a lot of comments in the past that it's frustrating when you want an exact item and it's no longer available. I also like to buy and share new styles I'm loving— and I can tell you love them too by how many are making purchases based on my recommendations— so thank you!
Another suggestion I received is to shoot my outfits with my hair pulled back— totally doable! We now capture each outfit with a shot that also shows the top with my hair pulled back. I hope this helps you see the full garment in all its glory!
I did get some feedback about my photo backdrop (our front porch) and that it's repetitive/boring. A few months ago I was barely sharing any outfit posts— I felt like I just couldn't make it work with our busy lives trying to get out of the house in the morning. Plus, once daylight savings happened, it was still too dark when we left in the morning for photos (plus, who would watch the kids?) I've been able to share so many outfit posts lately because we shoot on our porch every Sunday. My in-laws always come over to spend time with us and we spend some time shooting a few outfits for the upcoming week. This is the only system that works and I don't see it changing for the forseeable future (and for what it's worth, most of my blogging friends shoot their outfits in batches just like I do). I know a lot of bloggers have fancy locations and cool backdrops to their photos— but remember, for many, it's their full-time job and/or they don't have children. I'm not trying to make excuses, but I have to do what works best for our family and schedules. I actually have come to love the clean light backdrop because it allows you to focus on the outfit. As much as I love nice, professional, on-location photos, it's not who I am as a blogger and I would be sacrificing a significant amount of time with my family .
Just for fun…here is a blast from the OOTD past (my archives!) Looking back at these, I really see how far I have come and I'm amazed by how much my photos have changed.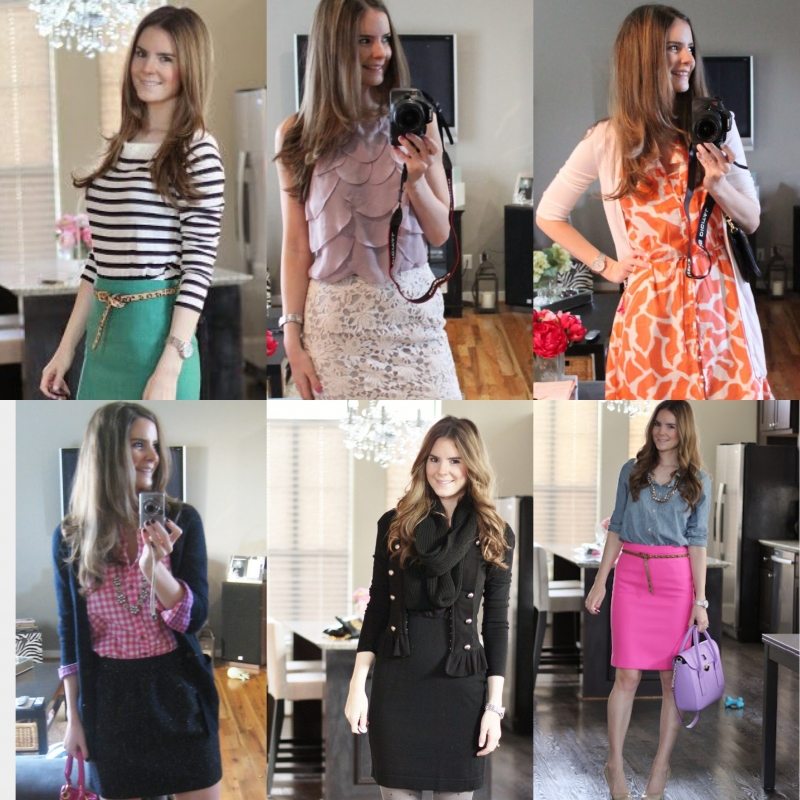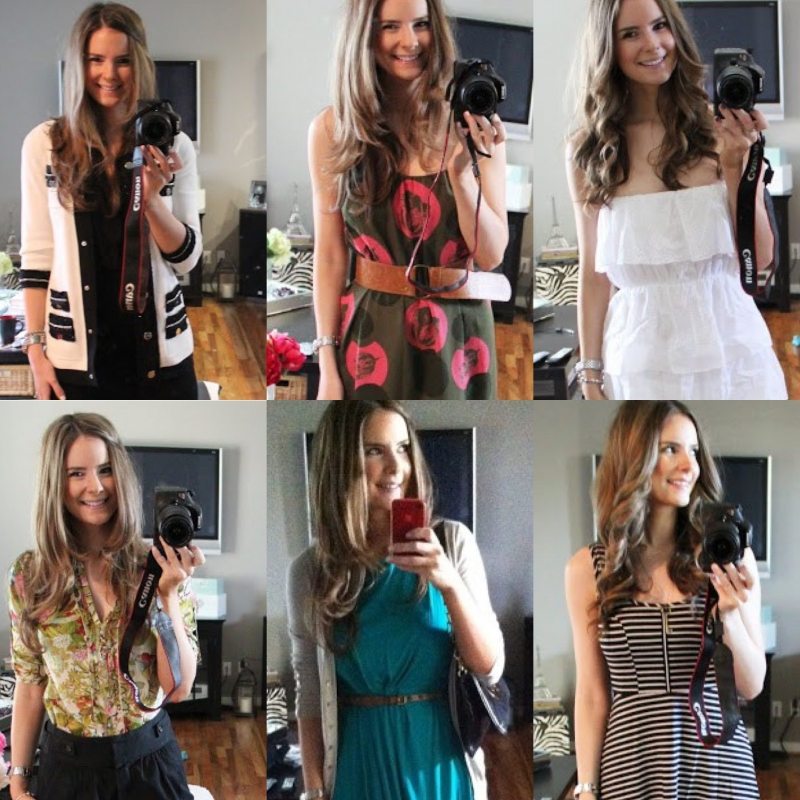 Another topic I had several comments/questions about are affiliate links. Some of you don't like affiliate links because you don't have liketoknowit. If you don't have liketoknowit, I usually direct link items in my instagram profile or you can find every item linked in my corresponding blog post— there is no sign-in or any extra step for you. I know some people don't like affiliate links because bloggers make money from them. I personally can't understand that because when you have a job, you are paid for it too. Yes, this is my hobby and I love it, but it has also become a business that I devote a significant portion of my free time to. My friend Lynzy wrote a great blog post on this topic and I encourage you to read it. My blog is a passion and I adore blogging, but I'm also able to make an income from it and I'm proud of that. Someone suggested that I should be a "real blogger" if I want to "get the benefits" of blogging and to that I say, if all blogs were the same, they would be boring. Every blogger has a different approach and in fact, many of you expressed that not having professional photos and not featuring only high-end/designer items is what you actually like most about my blog. A significant amount of time and "behind the scenes" work goes into running a blog and I'm not less deserving of making an income from my blog because I don't take fancy photos or blog full-time.
In my survey, a few of you asked if myself and other bloggers are given certain items to promote for sponsored posts. The answer is no and I would absolutely not do a sponsored post where I did not get to select what I want. When I work with Nordstrom on a sponsored post, I order the items myself and pay for them with my own money. I order whatever I would order anyway, since I shop at Nordstrom for most of my clothing these days. When a company sends me clothing, they send exactly what I request. I browse the site, pick items that are my style and that I would purchase anyway, and those are the items sent to me that I share with you. If I ever receive an item that I don't like, I return it or send it back or if they don't want it back, I don't share it. The one exception here is when I review Trunk Club items. I do not keep my entire trunk and I always try on everything so that you all can see how something looks and fits. Just because it doesn't work for me or I already own something similar, it doesn't mean it's not helpful for others to see how an item fits (because oftentimes it's hard to tell how a garment really fits when the model on the website is wearing it). Rest assured— you only see items I select on my own, whether they're purchased with my own money or sent to me for consideration.
Many of you expressed that you wish I came back to YouTube! Though my videos were always raw and unedited so they only took as much time to make as it takes to record and upload them, it's something I haven't quite found the time for in this season of life. I have thought about sharing a once a month "haul video" with all of my recent purchases, but I feel maybe that would be redundant because I share it all on my blog…let me know your thoughts!
I hope this clarifies some of the questions/comments some you had. I appreciate your continued support of this space and thank you for helping me start 2017 with some renewed reflection on my content!
Finally, the best part of this reader survey was that it reaffirmed to me that I have wonderful, supportive and kind readers. I'm lucky to have you all!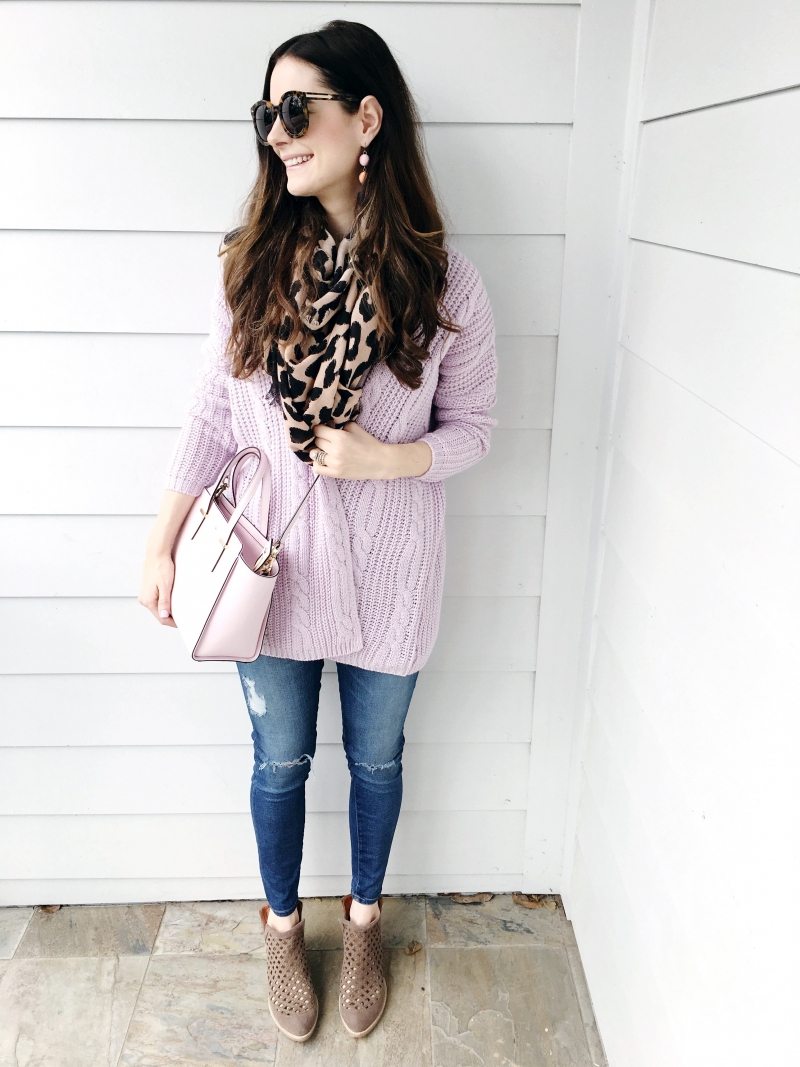 sweater  |  scarf (just $19!)  |  jeans  |  booties  |  sunnies  |  earrings