Happy Sunday!
I haven't done a home-related update post in a while and I have SO much to share.
We had our porch totally re-done this week. Our builder installed these really thin wrought iron porch and stair railings and I always felt they didn't go with the house and knew we would change them (our builder did not offer us any alternatives, unfortunately). We had to wait until our one year home warranty was up to have any work done by outside contractors, so when the time was right, we moved forward and switched all of our railings out to white (painted) wood and we're thrilled with how it turned out! A lot of our neighbors told us they now want to switch theirs out too— it looks great and really makes the house look fresh and works much better with the look of our home.
Next up, we recently added IKEA LACK floating shelves to Harper's room and our playroom. I can't wait to style them all but below is just a preview of how they look installed. Kevin and I worked as a team and they were pretty easy to install (for IKEA, anyway).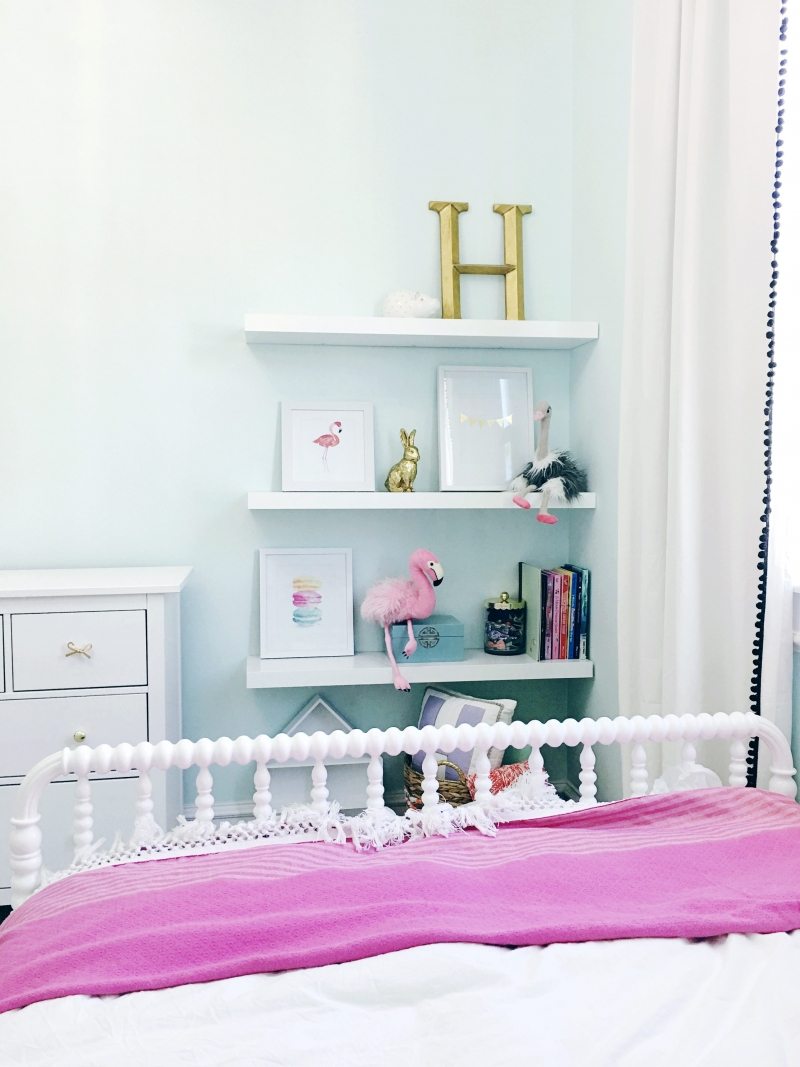 I particularly love the shelves in our playroom. I'm going to add some artwork and style the shelves with some of my favorite toys and I'll share a full series of photos when the room is complete. This room is where we spend the most time so I want it to be a bright, colorful place where the kids can explore, create and have fun. I love this room because it doesn't have to be perfect all the time and it's all about the kids (but of course I still want to infuse as many fun design elements as I can!)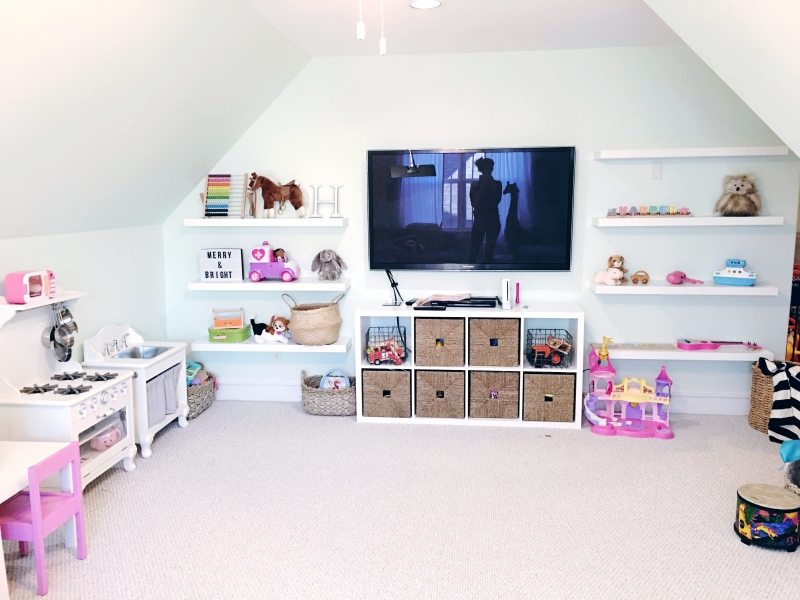 Okay, let's move on to the big thing— our main living space. It feels weird to call it that because like I said, we're mostly in the playroom with the kids, but it's where we eat as a family and watch TV once the kids are asleep (and where I'm blogging from right now).
Since we moved in, this space has admittedly been a huge challenge for me. Our downstairs area, which consists of the kitchen, living room, dining room, half bath and an office is small and very open concept. Even before we moved in, I always felt that placing our sofa on the wall right as you walk inside of the house would allow the area to feel the largest and most open. We had it like this for over a year with our vintage/refinished Henry Link dresser under the TV and our recently purchased accent chairs (ADORE them!)
I took a photo of our living room recently and it struck me that the piece under the TV wasn't quite the right size for the space. I wasn't planning on ordering anything new for some time, and then one random night I saw the kerra sideboard from Ballard Designs with bamboo detailing (my fave) and purchased it thinking it would be the perfect piece to anchor our room. It was on sale and I was excited for its arrival.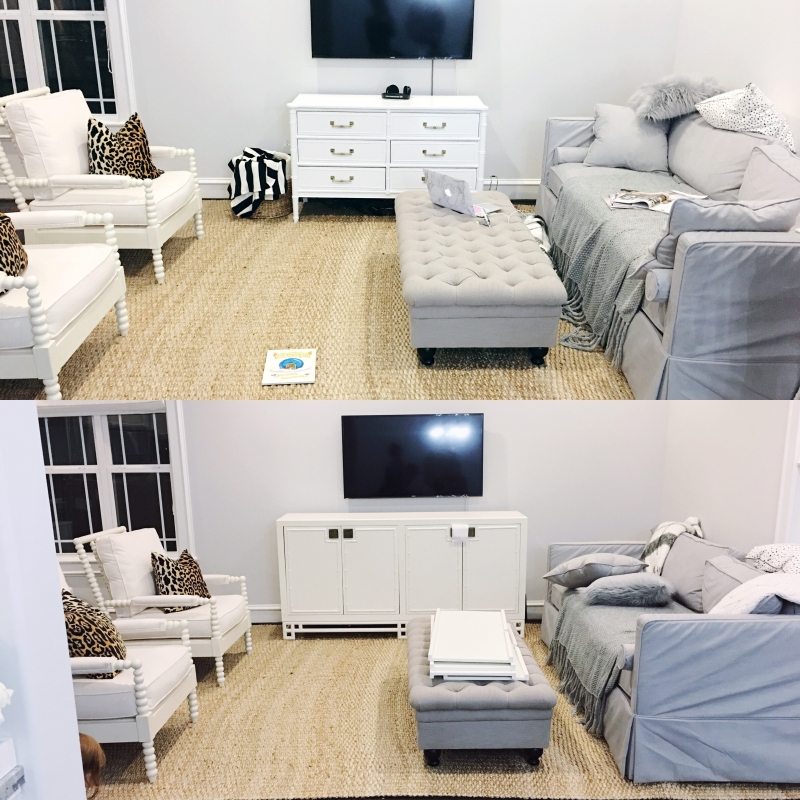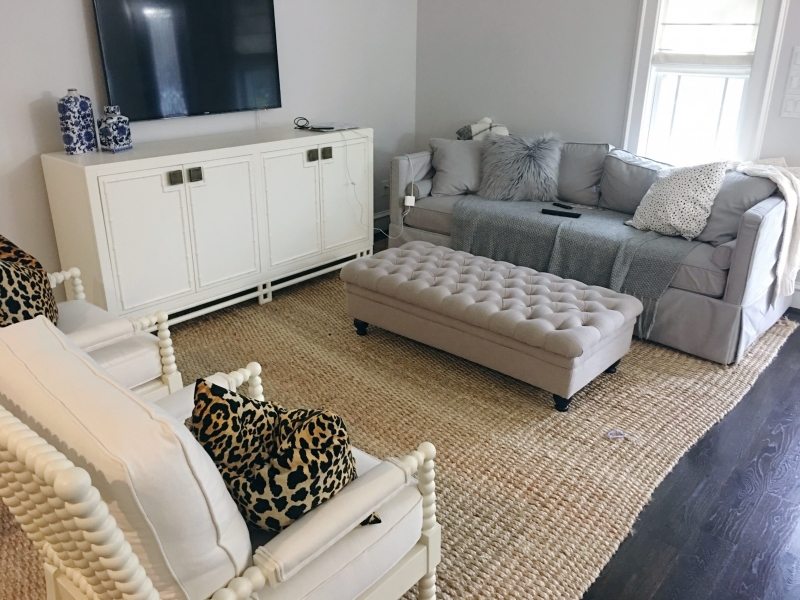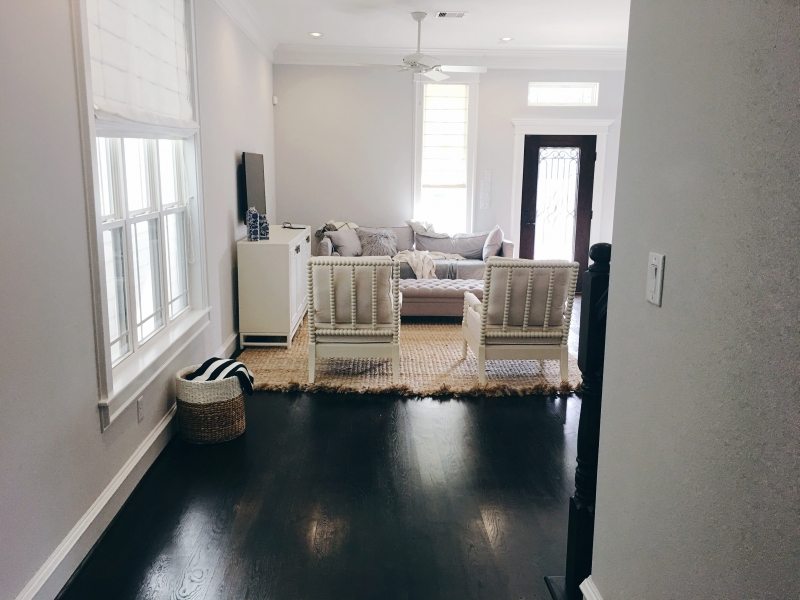 The piece arrived Friday and we placed it under our TV and it didn't feel right. I loved the piece and style of it but the couch was so close to it and the room felt "off"— totally disjointed and cluttered.
So I started to text my friend Leslie who is an incredible designer and has an eye for furniture placement. Their home is similar to ours in that the living room is right there when you step inside and it is about the same size as our space. She loves to rearrange furniture and I was thrilled to have her help testing out some new arrangements— we even ended up changing our dining room layout in the process!
Our sofa now faces the TV. I never attempted this before because I thought it would be too close to our kitchen island or front door— but it doesn't obstruct it at all. In fact, our living room feels like a defined space now— and it feels cohesive. Our accent chairs, flanking either side of our couch, make the room feel cozy and conducive to conversation and connection (by the way, the gorgeous leopard pillows on our chairs are here).
Best of all, this arrangement allows our new sideboard to be the standout piece that it is— and have that wall to itself without anything blocking it. I now feel happy every time I sit in this space. It has totally changed my perception— from a space that we just kind of "dealt with" to one that we love and enjoy— I can't believe we didn't do it sooner.
I plan to add a gallery wall around the TV, but the new setup alone made me fall in love with this space all over again! It just makes sense now, there's no better way to explain it.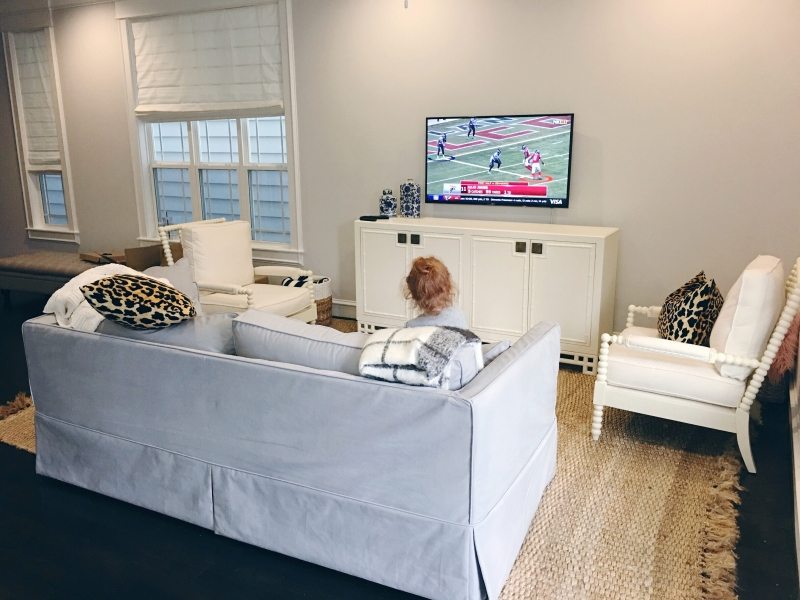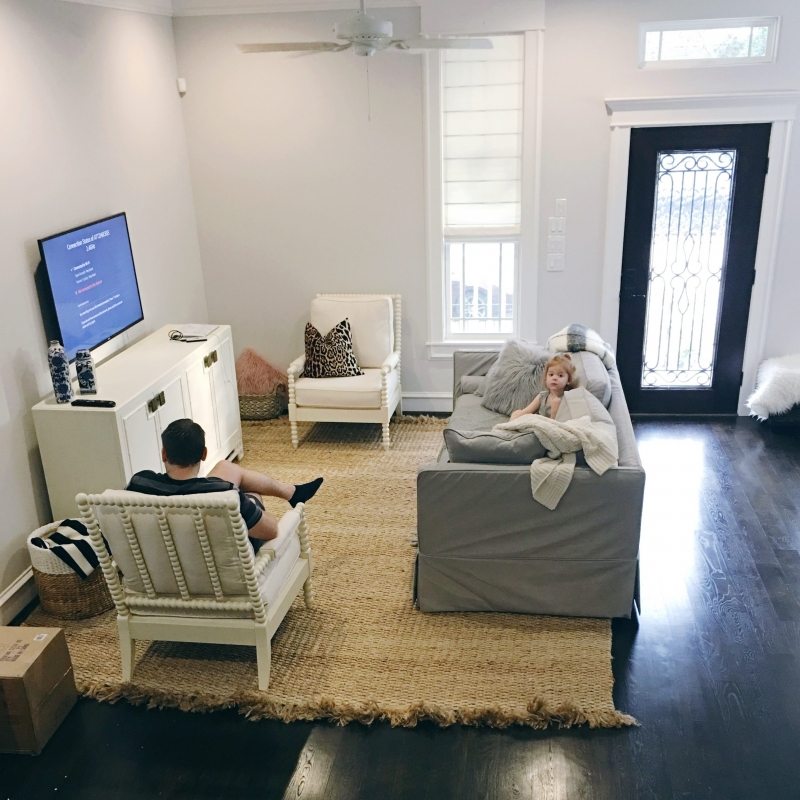 After we finished arranging our living space, Leslie suggested we play around with the dining room as well. I originally had the table placed vertically. I loved this look and was happy with the way it was laid out.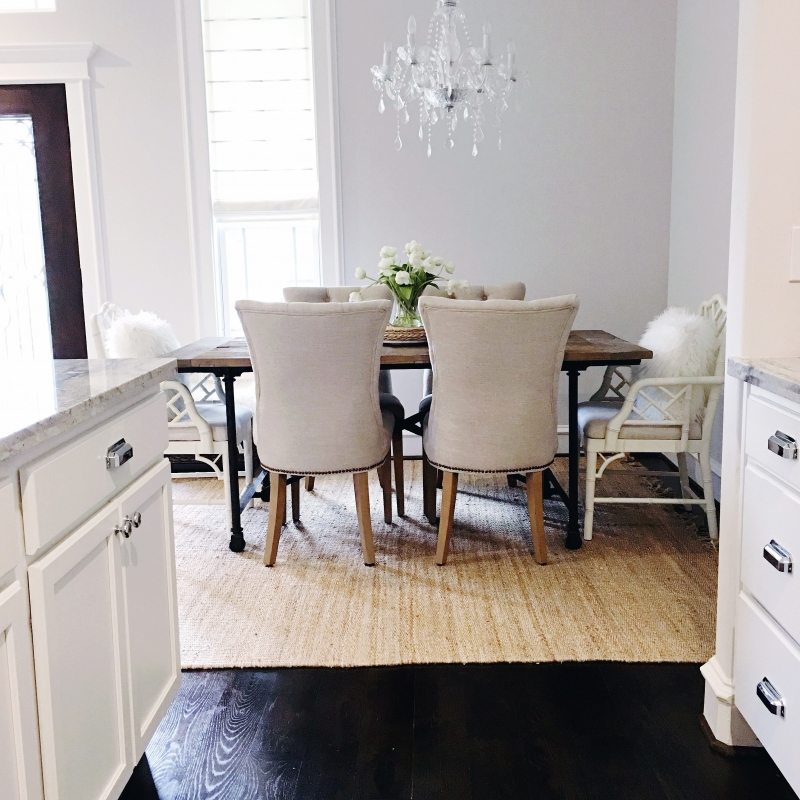 (dining room rug)
However, with the repositioning of our sofa, my friend suggested trying the table horizontally to create a wider space as you entered our home. We are replacing our chandelier anyway, so we will have to move the light fixture and mirror, but I'm so happy with how it looks and it really does create a more open feeling in the entryway of our home. The dining room rug is an 8 x 8 square (buy it here), so regardless of vertical or horizontal placement, the table and chairs fit the same.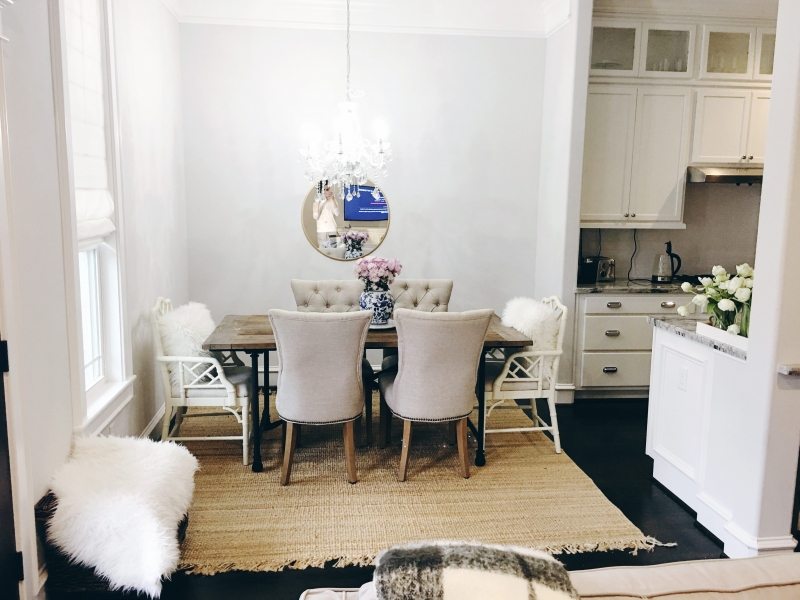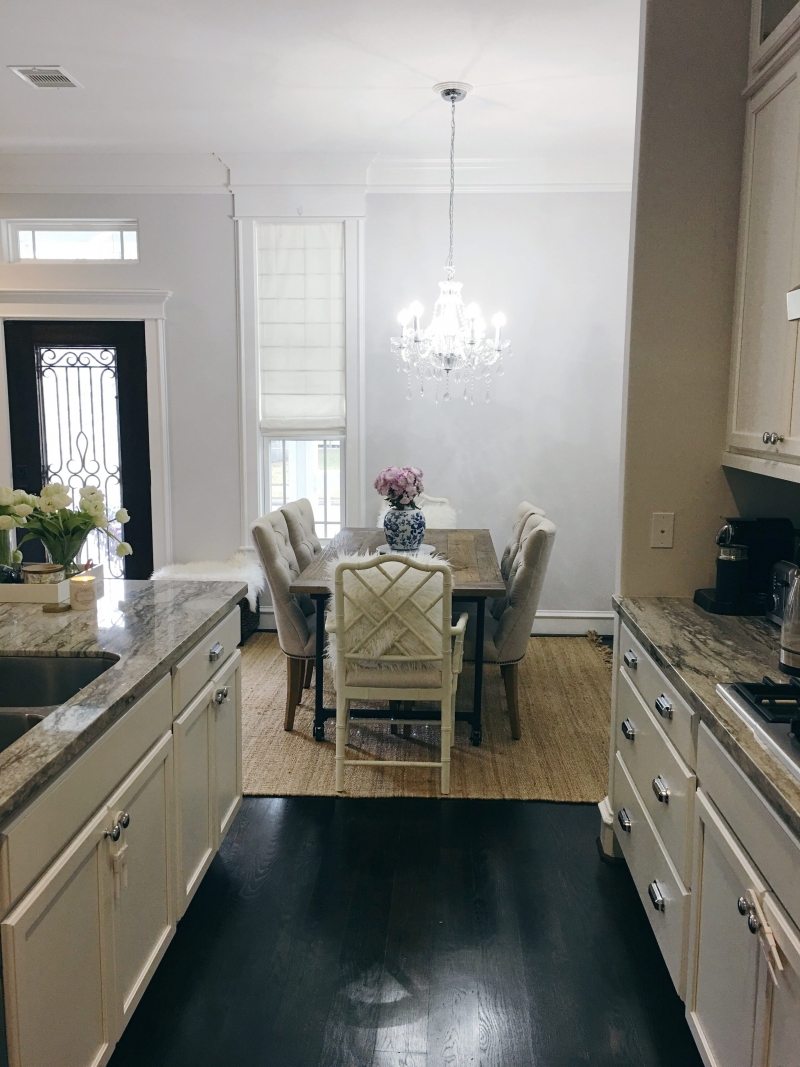 Because I love the faux bamboo backs of these chairs, I'm thinking about purchasing an extra two and keeping two of the upholstered chairs for when we need to seat six (we eat at our kitchen island and use the dining room for special occasions).  I do love how it looks now though, so I'm not in a rush.
The kids seem to love the new space as much as we do! They love looking out of the window that's no longer blocked by the sofa now.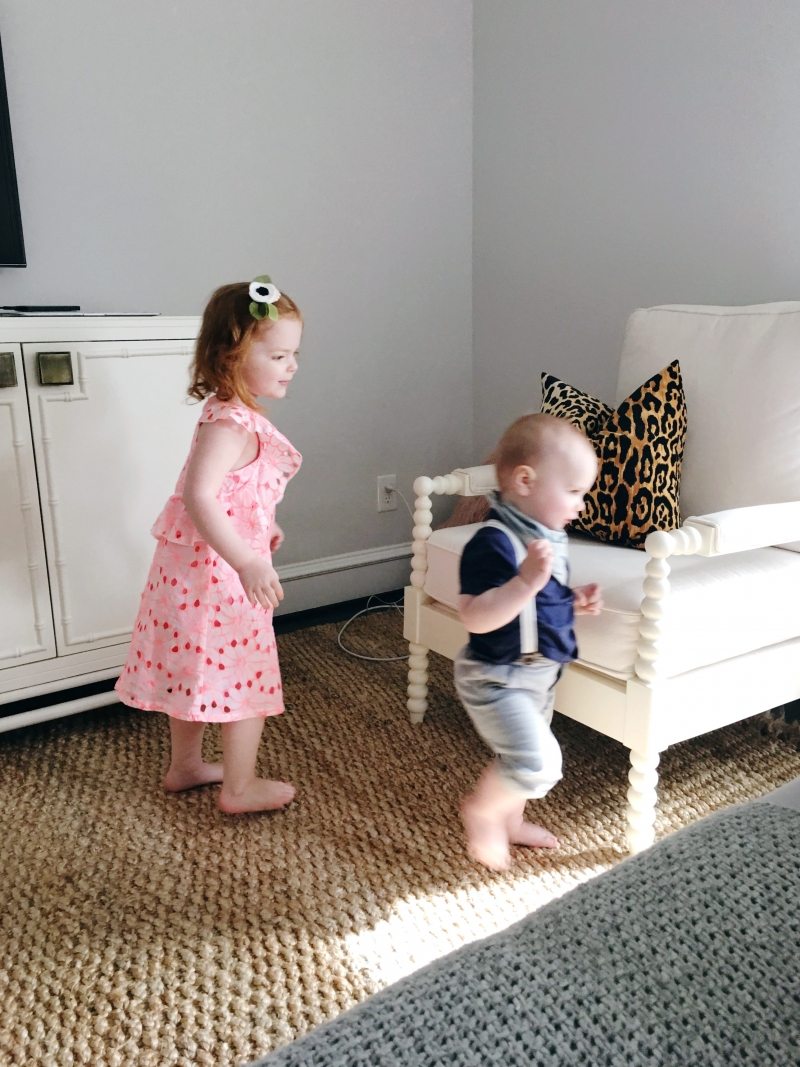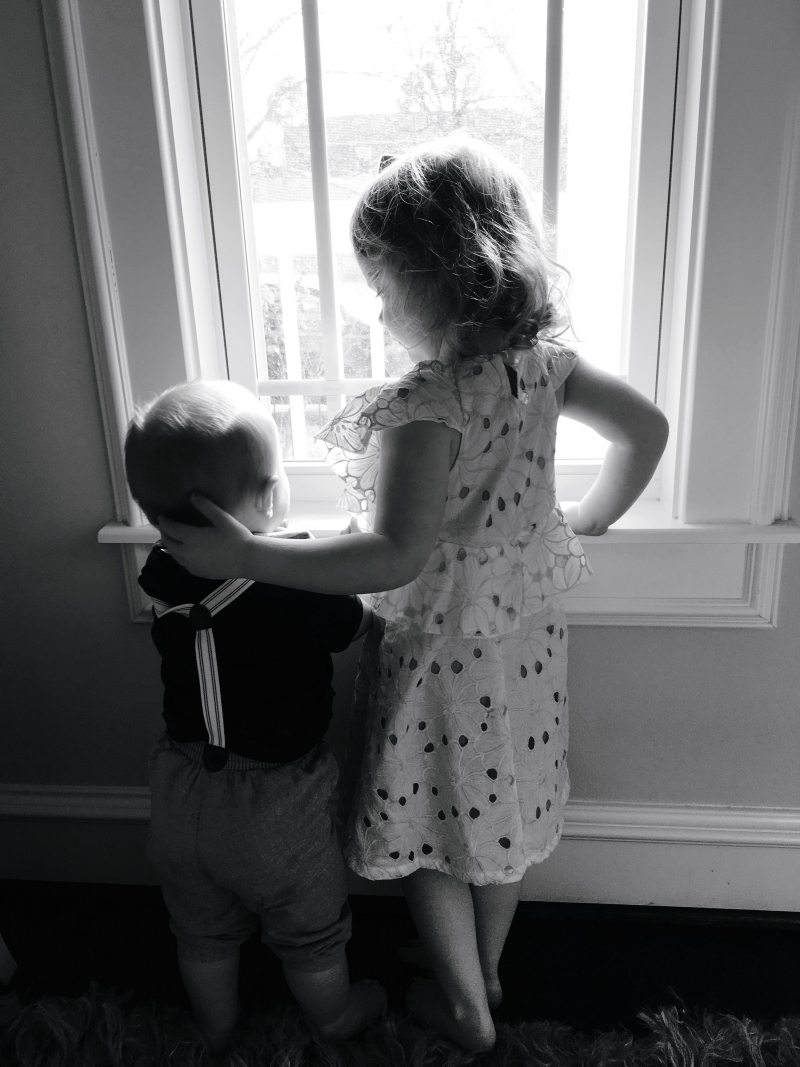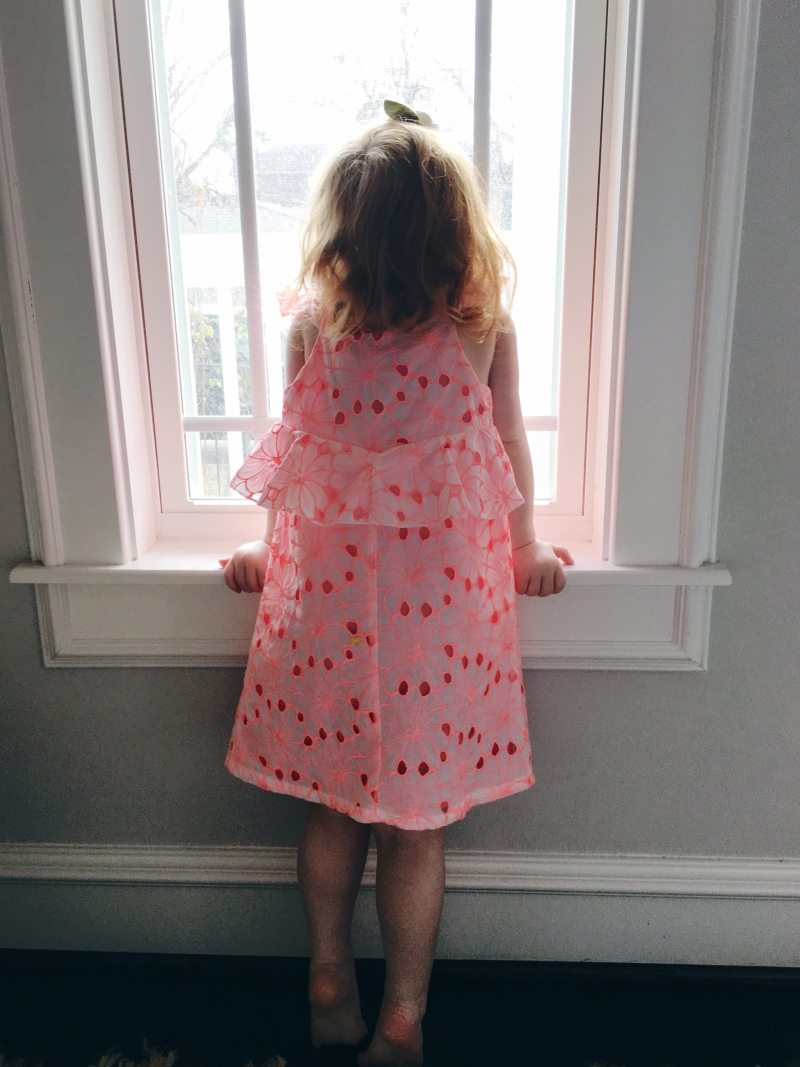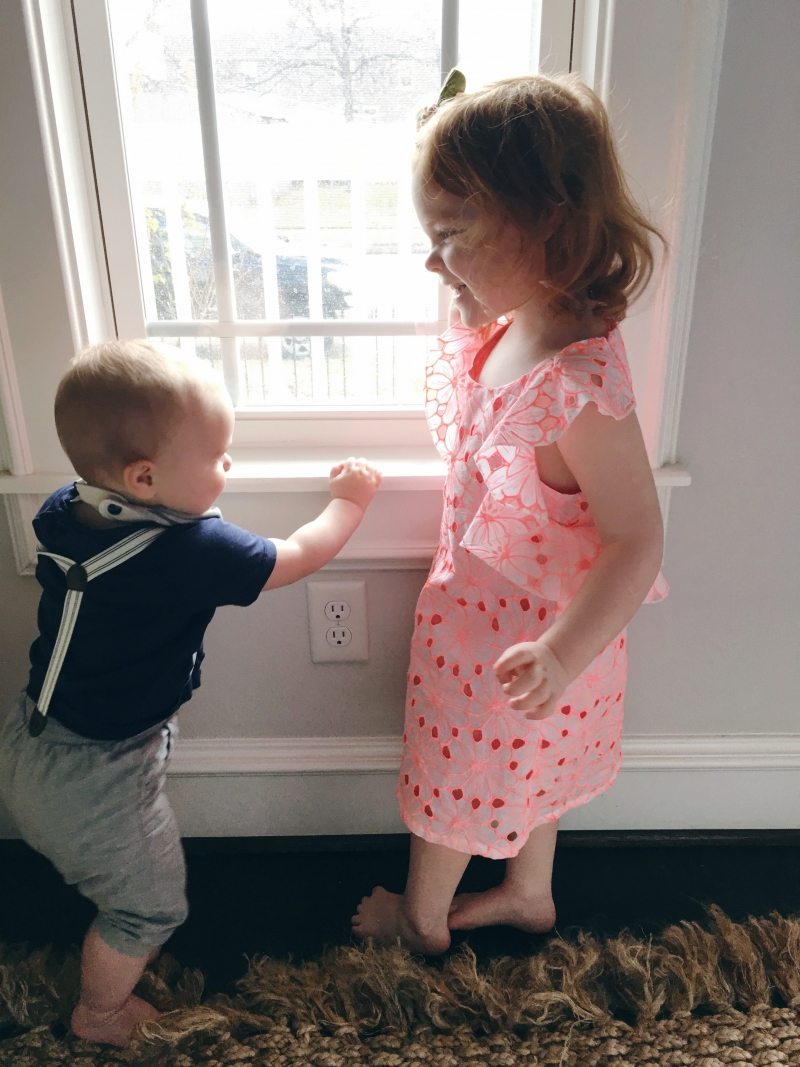 (I can't find this dress online, but the other pink dress I for for Harper that I shared on snapchat is here).
I hope you have a great week and thank you for reading!