Remember that episode of Friends where Chandler wanted to work in advertising and kept listing off slogans for different things like "Cheese. It's milk that you chew," or "Pants. like shorts, but longer?"
I think we can all agree that Chandler's slogans were lacking (even if they made us laugh) and today I'm sharing my equally awful new slogan: "Podcasts. They keep you sane."
Houston traffic is, in a word, horrendous. Add to that a bunch of drivers who are aggressive, texting or simply not paying attention and you've got a perfect recipe for unrelentless road rage.
While I love some upbeat tunes to take my mind off of the road situation, I've found something even better: Podcasts.
Today I'm sharing my favorite podcasts so they can change your commuting experience too (or your workouts, cleaning your home and other tasks).
If your commute is driving you crazy and you want to stimulate your mind, learn something new, hear a fantastic story or simply be entertained—podcasts are for you! I even find myself listening to them as I get ready for work in the morning or while cleaning the house on the weekends.
Below are some of my favorites and I'm always looking for new ones— so please leave me your suggestions in the comments!
Young House Love Has a Podcast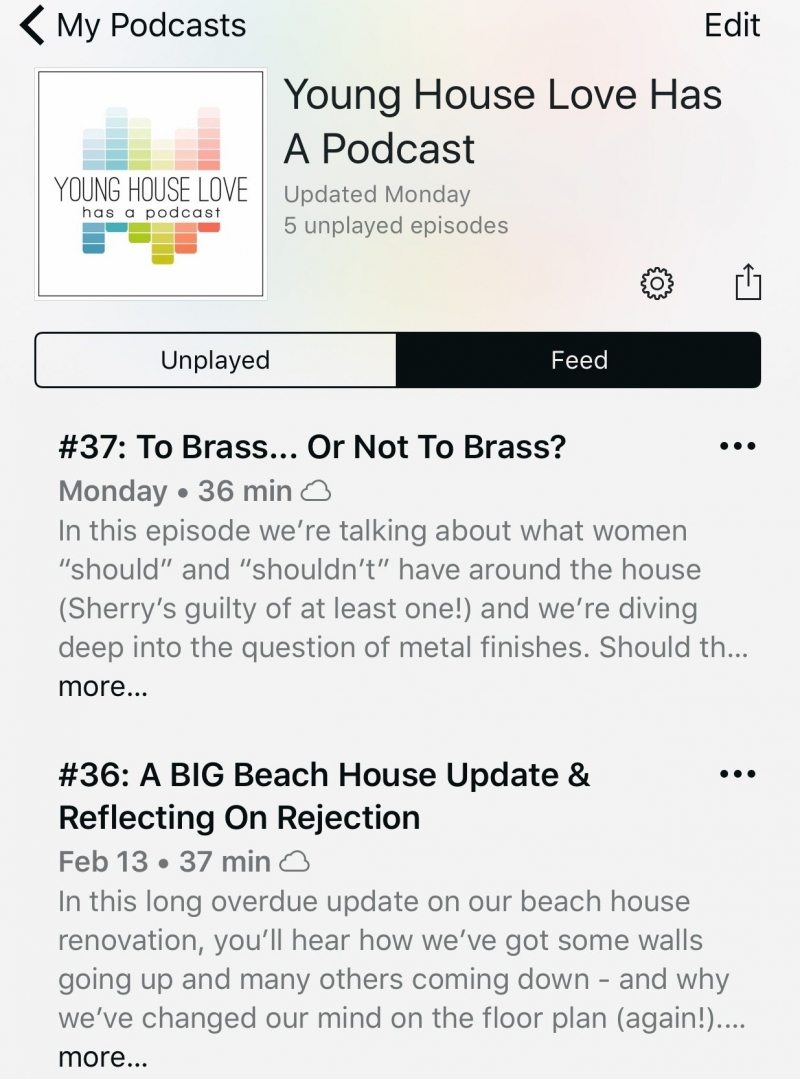 This is the podcast that started it all (the "gateway podcast"). Young House Love was/is one of my favorite home decor/DIY blogs. John and Sherry Petersik took a break from blogging a few years ago (it was even covered in the NYT) but they're back to blogging (occasionally) now and have started a weekly podcasts focused on— you guessed it— the home.
They also do a fun little trivia segment, a "what we're digging" segment (not always home related) and they interview other bloggers and designers. I met them in 2012 at their book signing and love hearing their personalities on the podcast. The topics they discuss are always fun and I love home decor so I look forward to every new episode. So kudos to YHL for making this girl crazy about podcasts! I love you long time, for real.
Serial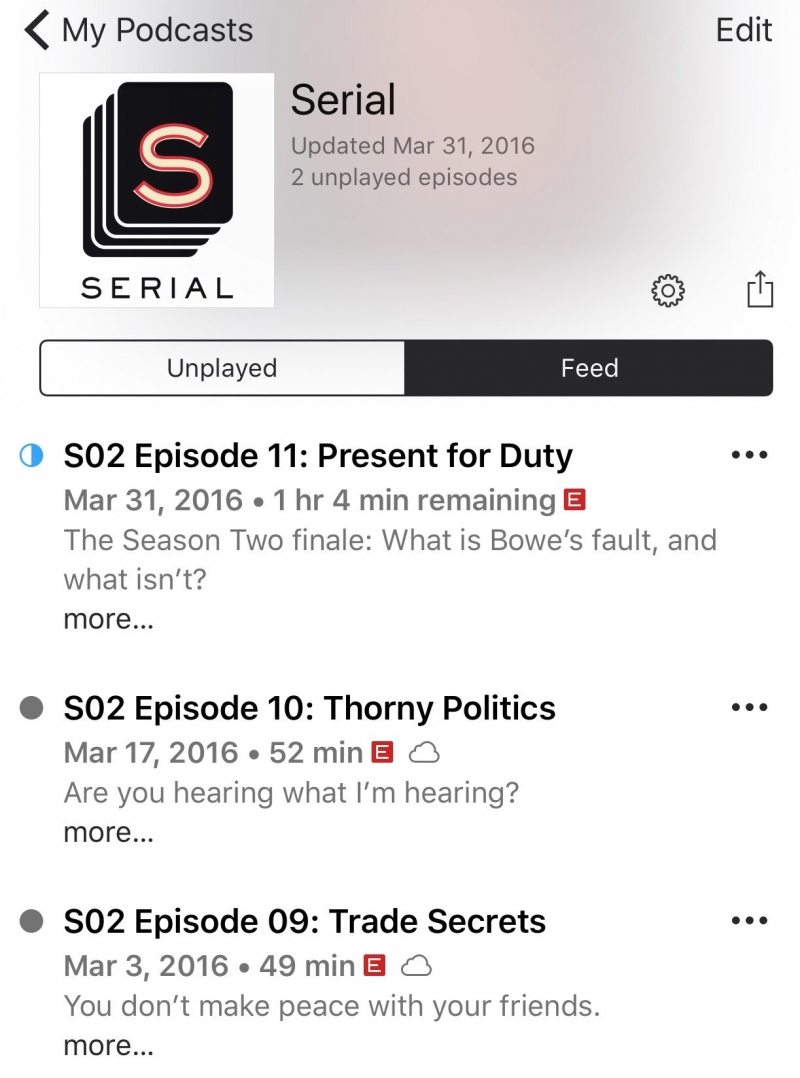 I had heard of the Serial podcast years ago but I didn't even know where to find podcasts on my phone "back then." Narrated by NPR's Sarah Koenig (also from the podcast This American Life), Serial focuses on breaking down the Adnan Syed case via Koenig's compelling storytelling. Accused of murdering his ex-girlfriend Hae Min Lee in 1999, Syed has been in prison since 2000, serving a life stenence. He maintains his innocence. I won't go into more detail— but this is a MUST listen. Seriously, go subscribe now.
I have not yet listened to season 2 of Serial, which covers a new case, but I miss Sarah Koenig's voice, so I may have to start soon!
Undisclosed


This podcast is a follow-up to Serial that further analyzes the Adnan Syed case and is hosted by three attorneys, including Rabia Chaudry, a family friend and author of "Adnan's Story," Colin Miller and Susan Simpson. Season one focuses on Syed's alleged wrongful conviction and goes into a much deeper analysis of elements of his case and trial than Serial did. Listen to this after you listen to Serial, and I promise you will love it.
I just wrapped up season 2 of Undisclosed, covering the alleged wrongful conviction of Joey Watkins. It was another fantastic season, definitely worth a listen!
Unruffled with Janet Lansbury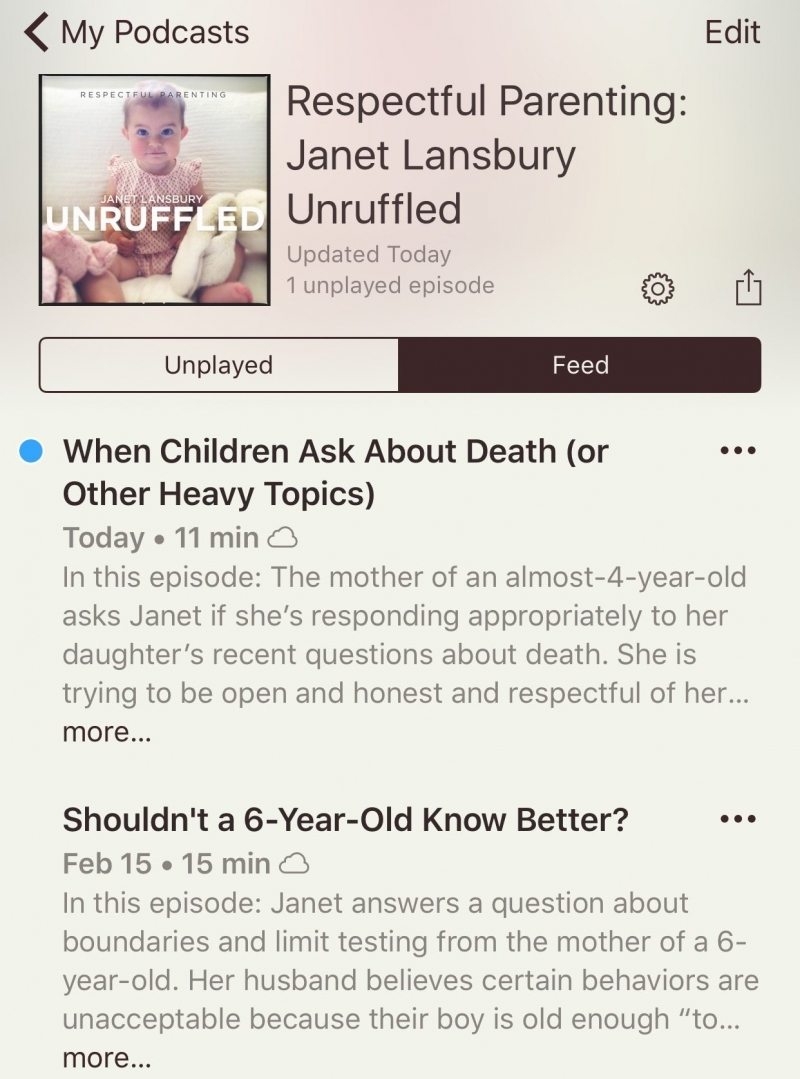 A friend recommended this podcast to me and I've found it to be really helpful for dealing with everyday toddler struggles. Hosted by RIE parenting expert Janet Lansbury, I was initially very skeptical. I don't like to pigeonhole myself into a parenting style because I believe all children are different and the same approach may not work for every child. I like to have flexibility instead of doing every single thing according to one set of "rules." RIE is definitely a very defined parenting approach and to be honest, I'm not sure I would have been as drawn to this approach in infancy. However, for toddlerhood, many of the principles of this way of parenting have helped me tremendously. As a disclaimer, I personally don't agree with every single aspect of RIE parenting and I find it to be off-putting when people make their "parenting style" their entire identity (which you'll often find in online communities and Facebook groups), but I'm going to share with y'all what I got from this podcast.
If you have a toddler, these podcasts may help you see toddler behavior in a different light and help you problem solve. My big ah-ha moment in this podcast was when I realized that toddlers need validation of their feelings just like adults do. Isn't the most frustrating thing ever when you have an argument with your spouse or someone else you care about and that person tells you that you "shouldn't feel that way," that you're "overreacting" or in some other way dismisses your feelings? Listening to this podcast brought me back to my childhood, how my emotions were treated, and what impact that has had on me even to this day, and that gave me some pause.
Humans have a need for validation and understanding— and as I was listening to this podcast, I recognized the times in my life where I have been most hurt by people I love to be instances where I did not feel heard, validated or was dismissed for feeling the way that I did.
As parents, it may drive us nuts when our toddler wants a different cup, refuses to get dressed, has a meltdown over the color of her shoes…it can drive you bananas!
But I realized that in her most difficult moments, it might be a better choice to support and validate my child's feelings than to try to convince her that her feelings are wrong. So for example, if she doesn't want to wear the blue shoes, instead of saying "don't be silly, you have to wear those!" or "put them on!" I can change my approach— "It sounds like you really don't want to wear those blue shoes," " I can see you're frustrated right now…" I know it sounds simplistic, but by acknowledging that I can hear and see how she feels about whatever issue is going on, I have seen a change in her reactions, too. Instead of coming from a place of being annoyed or angry with "non compliance," I try to come to these situations with validation and understanding.
Does that mean kids get whatever they want? Absolutely not— it simply means we acknowledge their feelings. I'm still working to be better at this. Of course I still yell and do time-outs sometimes. It's very hard to change your way of thinking and takes time. I encourage you to give it a listen— I am by no means perfect with this approach, but the more I use it, the better response I see.
Hidden Brain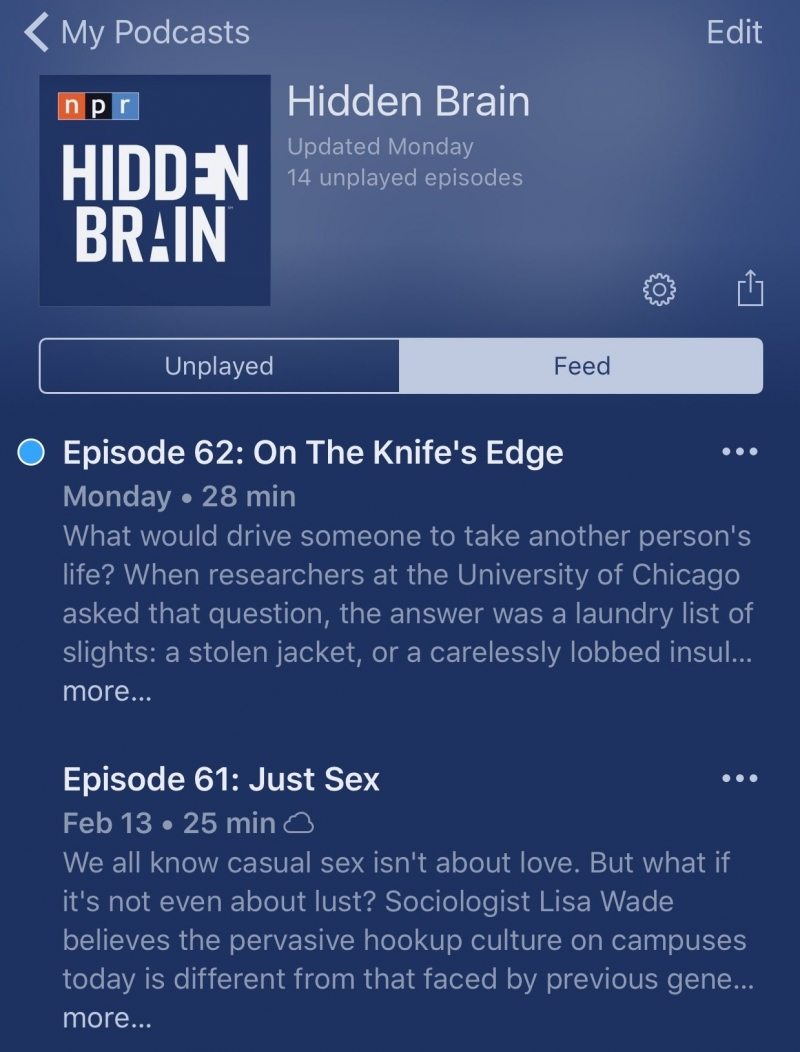 Hosted by Shankar Vedantam, this NPR podcast is all about the unconscious patterns that drive human behavior, the biases that shape our choices, and the triggers that direct the course of our relationships (and yes, I copied this from the website because there's no better way to say it!) It's interesting and gives you so many insights into your own and other's behavior. Episodes I enjoyed are "Broken Windows" and "Filthy Rich," but of course every episode is fantastic and worth a listen! They're fairly short too— typically under 30 minutes.
How I Built This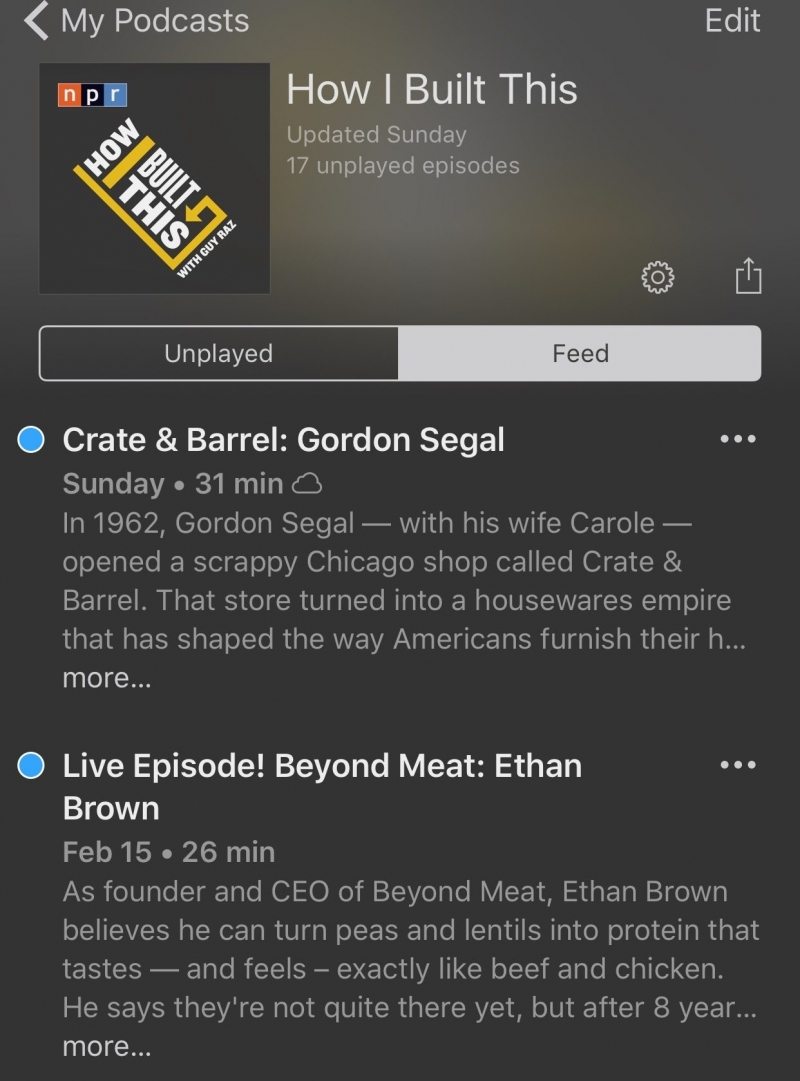 I recently started listening to this podcast— it features interviews with entrepreneurs and how they built companies and brands. My favorites so far were Drybar's Alli Webb and Zappos' Tony Hsieh. Kate and Andy Spade and Gordon Segal of Crate & Barrel are next on my listening list! This is a good one if you're looking to feel motivated and inspired.
Stuff You Should Know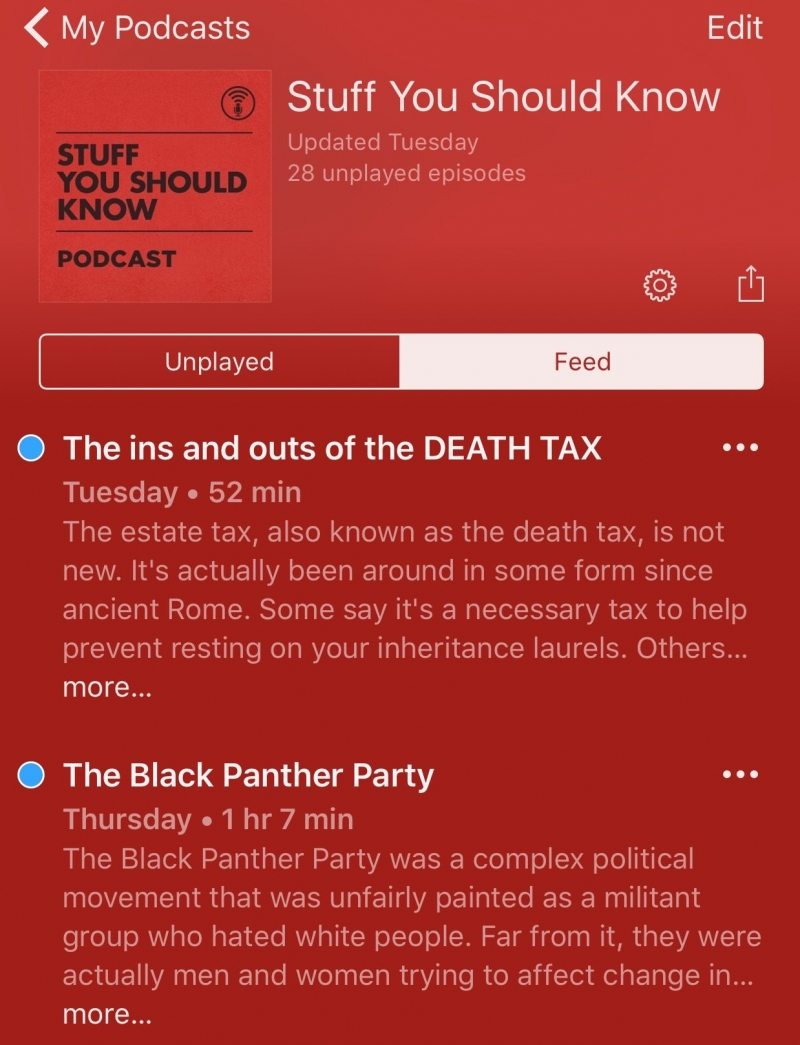 Literally, the name of this podcast says it all. It covers a variety of topics— there's literally something for everyone. I don't always listen to podcasts in order (unless it's a story like Serial or Undisclosed that must be listened to in order), I just pick whichever topics interest me.
Reply All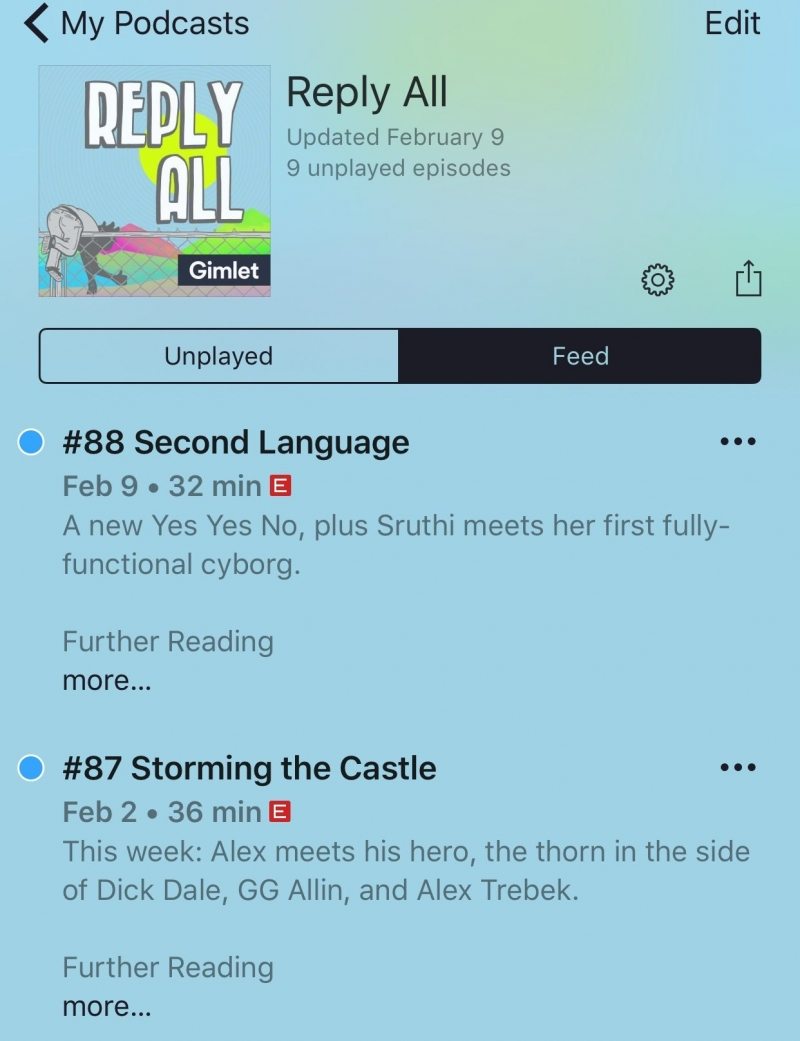 Reply All is a Gimlet Media podcast— it was actually recommended by the Petersik's during one of their podcasts and I've been listening ever since. The topic ranges are wide and the storytelling is great. Start with episode #79 "Boy in Photo."
Other honorable mentions include some newer podcasts I've just subscribed to — Lady Lovin' (if you watched "The Hills," Lo Bosworth is one of the hosts of this podcast), My Favorite Murder, Reality Life with Kate Casey (I mostly listen when she has former Bachelor/Bachelorette interviews) and Reality Steve's podcast (all Bachelor spoilers and discussion).
Finally, (because really, I could go on) the New York Times also has a podcast called The Daily and NPR's TED Radio Hour is very much worth a listen.
If you're looking for new podcasts to subscribe to, hit "top charts" in the purple "Podcasts" icon on your iPhone for some more ideas! It will list the most highly rated and listened to podcasts so you can see what's trending and find some that may appeal to you.
Basically, I love podcasts…a lot.
…and PS— if you're looking for some cute iPhone accessories to complement your podcast listening, head over here.