When I shared some videos on Instastories & Snapchat recently of some outings with the kids, I got so many direct messages asking about our new stroller— the Chicco BravoFor2. Now, before we get into this review, this post is in partnership with Chicco, but as always, this is my full and honest review of this stroller and how it works for us as a family.
My first introduction to Chicco was when I was pregnant with Harper and deciding on a car seat. The Chicco Keyfit 30 was highly rated for both safety and ease of use and we used it as our infant seat for both of our kids, so it was a fantastic investment!
So, onto the stroller— the BravoFor2. The reason I was interested in trying this stroller in the first place is because our other stroller doesn't have a seat for a second child and since it's an older model, the attachments aren't manufactured anymore and so while they're sometimes available on eBay, they're tough to find. Plus, the second seat that does work with our stroller attaches really awkwardly— so that one child is low to the ground and faces the back of the other seat. It looked too uncomfortable of a configuration for an older toddler, and tough to get in and out of.
In a nutshell, we didn't have one stroller that was a fit for both kids…until now!
Harper doesn't really need an actual seat in a stroller for excursions like this (like many double or side-by-side strollers have). The BravoFor2 is the perfect stroller if you have a baby/young toddler and older toddler. In addition to having a padded seat that reclines slightly for your younger child (five-point safety harness included!) it has a fold-out seat in the back as well as a board at the bottom— so your older child can sit, facing you, or stand with their back to you (the stroller has handles for the older child to hang onto while the stroller is in motion and a safety strap if they choose to sit down). It's worth noting that while Lincoln is already in a convertible car seat, this stroller is compatible with Chicco's infant seats  including the KeyFit 30 and new Fit2 Infant & Toddler Car Seat, and so it can also function as a travel system, which is a huge bonus.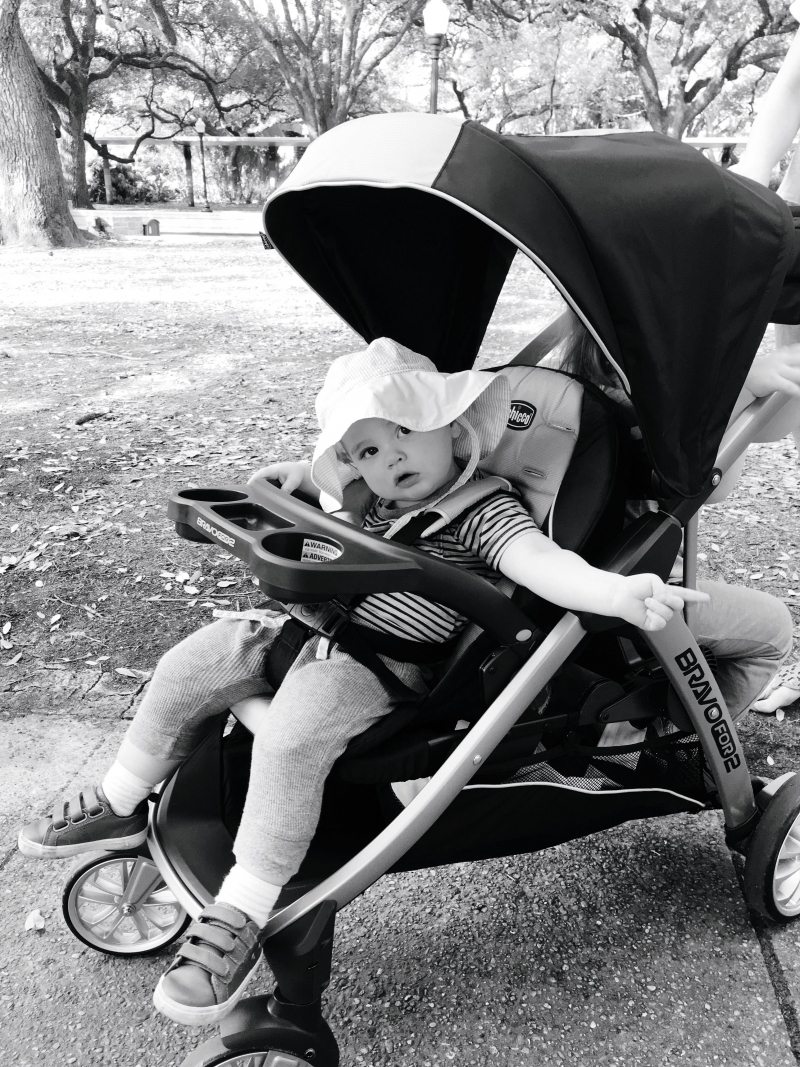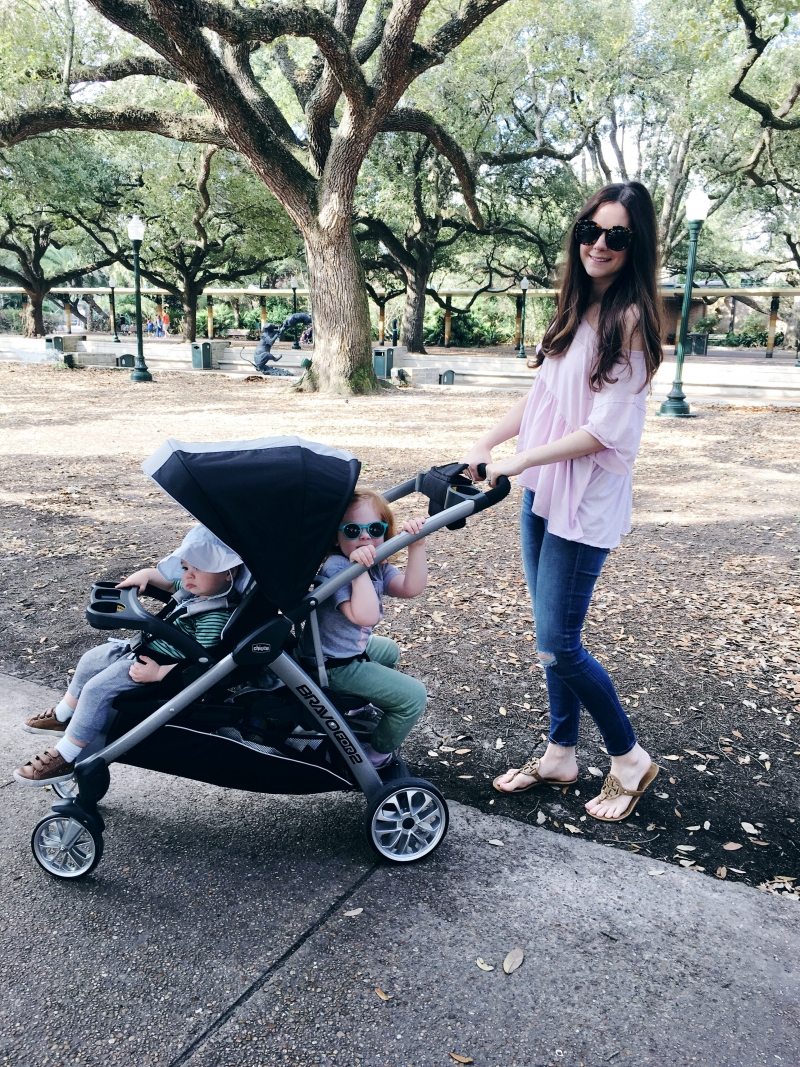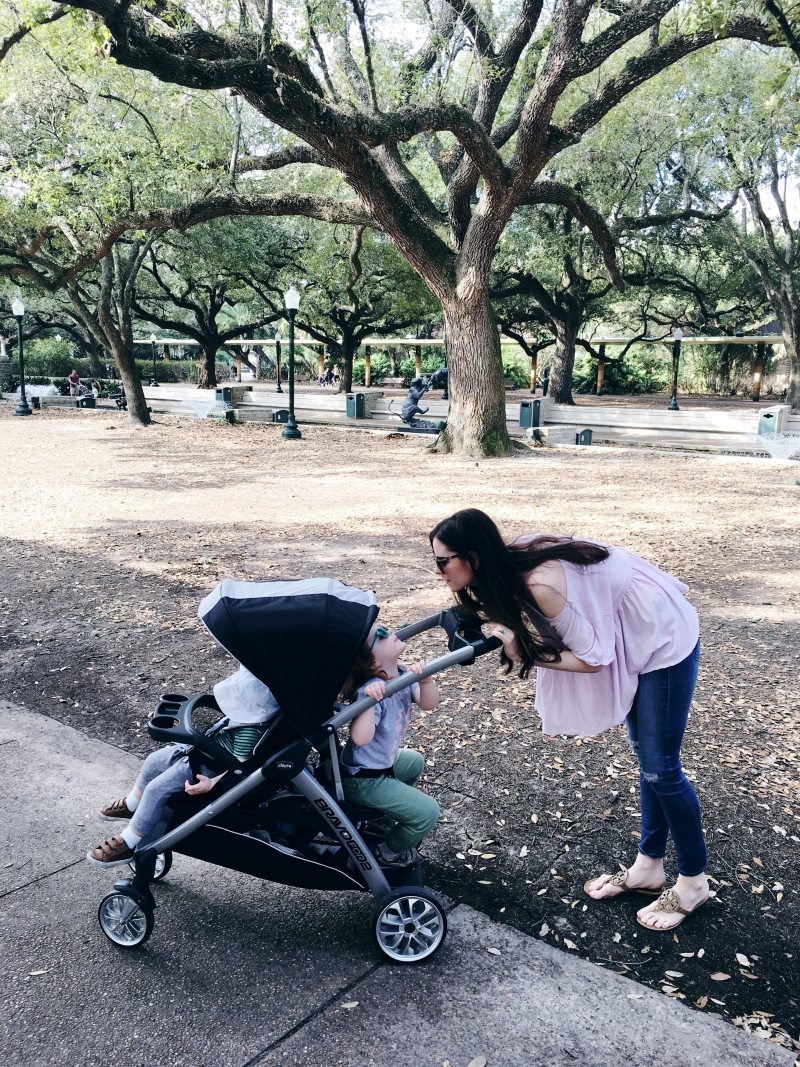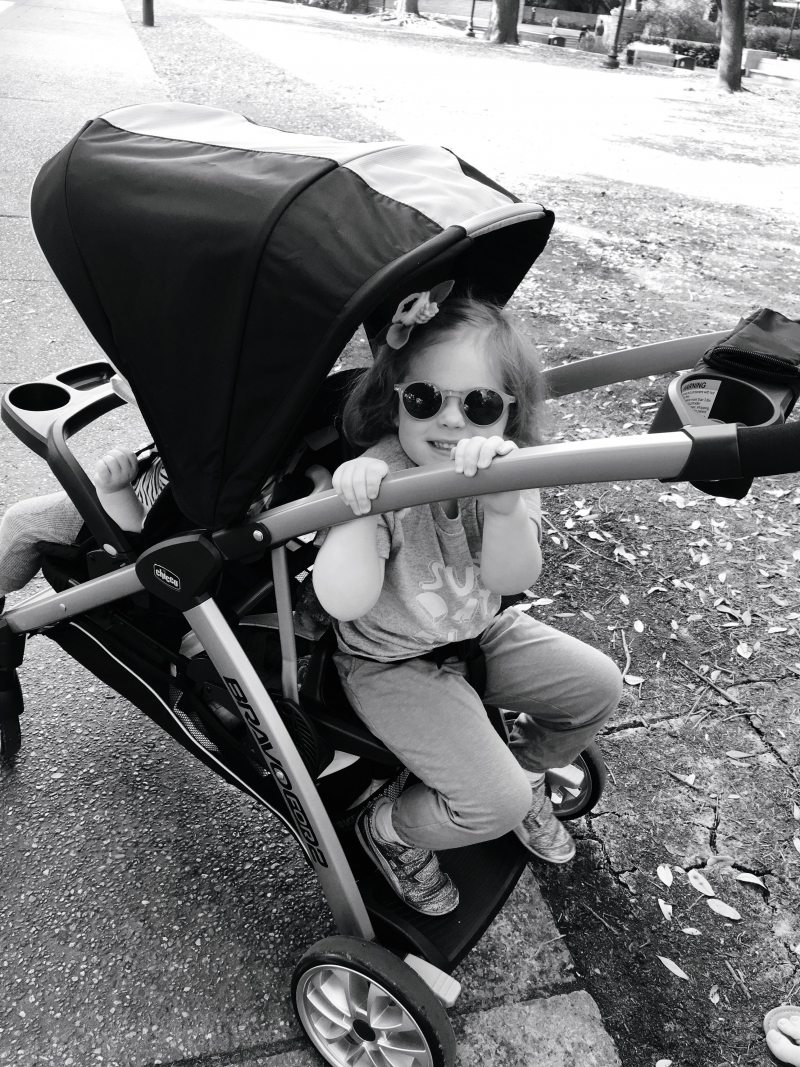 For excursions like the zoo, this stroller is great for older toddlers who want to get in and out to see all of the different animals— they can do it totally on their own and it's as easy as hopping off of a chair.
The baby's side comes with a tray for snacks and sippy cups and has a nice-sized sun shade/canopy that can move further forward as needed.
The stroller's underbasket has plenty of room to fit a diaper bag and it comes with cup holders and a zip-pouch that perfectly fits your smartphone, right on the stroller's handlebar. It also has a quick fold feature, which makes it even easier to stow it back into your car or garage when you're finished using it.
If there's anything I could change about the stroller— I do wish they had a sun shade that could also be used over the toddler seat area and that the cup holders for the adults on the handlebar were deeper. Other than those two things, I think this stroller is pretty perfect for older baby/toddler life. It's easy to push and has a nice smooth ride.
This stroller retails for under $300 and is available on ChiccoShop.com, as well as in stores and online from both Babies" 'R"' Us  and Target — a good price point for the features it has.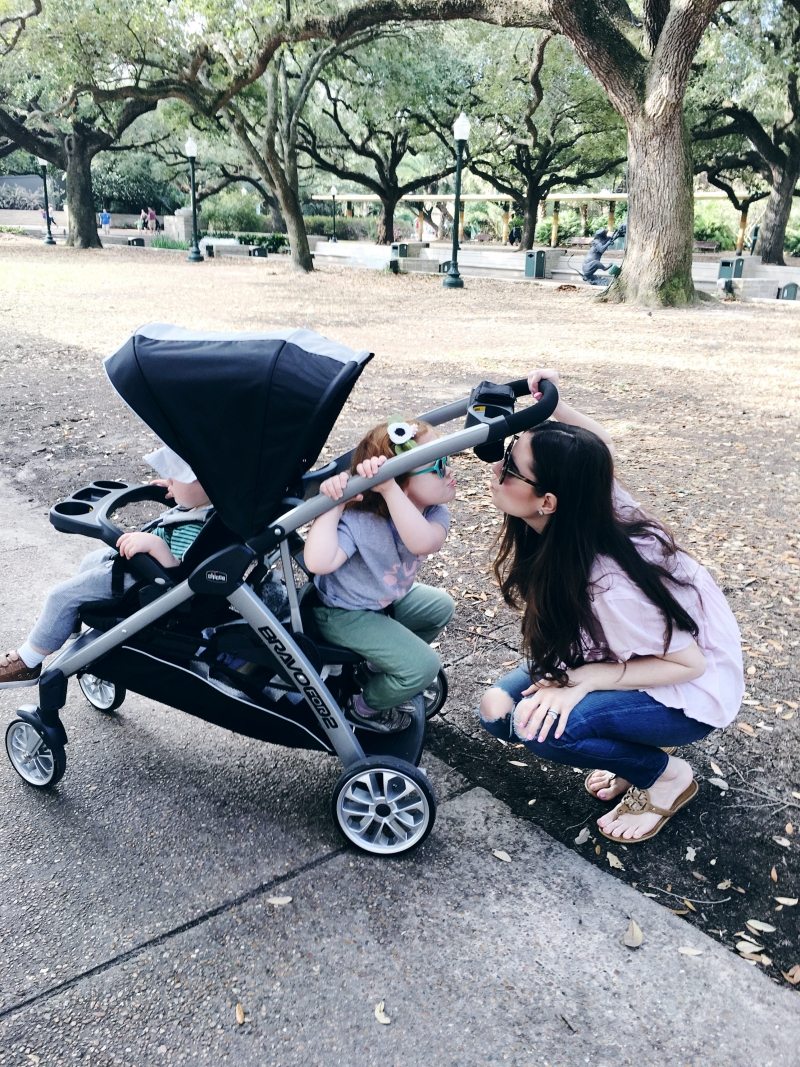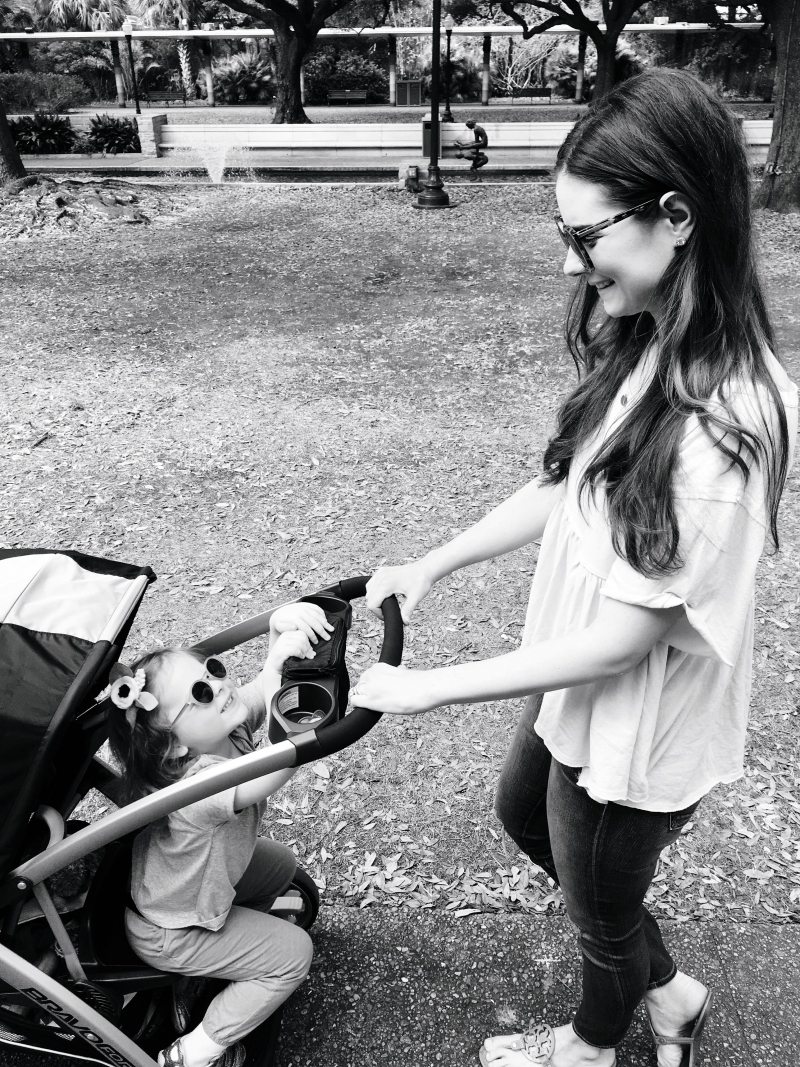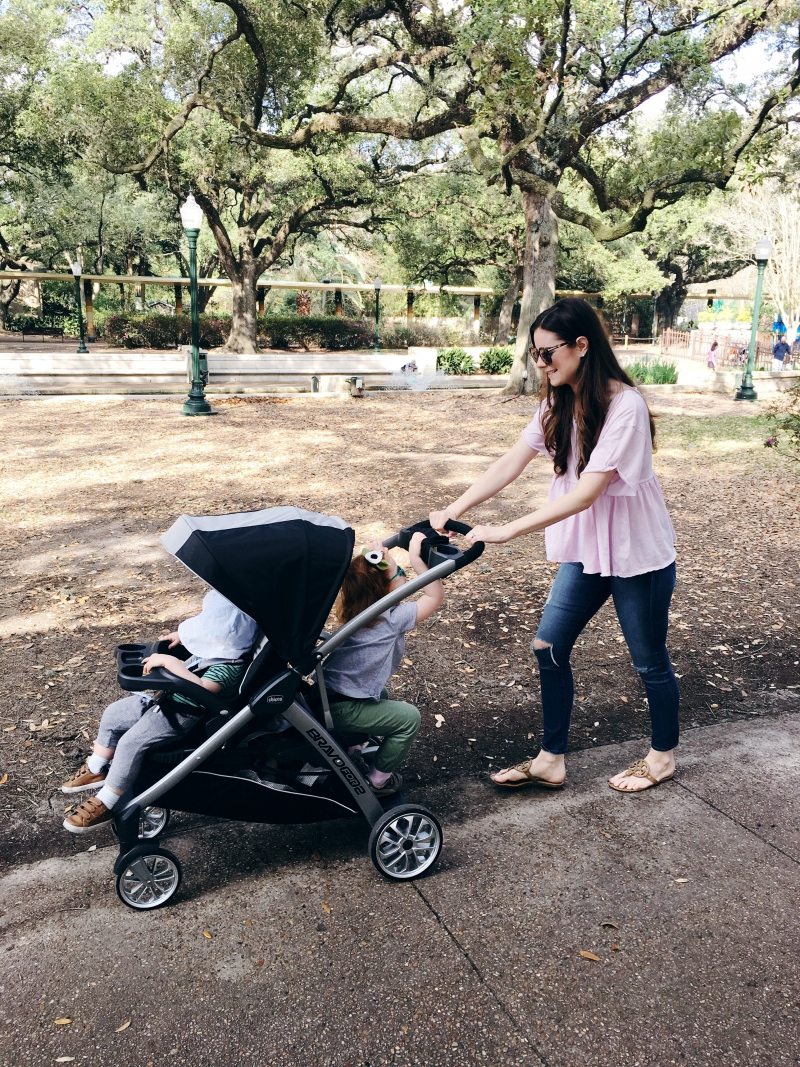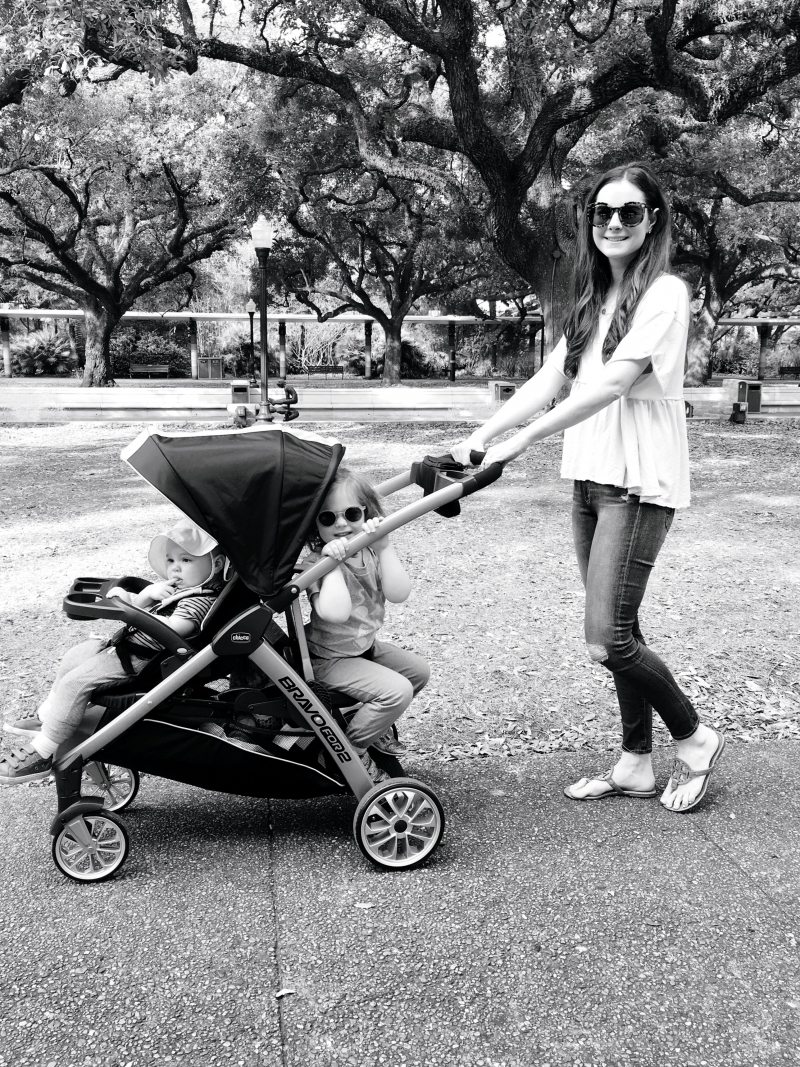 This was Lincoln's first trip to the zoo and he was scared of most of the animals and cried if we picked him up and got a little bit closer. But, towards the end, he loved watching the elephants and even pretended to be one, using his arm as an elephant trunk and making a loud grunting noise (it was darling!) Maybe it's that framed elephant photo in his room that made him warm up a little faster 🙂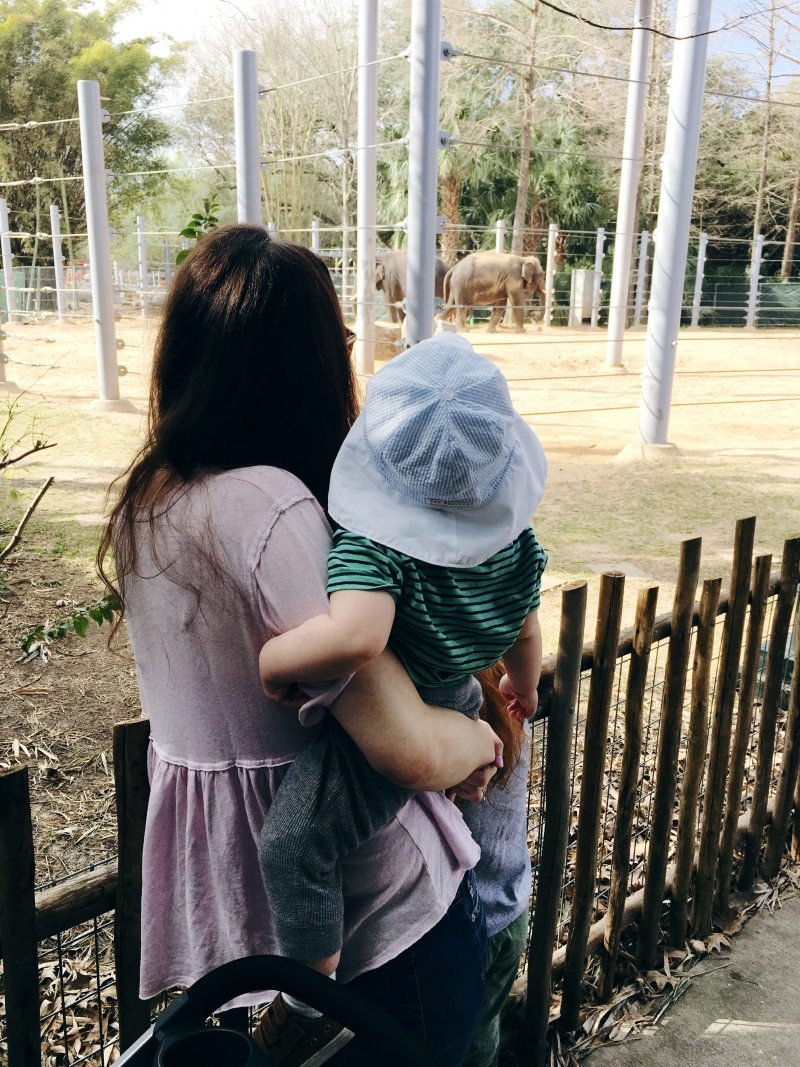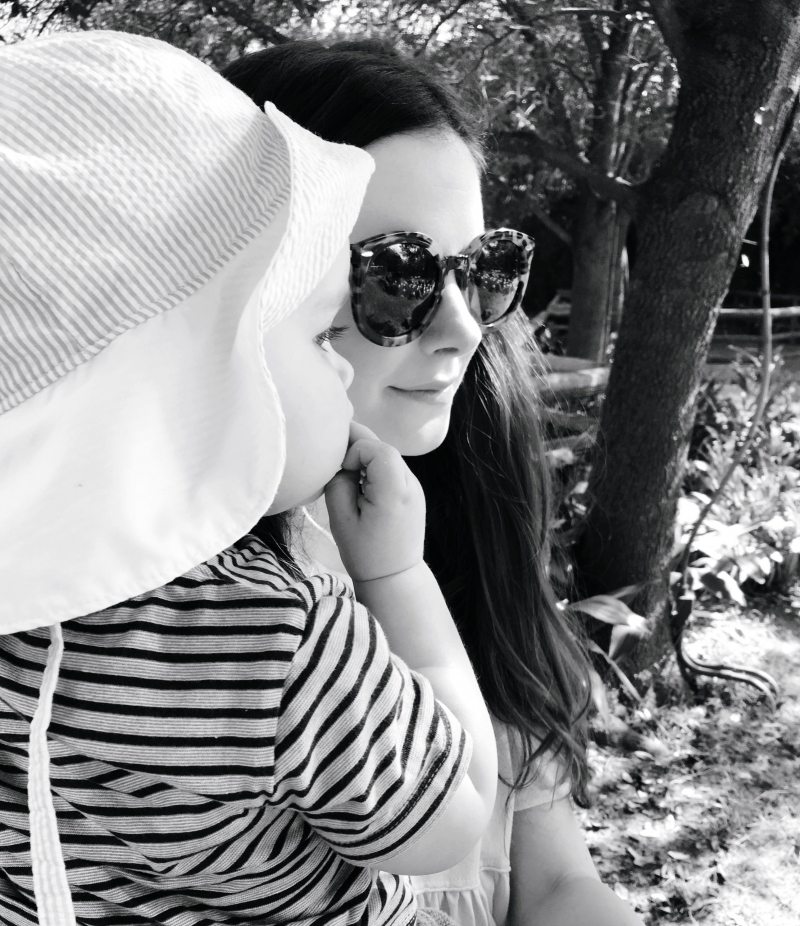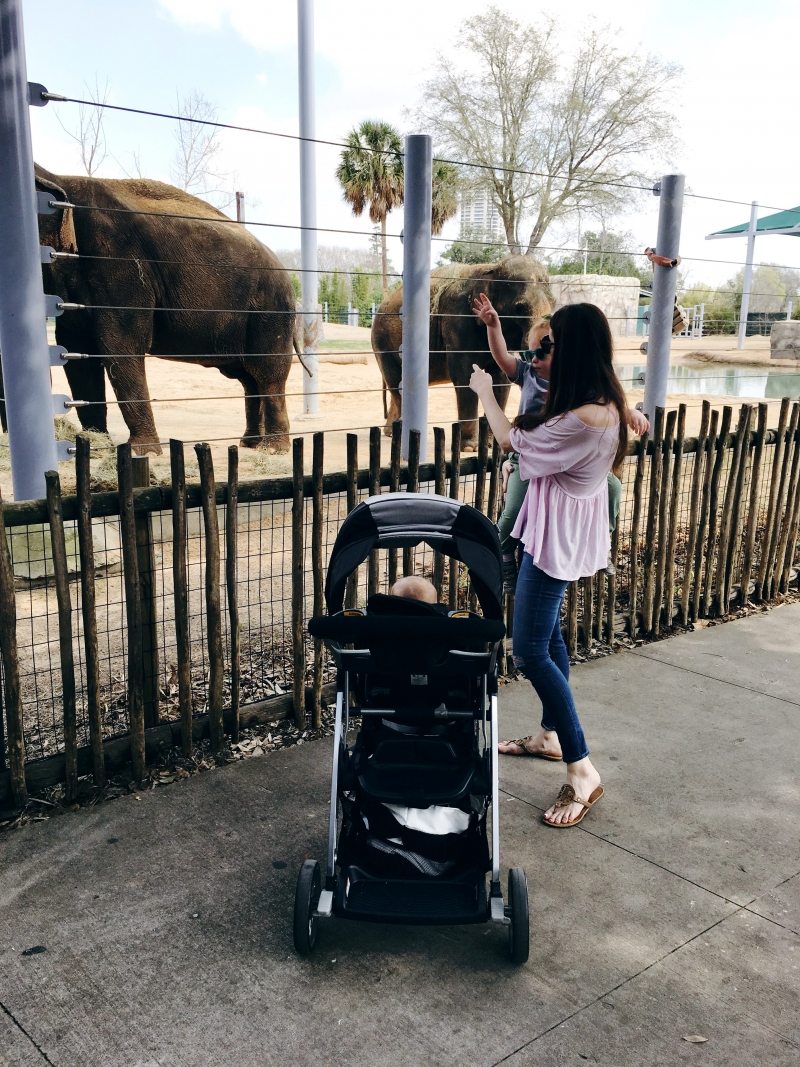 Here's a better close-up of the stroller's snack tray— our other stroller didn't have one of these and let me tell you, it's a must-have now that we've got one. It makes snacking-on-the-go so easy and you don't have to worry about your child dropping a snack bag or container. Please note that the tray also holds Lincoln's beloved paci.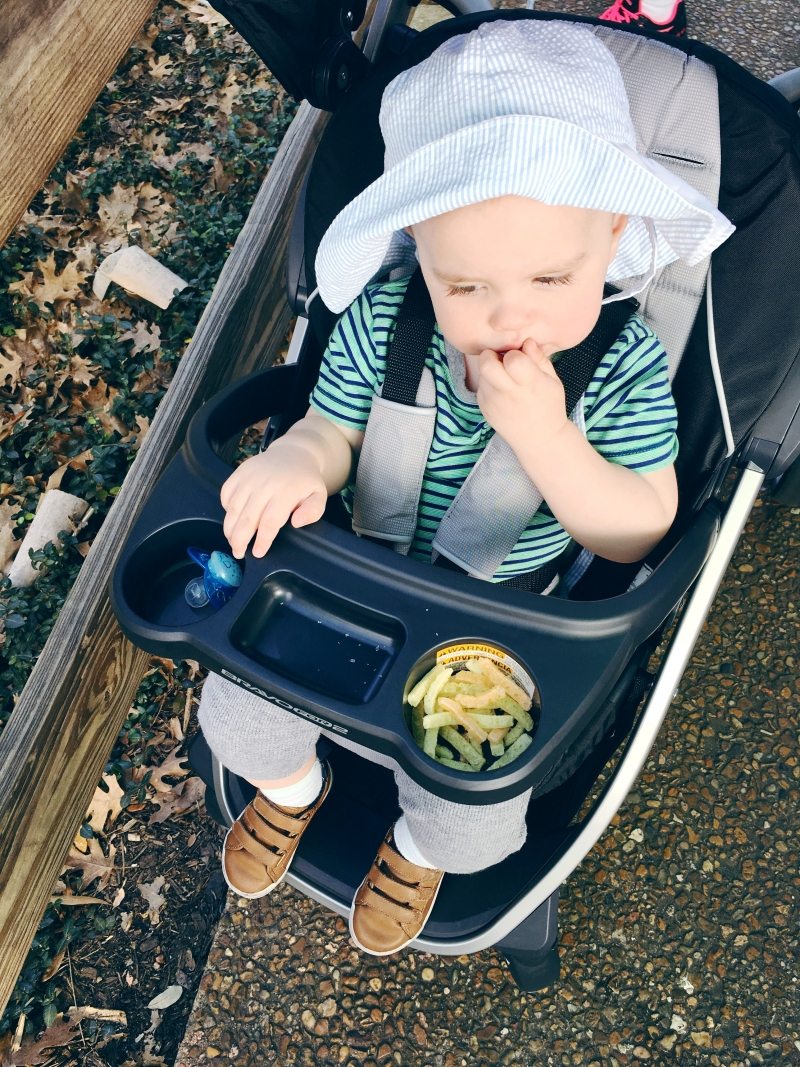 It was also Lincoln's first time riding the carousel— and he actually cried when it was over. But Harper was all smiles, as always when carousels are involved.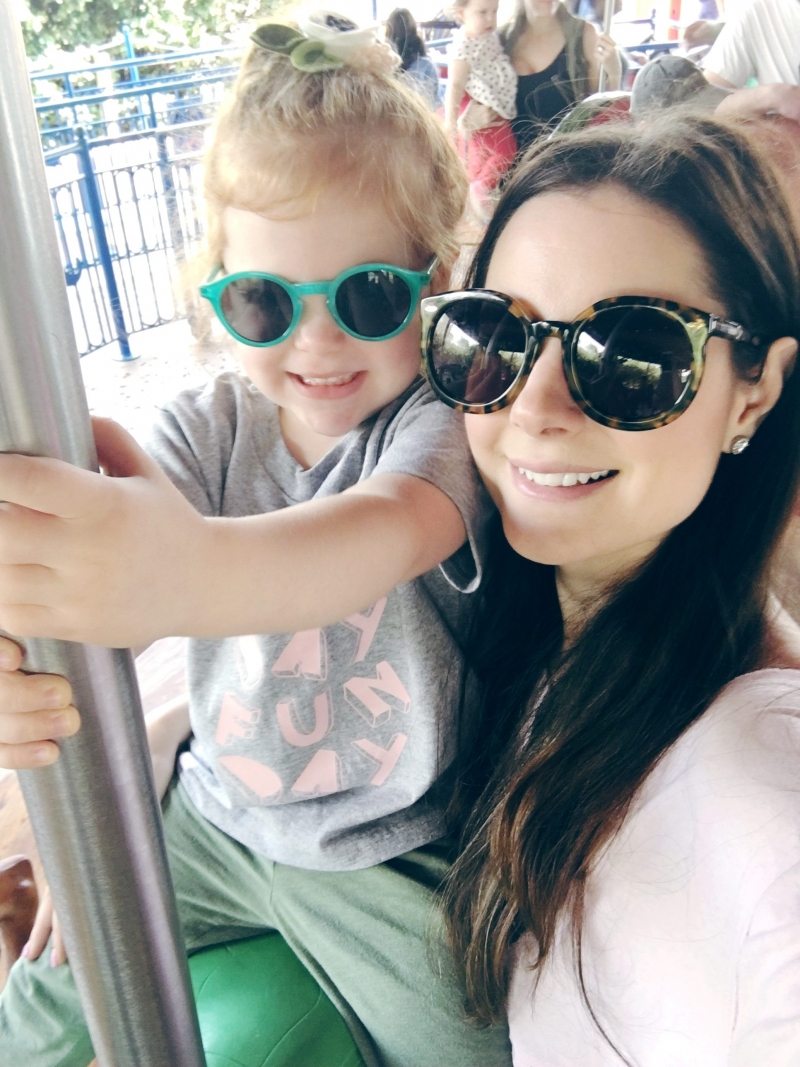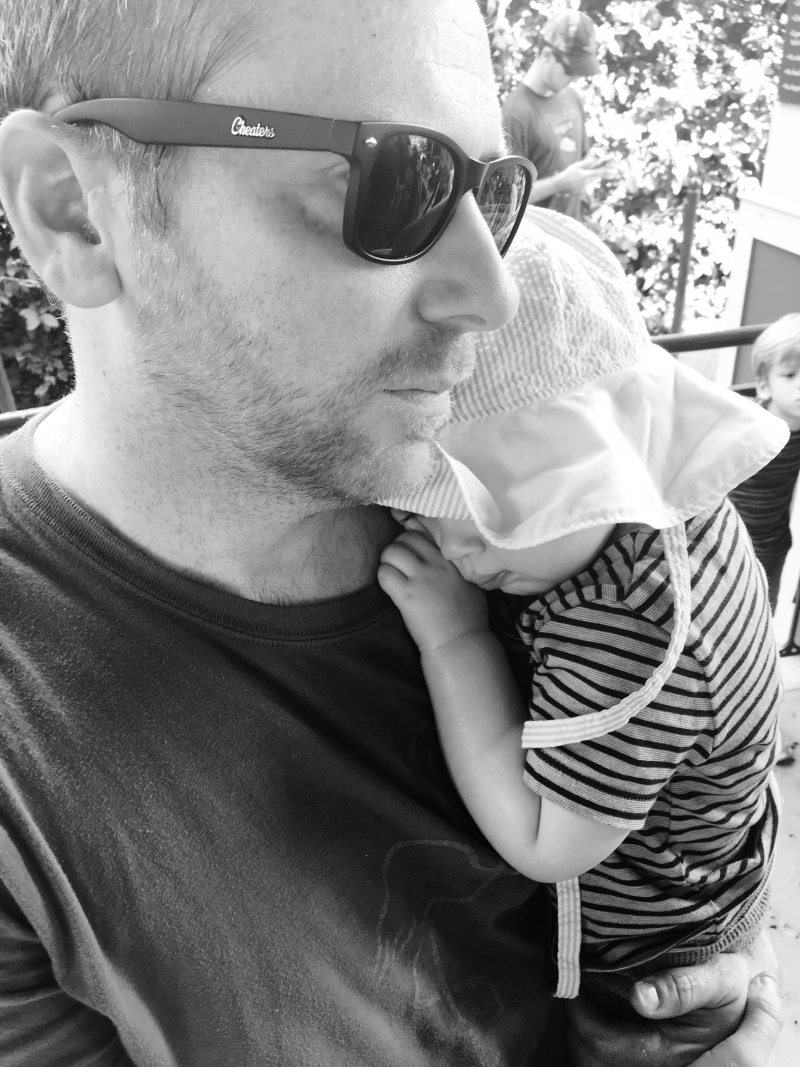 Here you can see Harper checking out the board feature on the stroller — in the second photo, you can see her holding the handles that are there for toddlers who'd like to stand while the stroller's in motion.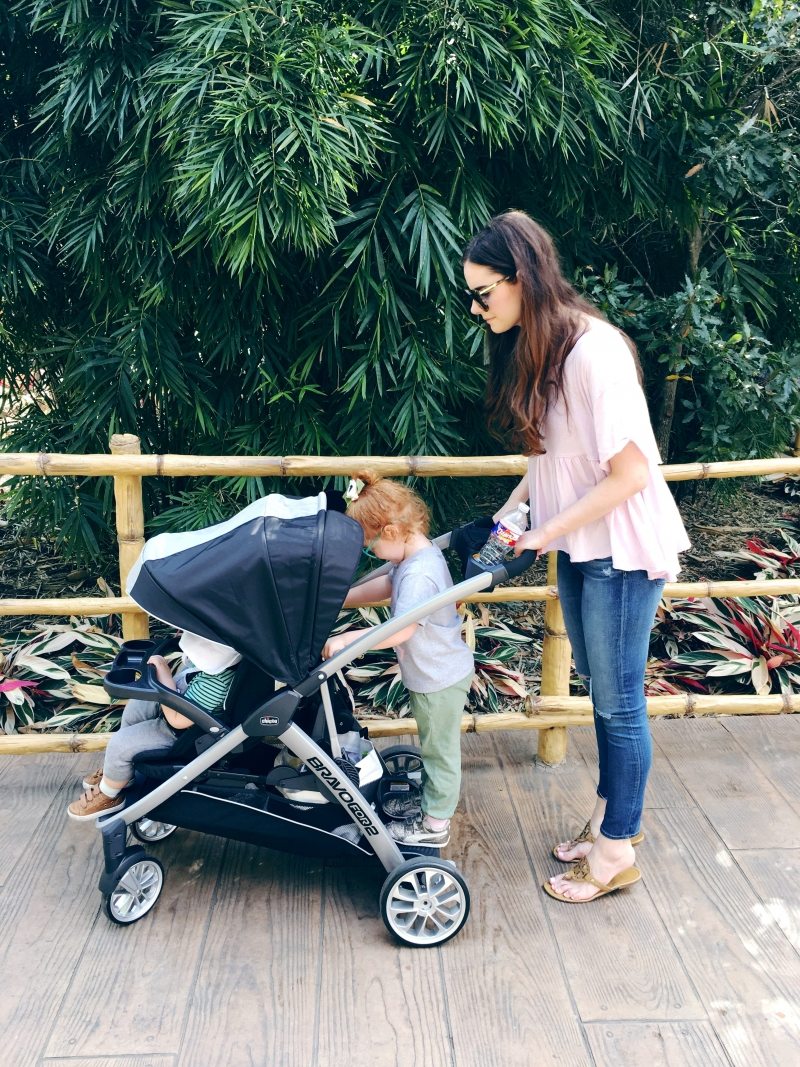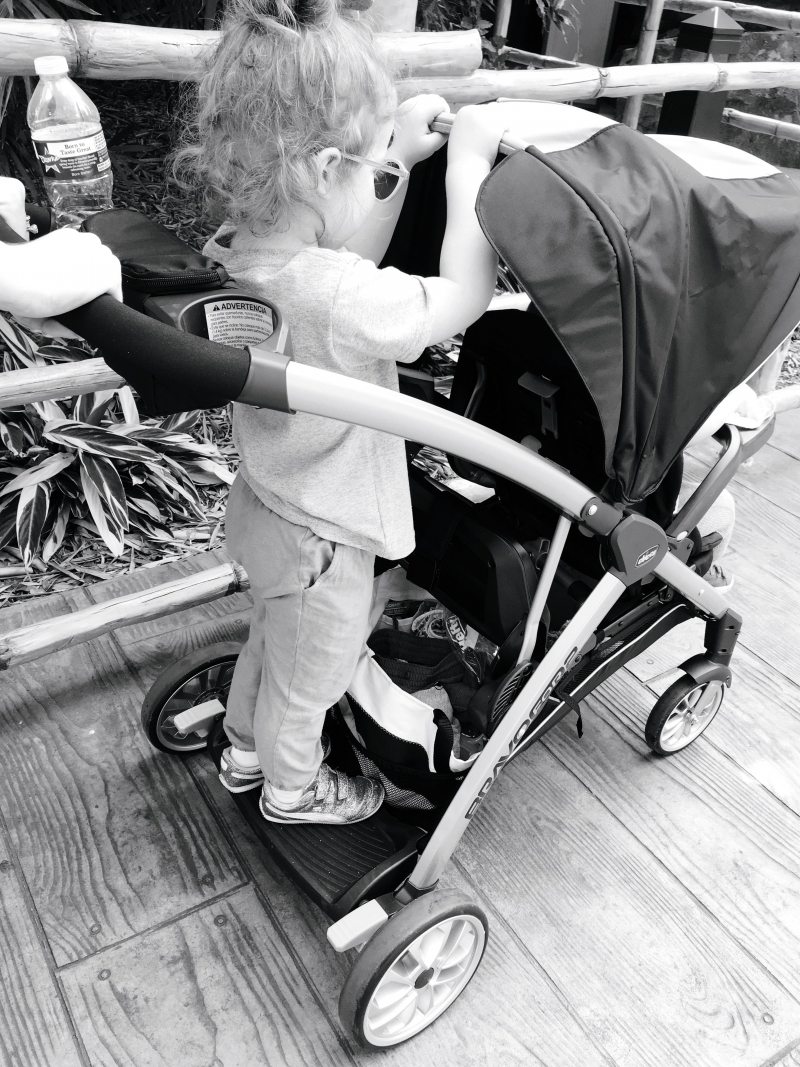 I hope this review was helpful if you're researching strollers that can accommodate babies and toddlers— together!