I like big hair and I cannot lie!
I always say I think I got to the South as soon as I could, because big hair has always been #goals for me and today I'm sharing a new hair tool I'm using plus some of my favorite products to make as much volume as possible happen in this head of hair I call my own.
Briefly, though, let's press the rewind button and talk about postpartum hair loss, thinning and change in hair texture. You can check all three of those for me. Getting my hair to look voluminous has been more of a challenge than ever before since I lost so much after having Lincoln and not only was I losing hair, I started to notice that the hair around my crown and the back of my hair had a ton of rough and wiry hairs that I never had before. What the heck, hormones?! And don't even get me started on the increase in grays. I have to dye my roots every time I color my hair now.
With all of these hair changes, I've been trying to find ways to make my hair more voluminous so today I'm sharing T3's volumizing hot rollers luxe that I got recently at Nordstrom, and how I use them to style my hair. I'm also going to be breaking down the products that help achieve volume and revive second and third day hair (and beyond, if you're lucky) so you can keep the volume around as long as possible. Nordstrom is my go-to for beauty stuff because they literally carry every line I love and shipping is free with no purchase minimums (bonus!)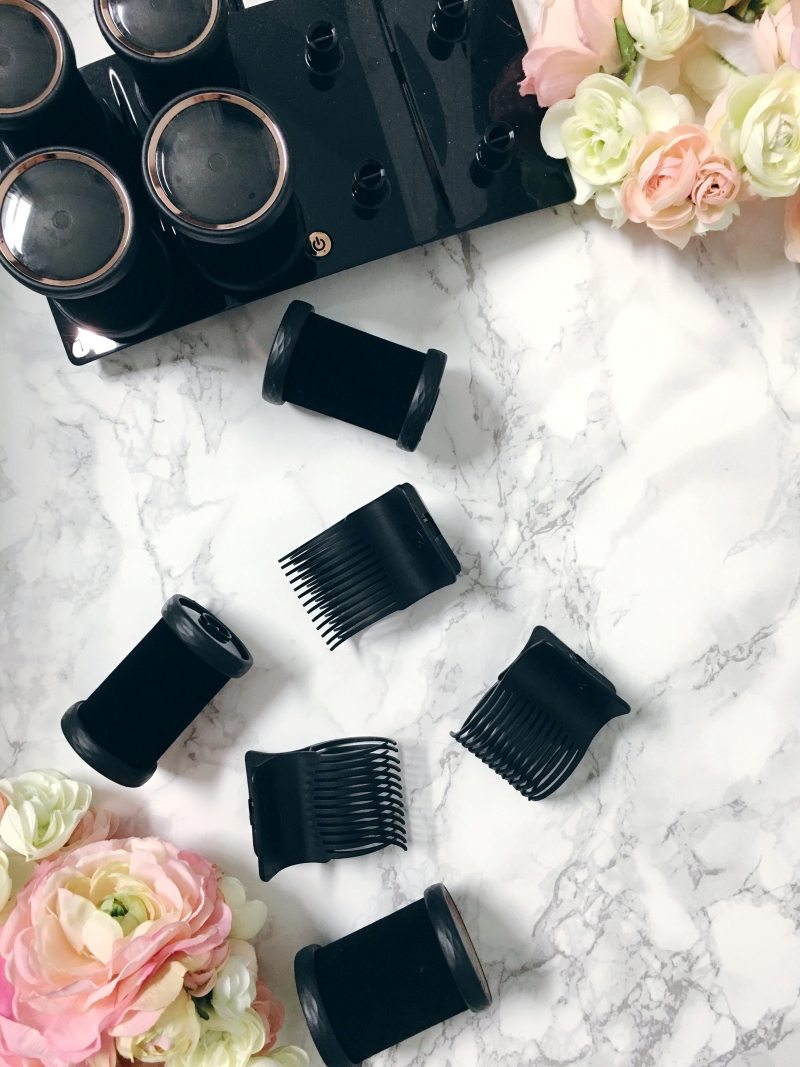 So, let's get to the before shot, shall we. I'm desperately in need of a trim and color right now, but even with that going on, T3's volumizing hot rollers are making things happen with this mane. This is my hair just blowdried, no styling done.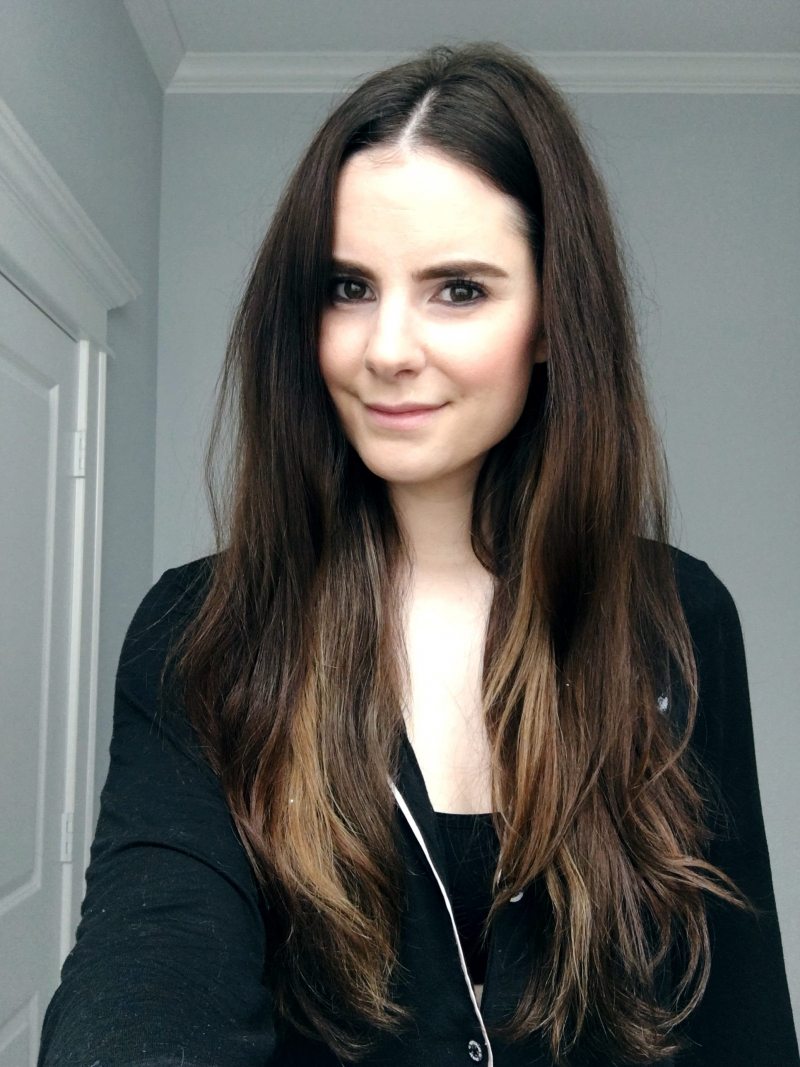 T3's volumizing hot rollers are the sleekest hot rollers ever (see product photo above). The heating tray is so thin and they just pop right on. Definitely not the bulky hot rollers you're used to. They also heat up in a few minutes  (they have indicator lights to let you know they're ready to go) and are coated to protect your hair.
I use all 8 rollers since my hair is long. I use the larger four rollers at the crown and front of my hair and the smaller ones on the sides and back. You can also purchase additional rollers if you'd like but this set is all I need.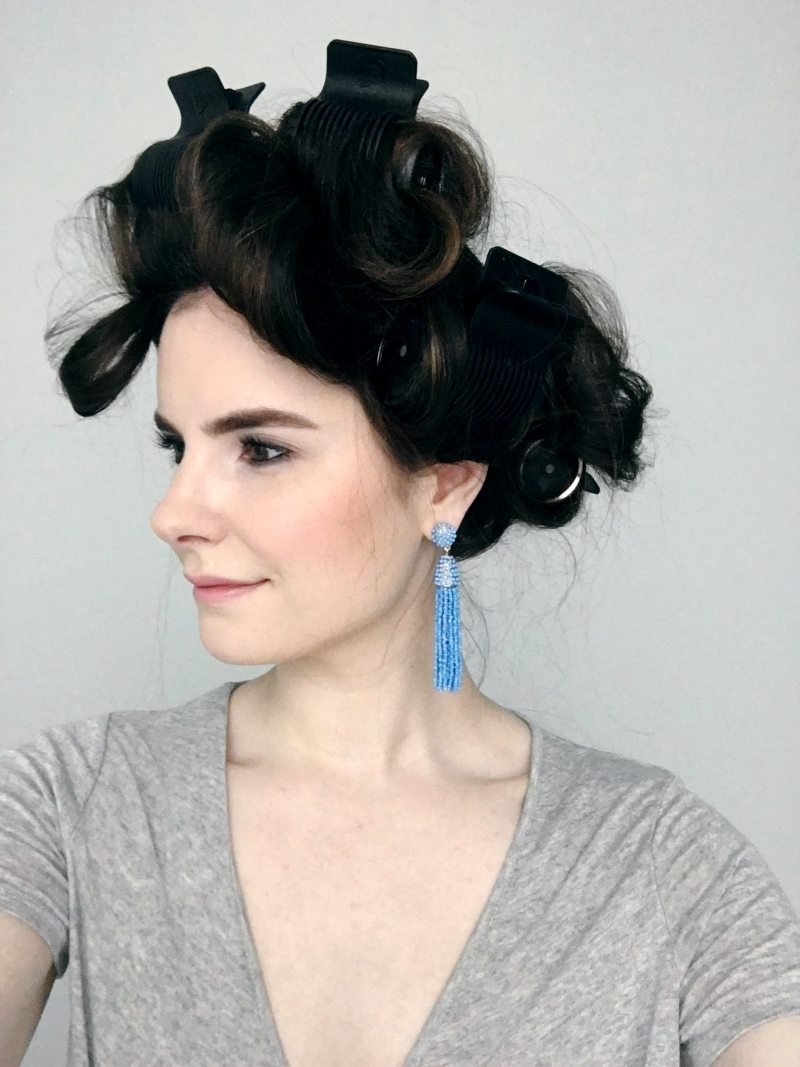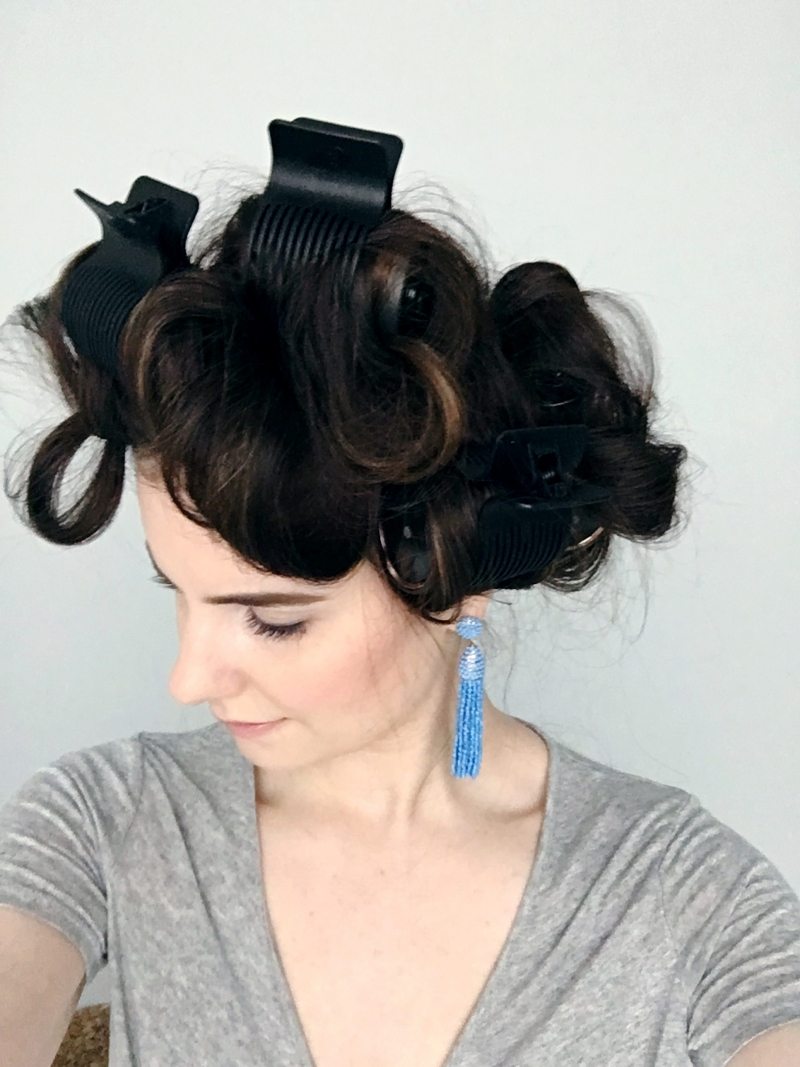 I like to leave these in for about 20 minutes for maximum results, but 10 minutes is totally fine if you're crunched for time. They're SO fast to put in and you can do your makeup as they're setting. I hate spending a ton of time on my hair, so the fact that these heat up nearly instantly and are so simple to roll into your hair is a must.
After some time, I take the rollers out one by one and after that I let my hair "sit" for a few minutes— don't brush it or touch it. Just let it kind of hang out so it sets.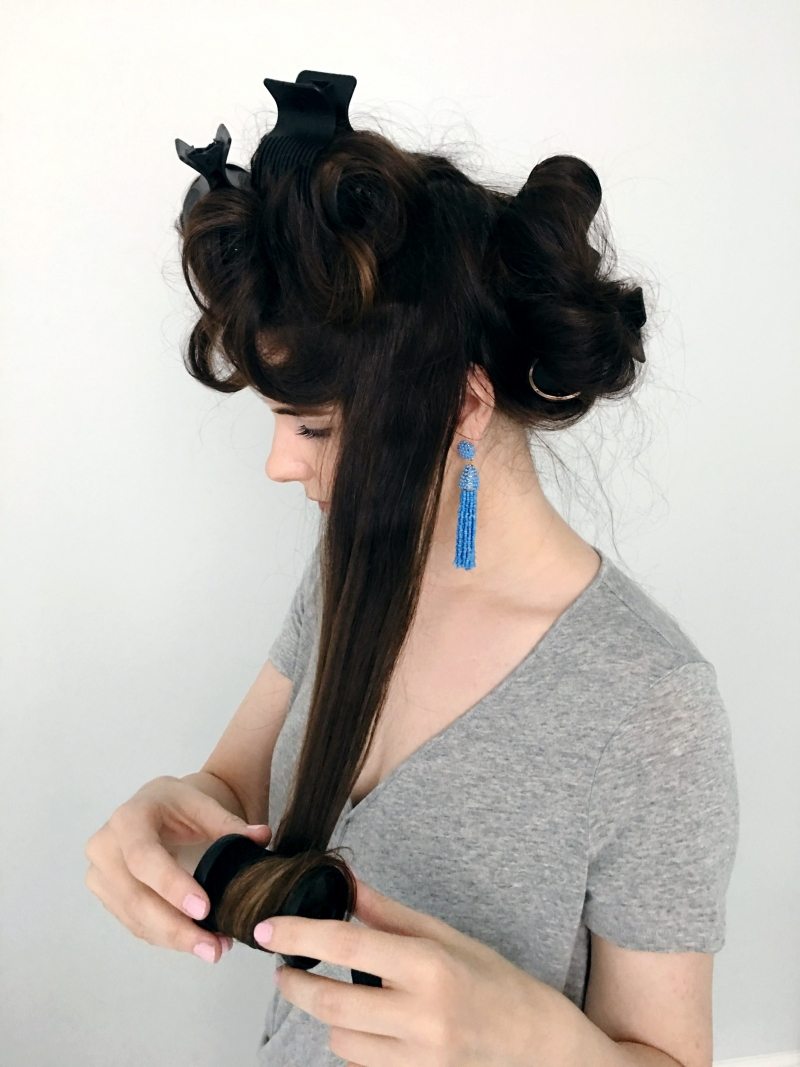 This is the slight wave you'll see as you remove the rollers…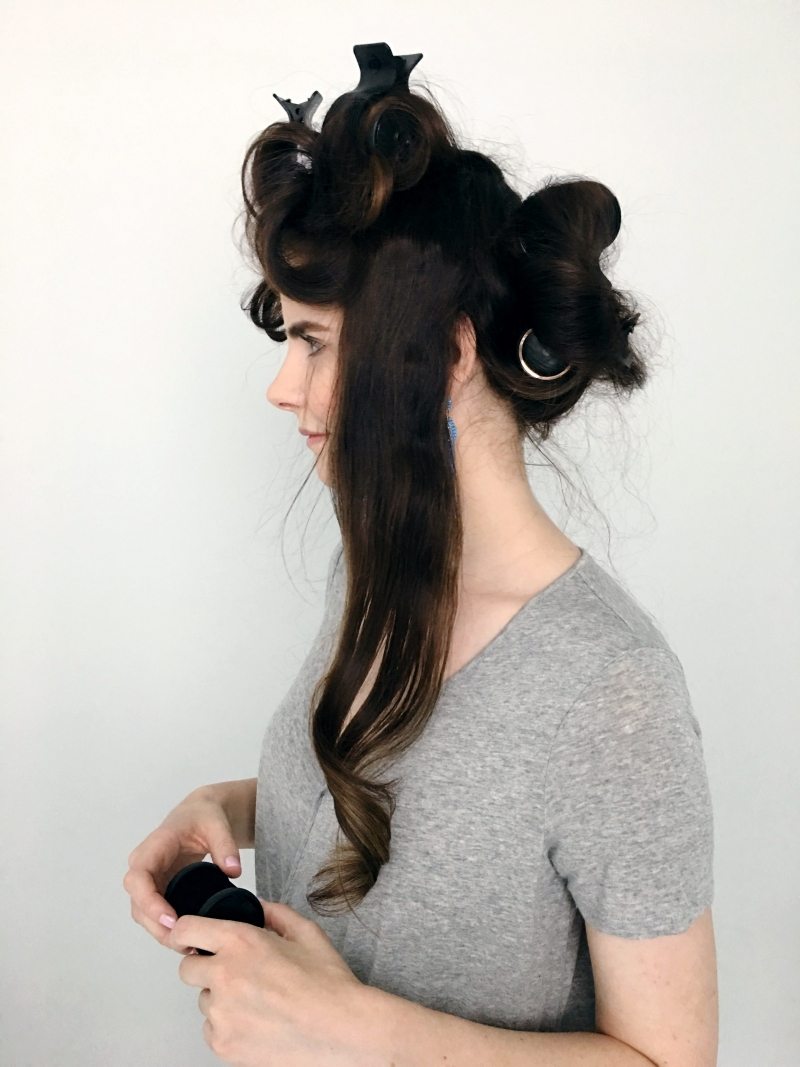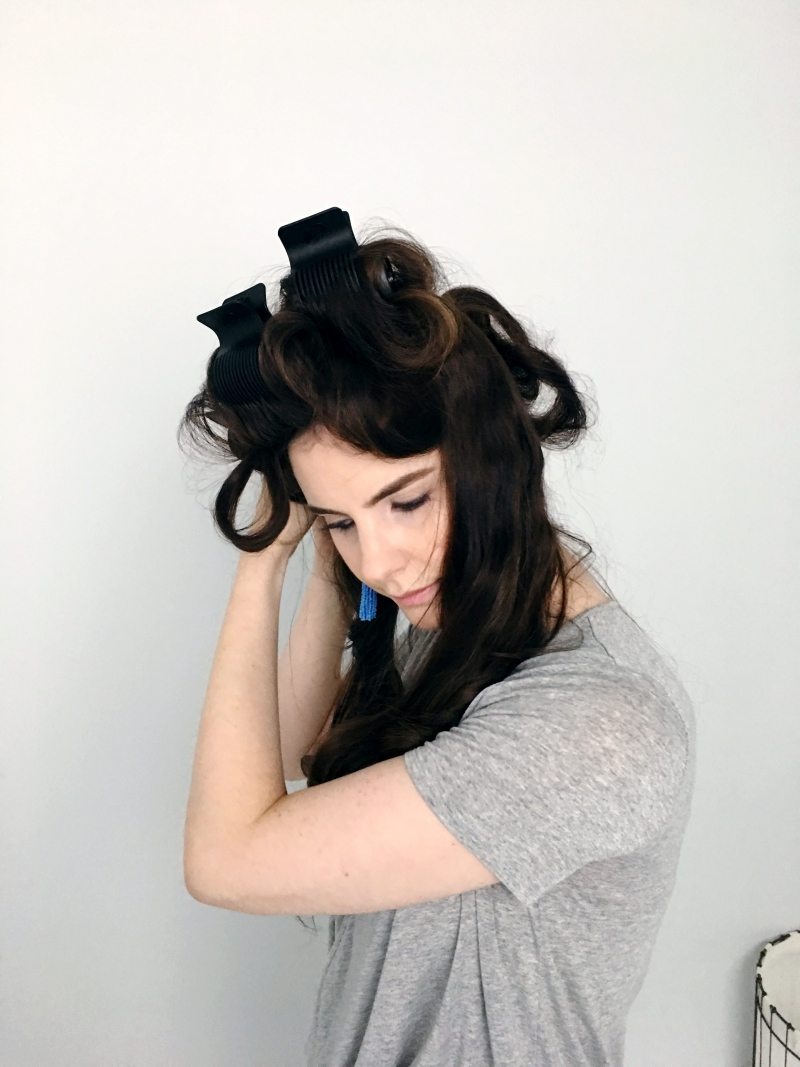 I let my hair "sit" however it naturally falls when I remove the rollers. This is key— you want to make sure your hair is "cooled down" enough so you're locking in the volume and waves you just created.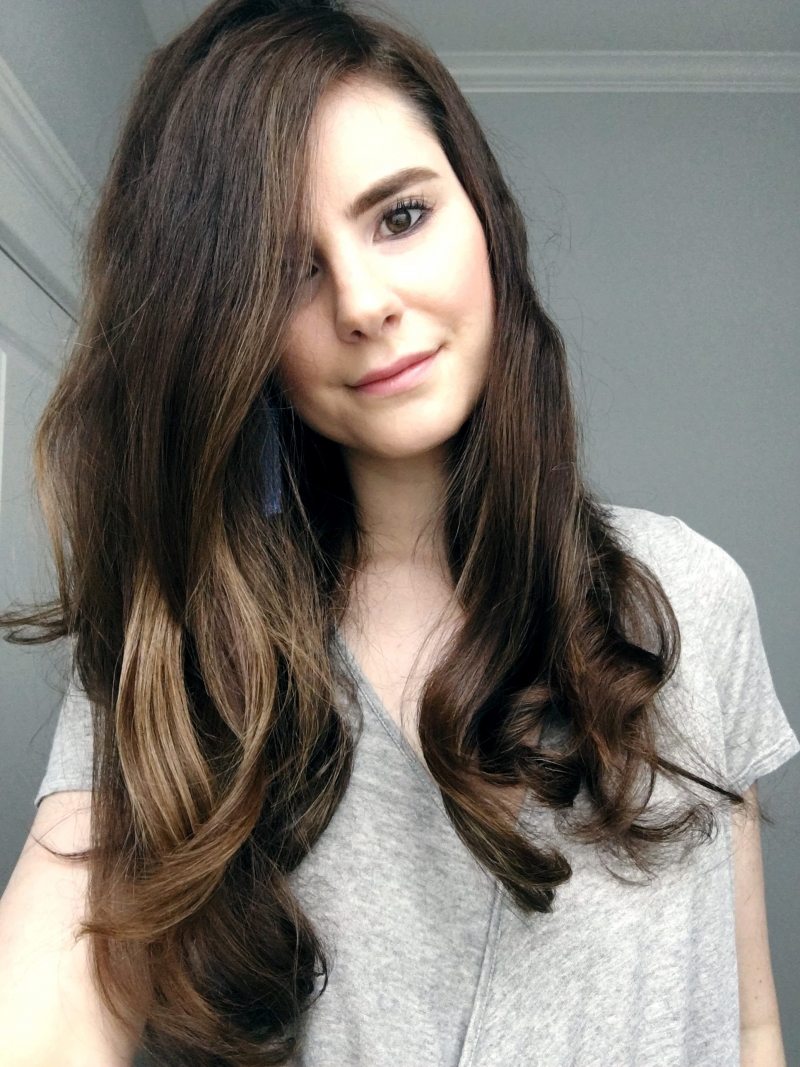 After a few minutes, I part my hair and then adjust it very little from there. I love the slight bend the rollers give the hair.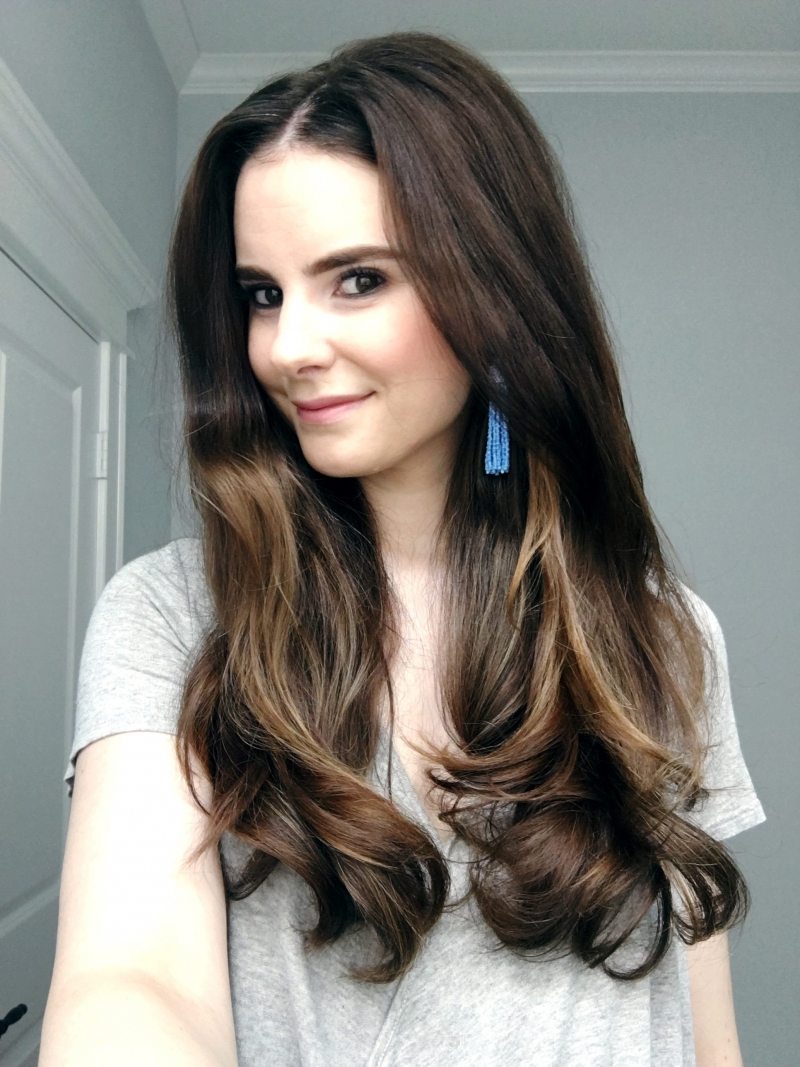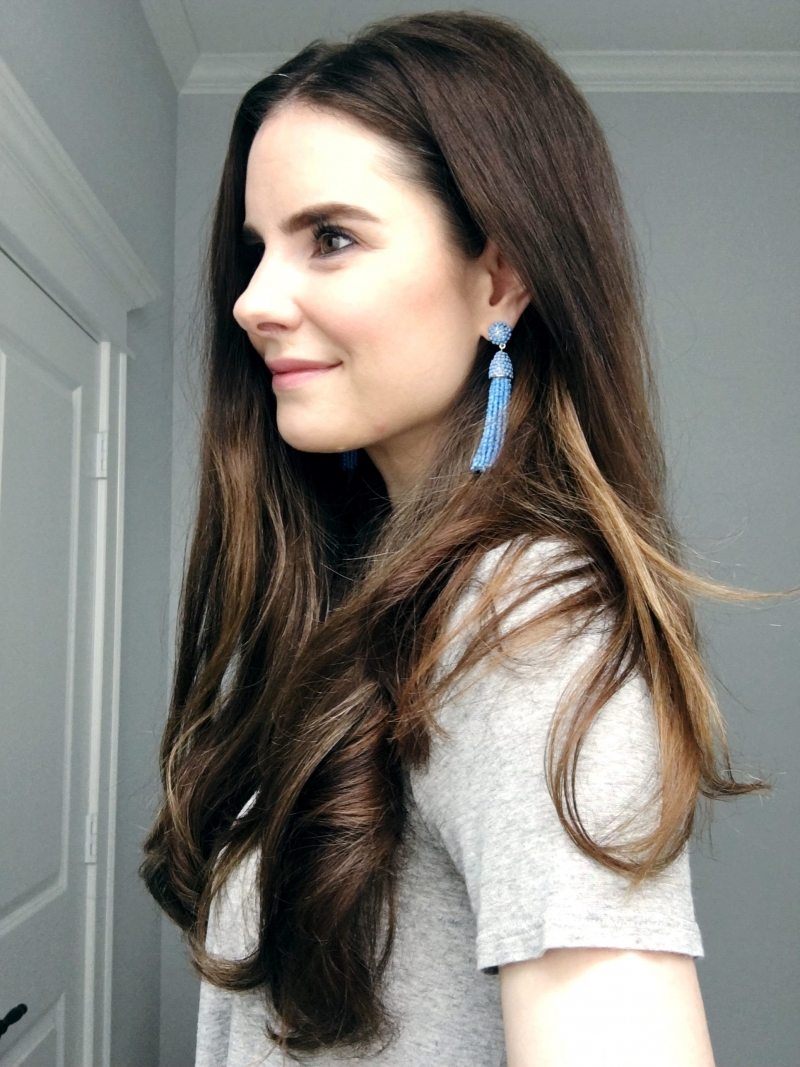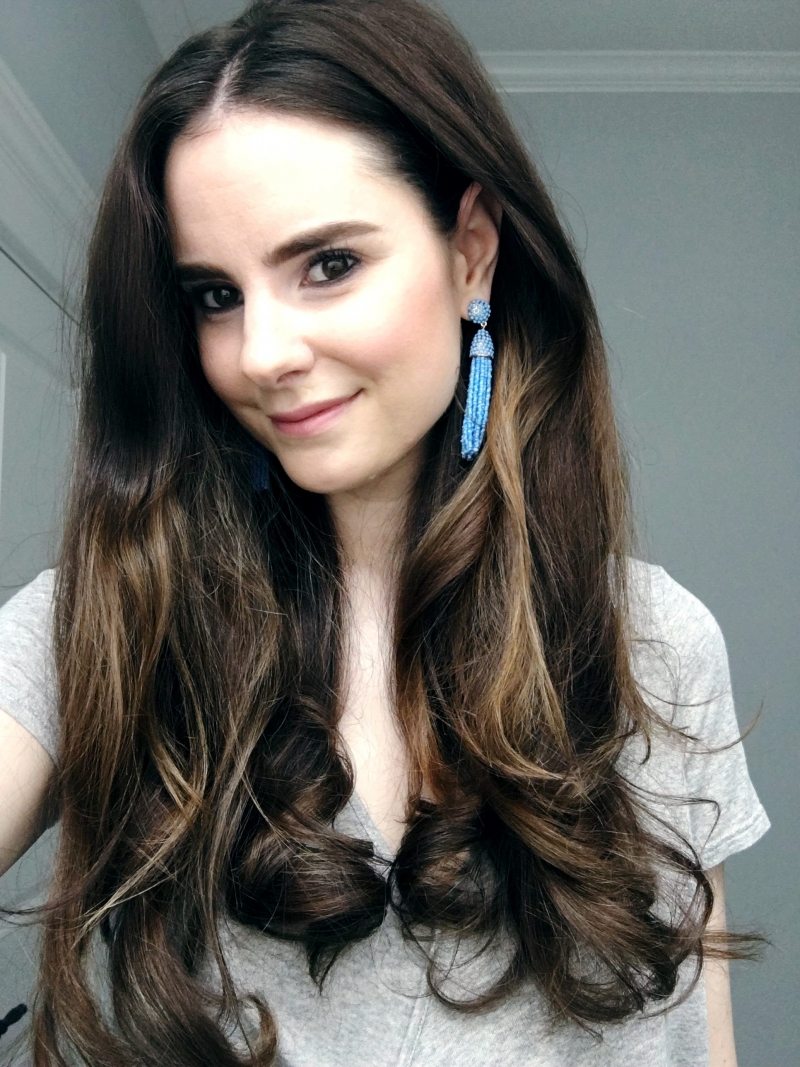 Let's say you wanted a super smooth volume look— you could gently brush the ends of your hair with a brush (not excessively) to get a little bit of a smoother look with less wave at the ends of the hair.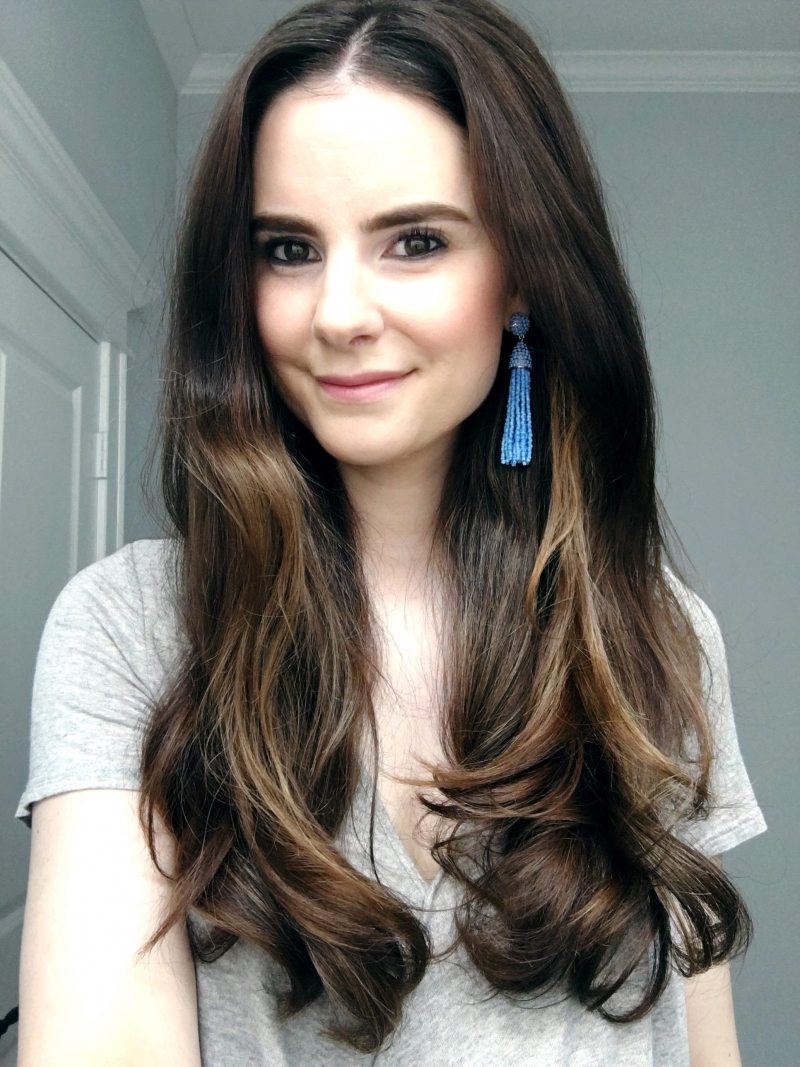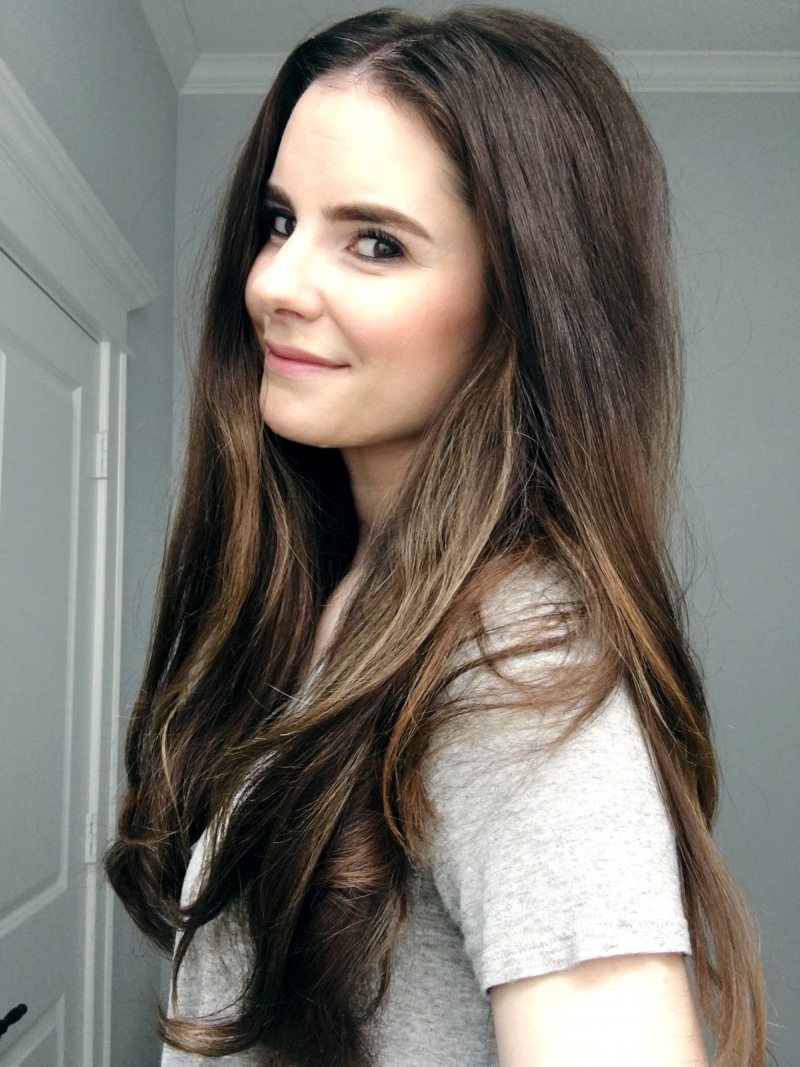 I'm so thrilled with how my hair looks when I use these rollers! It kind of gives me that undone tousled look, much better than my previous routine with Velcro rollers ever did. Let's just say I'm a convert!
Just as important as the tools are the products you use to keep your hair voluminous— and it starts in the shower.
I generally rotate between a few different shampoos and conditioners, but among my favorites are Living Proof's Perfect Hair Day (shampoo and conditioner) line and Alterna's Caviar Instant Recovery shampoo. I find that they really clean my hair without leaving anything behind that will weigh it down later on (no thank you!) Starting with fresh, clean hair is essential and provides the best foundation for your hairstyle.
Also key in my hair washing routine is my Aquis hair towel. It is the ONLY hair towel I use now because it works so well to get the excess moisture out of your hair while being gentle. The more water I can get out of my hair from the get-go, the drier it is when I wake up in the morning and the less time I have to spend using my hairdryer to get the rest of the moisture out in the morning. By the way— I'm still using and loving T3's featherweight luxe 2i hairdryer. I swear it dries hair faster. So far, I've been impressed by every tool I've tried from this brand and am planning to get their curling iron next.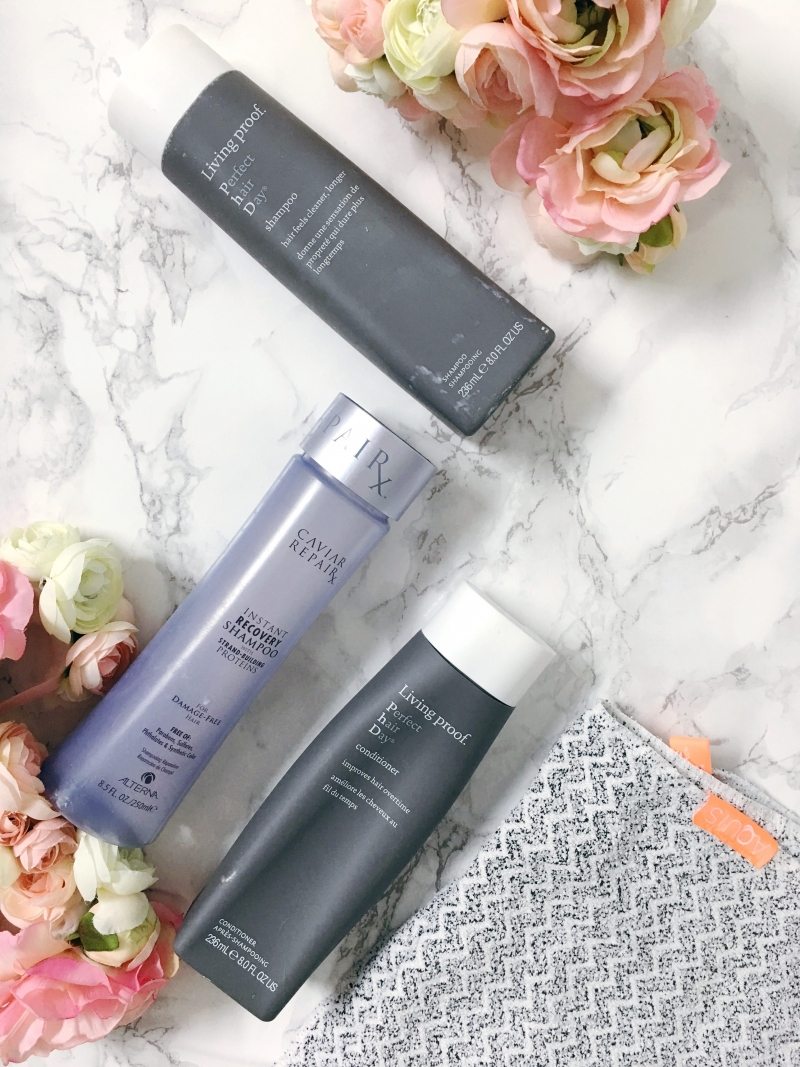 Now onto styling products— these are really the "key ingredients" to making the most of your styling efforts. Here's the order I use them in:
Living Proof Perfect hair Day 5 in 1 styling treatment
This styling treatment basically combines all of Living Proof's best products into one product, and it's worth every penny. I apply this from the nape of my neck down to the ends of my hair. It helps smooth the hair, mend split ends, strengthens and polishes hair.
Living Proof Nourishing Oil
This bottle will last you a very long time and what's inside of it is, in a word, magical. Have you ever wanted to add smoothness and polish to your hair but hate products that just weigh it down, make it feel greasy or clump your hair together? This, my friends, is the answer. It adds polish and smoothness to your hair without any evidence that you applied it. Like, at all.
I don't know how this is possible but it works. I always use it on second (and third and fourth) day hair. The key is to apply it from the nape of your neck down to the ends of your hair— but focusing mostly on the ends. It revives your ends and makes them look less raggety and dry (especially if you're due for a trim like yours truly). I cannot rave more about this oil!
Living Proof Perfect Hair Day dry shampoo
I've talked about this dry shampoo many times before, but it's worth mentioning again that this is my holy grail dry shampoo because it actually cleans your hair. Ladies, now that I'm working out, I do "glisten" a little (and sometimes a lot) and though I'm lucky not to have a ton of sweating from my scalp, thus saving my hairstyle, I love the way this dry shampoo refreshes my hair and makes it actually look and feel clean.
My favorite way to use this post-workout is to use my hairdryer on the cool setting, blast my roots for 30-60 seconds and then spray this on and massage it into my roots. It instantly makes your hair look and feel cleaner and you can style it as desired.
Living Proof Full Dry Volume Blast
This product is like Southern hair in a bottle. It's formulated with patent-pending, expendable, textured aero-spheres called ETAS, which deliver big volume and texture on your hair without weighing it down (yes, I stole this from the website, because, science). Basically if gives your hair volume and texture without making it stiff or untouchable. The key to using this is shaking the can before spraying— it activates the ingredients and ensures you'll get the results you desire. Now that I'm dealing with hair loss and thinning, I am loving a product that helps plump up my hair, especially at the roots where the volume loss is most noticeable.
Dry Bar Triple Sec
This volumizing spray is similar to the dry volume blast, but I recommend this for anyone who teases their hair at the roots. It's really a great option for those who backcomb their hair a bit and helps to make that lift last, again, without being crunchy. Nobody wants crunchy hair.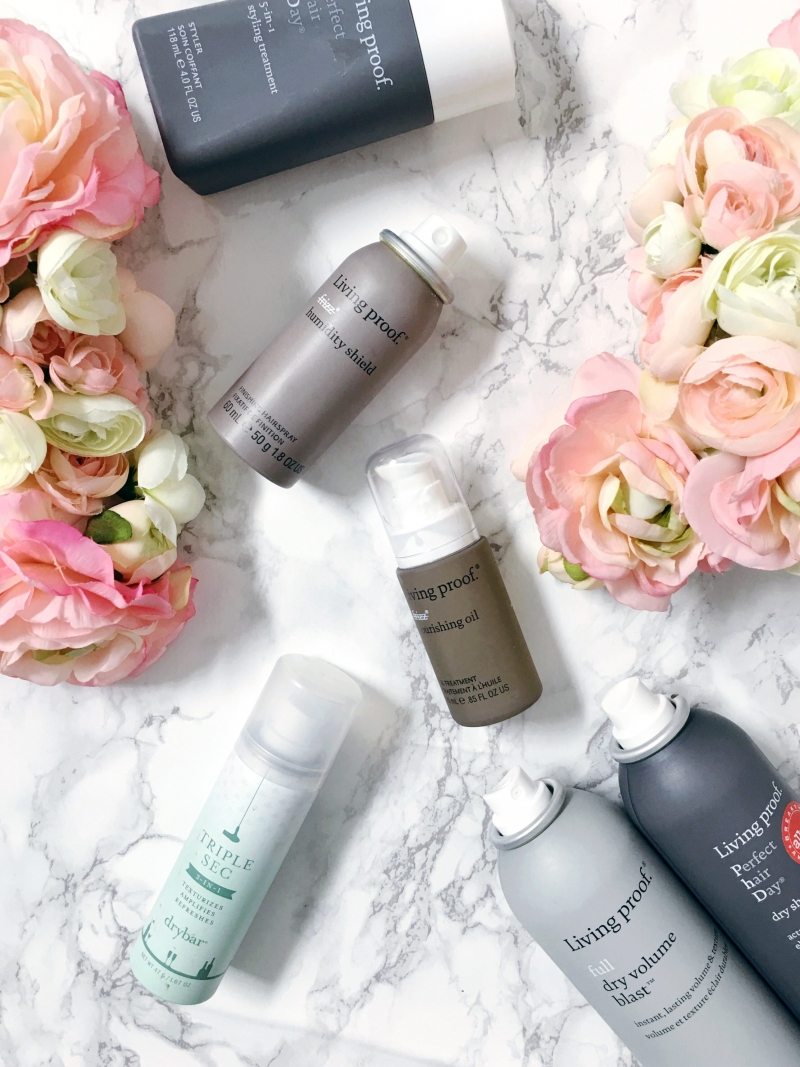 I hope this post helps you find products that will create and keep volume in your hair! I feel like with Spring just around the corner, soft, loose, romantic waves are just what the season ordered! I also love how the rollers make hair look more polished— add them to straight hair to create a little texture, movement and bend— it just takes it to that next level!
SHOP THE POST


This post is in collaboration with Nordstrom, a brand I love. I select every product I feature myself, and I only share products I truly love and use.