When I was thinking about writing a Spring beauty post, I thought about what most evokes Spring to me when I think about makeup — and those things were fresh and glowing skin, pink and brightness.
With these things in mind, I'm sharing the products I'm loving for spring — including skin care products that I ordered from Nordstrom. With free shipping, free returns, all of my favorite brands in one place and price matching, there's nowhere I enjoy shopping for my beauty essentials more!
Right now, Nordstrom is having their Spring beauty event and a ton of items (many that are mentioned in this post) are 15% off which almost never happens, so now's the time to stock up!
Some of these are tried-and-true favorites and some are new to my beauty routine — but I promise you'll love all of these, so let's get started.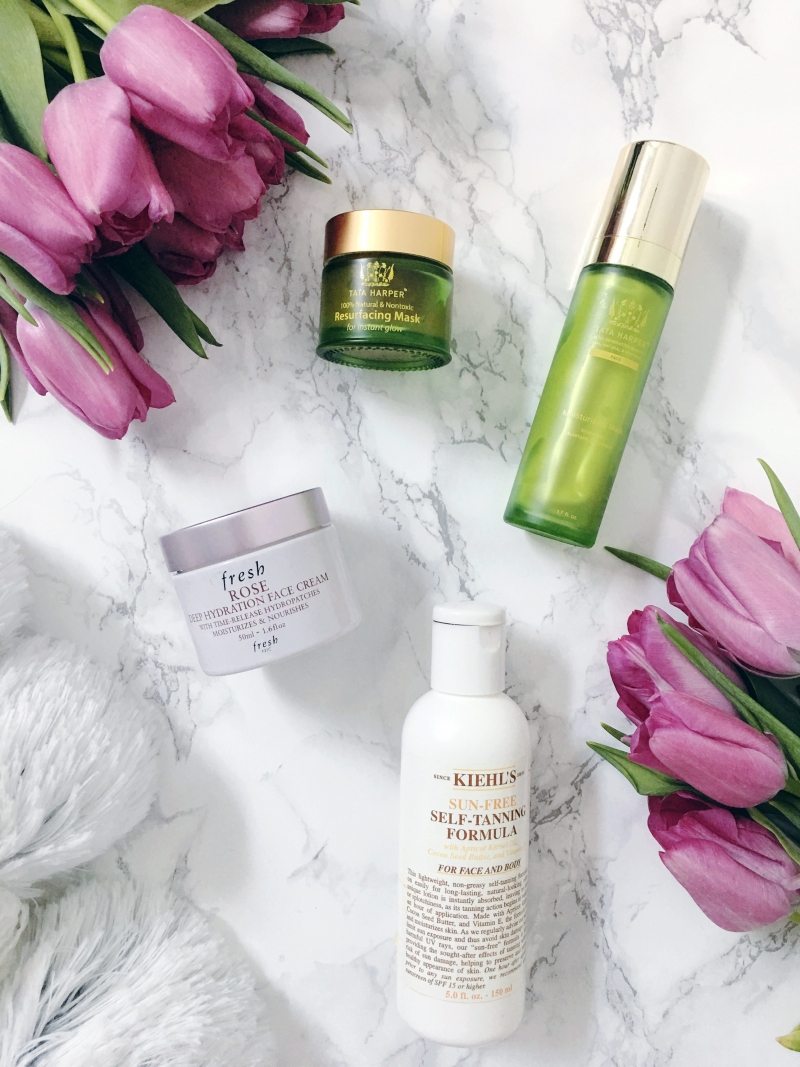 tata harper resurfacing mask  |  tata harper moisturizing mask  |  fresh rose deep hydration face cream |  kiehl's self tanner 
The first place I want to start is with skin care. I truly feel like if you take care of your skin, everything looks better, your makeup included! A new-to-me brand that I'm obsessed with is Tata Harper. Their products are 100% natural, nontoxic and made in the USA. Y'all often see me "masking" on Instastories/Snapchat and Tata Harper's resurfacing mask and moisturizing mask are masks so good, you'll see results after your first application. I'm totally obsessed with masks these days and look forward to every masking session (I try to mask at least three days per week!)
The resurfacing mask is what I like to describe as a "baby peel/glow in a jar." It doesn't leave your skin red like a chemical peel can, but its beta-hydroxy acids work their magic to get rid of dull skin and give you a noticeable glow. I apply a thin, even layer to my entire face and leave it on for 30 minutes while I fold laundry and pick up the house. Totally love this mask and the results it delivers. I've never had a chemical peel but I don't need one — this mask really enhances the results of my anti-ageing products by giving skin that coveted "from within" glow.
Similarly, their moisturizing mask is amazing. Though it's a splurge, a little goes a long way and it's an overnight mask, which means it's working to provide deep moisture and plumpness to your skin as you sleep (making fine lines look less visible!). It won an Allure beauty award and the reviews are incredible. I'm loving that more brands are starting to create overnight/sleep treatments — it's nice to do something extra for your skin while catching some z's.
I've mentioned before that I adore rose-scented products so Fresh's rose deep hydration face cream pretty much had me at hello. As many of you know, I'm using retinol in my skin care routine now, so moisturizing is even more important than usual. The rose scent isn't overpowering and this face cream smooths the skin and delivers a perfect level of moisture (I have combination skin). One tub of this cream will last you a very long time!
Lastly, self-tanner is a great product to incorporate into your routine come Spring and Summer. To be honest, I was totally embracing pale skin all fall and winter because I just couldn't be bothered when I was so covered up, but now that bare arms and legs will be more on display, I'm excited to start using my longtime favorite self-tanner (I've used it for years), kiehl's self tanner. What I love most about this self-tanner is that it is a white lotion (no bronzer) and the consistency makes it super-easy to apply since the lotion is more watery than creamy/thick. It also gives you beautiful, even, natural color and doesn't smell awful like many self tanners do. I use it on my body and my face and it never causes any clogged pores or other issues. Plus, it costs just a little over $20 which is a total steal, especially for the amount of product you get.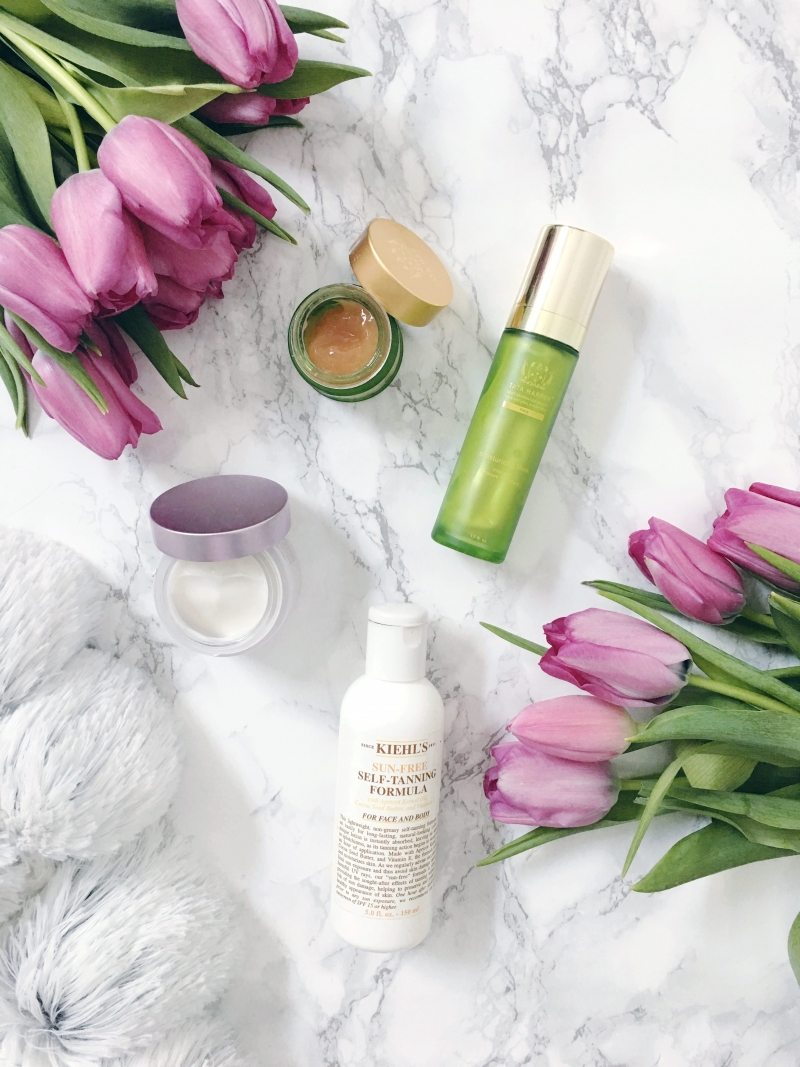 Next up are my favorite makeup products for Spring…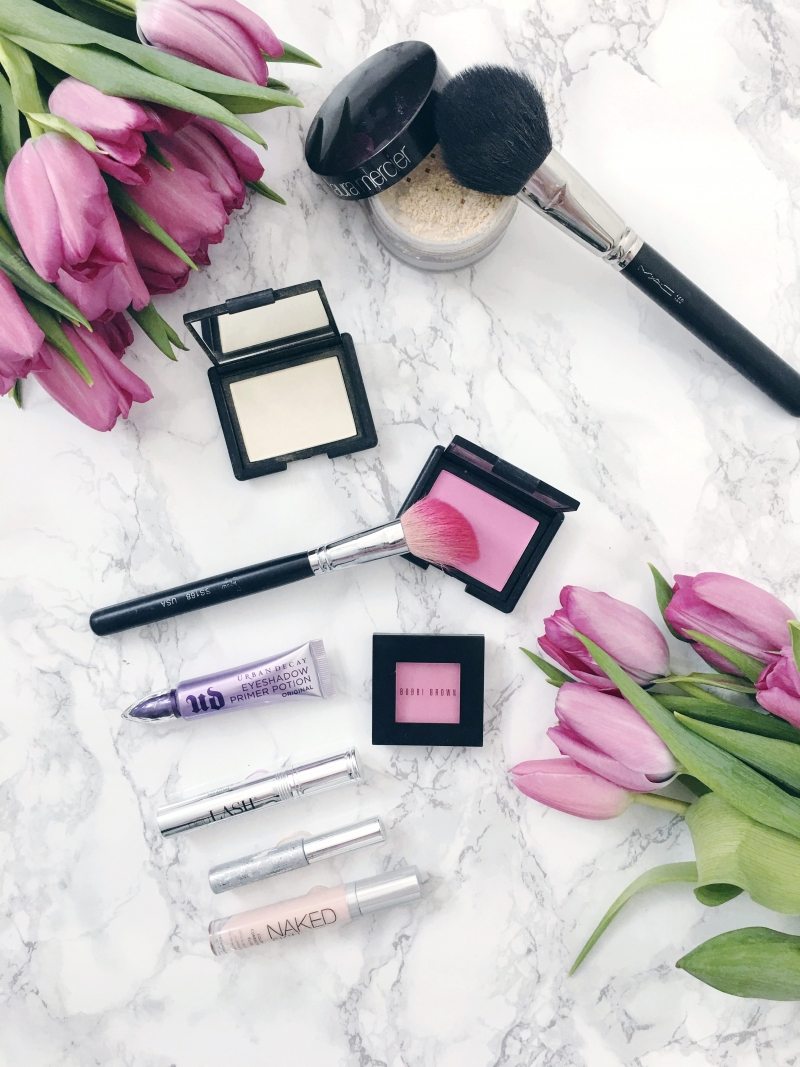 laura mercier transluscent setting powder  |  MAC 150 powder brush  |  NARS albatross highlighter  |  NARS gaiety blush  |  Sigma blush brush  |  bobbi brown peony blush  |  urban decay primer potion  |  neulash   |  clinique bottom lash mascara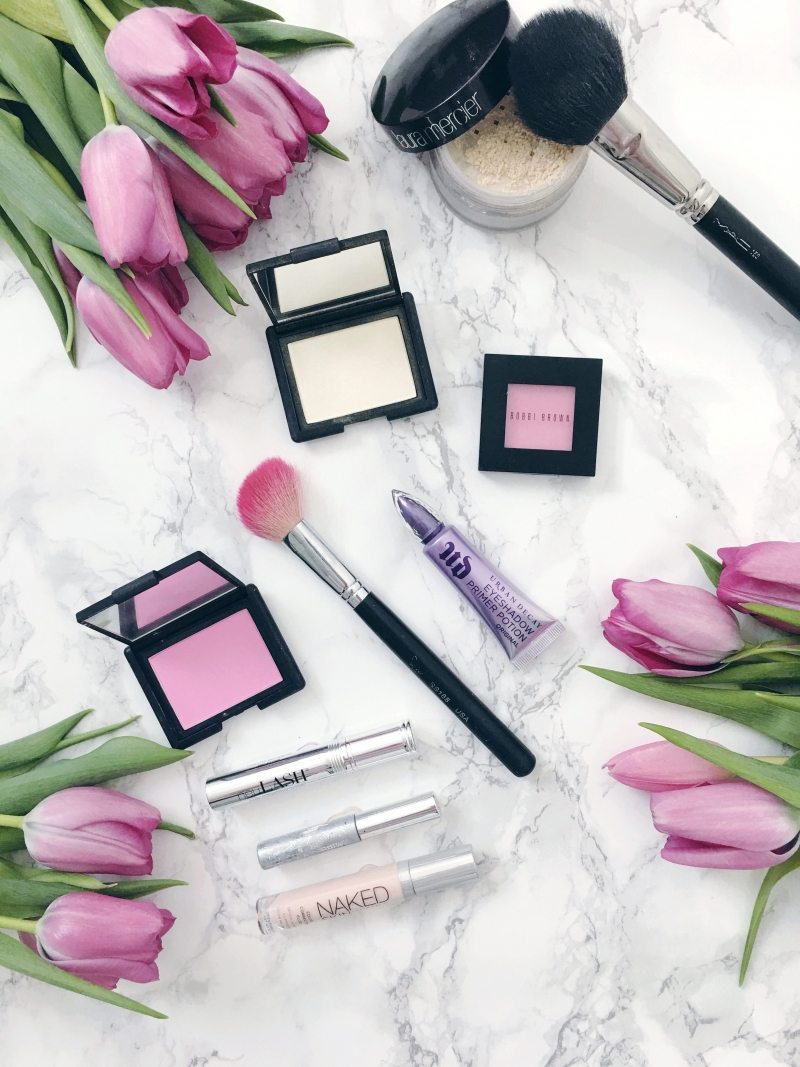 The first is laura mercier's transluscent loos setting powder (applied using MAC's 150 powder brush). If you use liquid foundation (or even just concealer) you should use a setting powder. If you weren't before, the warmer temperatures are a great time to add this to your routine because it will help keep your skin shine-free and prevent makeup meltdown— you want your skin to glow from within, but not with excess oil! I've tried so many setting powders and this one is the best. It also lasts way longer than any other loose or pressed powders I've used as it comes in a generous sized container.
I never use highlighter in fall and winter, but come Springtime, I can't resist swiping some highlighter on my cheekbones to really bring out my blush. My longtime favorite is NARS' albatross highlighter — no glitter, just subtle shimmer that makes cheekbones pop.
Speaking of blush, pink cheeks are a must for Spring, and my holy grail, love-it-till'-the-day-I -die blush is bobbi brown's peony blush, but NARS' gaiety blush comes in as a close second. The color is buildable and it's a great bright baby pink. I've been using Sigma's blush brush for many years now and it's fantastic — just the right shape for the apples of your cheeks.
Warmer temperatures are also a good time to consider using an eyeshadow primer if you don't already. My holy grail is urban decay's primer potion (the original formula). The weird thing about eyeshadow primer is that it's not just for women who wear eyeshadow. I don't, but I still use primer for one important reason — it neutralizes your eyelid area (no need for foundation or concealer) and also keeps your lids oil-free and matte, all day long. It's seriously something that never gets removed from my routine.
Speaking of eyes, I really wanted long lashes again and neulash helped me grow my lashes out after my lash extension disaster. I've used some other lash serums since then, but neulash is a blogger favorite and I know why — it works. It takes about 8 weeks to really start seeing results, but it really transforms your lashes. I know everyone is really into lash extensions right now, but trust me, growing out your own (with a little help from a serum) is so much better in the long run!  I have been so thrilled with my lashes — pictures don't even do them justice — in person the difference is so noticeable — I've even gotten a ton of compliments on them lately.
I feel like I've talked about my favorite mascaras a ton on the blog, but one that doesn't get the credit it deserves is clinique's bottom lash mascara, which I've been using for several years. It's $10, lasts a long time and is the perfect size to enhance your bottom lashes, too. I find regular mascara bushes are difficult to maneuver on bottom lashes and this tiny brush applies just the right amount of product.
Lastly, for the eyes, I think a bright under eye area is so key to make your entire face look rested. I started using urban decay's naked skin color correcting fluid (make sure you get the color pink) a couple of months ago and I LOVE it. It allows me to "wake up" my under eye area — the light pink color adds a bright cast to the skin and really makes a big impact on your final look. I just dab a little under each eye using the applicator, and then I blend it out with a stippling brush. Don't be afraid to go almost to your cheeks — some women even do an inverted triangle to really create an uplifted illusion in the eye area.
I couldn't end a Spring beauty post without talking about lips — from lipstick to gloss — I've got you covered with perfect pink and nude shades.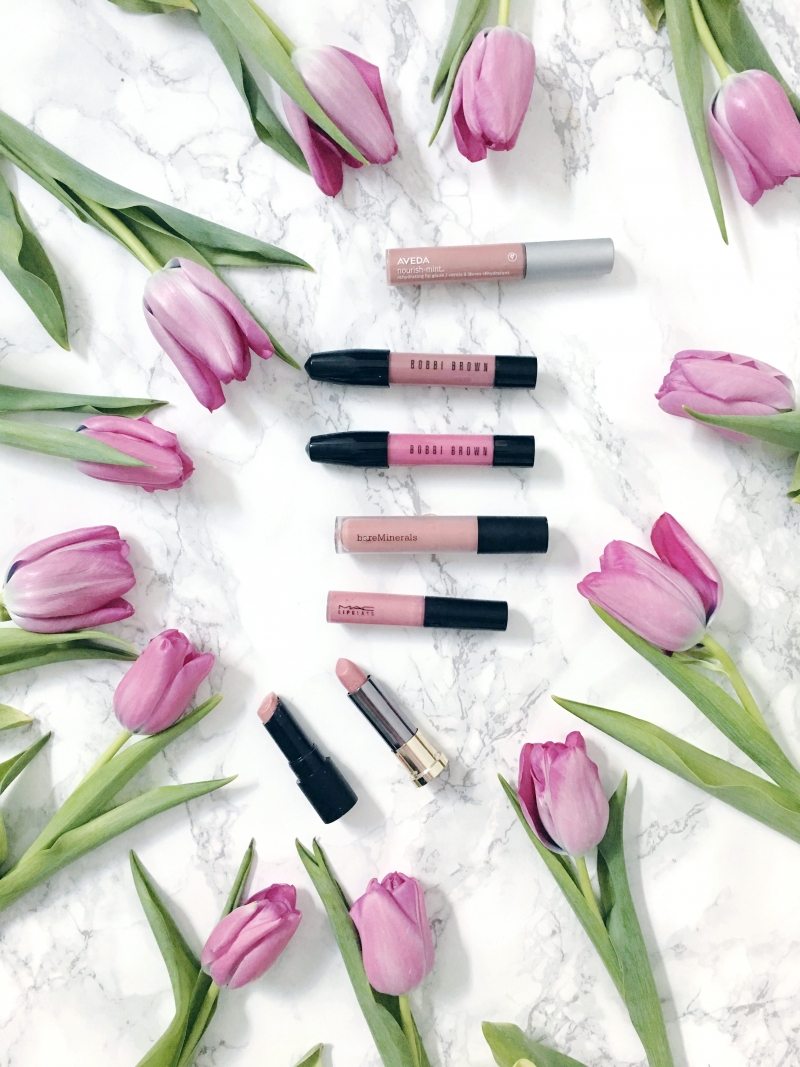 bobbi brown art stick liquid lip (azelea and naked pink)  |  bareminerals gen nude radiant lipstick (tutu)  |  bareminerals gen nude matte liquid lip color (infamous)  |  MAC lipglass (oyster)  |  urban decay vice lipstick (naked) 
Above are the colors I rotate through. My most-worn color is the bareminerals gen nude radiant lipstick in the color tutu. It just makes lips look so healthy and the shade of pink is neutral without being nude so it's a great everyday choice. If you could only buy one, that's the one I recommend most since it's so universal.  Oh, and 99 percent of the time, I first apply my holy grail Dior rose blam to my lips before applying anything else. FYI it's on sale right now, so scoop one up because it's addictive.
Here is the bareminerals gen nude radiant lipstick in tutu on my lips: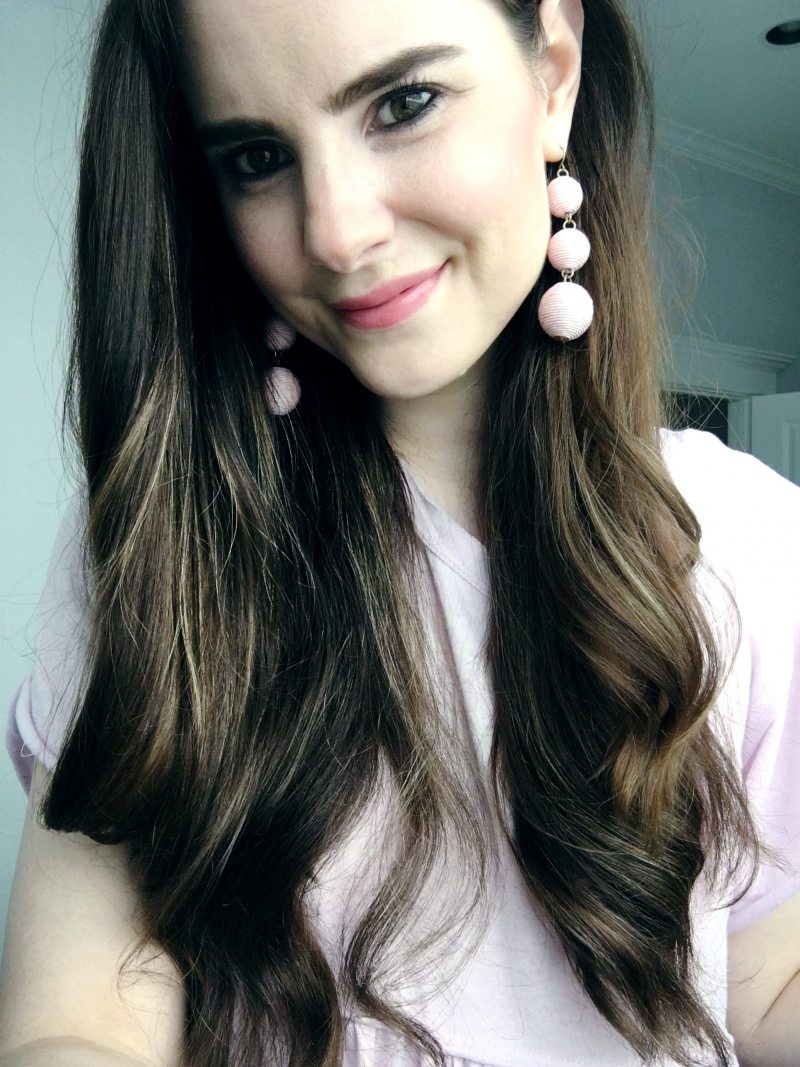 earrings  |  top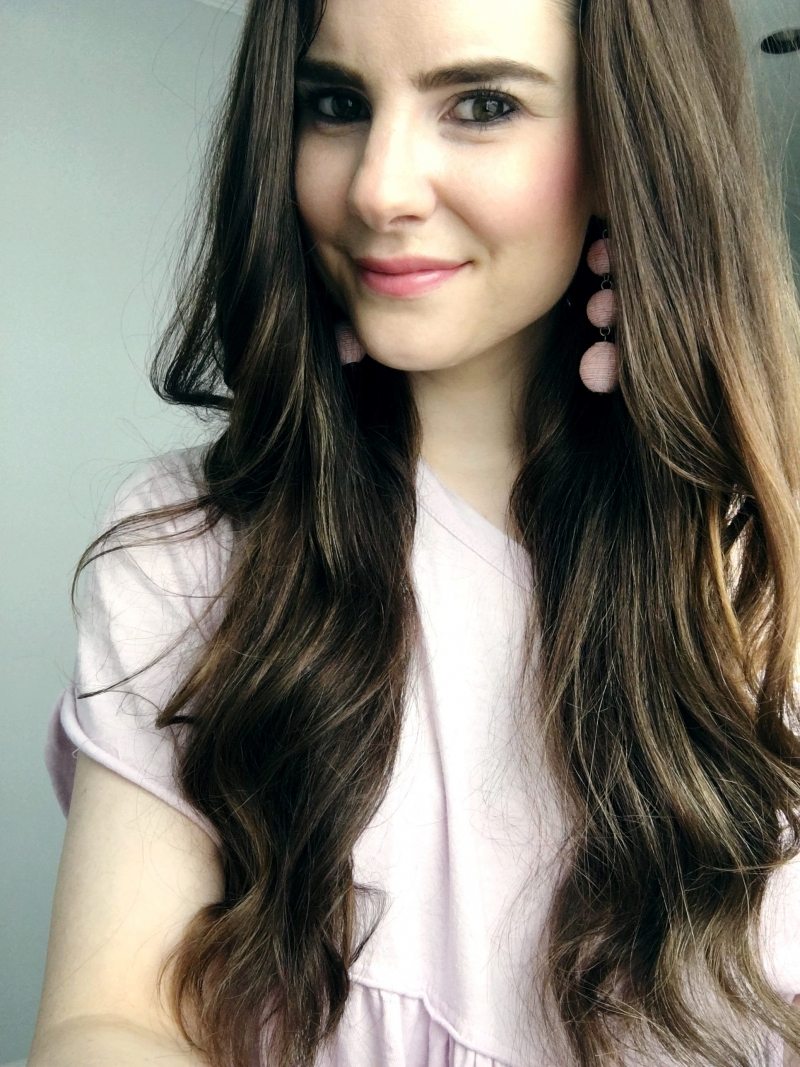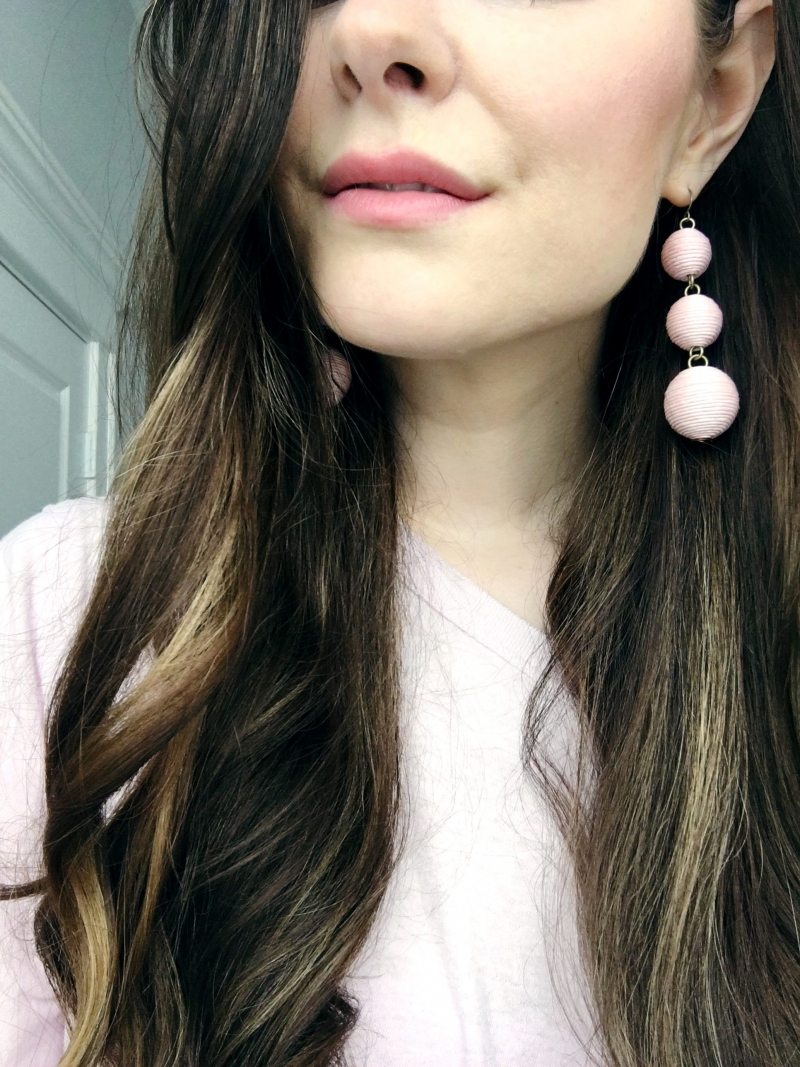 I also started to test out bobbi brown's art stick liquid lipsticks and OMG the formula is amazing. It's a super (super) pigmented lipstick, but it applies creamy and smooth. I love this because I like to adjust the color intensity by using my finger to distribute the color. Here's one of my favorites on: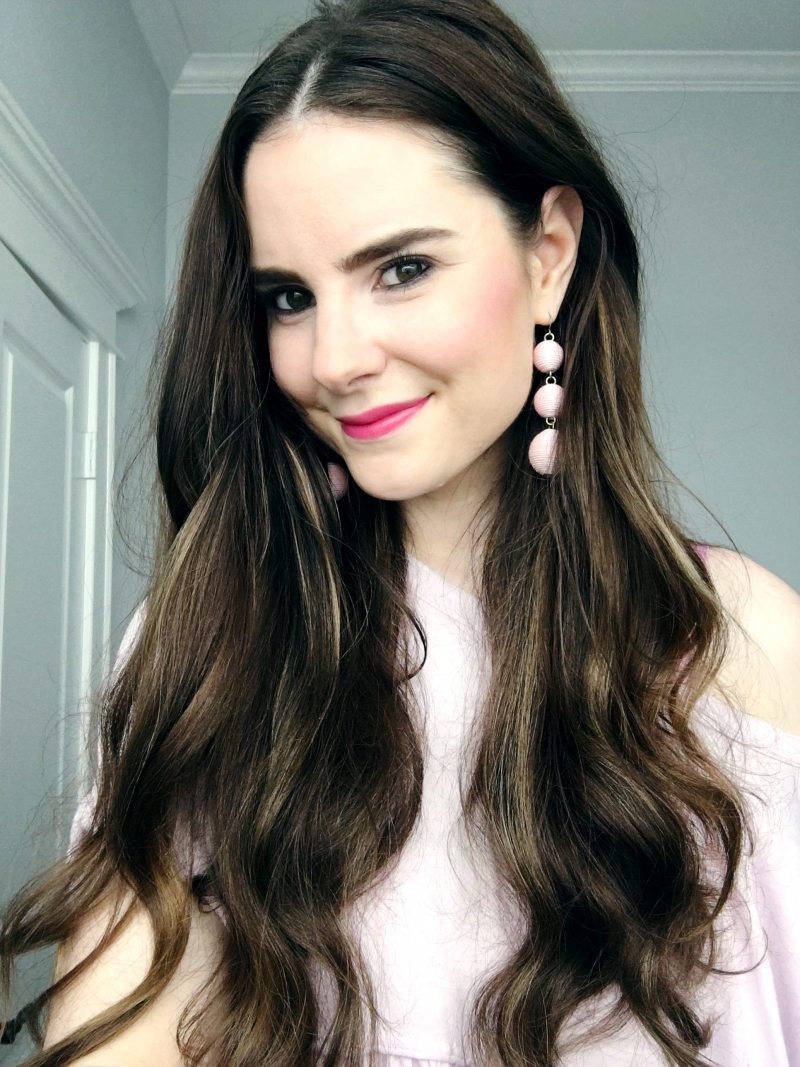 It's super bright and bold — but this line has a lot of neutral colors too like the one I shared above. There's something for everyone!
I hope y'all enjoyed this post — I would love to hear your favorites too — especially if you have a mask recommendation!
S H O P  T H E  P O S T


FTC disclaimer: This post is in partnership with Nordstrom, my favorite place to shop! All products mentioned are products I use and love.