O N E
I have to start this week's Friday Five with a gracious thank you for all of your comments and direct messages/emails in response to my "20 things you didn't know about me" post. Wow! I was overwhelmed with all of the support and kind messages that came as a result of that post. It also made me realize that I need to spend the creating more content like that to share on my blog. Of course style posts are my favorite, but personal ones are a close second. It's always a little nerve-racking to put yourself out there, but at the same time, I feel like without sharing some of myself, my blog isn't as dynamic or relatable. The bloggers I connect to most are the ones where I know bits and pieces of their story. It's the women willing to share both their triumphs and struggles who I feel closest to, even if we've never met. There is value in shared experiences and there is an opportunity to display empathy when we read someone's story we can't personally relate to— but it can still affect our perceptions and worldviews.
Speaking of sharing more personal posts- May is Maternal Mental Health awareness month, and I'm finally ready to hit publish on my post about dealing with postpartum anxiety. It will take you through the entire journey, talk about my therapy progress, and how I'm doing now. I hope it will resonate with you all. It should be posted next week.
T W O
Kevin and I celebrated our 8th wedding anniversary this Wednesday and I looked back on our wedding photos and couldn't believe how long ago that felt. I got the most beautiful pink peonies delivered to my office. They're my favorite flower and were the main flowers in my wedding bouquet and Kevin gets them for me every year (all the heart eyes). We also ate Blue Bell's new "Bridal Cake" ice cream and OMG it's one of the best ice creams I've ever had (for the record, this is #notsponsored). The chunks of white cake and the amaretto flavor are incredible. Please go buy some at your earliest convenience thank me later.
And speaking of sugar- yes, I'm eating sugar again, but I'm still eating low sugar for the most part. I eat low sugar breads and I even found a salad dressing I'm obsessed with that has just 1 gram of sugar per serving (nearly unheard of for packaged dressings). It's called Bolthouse Farms cilantro avocado dressing and it's unreal delicious. I no longer eat candy/sugary snacks throughout the day. If I want something sweet, I eat it after dinner after the kids are asleep. Right now, I'm really only craving ice cream. Other candies and treats are kind of "meh" to me after completing the sugar challenge. I've noticed that my appetite seems to have regulated since I've been eating less sugar.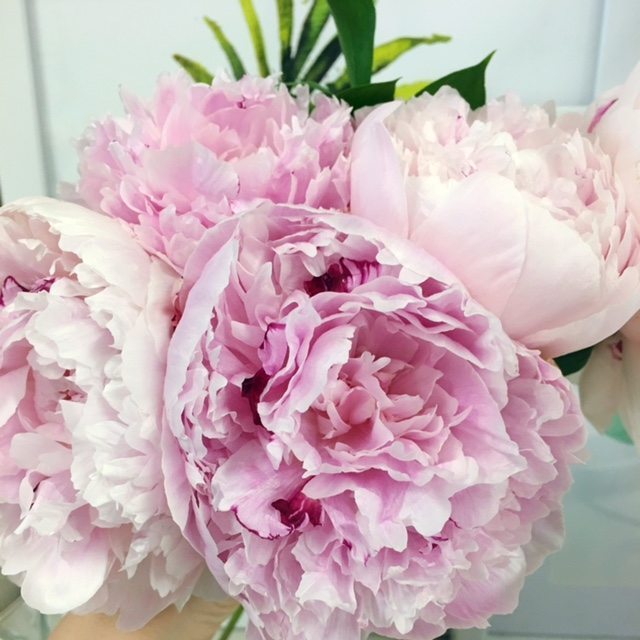 T H R E E
We are traveling to Toronto soon — it will be Harper's second trip to Canada and Lincoln's first trip/airplane ride ever. It's a good thing this kid likes books, because I have a feeling we will be reading "Brown Bear Brown Bear" till' kingdom come on this flight. Also, thank goodness for pacifiers. The last time we were in Toronto was in June and looking at the forecast, I'm realizing that Toronto isn't quite summer-weather warm yet, so packing is going to be a whole lot different than I imagined. I'll admit that I'm a little excited to wear some of my sweaters and jackets that I no longer get to wear in Houston's heat, though. Traveling with two kids and car seats is going to be…interesting (if you have any tips, I'm all ears). Also- if you live in Toronto, let me know if you have any suggestions on fun things to do. We are for sure taking the kids to the aquarium Harper went the last time we visited and loved it.
Lincoln should be fully recovered from HFM this weekend and my cough is finally improving (still coughing, but not as violently as before and less often). The general consensus from people that have had this cough is that it takes a month for it to go away. I'm still not back at the gym because my rib pain has persisted, but I'm hoping to be able to get a few workouts in before we leave. If my cough continues to decrease and my rib can heal, I will be back at the gym Monday.
F O U R
I have been majorly slacking on home projects lately. There's just so much going on that sitting down to do things like pick out art for a gallery wall and add new hardware to our dresser are falling by the wayside. I did however order this piece by Teil Duncan this week and I cannot wait to have it framed (in Framebridge's gold bamboo frame, of course). I have been following Teil on Instagram for awhile now and finally decided on this piece for our living room. Infusing color with art and accessories is one of my favorite ways to add interest to our otherwise neutral home. Our headboard is supposed to arrive by the end of this month, so I'll finally start to commit to finishing our bedroom, too.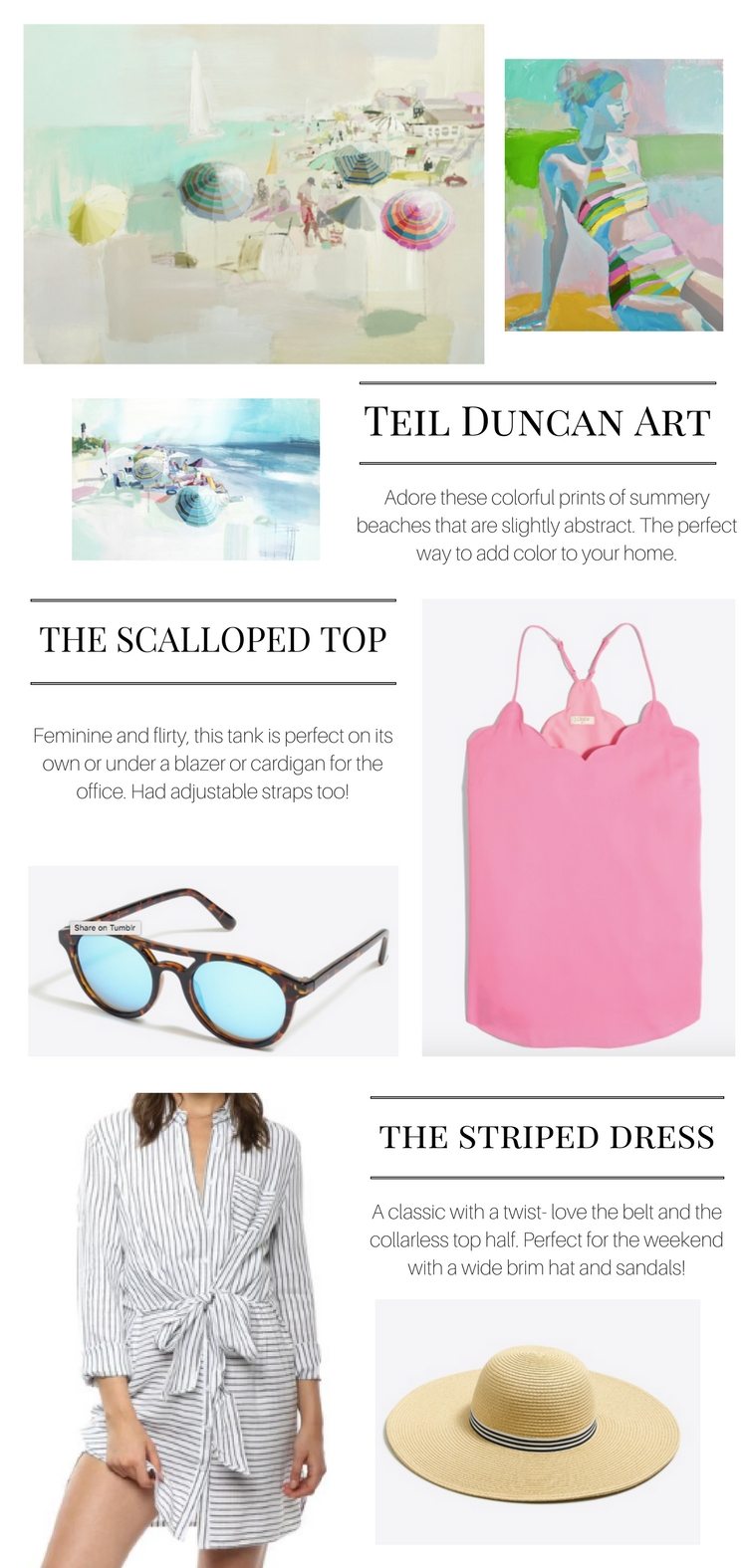 F I V E
I've always been a fan of scallops on everything and these scalloped tanks are currently on sale and I just ordered the black and pink one. I also picked up some cute tees for Lincoln, so don't forget to check out the kids section too!
Before I go, I'm hosting a giveaway to Mixology — they have trendy clothes and accessories at affordable prices. All you have to do to win a $50 gift card* is comment on this post (don't forget to enter your valid email address). One of my favorite pieces is this white striped dress!
*This giveaway is a partnership with Nakturnal, with a prize of a gift certificate. Please note Mixology's shipping policy: $8.99 flat rate for all orders under $75, free shipping for orders above $75 for the contiguous 48 United States. All international shipping will be shipped through USPS. The prize does not include shipping or any potential customs on international orders.