I'm sharing this post as a special "Friday Five" edition since we recently traveled with both children for the first time to visit family and friends in Toronto. I thought I would share a post while it's still fresh in my mind about the most crucial items we brought with us when we traveled with a toddler and preschooler.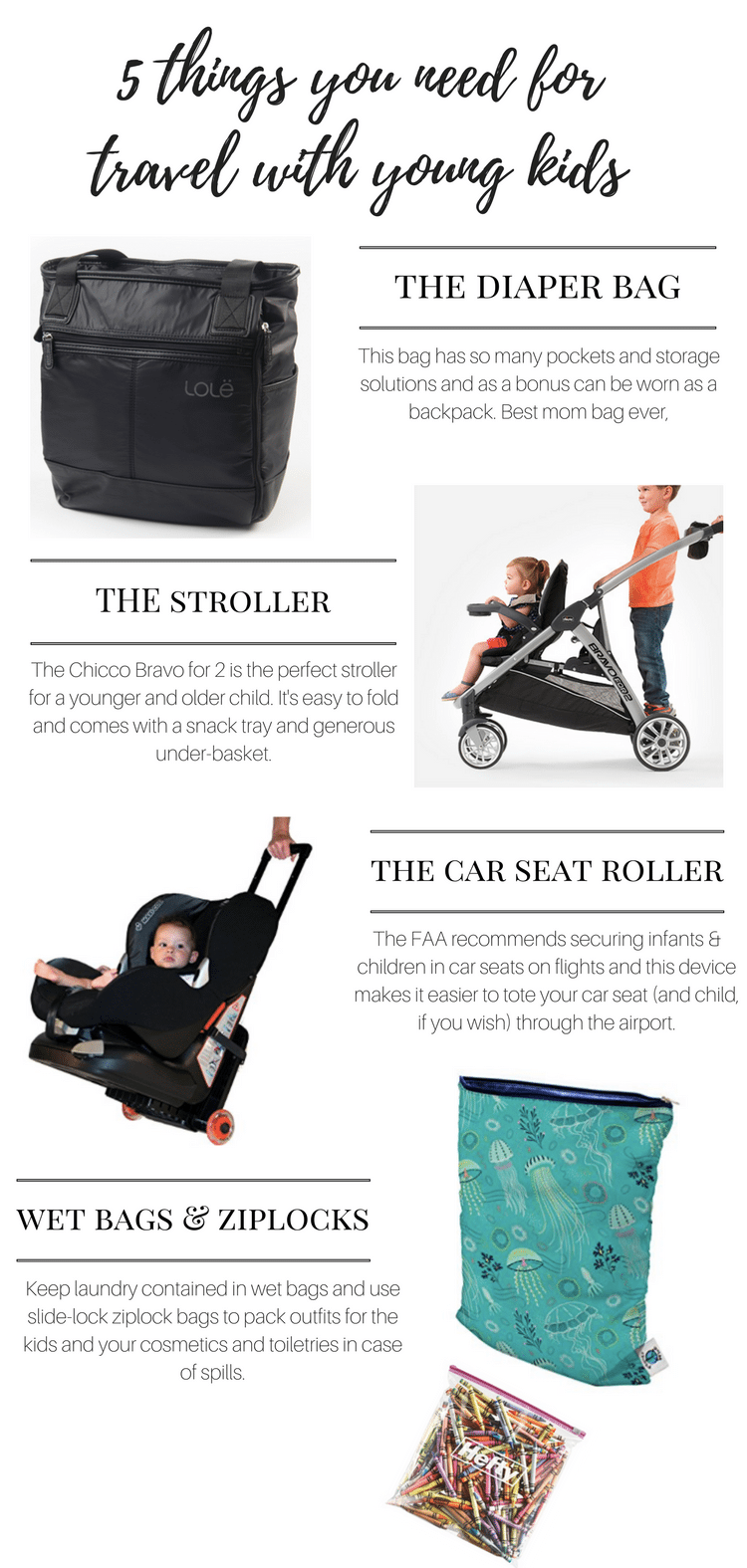 T H E  D I A P E R  B A G
(buy it here)
I'm obsessed with this Lole yoga bag — I've blogged about it before, but I have come to appreciate it even more now that we've used it for travel. I know it's a yoga bag, but it's seriously the most perfect diaper/mom bag EVER. It can be carried over your shoulder OR as a backpack and it's super comfortable to wear. I had ours loaded with diapers, wipes, snacks, boogie wipes, extra clothes for the kids, etc, and it was awesome to be able to wear it as a backpack and have my hands free to haul luggage and the kids through the airport. Look no further for the perfect diaper/travel bag. This yoga bag is it— and the pocket placement and compartments are absolutely brilliant— it's all you could ever want in a mom bag.
T H E  S T R O L L E R
(buy it here or here)
Speaking of hauling kids, we could not have made it without my Chicco Bravo for 2 stroller. I did a sponsored post about this stroller months ago, but we continue to use it anytime we need a stroller and it was absolutely essential for this trip. You can read the full stroller review here. This stroller allowed us to haul both kids through the airport efficiently and we used it on every single day trip we went on- the aquarium, science center, etc. It has a regular stroller seat for your younger child and a pull down bench seat in the back for your older child. Your child can either sit on that fold-down seat, or stand and hold the built-in handles of the stroller. It also has a snack and sippy cup tray for your younger child and it was a total lifesaver for those long airport and customs lines where all we really had was a snack and a prayer. Bottom line— this stroller is perfect for both everyday use and travel— I highly recommend it.
T H E  C A R  S E A T  R O L L E R
(buy it here or here)
We borrowed this car seat roller from our neighbor and thank God we did because we could not have carted our heavy car seats around the airport without it. We brought both Harper and Lincoln's car seats on our trip so that we could install them on both the plane and in our rental vehicle (a massive suburban— of course we had to bring a little bit of Texas with us to Toronto).
After reading this article, I became more educated about how to travel with car seats and that's why we choose to bring our own and install them on the plane. Harper happily sits in hers and watches a movie or sleeps, but Lincoln, with it being his first flight, liked to be held for much of the flight and slept for about 2 hours on each flight, to and from. We were able to secure him into the seat for some of the flight which was great, but at other times he was not having it.
We used one roller and attached Harper's seat and then stacked Lincoln's on top of it. In the future, we would bring a bungee cord to secure the two seats together onto the caddy. This time around Kevin had to hold the second seat onto the caddy or it would slide off. If you decide that traveling with your own car seats is the best choice for your family and you travel frequently, I would highly recommend you invest in one of these.
M E S H  B A G S  /  W E T  B A G S
(buy them here, here, here, here and here)
I like to bring mesh bags and wet bags with us when we travel. Mesh bags can contain dirty laundry to either be washed at your destination during your stay, or contain laundry to be washed at home when you arrive. I can't tell you how many times a wet bag has been a lifesaver. Diaper blowouts, spitting milk out on purpose all over a clean shirt, knocking over an entire cup of ice water at a restaurant and soaking your clothes (you know, hypothetically speaking). The wet bag will contain any wet or stained items and keep them from getting other items in your diaper bag wet. They're great for swimwear too when you're on a beach vacation.
And never, ever forget the disposable diaper bags if you have a child in diapers. They are scented and contain the stench of a dirty diaper. Makes disposing it much more pleasant for the entire world. Kumbaya.
A L L  T H E  Z I P L O C K S
(buy them here and here)
If you're traveling to a place with a fairly consistent climate, it's a good idea to pack your children's outfits in separate gallon ziplock bags. Someone gave me this idea a while ago and I wish I would have done it for our Disney trip. I couldn't do it for our Toronto trip because the weather was all over the place (warm, cold, rainy), so I brought such a mix of items it was hard to outfit plan. But this method is so effective and makes life a lot easier when you arrive to your destination.
I also use ziplock bags to carry my makeup and hair products when I travel, as well as other toiletries. They'll keep the mess contained in the event of a spill and can be reused on future trips. I prefer the ziplocks with the slide lock, personally.
Safe & happy travels!
S H O P  T H E  P O S T


Shop the Post