Happy Tuesday! In my continued commitment to highlight mental health as a topic on my blog, I have Dr. Allison, licensed clinical psychologist and the founder of Dr. Allison Answers, back on the blog today sharing some incredible advice on having difficult conversations. This advice can apply to your relationships at home, work or friendships and I hope y'all will enjoy this piece as much as I did. Thank you so much to Allison for these contributions!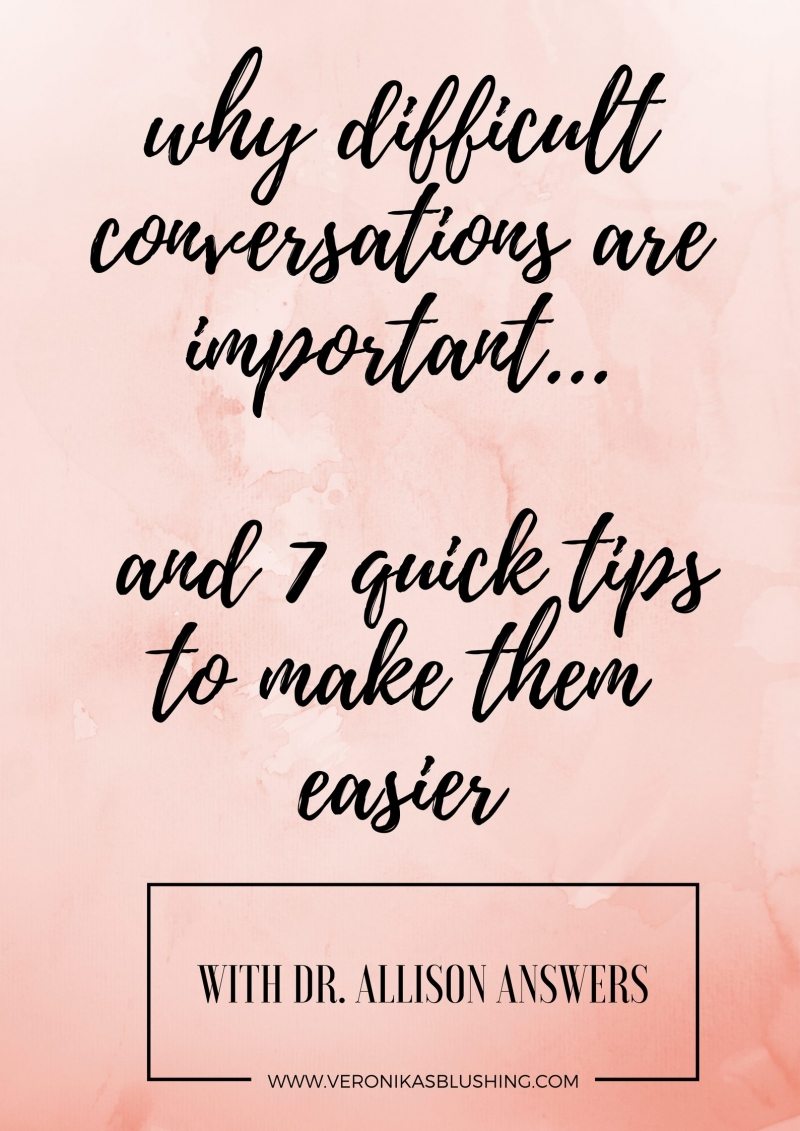 As humans, we are bound to disagree about things.  We have different priorities, values, and experiences.  We have different needs, opinions, and perspectives.  Difficult conversations aren't usually pleasant or enjoyable, which is why so many of us struggle to have them. But difficult conversations are important and necessary!  It can be hard to know where to start, how to find the courage to initiate the conversation, and what to say.  So I'm here to help you out!  Here are seven quick tips for making difficult conversations a little bit easier.
Ask for time.  Blindsiding someone is a quick way to get a conversation off on the wrong foot.  When people are caught off guard, they typically get defensive.  Let someone know that you'd like some time to talk.  You might say to your partner, "At some point this week, I'd like to find a few minutes to talk about your parents upcoming visit, just to make sure we're on the same page."  You're setting the tone for the conversation, while giving the other person time to reflect and prepare.  This helps them feel like a valued participant in the discussion, rather than a target.
Try "I statements."  If you've ever done couples counseling, you're probably familiar with this tool.  Using "I statements" prompts less defensiveness than using "you statements."  Example.  "You never listen; you make me mad; you aren't paying equal attention to your students." Yikes!  Seems kind of attacking, doesn't it?  Instead try, "I feel minimized, I'm angry, I am concerned you aren't giving your students equal attention."  It seems like the tiniest distinction, but it will make a huge difference.
Use emotion words.  Emotions are a fairly universal language.  We all feel!  So while we might have different experiences or situational things in our lives, we can almost all relate to feeling overwhelmed, lonely, scared, or betrayed.  Emotion words have a way of getting right to the point, translating to a more universal language.  Need help with this?  Click here.
Be specific about what you want.  In addition to communicating how you feel, communicate what you want.  And be specific.  "I'd like us to spend dinner without electronics on; I want to take the lead role on the team's next project; I need you to let me vent without offering advice."  Even when people see your point, they don't always know what you want or what you need.  So take the guesswork out of it for them, and tell them what you want.  It doesn't mean you'll get exactly that, but being specific helps them take action toward your request.
Acknowledge the awkwardness or difficulty of the conversation.  Difficult conversations are hard and sometimes awkward, so just admit it!  Acknowledge that you're slightly scared to have this conversation; acknowledge that talking about money makes you uncomfortable.   Authenticity is my life buzzword, so I'm a huge advocate of being real, even in difficult conversations.  That being said, I try to have some restraint with this point, sometimes toning down the intensity of my emotion.  Instead of saying, "I was up all night freaking out about what you will say," I might say, "I'm concerned about how you will hear this," or "Difficult conversations can be a little anxiety provoking for me."   This will help show you are a human, but a human that means business.
Think about what you want to say, how you want to say it, and how you want to look saying it.  If Beyoncé has to rehearse before a tour, then we have to practice before a difficult conversation.  Actually rehearse, out loud, what you want to say and how you want to say it.  Practice with different tones and words; anticipate what the other person might say and how you want to react.  This will help you be comfortable with your side of the conversation.
Know that difficult conversations might have a part 1 and a part 2.  Sometimes tough conversations can't be had all at once.  Maybe your kids come into the room, maybe you have to leave for a meeting, or maybe emotions are too heated and you need a break.  That's okay; just acknowledge the need for a pause, as well as the need to revisit the conversation in the next day or two.
Difficult conversations aren't fun or easy, but they are important.  They provide opportunities for empathy, honesty, and connection, and they are necessary for healing and growth.  With the right approach, phrasing, and practice, difficult conversations can get a whole lot easier.
What difficult conversations are you preparing for, and what can you do to make having that conversation a little bit easier?
Dr. Allison is a licensed clinical psychologist and the founder of Dr. Allison Answers, a site designed to simplify psychology to help people live healthy and meaningful lives. Her favorite buzzwords include mindfulness, intentionality, gratitude, and authenticity, and her goal is to help people incorporate these buzzwords into their daily lives.  We don't always have a choice in what life throws our way, but Dr. Allison believes we absolutely have a choice in how we respond.