As you've all seen, the devastation in Houston from Hurricane Harvey is unprecedented and unfathomable.
Over the last few days, I have seen/heard from both friends and strangers being rescued from their homes by boat, wading through flood waters holding their children, and losing their homes in a matter of hours, watching in disbelief as water comes through their floorboards and creeps up their steps. I have felt my chest tighten texting with friends who evacuated, but are learning from neighbors that their homes have been destroyed and with friends that have retreated to their second floors, as they wait for the inevitable.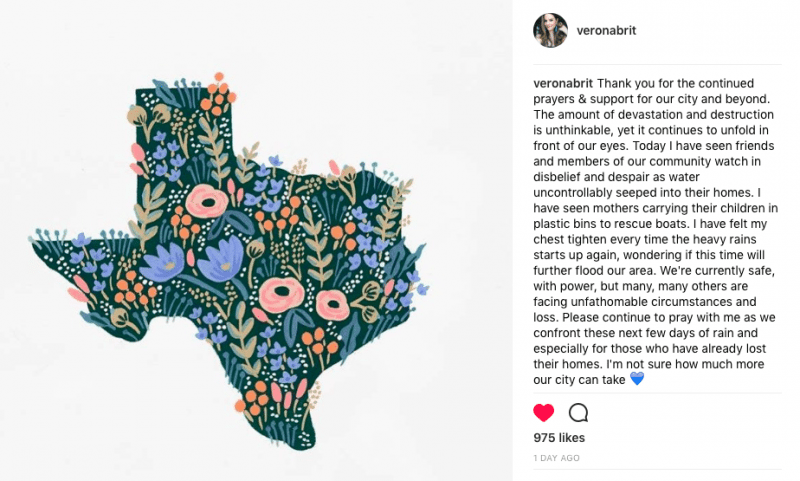 (see this post here // image by rifle paper)
We have been fortunate. Our street tends to flood heavily and it did, but between breaks in the rain in our area, the water receded and we were able to handle the additional downpour when subsequent bands came through. We also didn't lose power, which we are very thankful for. Though we are safe, many, many people are facing loss and tragedy beyond belief.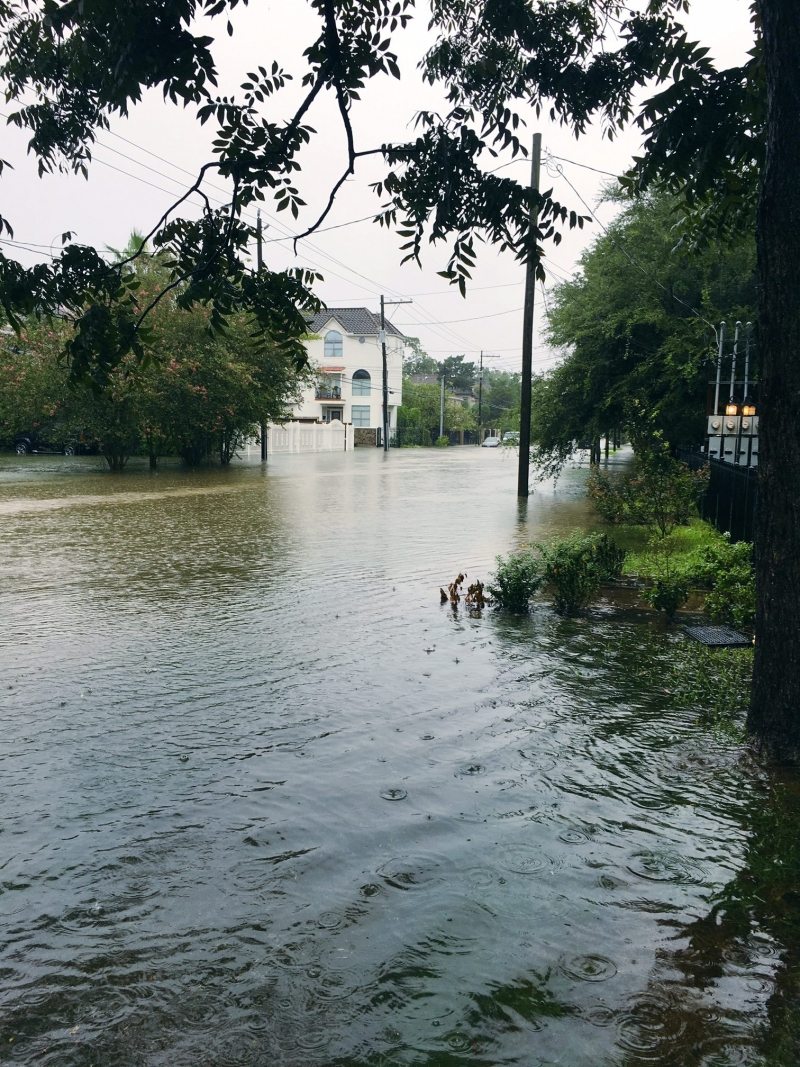 It's absolutely heartbreaking to watch nearly every area of our city be affected by this horrific disaster. As we're watching this mass destruction of our communities unfold, I know many of us, regardless of location, feel helpless. Some of you, like us, may have offered up your homes to those fleeing, but they aren't able to get to you due to the roads.
Described by many as the most catastrophic weather event this city has ever seen, I know if you're watching the news, your heart aches along with everyone here. I posted this on Facebook and Instagram a couple of days ago, and am re-sharing it here, so that you can understand the magnitude of this if you are not local.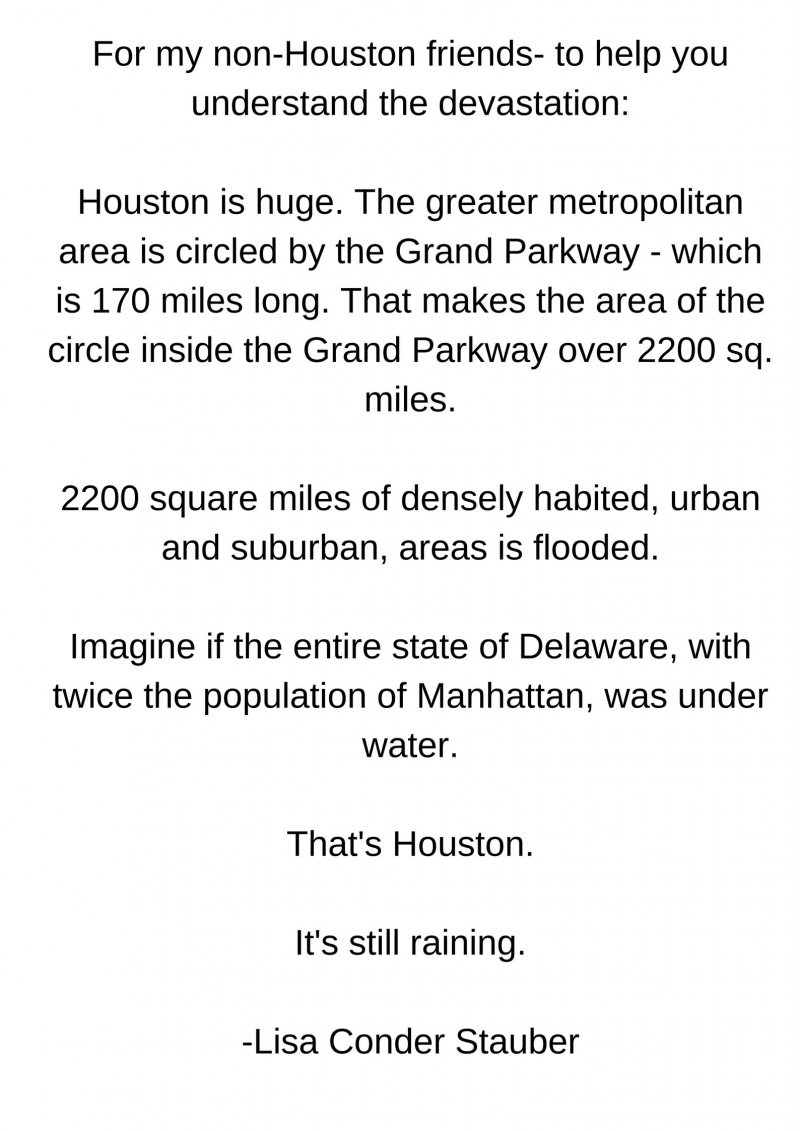 I want to take a moment to thank all of the first-responders, members of communities using their own boats to save people, rescue teams, staff at hospitals who are on ride-out teams to help keep operations as normal as possible, and the list of heroes goes on and on. Thank you for your service and tireless efforts for our city and its people. I also want to thank our local reporters, meteorologists and news media who are reporting round-the-clock to keep us informed, as difficult as the scenes are to watch.
---
I know many of you would love to help Houston and its recovery from this disaster. I'm still trying to gather information on whether or not shelters and other organizations are accepting mailed-in donations of things like toiletries and clothing, since many of you asked about that specifically. For now, monetary donations are the most critical if you're donating from outside of the area.
Today, via a donation drive organized on a neighborhood Facebook page, a bunch of families in our community, us included, put together packages for the George R. Brown Convention Center's shelter, including things like toiletries, pillows, diapers, socks, wipes, sweaters, soap, etc. Our neighbor delivered them today and though it's something small, it made us feel like we were doing something. I know many Houstonians would like to donate to shelters but are not able to get to one due to road conditions. Thank you for your generous spirits, even as you face uncertainty in your own communities.
Below are some organizations you can contact if you're looking for ways to help, whether you're in or outside of the city. I've compiled this list from news organizations and friends on Facebook who have contributed. If you have a connection to an organization that is helping victims of Hurricane Harvey, please share it in the comments.
As always, please do your research on any organizations you decide to donate to. This ProPublica article from 2015 is a good resource. The Huffington Post has an article on where/how to give, here. CNN has some ways to help, here.
If your home has flooded, this article from the Dallas Morning news is important as there is a law going into effect after Sept. 1st that will affect insurance claims.
---
S H E L T E R

ABC KTRK 13 has a list of shelters in Houston, here.
Better Than a Hotel is temporarily making all of their available rentals in Austin and College station free for evacuees affected by Hurricane Harvey. For those in need of shelter can contact Albert Smith, director of business development and marketing at [email protected]. (source)
Airbnb has launched a site for people looking for a place to stay and for those who can offer shelter. Fees are waived for people who check in before September 1. (source)
---
R E L I E F  I T E M S/ N E E D S- B A S E D
The Texas Diaper Bank supports the basic needs of vulnerable babies, children with disabilities and seniors. The Texas Diaper Bank is asking for cash and diaper donations to help provide for the victims in Texas. Click here to learn how to donate. Source.
Purchase/donate cleaning kits from UMCOR, here.
The George R. Brown Convention Center shelter needs the following: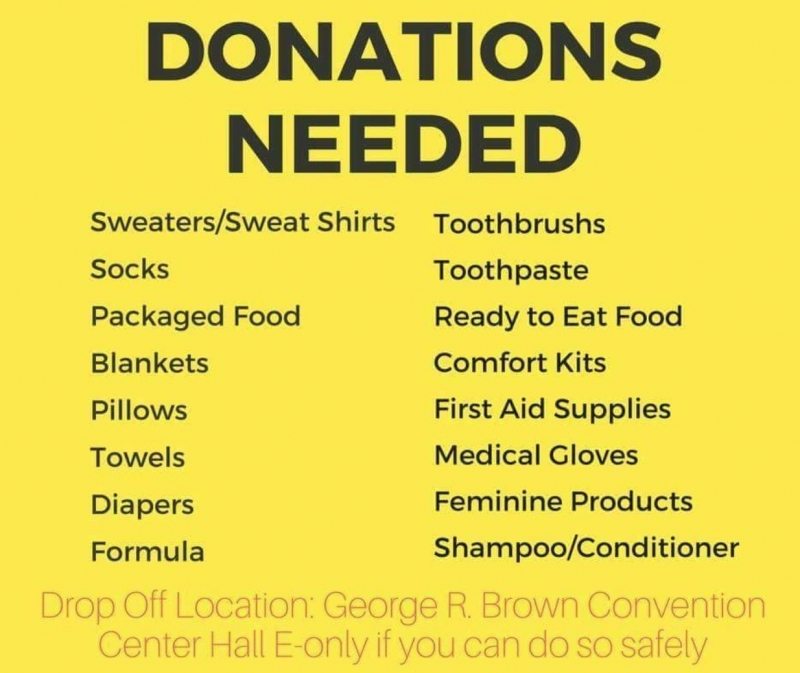 ---
M O N E T A R Y  D O N A T I O NS
Houston Texans player JJ Watt is raising funds for hurricane Harvey relief, here (it has raised over $1 million so far).
You can donate to the Red Cross directly, here or text 90999 to donate $10. If you're looking to volunteer your time to help those impacted by Hurricane Harvey, the American Red Cross and the Salvation Army are in need of volunteers to help at shelters. You can learn how to volunteer for the American Red Cross here and for the Salvation Army here (Source)
Amazon and Apple are collecting funds. Read more here.
The Salvation Army's Emergency Disaster Services is working to help provide food and clothing to victims seeking shelter. Donors can call 1-800-SAL-ARMY or click here (Source)
Houston Mayor Sylvester Turner established the Hurricane Harvey Relief Fund after receiving an overwhelming number of inquiries of people reaching out to offer help. The funds will be administered by the Greater Houston Community Foundation and accepts tax-deductible flood-relief donations. To donate or to learn more, click here.  Source.
You can donate to Texas Children's Hospital, here, so that the hospital can continue to support its patients' greatest needs. See a video from Texas Children's during the hurricane, here.
His Grace Foundation is an organization that helps ease the multitude of stressors faced by families with children on the Bone Marrow Transplant Unit at Texas Children's Hospital, allowing families to focus on supporting their child during the crucial treatment and recovery period. As a result of this hurricane, they will have an increased need for funds to help families that are facing the loss of their homes, cars and other issues while they are also in the hospital with their sick child. You can donate here.

The global crowdfunding community is attempting to raise $2 million to "provide relief to survivors in the form of emergency supplies like food, water, and medicine in addition to longer-term recovery assistance to help residents recover and rebuild." Global Giving says all donations made to the fund will be exclusively used to support local relief and recovery efforts. Click here to learn how to donate.  Source.
The National VOAD will be in Houston providing relief and recovery for years to come, and will need your assistance.  You can donate to a Texas VOAD Member or a National VOAD Member to help those affected by Hurricane Harvey.
Texas Baptist Men is an organization a friend has served for. They provide meals to the first responders and those in the hard hit areas in need of food, mobile showers and laundry for first responders and those affected, child care assistance at shelters and construction including temporary roof repairs to prevent further damage.
United Way of Greater Houston has set up a relief fund that people can donate to. The organization said its first priority is shelter and basic needs like food. The organization said it will also focus on long-term recovery efforts. (source)
---
P  E  T S  &  A N I M A L S
Pets affected by Hurricane Harvey are being taken in by animal shelters across Texas, including the SPCA of Texas, Austin Pets Alive and the San Antonio Humane Society. The Houston Humane Society is also available, with limited staff.  (source)
---
O T H E R  W A Y S  Y O U  C A N  H E L P
If  you and your home are safe and you don't work outside of the home, offer to watch the children of families who are trying to recover their homes/have to go back to work if you're able to (a great tip from a Facebook friend).
Provide meals, gift cards, needed items, etc, for friends and people who are displaced in your community.
I have seen so much caring, generosity and unity in our communities with people helping one another, it is truly amazing to see, even in light of all of this devastation. Houston is a very generous and philanthropic city with citizens who are always willing to help others. I'm proud to be a member of this incredible community. Please join me in continued prayer for the safety of all of our people and the strength to get through what is to come for families who are displaced and repairing their homes.
---
You can view footage of some of the devastation (which, is continuing and ongoing for numerous communities) here:

If it's in your heart to help, thank you. Thank you for your prayers, support and kindness as our city braves the rest of this storm and starts on the path to re-build.