Good morning! I'm thrilled to have a new blog post to share with you today by Dr. Allison from Dr. Allison Answers! Mental health is a critical topic and I feel privileged to have this platform to share ways in which you can enrich your life and deal with challenges. We are in this together — and if you're struggling, know you're not alone.
Gratitude is something I have blogged about before and I'll be the first to admit that I go through phases where I feel so overwhelmed and pulled in different directions, that I forget to practice gratitude. I forget to acknowledge daily, consciously, what I'm grateful for which makes it easier to get caught up in things that don't matter and focus on the negative. I know Dr. Allison's advice works — because when I take the time practice gratitude, I feel happier, more content, at peace and satisfied. I hope this article helps you!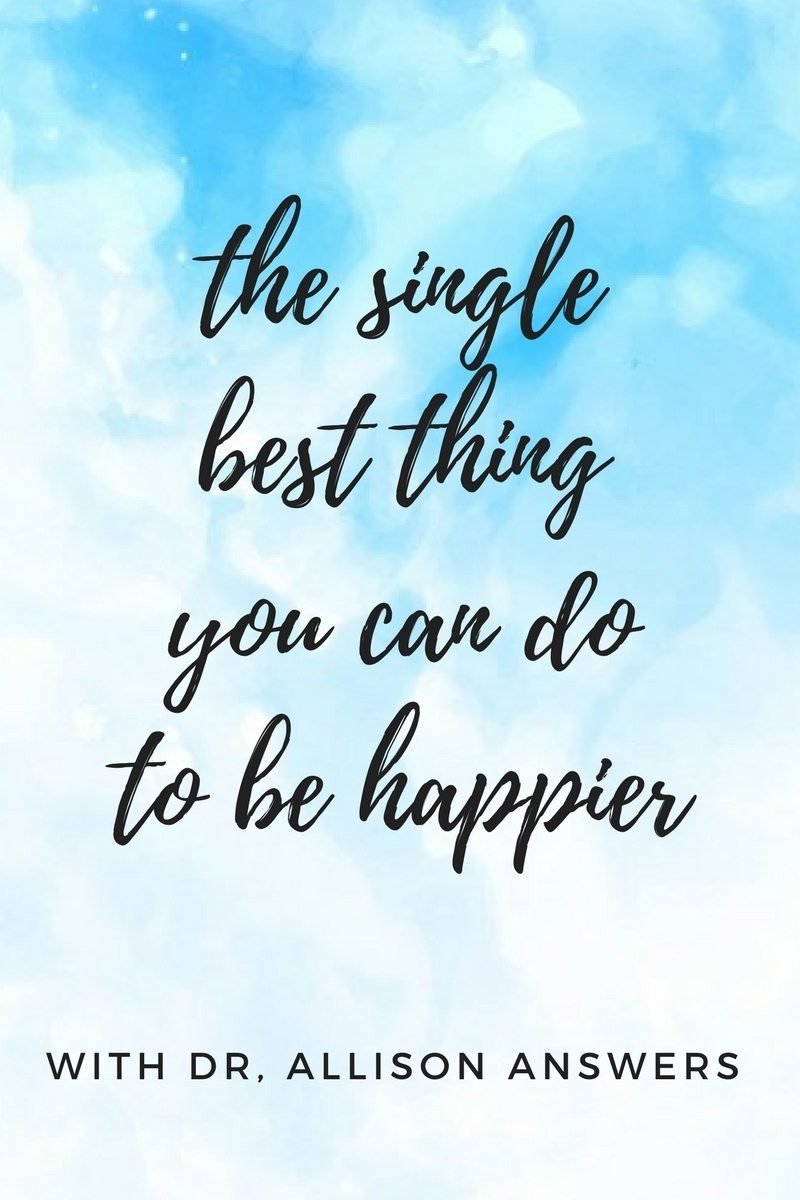 ---
What if I told you that you could be happier, more resilient, and less depressed, with a simple exercise each day? What if I told you that you could get better sleep, improve your relationships, and increase empathy with that same practice? Surely, you'd sign up, right? If so, watch the video below, because today I'm thrilled to be sharing the single greatest thing you can do to improve your happiness and well-being.  Let's do this!
Yes, the answer for being happier is practicing gratitude, each and every day.  The research on gratitude suggests major benefits, yet most people completely misunderstand gratitude, focusing on "big" sources of joy and completely minimizing the little ones.  Research suggests that we can become saturated when we take this approach.
As humans, our brains are wired to focus on the negatives.  They are like sponges for the negative and Scotchguard for the positive.  If we let our brains do their own thing, they'll miss 90 percent of the goodness around us!  This is why we have to practice gratitude, each and every day, challenging our brains to see the good, no matter how small or insignificant.  As you saw in the video, these points of gratitude don't need to be major.  In fact, the smaller the better.  Perhaps you're grateful for the close parking spot you got while running errands, the light traffic on the way to work, or the kind exchange you had with a stranger at Starbucks.  Maybe you're grateful for the extra snuggles with your little one this morning, the coworker who noticed your recent efforts on a project, or the Beyoncé jam that came up right as you were ready to call it quits at the gym.
Think of gratitude like a muscle, the more we work it out, the stronger it gets.  By challenging our brains to notice and name the good, we boost our brain's ability to do this more naturally, leading to a happier you!
So here is my challenge to you.  Each day for the next three weeks, name three new things per day for which you are grateful.  By "new," I mean you can't say what you said yesterday, and you can't say what you said a week ago.  Your three points of gratitude have to be unique to each day, no matter how small.  This may be tough for the first week or two, but after a while, you'll start to notice tons of goodness that your brain was simply missing before.
This gratitude practice has transformed both my personal and professional life, and I've seen so many of my clients experience profound joy with this exercise.  Are you in?
Remember, it's not about being grateful; it's about practicing gratitude.
---
Dr. Allison is a licensed clinical psychologist and the founder of Dr. Allison Answers, a site designed to simplify psychology to help people live healthy and meaningful lives. Her favorite buzzwords include mindfulness, intentionality, gratitude, and authenticity, and her goal is to help people incorporate these buzzwords into their daily lives.  We don't always have a choice in what life throws our way, but Dr. Allison believes we absolutely have a choice in how we respond.