*This post is sponsored by Aveeno®. All opinions are my own*
Over the years, I've shared my skin struggles – from dealing with hormonal acne in my 20s, to chronic hives that I still deal with today, to generally having reactive skin – it's no secret to any of y'all that my skin hasn't been the easiest to care for. However, with the right habits and products, I've managed to keep my sensitive skin in pretty good condition.
If you have reactive, sensitive or delicate skin, this is the post for you – I'm sharing five ways I help manage my sensitive skin, and I hope this helps you too!
W A T C H  T H E  T E M P!
My hives are temperature-induced (both hot and cold can trigger them), so as much as I love very hot showers, I try to be careful of how hot and how much time I'm spending in the shower because not only does the hot water dry out your skin, but for me, it makes me red, blotchy and sometimes even causes a full-blown hive breakout – not good.
Most women with sensitive or reactive skin know that extreme hot (or cold) temperatures can increase the severity of their symptoms whether it be dry, flaky skin or other skin reactions, so try to be cognizant of this in the bath or shower.
I use a space heater at work and like to have the heat on high in my car on a cold day (guilty!) but this is not ideal for sensitive skin. So, when I'm trying to warm up my work space, I turn the heater on and off periodically and I avoid placing it too close to my legs.
W A S H  W I T H  C A R E
Your clothes, I mean. I find that using free and clear detergents for our laundry helps our entire family. If you love scented laundry, you can add essential oil (make sure it's dryer-safe) to felt dryer balls to add a little fragrance in a more natural way that is less likely to irritate your skin.
I love having lavender-scented sheets, so I use natural lavender-oil linen spray to make our sheets smell great after we wash with unscented detergent.
C L E A N S E  Y O U R  S K I N  T H E  R I G H T  W A Y
When it comes to skin care products, I try to find products labeled as fragrance-free or low-fragrance, sensitive, gentle, calming etc. I find these contain the least amount of potential skin irritants and work more harmoniously with my skin. It's really a trial and error process, but I wear makeup daily, so a good cleanser is a must-have.
When it's time to wash the day away, I have always used and favor gel cleansers because in my opinion, they're the best at removing makeup. Aveeno® just released their Ultra-Calming® Hydrating Gel Cleanser – it's their first-ever gel cleanser and it's oil, soap and fragrance-free. I've been using it daily since it arrived and truly love it. It washes away all of my makeup and it contains feverfew, a naturally derived soothing ingredient that is clinically shown to reduce redness. Since my skin is reactive, redness is definitely something that's a concern for me, so it's nice to have a cleanser that works for both makeup removal and soothing my skin.
Aveeno® is a brand I really trust with sensitive skin, because I use some of their baby products for Lincoln, since he has Eczema (we use the oatmeal bath and eczema moisturizer).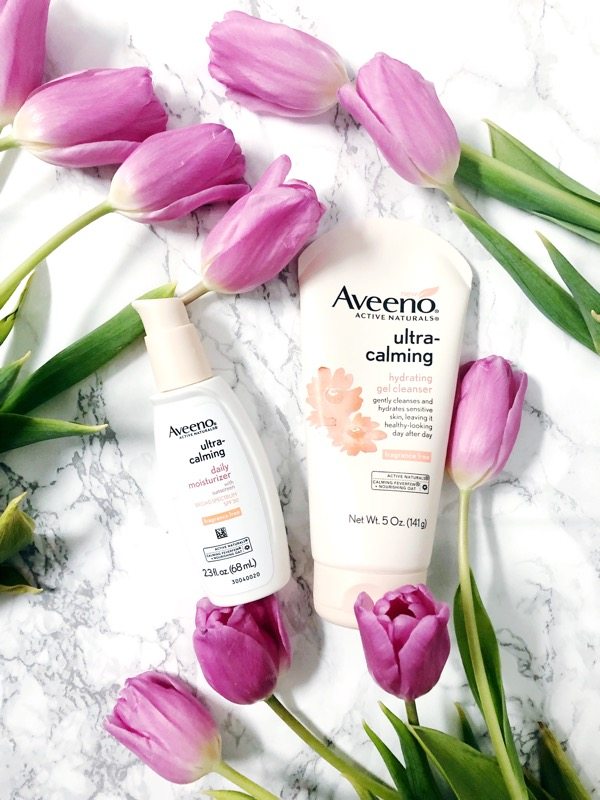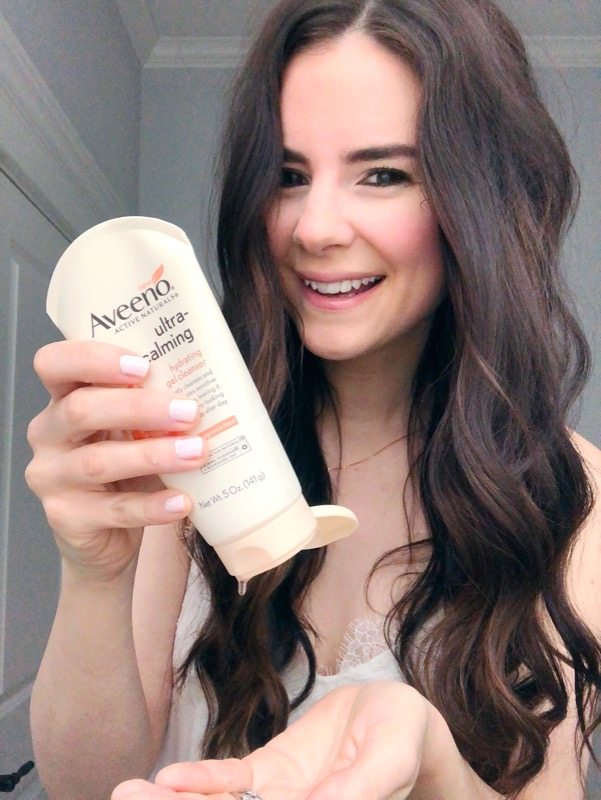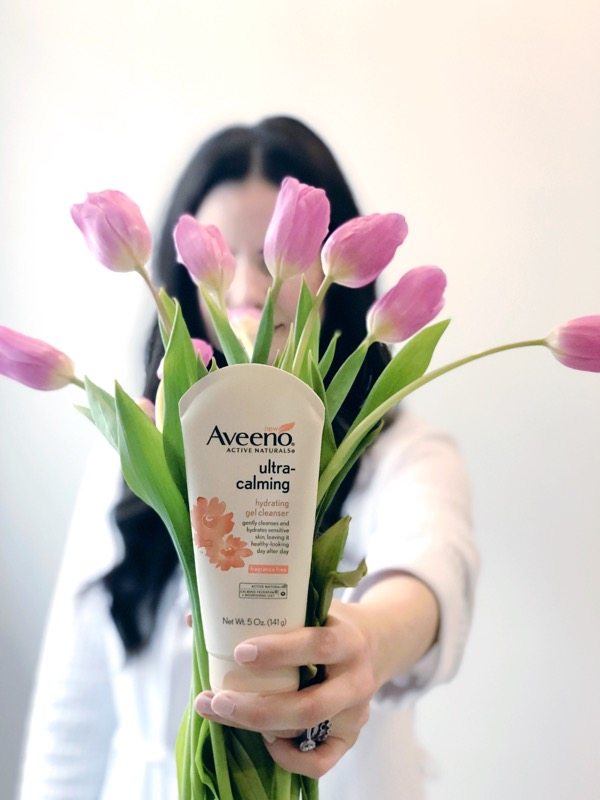 P R O T E C T  (F R O M  T H E  S U N)
I'm a diehard SPF-user. As someone who's at a higher risk for skin cancer, I don't leave the house without it on my face and in the summer, don't spend time outdoors without covering my body in sunscreen. Not only does wearing sunscreen help lower your melanoma risk, but it reduces sun damage on your skin – like fine lines, wrinkles, sun spots, discoloration, etc. Sunscreen is something you should consider to be part of your overall health, wellness and anti-aging routine.
In addition to its cleanser, Aveeno® has an Ultra-Calming® Daily Moisturizer with SPF 30  that also contains redness-reducing feverfew and nourishing oat, is oil and fragrance-free and hypoallergenic. It's available at Walgreens for under $20, which is a really good value.
I've been using this moisturizer daily for the last few weeks and apply it after cleansing my skin in the morning, prior to applying makeup. I definitely have noticed I think a lot of women hesitate using a daily moisturizer with SPF because they think it will affect their makeup – but I promise it doesn't (and a lot of foundations do have SPF in them, but you'd have to use way too much to get the desired protection, so it's always key to use a separate SPF under your makeup).
If you have sensitive or reactive skin, or simply struggle with redness, I encourage you to try Aveeno's Ultra-Calming formula so you can both protect your skin from the sun and help reduce redness over time via the formula's active ingredients.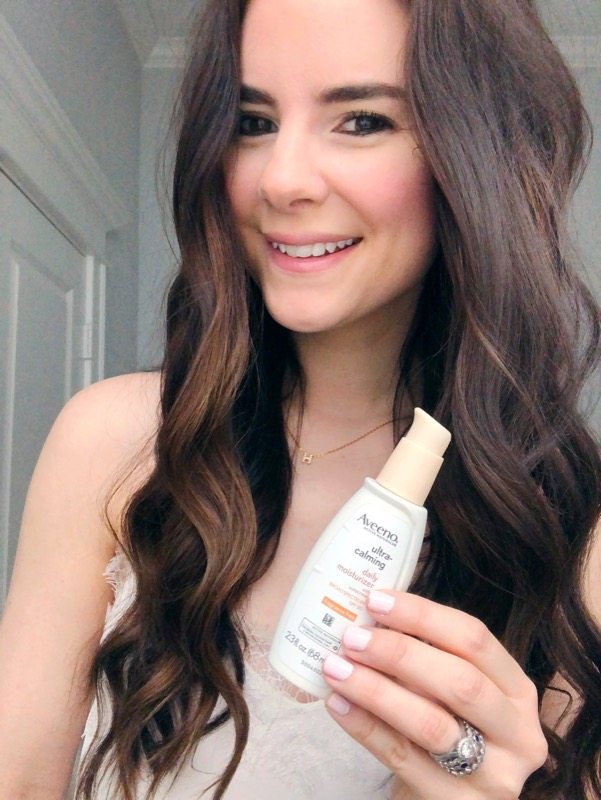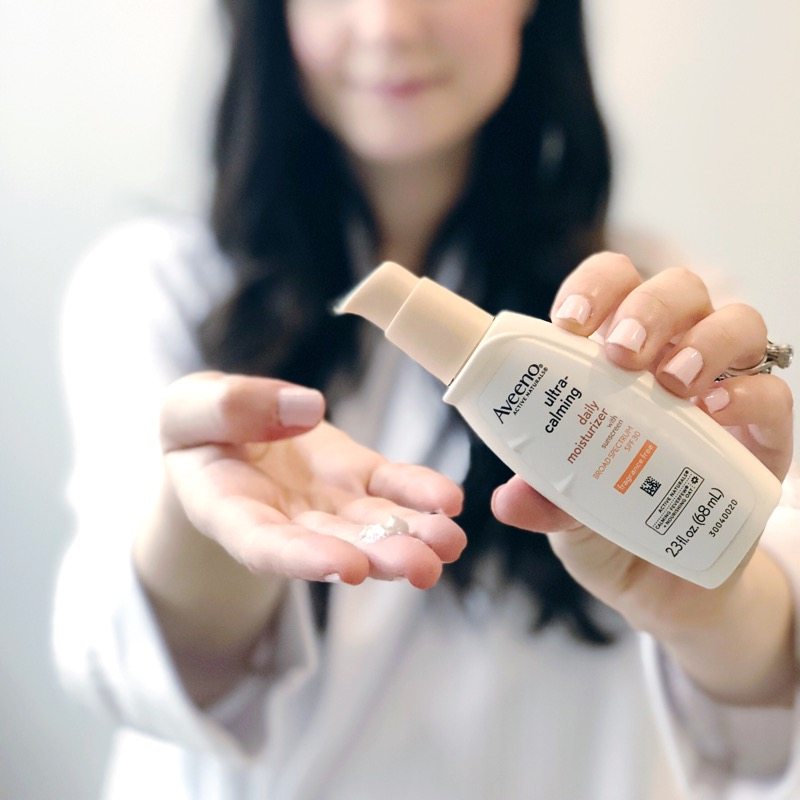 D I F F U S E
If you have sensitive skin, you're probably also sensitive to heavy perfumes — so things like air freshners, designer perfumes and colognes and room sprays can irritate not just your skin, but in my case, can cause headaches.
I started to diffuse essential oils at home and it's such a great alternative to using other scented products and is really relaxing. My favorite is to diffuse lavender oil at bed time — so calming!
How do you protect and care for your sensitive skin?  I would love to hear your advice! Don't forget to head over to my Instaram account to enter to win the full Ultra-Calming® skin care line!