It has been several years since I updated my hair washing/styling routine post and y'all have sent so many questions to me about working out and hair washing that it felt like the perfect time to share an updated hair washing/styling routine post!
All of the products I'm sharing are available at Nordstrom with free shipping + free returns (but you won't return any, because I promise these are the best-of-the-best!) I purchase most of my makeup, skin care and hair products at Nordstrom because they arrive quickly and I love that they carry so many brands I enjoy.
So, here we go, Q&A style format…and here are all of my styling faves in the room where all of the hair washing/styling/dry shampoo-ing happens — our master bathroom!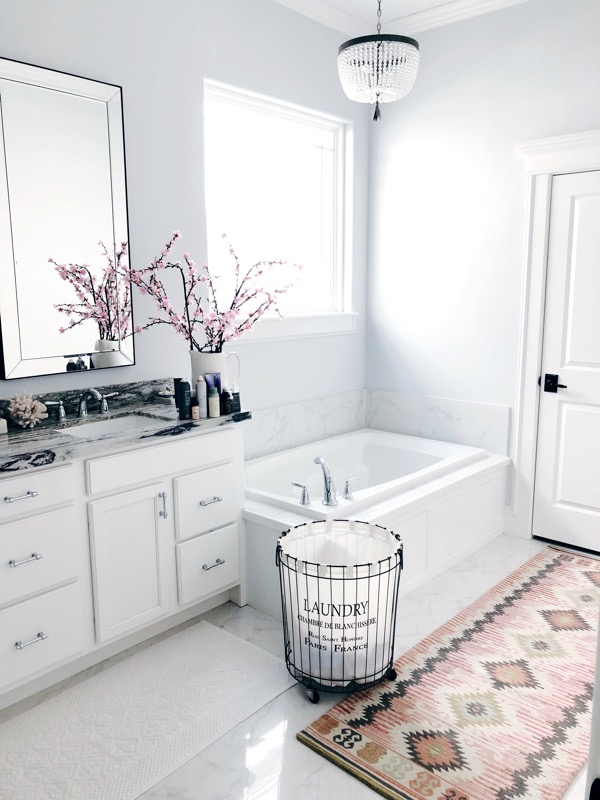 W A S H I N G
How often do you wash your hair?
I usually wash my hair on Saturday night and Wednesday night every week. After I wash and apply product, I usually let it air dry overnight while I sleep. Then, I use my t3 hair dryer in the AM to smooth it out and get rid of any moisture still in my hair before styling it. I almost always shoot blog photos on Sunday afternoons, so I always like to have freshly styled hair that day and it also means I can sleep in a little more on Monday morning.
How can you only wash your hair twice a week?
You can train your hair to produce less oil. Oftentimes, if you wash your hair daily, your scalp will actually over-produce oil to compensate for being stripped of natural oils daily. You can train your hair by gradually going 2 and then three days between washes. Dry shampoo is a great way to do this. It will take a few weeks for your body to adjust, but it's worth it to wash your hair less often!
How do you deal with your hair after working out/getting sweaty?
It's critical to wear your hair up and totally out of your face when you exercise. I always do a high bun/topknot because I hate having a pony tail flipping around and also because I think this preserves your style more (use this elastic).
Even during my sweatiest workouts, I only tend to sweat at the perimeter of my hairline (my scalp is never soaked with sweat), so I usually let it air dry. BUT – if you tend to sweat a ton in your hair, an option is to use the cool setting on your hair dryer and dry your hair upside down for a few minutes. Then, add dry shampoo (like this one) and let your hair settle. Another option if you work our regularly is to plan your sweatiest workouts for the nights you're going to wash your hair.
What shampoo do you like?
I'm still having a lot of hair loss at 2 years postpartum, so I 've recently purchased Aveda's new shampoo that is said to help with hair loss so you'll have less fallout. I also plan to do some blood testing to ensure my thyroid levels are correct, but in the meantime, am trying Aveda as it has great reviews. Other tried and tested shampoos I love are Living Proof's Perfect Hair Day (shampoo and conditioner) line and Alterna's Caviar Instant Recovery shampoo.
What do you use to cover your hair in the shower?
I wrap my hair in a towel, turban-style and I avoid getting it wet at all. I do have a detachable/hand-held shower head which makes it easier to avoid getting my hair wet because I just take it down and rinse my body with it. 
What towel do you use to dry your hair?
I use this microfiber towel that gets your hair dryer, faster. I even put it over my pillowcase overnight on nights I was my hair to help absorb additional moisture.
S T Y L I N G
What products do you use after washing your hair?
After brushing out my hair (try this drybar brush), I apply volumizing mousse to my roots – this, IMO, is a step that cannot be missed. Your hair will stay cleaner, longer and overall be more voluminous (a great mousse option, here and I also love this thickening spray).
Then, I apply a cream to my ends to help smooth them — note that you should never use these products near the scalp — apply them from the nape of your neck down to your ends.
I either use just one, or layer a couple of these products. The ones in my hair arsenal are: Oribe's styling cream + royal blowout spray, Living Proof Perfect hair Day 5 in 1 styling treatment, Living Proof Nourishing Oil, Living Proof split-end mender, and Living Proof Night Cap Overnight Protector.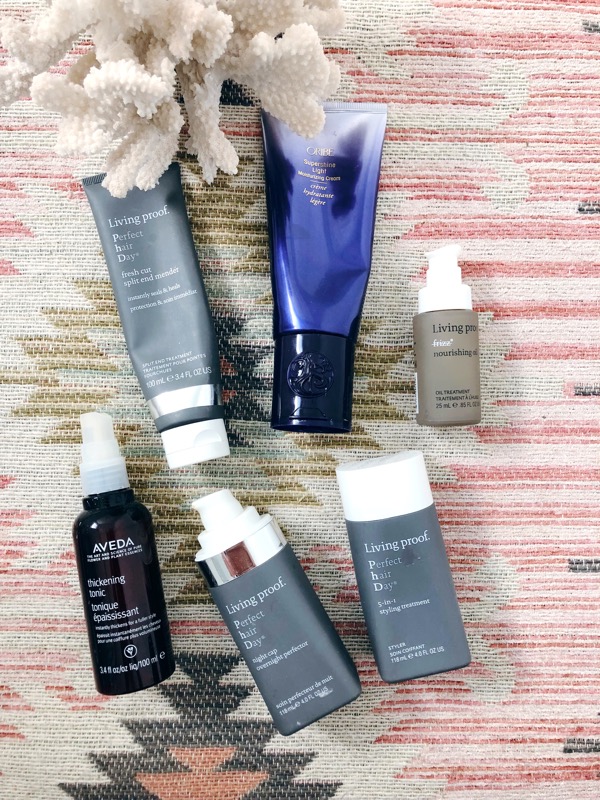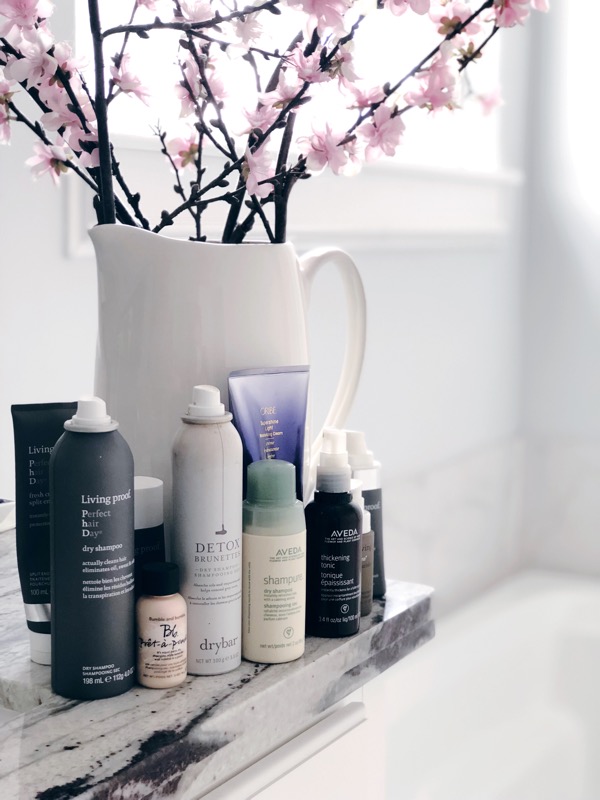 What hair dryer do you use?
I use this hair dryer, but in the regular size — love this size if you don't want a larger dryer though. T3 also recently came out with a new model that looks amazing.
Which curling iron do you use?
My holy grail, can't-live-without-it curling wand is the T3 Whirl Trio. I only use the 1 inch straight barrel. I've never loved my curls more — this curling wand is seriously incredible. If you're nervous about trying a wand — don't be! I actually find it easier to do now than a traditional clip curling iron.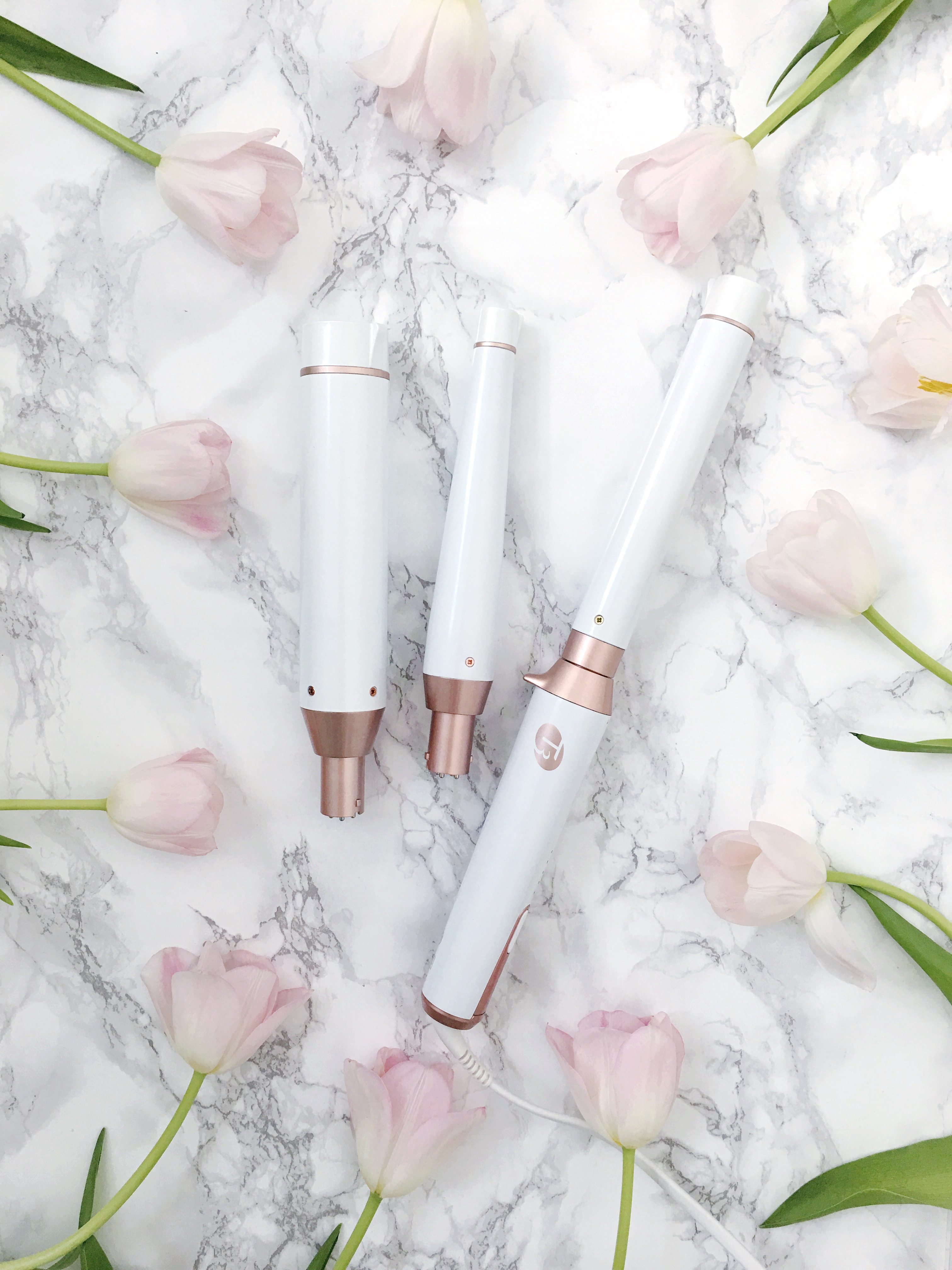 Do you curl your hair every day? What is your styling routine between washes?
Nope! My schedule goes something like this:
Saturday night – wash hair and let it air dry overnight (sometimes I blow dry it until it's 80% dry)
Sunday morning – curl hair with t3 curling wand (1 inch attachment)
Monday morning – touch up curls with t3 wand OR brush out curls and use styling/texture cream to give a little texture
Tuesday morning – touch up curls and/or brush them out (I still have a little wave to my hair)
Wednesday morning – brush out curls, maybe touch up just the front pieces
Wednesday night – wash hair and let it air dry
Thursday morning – dry hair with hair dryer until totally dry (takes a couple of minutes) and curl with t3 wand
Friday morning – brush out curls or touch-up some pieces
Saturday morning  –  brush out curls or touch-up some pieces (usually I don't heat style my hair on Saturday)
Do you use texture sprays?
I love texture spray! My favorite of all time is Oribe's formula, but I've used a few others that I like too. This one is an inexpensive option as is this one.
D R Y  S H A M P O O  1 0 1
How do you keep your hair looking/feeling fresh between washing?
Dry shampoo is the secret weapon all women should have! I use sprays and powder formulas.
 What are your favorite dry shampoos?
My most used and loved dry shampoo is Living Proof Perfect Hair Day dry shampoo. I could literally write one post just about this dry shampoo, it's that amazing. I've been using it for years and repurchase it over and over again. The thing I love about this formula is that it actually cleans your hair. It smells great (not overpowering, but a nice scent) and when you rub it in, the white disappears.
Other dry shampoos I use and love:  Aveda's shampure dry shampoo and bumble and bumble's pret-a-powder. I have also used this DryBar one and like the formula, but I would get clear next time as the brunette does come off on fingers when you touch your hair.

How do you apply dry shampoo?
With the Living Proof dry shampoo, I spray some along my part and then on the underneath sections of my hair at the side and back. I follow a similar pattern with powder formulas, being careful not to overdo it. Then, I use my fingertips to massage the formula into my roots.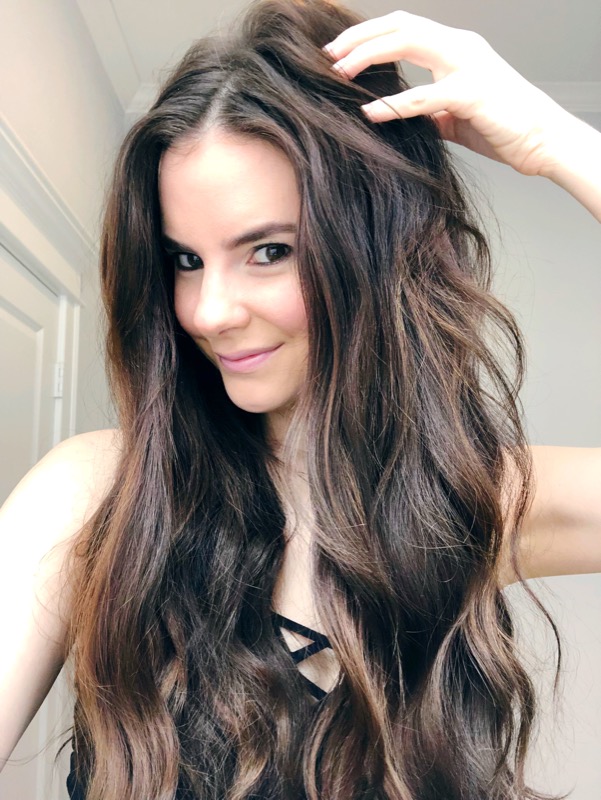 How often do you use dry shampoo?
It changes every week! Dry shampoo is really a needs-based product, so you have to evaluate if you really need it so you don't get a ton of build-up from using it when unnecessary. I use dry shampoo when I notice my roots aren't looking as fresh or when my hair isn't retaining as much volume. Sometimes I spray some in my hair at night so it looks fresher the next morning. I never use dry shampoo until I'm on at least second day hair. Sometimes I wait until it's third-day.
Here is my 4th day hair after taking out my hair elastic and doing nothing to it (this is after sleeping with it in a topknot which I kept in as I applied my makeup).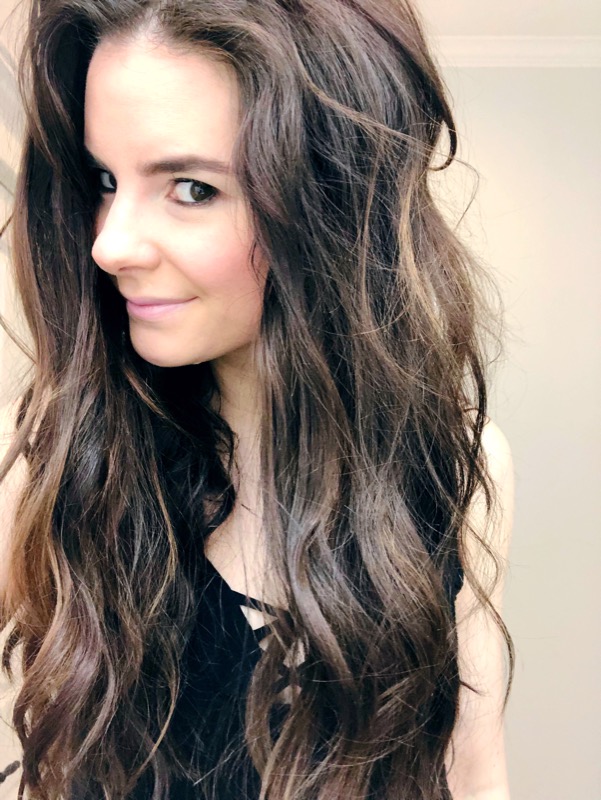 Here are the next steps I take — fully brush out your hair from roots to ends and then spray in your dry shampoo. After this, massage it in with your fingers.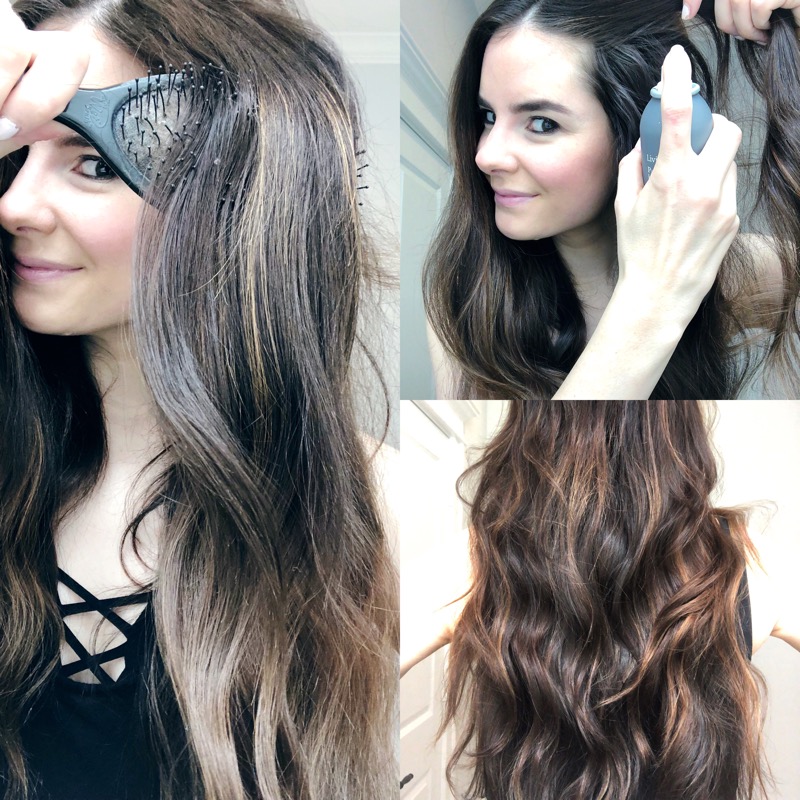 This is my 4th day hair with NO re-curling. I simply applied a cream to the ends to smooth them, applied dry shampoo and brushed it out. Then I did a scrunching technique to revive my curls. That is why I love the T3 curling wand— it makes curls that last! Even after a few days, the T3 curls become softer and leave hair with a pretty bend/shape.
The next two photos were taken later that same day — notice the curls have fallen a bit but my hair still retains excellent shape for beign 4th day hair!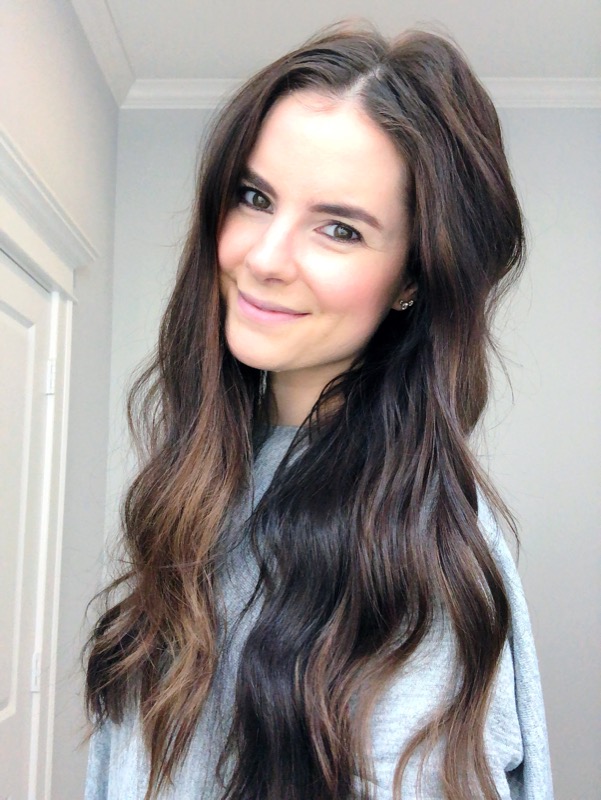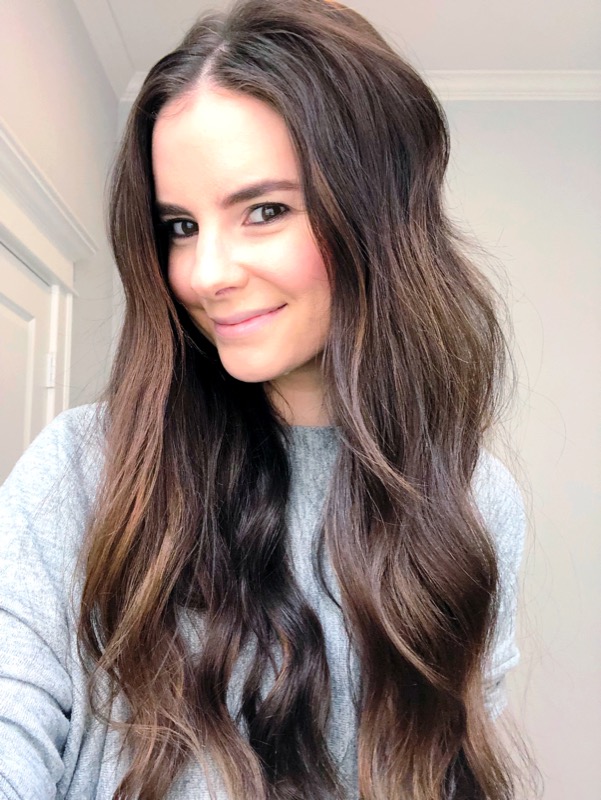 S L E E P
How do you get kinks out of your hair from sleeping?
I recommend sleeping with your hair using this or this elastic in a topknot high on your head, but not tight (you don't want to stress your hair strands or cause hair to fall out). I find this method helps keep hair elevated from the scalp and also makes it less likely to get weird kinks from sleeping. Sometimes, I can wake up and brush through my curls and it looks like I've styled my hair and other times I have to use a little heat (my t3 iron) to re-curl some portions of my hair.
I hope this post was helpful to y'all! Please leave me a comment if you have any additional questions!
This post s sponsored by Nordstrom – thank you for supporting the brands that support my blog!
S H O P  T H E  P O S T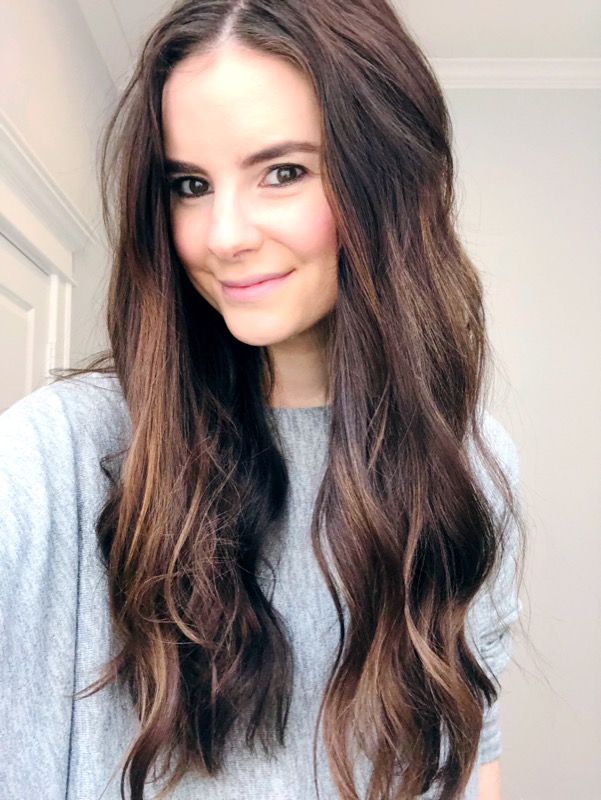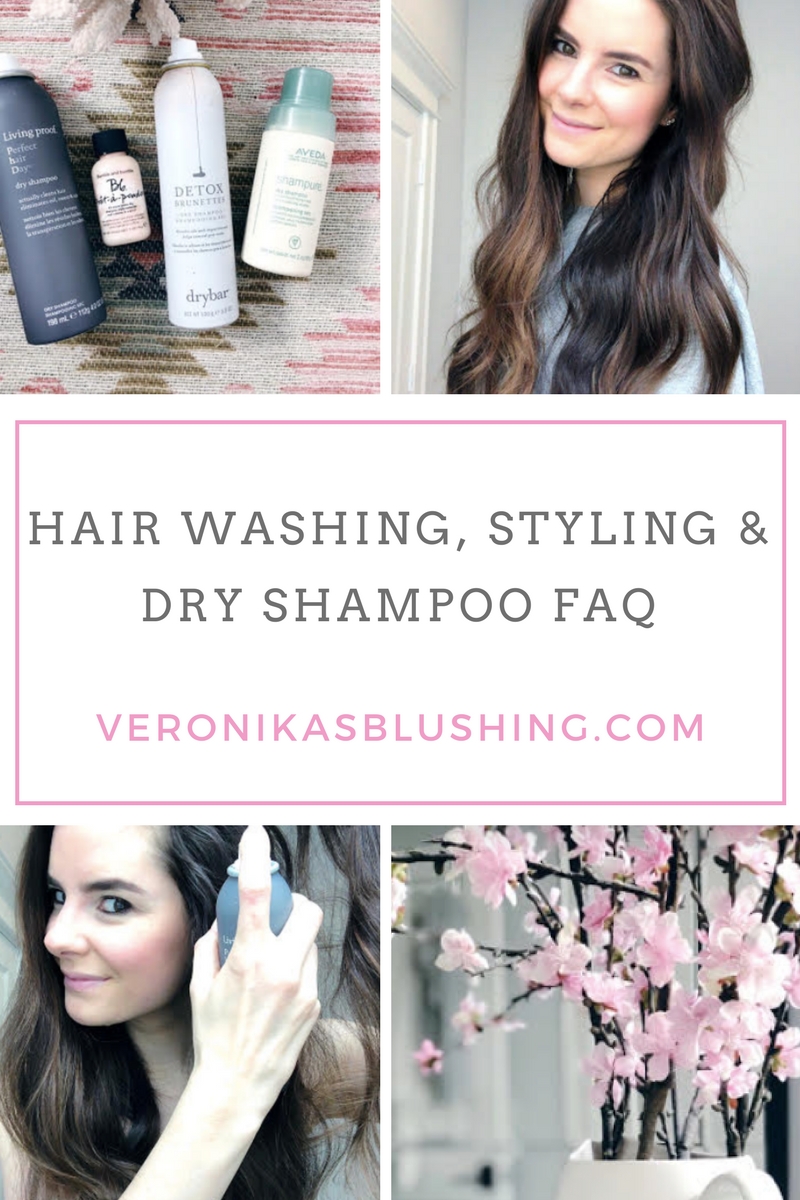 Shop the Post