This post is sponsored by Ivory. All thoughts and opinions are my own.
It's no secret being a mom these days comes with a lot of things many of us were never prepared for. The constant influx of articles on social media about the latest and greatest parenting philosophies and what we're doing wrong can feel totally overwhelming. We're living in a time where there's an endless stream of information coming at us from all directions and it's no wonder it makes us question ourselves as women, wives and mothers. And while we know comparison is the thief of joy, for many women, it can be a difficult habit to break.
Though it's nearly impossible to escape the daily influx of information, our never-ending to-do lists and the mental load we all carry, we don't have to accept it's just the way things are. I believe there are things we can do to make us happier and more productive, even amidst the chaos of our everyday lives. Making these habits stick is a daily effort – results don't come quickly and it takes consistency to put some of these into practice, but it's well worth it.
Here are seven things that make me a better mom.
ASKING FOR & ACCEPTING HELP
This is a tough one, isn't it? No one wants to feel like they can't manage it all. By the way, "doing it all" is not actually a real thing. No one is doing it all and the expectations on mothers these days, is, in a word, ridiculous. Life is a constant game of managing priorities and there are some things we've decided ameliorate our lives enough to justify the cost. We have a cleaning lady that comes every two weeks, we're about to hire a landscaping service, we order almost everything online, we sometimes do curbside grocery pickup, etc.
Doing it all can feel like you're drowning and that's not how I want to live my life. We have the ability to simplify and outsource some things and I have an inner peace about accepting that help, because it makes me better in every area of life. For you, it may be asking your spouse to help more, ordering out twice a week or having a laundry service. Maybe it's hiring a babysitter or asking a family member to watch your child so you can have some "me time." Asking for help isn't about admitting defeat, it's about finding solutions to live your best life. If someone offers you help and you need it – don't hesitate to take them up on it.
BEING UNAPOLOGETIC
Do you ever feel judged for your choices both personally and as a parent, but you're happy with your life? It feels like the judgment and shaming is never-ending for women, and mothers are especially heavily criticized. Oh that new mom goes to the gym for an hour? She should be at home bonding with her baby! Oh that mom decided to take her baby on a vacation? What a waste – the baby will never remember! Oh that mom has a nanny to help her? She must be so lazy! Oh that mom is back in her pre-pregnancy jeans? She must be starving herself!
Over the last couple of years, I've learned that being unapologetic about my choices is the key to happiness. It's exhausting trying to keep up with what people want or expect from you – it's so much easier to embrace your circumstances, live life the way you want and be totally unapologetic about your choices if they're what make you happy. If someone doesn't like it – that's on them. Focus on what you want and what brings you joy and forget the noise. Be confident in your choices and the decisions you make for your family.
Part of being unapologetic means letting go of the guilt you feel as a mom. I still feel pangs of mom guilt every once in a while, but I've tried to make a better effort to "look at the big picture." I used to let things like having to leave work early to pick up my sick child from daycare or not making it to my child's Easter party at school because of an important meeting tear me apart inside. I used to worry what people thought of me for every decision. Now, I try to see the big picture – 20 years from now, I will never regret leaving work early to see my child's school performance – so it doesn't matter what anyone else thinks.
SIMPLIFYING OUR ROUTINES
During the work week, the time we have together as a family is limited, so it can feel like a lot of pressure to make that time count, each and every day. I've learned over time our family time together doesn't have to be a grand production. At the end of a long work/school day, everyone wants to relax and decompress so we don't try to turn our weeknights into evenings that are too intense or activity-packed.
We stay at home, enjoy each other's company and the kids get their last burst of energy out before we wind down. As I mentioned in our family bed time routine post a couple of weeks ago, bath time is a chance for the kids to get the rest of their sillies out, sing, dance and get bubbly! We're still using Ivory's Original 3-Bar (with a new, gentle formula) and Ivory Original Body Wash and love how gentle they are – the kids get lots of bubbles and it's not heavily perfumed, so it doesn't irritate their skin (or our noses!) I love that Ivory has simple ingredients – just like the simplicity of our family routine. I also use the Ivory Free & Gentle Body Wash with Pear & Sandalwood (which includes the #1 Dermatologist-Recommended moisturizing ingredient) when I shower after my BBG workouts and I love the subtle scent and how gentle the body wash is on my own sensitive skin, while being super nourishing.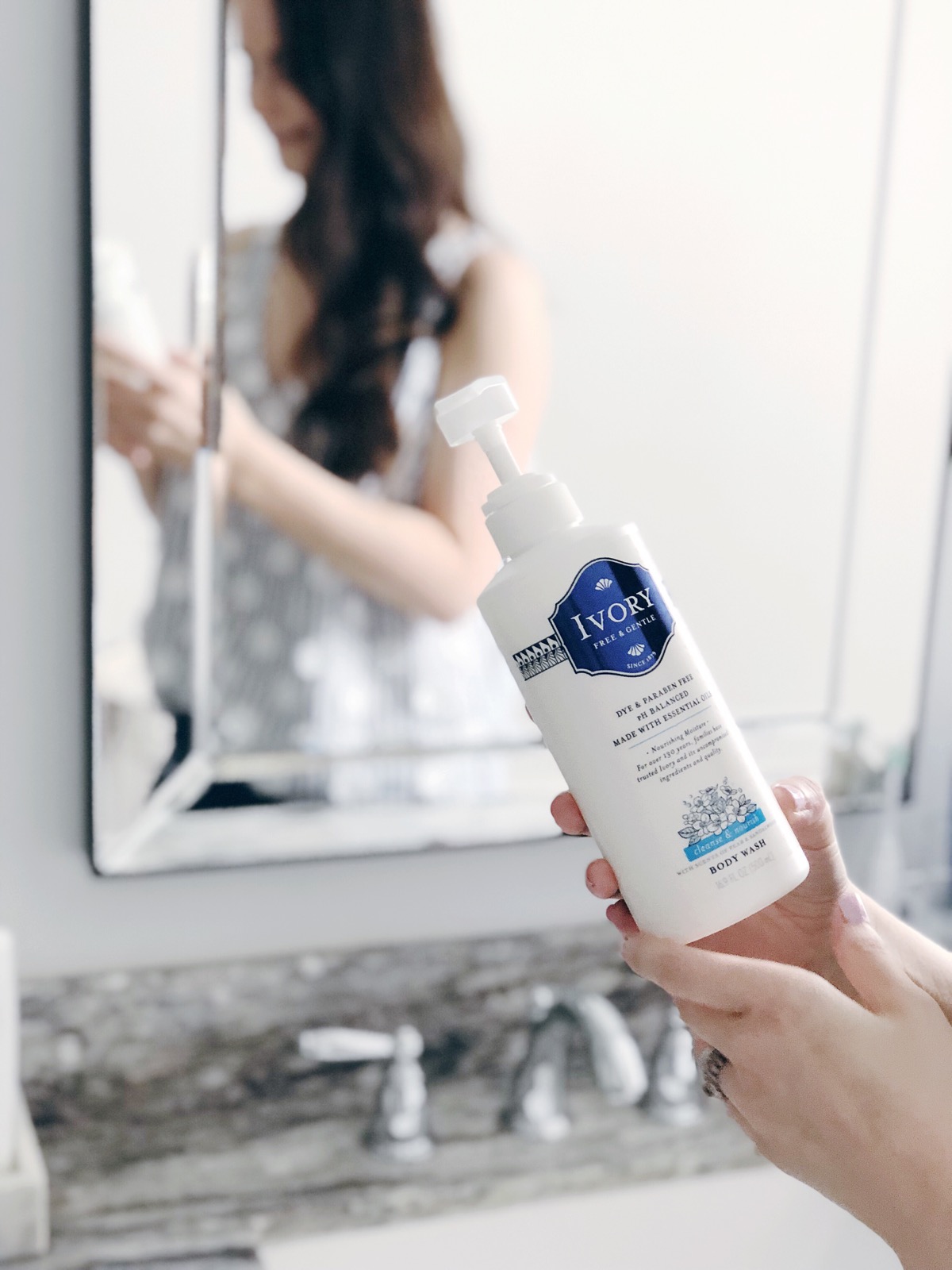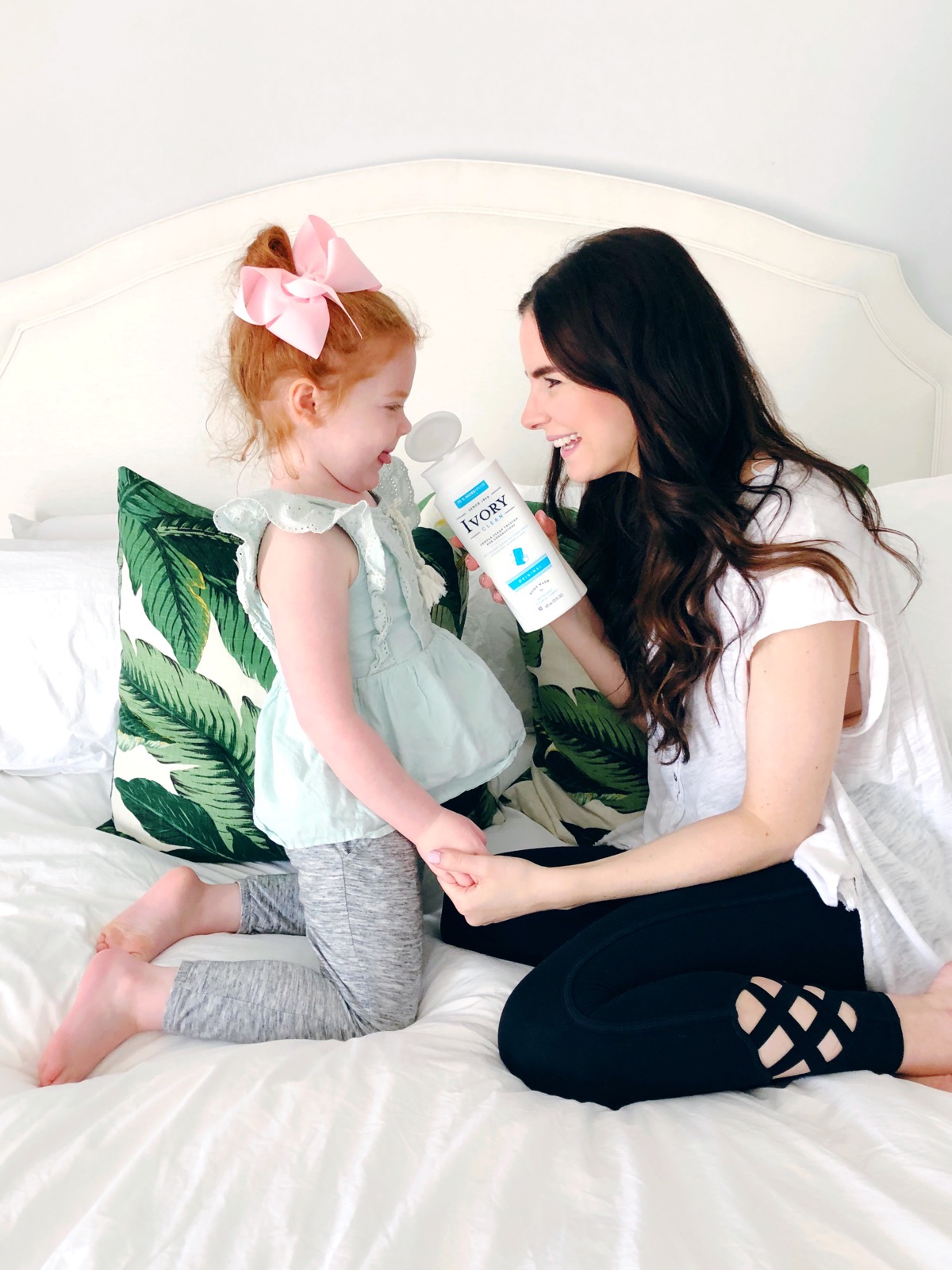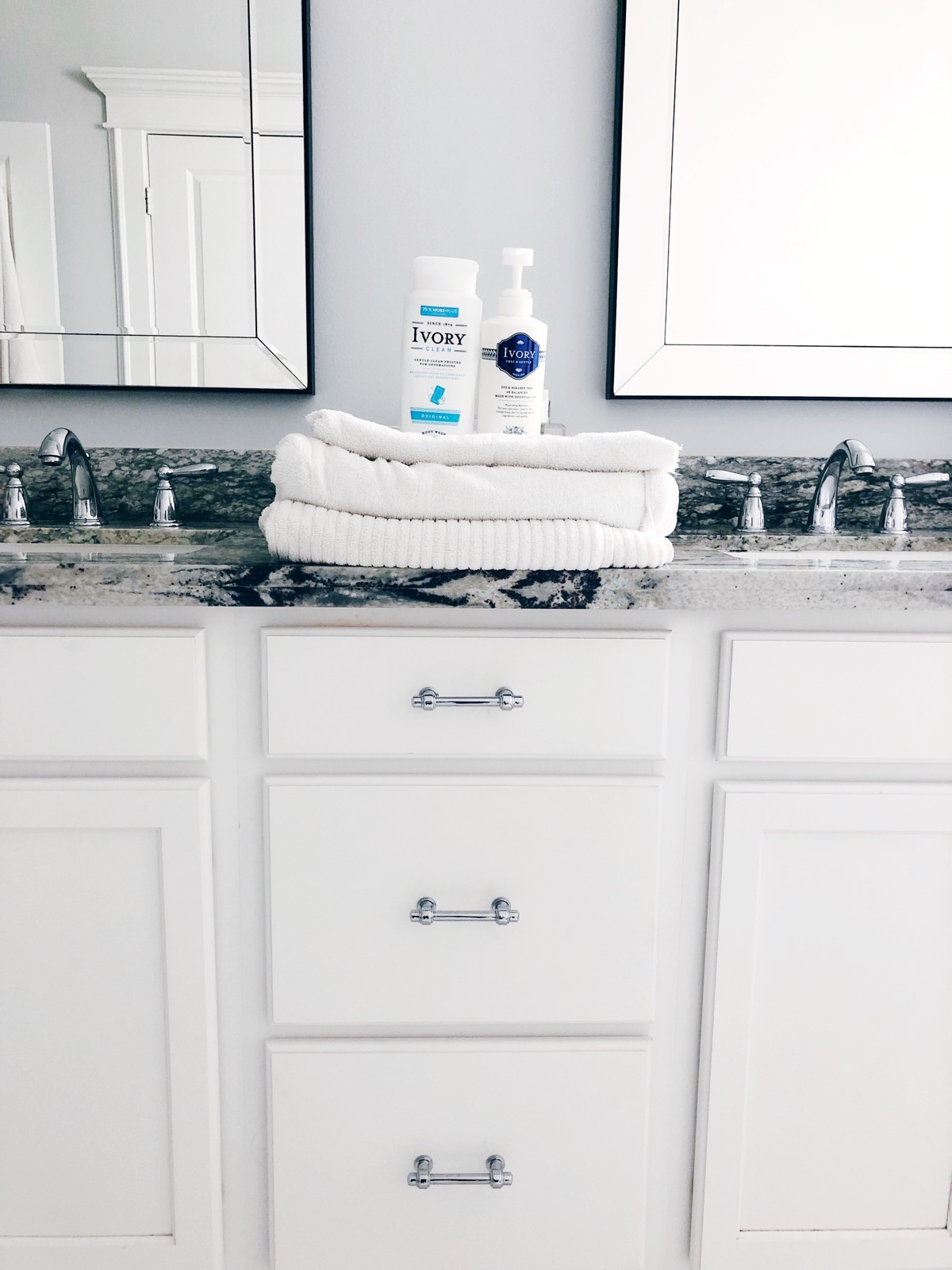 HAVING SOMETHING THAT'S MINE
When I created this space in 2009, I never imagined it would become what it has. This online space and community is important to me and creating content I love has made me feel really empowered. When I moved to Houston over ten years ago, I was in a new city where I hardly knew a soul and my blog was just one way I started to connect with other women and it has even been the catalyst for some long-lasting friendships.
As moms we do so much for others we often neglect our own needs and forgo things that bring us a sense of fulfillment outside of motherhood. I've been so happy to have the support of my family to continue creating content for this space because it's something that brings me joy and connecting with all of you is a privilege I don't take for granted.
SIMPLIFYING OUR HOME
I've blogged about this pretty extensively, but getting rid of clutter, both visual and hidden, makes me a better mom because I don't feel stressed in my own home. Having things on every surface, overflowing drawers and busting-at-the-seams closets is a major source of stress you may not even realize is affecting you. I regularly take the time to de-clutter closets, drawers and everyday spaces like our pantry to ensure that things are easy to find, accessible and necessary. I highly recommend regular de-cluttering sessions because having a home where you can feel relaxed means you'll be less overwhelmed by your living space and thus you can enjoy your time with your family more. I recommend the book A Simplified Life if you're looking for a way to jump-start your journey to simplifying your home and other aspects of your life.
LETTING GO OF THE MOM I THOUGHT I'D BE
This, by far, is likely the most challenging task. When you're pregnant or even before then, you have all of these visions and goals for what you'll be like as a mother and I think by the time you're in the thick of it, you become more comfortable with the reality that the mother you thought you'd be was a little too perfect to be plausible. But a lot of us still place really high expectations on ourselves.
Allow yourself to be vulnerable about the season of motherhood you're in and give yourself the grace you'd want your daughters or sons to give themselves. It's okay to get store-bought treats for the class party or to buy a pre-made Valentine mailbox at Target. It's okay you haven't finished the baby book (or haven't even started one) and it's OK if you have a guest bedroom as a storage closet because you can never quite get around to getting rid of the junk in there. It's also okay you yell sometimes when you shouldn't and you have days where you send your kids to daycare and take PTO at work. It's OK to use the gym daycare just to get an hour to yourself but not actually work out. You may not be the mother you thought you'd be, but you're an amazing mother. You don't have to have a Pinterest-worthy anything to be a good mom – but if your home or life IS Pinterest-worthy and it makes you happy – then that's wonderful too! Letting go isn't about not meeting goals, it's about being satisfied with the ebbs and flows in life and recognizing the best mother you can be is the one you are today – and that if today isn't your best day, tomorrow is another day.
SAYING SORRY
There's something very validating and healing that happens for children when a parent says they're sorry. Having grown up with parents that never did this, I made it a priority in my own parenting to acknowledge when I've made a mistake, yelled when I shouldn't have, etc. Showing your children that adults make mistakes too, and taking ownership and responsibility for those mistakes is not only good for your children now, but will serve them well in adulthood as they navigate their own relationships.
It's fair to say most of us have totally unachievable standards for ourselves because we want to be the best mom – but by admitting we're not perfect and taking the time to apologize for our mistakes, we teach our kids a valuable lesson.
What are things that make YOU a better mom? Share with me in the comments!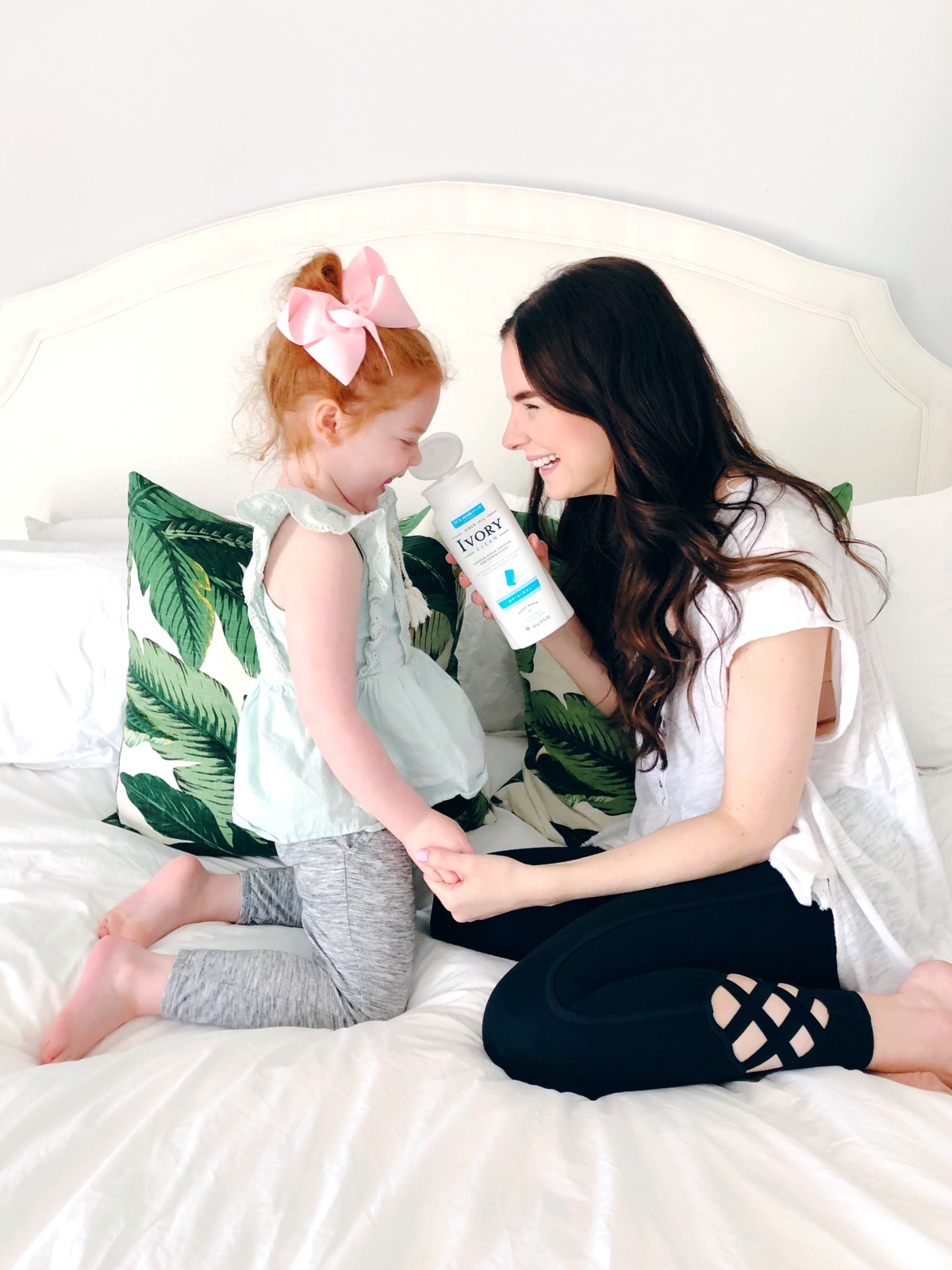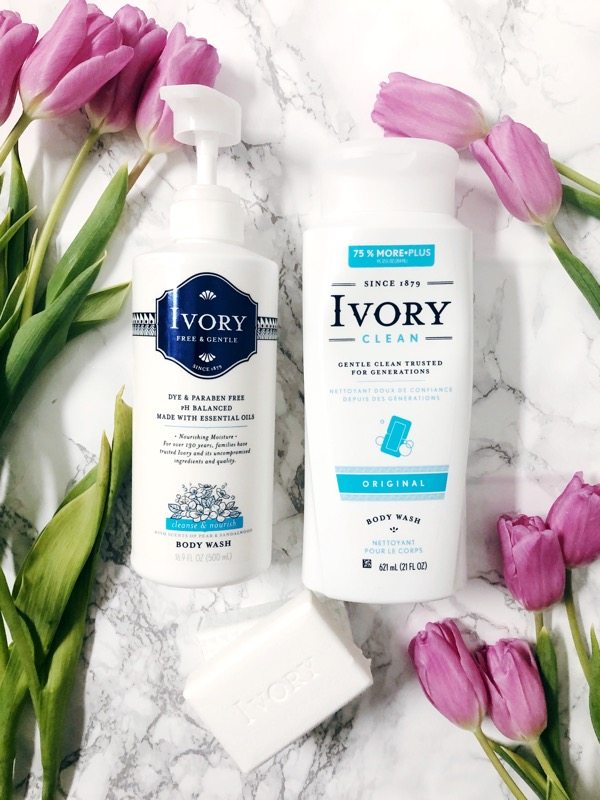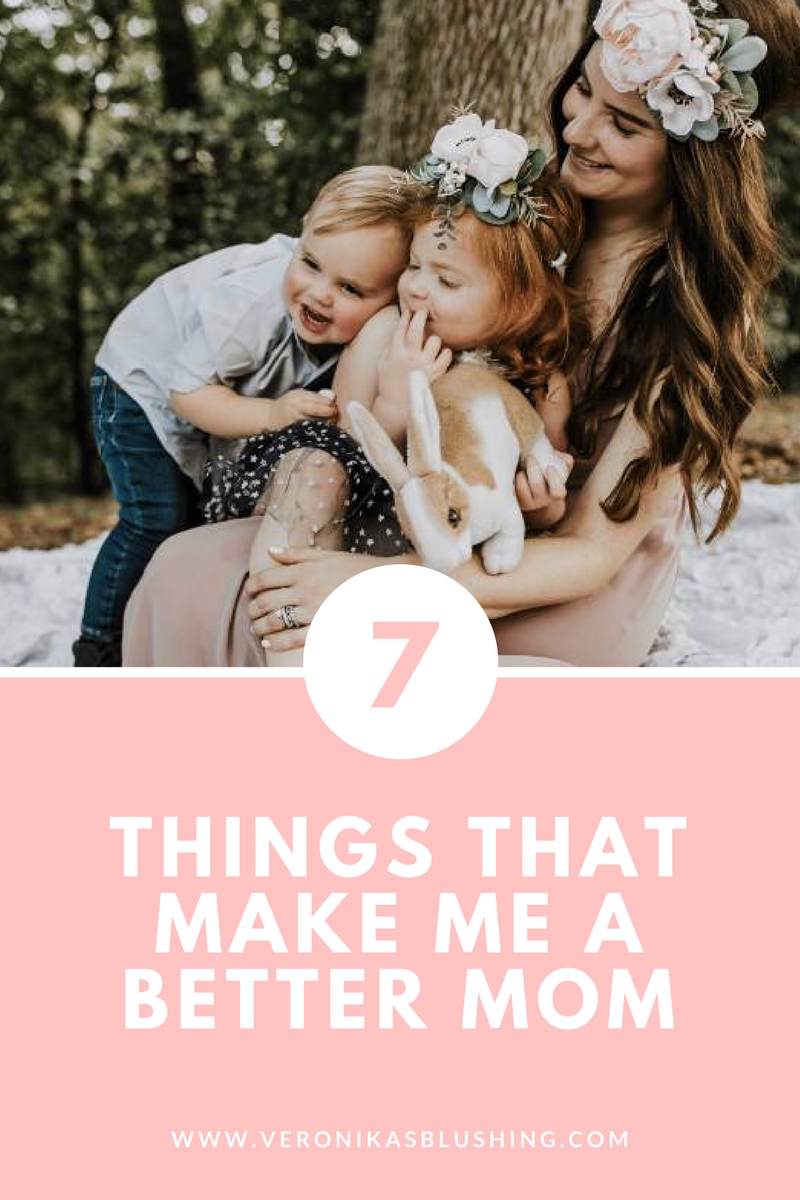 This is a sponsored conversation written by me on behalf of Ivory. The opinions and text are all mine.