Side note before I begin this post: Sephora is having a 15% off sale right now, so it's a good time to stock up or try some pricier skincare items! 
---
About six weeks ago, I shared that I was trying out some new skin care products and a lot of you have asked me to share an updated skin care routine. I like to use products for a while before giving a verdict so I can truly know if I love and would repurchase them – so thanks for your patience!
Most of the skin care items I'm sharing here today are at a higher price point. I had some sticker shock when purchasing these myself, but as I turn the corner to 35, I figure investing in my skin now is worth it in the long run. I'm also going to share some less expensive options at the end of my post as alternatives that have similar ingredients.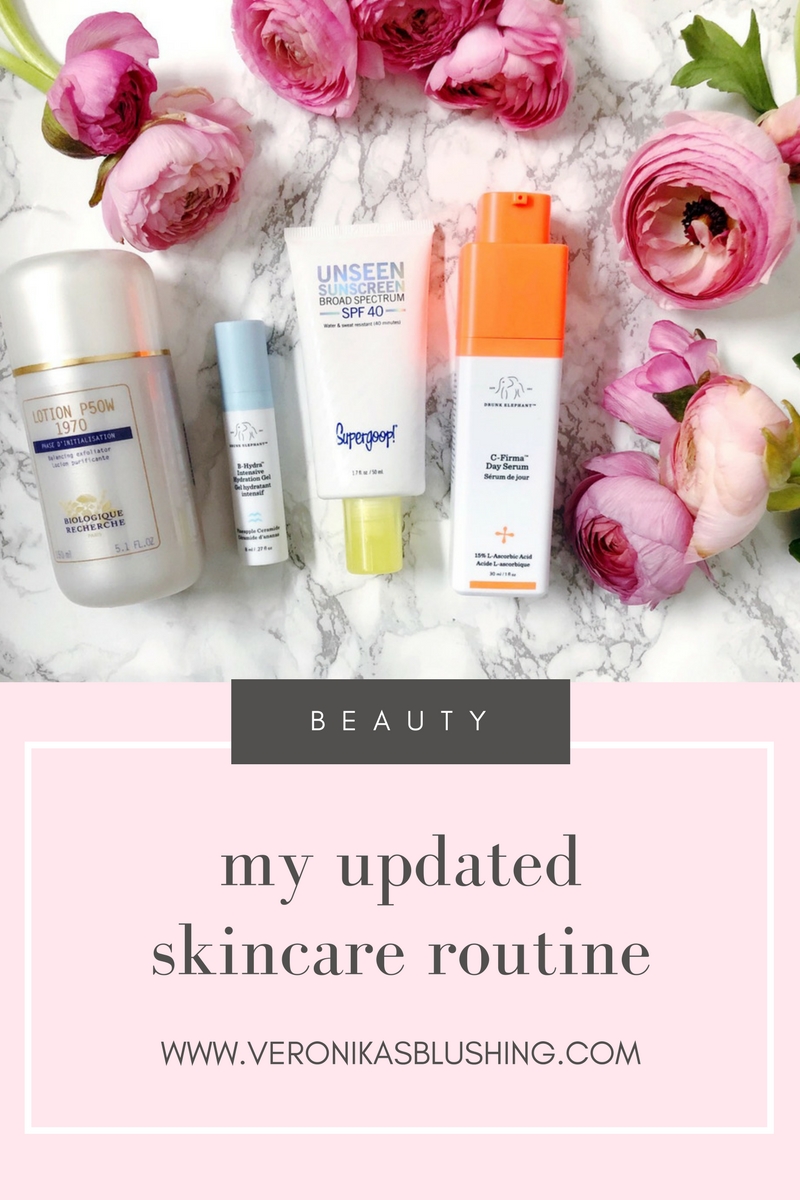 It all started with an elephant – a drunk elephant, at that. I purchased two mini Drunk Elephant skin care sets (for day and night) because the brand gets rave reviews online, has a cult following and several bloggers I follow have been touting it as the best skin care they've ever used. What I love about this brand is that they're focused on using nontoxic ingredients that work.
Any time a product has a ton of four and five star with comments like "this product changed my skin!" or "best vitamin C serum I've ever used," I want to get on that ship and sail through the ocean. Truth be told, I hadn't really heard of Drunk Elephant until a few bloggers I follow professed their love for the brand (which subsequently led me down an internet rabbit hole of reading reviews on multiple sites – when I'm spending that kind of cash, I read all.the.reviews). I've mentioned before that I'm fortunate to have the opportunity to experience a lot of skin care brands because of the PR packages I'm sent, but I still do my own research and purchase products on my own on a regular basis (seriously though, if Drunk Elephant wants to call me, I'm answering!)
Before I get into the products, I'll talk briefly about my skin. My skin is combination (oily t-zone and normal cheeks) with some fine lines, unevenness, sun damage, redness and marks from a breakout tend to take a long time to fade. My goals for my skin are to reduce fine lines, make my skin glow, brighten and even-out my complexion and to reduce redness and pigmentation.
So with that in mind, here are the products I'm using, morning and night.
C L E A N S E
Most often, I'm reaching for La Roche Posay Effaclar cleanser. However, I'm also using Dermalogica's special cleansing gel in the shower and Aveeno's redness-reducing gel cleanser. I like gel cleansers because I feel they remove makeup well and the consistency seems to work for my skin.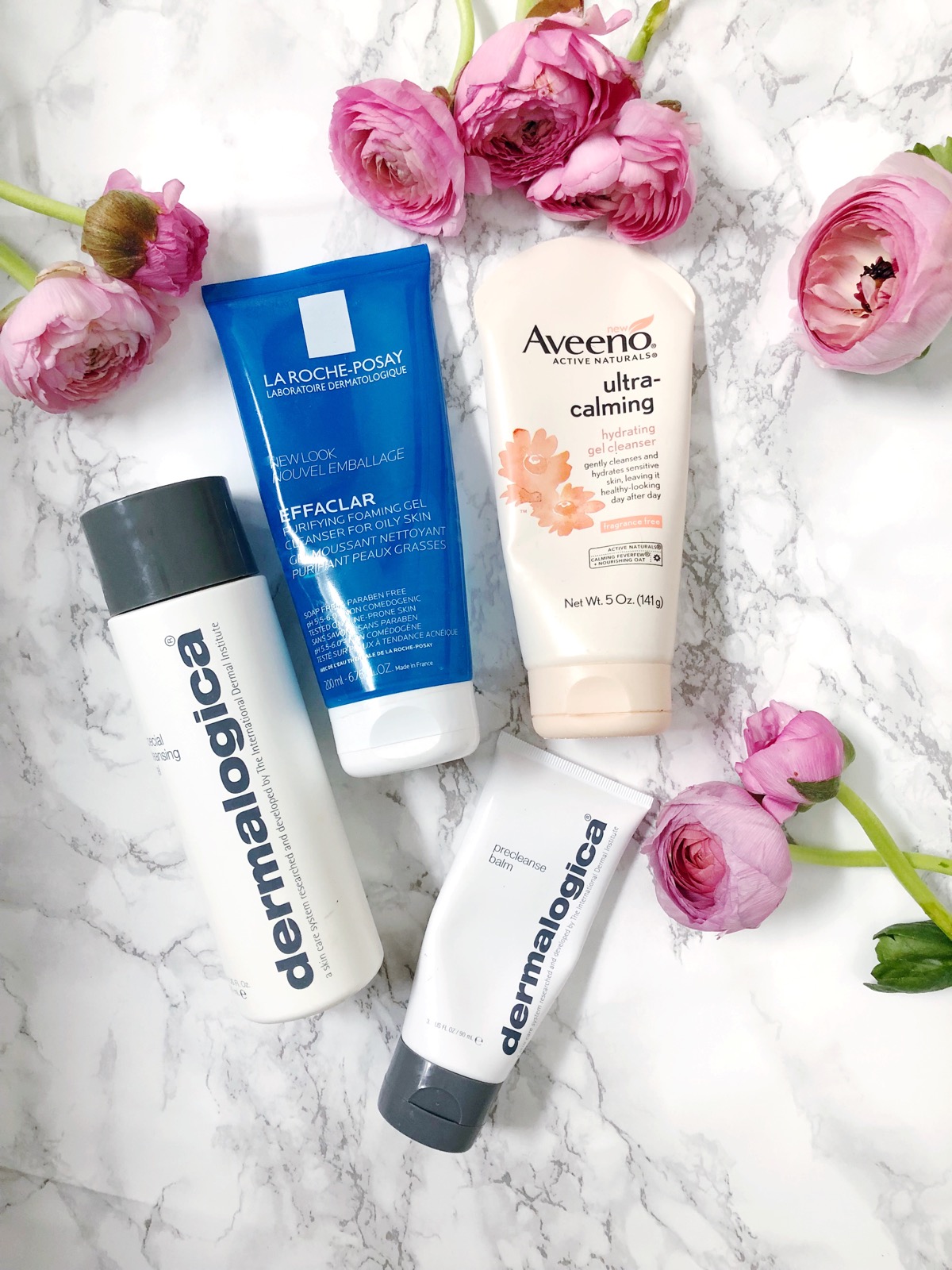 M O R N I N G
After cleansing, I use a cotton pad to apply Lotion P50 W, a product by BIOLOGIQUE RECHERCHE. This is another gem I found out about in the Instagram world (thank you Lindsey and Bridget) and also (surprise) has a cult following. Based on the product description, it exfoliates, hydrates, and balances the pH of the skin (basically preps the skin for the next skin care items that will be applied). Everyone I know that uses this product has glowing, clear, smooth, bright skin. Word of warning – this product smells…odd. Slightly menthol-y, slightly sulfur-y. It's hard to explain, but does anyone really care what their skin smells like if it's glowing? I can deal with the smell (it dissipates). Lindsey sees a facialist that uses the entire product line and she does Jennifer Aniston's facials, so…
I brush my teeth as I wait for the Lotion P50 W to dry and then I apply Drunk Elephant's vitamin C serum, C-Firma (also available here with 2-day shipping). I follow this with Supergoop's Unseen Sunscreen (it has an SPF 40, is clear and has the consistency of a primer).  Then, I apply my foundation, which has an SPF 50 + great skin-helping ingredients. I've also considered purchasing Drunk Elephant's sunscreen, which has a physical sunscreen in it – but I love the Supergoop one thus far!
Pretty simple, right? I should also mention if my skin is feeling extra-dry, I add either Drunk Elephant's B-Hydra intensive hydrating gel (also here — I have some left over from the duo kit I purchased) or Elemis superfood day cream. Usually though, I don't have to add moisturizer on top of my c-serum and sunscreen since my foundation is quite moisturizing.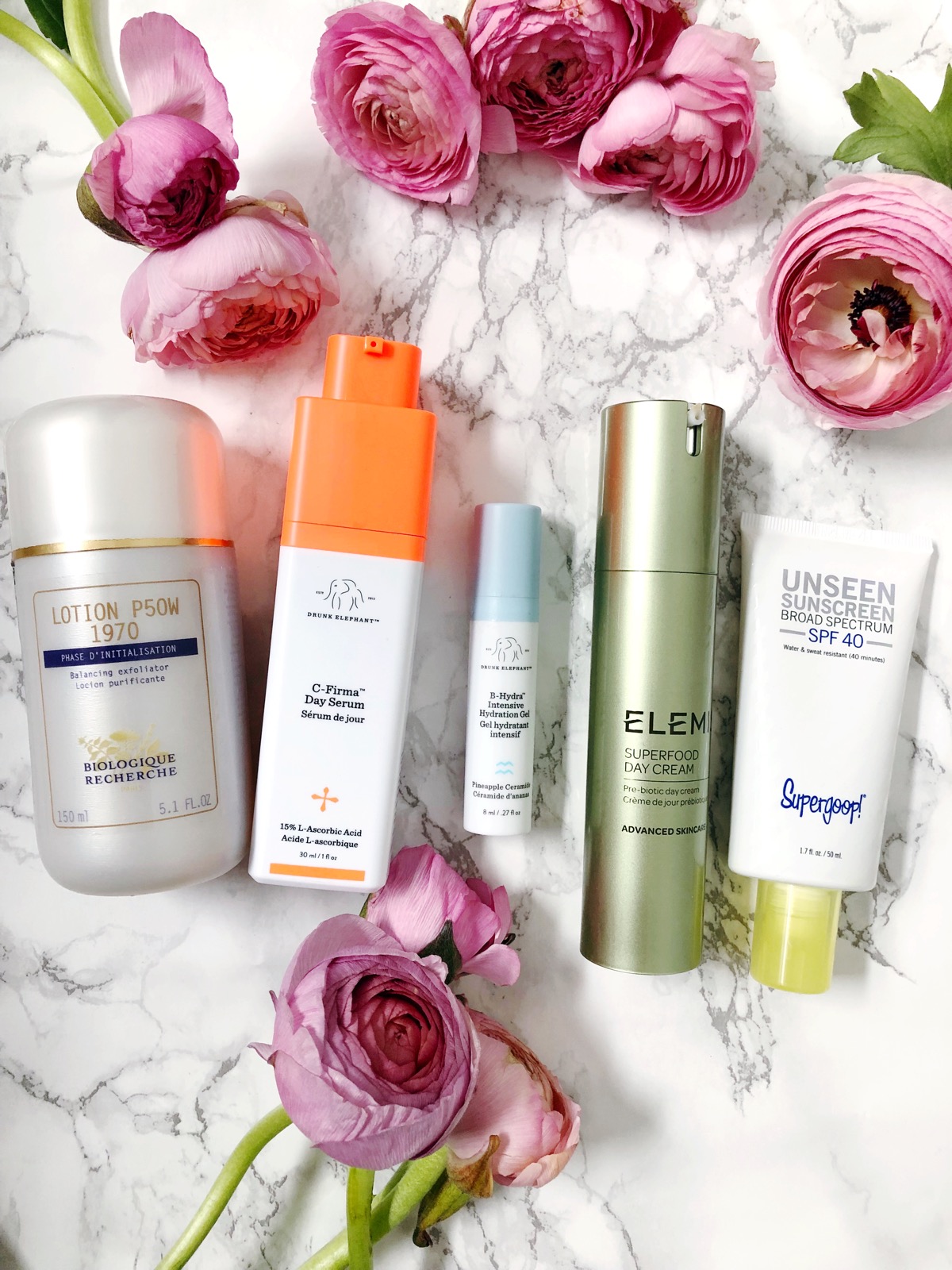 (above is the order I apply the products in)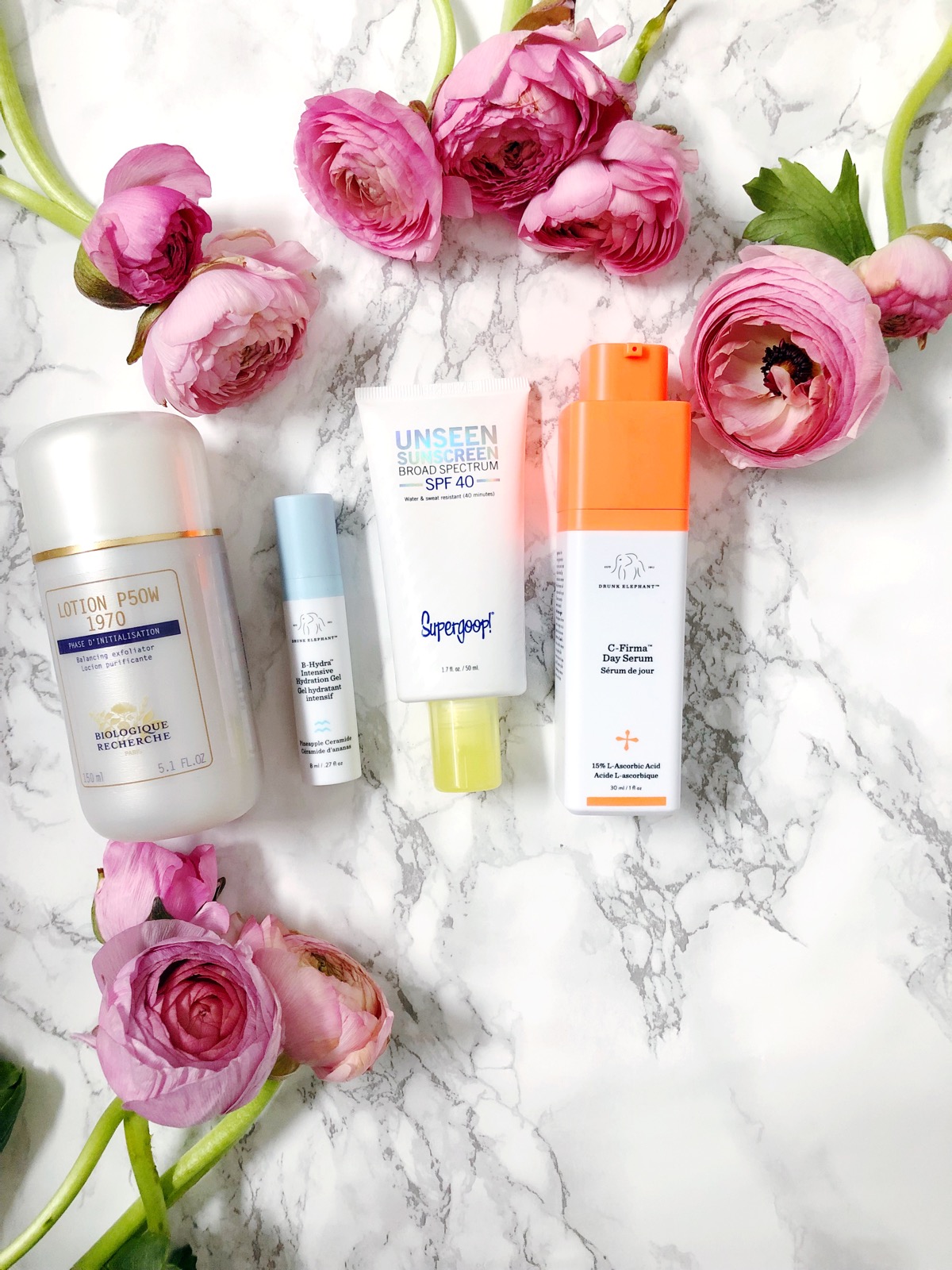 N I G H T
I use this or this eye makeup remover on flat cotton rounds to remove my waterproof mascara. Then, I use the La Roche Posay Effaclar cleanser to remove my makeup. After patting my skin dry, I apply Sunday Riley's Good Genes to my skin. Y'all. This product, which also has rave reviews and a cult following is truly amazing. It's a lactic-acid based exfoliator that helps make skin bright, even and glowing. The other product I love is Drunk Elephant's Framboos (also here), which is an AHA/BHA based exfoliant(I got in in this duo kit – a great way to try products before committing to the full size – though this line is so good, I truly believe you can bypass the trial size because I know you'll love it and see results).
Since using Sunday Riley, I stopped using the DE Framboos (you don't want to layer chemical exfoliants), but I can vouch that both products are excellent. If my skin is feeling extra dry, I'll either add DE's Marula Oil or Elemis Superfood night cream  (full disclosure – Elemis did send me their line to try, but as always, I only work with brands I truly like and only mention gifted products when I actually use them). For breakouts I use Mario Badescu Drying lotion (I usually get a couple before my cycle) and for dry spots I use Elemis superfood oil or DE Marula oil.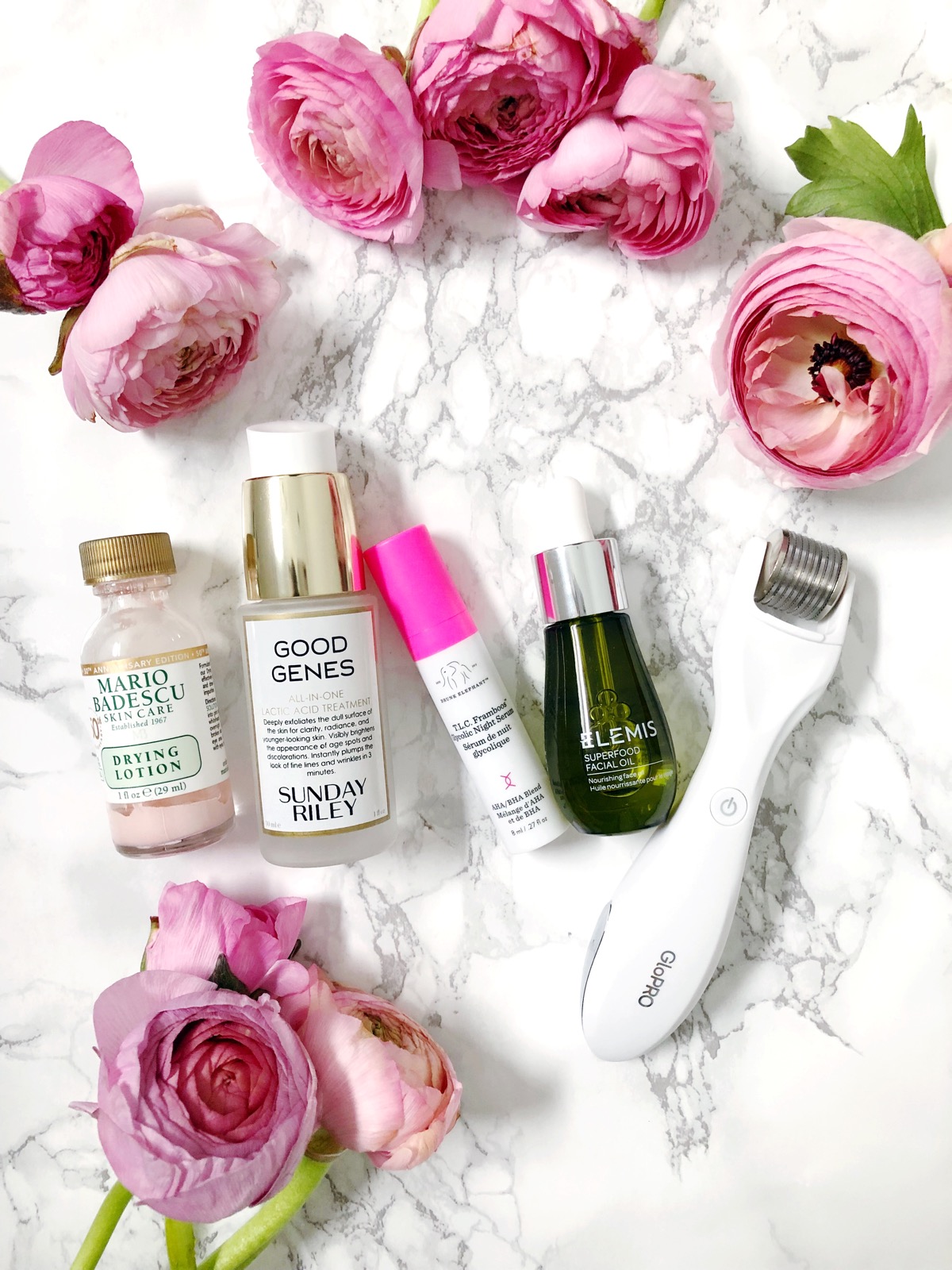 W E E K L Y  T R E A T M E N T S
I'm using my GloPro microneedling device about 2-3 days per week. The benefits of microneedling include increased collagen production (plumper looking skin) and reduction of fine lines. I'm really glad I got this device because I think that with consistent use, it does make a difference. It also helps your serums absorb deeper into your skin, which is key.
I use Drunk Elephant's T.L.C. Sukari Baby Facial treatment mask (also here) once a week (usually on Friday or Saturday night). It's no surprise that Baby Facial is regarded as one of Drunk Elephant's hero products – it's like a gentle chemical peel for your skin. It's formulated with AHA & BHA that helps remove dull and dead skin cells and give your skin improved brightness and clarity. It also makes your pores tiny. When I wash if off, my pores are visibly smaller – it's unreal. Also, your skin will be baby-smooth after using this – product name on-point.
Following Baby Facial, I use Drunk Elephant's Marula oil (also here)– it contains antioxidants and tons of other moisturizing ingredients that help hydrate skin and give you a glow. I was always against facial oils, but they're not all created equal. This one does not cause breakouts and it's described as "rehab for your skin" by the brand – it reduces wrinkles, blotchiness and increase elasticity, all while being naturally anti-microbial.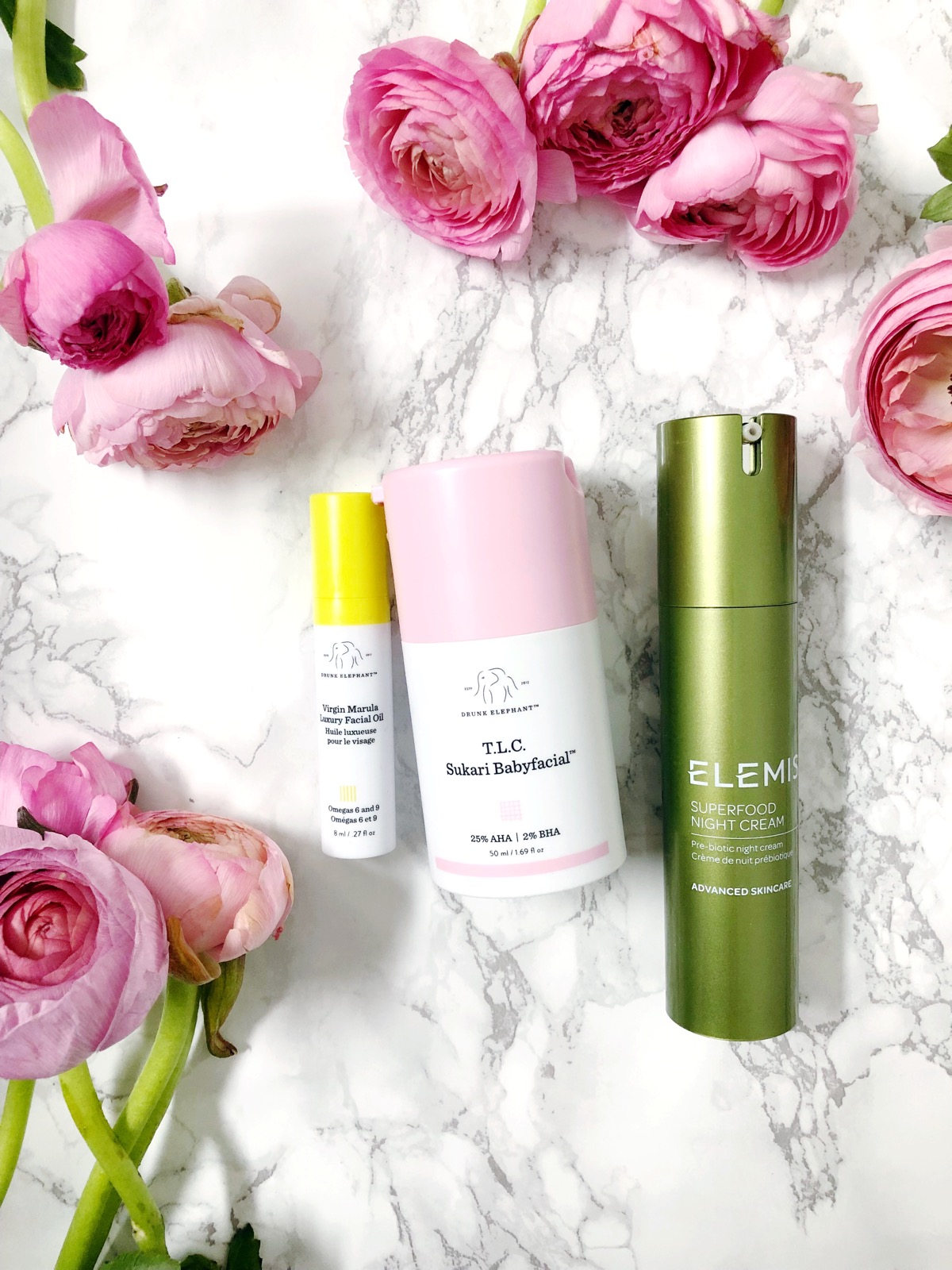 Other masks I use and love are: Peter Thomas Roth rose stem cell mask, Tata Harper resurfacing mask, Fresh rose mask, Colleen Rothschild clay mask, Tata Harper moisture mask and Dr. Jart sleep mask.
WHAT ELSE YOU NEED TO KNOW:
Products I still want to try: Dr. Dennis Gross alpha beta peel pads, Skinceuticals vitamin C serum.
I also ordered Drunk Elephant's C-Tango eye cream and am waiting for it to arrive — so excited to try it since I haven't used an eye cream in ages!
For more budget-savvy skin care options, check out The Ordinary.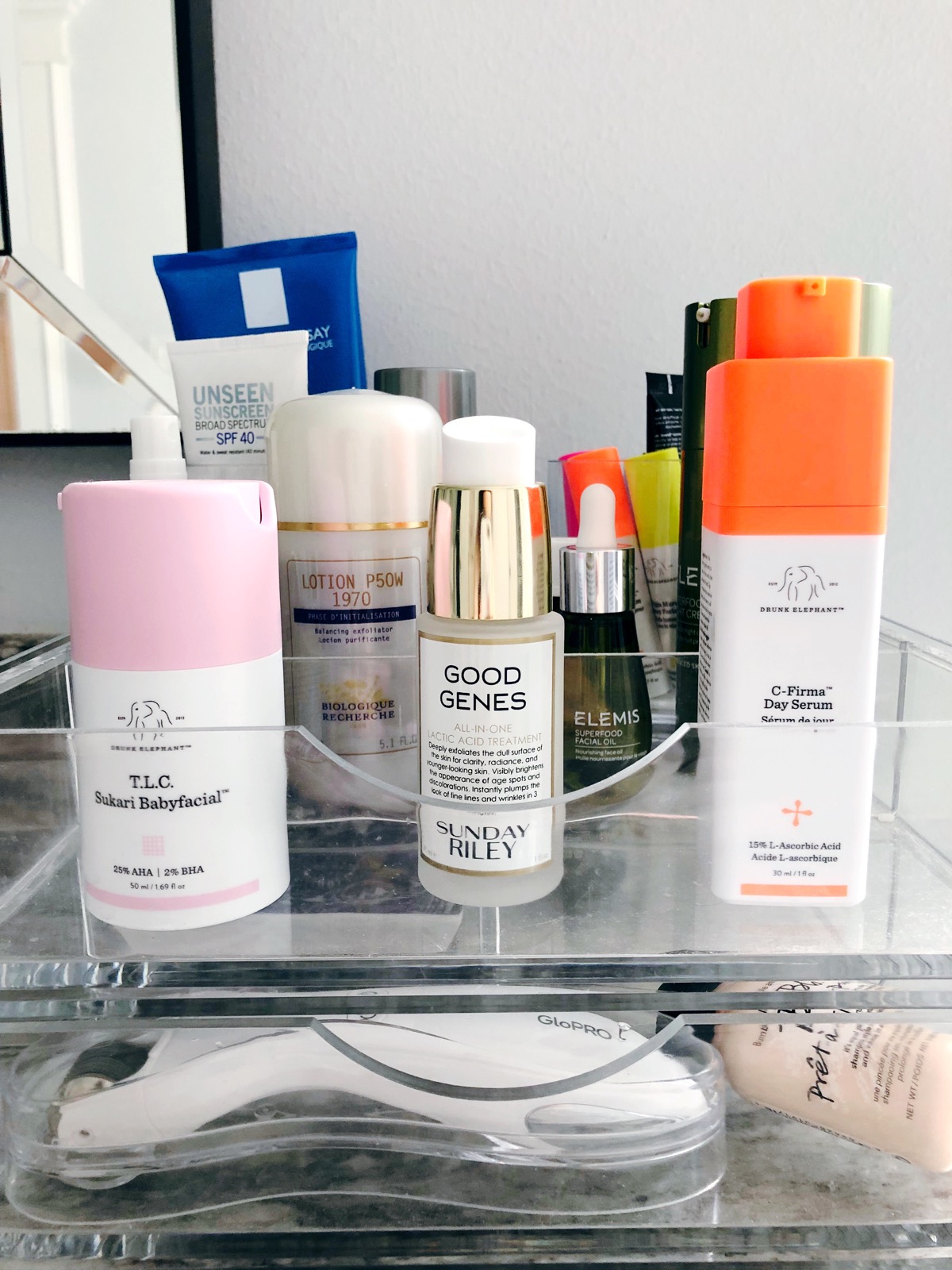 Disclosure: Products in this post that were gifted to me include Elemis, Colleen Rothschild, Fresh and Tata Harper. However, I only mention and share products I actually use a love, regardless of whether they were gifted or I paid for them myself. All other products mentioned, I paid for.
Shop the Post