When we were house-hunting while I was pregnant with Lincoln, one thing that really sold us on our current home is that we'd have a dedicated play space. When we toured the model, we couldn't believe how large the game room/play room/bonus room was. Though it has slanted ceilings since it's technically a finished attic, it has a ton of natural light via a large window, a half bath (so convenient!) and plenty of space for all of the kid's toys, a large sofa and TV. After seeing our living room turn into a playroom in our previous home, we were more than ready for this space.
Especially when kids are young, it's such a bonus to have a playroom. Not only does it ensure the rest of our home remains relatively un-cluttered, but it's a space that's totally dedicated to their play and creativity and that I don't worry about keeping perfect. We spend a lot of time in our playroom together as a family – it's our post-dinner retreat, where we spend bits of Sunday mornings after our "special breakfast" and a space the kids use often to run wild, haha. I don't know if we could ever buy a house without a space like this now that we've enjoyed its benefits so much (I have friends that convert formal living or dining areas into playrooms — and now I know why!) I think that bonus rooms are becoming a huge trend in new homes – every single home we saw at Bridgeland recently had an open-concept space that could be used as a play room (some had play rooms AND media rooms).
Over the weekend, we installed some brackets to help support some of our floating shelves, which are from IKEA. We had installed them some time ago but the bottom two shelves were starting to slope downward and needed extra reinforcement. I decided to remove everything from the shelves and re-style them, and our entire playroom, since we had a new craft table come in.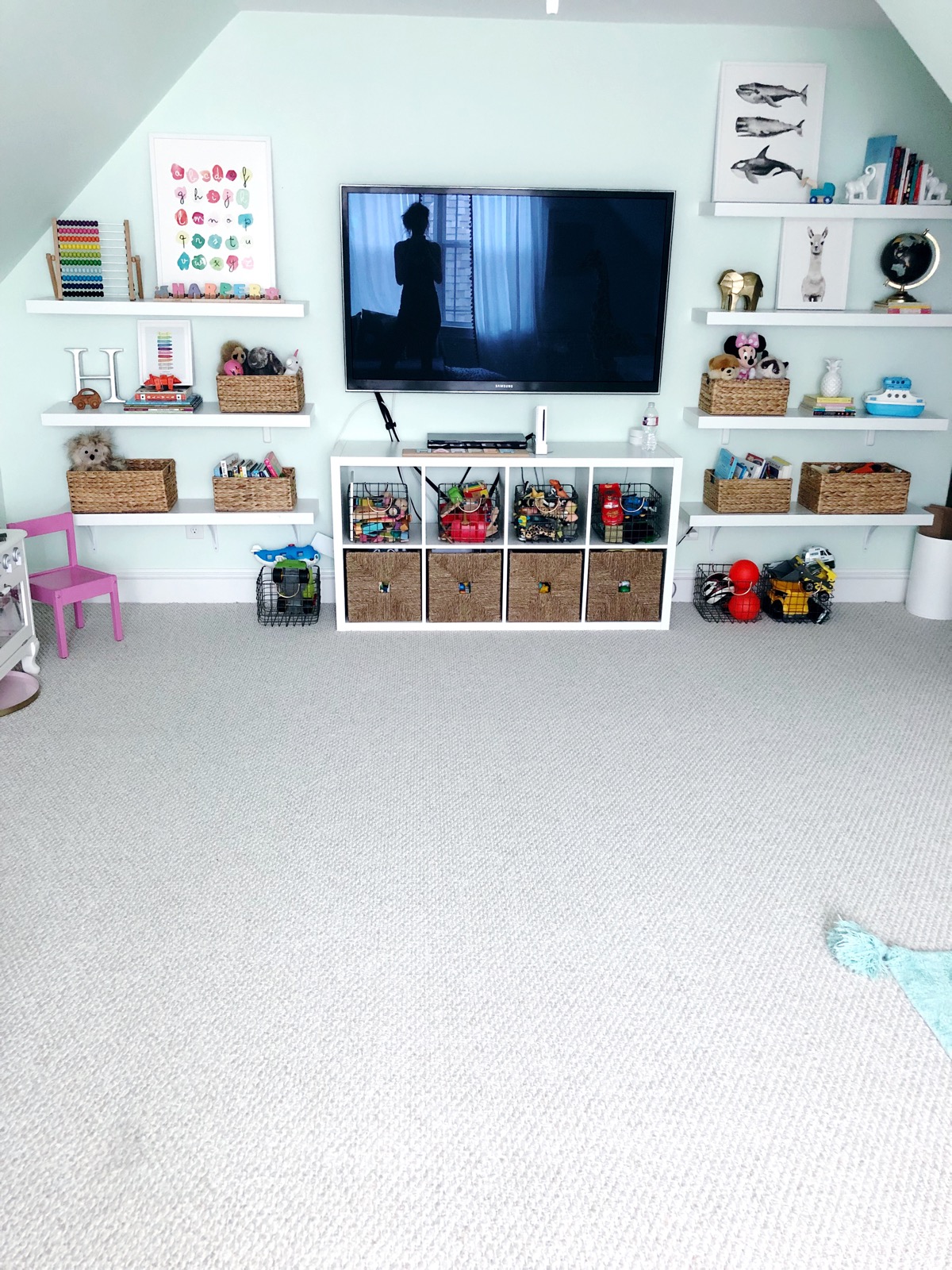 To be honest, I didn't want to share our playroom until I felt it was "done" and perfectly styled. I had plans to have it professionally photographed in all its styled glory, but once I finished organizing it this weekend, I realized that it would never be done or perfect and that it was pretty much in "as good as it gets" condition. We're always re-configuring the space based on Harper and Lincoln's needs and interests, so it will always be evolving.
L E T ' S  G E T  S T A R T E D!
When you first enter the play room, which is located on the third floor of our home, you come to a landing – to the left is a half bath and to the right is a small entryway into the main space. We chose to use a large blank wall in that entry area to install IKEA's photo ledges, which we use to hold books. It's a great way to organize our large book collection and also adds color to the space. By the way, I get a lot of questions about the paint color in this room – it's "mint essence" by Olympic, color-matched to Sherwin Williams' low VOC paint.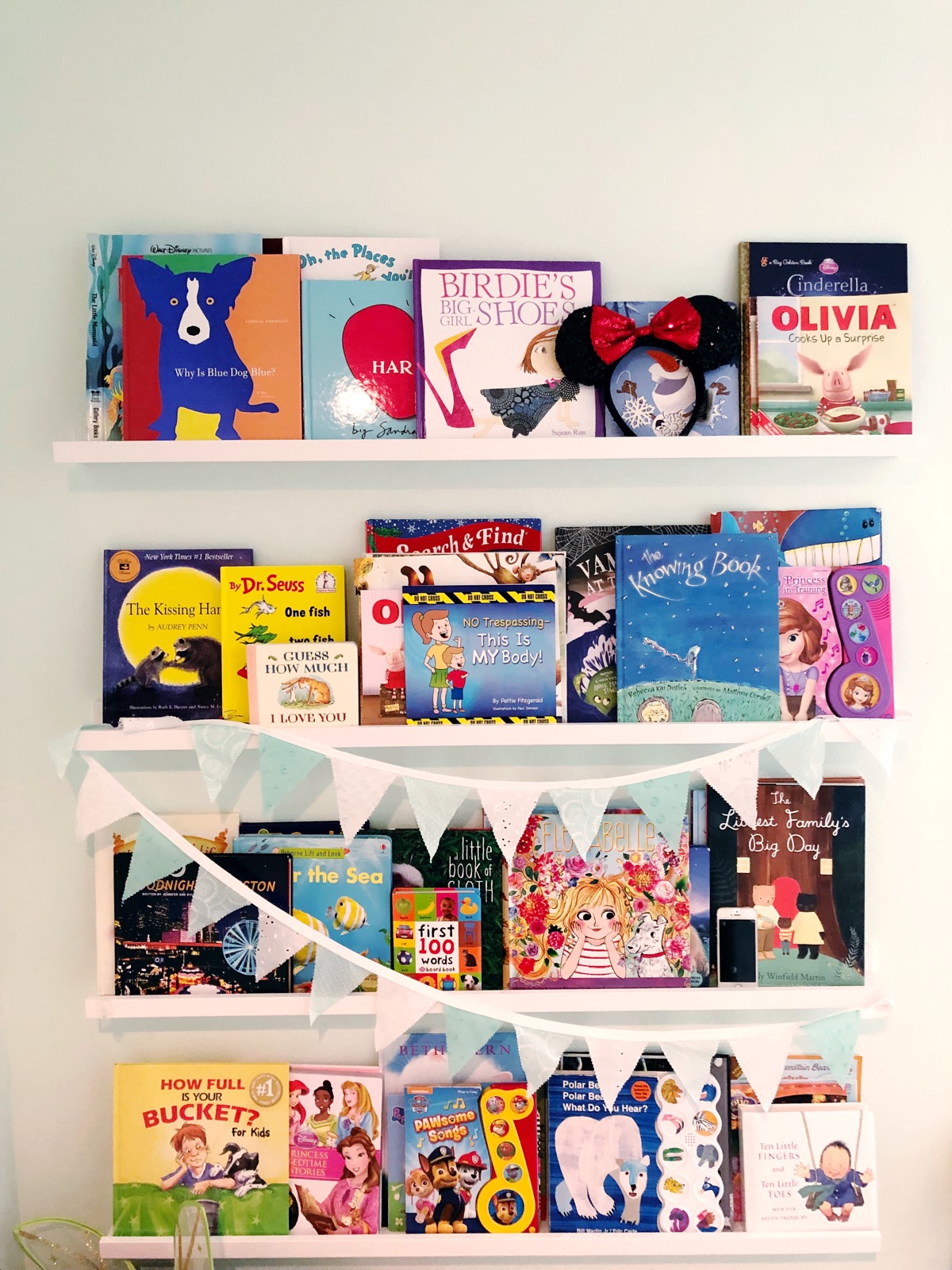 As you enter the playroom, you'll see that we tried to use the wall space around the perimeter of the room wisely – our L-shaped sofa from our first home sits in the far right corner and the children's play kitchen shares that same wall. We used to have their play kitchen on the other side of the room, but it made more sense to move it when we got our large craft table. The gold rolling cart where we keep their play food is here.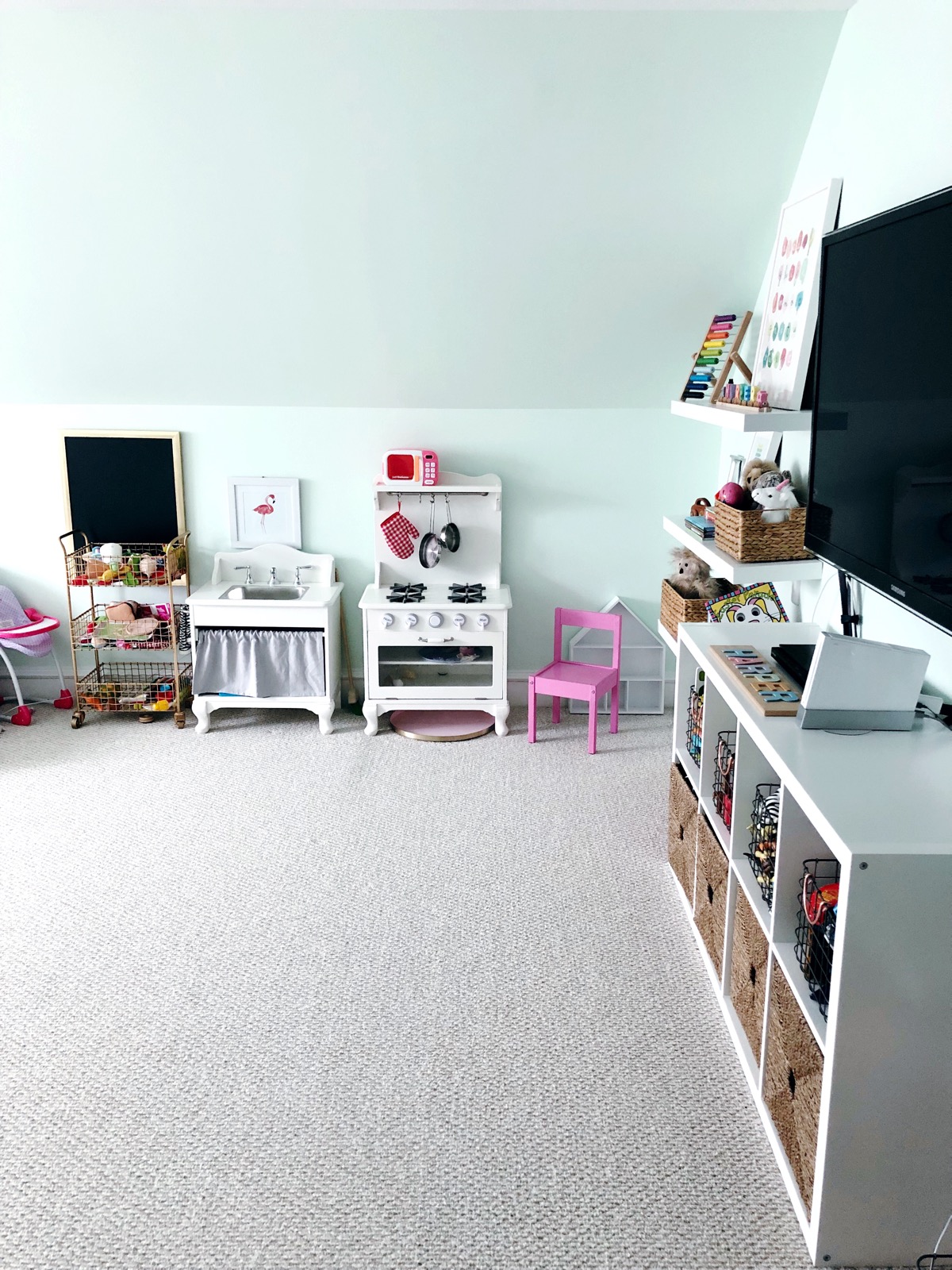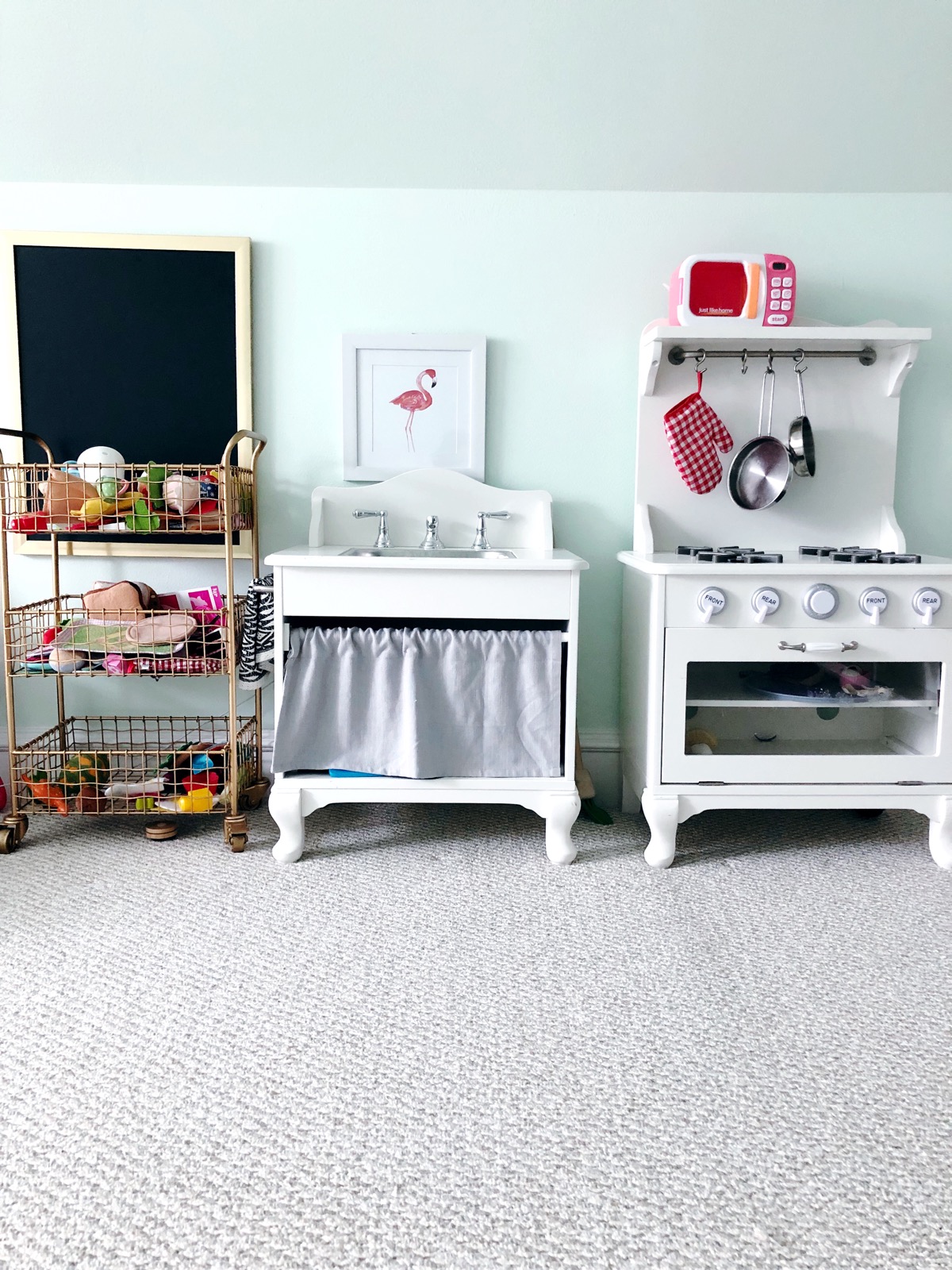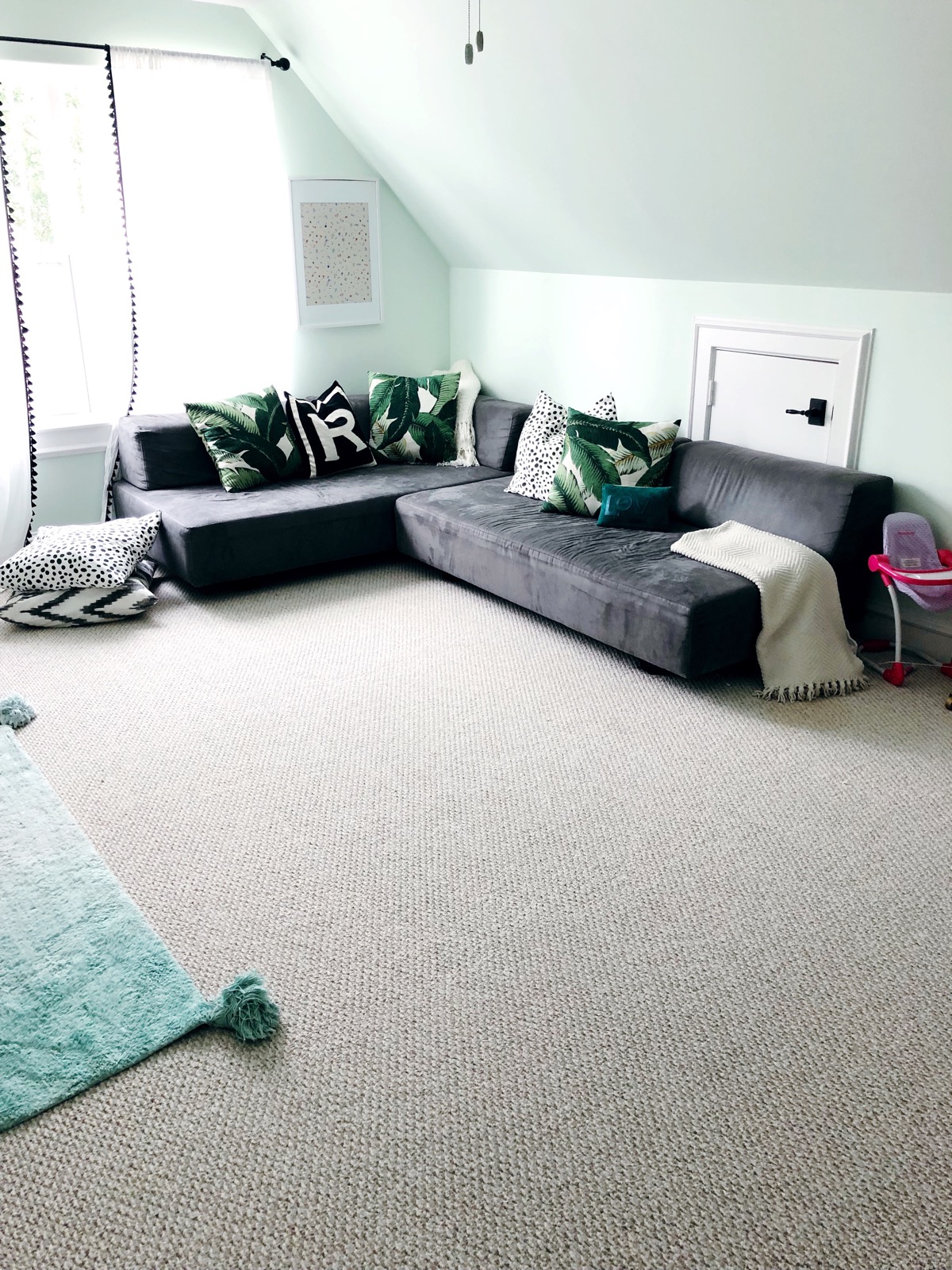 Speaking of which – we couldn't be happier with this craft table. It's a great size and height for both kids (their IKEA tables were getting too small but were perfect when they were younger). The craft table has two drawers as well as a paper roll (you can purchase paper rolls here). This table also comes in a "grow with me" version so that you can swap out the regular legs for the taller ones as kids get older – a great choice if you have younger babies or toddlers. We paired the table with two wooden chairs from RH Baby & Child and two metal chairs that you can find here (such a great price!) Other chair options I love are here, here and here.
The crayon caddy is fantastic and can be found here. The mini animal heads are here. The large giraffe is here. The banana leaf pillows are here. The tassel curtains are from here (they are no longer available but I found more options here and here).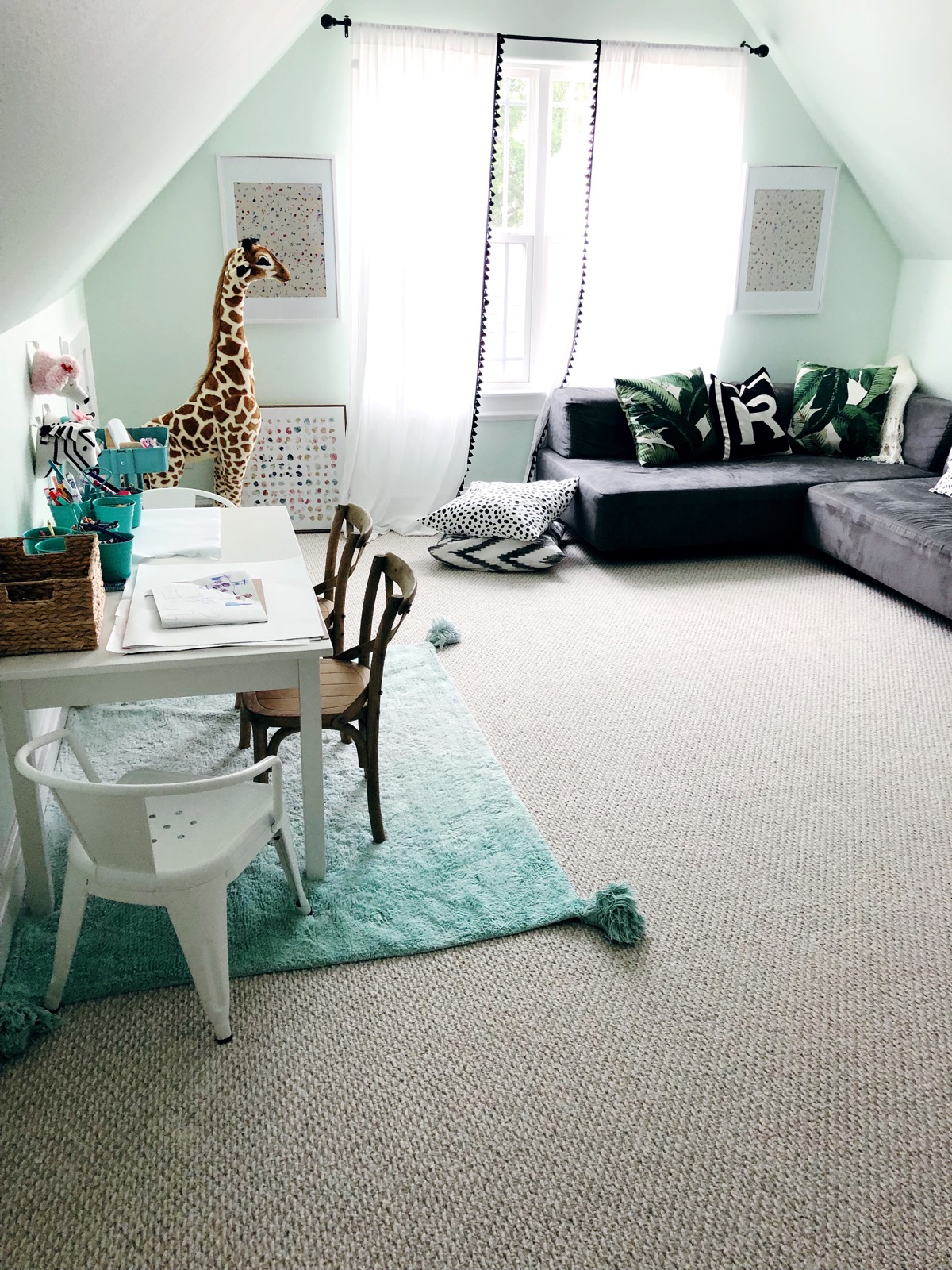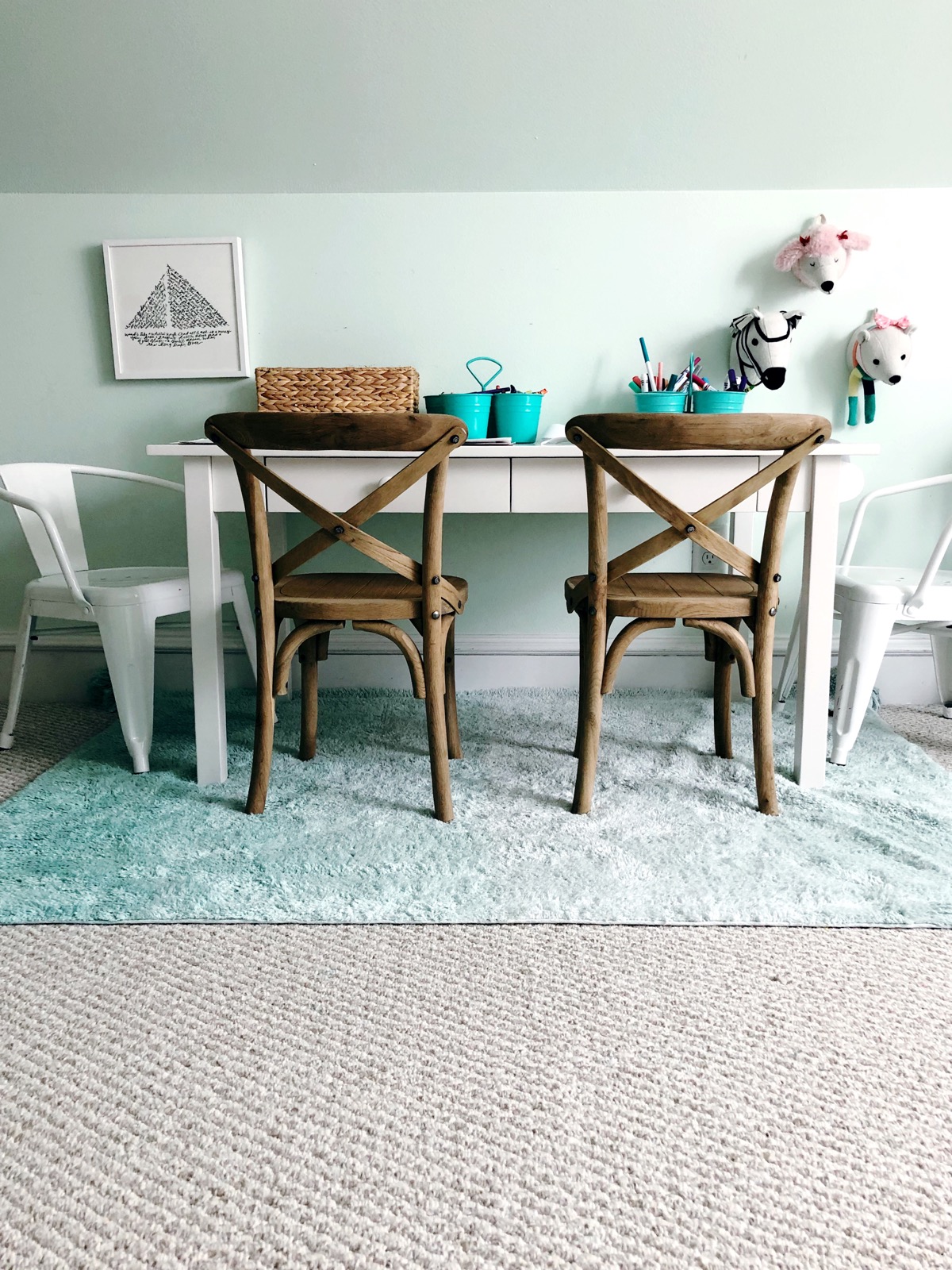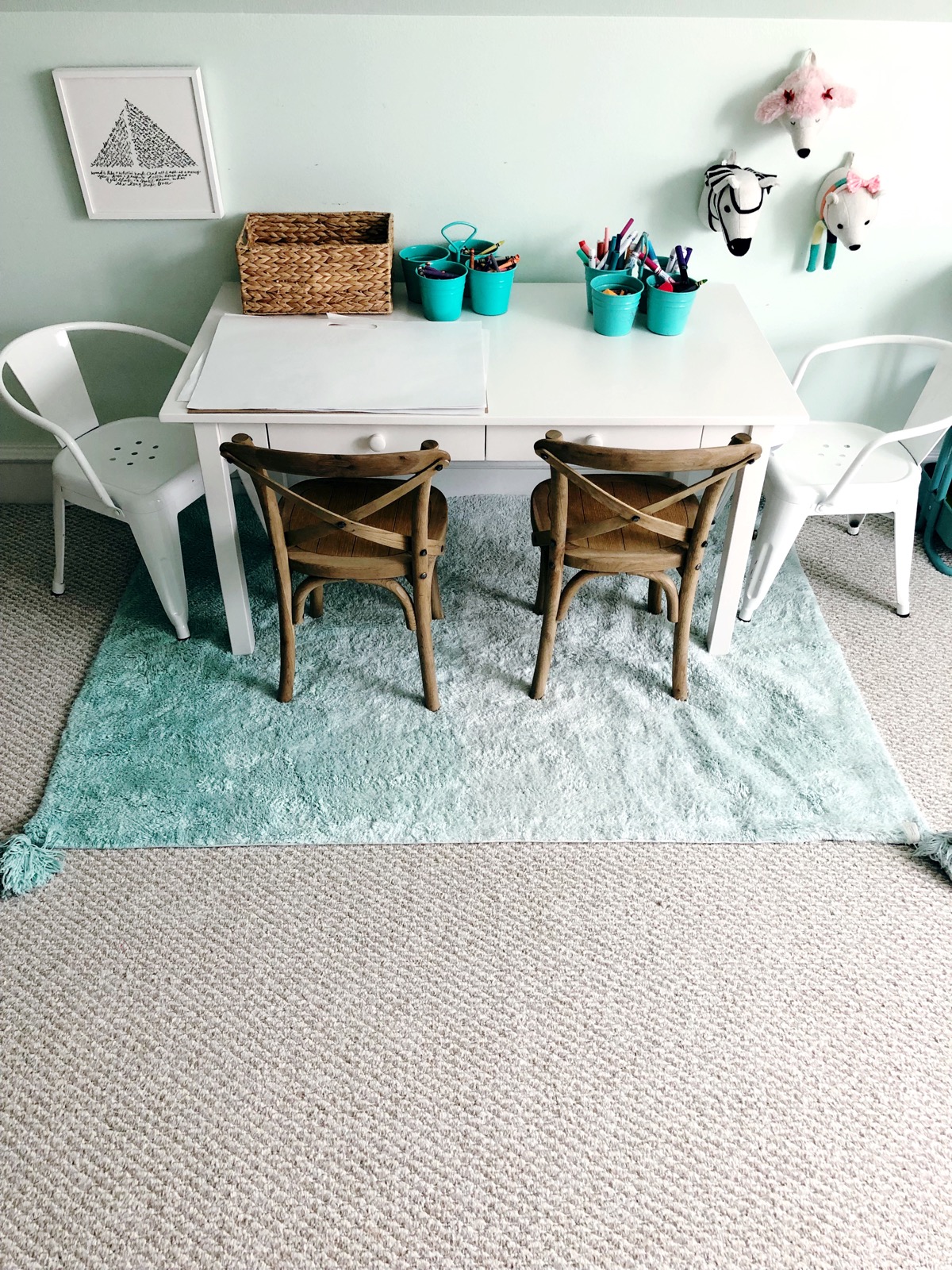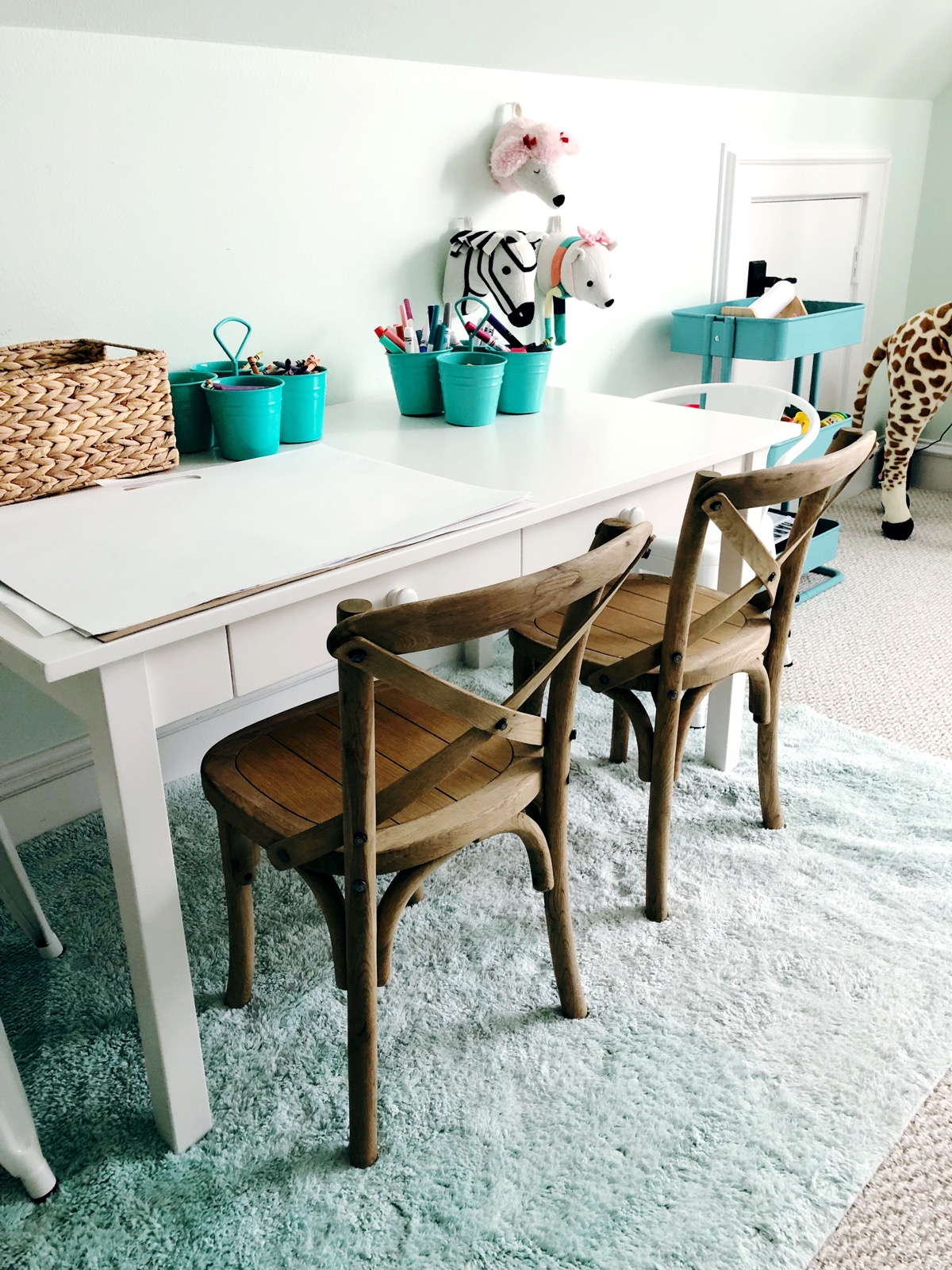 You can also see our Lorena Canals rug under our craft table – I love having it there because it helps prevent staining if the kids drop markers or playdoh. Undoubtedly its best feature is that it is machine washable. YES! It is totally machine washable (I put it in the dryer, too) and it remains in great condition even after washing. Couldn't recommend it enough for a kids space. You can see more Lorena Canals rugs, here.
Under our TV, we have a Kallax unit from IKEA – you may remember we used to have two of these in the playroom (here are some amazon options if you're not near IKEA). After a massive toy cleanse, we decided to move the other unit into Lincoln's closet for more storage and it was a great decision and freed up so much space up there. The wicker cube baskets are IKEA and the metal ones are here.  We divide the toys by category so the kids know what's in each basket.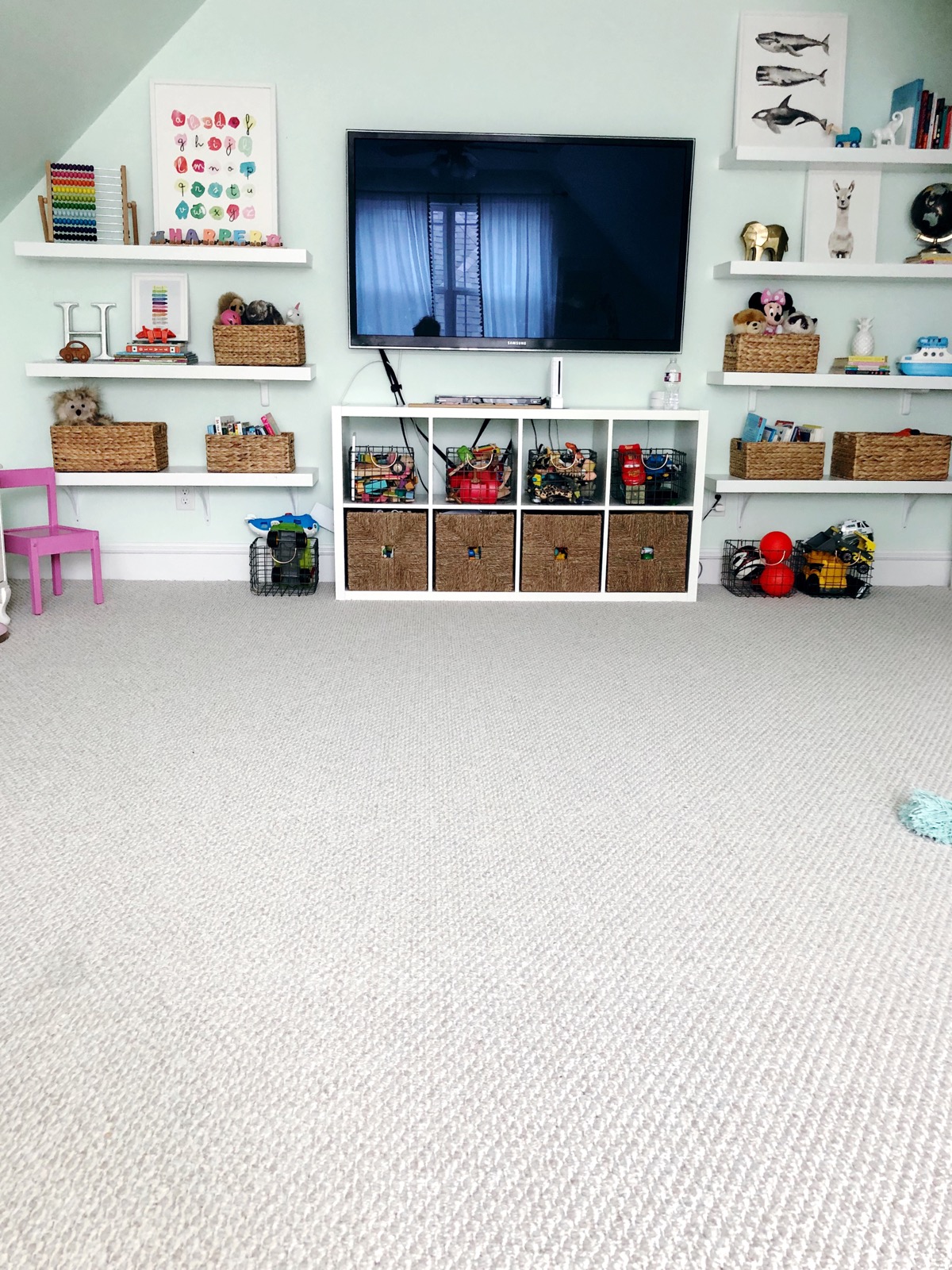 The floating shelves we added to the space are my favorite – I think they add such a fun element to the room. If this was our forever home, I would have invested in having custom built-ins installed on this wall, but these floating shelves make the space feel a lot more "finished." Our floating shelves are a place where I can play around with styling but they're also functional. I purchased these hyacinth baskets (they're my fave – we have them in several rooms in our home and they come in a variety of sizes) to store things like smaller board books and smaller toys and stuffed animals. Styling these shelves was really fun for me – I especially love the globe, which is under $20 and perfect for any children's space! All of our children's art is from Minted and can be found here, here, here, here and here. The name train is here. The colorful abacus is here. The gold elephant is here. Similar white elephant bookends here and under $20 here.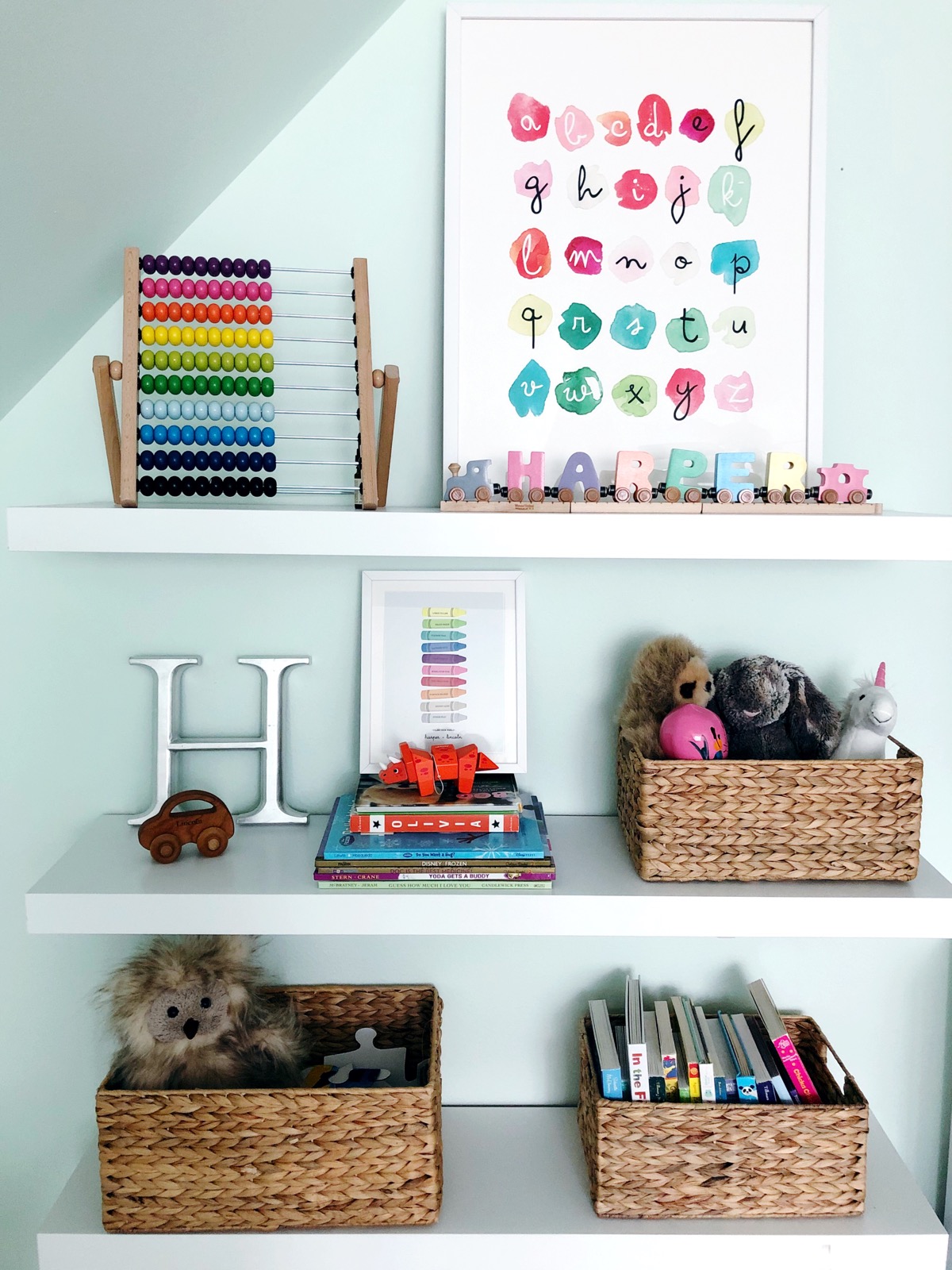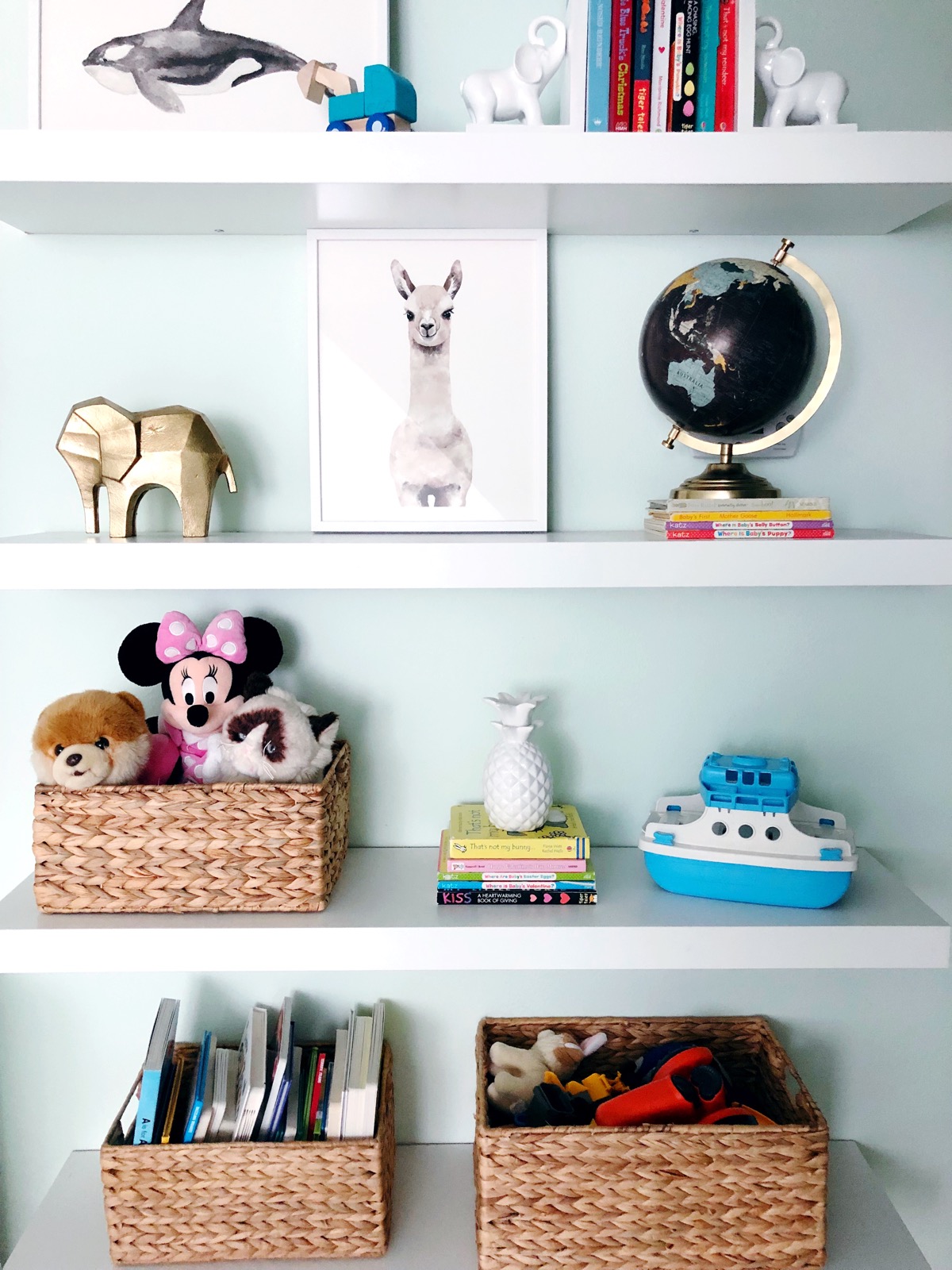 Thank you for reading! If I didn't mention something and you'd like to know the source please let me know and I'll try to find it, or something similar.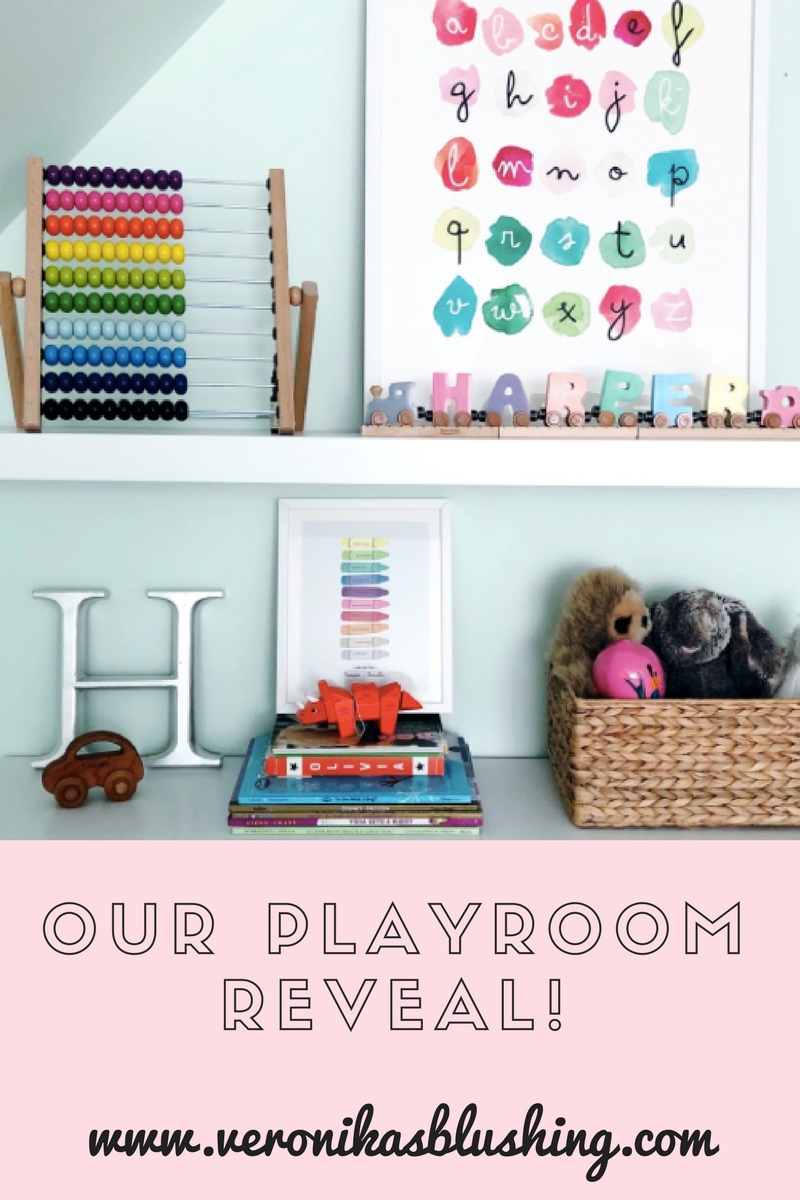 Shop the Post