Happy Friday! I wanted to share a rewardStyle conference (rSthecon) wrap-up with everything I wore because I got so many great dresses for this event that I know y'all will love for your Spring/Summer events. So, consider this post a Friday Five — rSthecon edition.
Shopping for this conference is always a bit overwhelming because I always want to purchase items that aren't sold out and that hopefully not everyone will have (ahem, these wedges — but, to be fair, they're under $100 and super comfy).
I shared some of the items I purchased for consideration for the conference and a lot of you asked what I ended up keeping — I kept every dress I'm wearing here, plus the swimsuits I ordered from ShopBop and some of the shoes + both Tory Burch bags I ordered. I also kept the Abercrombie dresses (pink and white) and one of the rompers.
I have to over-order so that I have enough options if something doesn't fit or just isn't the right style once I try it on (that's the tough part about ordering online, but it's still my preference over going to a store). I do a mass try-on the weekend before I head to Dallas and have an outfit picked for each event, plus a couple of backups. Then, when I get home, I ship back everything that didn't work during my try-ons.
We arrived in Dallas Thursday afternoon and I wore this white, tiered, tie-shoulder  dress for the Supergoop poolside party. The weather was perfect this year (it was sweltering last year). I paired this dress with these earrings which were gifted to me by Kendra Scott's Sugarland store. They're so beautiful in person — I ended up wearing them at the LIKETOKNOW.it party too!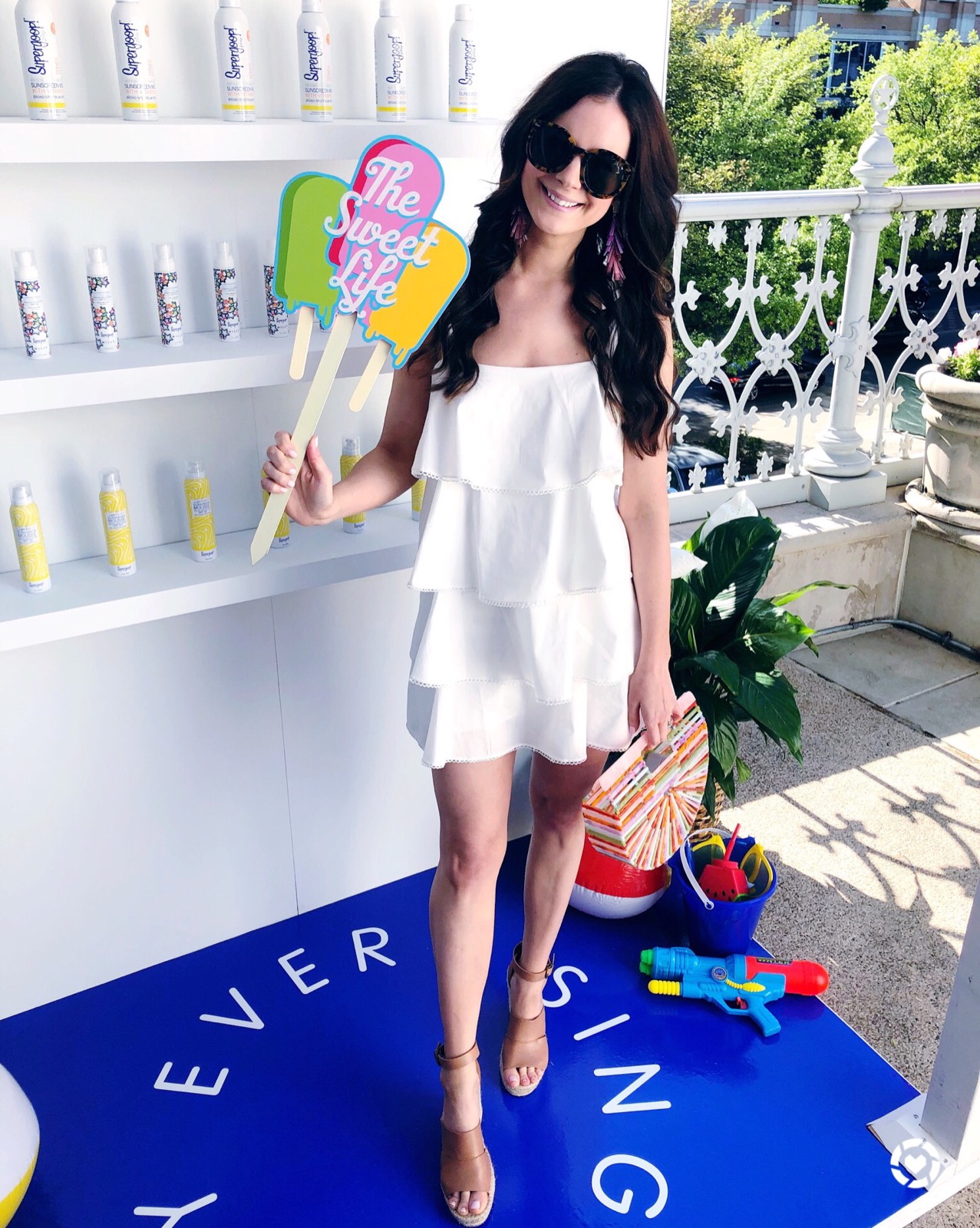 dress  |  earrings (c/o) |  rainbow acrylic bag  |  wedges |  sunglasses
Friday was day two of the conference which started with main stage presentations — Kendra Scott was a favorite — I listened to the How I Built This podcast where she talked about how she built her business with just $500, but seeing her speak in person was really empowering. I also loved learning from Amber Venz Box, co-founder of rewardStyle.
Banana Republic hosted lunch in the garden room and courtyard of the Hotel Crescent Court and I wore this stunning white eyelet dress. I can't quite express just how much I love it in words — it's undoubtedly one of my favorite purchases this year. It's on sale for 30% off right now (just $100) and worth every.single.penny!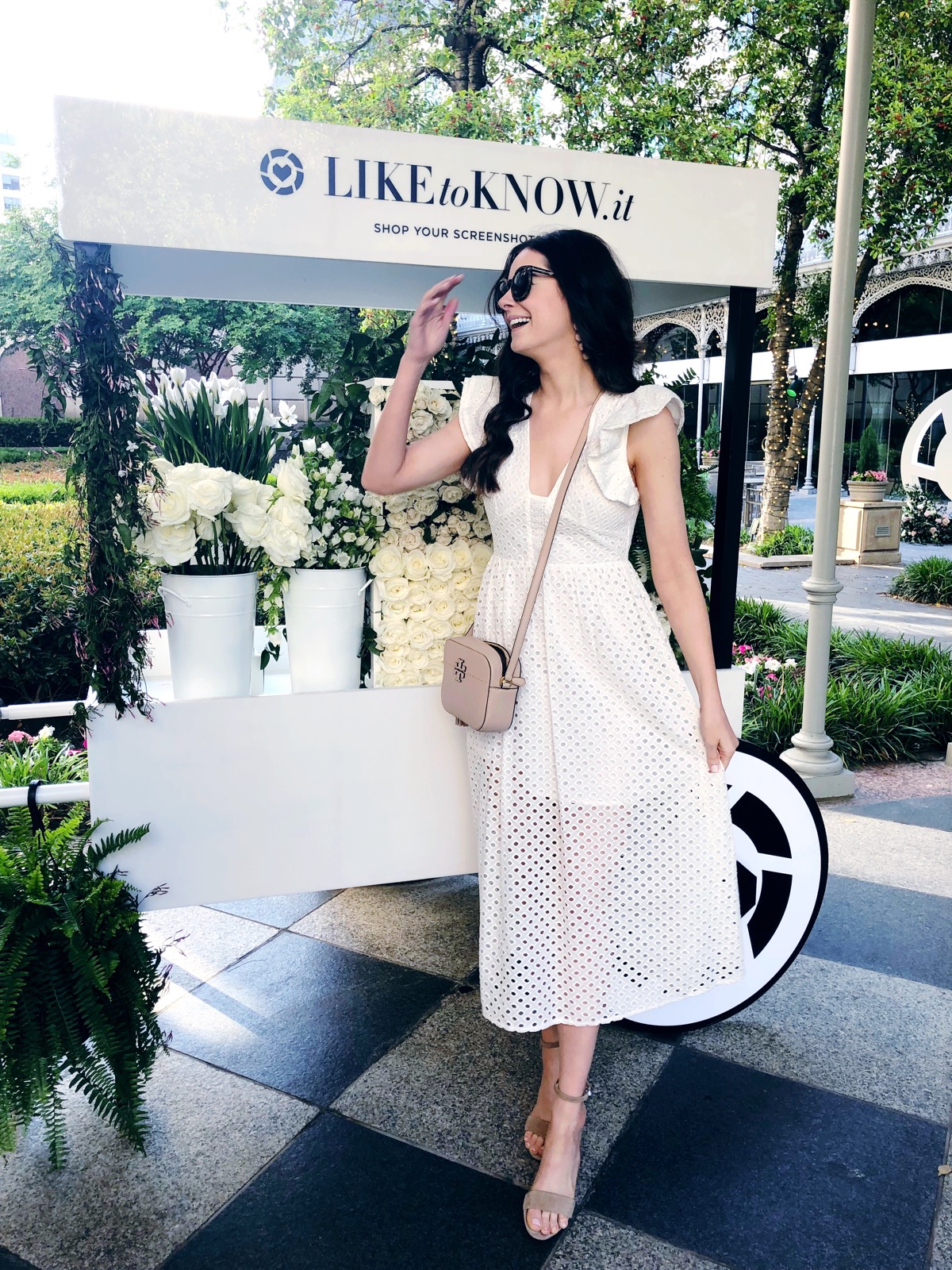 white eyelet dress |  sunglasses  |  sandals  (oatmeal suede) |  bag  |  hat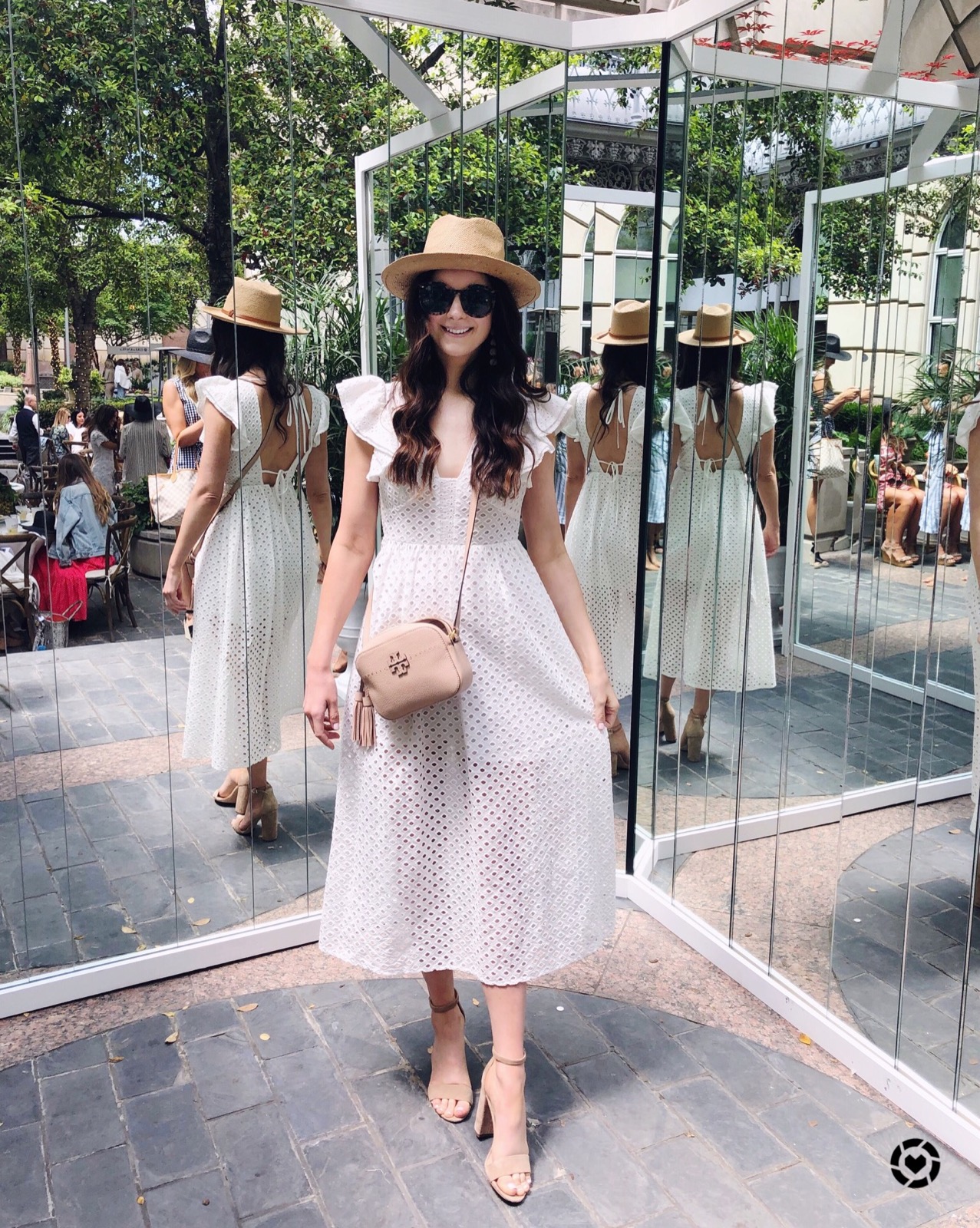 Friday night was the Express cocktail party and I wore my Alice & Olivia ruffle-front dress. I'm SO glad I kept this beauty my Trunk Club stylist sent.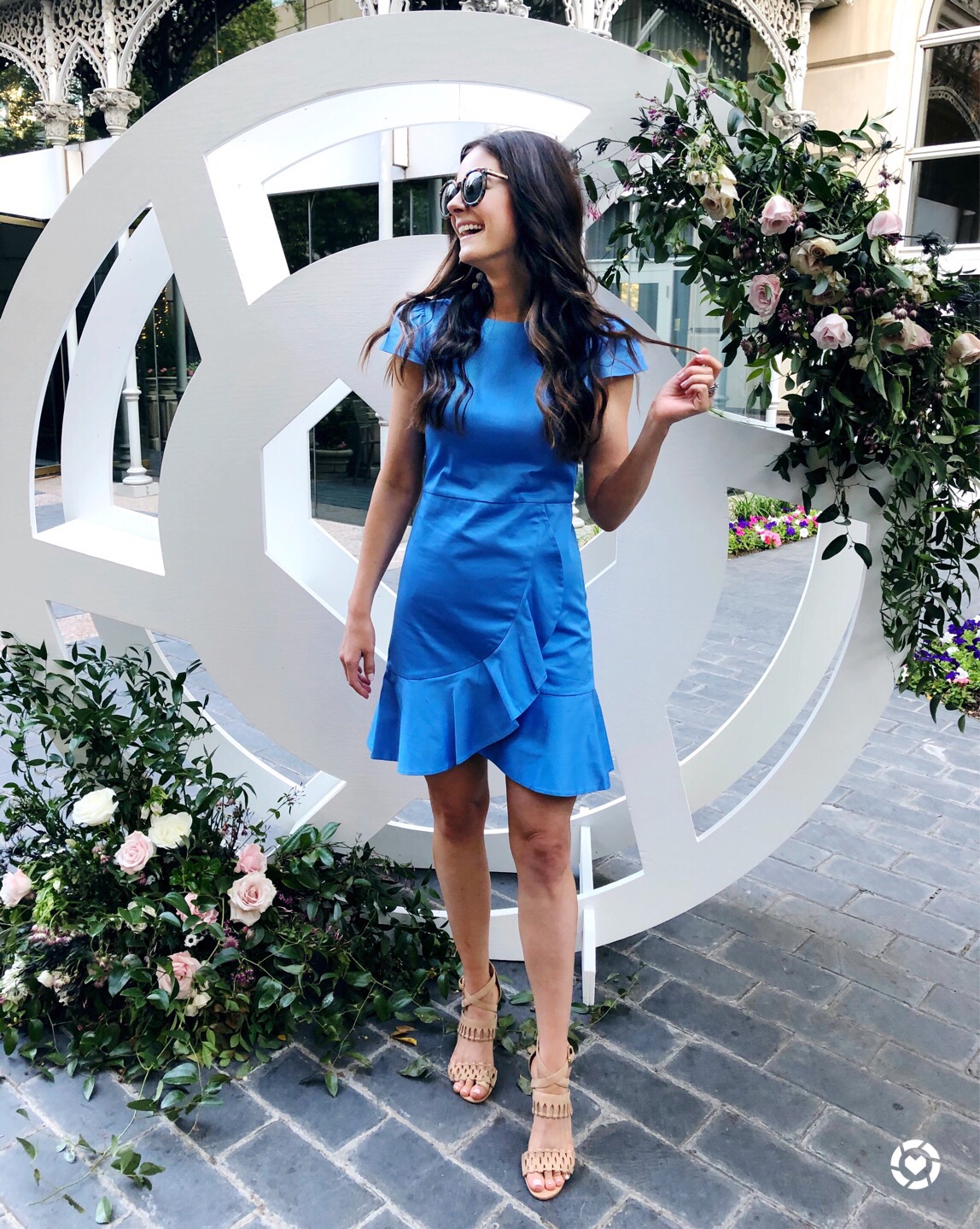 blue ruffle dress here and here  | sandals  (the ones I have on are from three years ago)  |  sunglasses 
Saturday was cold and rainy, but the morning was spent inside in classes/meetings, so I opted for this blue cutout dress but threw a moto jacket over my shoulders.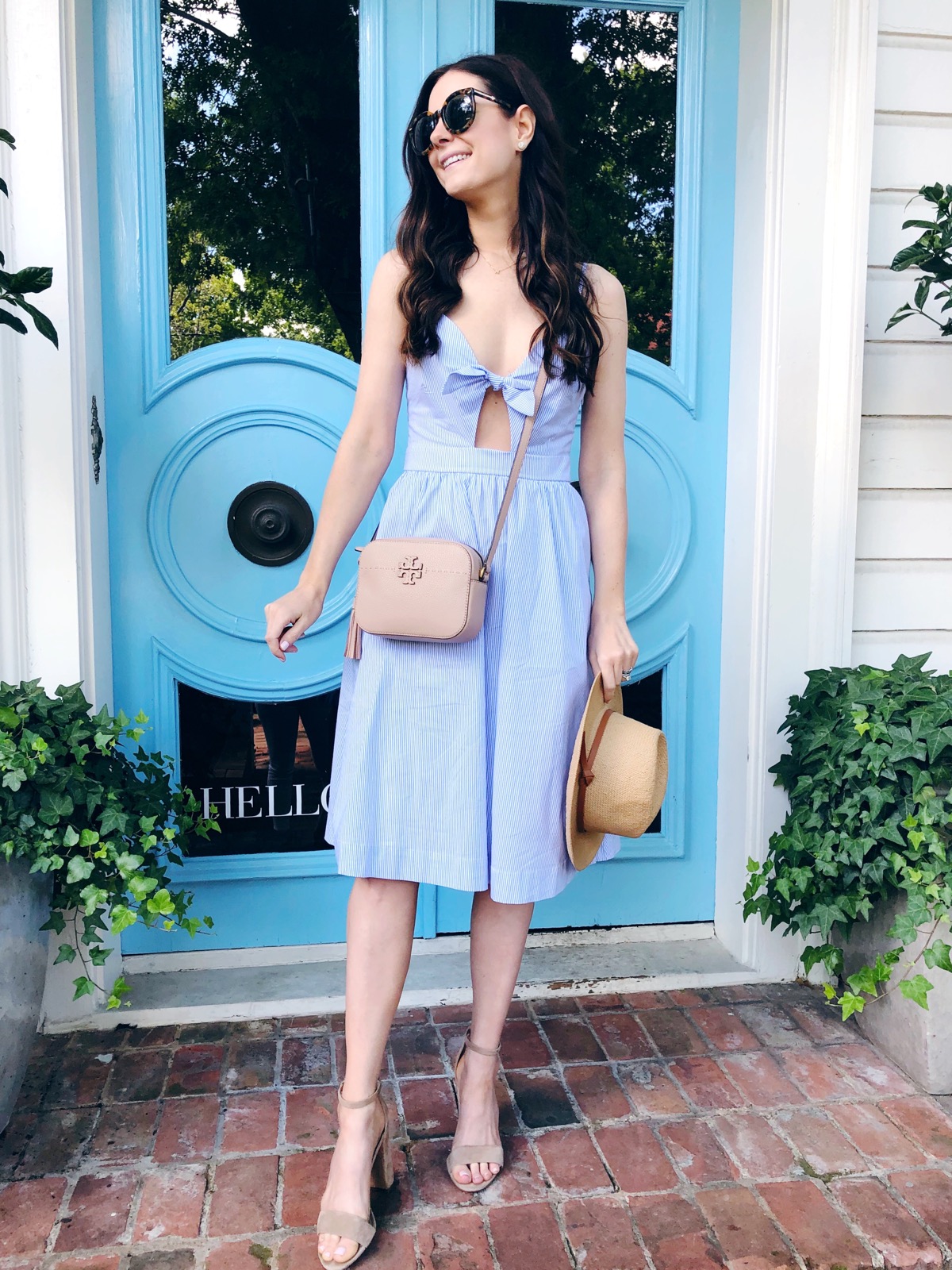 blue cutout dress   |  sunglasses  |  sandals  |  bag  |  moto jacket
We left the hotel for lunch Saturday, so I quickly changed into jeans and a tank so I'd be a little warmer. Sole Society hosted a wonderful lunch at a restaurant a few blocks away from our hotel. These heels are from the ShopBop sale and I adore them. They're definitely not an everyday shoe — but my goodness they are HOT!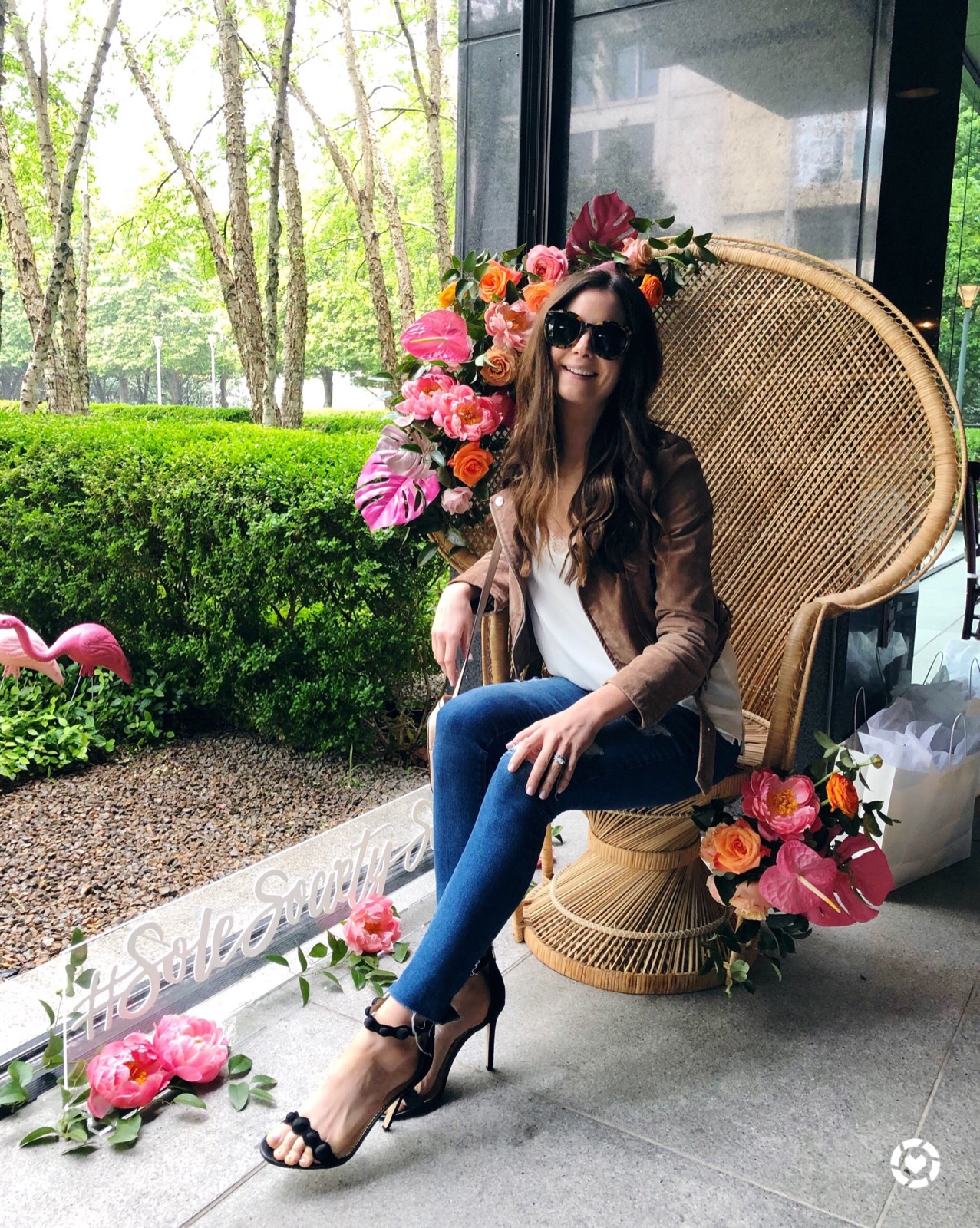 jeans  |  lace trim cami  |  heels  |  sunglasses  |  bag  |  moto jacket
The last night of the rewardStyle conference is always the party you save your fanciest dress for — and this one was so fun! I thought the sleeves would be a problem — but I was actually able to dance in it all night long! The LIKETOKNOW.it party is always so fun — a chance to unwind after all of the conference activities are over. They always have a surprise for us — this year they flew in a famous saxophone player from Brazil and had dancers decked out in suits lit up with the LIKETOKNOW.it logo.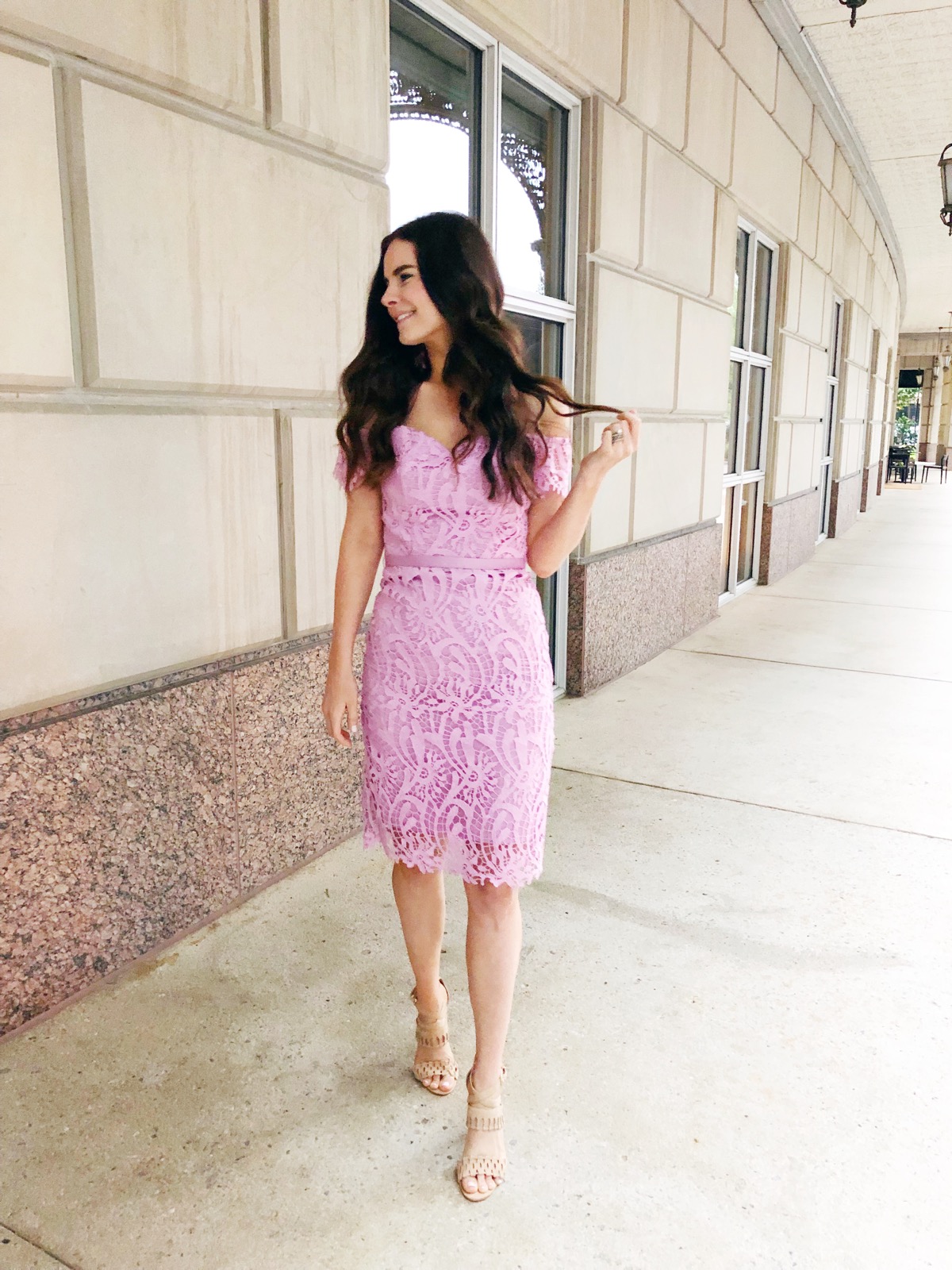 lace dress   |   sandals  (the ones I have on are from three years ago)  |  sunglasses   |   earrings (c/o)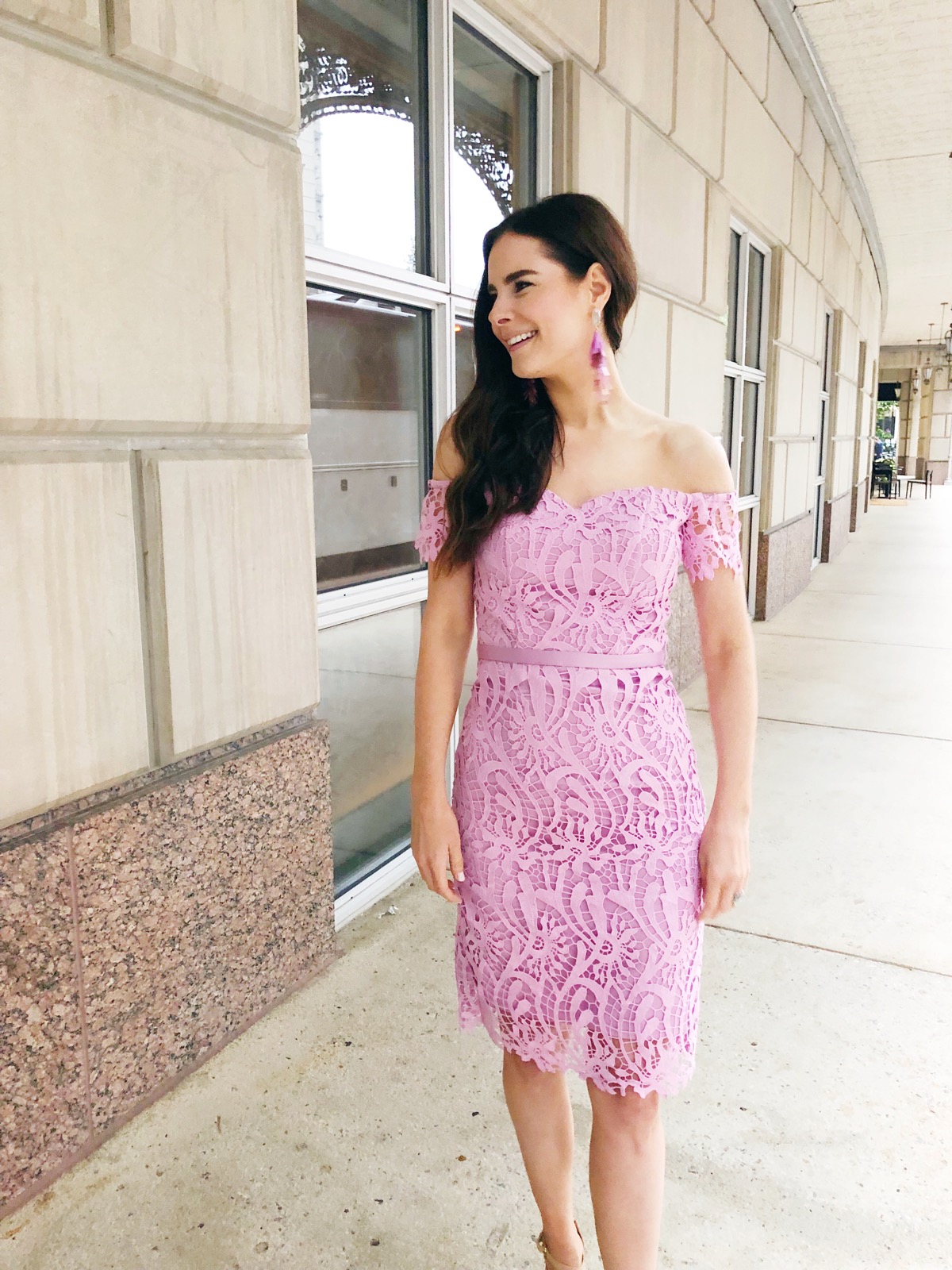 This conference is always so special for me — I love spending time with friends from other states (that I talk to pretty much daily but don't see often), meeting new people (this year's highlight was meeting Jillian Harris) and learning ways I can improve my blog. It's a time for me to unwind, go out for dinner every night with girlfriends and get away from the everyday routine! Thank you for your support and encouragement — without you all, I wouldn't be able to attend these incredible events!
Have a great weekend!
Shop the Post