This is a sponsored conversation written by me on behalf of Charmin. The opinions and text are all mine.
As soon as it's sunny out and it starts to get warmer, I get the Spring cleaning itch – like clockwork, it hits me hard every single year. One of my favorite places to tackle is our master bathroom. With all of the products I use and am sent, it inevitably becomes a tornado of lotions, glosses, hair products, makeup and a plethora of other items. To be quite blunt, it's completely overwhelming, and this Spring re-set is a great way to make our bathroom look and feel a little more Zen.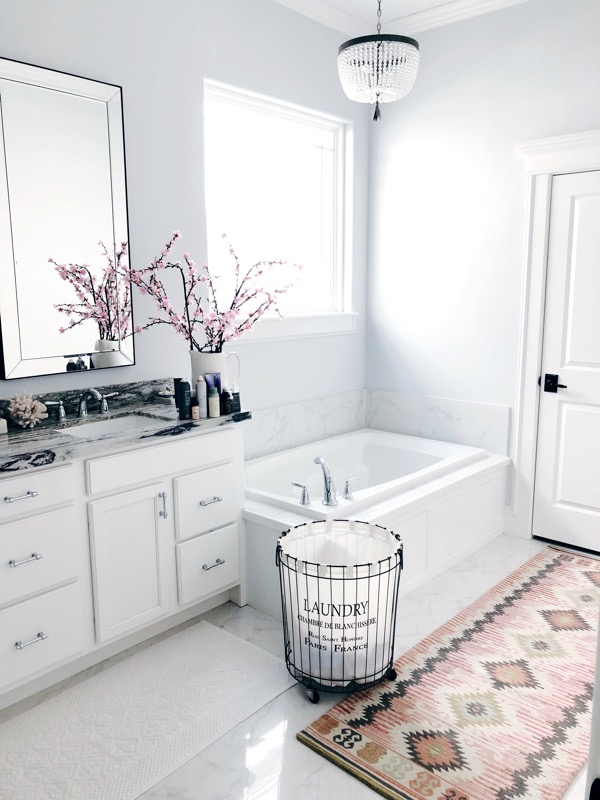 Here's how I clean, organize and re-stock our space:
T O S S
First things first – get rid of everything that is expired, you don't use, don't need/no longer like or is redundant (how many body lotions do you really need?!) Starting off by getting rid of what you no longer use or need means that you'll only need to organize what's left, so get all of those items out of the way first. If you have unopened personal hygiene products, some women's shelters accept them – a win-win!
C A T E G O R I Z E
The next step is to categorize your items. Put like items together in ways that make sense. For example, I keep all of my hair products in one drawer and all of my most-used skin care products right on my counter top. You also want to make sure you have containers to hold everyday items like q-tips and cotton pads. I like to use glass canisters and under the sink, I like to use a two-tiered tray to hold things like lotion, nail polish remover and other items. Make sure you categorize before putting items away – this will help you decide where things should go based on how much you have in each category.
L O C A T I O N (L O C A T I O N, L O C A T I O N)
Location isn't only important when it comes to real estate. Be thoughtful about where you place which items. I keep all of my daily makeup in my top center bathroom drawer and all of my face masks and treatments in a lazy Susan in one of the bottom drawers since I don't mask daily. Think about the products you use daily, their location and what makes them the most accessible. Your daily skin care items should be within easy reach whereas items you only use a few times a week like hair styling products, might be better off in a drawer where they're tucked away yet still easy to get to.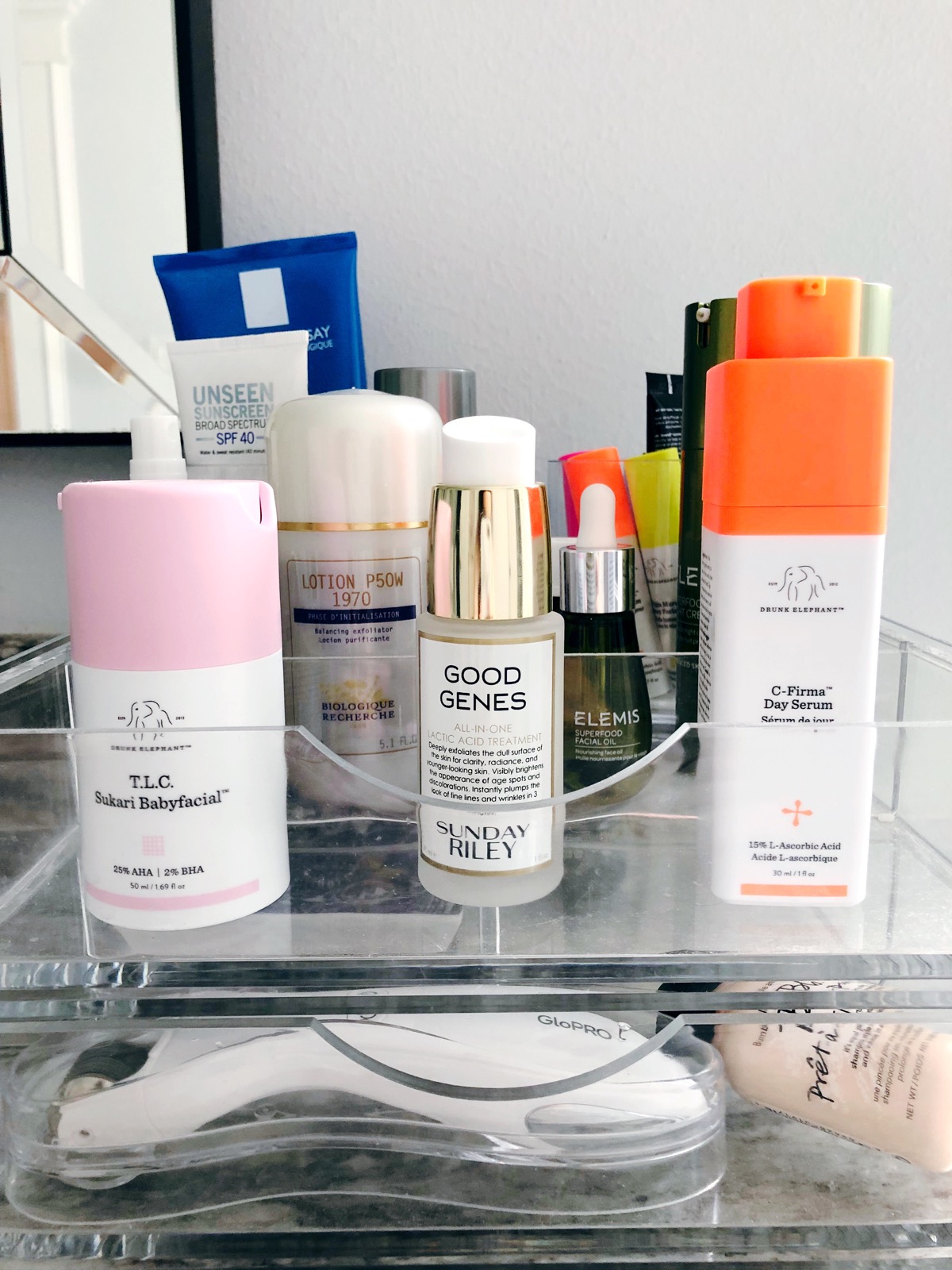 O R G A N I Z E
Once you've figured out where all of your items will live, you want to once again take all of those categorized items and arrange/organize them in or on the drawer/cabinet/shelf. I like to use acrylic drawer dividers, lazy Susans and baskets to ensure every item as a place and it's not all just dumped into a drawer.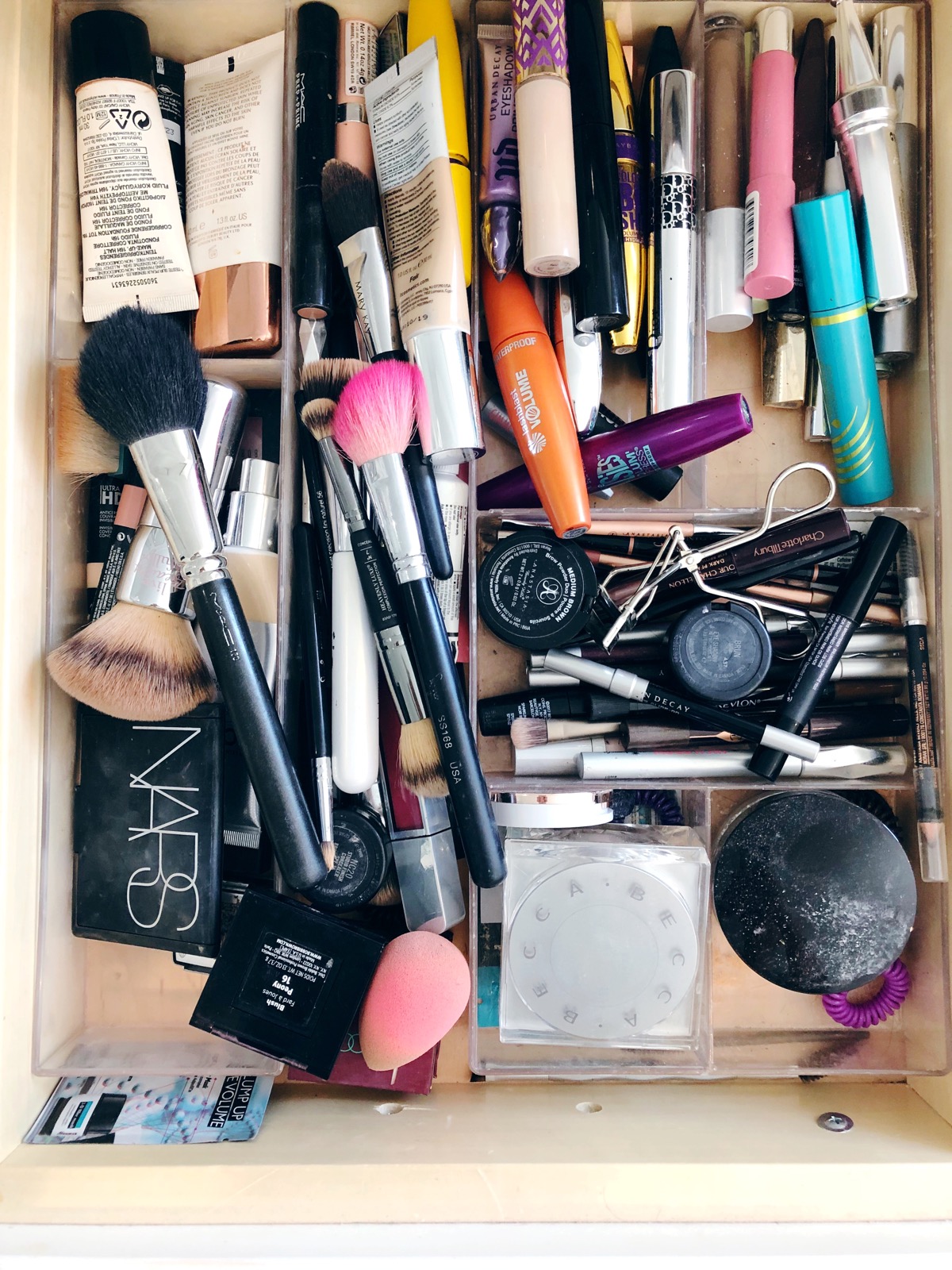 BEFORE (above) and my much happier makeup drawer, AFTER (below).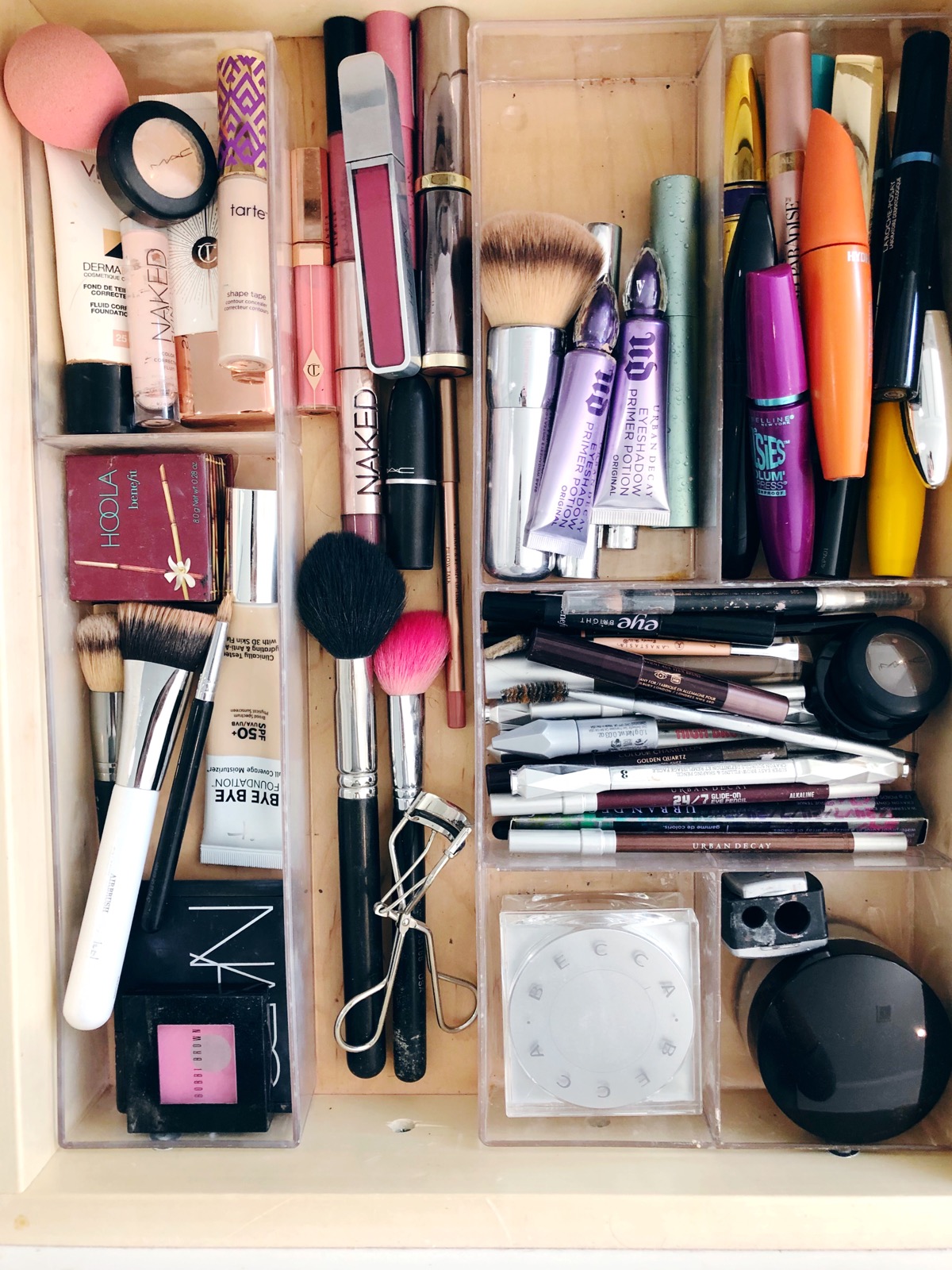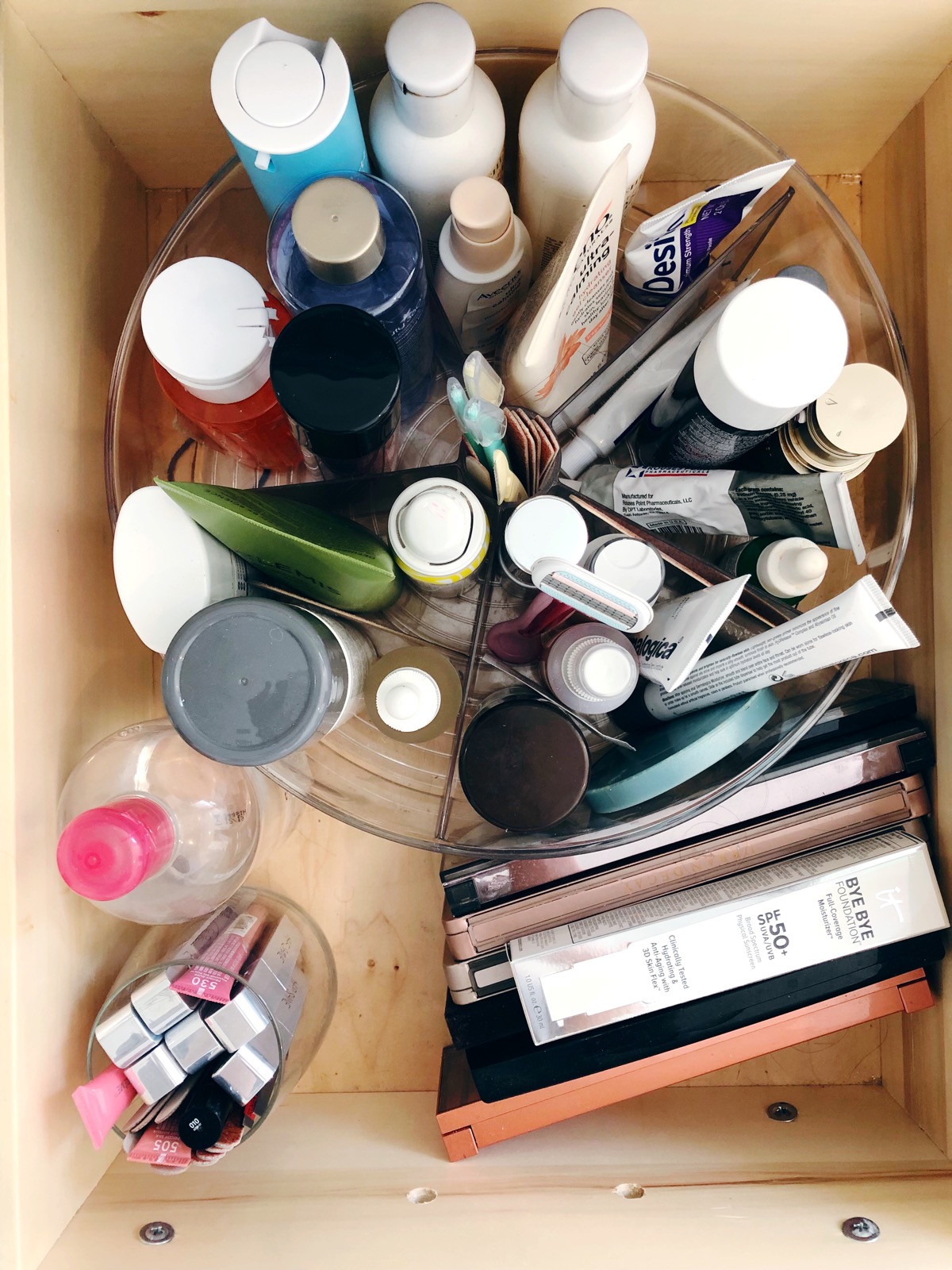 R E P L E N I S H
I always tackle the linen closet last – ours is located within our master bath's water closet and I use baskets to contain things like face towels, cleaning and hygiene products and styling tools I use less often. As you're Spring-cleaning, don't forget to stock up on things like tissue, cotton pads and most importantly, toilet paper. We have two full and two half baths in our home so we like to keep each space stocked – this will also help ensure the way you organize the space takes into account what you need to store there. We typically keep about 10 rolls of toilet paper on a shelf in our linen closet.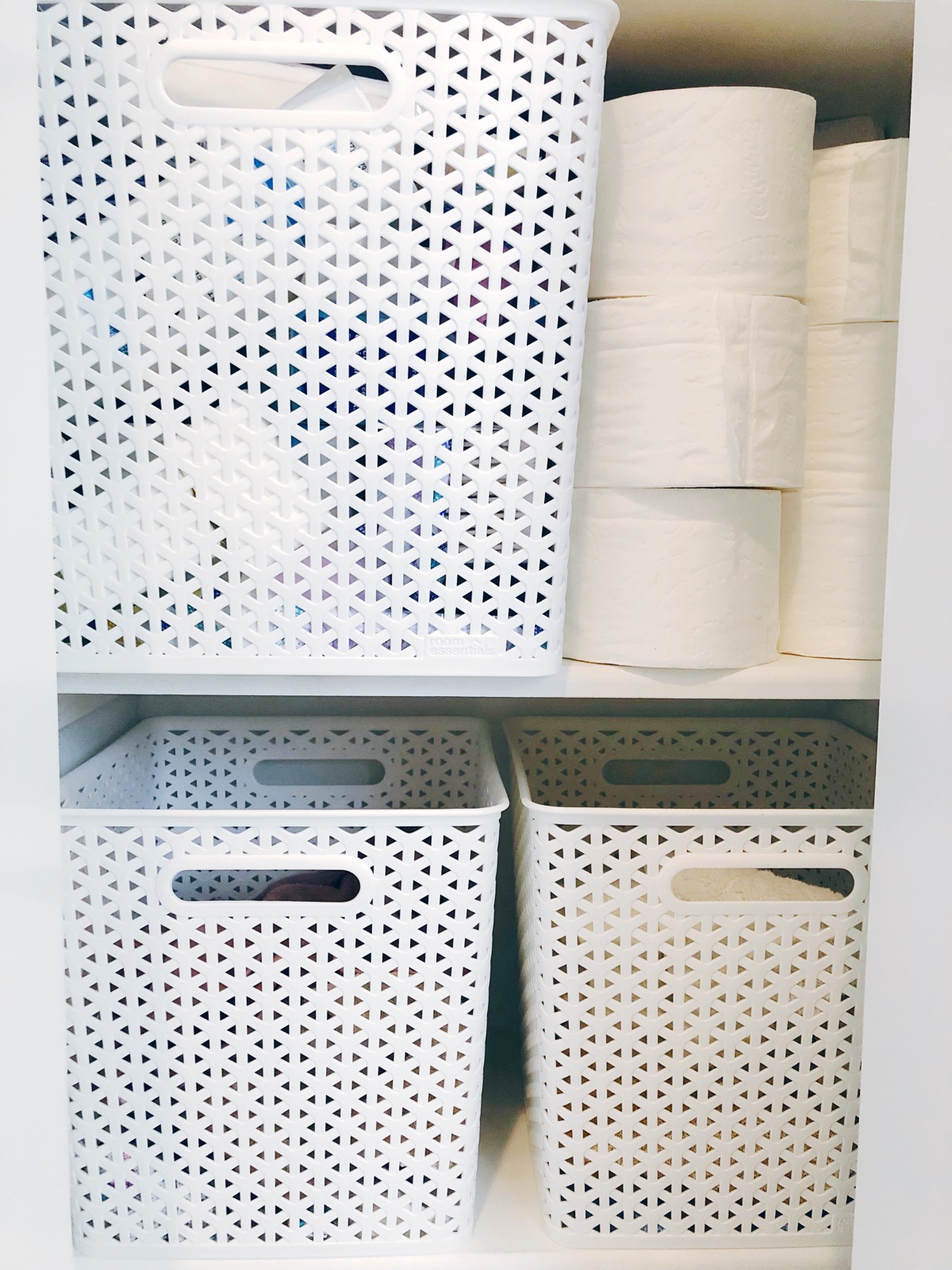 I recently ordered Charmin's new Ultra Soft Cushiony Touch toilet paper on Amazon (Prime shipping, for the win!) using code 3MEGACHARMIN at checkout to get $3 off (in addition to a $2 off coupon offered). The rolls are the Family Mega Rolls in a 24-count pack, so they last longer than a typical roll (the less often I have to replace the roll, the better). It might seem odd to talk about toilet paper, but, let's face it – it's something we all need and use and I like to use a brand I trust that is soft and doesn't irritate our sensitive skin. Seriously, the softer, the better.
Charmin and Amazon are running this $5 off promotion (with promo code and coupon) on both the Charmin Ultra Soft Cushiony Touch (our fave!) and Charmin Ultra Strong Clean Touch, and you can click here to add them to your cart (don't forget to use promo code 3MEGACHARMIN at checkout). I love ordering from Amazon and the coupons are a bonus!
The kids were "helping" me organize our bathroom…and what ensued was the cutest organizing session in recent memory — it was much more fun having them as my little helpers because this happened…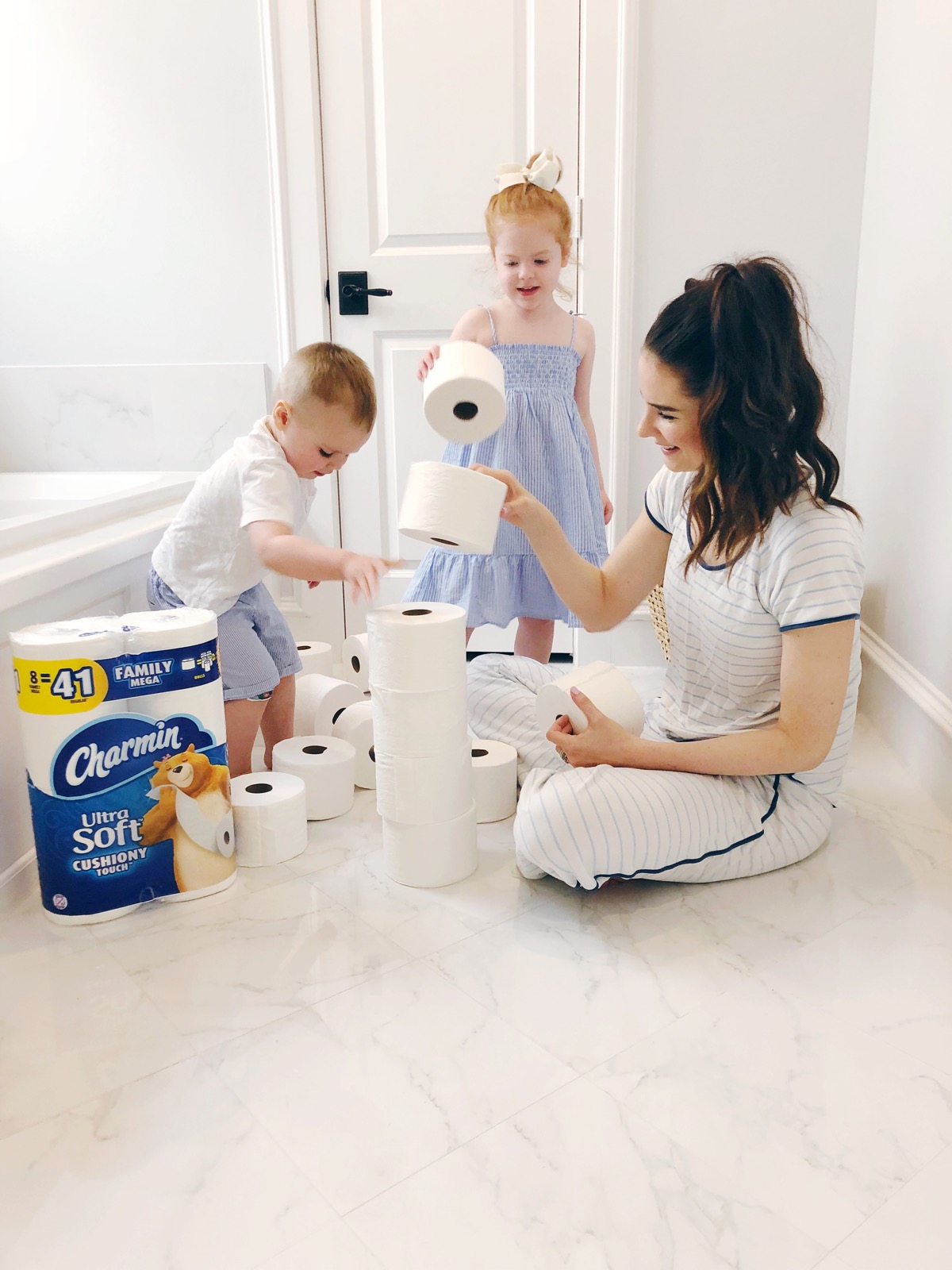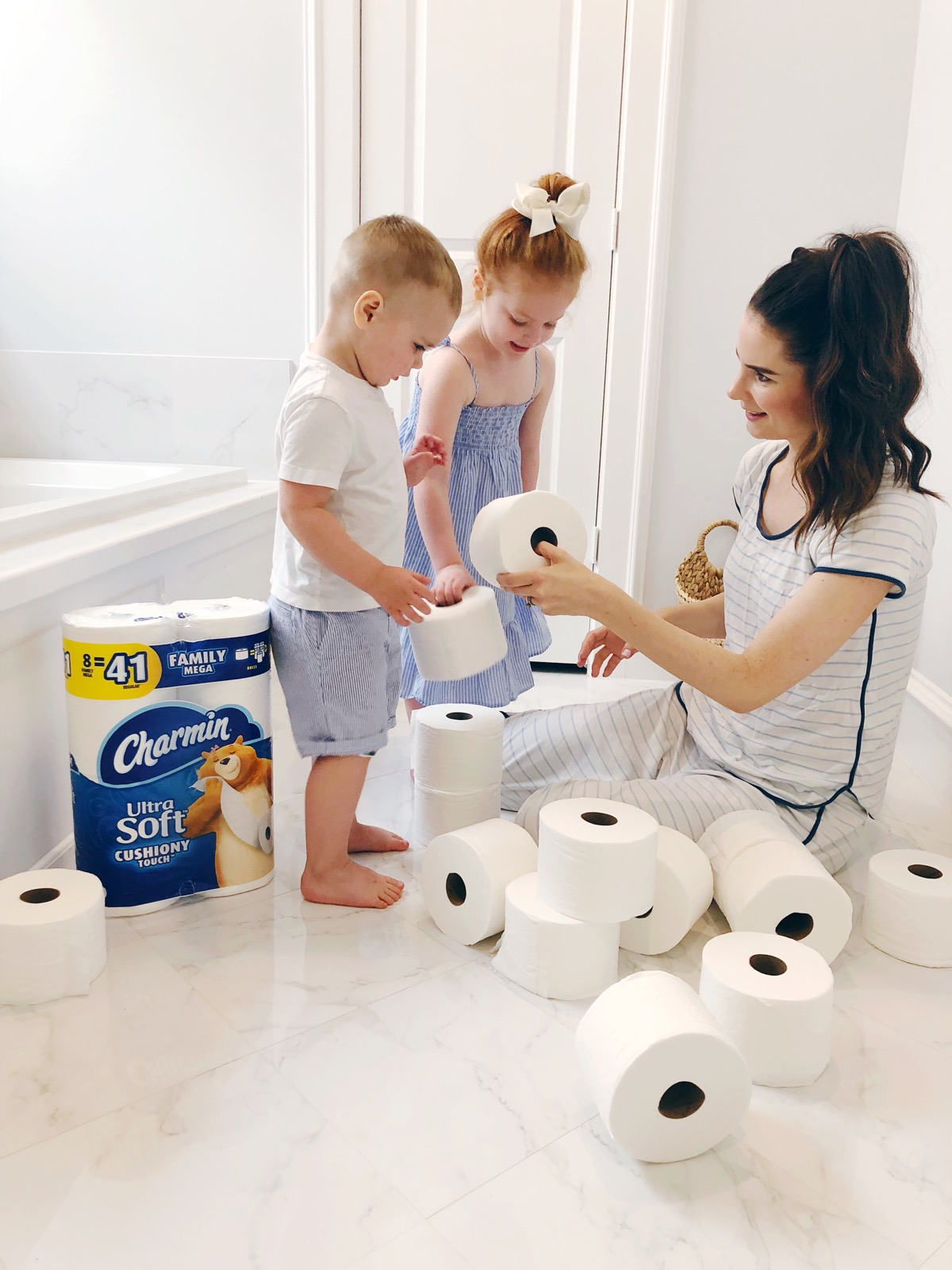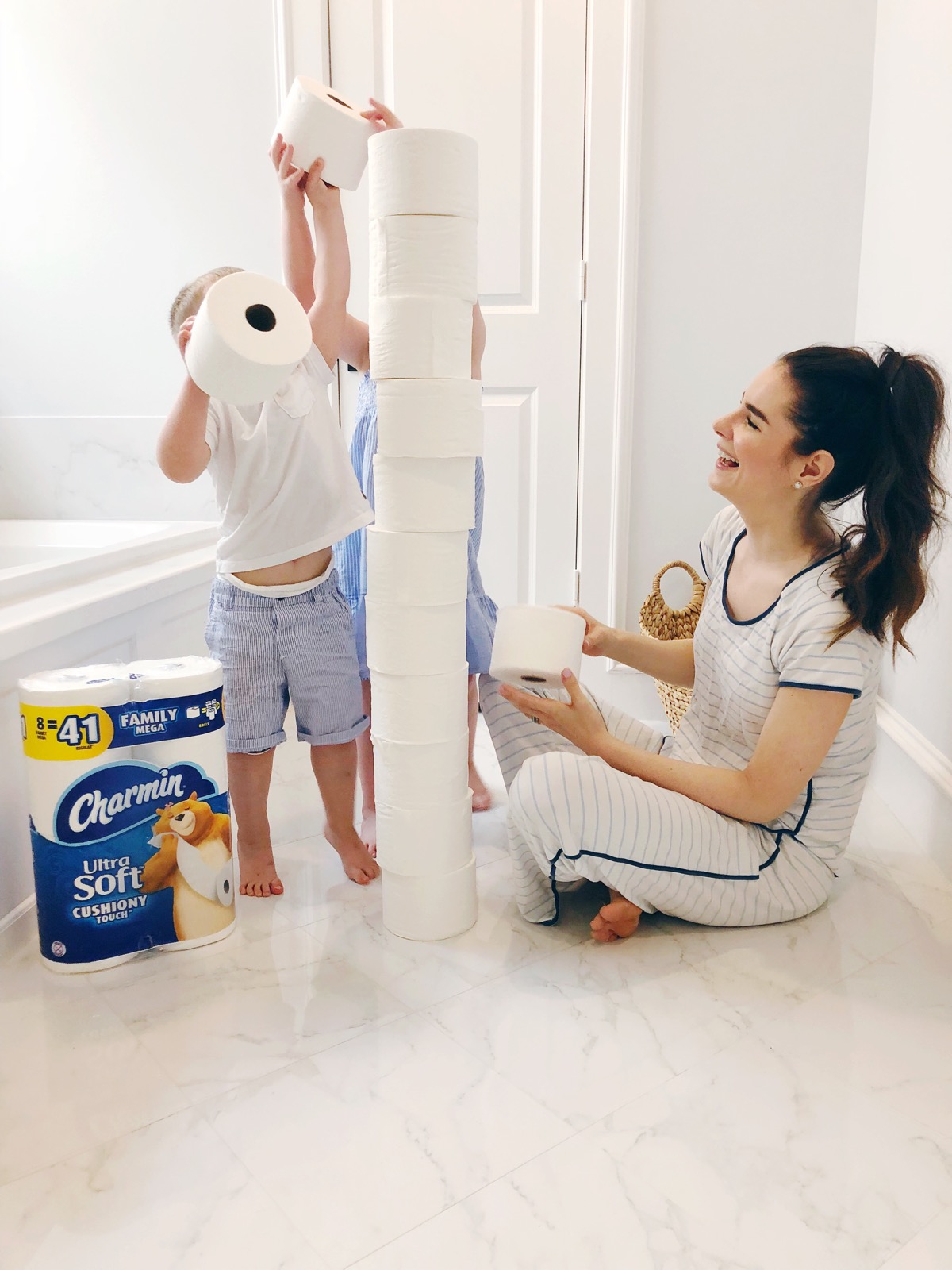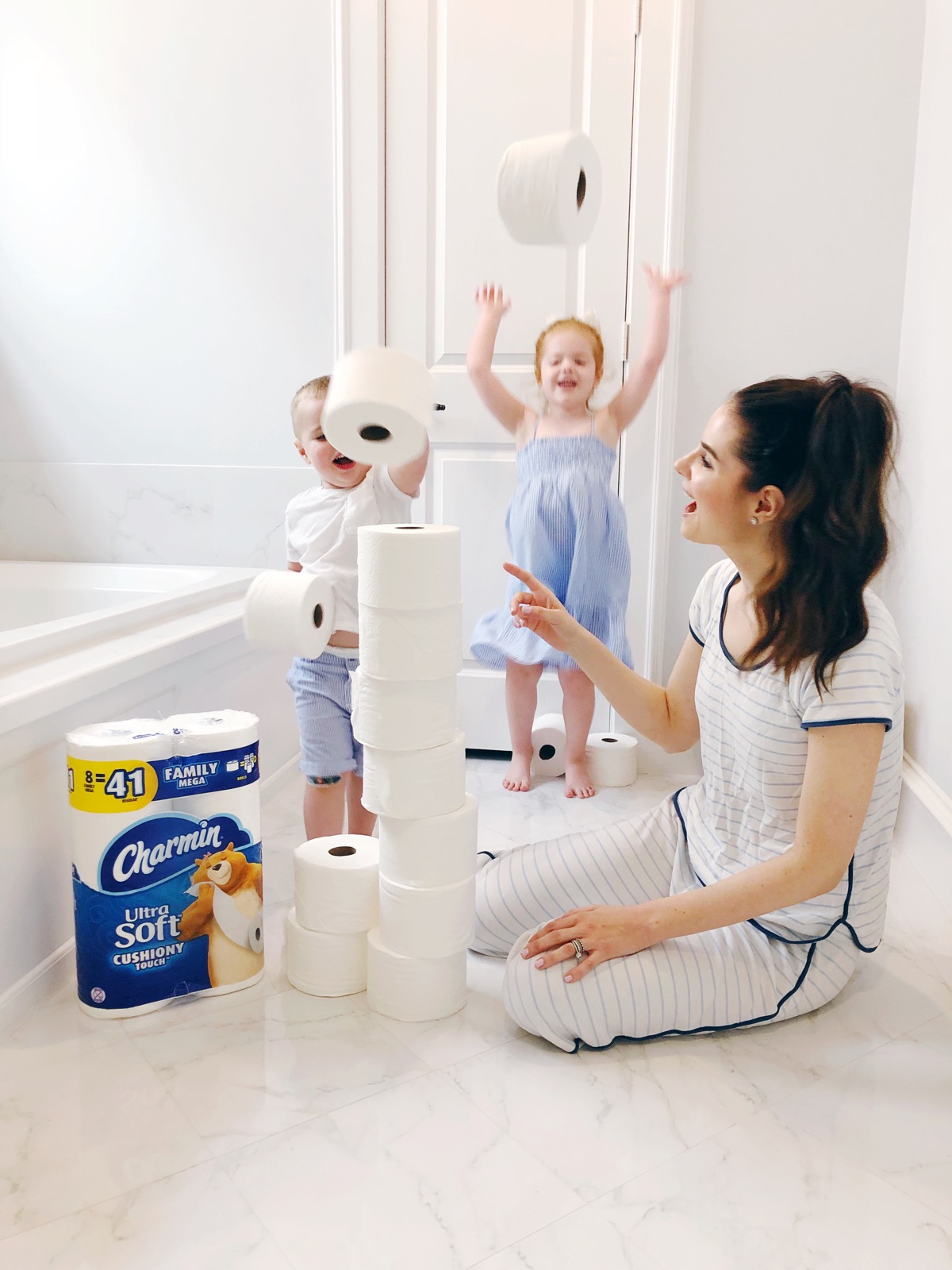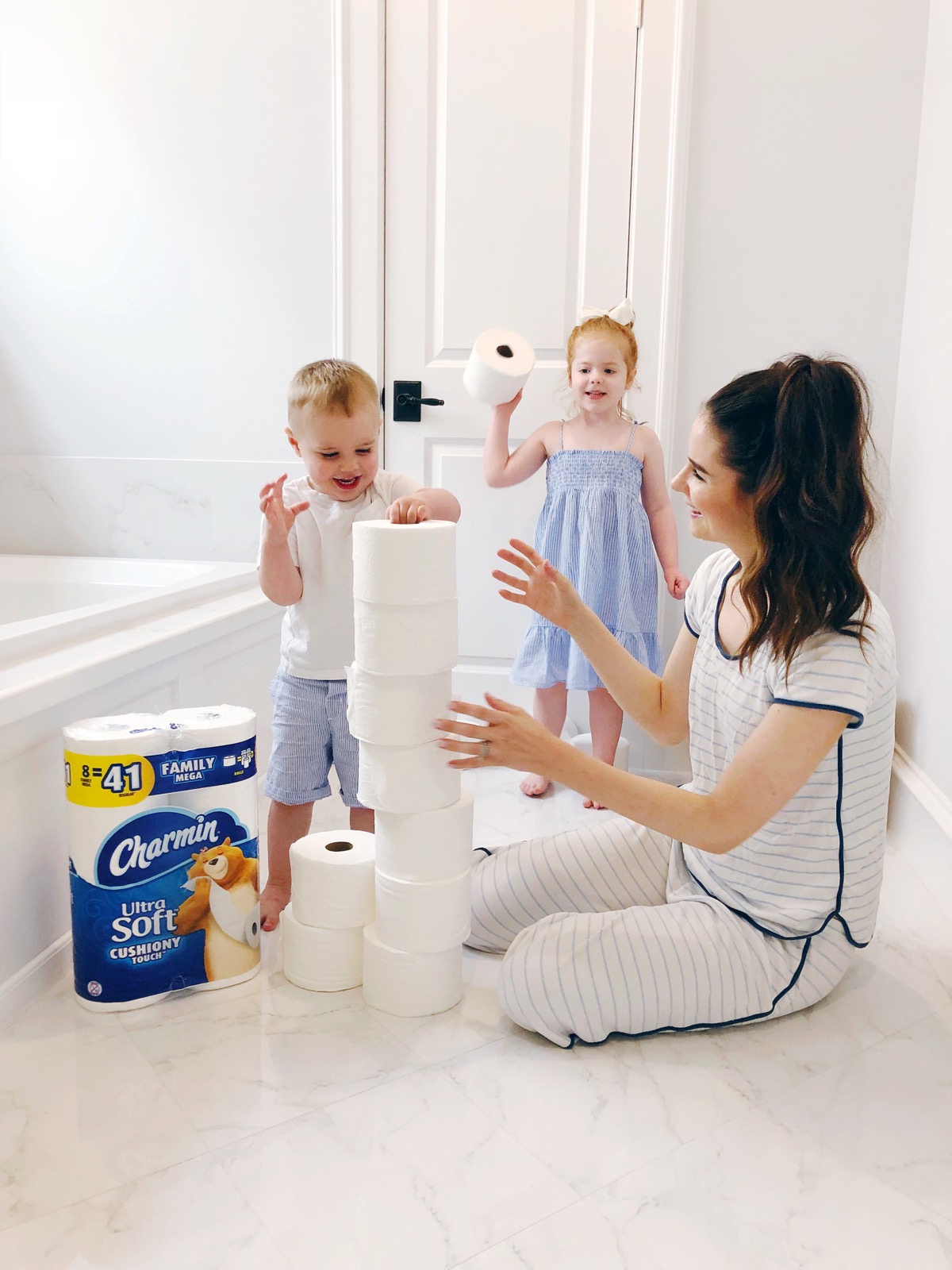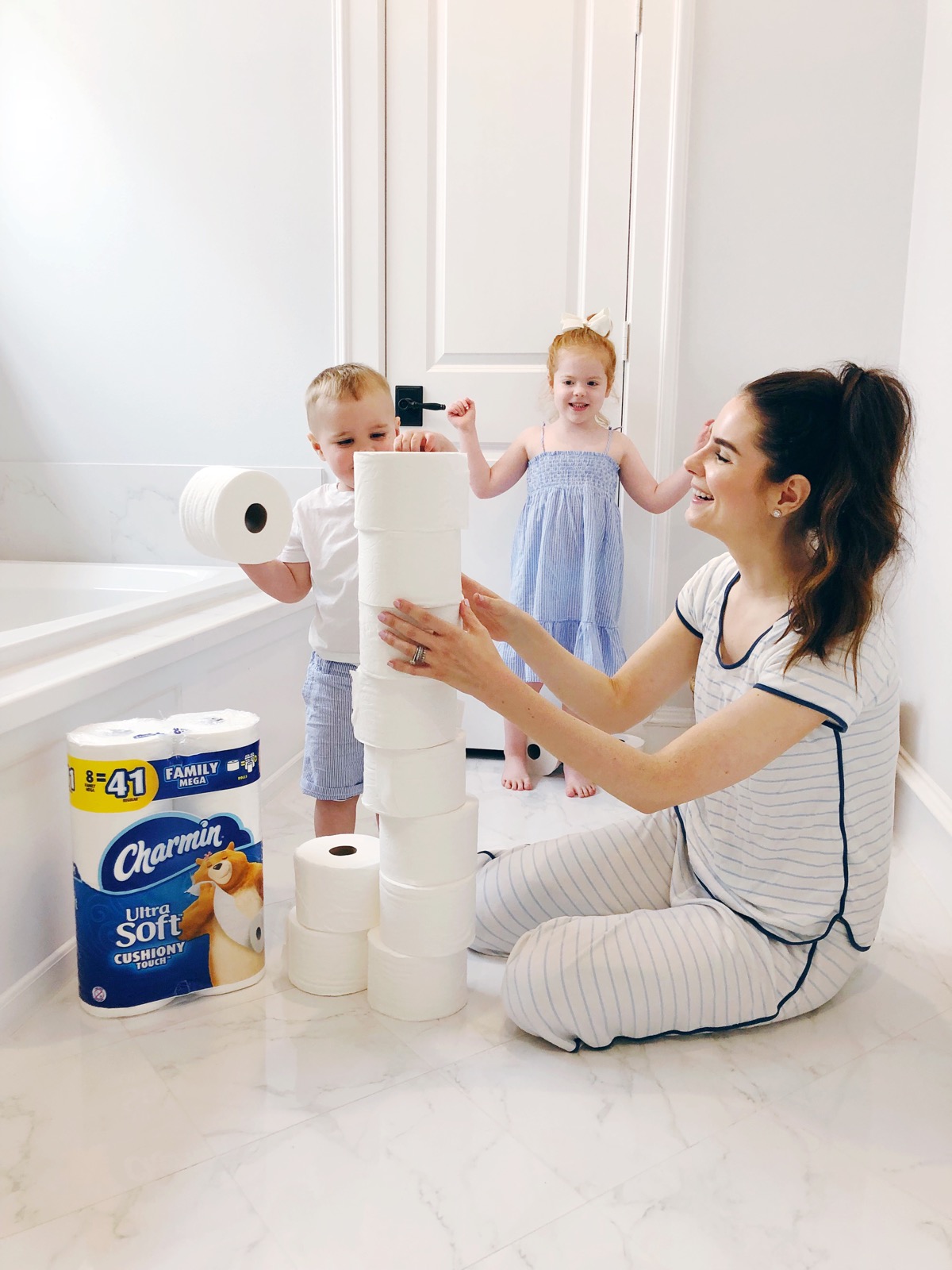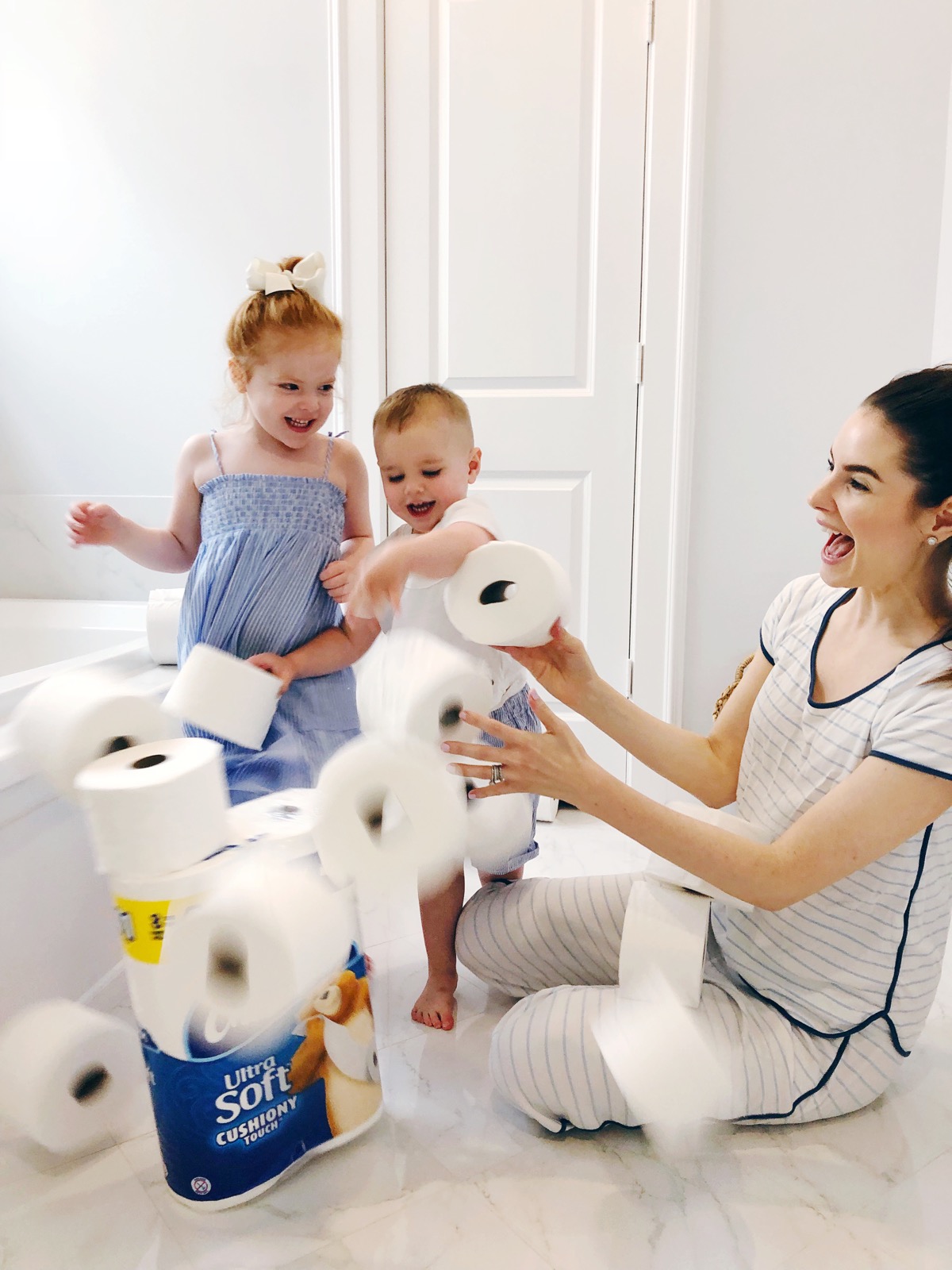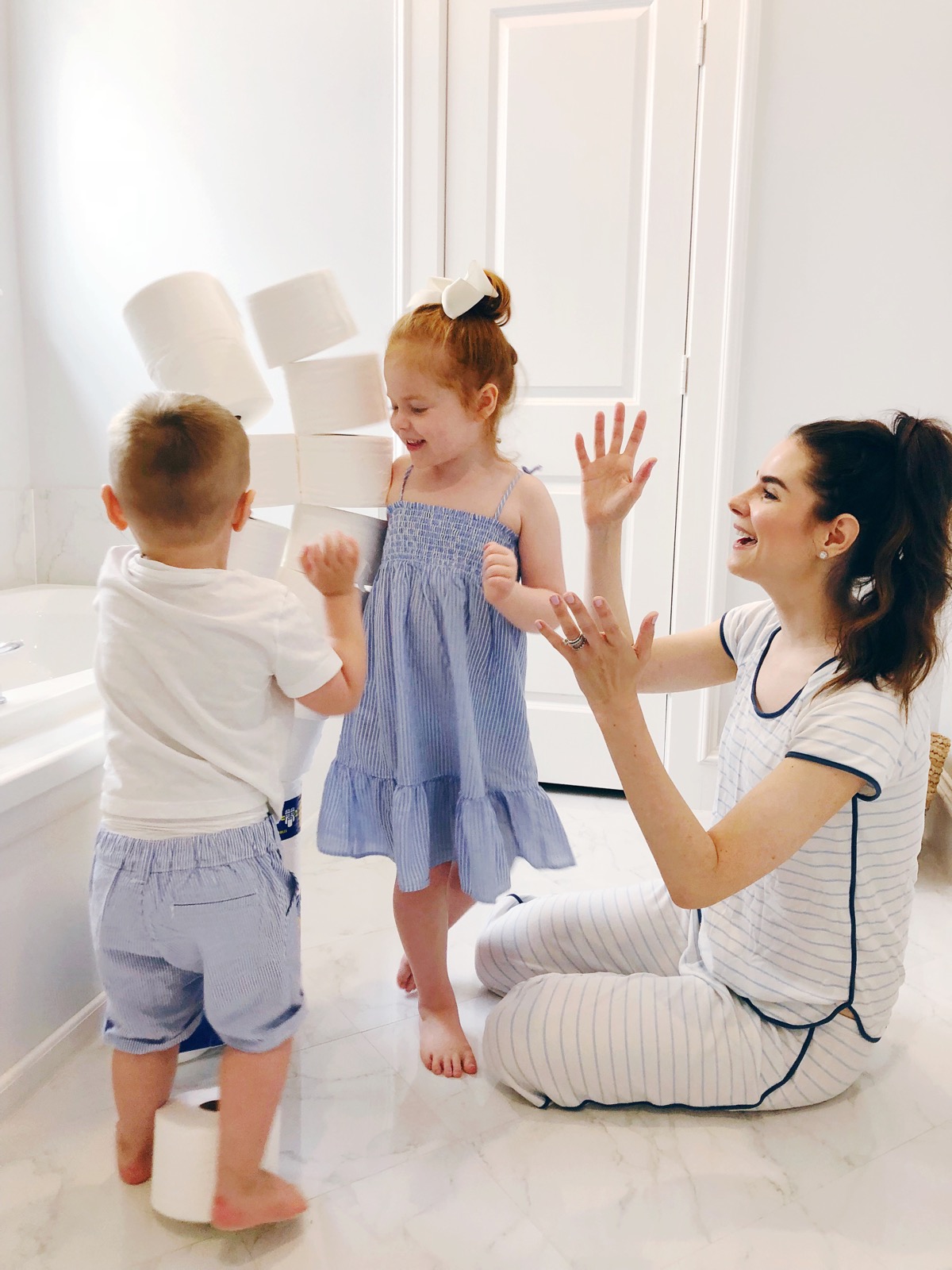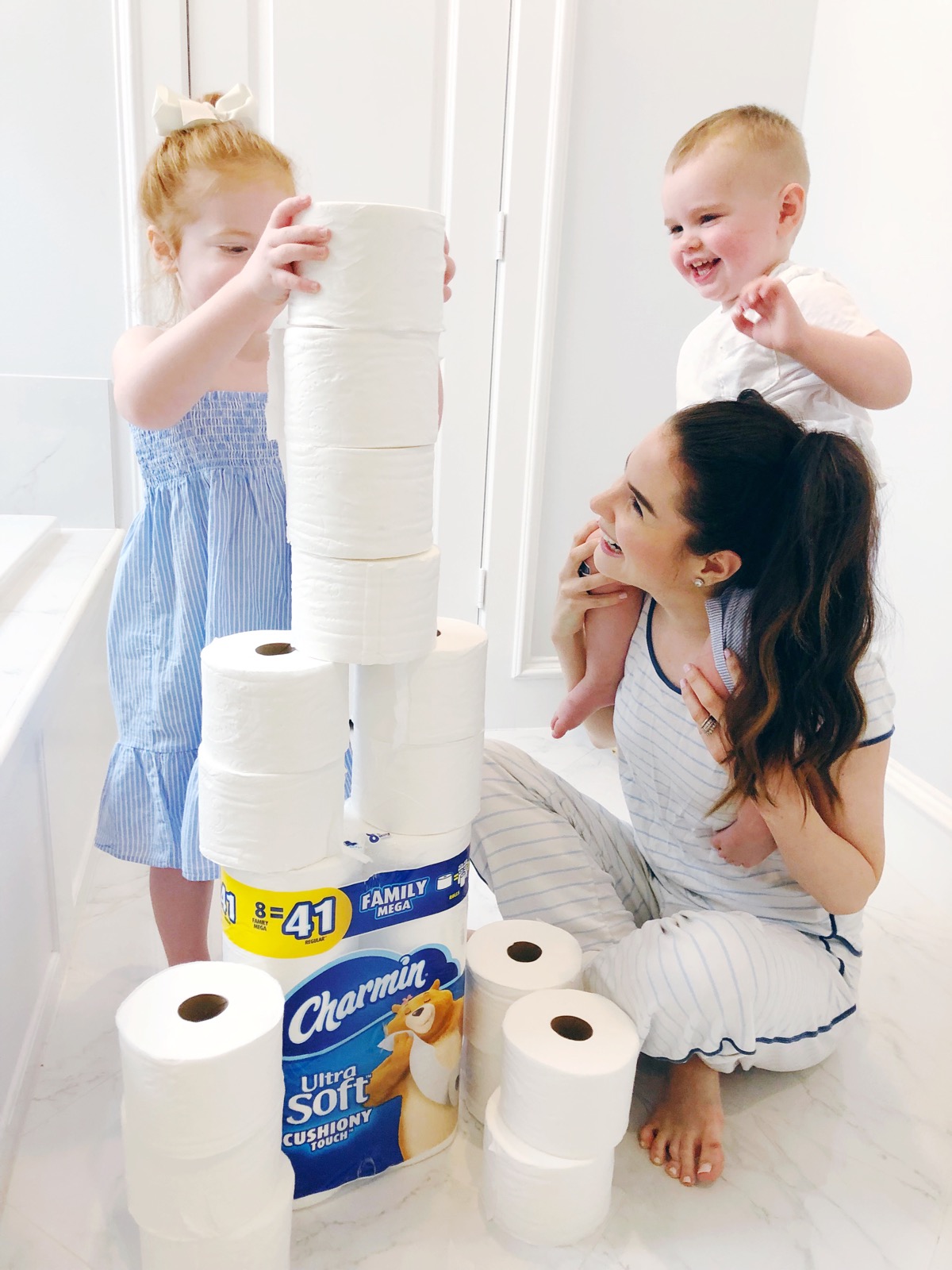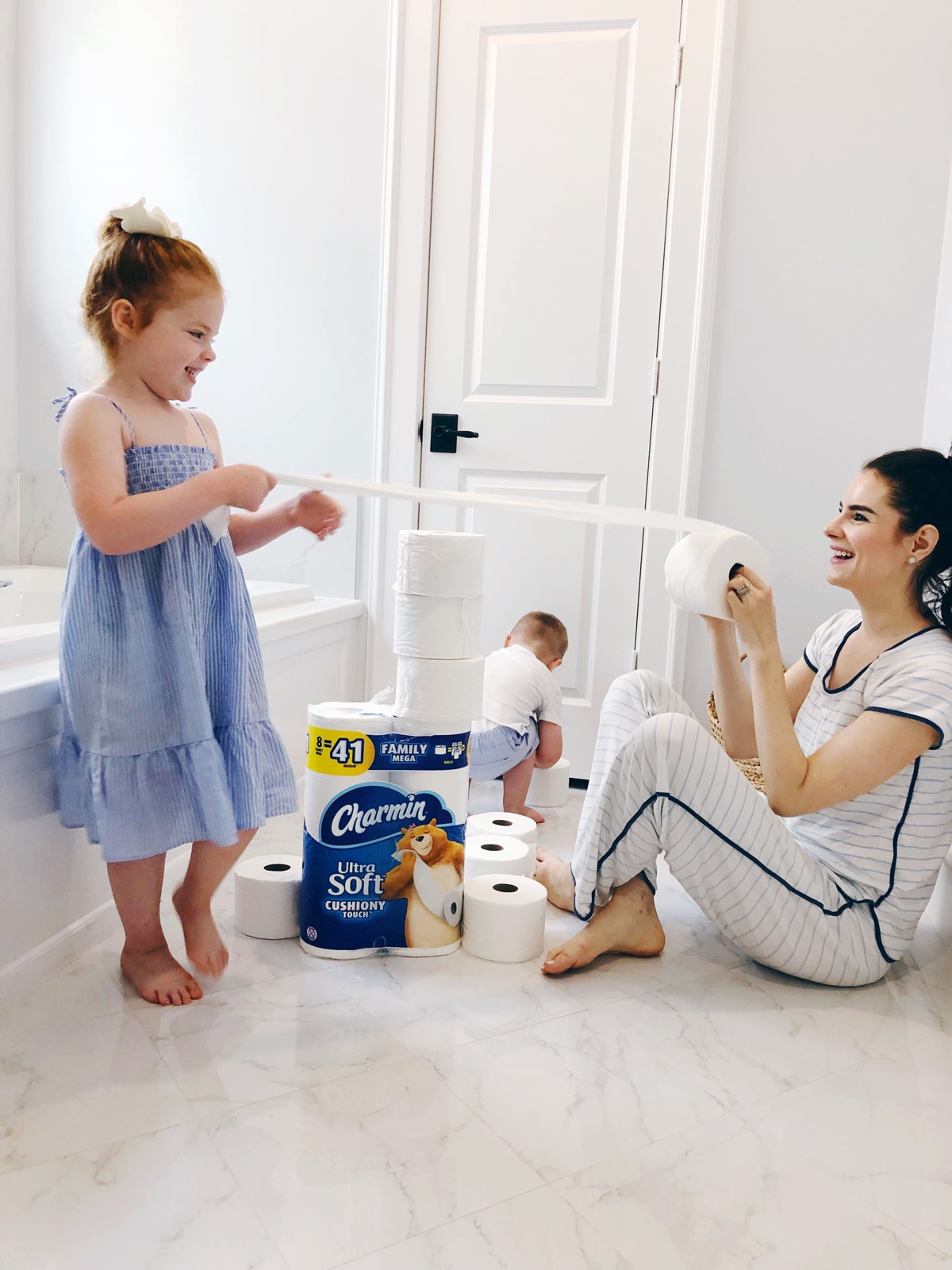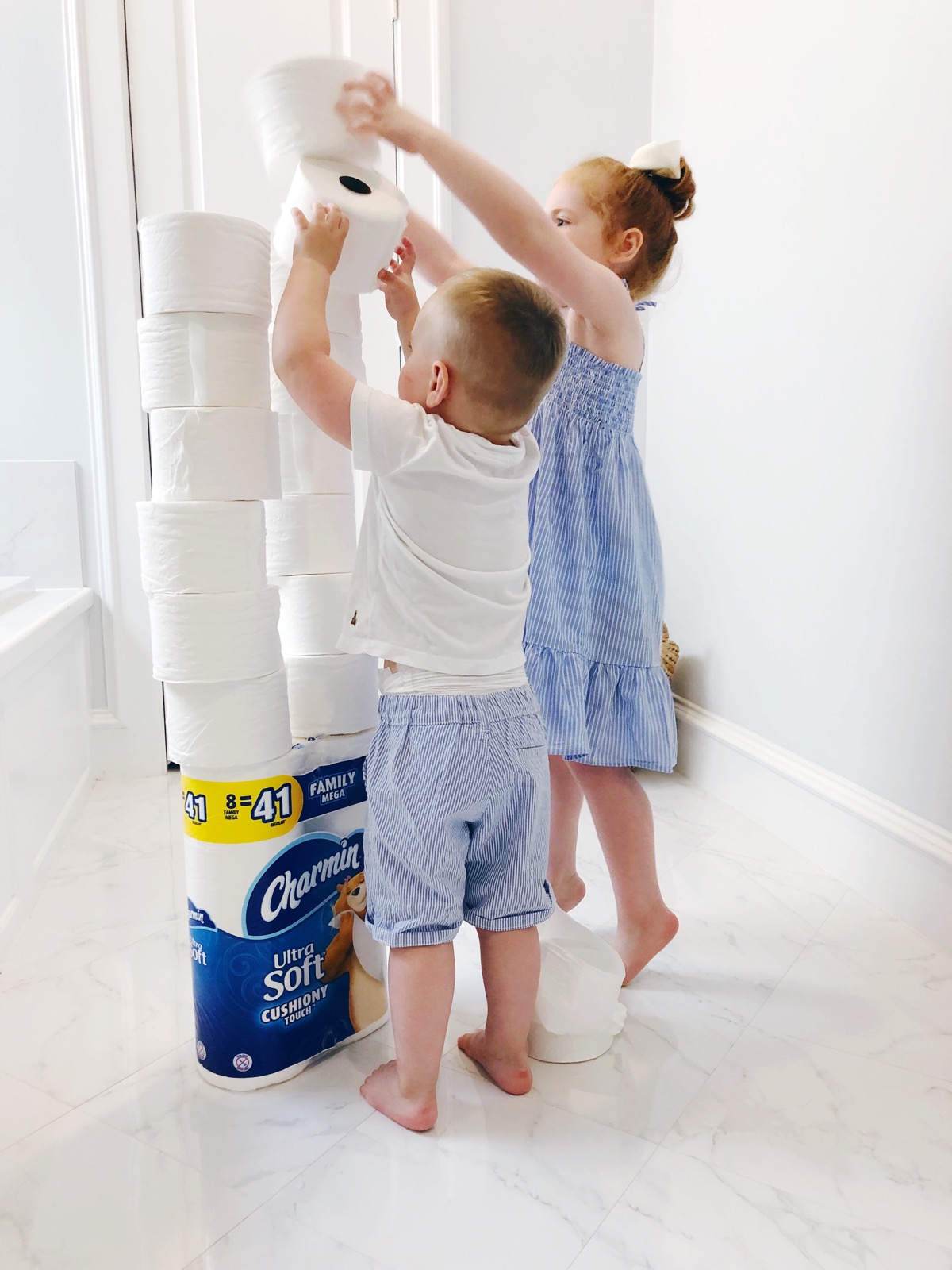 D E T A I L  W O R K
Once you're done replenishing items in your space, my final step is to do a little detail work. That means a deep cleaning where you really get into all of the nooks and crannies. Our cabinets are designed with an inset, and dust/debris always gathers there, so I do some detail work on areas like that.
Happy cleaning & #EnjoytheGo with  Charmin's Ultra Strong Clean Touch and Charmin's Ultra Soft Cushiony Touch, using code 3MEGACHARMIN for $3 off (in addition to a $2 off coupon offered at checkout)!