Thank you Olay for sponsoring this post. As always, all thoughts and opinions are my own.
Summer time can be a particularly tough time to care for your skin – from increased sun exposure, heat and humidity that can clog pores and skin that's more oily, you may notice your skin needs a cleanser that's really going to go the extra mile. This goes without saying, really, but cleansing your skin properly is truly the first step to having good skin in the first place.
If we don't remove the makeup, oil and other pore-clogging stuff from our skin at the end of the day, we won't have good skin, period. Summer time only further compounds the need for thorough cleansing and today I'm sharing a drugstore facial cleanser – Olay's new Cleansing Infusions Facial Cleanser with Deep Sea Kelp. This new cleanser by Olay is soap-free (not drying!) and soy-based, with deep sea kelp and aloe extract to hydrate and keep skin glowing. Its ingredients draw out impurities, too, which helps keep skin clear and less prone to breakouts.
I packed my Olay facial cleanser with me on our recent beach vacation and was glad I did! After long days spent in the sun and sand with sunscreen and some makeup on, my skin needed a thorough cleansing each night to maintain clarity and stay hydrated. Because Olay's cleanser doesn't contain soap, its ingredients are more nourishing while still extracting impurities and removing excess oil, all without stripping the skin. I always worry about breakouts and clogged pores when I'm spending a lot of time in the heat and sun (hello extra sweat!), so it was important to have a cleanser with the right ingredients. You can find Olay cleansers right in your local grocery or drugstore – just look for the gold cleanser. They're a great price point and I particularly love the ingredients in their latest release – the Cleansing Infusions Facial Cleanser with Deep Sea Kelp.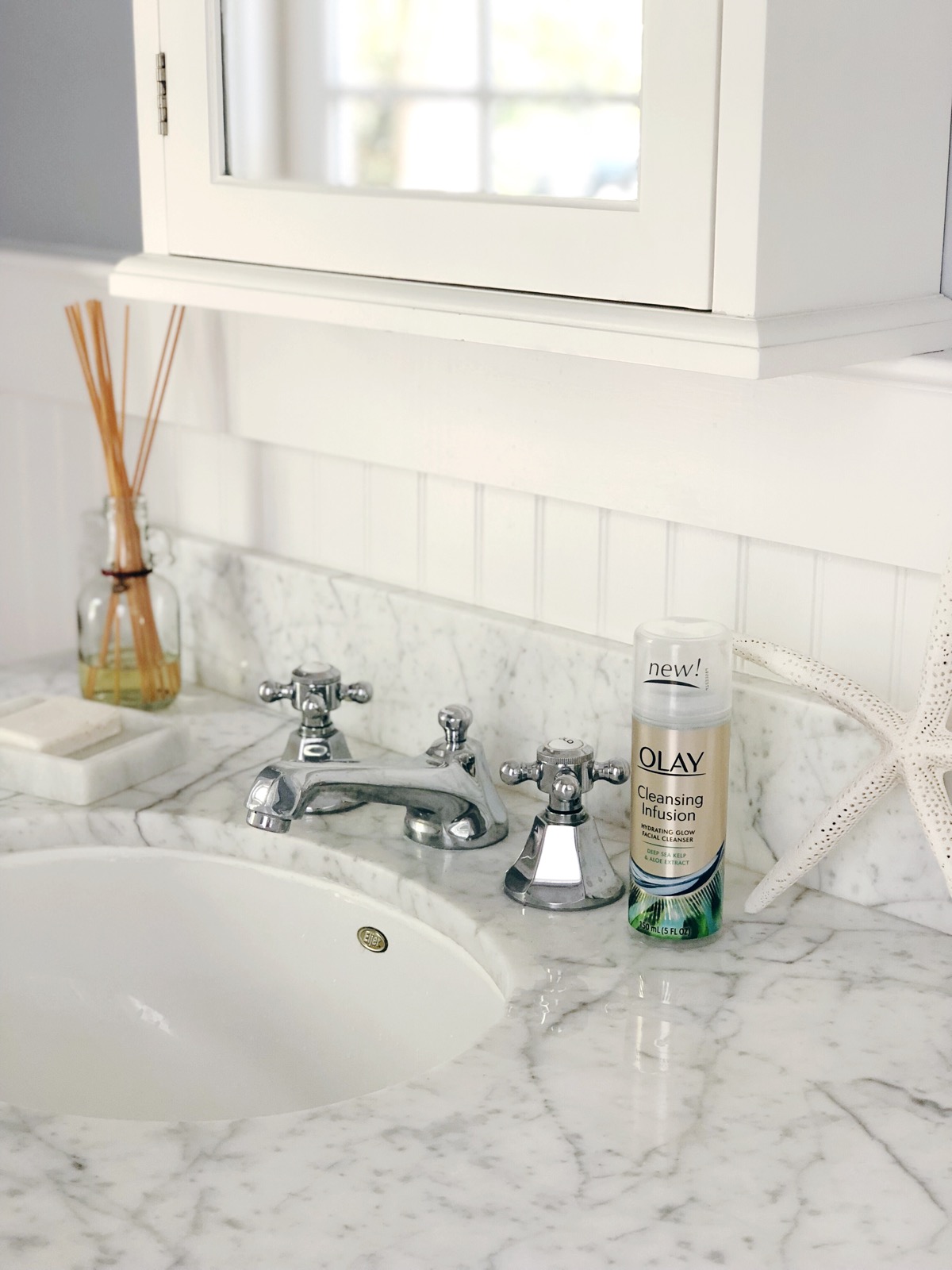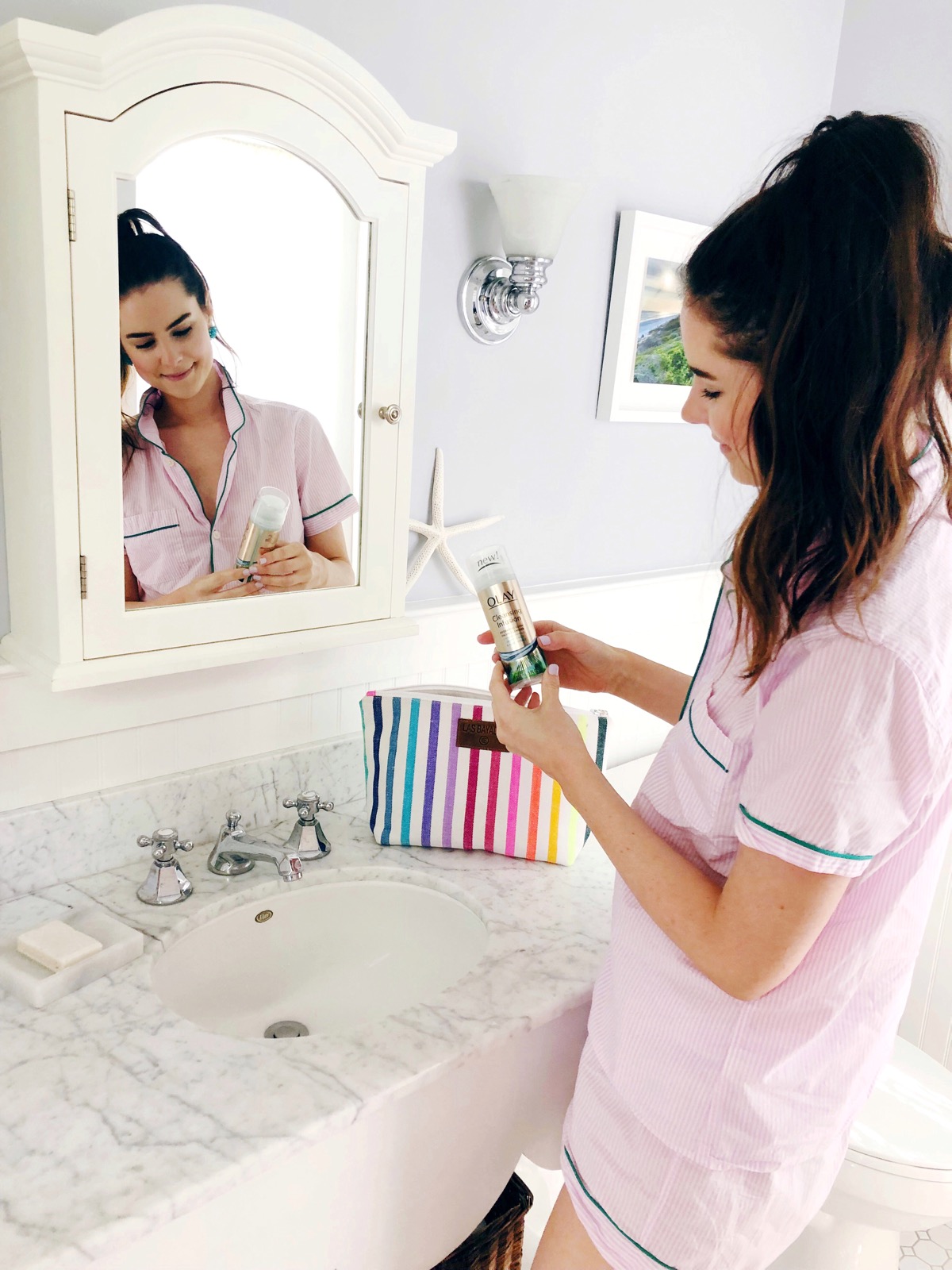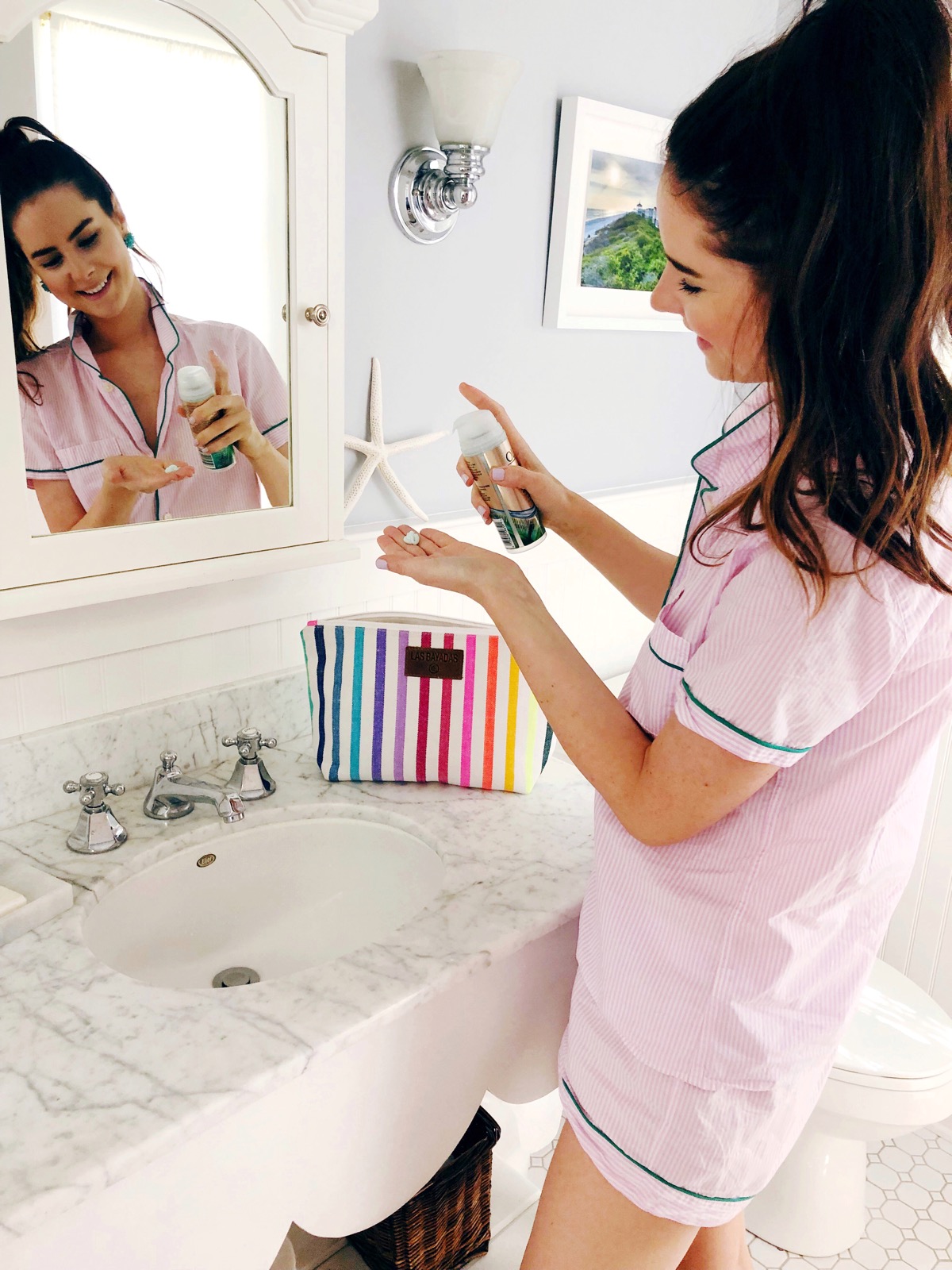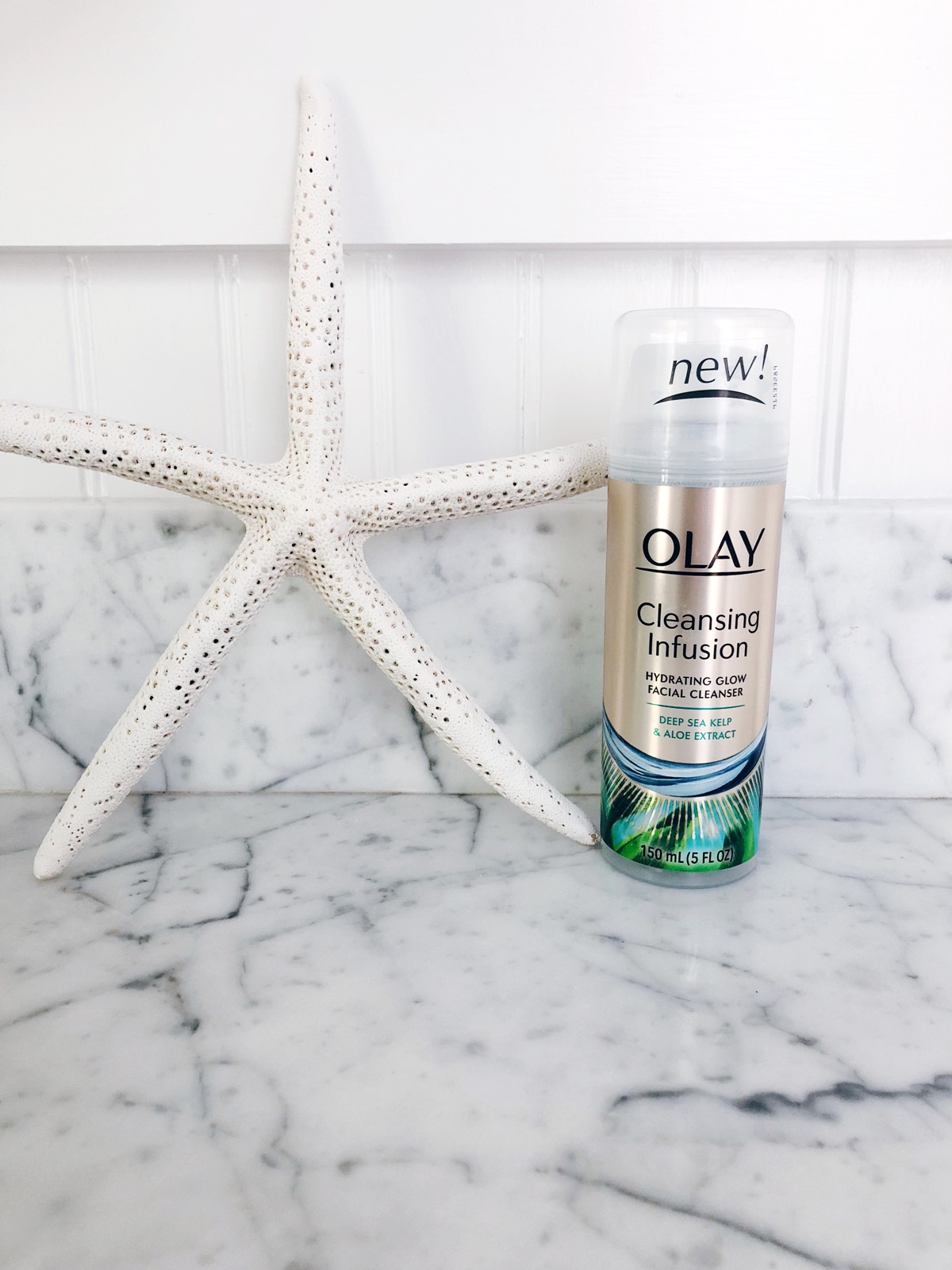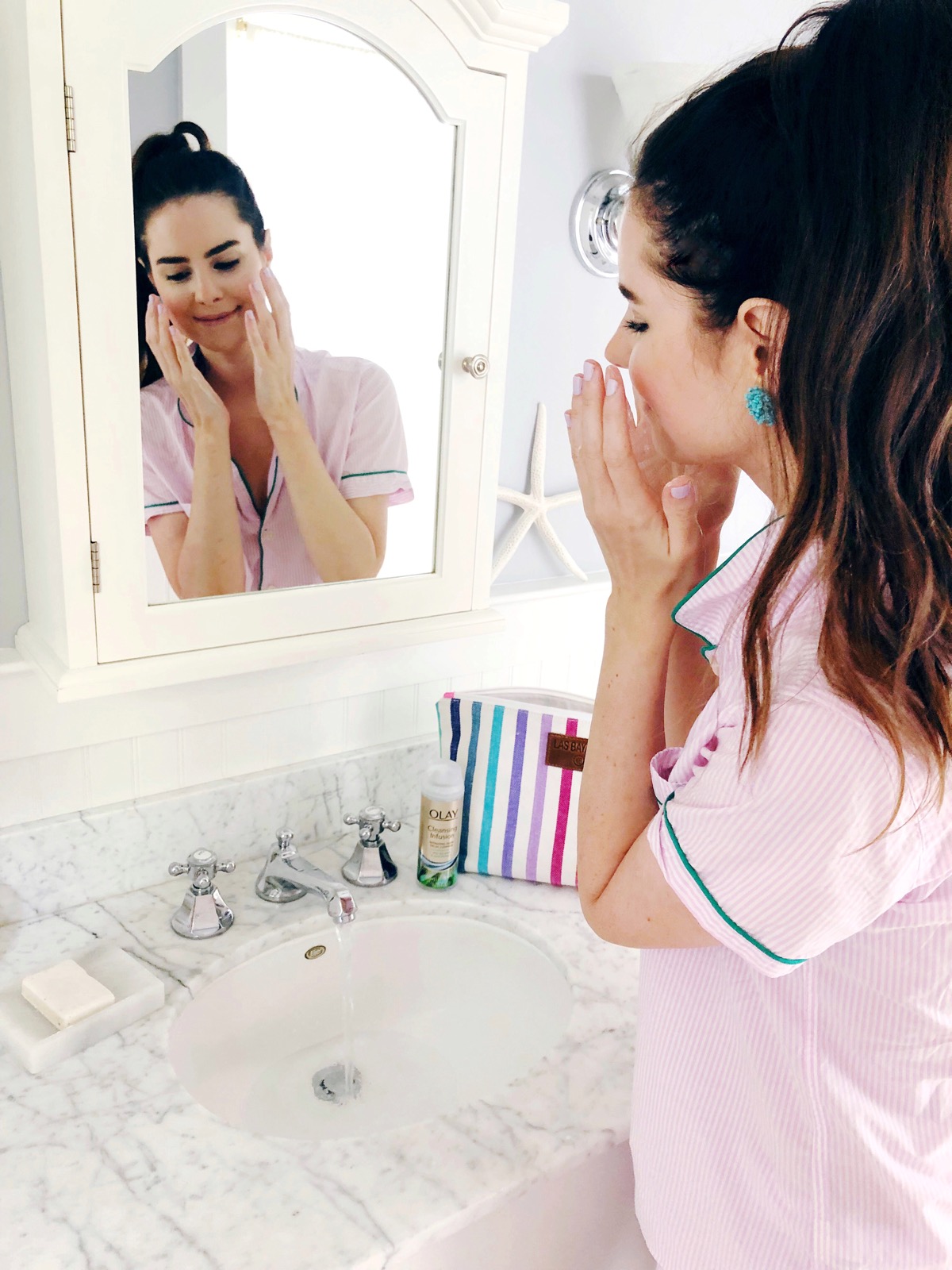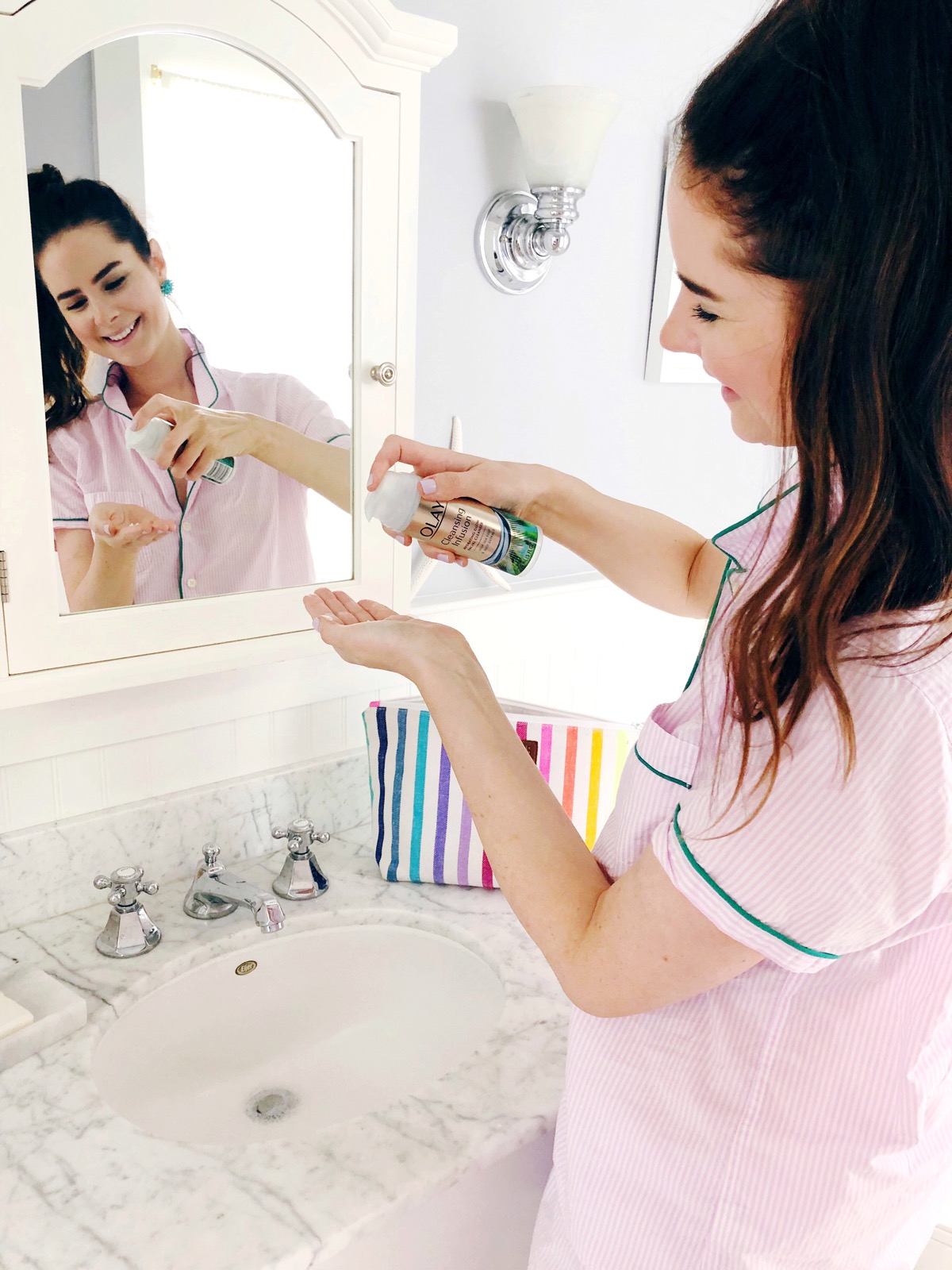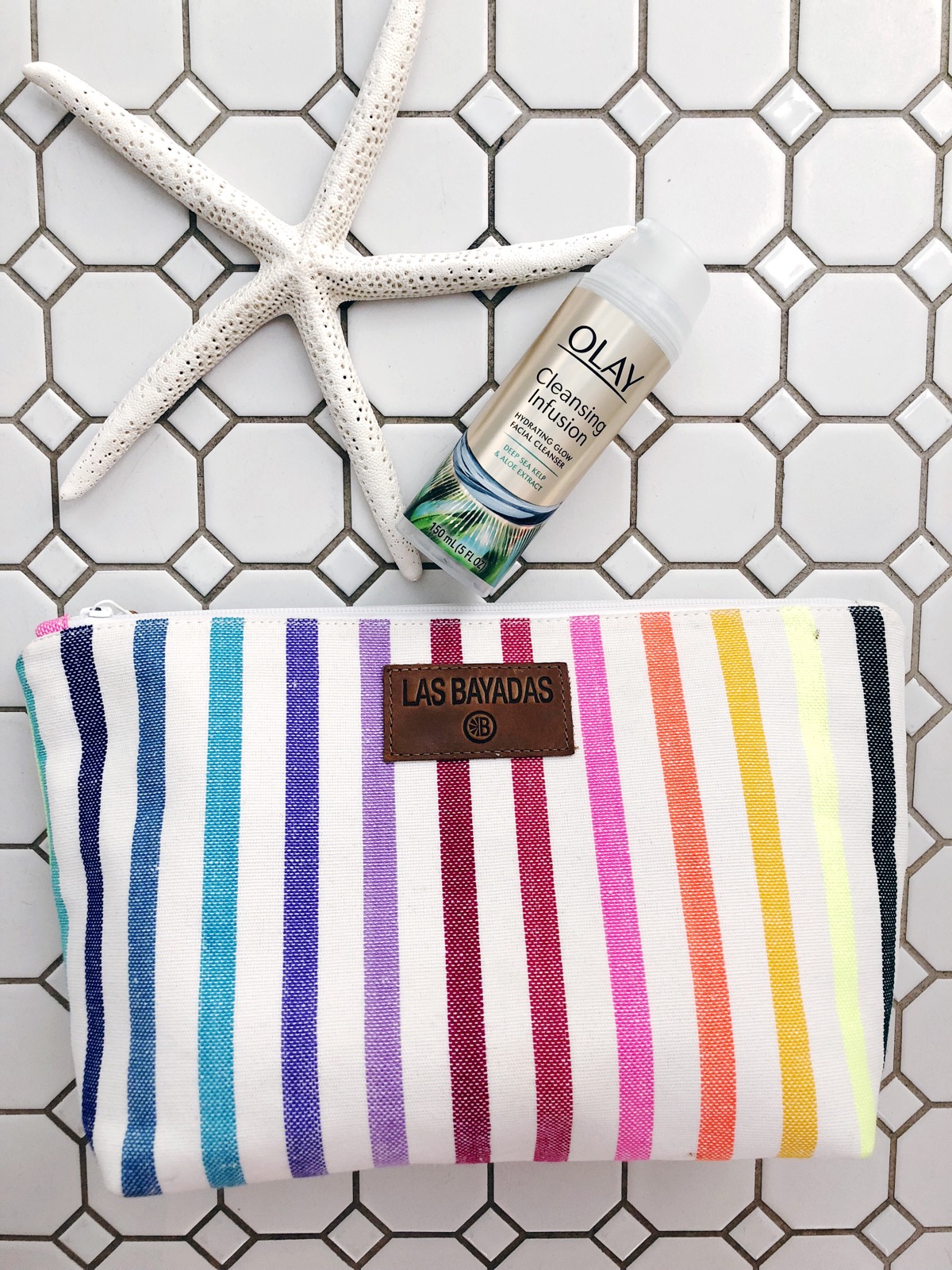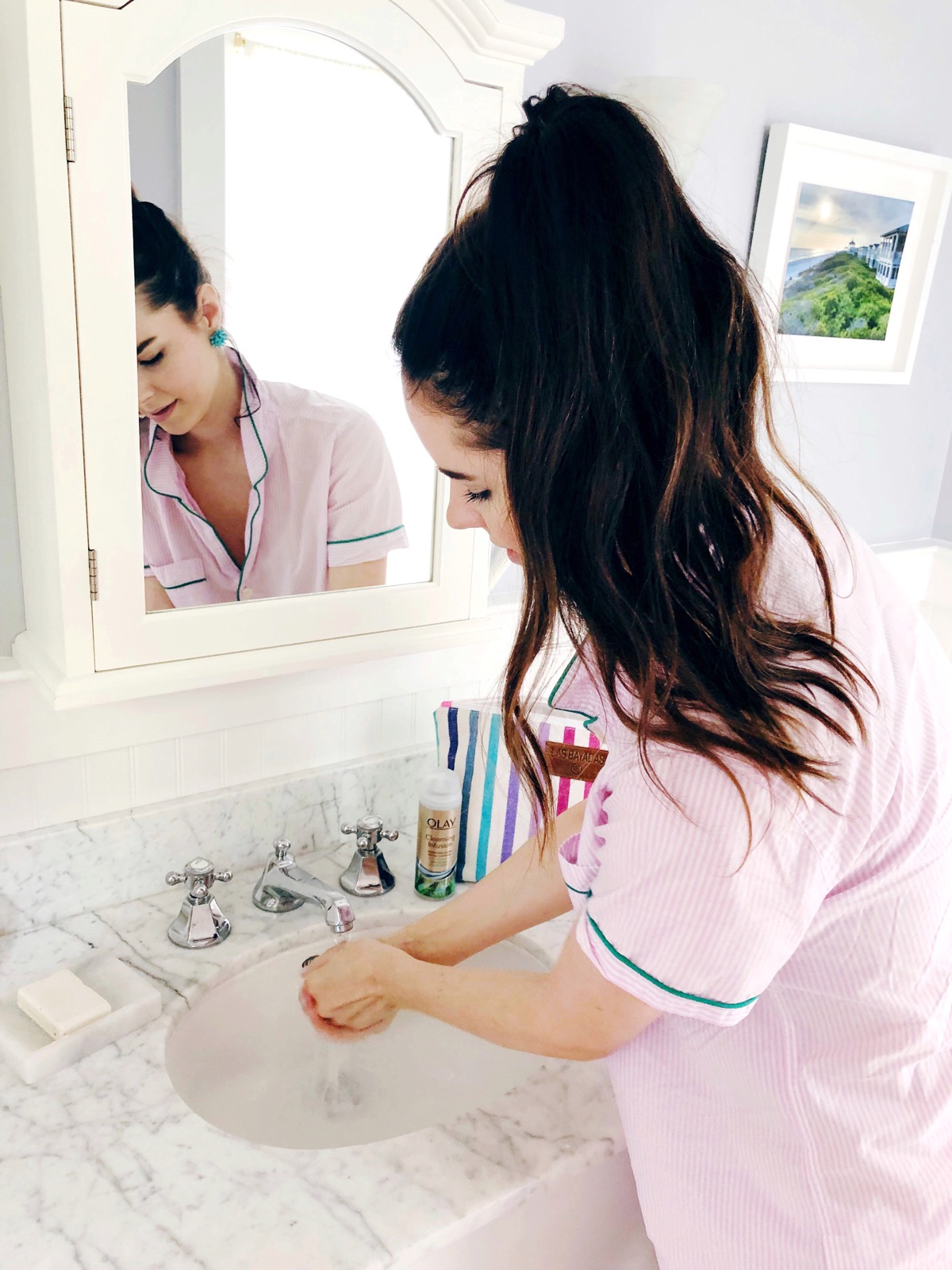 We're taking family photos at the tail end of our beach vacation, so maintaining healthy-looking skin while being in the sun all day is key – I want to look my best! Here are five other tips to keep in mind about your skin as you enjoy the pool, beach and summer heat:
Wide-brimmed hats
I cannot stress this enough – I'm never at the pool or beach without a large sun hat. I may take it off for a photo or two, but it's on the entire time I'm there. It will protect your delicate facial skin from sun damage and also protect your scalp. Remember – it's always easier and less costly to avoid sun damage in the first place.
Sunglasses
I never leave my house without them – but especially at the beach or pool, sunglasses aren't optional. You don't want to be squinting and uncomfortable with the bright sun reflecting off of the water. A hat and sunglasses are the best combination!
Sunscreen
Extended periods of time in the sun means sunscreen is non-negotiable. Make sure you not only apply it, but re-apply after you've been in the water and periodically throughout the day based on the level SPF you're using (personally I use SPF 30 and above). Make sure you're also applying enough sunscreen. Experts say about a shot glass full is enough for your body. One other tip – use a lotion, cream or mousse formula for initial application and touch-up with a spray formula if you desire. I always like to make sure I'm fully covered with a heavier formula instead of starting with a spray first.
Get bronzed – from a bottle
We all want bronzed skin in the summer – especially when we're showing off more of it. You don't have to spend hours baking in the sun or a tanning bed to get that coveted wash of color on your skin. The healthiest way to get a glow is from a bottle. Try a mousse or spray self-tanning formula. If you're very fair, you can opt for a gradual self-tanning cream that will build color over time. Whatever you do – don't forget that a tan from a bottle doesn't protect your skin and always wear sunscreen even if you've self-tanned.
Check your skincare
Either avoid using retinol if you'll be spending a lot of time outdoors or make sure you are using a high SPF and covering your face with a wide brimmed hat and sunglasses at all times in direct sunlight. Retinol can cause skin to be more sensitive to the sun, which can lead to sunburn. I travel with all of my regular skincare products, but double-check labels to ensure there aren't any warnings about sun exposure if you're going to be at the beach or by the pool a lot.
How do you care for your skin in the summer? Do you switch up your cleanser or any other part of your skin care routine? Let me know in the comments!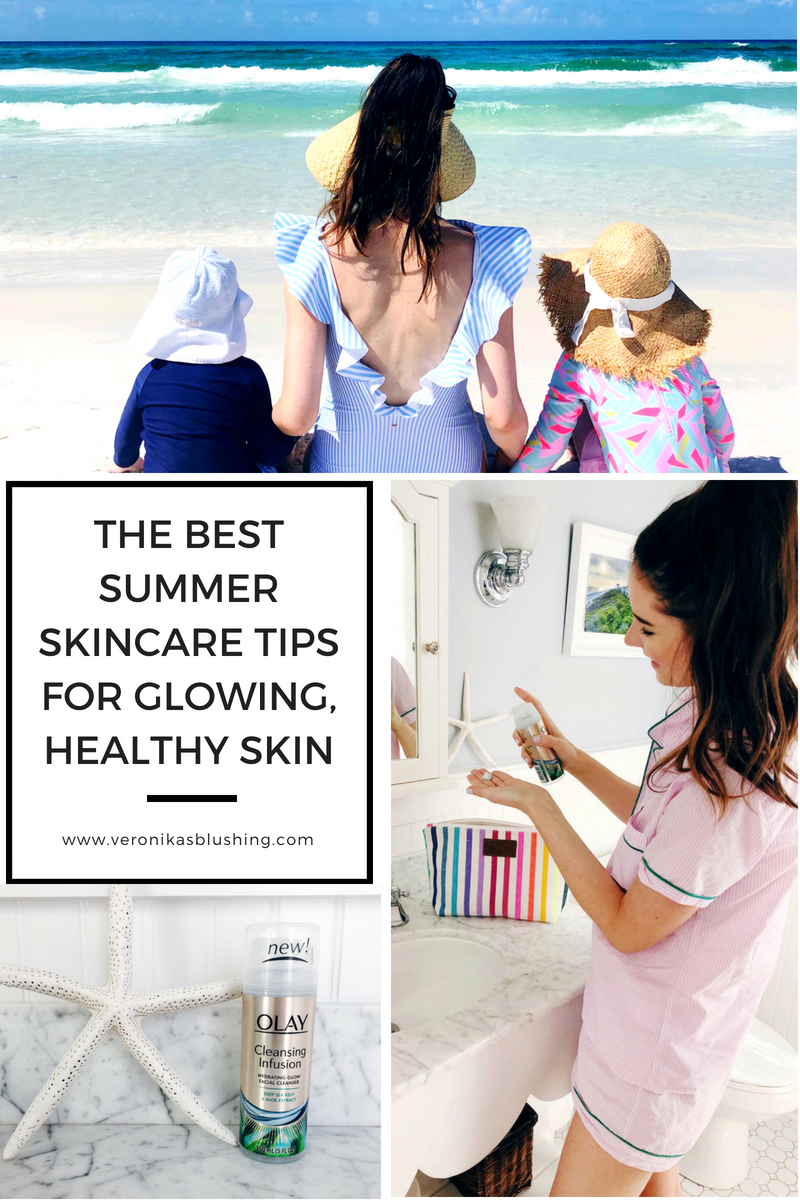 This is a sponsored conversation written by me on behalf of Olay. The opinions and text are all mine.