I love sharing my latest and greatest finds with you all – here are my top picks for the week + popular items y'all have asked about on Instagram.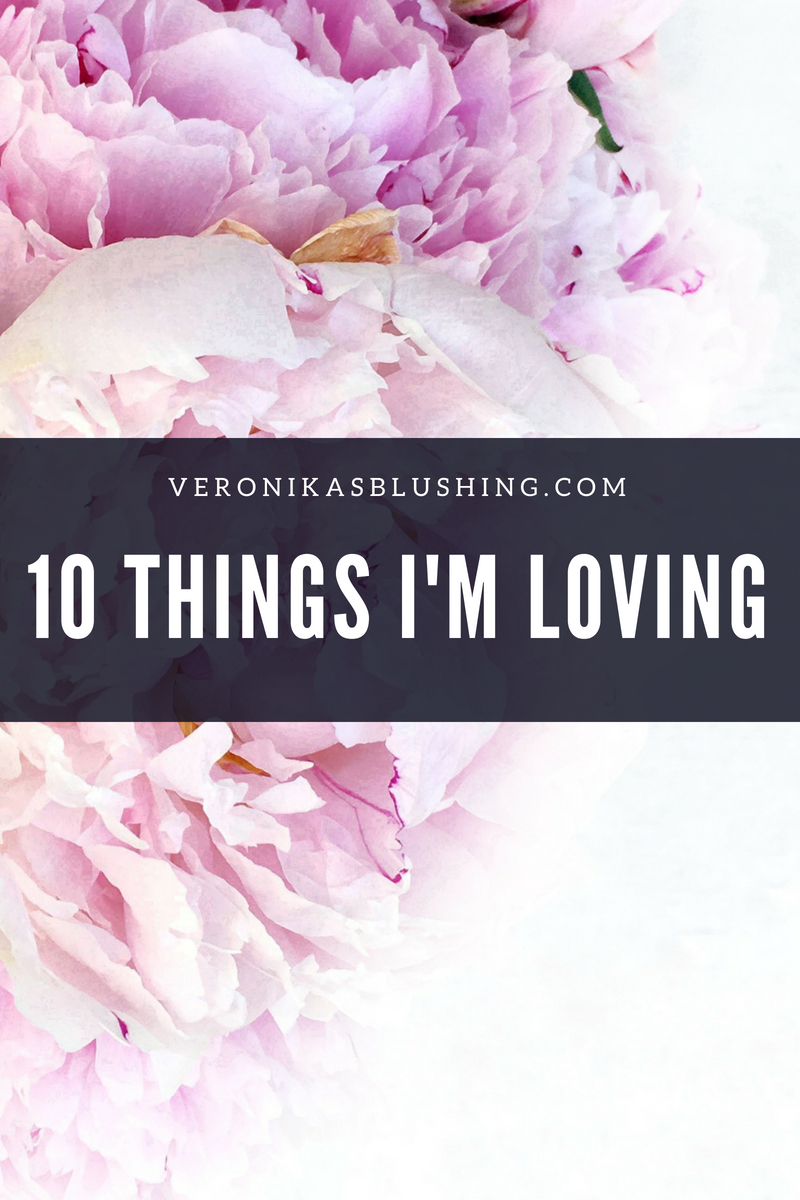 Dyson update
Let's get to the burning question first – why did I get a Dyson when we already have (and LOVE) our Shark vacuum. We still use and love our Shark – but we keep it upstairs since that's where all of our carpet is and it has a cord. I wanted a stick vacuum for super quick and easy kitchen/main living area cleanups. We previously had this Electrolux stick vacuum but found it had really lost its suction over time. The powerhouse of this particular vacuum is its removable dust-buster, so it's not going to be as powerful as a regular vacuum. I had heard so many raves about the Dyson V8 and the Dyson Animal that I decided to use a gift card I had to purchase one. I absolutely adore it. We installed it in our pantry and it's amazing to just be able to do super quick cleanups with no fuss or cords. 
Rattan storage basket
This basket is the real deal. It's large, well-made and a super cute storage accent for any room. I love adding natural elements like this to a space because they add warmth and texture while also serving as extra storage. These would be so cute to hold blankets or toys underneath a console table. I know a lot of families struggle with having toys in their main living areas, but this is a cute way to contain them while also being decorative. Love.
Le Blanc Laundry Wash – Original scent
I was at my friend's house last week for a birthday party and we noticed how amazing her bathroom smelled. She always finds the best home-related items, so of course we had to ask – was it a candle? A reed diffuser? No, my friends, it was a linen wash. I literally ordered it on amazon that night because I need that in my life. Is it expensive? Yes, yes it is. BUT – you can simply add a cap-full or two to your free and clear detergent to be more sparing with it. I cannot wait to get this amazing scent in my life. I know everyone on Instagram talks about the Tyler Glamorous wash, but I purchased it and thought it was way too strong of a scent (a ton of people love it though). The linen wash scent is much gentler while still being prominent, if that makes sense. I've also hear amazing things about this laundry detergent line and have their stain removal bar!
Yeti 14oz Rambler with Handle
I just can't stop you, Yeti. I've pretty much given up regular mugs (I do still use them for my tea) and only drink coffee in Yetis now. This new one is one that Kevin ordered for himself that I've slowly started using for my weekend afternoon latte. I love the size and that it has a handle. These also make great gifts, especially because most people use them daily. More super cute tumblers here (love these for water – drinking with a straw helps me drink way more!)
CZ Pave Earrings, For Even Less
A reader alerted me to the fact that the CZ pave earrings that are part of the Nordstrom sale are also here for $12! I can't guarantee they are the exact same, but she described them as being the same brand and the pictures do look the same. Scoop them up before they sell out! Also, how amazing are these Kate Spade studs? Love the pearl pave and the cushion cut pave.
Let There Be Light
A lot of y'all asked about our kitchen island lighting (it's being installed today – yippee!) Our kitchen pendant fixtures were purchased over a year ago and I had to spray paint them to get the right brass shade (they were incorrectly described online). However, I found some super similar ones here, and they look like a true brass. I will share photos once they're up. I can't wait to have more light over our island (we have can lights in the kitchen but we need more!) Speaking of kitchens, what cookbooks do y'all love? Looking to add some from here into my cart!
The New McGraw Camera Bag
Tory Burch released a new version of their McGraw camera bag and I'm officially in love. It's almost identical to the one I have but it has a gold chain detailing this time (which I love even more!) It's a really great dupe for the Gucci bag that costs nearly $1000. I also found this Kate Spade bag that is another amazing dupe in a beautiful nude color. More from the McGraw collection, here.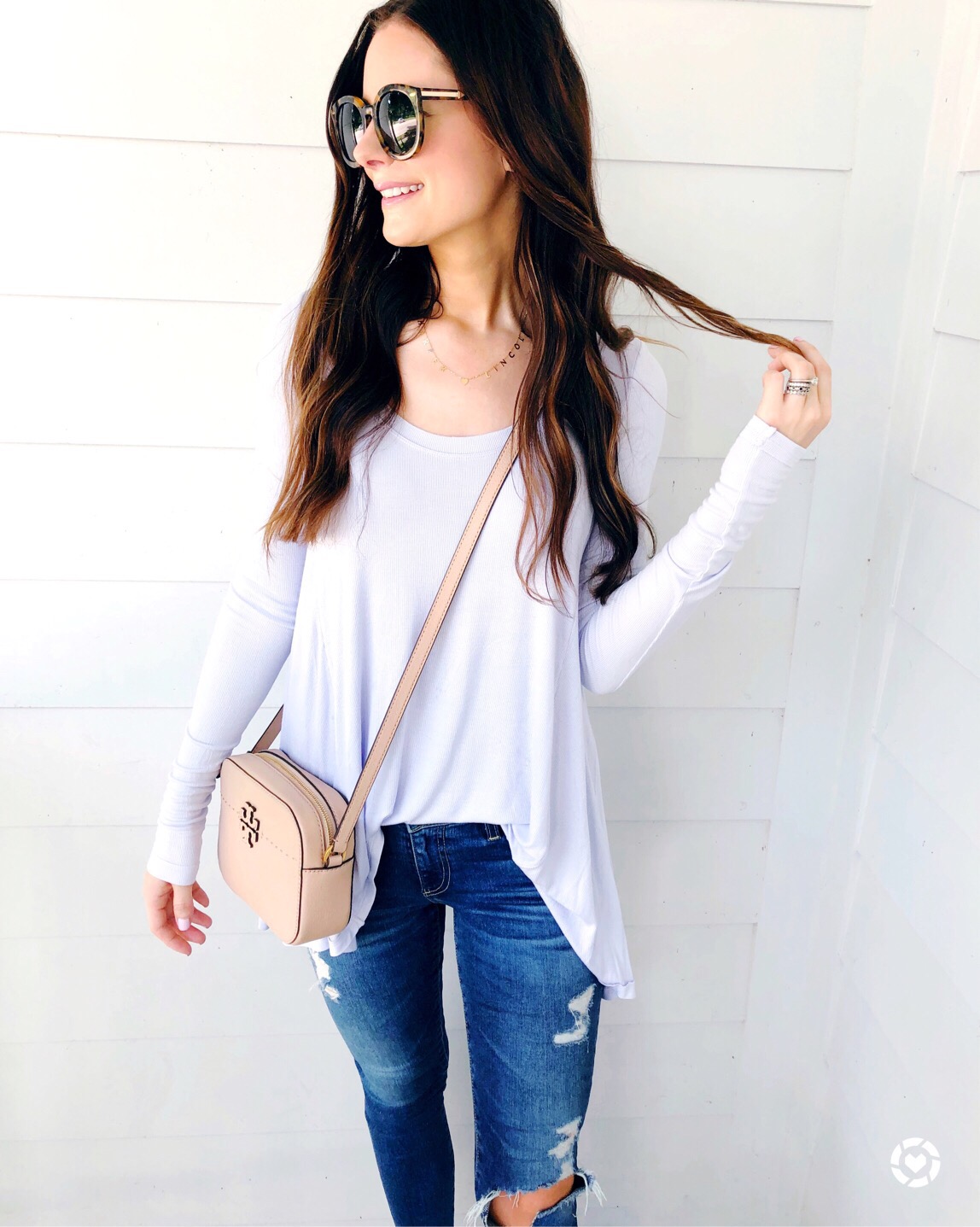 (more Free People tops, here)
Speaking of dupes…
Remember those Valentino dupe blush pink sandals I got before the RS conference? Well, they're sold out, but look at this super cute under $80 version I found! These will get you through the rest of summer and well into fall…which, in Texas, is what we just continue to call summer. More studded sandal options are here.
Rack It Up
I haven't decided if I'll share a full post on this because how interesting are garages, really, but a lot of you asked about our garage hanging system. Kevin purchased and installed these garage racks recently and they're fantastic. We use them to hold bikes, wagons and other items we want to keep off of the floor. We had a company install overhead storage in our garage when we first moved in, but these help us keep everyday things we use handy, but out of the way. We have a small front yard, but since we don't have a backyard, we wanted to clean up the garage space because our kids and our neighbors ride their bikes, blow bubbles, play with sidewalk chalk, our water table, etc, back there and our garages allow us to have some shade.
F-Factor In/Out
I recently discovered that the F-Factor blog has an "factor-in/factor-out" section and I'm here for it! Tanya Zuckerbrot shares swaps for things like marinara sauce, fruit spreads, bbq sauce, etc, all to F-Factor approved items. I've mentioned before that I loosely follow this "diet" (I'm using quotes because to me it's not a diet, it's a way of eating that is sustainable and keeps you feeling full).