This is a guest post contributed by the wonderful Dr. Allison Niebes-Davis, a licensed clinical psychologist and founder of Dr. Allison Answers.
I'm honored to continue to bring you this important mental health content in partnership with Dr. Allison. As you know, I've had a long personal history with therapy, starting in my teen years, and have been in Cognitive Behavioral Therapy for over a year.
I share my challenges and this kind of content hoping it will help to de-stigmatize mental health issues and therapy.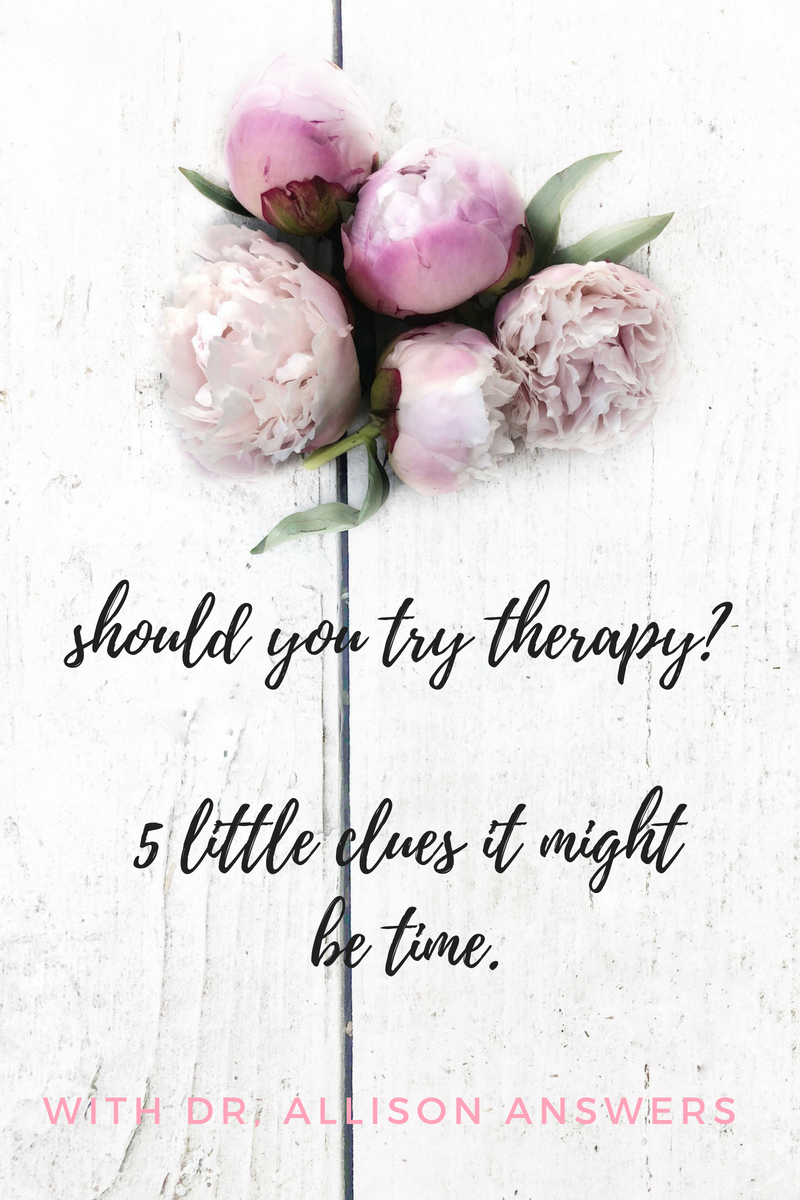 ---
Have you ever wondered, "Should I try therapy?"  Perhaps this question came at the end of a rough week, when you weren't sure how much longer you could handle the stress.  Maybe the question came in the middle of a dark moment, when the tears just kept coming.  Or maybe you gave the issue more serious thought after a panic attack that seemed to come out of nowhere.
So often, people view therapy as a last resort.  Something for when it's "really bad" and when all other options have been exhausted. However, I'm a firm believer that we don't have to wait this long! Therapy isn't a last resort; it's beneficial in a ton of different scenarios.
If you've ever wondered whether or not you'd benefit from therapy, then today's post is for you.  I'm sharing five little clues that it might be time to find a therapist, sit on the couch, and give therapy a try.
You feel stuck.
You know when you know how you want to feel, but you aren't really sure how to get there? I call that feeling stuck.  And feeling stuck is usually a clue that therapy might be helpful.  Perhaps you've been having the same argument with your partner, over and over.  No matter what you try, no matter how many conversations the two of you have, you can't seem to get anywhere different. You're stuck and sick of feeling stuck.  If you feel like you've tried everything, but things still feel the same, reach out for therapy.  Things don't have to stay that way.
Your struggles are impacting your daily functioning.
Imagine that you hurt your knee while working out. For a couple of days, it feels sore, and on some days, you start to notice the pain a little bit more.  Eventually, the pain is pretty constant, and it's starting to impact your daily movement and range of motion.  At this point, it's probably time for a visit to your doctor, because your daily functioning is being impacted.  This same idea translates to our mental and emotional health.  If you're so anxious that you can't focus or concentrate, or if you're up worrying till 2:00 am, it's probably time to try therapy.  If you're snapping at your kids more often or late to work more frequently, reach out and get connected.  Your body and brain are sending you signals that they're tapped out, overloaded, and in need of some extra help.
You feel alone.
Do you feel like no one gets it? Do you feel like you don't have anyone to turn to? Feeling alone doesn't have to mean you have no friends. It's common for people to be surrounded by others and still feel lonely.  When we feel alone, our pain has lots of room to grow. Doubt and fear creep in, and we wonder what's wrong with us.  If this sounds familiar, therapy is a great place to get support and validation.  You don't have to walk your struggle alone.
Other people have noticed a change.
Sometimes we're so wrapped up in life and all it's responsibilities that we don't make time to notice what's going on with us. Particularly as women, we're often so focused on caring for others, that we don't realize when we're struggling.  But the people around us often notice.  If your boss has commented on a change in your performance, if your partner has acknowledged that you're more irritable lately, or if a girlfriend comments that you've seemed really down, it might be a sign that you need some extra time and attention.  Therapy can help you learn to tune into your experience and identify what's going on.
If you're having thoughts of suicide.
Suicide has been in the news recently, with the deaths of Kate Spade and Anthony Bourdain, and I'm hopeful that their deaths will spark more open and honest conversations about suicide. As a psychologist, this is something I talk about openly almost daily with clients, and you'd probably be surprised to know how many people have thoughts of suicide at some point in their life.  Sometimes the thoughts are just passing, and other times they're stronger.  Don't struggle alone, and try not to wait until the hole feels too deep.  Therapy is an open and non-judgmental space, just for you.*
If you've asked the question, "Should I try therapy?" and you recognize one of these five clues, the answer is probably yes.
It might be time to reach out for therapy. Remember, therapy doesn't have to be a last resort. It's an amazing, collaborative, and beneficial process, designed to help you better navigate what's going on. Taking that first step can be hard, but it's also so freeing.
Is it time for you to try therapy?  Or have you tried therapy, taken a break, and decided it's time to start up again?
*If you or someone you know is suicidal, please reach out to the National Suicide Prevention Lifeline at 1-800-273-8255.
---
Dr. Allison Niebes-Davis is a licensed clinical psychologist and the founder of Dr. Allison Answers, a website designed to simplify psychology to help people live healthy and meaningful lives. She finds a balance between the science and the practical, making her content completely relevant to your daily life.  Connect with her on her website, YouTube, and Instagram.