This year, I vowed to start focusing more on finishing each space in our home. A lot of people I know move into a home and furnish the entire thing right away or work with a designer from the start to make every space feel perfect as soon as they move in. We're on our third home in ten years and I can't say that I've ever felt any of them have been "finished" even halfway.
Some of this is probably due to the fact that we move often enough to not make it "worth it" to change much. But there's an argument to be made for making every space your own. I'm totally inspired by Alaina Kaczmarski's transformation of their rented Chicago Greystone and now that I'm older (and maybe a little wiser), I completely see the benefits of adding things like lighting, window coverings, hanging art, mirrors, etc. I want to live in a home that feels warm, inviting and a reflection of our tastes…even if it's not our "forever home."
Maybe it's because I can see us being in our current home longer than the others, but I've been super motivated to move the needle on our home projects lately, forcing myself to make decisions and order things. Though I still look at real estate all the time (what can I say, old habits die hard), our current home continues to be a good fit for our family and unless the perfect house in our price range and style popped up, we don't really want to move (that's a first for me, haha).
One project we took on recently was to have our children's bathroom wallpapered. Wallpaper (both the actual paper and the labor expense of having it installed) is pricey, but the impression it leaves behind is…well, priceless. It was transformative for our tiny space – it's now light, bright and makes a statement (by the way, if you're local and need a fantastic wallpaper installer, email me or DM me on Instagram – I'm happy to refer you!)
We used this Serena and Lily wallpaper (it took about 2.5 rolls to do the entire room) and plan to finish off the space with a new mirror, some hardware, art and possibly a new shower curtain.
Here is the "before" – a pretty standard small full bathroom.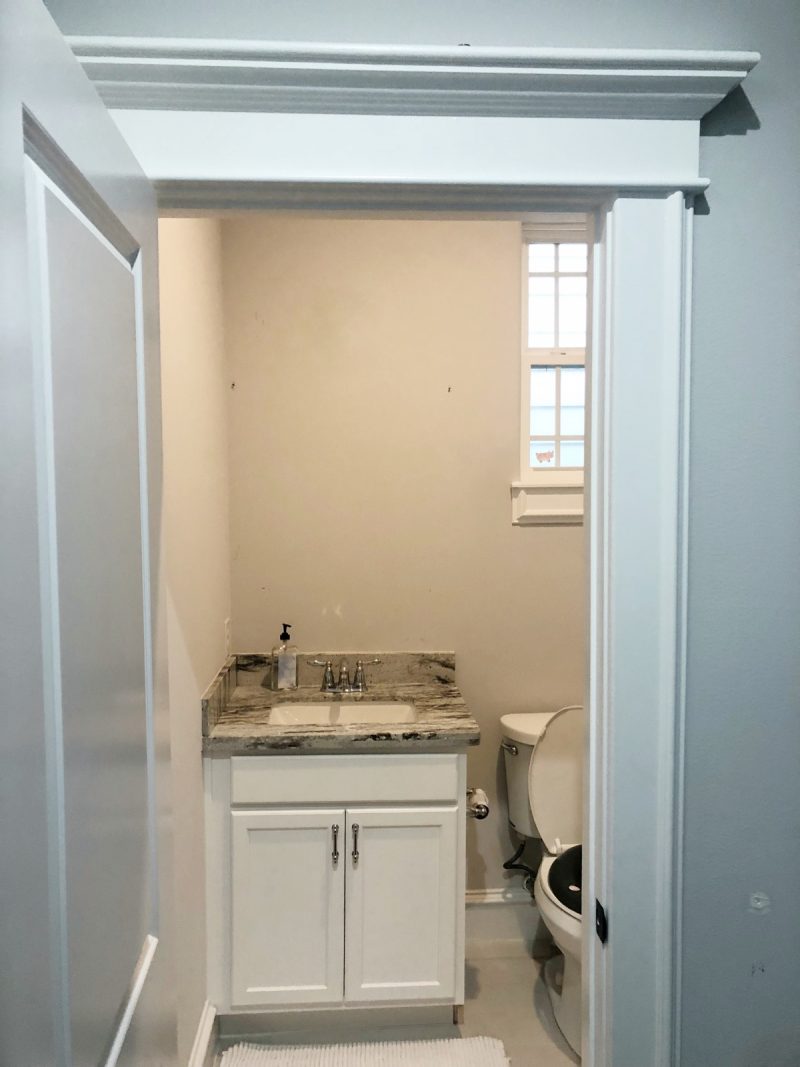 And the bright, beautiful, airy after: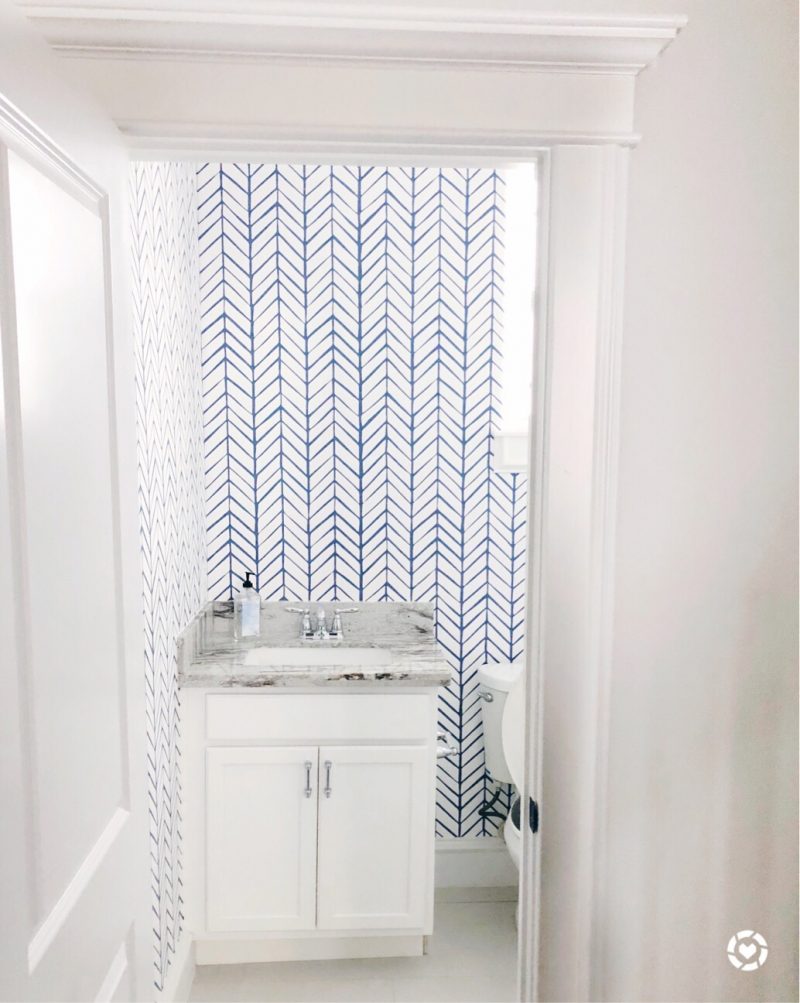 Here is my inspiration for the room: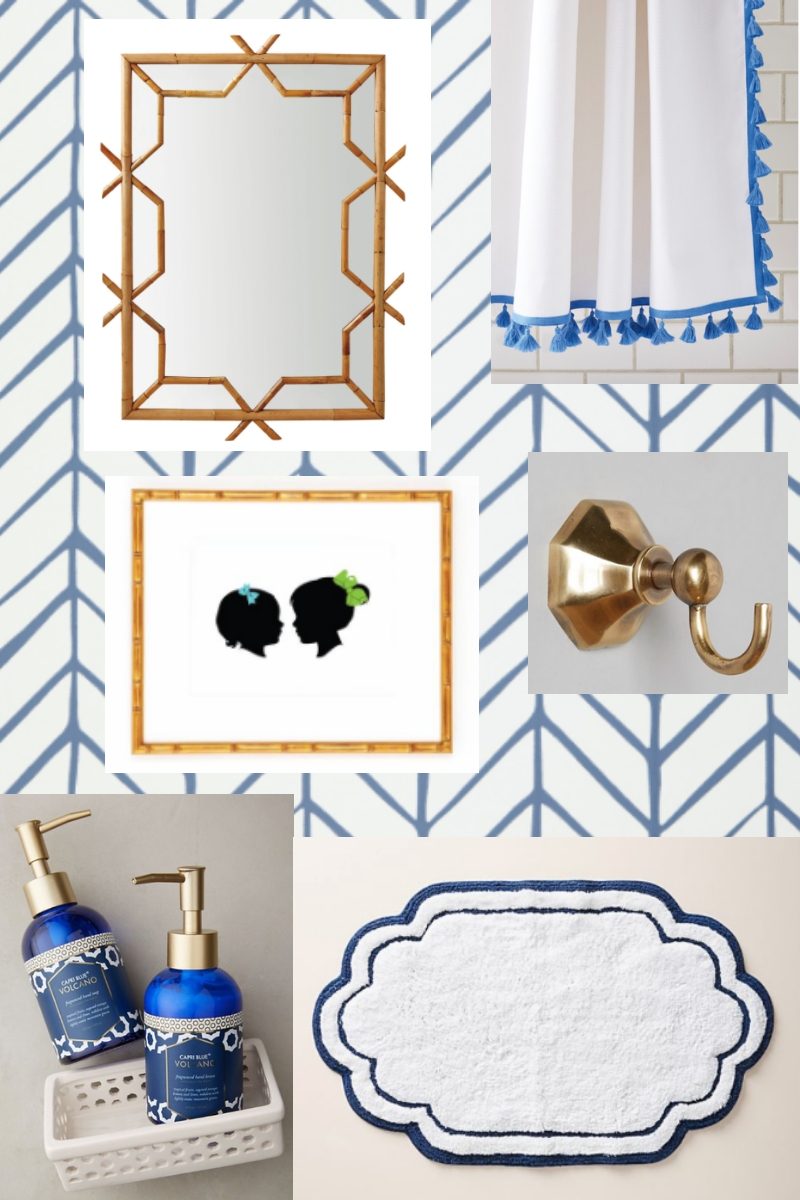 Marble and brass tray  |  brass towel hooks  | blue volcano soap duo  |  scalloped bath mat  |  mirror  |  wallpaper   |  print + frame |  shower curtain
 Prior to this transformation, we had this gold mirror hung in the bathroom (the same ones that flank our bed in our master) and it was too large for the space. I ordered this bamboo mirror in the smaller size – it will allow the wallpaper to shine, be a better proportion for the space and add some texture.
I can't wait to show you the final space when everything is ordered and installed! If you're in Houston and need a wallpaper installer, please email me or DM me on instagram and I'm happy to share my amazing installer. He is incredibly professional, talented and does a flawless job!
SHOP THIS POST:


Shop the Post