Our kids got their flu shots last week and I got a lot of feedback on Instagram asking for tips about how we make the experience a positive one for them, so I put together this post! As you know, I work at a children's hospital and even though I'm not in a patient care role, I spend time with patients and at the hospital pretty regularly, so it's important to protect myself, my family and our patients, many of whom are immunocompromised or too young to be vaccinated. I always get my flu shot early in the season, as soon as the hospital starts offering it to employees.
Though the flu shot is not 100% effective, it does protect you from the flu and even if you get the flu, having the flu shot often makes your symptoms less severe, which decreases the length of illness and flu-related complications. Both of my kids got the shot last year and they both got the flu during the holidays – but you could hardly tell they were sick (and Harper had strep and the flu simultaneously). I know the flu shot protected them from having really severe symptoms – their fevers were quite low grade, didn't last more than a day or two and they were playing, eating and drinking like normal.
Last year, the CDC reported that more than 80,000 people in the U.S. died from the flu and flu-related complications (see the current "flu view" here and the data reports here). I also encourage you to watch this video and read this blog post.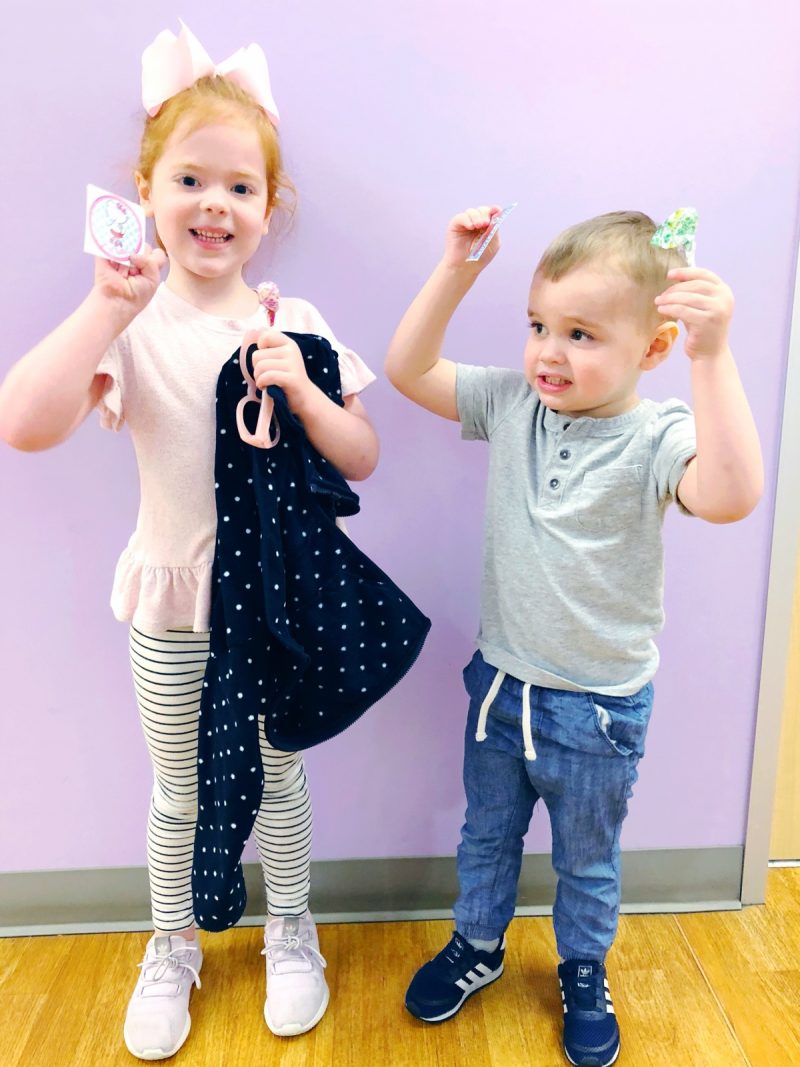 Here's how we make sure our flu vaccine experience is a positive one:
We talk about why we get it
We emphasize to our children that the reason we get the flu shot is so we can be healthy and keep others healthy. We say things like "the flu shot keeps us healthy" and "the flu shot protects us and our family and friends from getting very sick." We remind them that being healthy means we can play with our friends, run around, enjoy our activities like gymnastics and swimming and go on vacation together. The focus is always on the flu shot being something we have to do for our health and the collective health of the community.
We tell them about our own flu shots
When I get my flu shot, I work it into conversation with the kids after school. This year I told them "mommy barely even feel the needle! It was over so fast!" (both true statements for me). It makes it seem like no big deal, just a regular part of your day and something you do once a year to stay healthy.
We talk about it early
We tell our kids a week beforehand so we don't just spring it on them one day. We remind them we are getting the flu shot on X day and how great it will be for our entire family to be protected.
We keep it positive
Create positive associations – a lot of parents don't like needles themselves and it can be easy to hype up the experience making kids feel more nervous or scared to get it. We always say things like "it just a quick pinch and two seconds later it's all done!"  Having said this, we are also truthful about the flu shot – I'll tell them "after the flu shot, mommy's arm was a little sore the next day, but then it went back to normal."
I think when you keep it positive, most kids are surprised by how quick/painless it really is. Both of my kids tense up a little bit as the needle is about to go in, but I watch them carefully and though they prep for big tears, they almost immediately realize it's over in a second and their expression totally changes – like they didn't expect it to be so fast. This year Harper was about to cry right before the shot and it was so quick she didn't, and Lincoln let out a two second cry and that was it – it was over in  flash! Later that day Harper said "I barely felt the needle!"
We practice
We "practice" flu shots by giving one another quick and gentle "pinches" – the kids love this and laugh when we do it. We also use their doctor's kit and they pretend to be doctors giving flu shots to each other and their stuffed animals.
We reward them
After their flu shots, we do a round of high-fives, tell them what a great job they did and get them a lollipop and sticker at the doctor's office.  This year I had them hold out their lollipops and stickers to take a "yay we got our flu shots!" picture and told them how proud we were of them.
These are just a few tips, but keeping things positive and using positive language works for us. I hope this post is helpful and I welcome you to share your own tips!