Thank you Pantene for sponsoring this post. All thoughts and opinions are my own.
I've always been hair-obsessed. From finding the best styling tools and products to determining the best washing schedule for my hair. Y'all know I only wash my hair twice a week to prevent damage, extend the longevity of my color and for general hair health, so the products I use to wash and condition my hair have always been top of mind to ensure that the couple of times a week I'm cleansing, I'm giving my hair what it needs to both get clean and nourish it.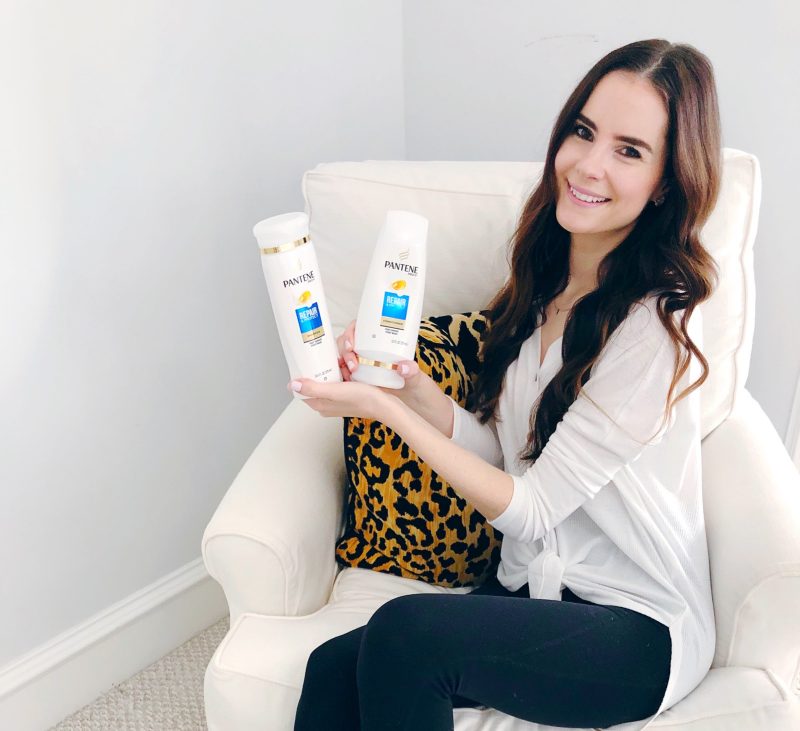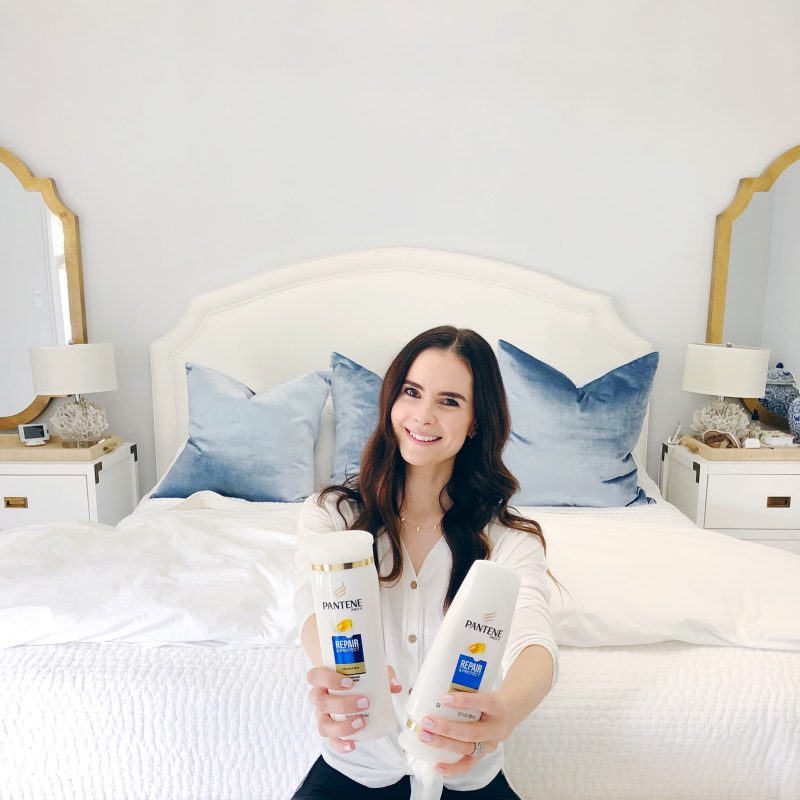 Pantene asked me to take their 14 Day Challenge – meaning using only Pantene's Repair & Protect Shampoo and Conditioner for two weeks, which for me means 4-5 washes, I was game! I switch up my shampoos and conditioners on a regular basis anyway because I believe cycling them allows them to work better, so I was eager to see what two weeks of washing and conditioning with Pantene would do to my hair.
Pantene has been around for a long time and it's a brand I remember from as early as my high school days. Their formulas have been totally redone over the years, so I was eager to test out the Repair & Protect Collection. I shared my experience with Pantene's Charcoal Collection a couple of months ago and I still use it weekly (outside of this challenge).
I'm no stranger to a bad hair day and in a word – they suck. With Houston's usually humid weather, finding the right combination of cleansing and styling products and heat tools can feel like trying to solve a Rubik's cube. A good hair day, on the other hand, makes me feel confident and immediately elevates my mood – so let's talk about having more of those!
Pantene set up a website where you can take a quiz to find out which Pantene collection is right for you. Take the hair quiz here! Here's what I learned and my results after the 14 Day Challenge.
Don't over-rinse
Prior to this challenge, I was an over-rinser, meaning that I would rinse my conditioner out of my hair for longer than I really should be. I learned from Pantene that you really shouldn't spend more than 30 seconds rinsing out your conditioner. That was news to me, but I can see why – you don't want to totally strip your hair when the intention of conditioner is to nourish.

Think about placement
If you have normal to dry hair, use conditioner all the way up to your roots. If you have more oily hair or go several days between washes, use conditioner only from the nape of your neck to the ends of your hair. I've always done this since I'm a twice a week washer, and it helps keep my hair cleaner, longer.
My hair was easier to brush
Pantene's Repair and & Protect Shampoo produces a very rich lather, which I love. It feels almost…luxurious like when you're at the salon having your hair washed. I've used a lot of different shampoos over the years and they don't all have this quality. If you love a rich lather, this one's for you. I was worried the richness would weigh my hair down, but that wasn't the case at all. It rinses totally clean. I found my hair was easier to brush out of the shower, too.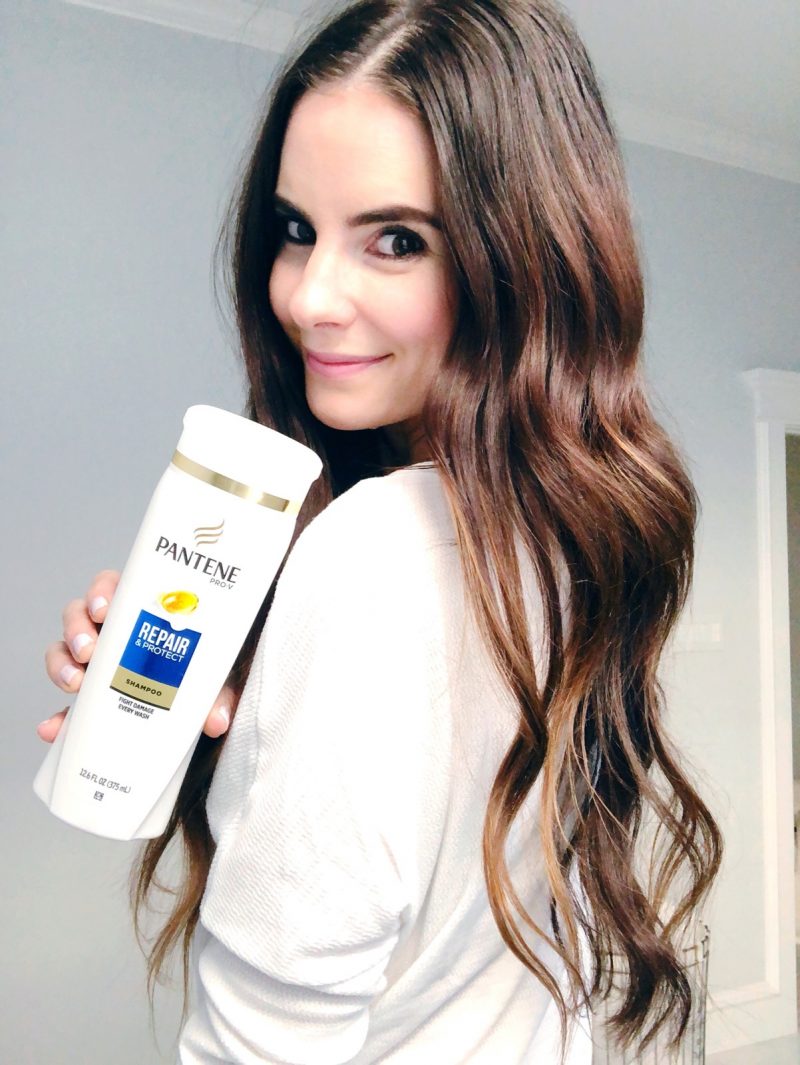 The root of it all
One major change I noticed after using Pantene was that when I blow dried my hair, my hair and my roots especially, were smoother. I've struggled with my hair texture since having my second child, and my roots have been my most problematic area. My hair felt softer overall – I can't quite explain it because I used the same styling products and tools, so it had to be the shampoo/conditioner combo. When hair feels smoother, it looks shinier, too. When I flat-ironed my hair on day one (the morning after washing it), my ends laid flatter and my hair felt like the cuticle was more "sealed in" if that makes sense!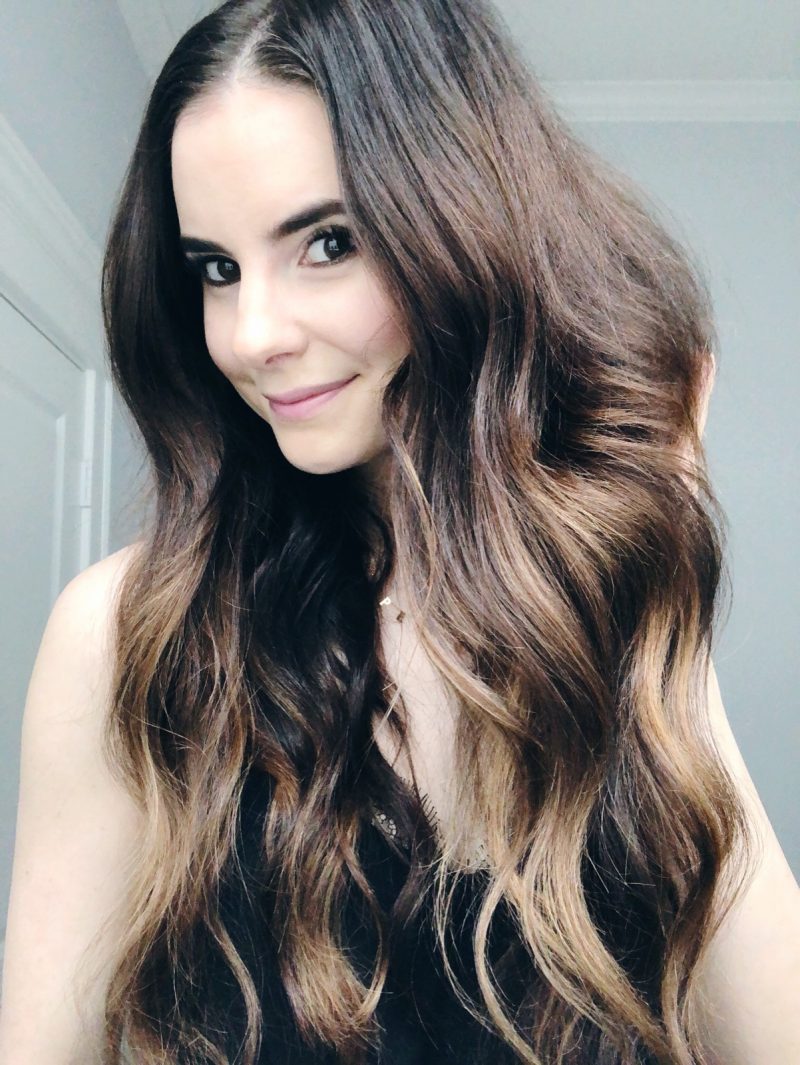 Gentle scent
Strong scents are a huge turnoff to me. I'm so sensitive to them that I've had to return shampoos that smell too strong/perfume-y. Pantene's scent is light and non-offensive – in fact, I actually like it.
Formulas for everyone
Pantene has collections for all hair types – don't forget to take their online quiz that asks about things like your use of hot tools and how often you wash per week. Using the right formula for your hair type will maximize your results.
If you're looking for an affordable shampoo and conditioner that makes hair smoother and more manageable, I recommend Pantene's Repair & Protect Collection and hope you enjoy it and feel and see the results like I have.