I remember using toner for the first time as a teen. I had ordered Proactiv because my hormonal acne was out of control and their three-step system included a toner. Then a decade passed (OMG I feel old) and toners were a distant memory. I didn't need a toner! What the heck could a bottle of slightly colored "water" do anyway? Well, it turns out, a whole lot.
My foray into toners started when I heard about Lotion P50W from Bridget and Lindsey in the same week. Apparently, I needed this liquid concoction for my skin and I needed it NOW. I added it to my cart, clicked "pay now" and made it official. I started reading more about the Biologique Recherche skin care line and when that bottle arrived in the mail, I didn't know it at the time, but it was like the step in my skin care routine that had been missing all along.
This product is transformative. It's the first step of my morning skin care routine after cleansing, but before applying any other products. It helps to balance your skin's Ph and provides expedited exfoliation. There are so many forms of the lotion P50, with the strongest being the 1970 original formula and the most gentle being the P50W, which I started off with to see how my skin would react. I may order the P50 next, to step things up a little, now that I know my skin can handle the most gentle version. P50 is formulated for people with hyperpigmentation and I definitely have a few areas that could use some additional improvement.
I can't quite describe how magical this potion is…but it makes skin clearer, brighter, more even and makes pores smaller (sidenote: it does have a very distinctive not amazing smell – but I promise the results will make you not even notice it after a while). I've noticed a visible improvement in the texture and overall appearance of my skin since adding this product to my regimen. It's a must-have and I'll continue to shell out for the bottle till' kingdom come because it's just that good. In fact, using this product has made me more interested in Biologique Recherche's entire skin care line and I'm planning to try some other products soon, with the masque vivant being #1 on my list.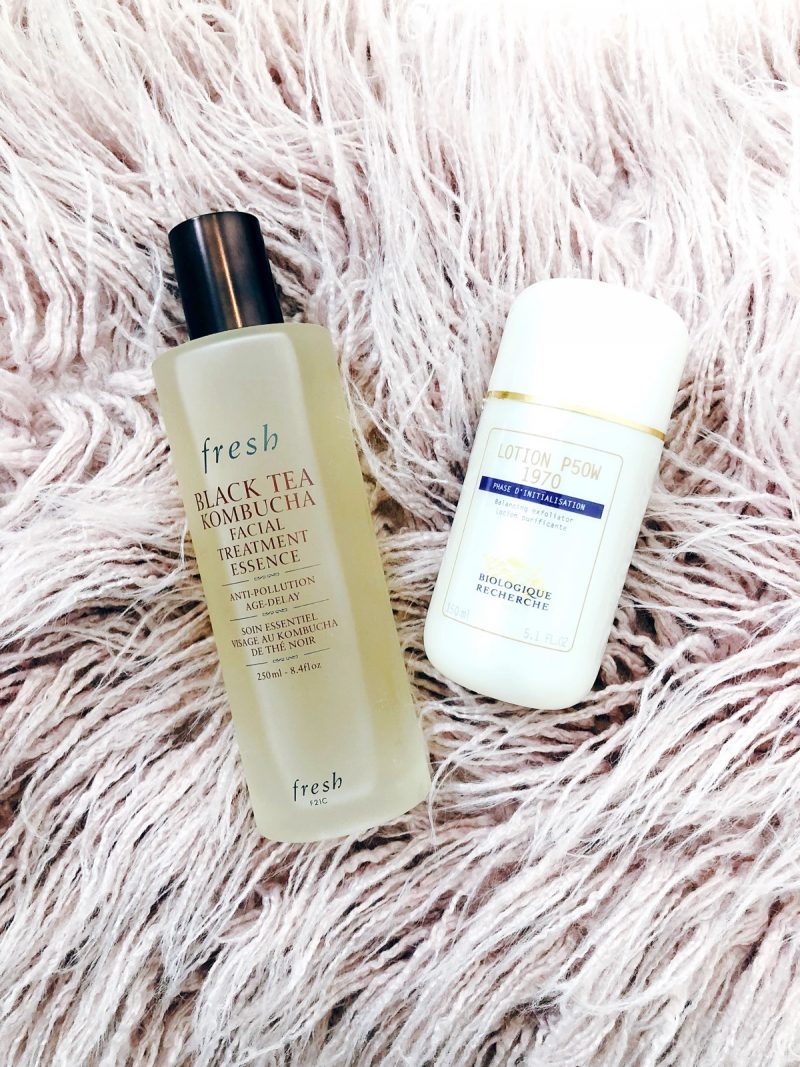 I recently added another toner to my routine – or, shall I say, "essence." You may have heard of facial essences as the popularity of K-beauty grows by the minute. In fact, the New York Times recently shared an article about the importance of essences and why they're even more important than moisturizer (cue shocked expression).
As I was reading the article, I couldn't help but notice a familiar-looking bottle – both the SK-II Facial Treatment Essence and Fresh Beauty's new Black Tea Kombucha Facial Treatment Essence. I recognized the latter instantly, as it had been sent to me in a PR package recently and I had set the bottle on my counter as a "product to try soon." If I'm being honest, I'm sent so many products that it can feel overwhelming at times to decide which ones to try (but of course I'm so grateful for the ability to try new products and share the ones I love). Before deciding to add a new product to my routine, I carefully evaluate each products' relevancy in my routine. I also read reviews before I try most products to see what the buzz is like.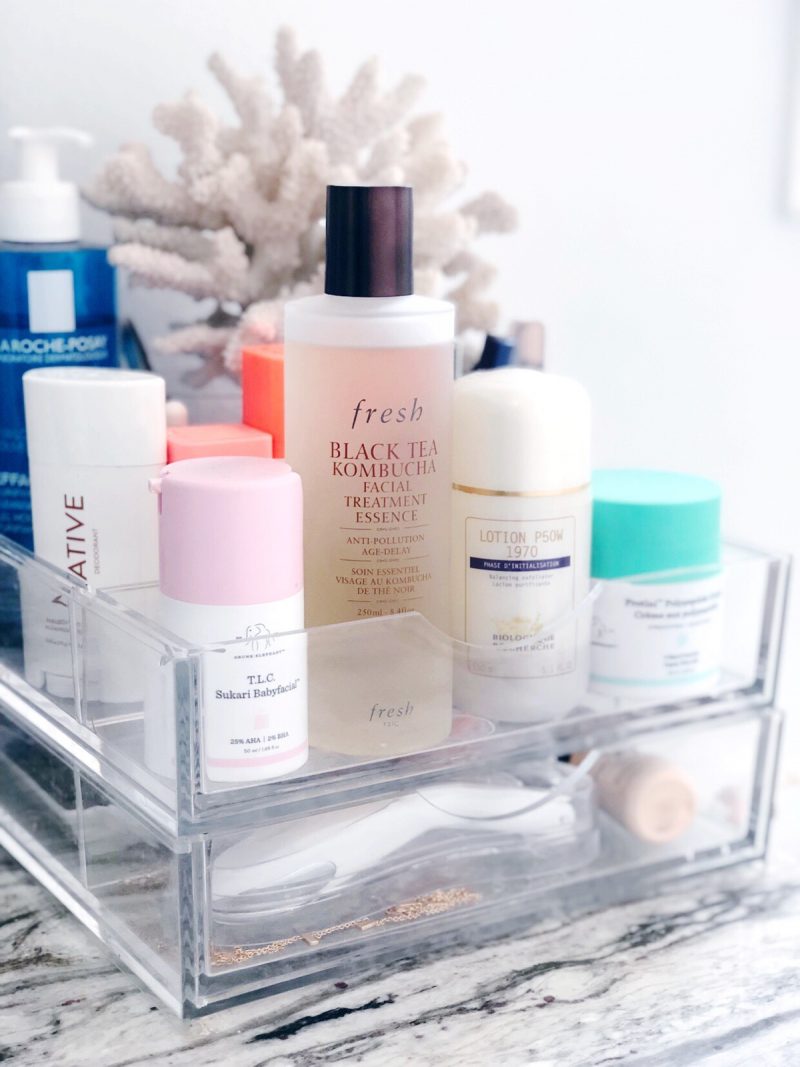 I'll let you read the full description here, but essentially, this facial treatment essence protects your skin with antioxidants, enhances luminosity, softens fine lines and replenishes moisture. Since I'm already using the P50W in the morning, I decided to start using this essence on my skin at night, immediately after cleansing, before any other night serums or creams are applied. I've also been using Fresh Beauty's Black Tea Overnight Firming Mask (which, as a disclaimer was also sent to me, but I'm not being asked to share it – just genuinely love it) which is a mask you apply as the last step in your night time skin care routine. I use it about 2-3 nights a week, especially if my skin is feeling dry.
I used to think toner was an unnecessary step in a skin care routine. An "add-on" product that had no value or perceptible results. No one loves admitting they're wrong, but this is something I'm glad I was wrong about because my skin is reaping the benefits. If using toner is wrong or outdated I don't want to be right or trendy. But I think K-beauty has been onto something all along – essences are part of every good skin care routine and now I know why.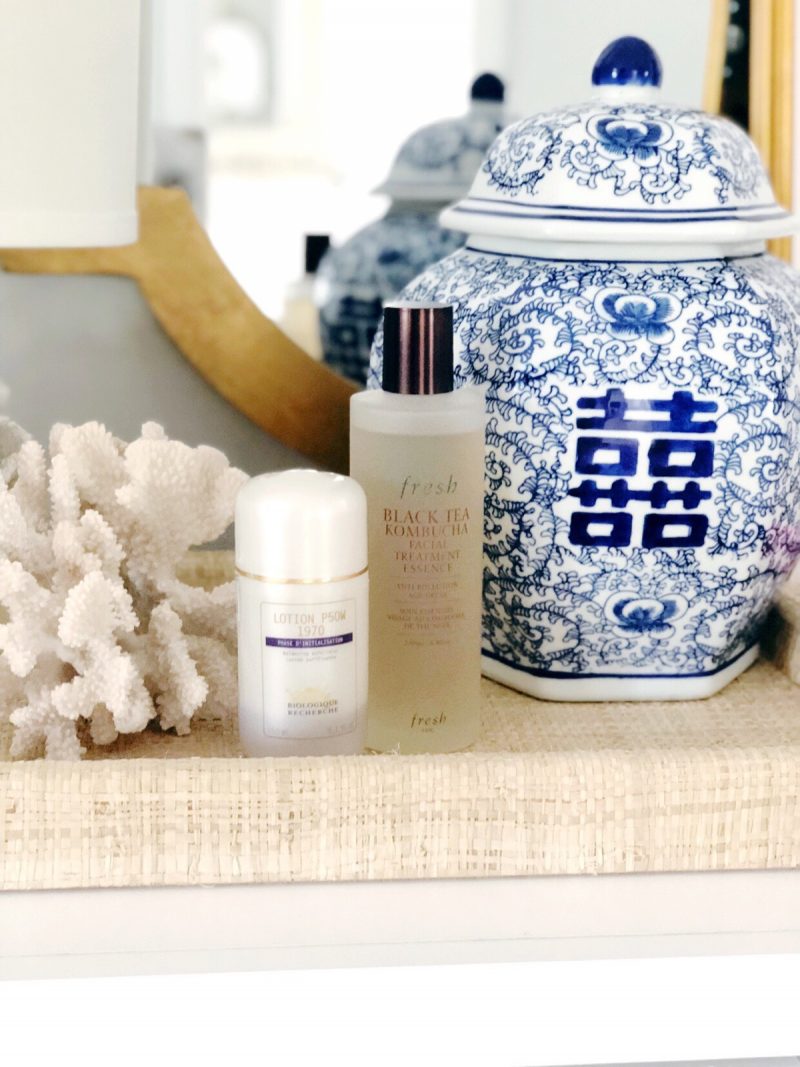 Do you use a toner or facial essence? What changes have you noticed?
*This is not a sponsored post. Fresh Beauty sent me the facial essence and overnight mask in a PR package. I'm not required to share my thoughts nor am I being compensated (they don't even know I'm writing this). The P50W was purchased with my own money. As always, I only share what I truly love and use and what I think you'll love too.