Thank you Nordstrom for sponsoring this post. As always, I only share products I love.
It would be accurate to say that 2018 was the year I became skin care obsessed and my desire to find the best products is showing no signs of slowing down.
I incorporated some new products into my night time skin care routine recently because my skin was feeling so dehydrated from all of the indoor heat we use in the winter months. I really needed to add a high-quality moisturizer over my other products to see a difference in my skin (and it doesn't hurt that the one I found has anti-aging benefits too!)
Today I'm sharing some night-time skin favorites I use daily or weekly to beautify "in my sleep." They're all from Nordstrom – one of my favorite places to shop for all things beauty and skin care. Nordstrom offers free shipping + returns and a huge product selection, making it easy to find everything you need, all in one place.
GLOW & PLUMP
The major change I made is adding LANCÔME's Absolue Revitalizing & Brightening Soft Cream. Before we delve in, let's address the elephant in the room: yes, it's pricey. I actually purchased it as part of this discovery set which has the full size soft cream ($120 value) plus three other products from the new Absolue line, so you're getting 4 total products for the price of just the soft cream.
What made me pick this soft cream is that it has a really beautiful (but not irritating or overbearing) rose scent (my fave) and that it applies and moisturizes like a cream, but turns into more of a serum when you work it into your skin. This soft cream helps improve the texture of your skin, reduces fine lines and provides tons of hydration. It's created with grand rose extracts and helps to firm and pump the skin – I've found that I wake up with more hydrated and overall more glowing skin in the morning since I added this to my nightly regimen. You can wear it under makeup as well (it's non-greasy and doesn't pill), but after trying it both day and night, I prefer to use it in the PM for that extra boost. I've used other moisturizers before, but this one has felt the most luxurious and "glowy" on my skin. The scent is a huge bonus, but I'd enjoy it without it, too.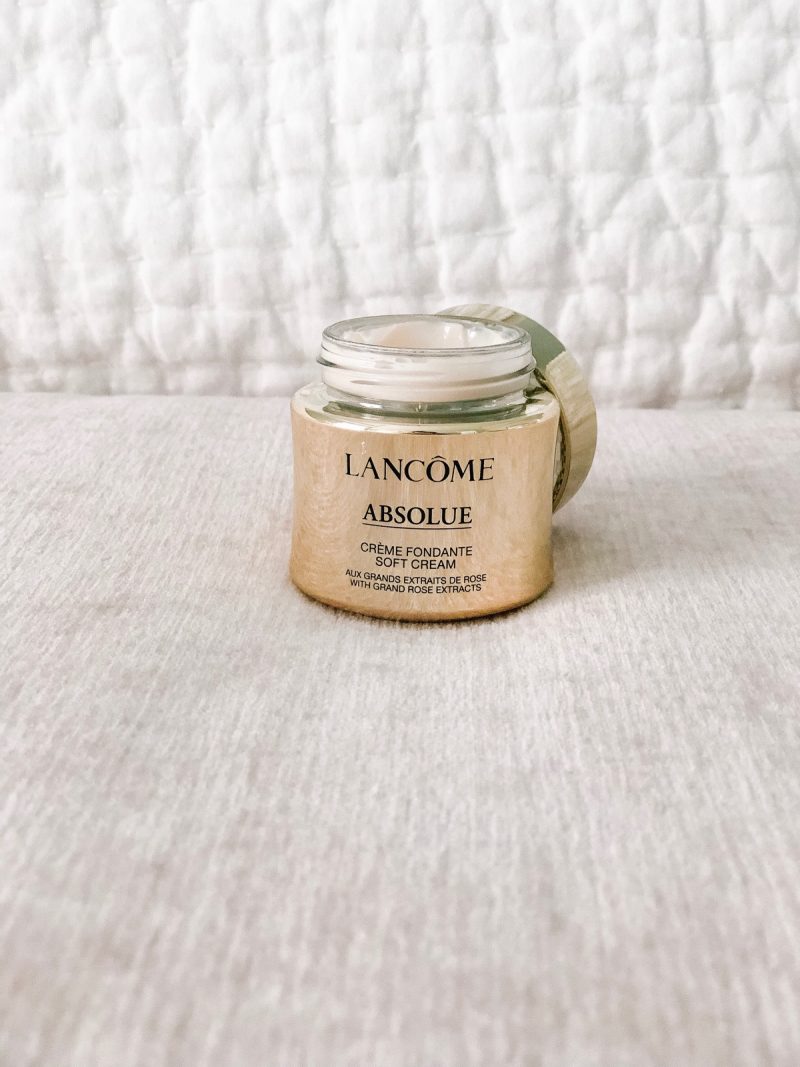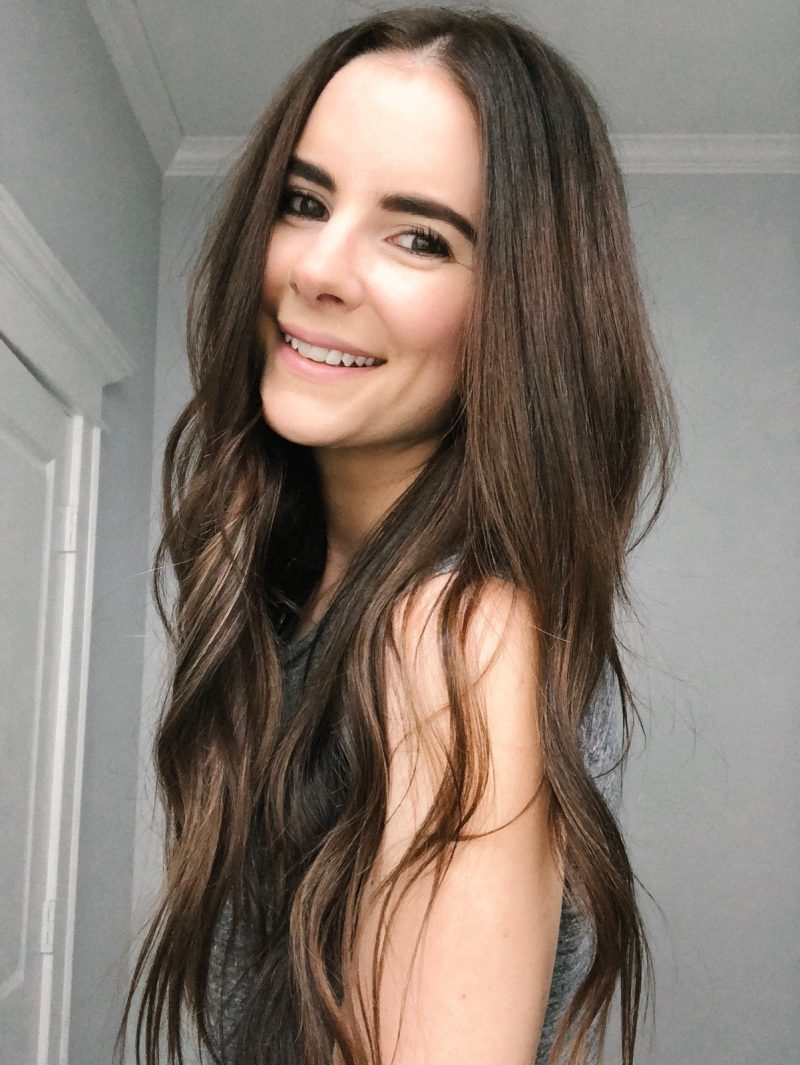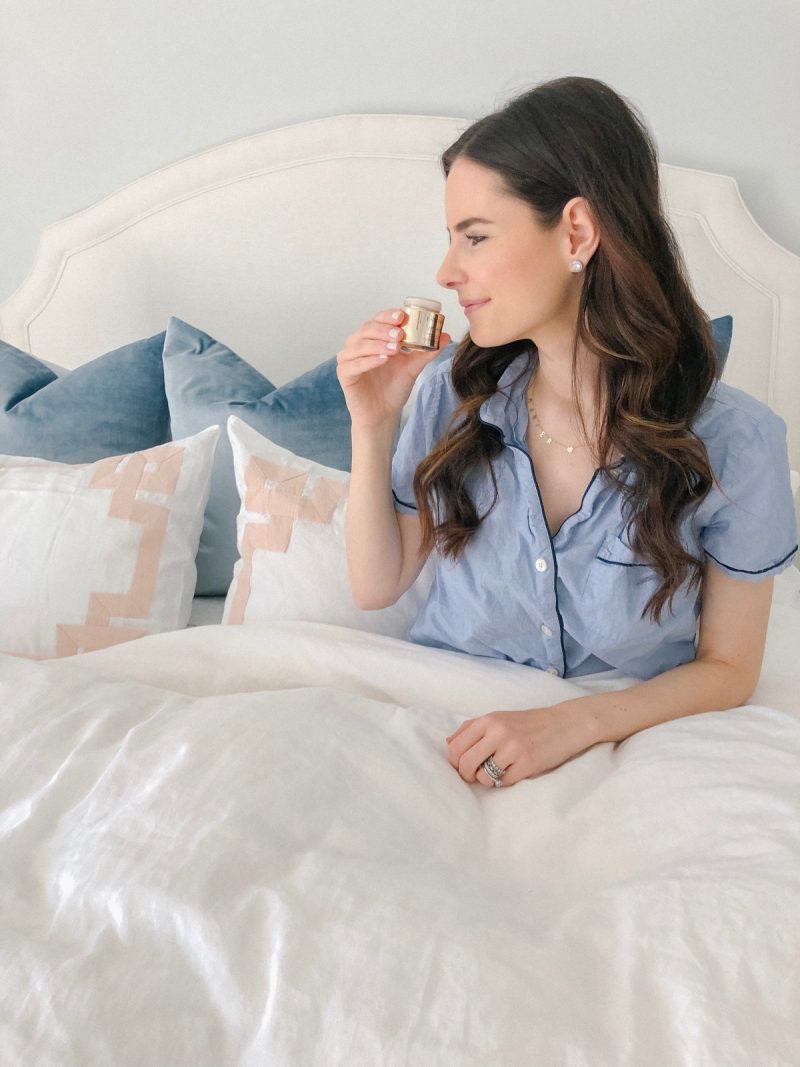 THE EYES HAVE IT
Eye cream is a must at 35 (and before that, TBH). I've been rotating different eye creams, including Lancome's Absolue eye cream, which came with the $120 discovery set.
Lancome's Absolue eye cream is made with the same grand rose extracts as the soft cream and feels like a dream on! I use this one days I'm not using retinol. It helps to brighten eyes and hydrate the delicate under eye area.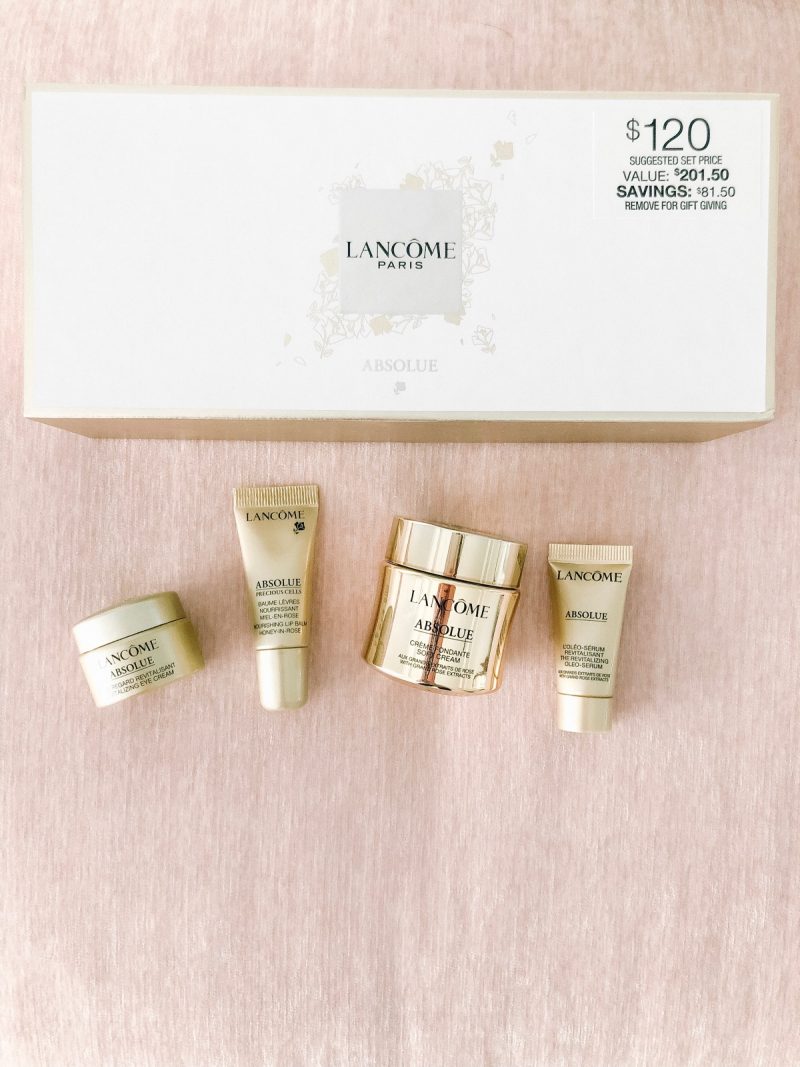 LASHES FOR DAYS
I'm a lash serum devotee for life. I rarely go to bed without it. It's become a staple in my routine and has helped grow my lashes so long – they're just incredible, especially when I curl them. I love NeuLash and RevitaLash – I'm often asked "which is better" and truly, it's hard to say. They both work incredibly well and I've had fantastic results with both.
Most recently, I've been using RevitaLash and have been in awe of the results – so while it's my current fave, I've also had incredible results with NeuLash – you can't go wrong. One swipe on each eyelid/lash line each night and you start to see results in 4-6 weeks. I hate lash extensions so for me, the serums are worth the cost – they cost less than extensions, don't damage your lashes and don't require 1-3 hour long appointments (no thank you!)
HEALING LIPS
As I get into bed each night, I apply Lancome's Nourishing Lip Balm in Honey-in-Rose. It's a rich salve made for smoother, plumper lips. I keep it on my bedside tray and it's a winner (it comes as part of the kit!)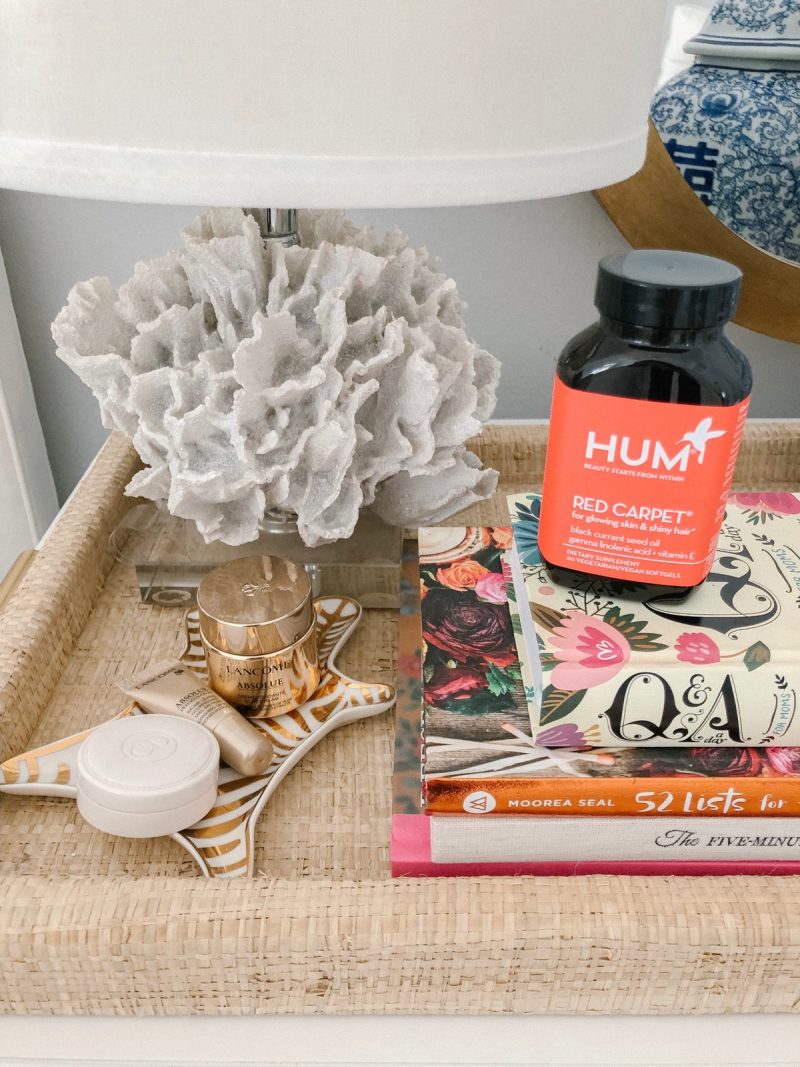 BETTER HAIR, WHILE YOU SLEEP
This may seem odd, but I've blogged about it before, so it's nothing new – if you want to preserve your blowout, apply Living Proof dry shampoo  lightly around the top and sides of your hair (as close to the roots as possible). I swear it helps your hair stay cleaner and when you wake up, your hair will look more like it has retained its volume and style. I usually do this when I'm on third day hair, but sometimes even on second day hair.
If you want an extra boost for your skin and hair while you sleep, you can also try a nutritional supplement (take these with a meal – dinner time is perfect). HUM Nutrition's Red Carpet supplement contains GLA (an omega-6 known to stimulate healthy skin and stronger hair) and vitamin E, which helps bolster shiny hair and glowing skin. There are other HUM supplements for all kinds of beauty needs as well – see them here. Are these a little "extra"? Sure! But it never hurts to try them to see if they make a difference for you (always consult a doctor prior to adding supplements to your diet).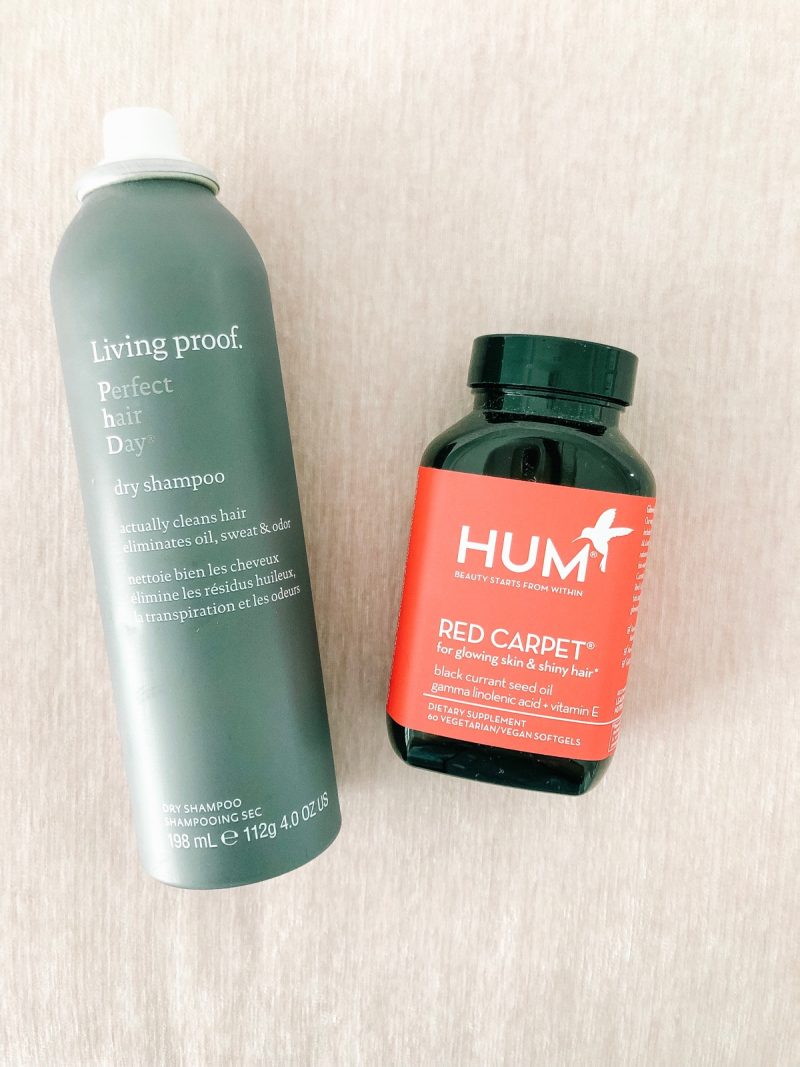 SLEEP MASK IT
I think I've blogged about sleep masks 100 times at this point, but they have been a game-changer for my sleep. Honestly, I sleep better when I wear one because my eyes are so sensitive to light that even the transom window in our master emits enough to disturb me. The key is to use a silky sleep mask so it doesn't rub your sensitive eye area. This one is very popular – and you can also buy the set that comes with the silk pillowcase cover that is said to be so much better for your hair when you sleep. I have been wanting this silk pillowcase cover for some time now and finally ordered it (it will be here this week!)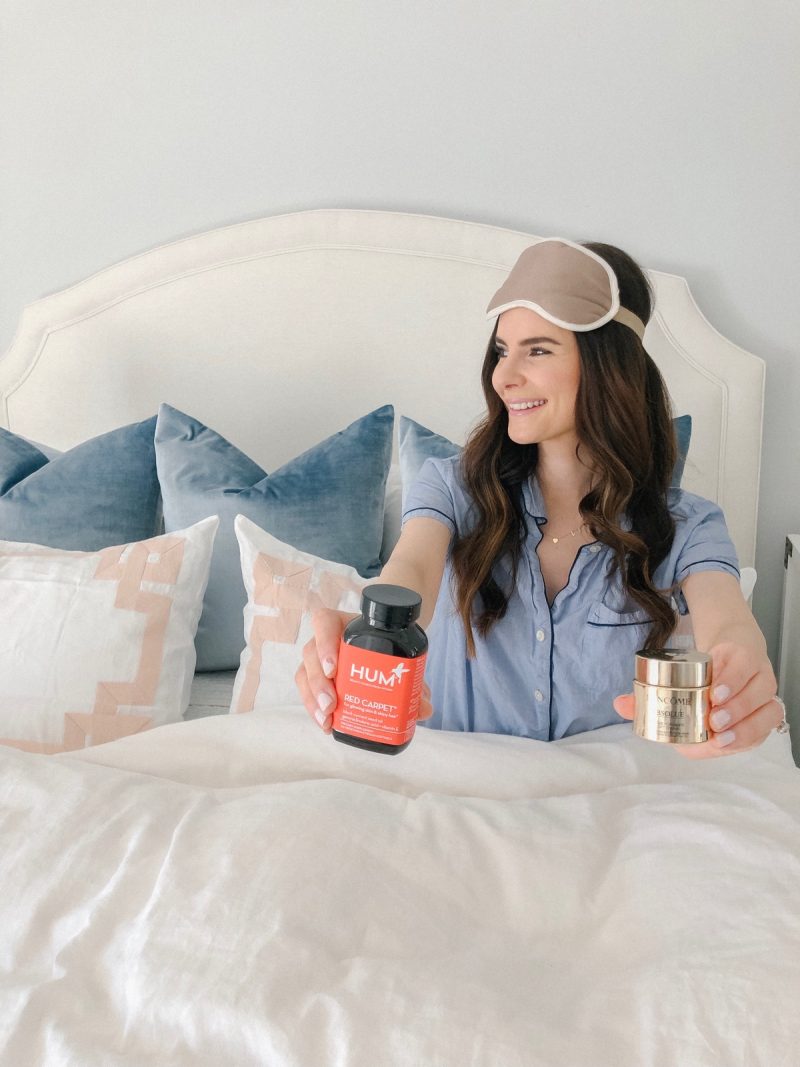 What products do you use to beautify in your sleep? Please share your recommendations!
PS- shop the winter version of my pajamas, here.
SHOP THE POST:


Shop the Post